Game 1 takeaways: Raptors stymie Warriors, take early control of Finals
Steve Russell / Toronto Star / Getty
The first NBA Finals game played outside the United States is in the books, with the Raptors defeating the defending champion Warriors 118-109 in Toronto.
Here are some takeaways from Game 1:
No surprise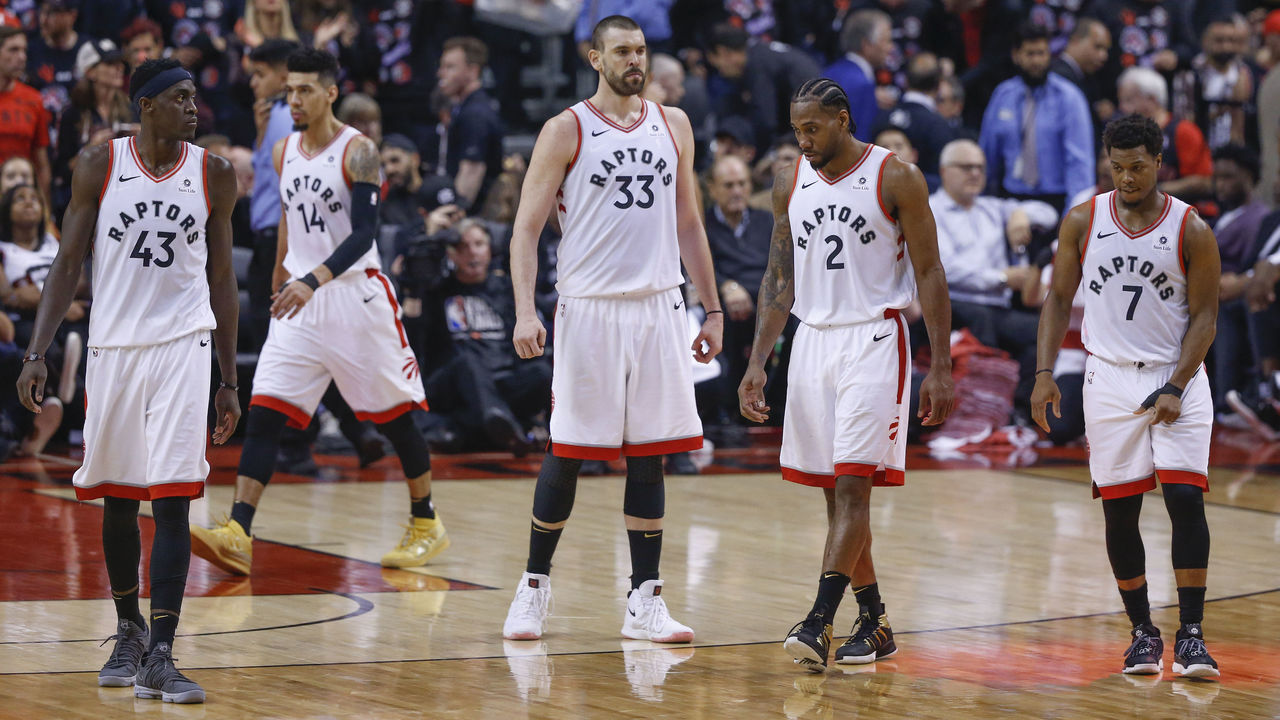 While the thought of the Raptors emerging victorious over the Warriors may still seem far-fetched and foreign to casual observers, the result of Game 1 shouldn't have caught anyone off guard.
With Kevin Durant in the lineup, Golden State is virtually unbeatable, but the 2019 Raptors are a better team than the Durant-less Warriors. As discussed in our series preview, the Raptors have a defensive answer for anything this version of the Warriors can throw at them. Toronto boasts an explosive and intelligent offense that 2014 Finals MVP Kawhi Leonard leads, and the team holds home-court advantage in one of the rowdiest atmospheres the NBA has ever seen.
Golden State's talent level remains tremendous, but what you saw on Thursday night in Toronto - when the Warriors never held a two-possession lead - is what's supposed to happen without Durant on the court to tip the scales.
The Raptors are that good, and they open Game 2 as worthy, yet narrow 1.5-point favorites for the second straight game.
Siakam steals the show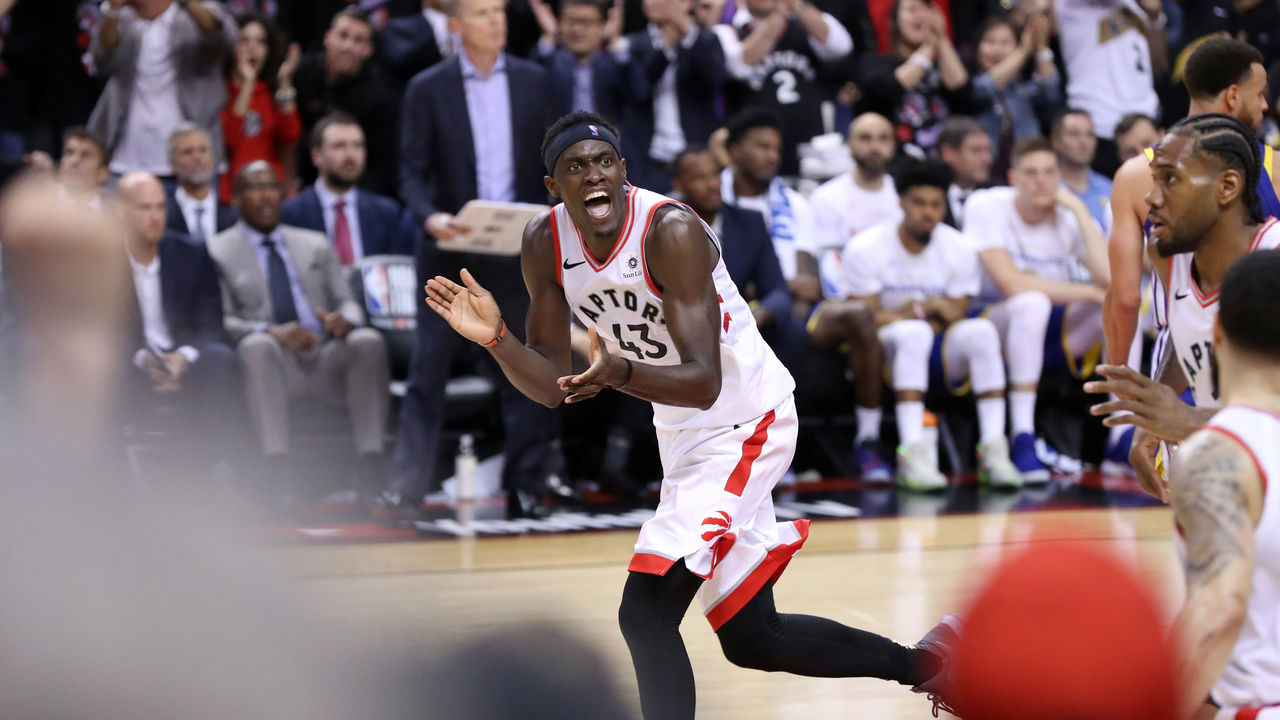 In a series-opening game that featured five current or former All-Stars, a former two-time MVP, a former Finals MVP, and three Defensive Player of the Year Award winners, Finals debutant Pascal Siakam shone brightest.
The 25-year-old showed off every facet of his expanded offensive game, pouring in a team-high 32 points on an absurdly efficient 14-of-17 shooting, all while grabbing eight rebounds, handing out five assists, and recording two blocks and a steal in 40 minutes of action.
Most impressively, the majority of Siakam's damage came while all-time defender Draymond Green was guarding him. Siakam never hesitated to attack the three-time All-Star, contributing to Green finishing the game with five fouls.
"You've got to take your hat off to him," Green said of Siakam after Game 1. "Even before this game, what he's been able to accomplish this year, he's become a guy. He put a lot of work in to get there and I respect that, but I've got to take him out of the series and that's on me."
Built to defend the champs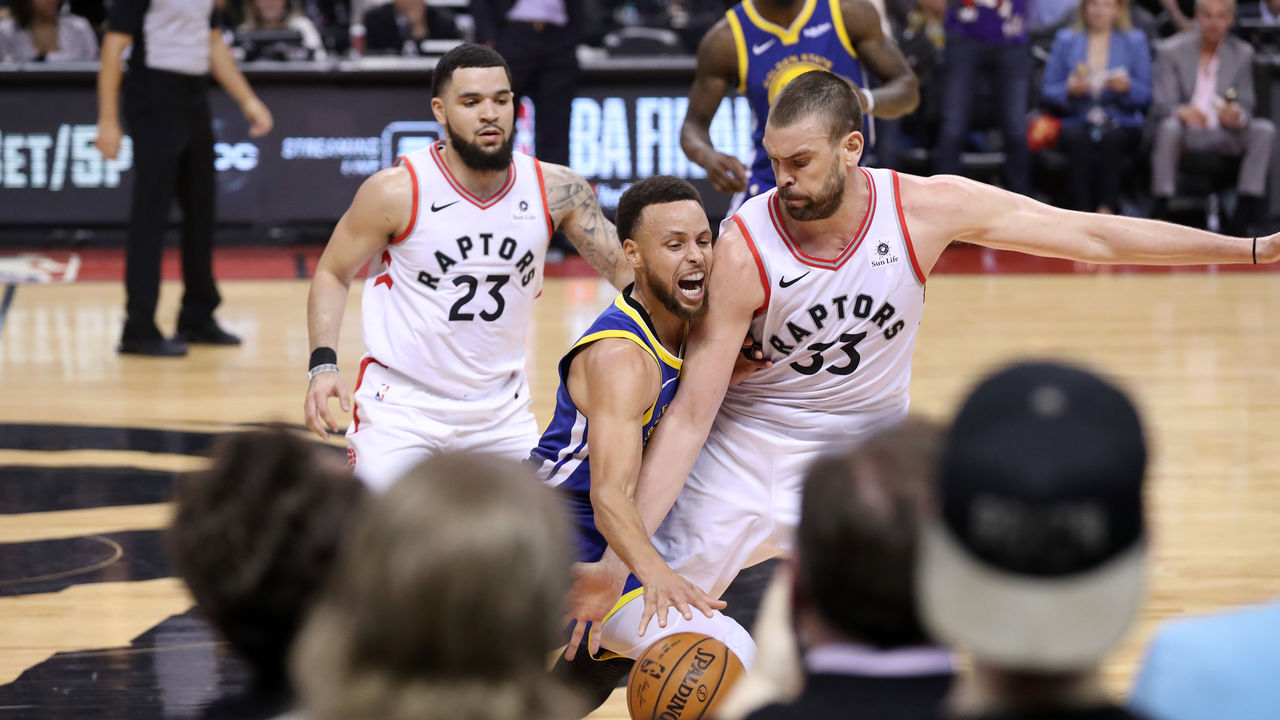 Game 1 was a perfect example of this Raptors roster being tailor-made to defend the Warriors' devastating attack.
Kyle Lowry, Fred VanVleet, and Danny Green did a fantastic job staying as attached as possible to Stephen Curry and Klay Thompson, and even Patrick McCaw did too in limited minutes. With no Durant to worry about, meanwhile, Leonard could roam free defensively, spending most of his night on less threatening Warriors like Andre Iguodala and Green.
And then there was the work of Marc Gasol. The veteran fouled out after playing a little less than 30 minutes, but he was nearly perfect defensively in that half hour.
Many assumed the Warriors could play Gasol off the court by making him defend in space. But the big man provided perfectly timed help to trap Curry on the perimeter, had his hands all over Golden State's passing lanes, and generally anchored an awesome team defensive performance.
"He was big," VanVleet told theScore when asked about Gasol's help on Curry. "We need help. You can't guard those guys with one person. You need your bigs to be really good, and I thought him and Serge (Ibaka) did a great job of being up there to give us support. The guy's a former Defensive Player of the Year. We're going to bank on him to be great and be a second line of defense. It's our job, as guards, to get up and make it tough, and then he has to clean it up on the backside."
Though Curry still finished with a game-high 34 points, the work of Gasol and Toronto's guards ensured many Golden State possessions ended with the ball in the hands of a less capable Warrior.
Over the Warriors' previous five games without Durant, Curry averaged 23.2 field-goal attempts and a usage rate of 34.6 percent. In 40 minutes of Game 1 action, Curry finished with 18 field-goal attempts and a usage rate of only 29 percent.
All eyes on Kawhi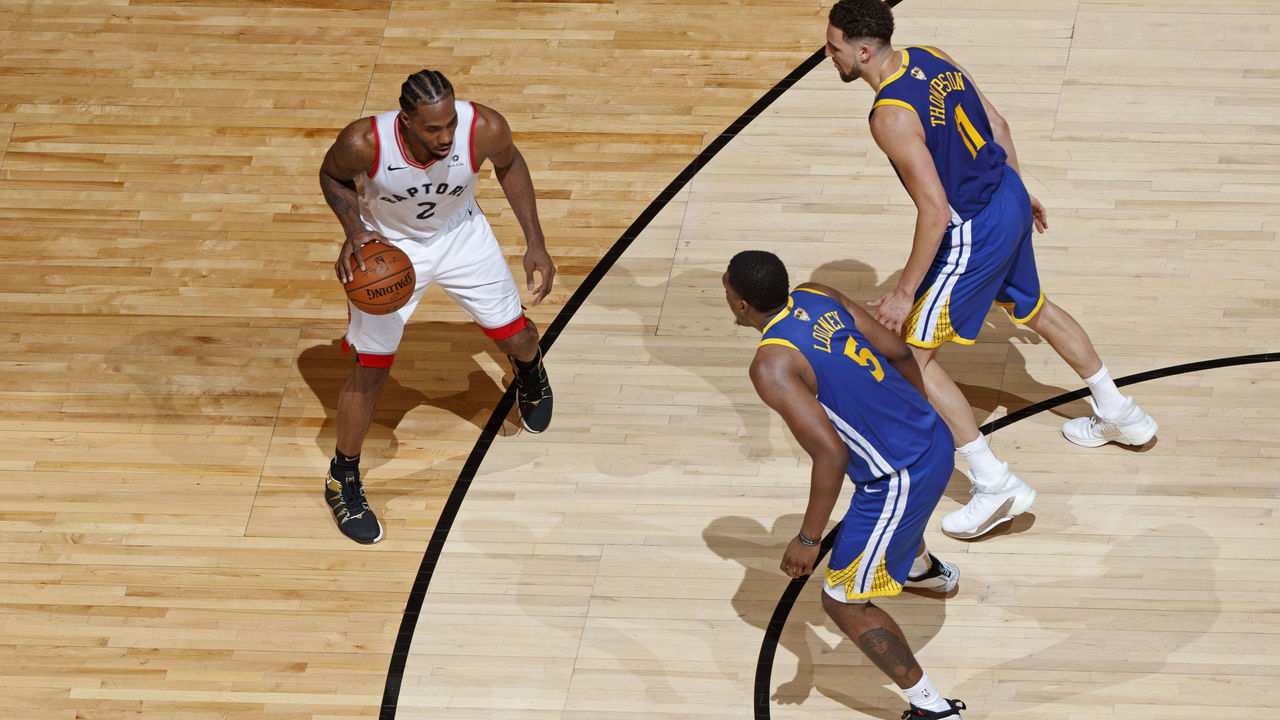 The Warriors did an equally stellar job of making things tough on Leonard.
Iguodala often drew the initial assignment, but the Warriors blitzed Leonard with extra bodies from every direction in a way maybe only the Bucks have this season. The result was an inefficient 5-of-14 shooting night, though Leonard still put up 23 points thanks to 12 trips to the free-throw line and a trio of 3-pointers.
Unfortunately for Golden State, the rest of the Raptors combined to shoot 53.9 percent.
"Yeah, we did a good job against Kawhi, but we're not playing Kawhi, we're playing the Toronto Raptors," Thompson said postgame.
"We can do things differently, a little bit better, be more physical, be more aware of where they are on the floor," Curry added of his team's defensive work on non-Leonard Raptors. "Early in the first half, we didn't rotate well enough. Just make them think a little bit more. They were really comfortable out there, stepping into open threes. (We had) a couple miscommunications where (we gave up) almost like practice shots, and obviously they made them."
Quote of the game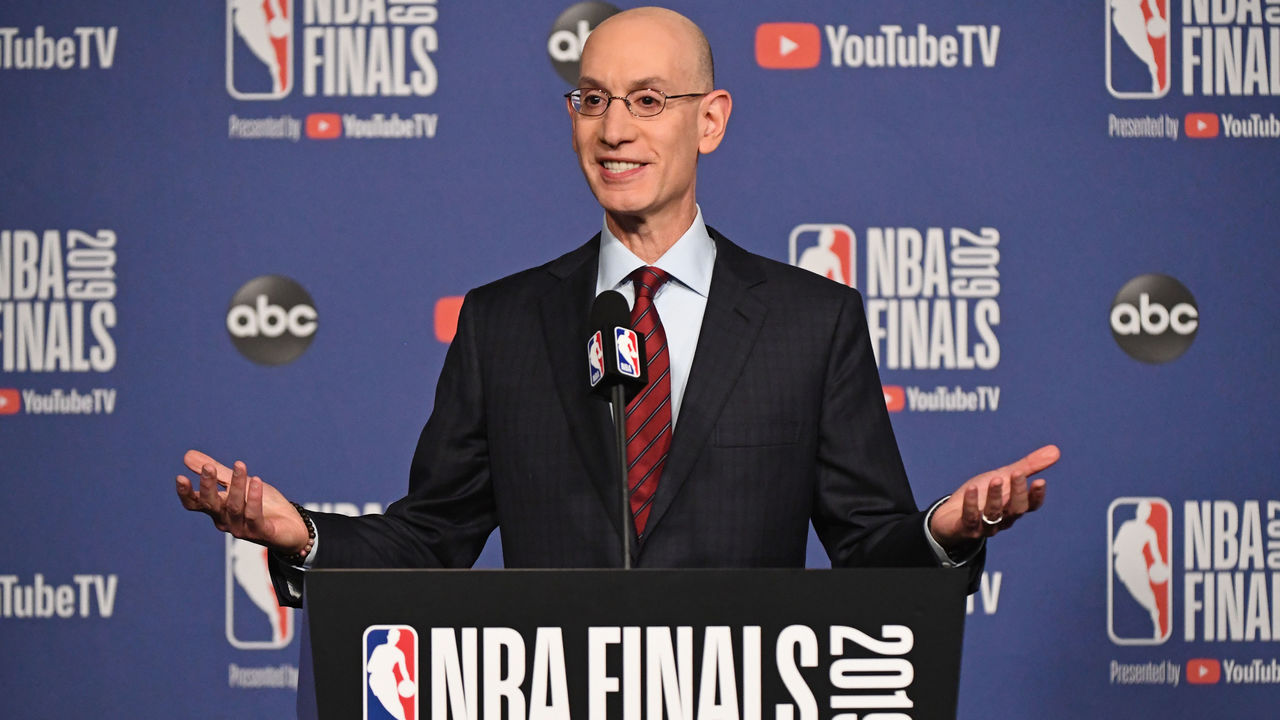 "This is a homecoming of sorts." - NBA commissioner Adam Silver's opening remarks at his annual NBA Finals media conference, reminding viewers that the inventor of basketball, Dr. James Naismith, was Canadian, and the first-ever NBA game took place in Toronto.
What to watch for next
Assuming Durant remains out for Game 2, how will Steve Kerr manage his rotation of bigs?
Jordan Bell started at center the last two games after not previously starting a single playoff game this postseason. He offered next to nothing in his 11:37 of playing time Thursday. DeMarcus Cousins looked nowhere near his usual self in eight minutes of action - understandably so after six weeks off. Kevon Looney, meanwhile, remains Golden State's most dependable center this spring, especially on the defensive end, and logged more than 28 minutes in Game 1.
If Looney is going to be used for a majority of the team's minutes anyway, why not just start him while trying to slowly ramp Cousins' minutes back up? There's no need to go back to Bell (or Andrew Bogut) at the start of the first and third quarters right now.
Finals MVP if series ended today
1. Pascal Siakam
2. Stephen Curry
3. Marc Gasol
Comments
✕
Game 1 takeaways: Raptors stymie Warriors, take early control of Finals
  Got something to say? Leave a comment below!