Who ya got? Previewing, predicting the Raptors-Warriors NBA Finals
Noah Graham / National Basketball Association / Getty
With just two teams left standing in the quest for the Larry O'Brien Trophy, theScore NBA writers Joseph Casciaro and Joe Wolfond return to break down the 2019 Finals between the Toronto Raptors and the Golden State Warriors.
Predictions
Casciaro: Raptors in 7
Yup, I think I just picked the Toronto Raptors to win the NBA championship.
I've maintained all season that the Warriors would barely survive another championship run before ultimately emerging with a three-peat and then disbanding, but there are a number of factors working in Toronto's favor entering The Finals.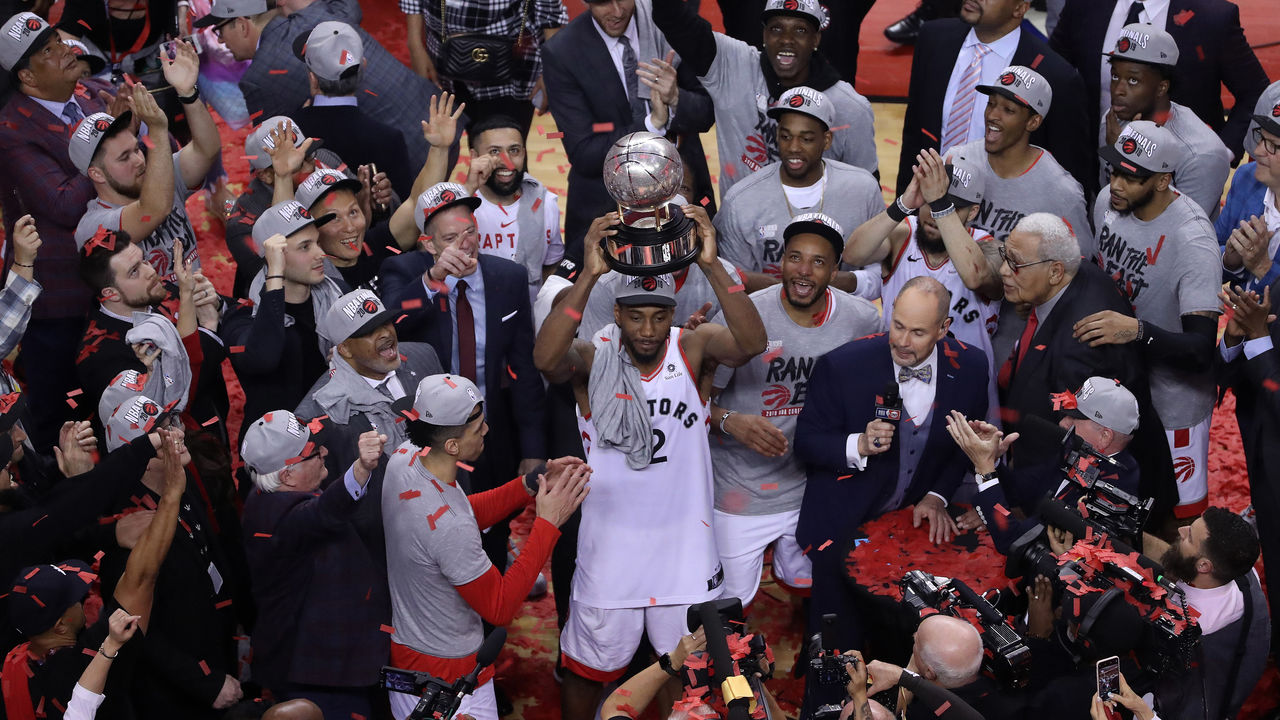 For one, no team is better equipped to defend the Warriors than the Raptors, and Kevin Durant is going to miss at least one game because of his calf injury. The Raptors also expect OG Anunoby to play at some point after missing the entire postseason due to an appendectomy.
If the Warriors get DeMarcus Cousins back from his quadriceps injury before Durant returns and therefore try to play bigger, the Raptors can counter with Marc Gasol, who already neutralized Joel Embiid and Nikola Vucevic in these playoffs before leading a defensive masterclass against the Bucks.
And, if Durant returns and the Warriors want to leverage their once-in-a-lifetime collection of offensive talent in smaller lineups, the Raptors should be able to survive against the Hamptons Five (Durant, Curry, Thompson, Andre Iguodala and Draymond Green) by playing Serge Ibaka at center, or going even smaller by using Pascal Siakam at the five.
It helps that Kawhi Leonard is as good a one-on-one defensive option against Durant as there is, while Toronto's perimeter players - Kyle Lowry, Fred VanVleet, and Danny Green - are all capable of chasing Steph Curry and Klay Thompson over, around, and through screens. The Warriors are too good to be shut down, but the Raptors have the personnel to make them work harder for their buckets than they're accustomed to.
Meanwhile, Curry and the Warriors have been prone to turnover issues on the game's biggest stages over the years, which could swing the series against a Raptors team that boasted the league's most efficient transition offense this season.
All of those factors have me thinking the Raptors can push this series the distance. If they do, they'll have home-court advantage in a winner-takes-all Game 7, with the guy who's been the best player in these playoffs on their side - although Curry and Durant will have something to say about that.
Finally, I'm not sure the Warriors can match the collective will of this veteran Raptors group right now. Guys like Lowry and Gasol have come too far for this not to be a competitive series.
Wolfond: Raptors in 7
Damn, and here I was thinking I'd be coming through with a contrarian pick. So much for that. Let the allegations of homerism fly.
I'm trying to be as objective as possible, but part of my reasoning behind this pick is just a desire for consistency. I took the field over the Warriors at the start of these playoffs, and I put the Raptors in a group of three teams (with the Bucks and Rockets) that I thought matched up well enough to conceivably take down the defending champs. I've believed all season that this Warriors team - despite all its top-end talent - isn't quite as good as those of past years. It's thinner, its defense isn't nearly as good, and it seems just a tad fickle.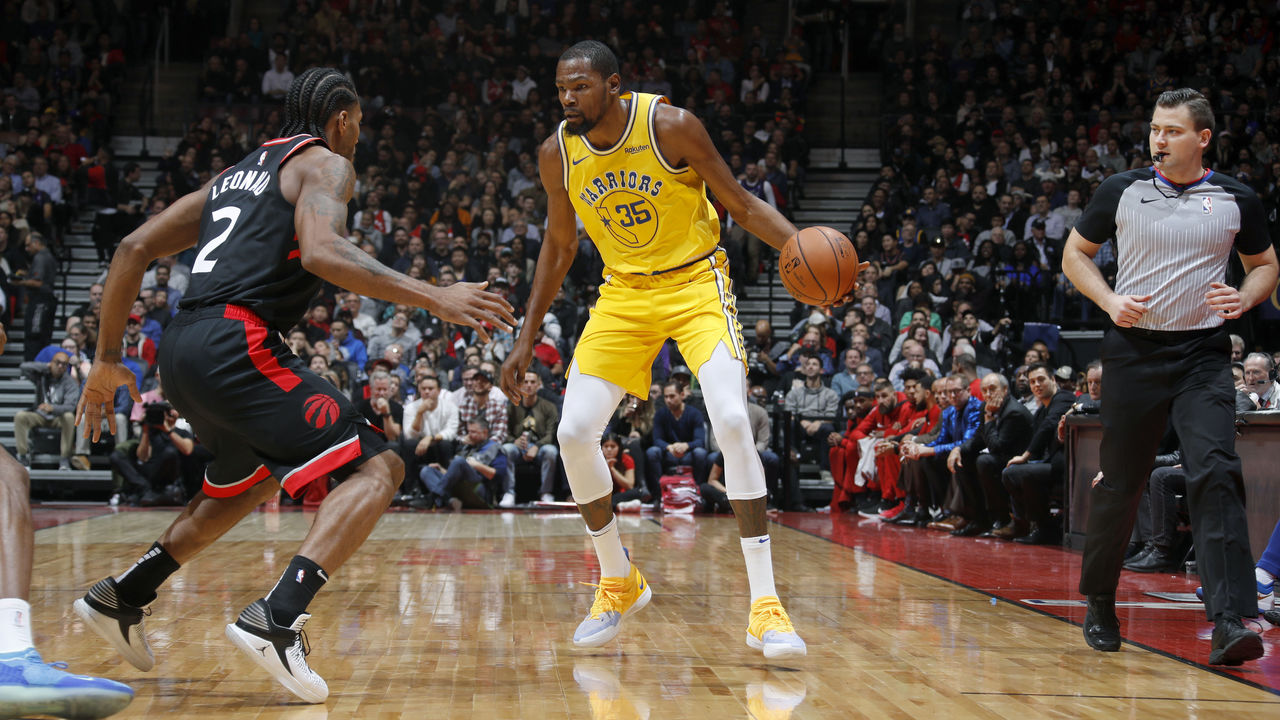 The Raptors have a lower ceiling, without a doubt, but their defense has been so consistently excellent throughout this postseason that I'm confident in their ability to at least stay in contact in every game, giving Kawhi a chance to carry them home down the stretch.
I like that they can match up with the Warriors either big or small, with the Siakam-at-center look being a particularly intriguing counter to the Hamptons Five lineup. I think they can win the possession battle. And, surprisingly, their shot profile gives them a math advantage: Toronto's attempted a larger share of its shots from 3-point range and from the restricted area than Golden State has (though the Warriors own a slight edge in free-throw rate).
After dealing with the Bucks' hellacious interior defense, the Raptors should find it a lot easier to score at the rim in this series. The Warriors are similarly good at keeping opponents from attempting shots in the paint, but not nearly as effective at contesting those shots. (The Bucks rank second in these playoffs with a 52.4 percent defensive field-goal percentage at the rim, while the Warriors rank 13th at 63.3 percent.)
Of course, there are still going to be massive challenges for Toronto. Golden State might play Gasol off the floor with its deadly pick-and-rolls run by Curry. And for the Raptors, ignoring non-shooters at the defensive end won't be as straightforward as it was against the Bucks, given how heady the Warriors are at cutting and how quickly they can pivot into dribble-handoffs for the likes of Curry and Thompson.
Defensively, Green, Iguodala, and Thompson can all make life difficult for Leonard in single coverage, and the Warriors will also certainly experiment with extra pressure. They blitzed the bejeezus out of Damian Lillard and CJ McCollum last round, trusting that Portland's role players couldn't punish them for it. If they do the same to Leonard, the Raptors will have to hope the moment isn't too big for their complementary guys. Siakam will need to do more with the 15 feet of space he'll be afforded than he's done the past two rounds. Lowry, Gasol, Green, and VanVleet will need to keep taking - and will need to make - open shots.
The Warriors are still the more talented team. They can hit a gear the Raptors can't hope to match, particularly once Durant returns. They can render all of this matchup minutiae moot. But they haven't really sustained that gear for any extended stretch this season.
Ultimately, the tiebreaker for me was the fact that Curry's defense gives the Raptors a soft spot to attack, whereas the Raptors' defense has no such holes. Because of that, I expect Leonard to very narrowly be the best player in the series. Call it blind faith, but I think Toronto's supporting cast will be just good enough to make that slight edge the difference.
Series X-factors
Casciaro: Draymond Green
Aside from Durant's return, if there's a guy who can swing the Warriors' talent advantage from manageable to overwhelming, it's probably Green.
As the emotional heartbeat of the Warriors, Green has gotten himself back into phenomenal shape during these playoffs after an underwhelming regular season, and that's spelled trouble for every opponent. This rejuvenated version of Draymond gives even the Durant-less Warriors the feel and swagger of a champion again. He's everywhere on defense, has picked teams apart with his playmaking on the short roll, and is averaging 13.6 points per game on 52 percent shooting. Remarkably, his four triple-doubles this spring are tied for the most in one postseason over the last 36 years.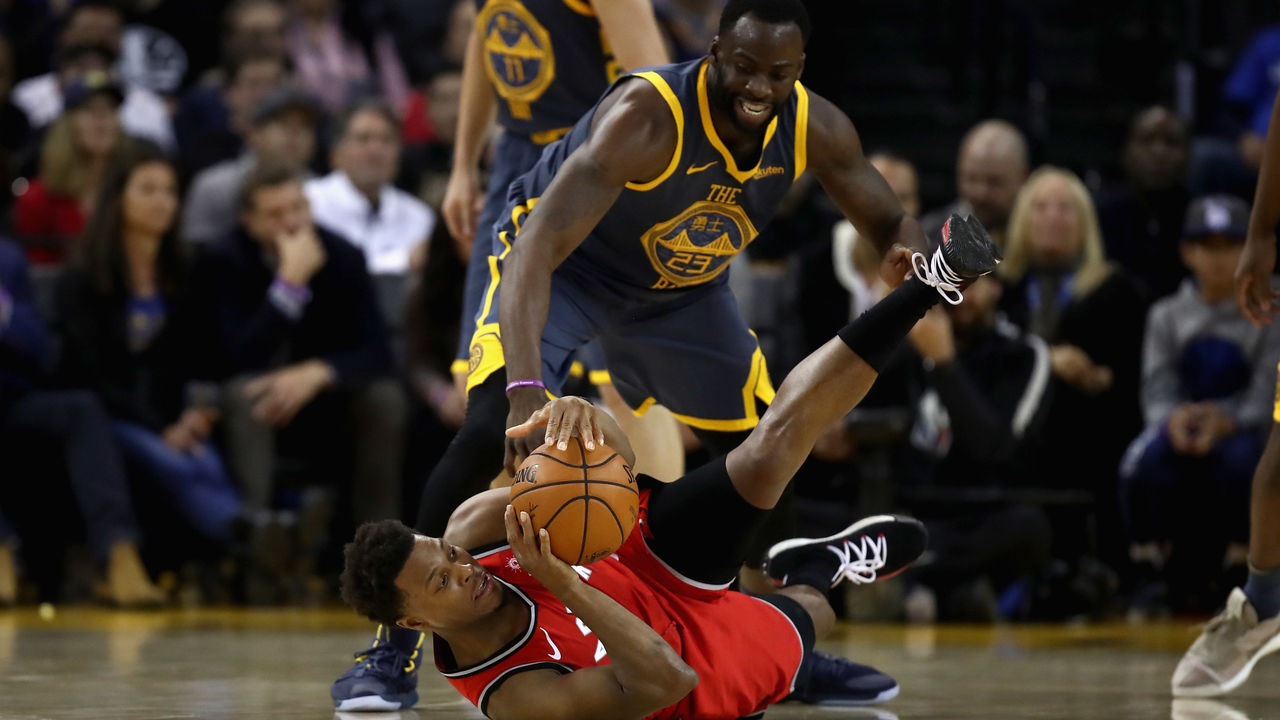 If Playoff Draymond continues against Toronto - slowing down Leonard and the Raptors on one end while facilitating on offense - Golden State should be in good shape. But if Green's offense abandons him and the Raptors can ignore him to put extra pressure on more capable scorers, or if Green can't make his usual defensive impact against a high-IQ Raptors offense, the Warriors will need Durant back immediately to win this thing.
As always with Green, his emotional outbursts are also worth monitoring. At his best, those emotions fuel the Warriors on both ends of the court. At his worst, Green's volatility could lead to a barrage of technical fouls, gifting free points to the Raptors in a series with narrow margins for error. Of note, Green is entering The Finals just three techs away from an automatic one-game suspension.
Wolfond: Danny Green
The Raptors were fortunate to survive the Bucks given Green's overall play. It wasn't just the missed jump shots. There were also head-scratching turnovers and too many misguided attempts to put the ball on the floor. There were times he was uncharacteristically hesitant to pull the trigger. He was pressing. Overthinking.
Green's defense was still rock-solid, but the Raptors have relied on him immensely at the offensive end all year, and look totally different when he isn't at his best. That showed against Philadelphia in the second round. It wound up mattering less against Milwaukee because Norman Powell and VanVleet stepped up with enormous performances in huge moments, but a repeat of that isn't something the Raptors can bank on.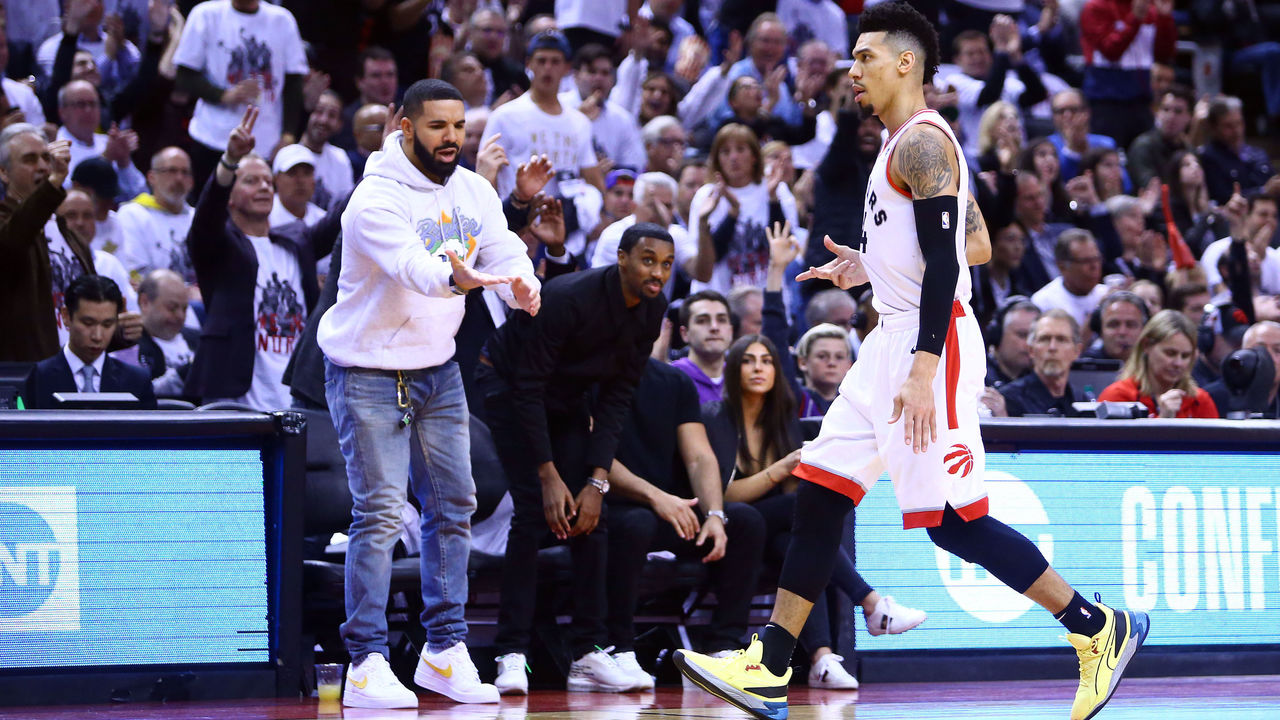 Green was supposed to be the guy they could trust. Aside from Leonard and Ibaka, he's the only Toronto rotation player who's been on this stage before. What if the moment gets too big for the Raptors' less experienced players and Green can't be relied upon to steady them? He ranked second among all qualified shooters during the regular season with a 45.5 percent mark from 3-point range, but he's down to 31.4 percent in these playoffs after going 4-for-23 (17.4 percent) in the Bucks series. You could even hear the plaintive desperation in the home crowd after every wide-open miss during his 0-of-4 showing in Game 6.
However, Green did come through for the Spurs in back-to-back Finals earlier this decade, and the Raptors will need him to be that guy once again. On top of how much they'll hope to rely on him at the defensive end - as a transition stopper, a point-of-attack defender against Curry, and an off-ball screen navigator against Thompson - they'll need him to hit shots, because the Warriors are going to pack the paint and shade extra bodies toward Leonard, much like the Bucks did.
If Green shoots like he did in that series, the Raptors are probably toast.
Burning questions
Casciaro: When will Durant return?
We're both picking the Raptors by a hair because of Durant's absence to start the series, so opening with any other burning question would be absurd. The reigning two-time Finals MVP was the only star who was matching Leonard's 2019 postseason excellence before getting hurt.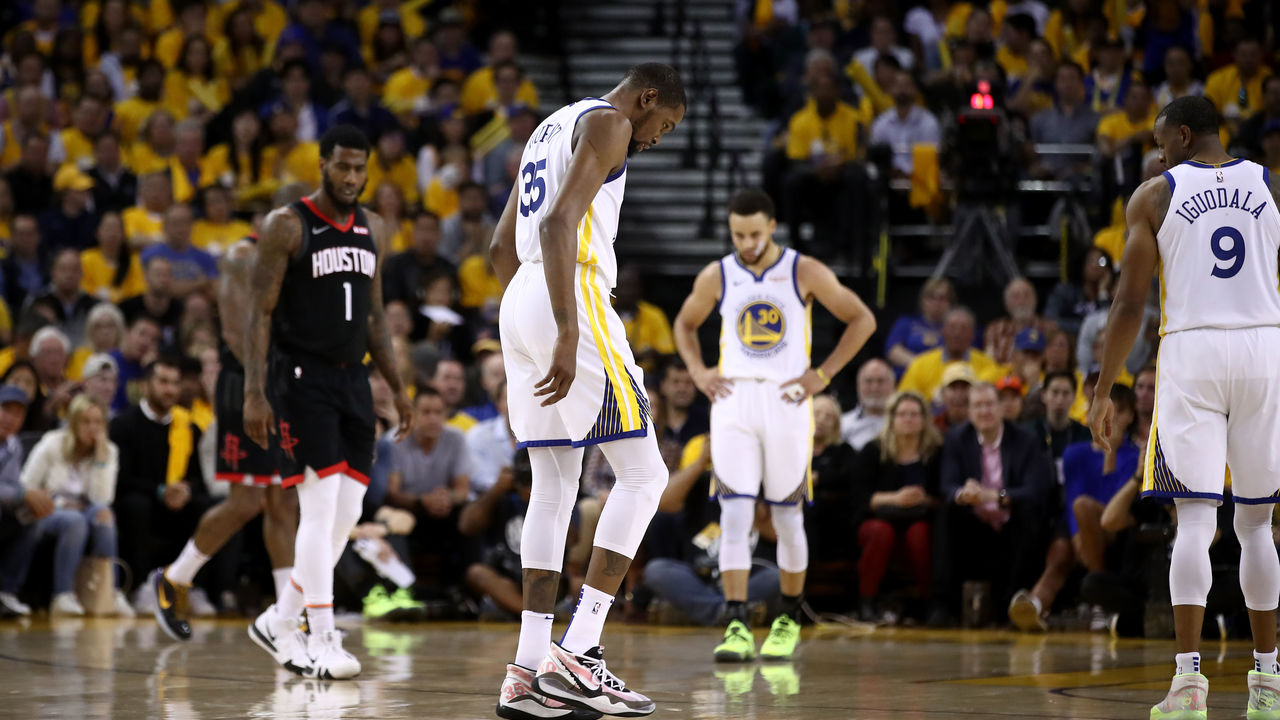 If Durant misses only Game 1, the Raptors almost surely have to win the opener if they want a chance to dethrone the Warriors. But if KD misses additional time - perhaps he traveled to Toronto merely for gamesmanship - it's worth wondering how much a mid-series insertion into the lineup would affect both teams.
Durant changes the size and look of this matchup, and he's the difference between the Warriors being a great (but beatable) team or an inevitable force. They'll find out quickly that beating these Raptors without him is an entirely different challenge than sweeping aside the Trail Blazers.
Wolfond: What happens to the bigs?
We've talked about the small-ball lineups each of these teams can roll out, and speculated about how frequently those lineups might be deployed. I'm actually more curious about how the big men will factor into all of this.
Gasol's defense has been such an essential part of this Raptors run, but his mobility is about to be tested in a way it hasn't at any point in these playoffs. The Warriors will run him through a ton of high pick-and-roll plays to pull him away from the basket and force him to defend Curry in space. Gasol has shown some ability to guard out on the perimeter, but doing so against Golden State is an entirely different task.
The Raptors' starting lineup can switch one through four, with Gasol being the only guy they'll try to protect. They'll likely play pick-and-rolls involving him in a more conventional fashion, but he'll have to be comfortable consistently coming up to at least the level of the screen. At certain points, I expect the Raptors to have Gasol hedge and even blitz those pick-and-rolls as a way to avoid switching while simultaneously pressuring the ball. He's an excellent double-teamer, and he's very hard to pass around given how much space he occupies.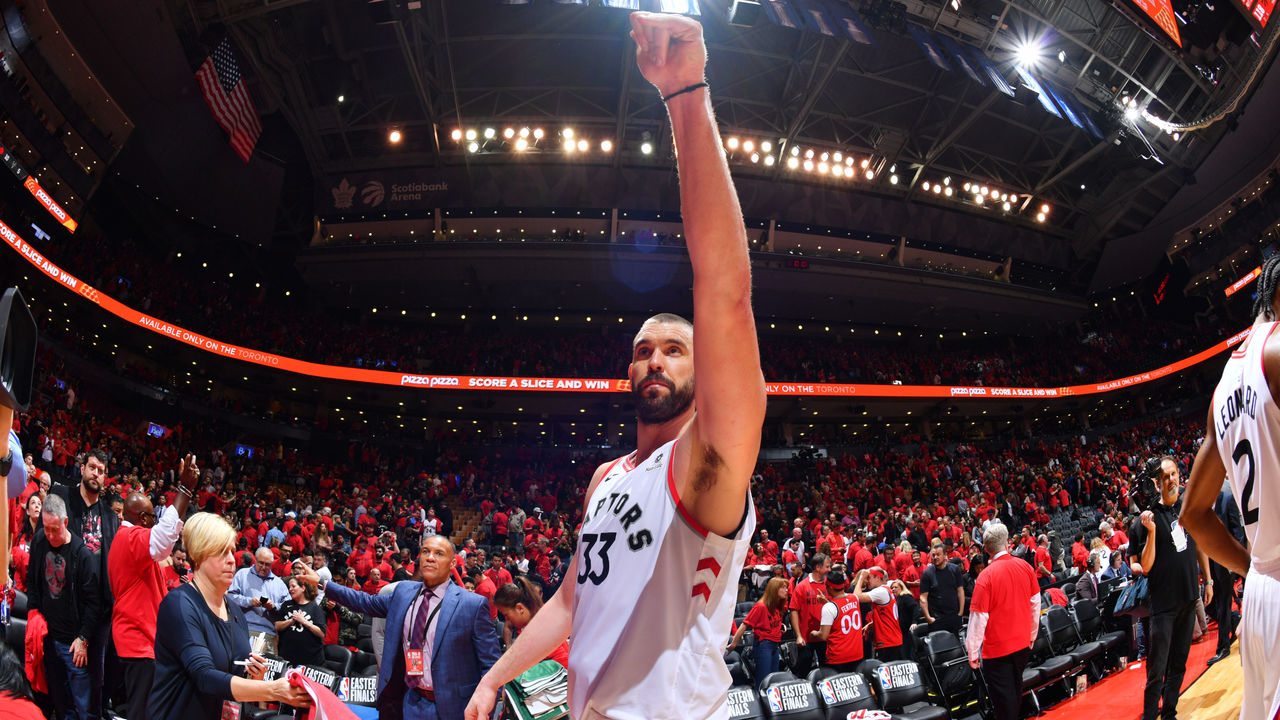 Look for the Raptors to get particularly aggressive blitzing side pick-and-rolls, especially when it's Kevon Looney setting the screen. Looney isn't a major threat to make a play on the short roll, so even if Curry can slip a pass through the trap, the Raptors can survive the ensuing four-on-three in a way they can't when it's Draymond rolling to the rim.
Speaking of Looney, he's been terrific for the Warriors, and his role has been magnified with Durant out. No KD means no Hamptons Five, which means a lot of Looney with the starters. The Raptors will try to attack him with Kawhi pick-and-rolls the same way the Warriors will attack Gasol, but Looney has held up extremely well on the perimeter so far this postseason. The big difference is that Gasol is a threat to shoot, which will make those situations particularly stressful for Looney. It will be interesting to see if the Warriors start him in Durant's absence - something they've strangely yet to do in these playoffs. (Instead, they've given eight combined starts to Andrew Bogut, Jordan Bell, and Damian Jones.)
And whether or not Golden State opts to start Cousins when he returns, Looney can still be expected to have the bigger role, as the former was a defensive liability even before he strained his quad.
Still, there will be a role for Cousins. The Warriors should look to stagger his minutes with Leonard's so he's less vulnerable in pick-and-rolls, and maybe try to match him with Ibaka rather than Gasol, so he can actually do damage on the glass and in the post. They can use him as a screener to try and force switches, and from there he can post up smaller defenders, draw help, and unleash his passing. If Cousins can just give the Warriors 15 solid minutes a game, it will be a huge win for them.
Meanwhile, if Gasol's role has to be scaled back in this matchup, the Raptors will need Ibaka to pick up the slack. He's more capable than Gasol at defending in space, but he can be a liability on the defensive glass, and he hasn't shot the ball particularly well in these playoffs. His performance will be one of the biggest swing factors for the Raptors in The Finals. When Ibaka's at his best, he's a ball of activity and energy who can hang on switches, provide timely help at the rim, pull down bundles of offensive rebounds, and knock down mid-range jumpers out of the pick-and-pop.
If he plays well, it might negate the need for the Raptors to downsize all the way with Siakam at center. Even if they get peak Ibaka for, say, two-thirds of this series, they should be in good shape.
Comments
✕
Who ya got? Previewing, predicting the Raptors-Warriors NBA Finals
  Got something to say? Leave a comment below!