NBA fans, rejoice! The six-month, 1,230-game slog called the regular season has finally come to an end. With the playoffs set to tip off Saturday afternoon, theScore NBA writers Joe Wolfond and Joseph Casciaro preview and predict every first-round series.
You can find their Eastern Conference preview here.
Next up, the West:
No. 1 Warriors (57-25) vs. No. 8 Clippers (48-34)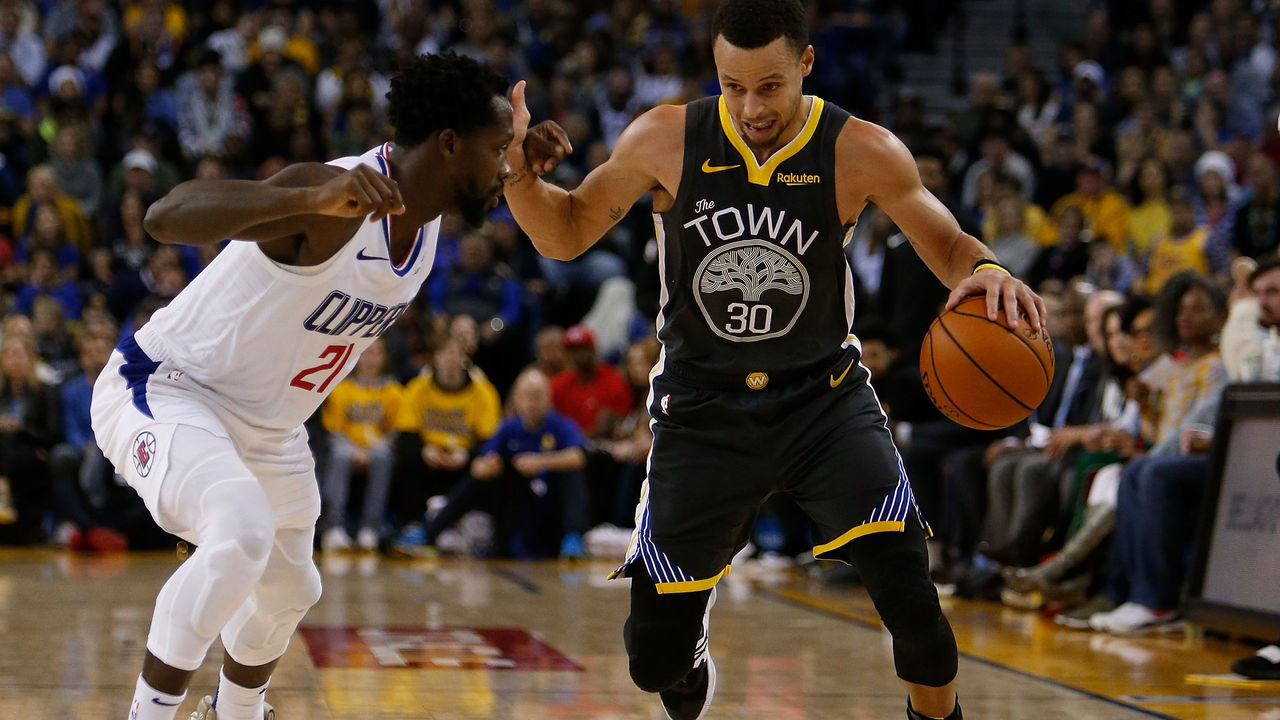 Prediction
Casciaro: Warriors in 4
Doc Rivers and the Clippers deserve every bit of praise they've received for earning a playoff spot in the unforgiving Western Conference despite all the roster turnover, but this star-less team is no match for the juggernaut Warriors.
At least the workmanlike Clippers will probably make the Warriors try harder than they'd like to in the first round. And maybe Lou Williams and Danilo Gallinari will even find a way to shoot them into a gentleman's sweep.
Wolfond: Warriors in 5
I'll put my money on that gentleman's sweep because of the Warriors' apathy. I can already see them being up 2-0 or 3-0 and then dropping a game because they can't be bothered to match the Clippers' bloodthirsty intensity. Who wants to blow out a knee battling Patrick Beverley for a loose ball in a game they know won't matter in the grand scheme of things?
Anyway, the Clippers won't be able to get defensive stops in this series, as the Warriors can abuse them at every position. And despite his fantastic regular season, I'm not optimistic Williams is going to be efficient enough on offense to make up for his defensive shortcomings that Golden State is sure to expose.
Series X-factor
Casciaro: Warriors' compete level
You already mentioned it. Whether the Clippers ultimately steal a game in this series will come down to whether the Warriors feel like putting forth anywhere near max effort for four straight games. If they do, it will get ugly. If they don't, or if L.A. nightlife gets them, the Clippers may celebrate an unlikely win in Game 3 or 4.
Wolfond: Patrick Beverley
I think you've got this one right, but I think it's kind of unfair to give the Clippers zero agency in this situation, even if they have very little control over the outcome. So, I'll give a nod to Beverley, or more specifically, to his recklessness. This world-class agitator is going to spend most of the series picking up Steph Curry full court, taking charges, and diving dangerously around guys' legs. He's not so much a dirty player as he is an overexuberant one, but that overexuberance has derailed championship hopefuls in the past. With Curry already dealing with a sprained foot, the Warriors might be best off putting him on ice for this series.
No. 4 Rockets (53-29) vs. No. 5 Utah Jazz (50-32)
Prediction
Wolfond: Rockets in 6
The Jazz feature the personnel to at least make life difficult for James Harden. They have a ton of size on the wings and two elite defensive bigs, including the game's single best rim-protector. In theory, they should be as good as any team at forcing him into floater range.
All told, the Jazz should make this a more competitive series than last year's five-gamer - they've gotten a bit better since then, and the Rockets a bit worse - but I still don't think they quite have the offensive firepower to score with Houston, even acknowledging that they posted the league's sixth-best offensive rating since Jan. 1. Put simply, the Rockets have more ways to hurt the Jazz than the Jazz have to hurt the Rockets. Harden's still going to get his, Chris Paul will do damage in the mid-range, and Houston will have the option of going to P.J. Tucker at center for long stretches in order to try pulling Rudy Gobert away from the rim.
Neither team figures to be thrilled about this matchup. But at the end of the day, the side with the best player (if not the two best players) holds the edge.
Casciaro: Rockets in 6
The Jazz are a well-constructed defensive team that's capable of creating havoc at virtually every position. Joe Ingles is going to frustrate Harden, Gobert will do his thing patrolling the paint, and Derrick Favors and Royce O'Neale (among others) will continue to do the dirty work as two of the most underrated defensive players in the game. Ingles is also a great secondary playmaker behind the electric Donovan Mitchell, but I still think Mitchell would be better suited in a secondary scoring role, at least at this stage of his career on a quasi-contender.
And that's the rub with Utah. This team is still missing that one alpha-type offensive player who can push it over the hump in the playoffs.
The Rockets (also a balanced two-way team) have one of those guys in Harden, and the talent gap will be too tough for the Jazz to overcome, especially without home-court advantage.
Series X-factor
Wolfond: Joe Ingles
Gobert and Mitchell get all the plaudits, but Ingles is the straw that stirs the drink. On top of his pestering defense, the Jazz rely heavily on his connective abilities at the other end, and he made yet another leap as a playmaker this season. Ingles was particularly good following the All-Star break, averaging 13.1 points and a team-leading 7.5 assists while shooting 43.8 percent on nearly seven 3-point attempts per game and posting a plus-10 net rating.
However, Ingles is also pretty streaky, and as he goes, the Jazz go. His true shooting percentage in wins this season was 62.6 compared to 50.1 percent In losses. Utah will need the Australian at his very best to have a shot at toppling the Rockets.
Casciaro: Harden's floater
You made a good point earlier about Utah being well-equipped to force Harden into floaters. But while the strategy could cause some hesitation and frustration for Harden, the reigning MVP has never been more comfortable picking teams apart with his teardrop as he was this season.
Consider this: After shooting 137 floaters combined between the regular season and playoffs last year, Harden attempted a whopping 225 during the 2018-19 season, according to NBA.com. He also increased his conversion rate on floaters to 51.6 percent from 50.3 percent last season.
Gobert and the Jazz can hang their hats on the fact that Harden went just 16-of-37 on floaters against them over the last two seasons, including 3-of-13 this season, but if Harden figures Utah out, it might be death by a thousand cuts.
No. 2 Nuggets (54-28) vs. No. 7 Spurs (48-34)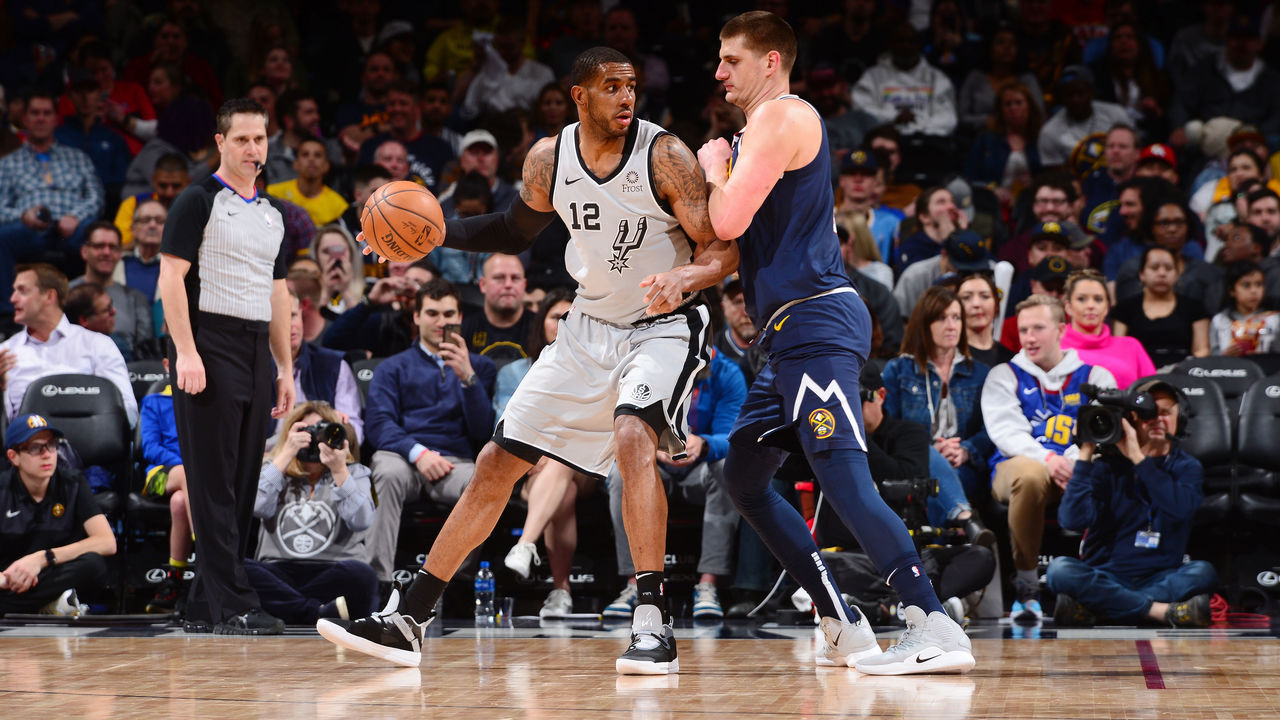 Prediction
Casciaro: Nuggets in 7
This series is so interesting to me because the Nuggets are clearly the more ideally constructed team for the modern game but they're also inexperienced and perceived as fragile. Meanwhile, the Pop-led Spurs have seasoning and guile. As Nuggets head coach Michael Malone said earlier this week, "Gregg Popovich has five rings. I have a wedding ring."
Expect a slow, methodical battle in this series. Denver and San Antonio combined for the lowest average pace among the eight first-round matchups and ranked 11th and 13th, respectively, among the 16 playoff teams.
Wolfond: Nuggets in 7
I think this series is a really good place for Nikola Jokic to get his playoff feet wet. The Spurs, for all their veteran savvy and Popovichian sorcery, aren't designed to expose his defensive limitations. According to Cleaning The Glass, San Antonio ranked 30th in both 3-point attempt rate and at-rim attempt rate, the two types of shots that cause the slow-footed, earthbound Jokic the most stress. He's more comfortable defending the mid-range area, where the Spurs' offense sets up camp. San Antonio also doesn't have an ideal defender for Jokic. In short, I'm expecting him to have a big series.
I worry a bit about the rest of the Nuggets' offense, which sputtered down the stretch. I can see them struggling to generate secondary scoring, particularly if Derrick White can put the clamps on Jamal Murray, another postseason neophyte. Ultimately, I do think Denver is talented enough to overcome its lack of experience - narrowly.
Series X-factor
Casciaro: Home court
Only two West playoff teams finished with a losing road record, and they're both playing in this series. The Nuggets and Spurs combined to go 66-16 at home and 36-46 on the road, with the Spurs, in particular, posting a hilarious discrepancy (32-9 versus 16-25). The best bet here might simply be to expect seven home wins. Denver would certainly take that.
Wolfond: Denver's wing corps
This is probably the biggest reason I'm having trouble trusting the Nuggets. I don't feel especially confident in any of their wings. Gary Harris was awesome at the start of the year but got derailed by hip, hamstring, and ankle injuries and hasn't really gotten his bounce back. Will Barton strained his hip two games into the season and never got on track. Torrey Craig is a stout defender but an offensive liability. Malik Beasley has been the team's most consistent wing, but even he tailed off down the stretch.
The Spurs' wings won't exactly light the world on fire, but with guys like DeMar DeRozan, Rudy Gay, Marco Belinelli, and White, they at least know what they'll be getting. The Nuggets will need at least one of their guys to play up to their full capabilities in this series.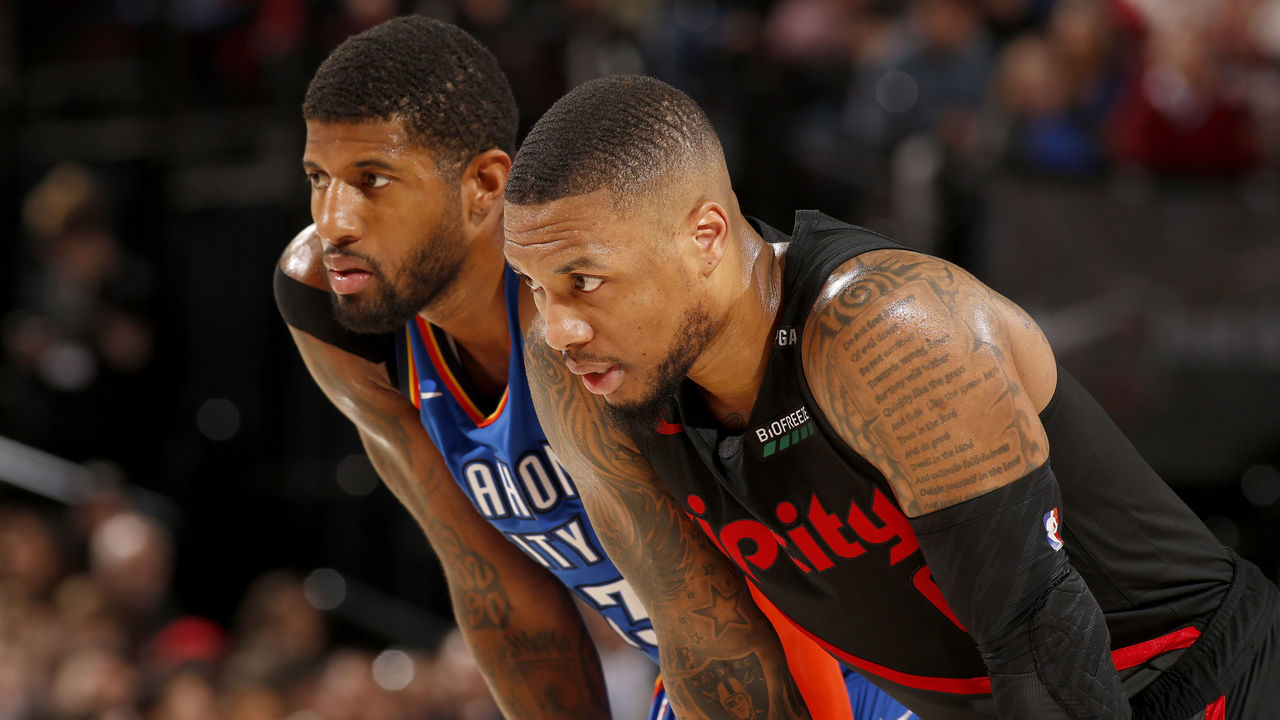 Prediction
Wolfond: Thunder in 6
It didn't happen, but the Blazers seemingly wanted to avoid this matchup, even if it meant putting themselves in Golden State's side of the bracket. It's easy to see why. The Thunder swept the four-game regular-season series, and that was before Portland lost Jusuf Nurkic, its second-best player and most important defender. With athletic, long-armed wing defenders Paul George and Jerami Grant, and gargantuan but mobile center Steven Adams, the Thunder can replicate the blueprint the Pelicans laid out last spring for enveloping Damian Lillard and C.J. McCollum. And with Nurkic sidelined, the Blazers are without their most important release valve, which should only embolden the Thunder to amp up their blitzing aggressiveness. Lillard and McCollum are going to see extra defenders any time they try to turn the corner.
At the other end of the floor, the Blazers will be vulnerable whenever Enes Kanter is manning the middle. Nobody knows that better than Thunder coach Billy Donovan. Expect to see OKC go at Kanter with a ton of high-screen actions, with the aim of getting George and Russell Westbrook attacking him downhill.
I still expect the Blazers to make this a series for a few reasons: They're less reliant on the pick-and-roll than they were a year ago. Lillard is a bit better, and there's a bit more secondary playmaking around him. George still looks hampered by his shoulder injury and the Blazers have a pair of big wings (Al-Farouq Aminu and Mo Harkless) capable of bothering him. Perhaps most importantly, Adams has looked pretty ragged in the second half of the season, which makes the Thunder's defense less intimidating and a lot more exploitable.
Casciaro: Thunder in 5
You know who else has looked a little ragged lately - McCollum, who suffered a strained left knee about a month ago. If he's anything less than 100 percent, the Nurkic-less Blazers just don't have enough secondary scoring to support Lillard. As you already mentioned, it's going to be tough for him against a team stocked with good perimeter defenders.
It really is a shame, because the healthy Blazers would fit the bill of an undercover contender this season, but no longer have the horses to run with George, Westbrook, and the Thunder.
Series X-factor
Wolfond: Zach Collins
So, about that Kanter problem. If playing him becomes untenable, the Blazers do have other options, Collins chief among them. The second-year center has seen his role and production fluctuate wildly, but his skill set is better suited for the postseason than Kanter's. Collins is a great athlete who moves his feet well on defense, protects the rim, and offers some stretch at the offensive end. The Blazers would be more vulnerable on the defensive glass with him in Kanter's place, but if Collins can hold his own in the pick-and-roll, and hit enough of his threes to keep Adams honest, the trade-off will be worth it.
Collins has shown plenty of glimpses of breakout potential, but things haven't coalesced for him yet. This would be a hell of a time to put it all together.
Casciaro: Adams
If the intimidating big man is a shell of himself, as we agree he appeared to be during the second half of the season, Oklahoma City's defense won't be able to help contain Lillard and McCollum the way Anthony Davis helped Jrue Holiday and Rajon Rondo do so last April. If Adams manages to find some reserve fuel in the tank before the weekend, however, the Blazers are in trouble.
A healthy Adams gives OKC a legitimate Big Three. His defensive mobility allows the Thunder to trap more aggressively. His selective, yet ultra-efficient interior scoring - not to mention his work on the offensive glass - opens up more space to unleash Westbrook (for better or worse), and his work in the pick-and-roll can help play Kanter off the court.