NBA fans, rejoice! The six-month, 1,230-game slog called the regular season has finally come to an end. With the playoffs set to tip off Saturday afternoon, theScore NBA writers Joe Wolfond and Joseph Casciaro preview and predict every first-round series.
First up, the East:
No. 1 Bucks (60-22) vs. No. 8 Pistons (41-41)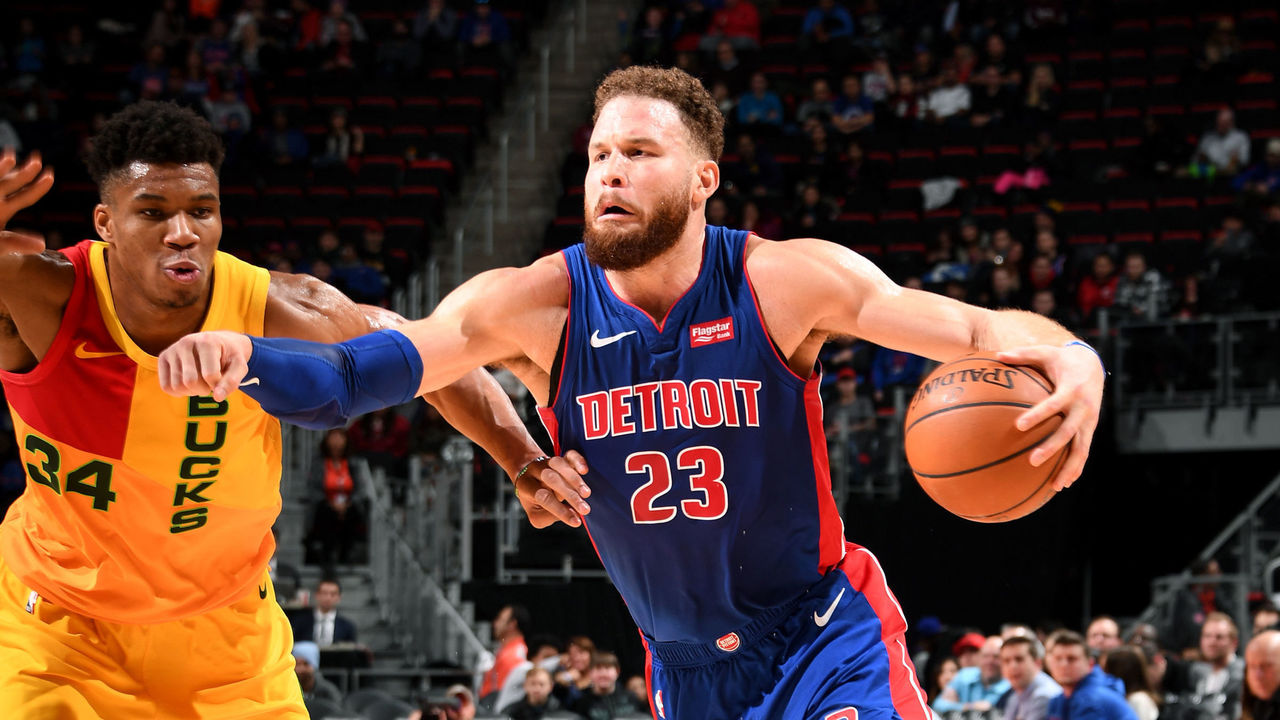 Prediction
Casciaro: Bucks in 4
There was a time, just a few weeks ago, that the Pistons looked like the type of big, scrappy, peaking team that could give one of the East's top dogs some first-round trouble. That seems like ages ago. In the end, Detroit needed a comeback over the Grizzlies at home and then a road win over the hapless Knicks just to squeak into the playoffs as a .500 team.
Blake Griffin's sore left knee is troublesome enough that it kept him out of the do-or-die finale in New York, and with all due respect to Andre Drummond's second half of the season, a team led by Drummond and Reggie Jackson isn't stealing a game from the 60-win Bucks.
Wolfond: Bucks in 4
I wish I could muster up a contrarian's argument here, but there really isn't a reasonable one to be made. I'd probably give the Pistons a token game if it weren't for Griffin's knee, if only out of reverence for what he's done this season. With him in a diminished state, though, Detroit is hopeless. Maybe Ish Smith will feast on floaters against the Bucks' deep-drop coverage. Maybe there's a Thon Maker revenge game in store. Maybe Drummond busts Brook Lopez and steals a game by himself. But any scenario in which Milwaukee sweats even a little bit feels far-fetched. The Pistons don't have anyone who's remotely capable of guarding Giannis Antetokounmpo and the Bucks swept the four-game season series by an average margin of 14.8 points. I don't see this playoff matchup going any differently.
Series X-factor
Casciaro: Blake Griffin's knee
You already mentioned it. A healthy Griffin, playing at the level he was this season, is good enough to steal a playoff game. But there's just no reason to believe in that health. Griffin looked like he was practically fighting back tears after hobbling off the court in Detroit's penultimate game of the regular season.
At the end of the day, we're talking about the difference between a sweep and a five-gamer, but it's a shame for Griffin, who's embraced Detroit and his role as the face of this downtrodden franchise.
Wolfond: Luke Kennard
It does feel kind of silly to be scrounging for X-factors in a series that has such a narrow range of conceivable outcomes, but Kennard deserves some love for the way he closed out the season. After the trade deadline - when the Pistons traded Reggie Bullock, the guy who'd been starting ahead of him - Kennard averaged 16.2 points per 36 minutes on 59.9 percent true shooting with a plus-6.3 net rating. The sophomore wing also hit 43.3 percent from 3-point range on five attempts per game. If the Bucks are packing the paint and helping aggressively on drives (as has been their ethos), Kennard is probably the one Piston whose jumper can actually make them pay for it.
No. 4 Celtics (49-33) vs. No. 5 Pacers (48-34)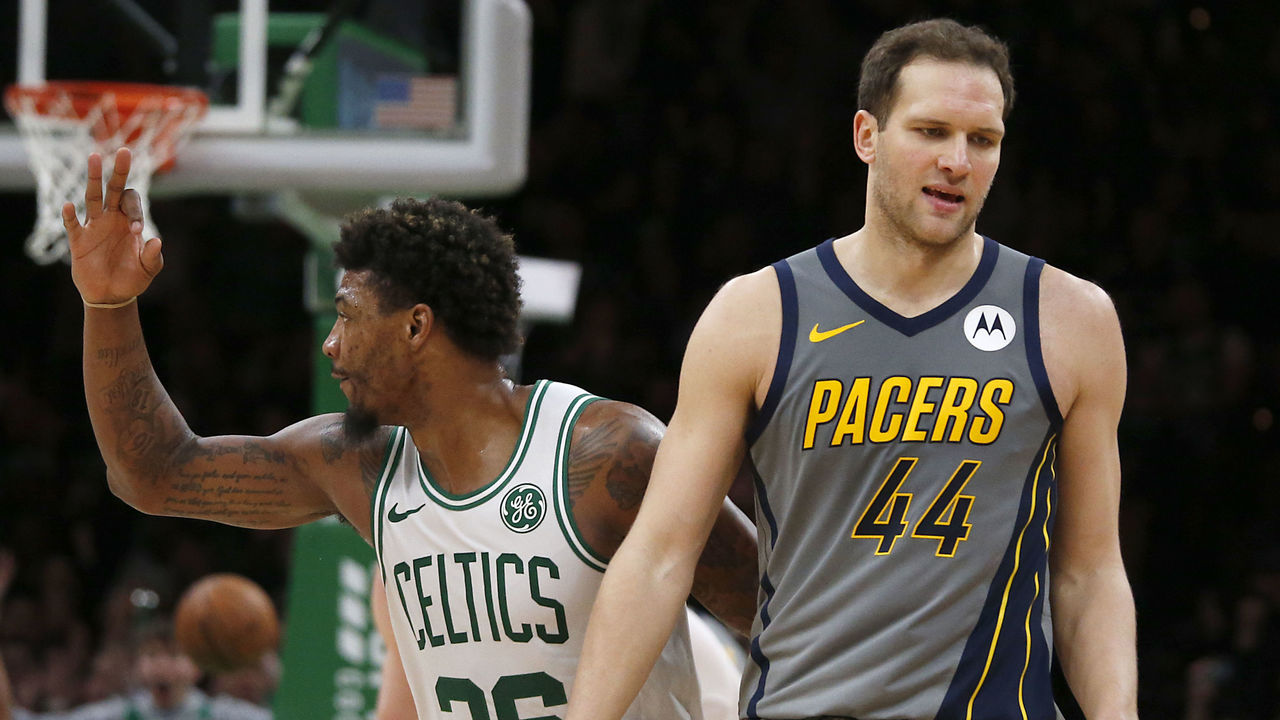 Prediction
Wolfond: Celtics in 6
If Victor Oladipo was healthy, I'd pick the Pacers in this series without a second thought. Even still, I fully expect them to be a massive thorn in Boston's side. That's because the Pacers have been everything the Celtics have not been this season: resilient, cohesive, and consistent in their effort and execution. Unfortunately, they just don't have the horses to swing this upset, even if Boston's true talent level is lower than we thought.
Without Oladipo, Indiana simply has an untenable lack of shot creation and one-on-one weapons (Darren Collison is the team's only above-average iso scorer). All the effort in the world won't be enough to overcome that deficiency against a Celtics defense built to vaporize screening actions by switching effectively across every position.
Casciaro: Celtics in 5
I'm with you on Oladipo being able to carry Indiana over an uninspired Boston squad, and agree the Pacers will frustrate the Celtics at every turn, but I'm still only giving them one game in this series. While the fight in Dipo's absence has been admirable, the fact remains this team went 16-19 after his injury while running the league's 23rd-ranked offense.
The Celtics aren't the greater-than-the-sum-of-their-parts unit of last year, but they're the more talented team, they employ the best player in the series by a mile, and they have home-court advantage.
Series X-factor
Wolfond: Bojan Bogdanovic
Even given the talent deficit, I think you're selling the Pacers a bit short. This team's too scrappy to go down in five. That said, if they're to have any hope of getting past the Celtics, Bogdanovic has to lead them there. His outside shooting and point-of-attack defense were quietly big reasons Indiana pushed the Cavaliers to seven games in the first round a year ago. This season, the late-blooming 29-year-old has taken another leap, stepping into the Oladipo void and improbably emerging as the team's go-to offensive option while maintaining his sterling efficiency (61.3 percent true shooting on 22.4 percent usage).
He's also become more than just a spot-up threat (though he's still very much that, canning 44.9 percent on catch-and-shoot threes); he can put the ball on the floor, drive and dish, attack mismatches against smalls, and make the odd play out of the post. The Celtics and their army of rangy, switchable wing defenders have held Bogdanovic in check this season, but that won't be as easy without Marcus Smart, who'll miss the series with a torn oblique.
At the other end, Bogdanovic, a vastly improved defender, will spend time guarding the likes of Jayson Tatum, Jaylen Brown, and the rejuvenated Gordon Hayward. After being saddled with defending LeBron James last spring, Bogey ought to be up for the task.
Casciaro: Marcus Smart's absence
First of all, kudos to Bogdanovic. The guy averaged better than 21 points on 51-42-78 shooting over his last 30 games.
But back to Smart. His absence would obviously loom larger against a better offensive opponent, or against a Pacers team led by Oladipo, but he'll still be sorely missed against Bogdanovic and Co. As you mentioned, Boston's ability to switch just about everything against Indiana has been a big part of keeping Bogey and the Pacers in check. Without him, the Celtics' margin for error shrinks on that end of the floor, and every inch counts in a series as close as you expect this one to be. Perhaps I can be talked into a six-gamer after all …
No. 2. Raptors (58-24) vs. No. 7 Magic (42-40)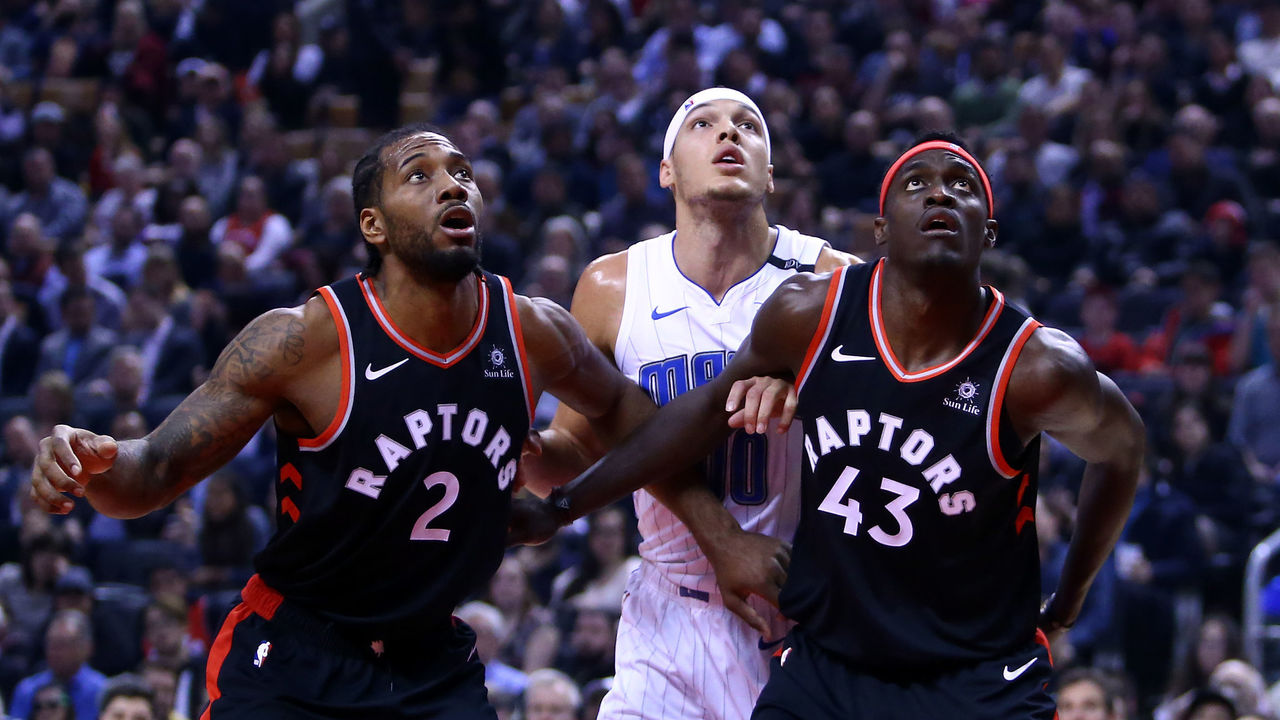 Prediction
Wolfond: Raptors in 6
Trust that I'm not making this pick out of some misguided sense of jadedness stemming from the Raptors' past playoff performances, which really have no bearing on the current iteration of the team. I just think the Magic are pretty good (they finished the season on a 22-9 kick, during which they posted the league's best defense, eighth-best offense, and third-best net rating), and pose some real challenges for the Raptors. The season series was split 2-2, but Orlando outscored Toronto by 7.1 points per 100 possessions, the second-best head-to-head margin for any Raptors opponent this year.
The challenges obviously start with Nikola Vucevic, who's been a handful for most of the NBA this season and has really given the Raptors the business on a couple of occasions. (It's worth noting that the biggest beatdown he doled out came with Serge Ibaka as Toronto's primary center, so the sample isn't entirely representative. Marc Gasol's presence made a huge difference in the last meeting.) Meanwhile, Aaron Gordon has done a bang-up job defending Kawhi Leonard, Jonathan Isaac has held Pascal Siakam in check, and D.J. Augustin has inflicted some damage in the pick-and-roll.
Ultimately, the Raptors have too great a talent edge to lose this series, and I think the Magic are going to have a really difficult time scoring. But I don't expect this to be a picnic. My gut says the Raptors fail to close out an opponent in five games or less for what seems like the 183,855th consecutive series.
Casciaro: Raptors in 5
It's true, the Magic's frontcourt length and defensive versatility present challenges for the Leonard-Siakam combo, Vucevic has been a beast all season, and Orlando has been an elite two-way team for more than two months now. It's also true that the Magic only faced the Raptors' full post-deadline roster once, in a game the Raptors dominated despite Leonard and Siakam being held in check.
I respect the Magic's season (and defense) enough to give them a game against a legit title contender, but I find it hard to believe a Leonard-led team that's as talented and as deep as these Raptors are will truly struggle in this series.
Series X-factor
Wolfond: Terrence Ross
Ross was never much of a playoff performer as a Raptor, but it's time for him to turn over a new leaf. And what better way to cap off a career year than by showing off against his former team? Ross has already hit Toronto up for 28 points once this season, and Orlando will need to get that version of Ross at least a couple times in this series because the offense is dangerously reliant on his shooting.
It could really go either way. Ross has sneakily been one of the most efficient pick-and-roll ball-handlers in the league this season, scoring 1.03 points per possession, which puts him in the 93rd percentile. But facing starter-heavy transitional lineups rather than full-on bench units will probably hurt that efficiency, and it must be at least a bit worrisome for Orlando that he has a 45.9 percent true shooting mark in 31 career playoff games. Maybe he's due?
Casciaro: Toronto's 3-point shooting
The Raptors were 23rd in 3-point shooting on trade-deadline day at 34.5 percent. Since then, they've converted a league-leading 41 percent of their long-range attempts. Some of that was the law of averages evening out for a team that had far too many accomplished shooters laying bricks. But don't discount how much of a factor Gasol's arrival has been. The Raptors are now a smarter, well-spaced offensive team and went 30-of-65 from deep (46.2 percent) in their final two matchups with Orlando after going 21-of-68 (30.9 percent) in the first two games without Gasol.
If the new-look Raptors continue to shoot the lights out, it's tough to see a Magic team at such a talent disadvantage keeping up.
No. 3 76ers (51-31) vs. No. 6 Nets (42-40)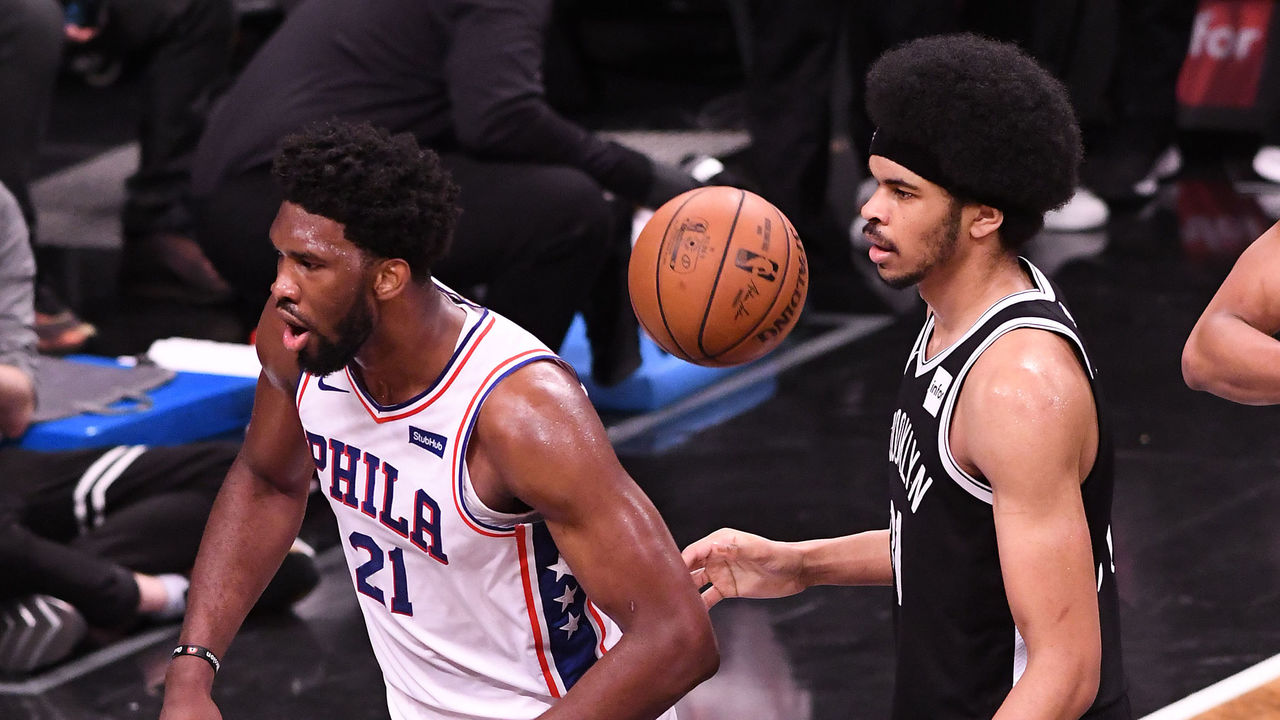 Prediction
Casciaro: 76ers in 6
The Sixers are entering the playoffs with the most top-end talent - and probably the best starting lineup - in the East, which you'd imagine should matter at the time of year when rotations are shortened and your stars carry you. Still, something just doesn't feel right.
The Sixers managed a solid but unspectacular 17-11 record after acquiring Tobias Harris at the trade deadline, and though they went 10-4 with Joel Embiid in the lineup during that time, news regarding the big man's health doesn't exactly sound promising right now.
On the other hand, the pesky, young Nets seem to possess the kind of fast-paced spirit and heat-check shooting required to frustrate contenders in April. They won't beat the Sixers, but they'll keep them in the first round longer than Philly wants to be there.
Wolfond: 76ers in 5
Embiid's knee injury is definitely a concern, especially considering the Sixers have been outscored by 3.3 points per 100 possessions with him on the bench this season. But somehow, I still can't see the Nets making this much of a series. They just have so few matchup advantages and so few ways to actually hurt Philadelphia. They don't have the type of speedy, penetrating guard who's given the Sixers trouble all year. They don't have a stretch big who's capable of dragging Embiid away from the rim, nor do they have anyone capable of banging with him down low (Embiid averaged 30 points, 14.3 rebounds, and five assists on 70.4 percent true shooting in the four-game season series). The Nets will get hot from downtown and snag a game at home, but otherwise, I expect them to be overwhelmed by the Sixers' size and positional flexibility.
Now, if Embiid has to miss multiple games or (god forbid) the whole series, that's obviously an entirely different story. But until we know more, I'm taking the optimistic view and assuming he misses one game, tops.
Series X-factor
Casciaro: Joel Embiid's health
For the third time in four series previews, I'm rolling with health as an X-factor, and I don't feel bad about it.
This one's just too obvious. You mentioned the Sixers being outscored by 3.3 points per 100 possessions without Embiid on the floor this season. Do you know what that figure ballooned to in Philly's four-game season series against Brooklyn? 28.1. That's not a misprint. In 134 minutes with Embiid on the court against the Nets this season, the Sixers outscored Brooklyn by 9.5 points per 100. In 58 minutes with him on the bench, the Nets outscored Philly by 28.1 points per 100, giving Embiid a ridiculous on/off net-rating differential of plus-37.6 against his team's first-round foe.
Wolfond: Caris LeVert
I don't want to put too much stock in a 58-minute sample, but yes, I think we can both agree it would be very bad for the Sixers if Embiid can't play or is severely limited. Their center options behind him are … not great. (Though I'd be interested in seeing Ben Simmons log some heavy minutes at the five.)
Anyway, I'm going with LeVert, because he's the kind of player the Nets will need to get the most out of in order to have a chance here. His would-be breakout season was derailed by a nasty dislocated ankle in November, and he hasn't been the same guy since returning. But in the season's final weeks he started to once again resemble the assertive, shifty, off-the-bounce playmaker he was before the injury. LeVert is capable of putting pressure on the rim in a way few other Nets players are.
He's been coming off the bench, but he should probably start over DeMarre Carroll in this series. Carroll gives a minus defender like Tobias Harris a hiding place. LeVert might actually make him uncomfortable.
Check back tomorrow for our Western Conference preview.