Should any member of the 'star-less' 2004 Pistons be in HOF?
REUTERS/Jeff Haynes/Pool PJ / Action Images
In an era in which it's said that a team needs a superstar (or two) to contend for a championship, the 2004 Detroit Pistons stand as the enduring counterpoint. Their collective of steady veterans toppled the star-studded L.A. Lakers (who employed several current and future Hall of Famers in Shaquille O'Neal, Kobe Bryant, Karl Malone, and Gary Payton), crushing their dynastic superteam four games to one.
With most of the core players from the mid-2000s Pistons now eligible for the Hall of Fame's class of 2018, it begs the question: Do any members of the supposedly "star-less" Pistons have a case for enshrinement?
PG - Chauncey Billups
Billups' 17-year resume stands as perhaps the most decorated among the miraculous Pistons squad. His most notable accomplishment was capturing the 2004 championship and being named Finals MVP after averaging 21 points and 5.2 assists.
Along with five consecutive All-Star nods, Billups was once named to the All-NBA second team, made the third team on two occasions, and had his No. 1 jersey retired by the Pistons. He was also idolized in Detroit for his penchant to make clutch baskets, earning him the title of "Mr. Big Shot."
The 2004 Pistons may not have had a bona fide "superstar," but Billups was as close as they got. - Soveta
HOF probability: 84.4%
theScore prediction: Yes
SG - Richard 'Rip' Hamilton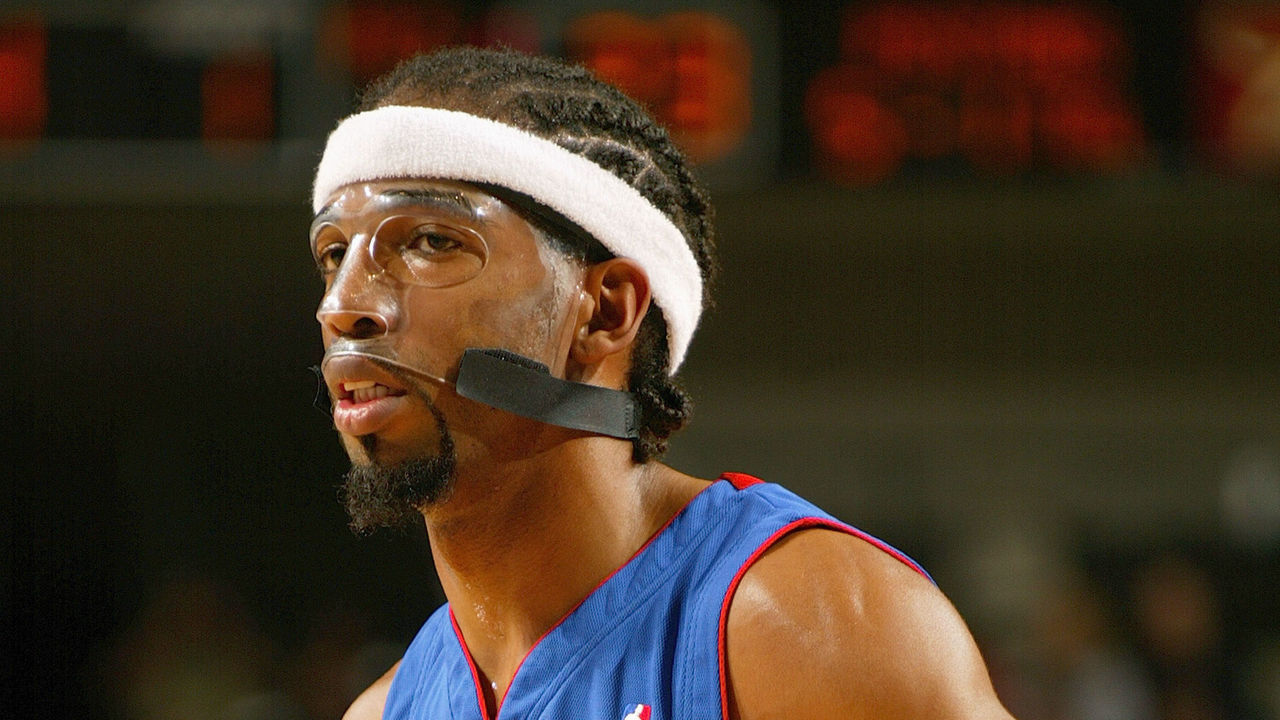 Hamilton was an excellent secondary scoring option for the duration of the aughts. From 2000-10, the man instantly recognizable for his Hannibal Lecter-style face mask averaged 18.8 points, 3.7 assists, and 3.4 rebounds. The 15,708 points Rip scored in his career are good for 122nd all time, and top the output of Hall of Fame wings like David "Skywalker" Thompson, but don't stack up well against other two-guards from the modern era.
Owing to the Pistons' increased notoriety following their championship win, and the team's outright dominance of the Eastern Conference for many years, Hamilton's career peaked with three straight All-Star appearances from 2006-08. His inclusion on a memorable - if not iconic - team and a very good career is as far as Hamilton's legacy extends. - Potter
HOF Probability: 1.8%
theScore prediction: No
SF - Tayshaun Prince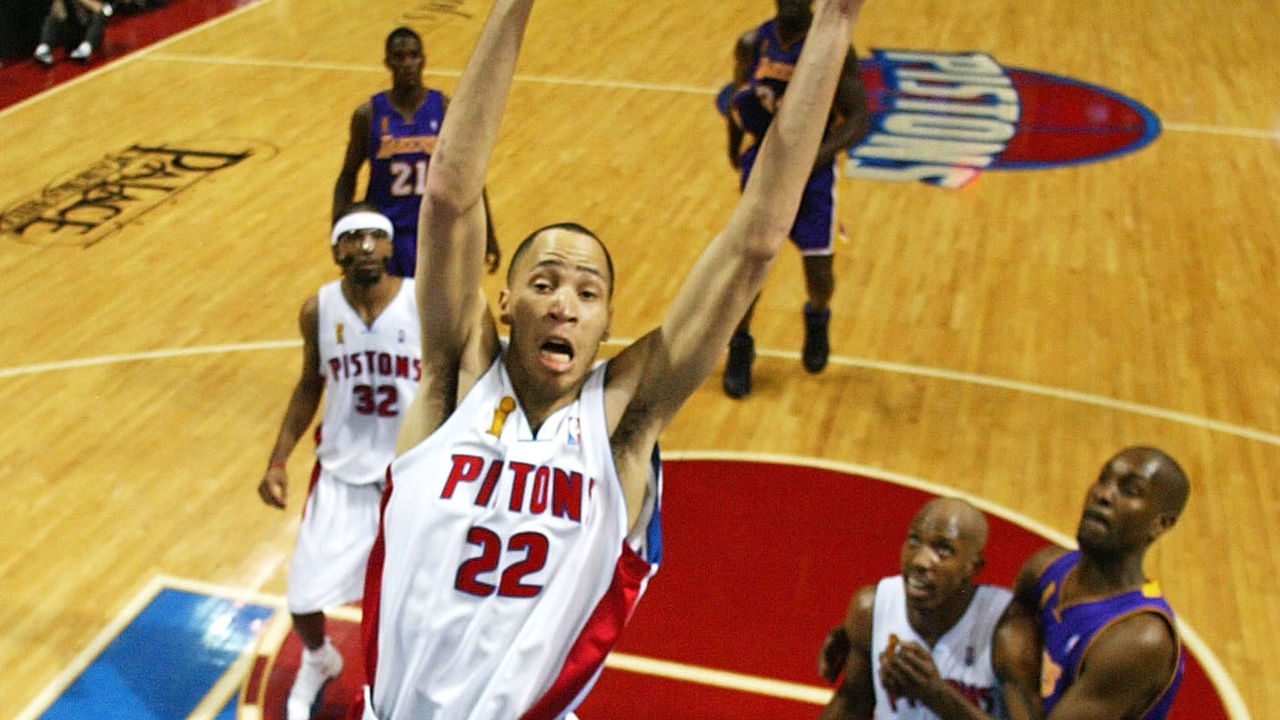 Always the least heralded member of the mid-aughts Pistons juggernaut, Prince would be a first-ballot inductee into the Role Player Hall of Fame. For Springfield, though, he's got no hope.
In his prime, Prince was an ace perimeter defender with a crafty, low-maintenance offensive game and some open-court flair. He was a workhorse, playing 496 consecutive games between 2003-2009. He authored some memorable playoff moments (one in particular stands out) and made four straight All-Defensive second teams from 2004-08. He was the perfect glue guy for those Pistons teams.
But alas, adhesiveness does not a Hall of Famer make. Prince never made an All-Star team, was never his team's most important offensive or defensive player, and never even averaged 15 points. His case ultimately rests entirely on team success, and it's hard to argue he was as instrumental to that success as his four teammates. - Wolfond
HOF Probability: 0.1%
theScore prediction: No
PF - Rasheed Wallace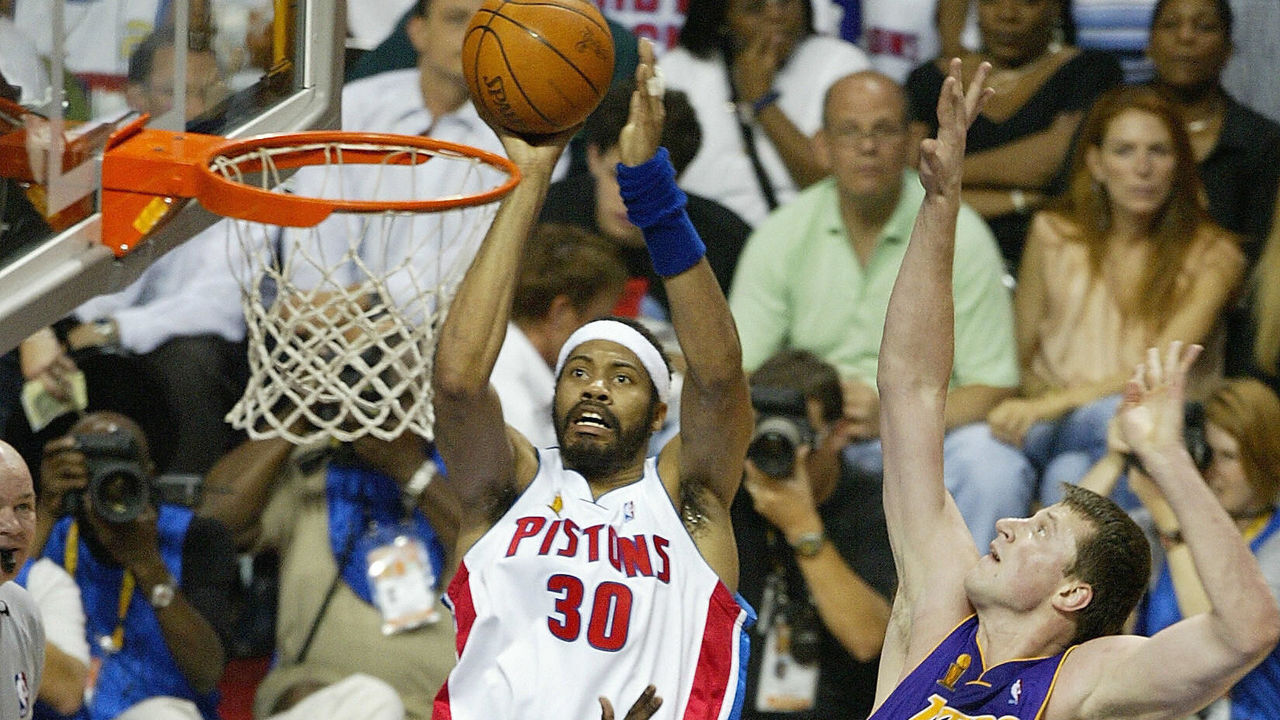 Wallace may have been the last piece added to the Pistons' championship puzzle, but there would've been no 2004 title in the Motor City without him. After going from Portland to Atlanta before landing with the Pistons for the final 22 games of the 2003-04 season, Wallace quickly recorded the Pistons' second best defensive rating (91) among players with at least 500 minutes played (sorry, Darko). More importantly, he kept that same pace throughout the playoffs and was monumental in knocking off the Lakers in one of the biggest Finals upsets ever.
To go along with his defensive prowess, Wallace was a nightly double-double threat with his scoring range, and his addition immediately transformed the mid-2000s Pistons from "yeah, they're tough" to legitimate perennial contenders. Calling him a certified Hall of Famer is a stretch, but his consistency over the years should earn "Sheed" at least some strong consideration. - Soveta
HOF Probability: 8.6%
theScore prediction: No
C - Ben Wallace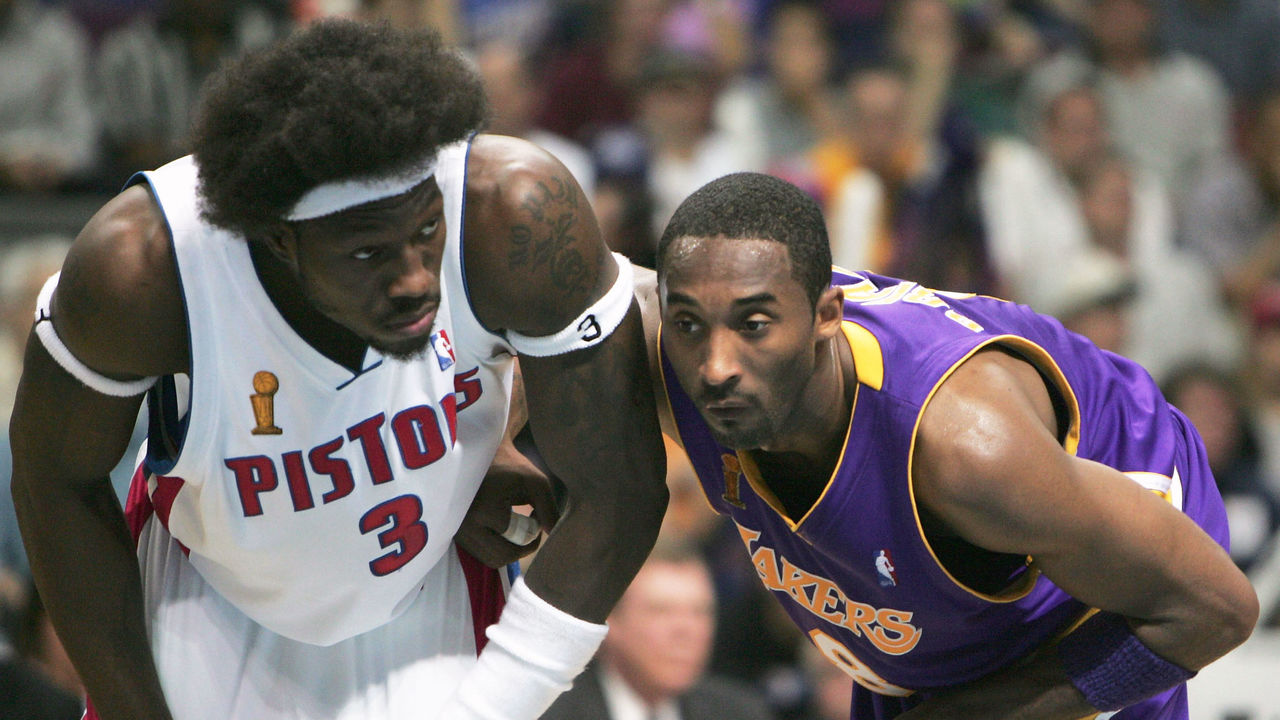 Wallace has a fascinating and persuasive Hall of Fame case. Despite having virtually no offensive skill set, he was one of the most impactful players of the 2000s. An ungodly rim protector, impenetrable post stopper, and hellacious defensive rebounder, he anchored some of the stingiest defenses the league has ever seen. In his six-season run in Detroit (which excludes his novelty career-ending return at the end of the decade), the Pistons never finished worse than eighth in defensive efficiency, and thrice finished in the top five.
Take his career as a whole and his case looks fringey, but Wallace's peak was undeniably Hall-worthy: A five-season stretch from 2001-2006 in which he was named Defensive Player of the Year four times, an All-Star four times, an All-NBAer five times, and an All-Defensive first-teamer five times. During that span, he blocked 150 more shots and amassed 3.9 more defensive win shares than any other player, while hauling in more rebounds than everyone but Kevin Garnett. He was the engine that drove those Pistons teams, and they drew their swaggering, intimidating, tougher-than-nails identity from him.
If inducted, Wallace would be the first undrafted player in the modern era to be enshrined in Springfield. - Wolfond
HOF Probability: 45.3%
theScore prediction: Yes
(Hall of Fame probability courtesy: Basketball Reference)
(Photos courtesy: Getty Images)
Comments
✕
Should any member of the 'star-less' 2004 Pistons be in HOF?
  Got something to say? Leave a comment below!