Draymond accuses Porzingis of lying about hack like he did
Brad Penner-USA TODAY Sports / Action Images
Last summer, Draymond Green lied to reporters about getting hacked after posting something he regretted. Now he believes Kristaps Porzingis has done the same thing.
Porzingis alarmed fans of his New York Knicks over the weekend when he tweeted the following: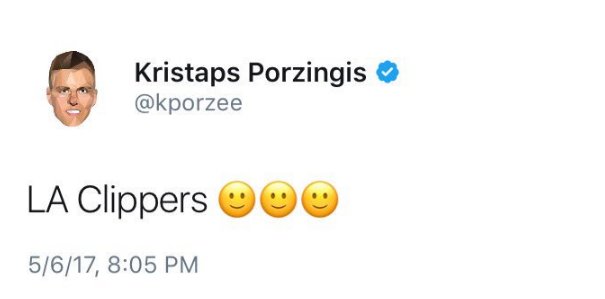 He promptly deleted it, and the following day, he said his Twitter account was hacked.
Green isn't buying it.
The Golden State Warriors forward accidentally posted a photo of his private parts on Snapchat while in Rio with Team USA last July. He initially said his account was compromised before eventually coming clean. He thinks Porzingis has found himself in the same predicament.
"I had an episode on social media this summer and the first thing I said was 'I was hacked,'" Green recalled Monday on his "Dray Day" podcast. "And then, you know, I thought about it and said, 'You know what, I wasn't hacked.' I wasn't hacked. Kristaps, I'm sorry but no one believes you. You weren't hacked. You trying to go to the Clippers. And that's OK. Nah, Kristaps, you lyin' bro. You weren't hacked."
Green wasn't done, there. He speculated why The Unicorn might've sent the tweet.
"Maybe you was drunk, and you know, your true feelings came out and you tweeted your true feelings, but you weren't hacked, my man," he said. "Trust me, I had a worse episode than what you just did on social media and the first thing I said was 'Ah man, I was hacked.' It's the first thing you think of. But brother, if the Clippers is where you trying to go, come on to this West. Come to the West, it's a fun time in this West."
Your move, Kristaps.
Comments
✕
Draymond accuses Porzingis of lying about hack like he did
  Got something to say? Leave a comment below!