World Series Memories: Kevin Millar of the '04 Red Sox on cuing the comeback
Rich Pilling / Major League Baseball / Getty
Presented by
The New York Mets' 9-3 win over the Kansas City Royals in Game 3 of the Fall Classic has the National League side right back in the series. Had the Mets lost, and been facing a 3-0 deficit, they'd be looking to escape a hole only one MLB team's climbed out of before.
That team - the one that defied the odds and came back from down 3-0 - was a group of self-proclaimed "idiots."
The Curse
On Sept. 11, 1918, the Boston Red Sox defeated the Chicago Cubs 2-1 to win the 15th playing of the World Series in six games. It was the franchise's fifth World Series win and third in a four-year span.
Flash forward to Oct. 17, 2004 - 86 years, one month, and six days later. The Red Sox had not only failed to win a single World Series since, but were on the verge of being ousted from the postseason by the rival New York Yankees for the second consecutive season.
Cuing the comeback
New York held a 3-0 series lead and was in position to sweep away Boston right in Fenway Park. The Yankees led Game 4 by a score of 4-3 entering the bottom of the ninth. Tasked with leading off the inning and jump-starting the Boston offense was Kevin Millar - but Millar was looking to do more than just that.
"We're down three games to none. We're down in the ninth inning against the mighty Yankees and Mariano Rivera. I always joke around, and I tell people - but it was the truth - I was trying to hit a homer," Millar recently told theScore.
"At that point, your mindset is: We're at Fenway Park. It's 300 feet to left field. I'm a pull hitter. He's a fastball pitcher. I was (hoping) that he makes a mistake up and in and I was going to try to hit a home run and tie the game."
Millar didn't get his home run. He instead drew a five-pitch walk that would cue one of the greatest comebacks in baseball history.
Once he reached first, Millar was promptly lifted for a pinch-runner: Dave Roberts. Roberts was going to steal second base. The Yankees knew it. The 34,826 fans in attendance knew it. The millions watching at home knew it. Despite lacking the element of surprise, Roberts beat Jorge Posada's throw to the second base bag, and he was in scoring position with none out.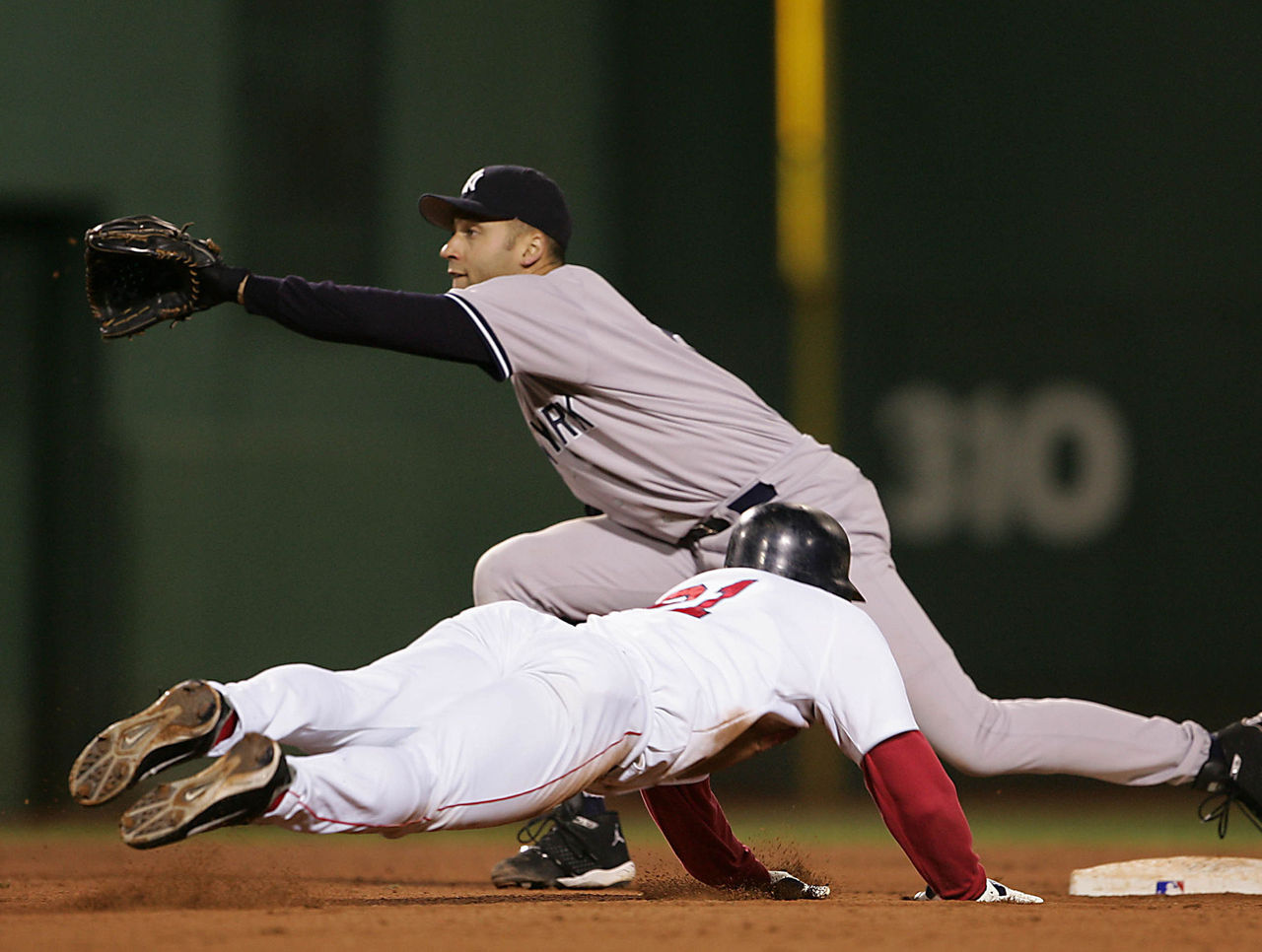 Two pitches later, Bill Mueller singled to center field, cashing in Roberts and tying the game.
The Red Sox went on to win Game 4 in 12 innings. They won Game 5 in 14 innings. They never trailed in Games 6 or 7 in New York, becoming the first team in MLB history to come back from a three-games-to-none deficit to win a series.
"It was just a group of guys that didn't match up with the Yankees by any means," Millar said. "But we did as a team."
Playing motivator
Millar was one of the figures in that Red Sox locker room credited with keeping spirits up during the toughest moments - a subject which regularly comes up on "Intentional Talk," the daily show he co-hosts with Chris Rose on MLB Network at 5 p.m. ET.
"I understood that we were a good team, and this series couldn't end as quick as it was gonna end," Millar said. "I wasn't Manny Ramirez, or Pedro Martinez, or David Ortiz, or Curt Schilling. My job was to find a way to get these guys to believe that we could come back, and it just kind of all randomly happened the way that it was scripted."
World Series sweep
After that epic comeback, the World Series was almost a formality. Boston swept the St. Louis Cardinals in four games, never trailing at any point in the series.
On Oct. 27, 2004 - just 10 days after the team faced a 3-0 series deficit to the Yankees - Keith Foulke snared a comebacker off the bat of Edgar Renteria and flipped the ball to Doug Mientkiewicz to put 86 years, one month, and 16 days worth of ghosts to rest.
"When you go through the scene, and you're playing, and you try to win a baseball game, you don't realize the challenges from the cities, and the stories, and the people, and their grandfathers, and their sisters, and their aunts," Millar said.
"But when we won that game in St. Louis, there was this big weight off your shoulders. I don't know what that weight was. If it was just the happiness for everybody else. Obviously, to win a ring as a player. But you felt this whole city just come together as a family - one big family - and it was pretty amazing."
World Series Memories
Mookie Wilson of the '86 Mets on his hit through Buckner
Kelly Gruber of the '92 Blue Jays on playing through pain
Comments
✕
World Series Memories: Kevin Millar of the '04 Red Sox on cuing the comeback
  Got something to say? Leave a comment below!