Nationals primed to make jump from rebuild to contention sooner than expected
Mary DeCicco / Major League Baseball / Getty
TORONTO - The Washington Nationals are beginning to show signs that their rebuild may soon end.
The Nationals entered the season with low expectations and stumbled through the campaign's first half at the bottom of the NL East at 36-53. However, something changed following the All-Star break. Washington started to win series after series and has now posted a 28-25 record in the second half.
A young core led by CJ Abrams, Keibert Ruiz, Lane Thomas, MacKenzie Gore, and Josiah Gray has helped turn a corner following a 107-loss campaign last year. The building blocks of the next good Nationals team are starting to show.
"We're having much more of a fun summer covering this team than I thought we were going to," longtime Nationals broadcaster Bob Carpenter told theScore in August. "I thought we were going to have to be making excuses every night like, 'This guy is young, and this is happening.'"
Abrams, just 22 years old, was one of five players acquired by Washington from the San Diego Padres in the Juan Soto trade. Enjoying his first full season in the majors this year, he's gone deep 16 times with 41 stolen bases over 132 games. Having split last season between the Padres and Nationals, Abrams has now had the opportunity to get more settled and has also seen a difference in his new club in the second half.
"We've had some pretty good energy in the clubhouse and during the games," Abrams said. "Just staying positive, together, and having each other's backs. We've been swinging it, and the pitchers have been doing their things. I like how we are playing."
Abrams hasn't been the only one around the Nationals to notice the change in demeanor as each player gets more experience under their belt.
"I think we are kind of scrappy," Thomas said. "A lot of guys put the ball in play, hit the ball hard, and move runners - kind of play the game the right way. When you combine all those things, good things happen."
It's easy to feel old when you look around the Nationals clubhouse. With 21 players on the current 28-man roster under 30, Washington boasts the third-youngest roster in the majors this season.
Ruiz is one of those youngsters. Another former top prospect who has come into his own this season thanks to a big second half, the Nationals acquired the 25-year-old catcher alongside Gray and two other minor leaguers at the 2021 deadline in a trade with the Dodgers for Max Scherzer and Trea Turner.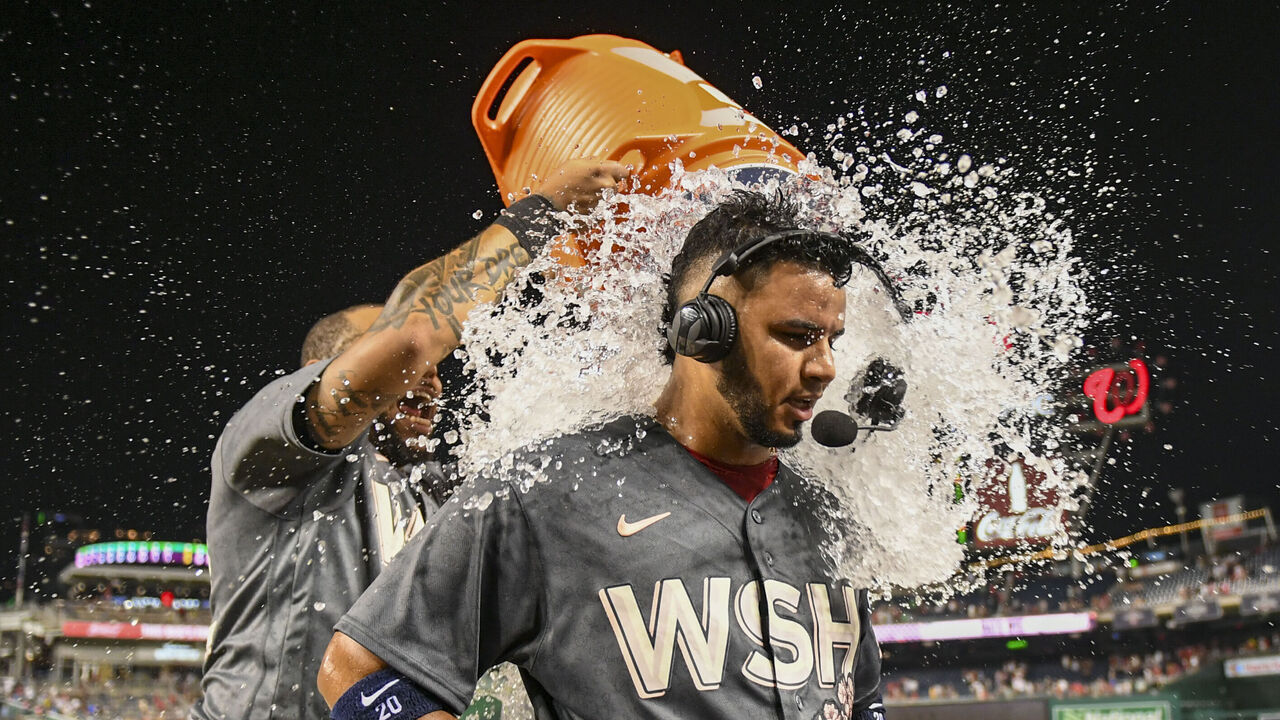 Not only does Ruiz have to manage a pitching staff, but he's also had to anchor the offense. He's spent the bulk of the season hitting either third, fourth, or fifth for Davey Martinez and has rewarded his manager by slashing .302/.357/.491 with eight homers and 28 RBIs over 46 games since the All-Star break. That's a significant improvement from the seven home runs, 36 RBIs and .673 OPS across 112 contests in his first full major-league campaign in 2022.
"I think just not trying to do too much at the plate," Ruiz said about what has aided his turnaround. "That's been helping me to see more pitches and be more patient. And behind the plate, I need to be a little better with my framing. However, I feel better over the last month."
Washington's second-half surge has shown that teams with low payrolls have a formula for sustainable success by drafting, developing, or acquiring young talent through trades. The Baltimore Orioles and Cincinnati Reds are the models to follow in 2023, despite constructing rosters with payrolls in the bottom third of the league - an area the Nationals also reside in. The Orioles and Reds emerged from prolonged rebuilds to become viable contenders for years to come.
"Baseball is at a spot in time where it's so elite, and so many young guys are coming up with so much talent," Nationals first baseman Dominic Smith said. "They're showing that they can help clubs win, and teams are understanding that, and that's why they are calling them up at such an early age. Teams like Baltimore and Cincinnati are very young, but they are showing they can compete with the big spenders and veteran clubs. It's just very unique. It's a great spot for baseball to be in, and I can't wait to see the talent coming up in the next few years."
But it isn't always that easy. Projecting future talent is difficult - especially in baseball. Progress isn't linear. Teams trading legitimate MLB talent away often don't recoup what they lost. You need to be able to accept losing and sell a fan base that there will be a lot of pain before things get better.
The Nationals are poised to arrive sooner than expected due to shrewd moves by the team's president of baseball operations and general manager, Mike Rizzo. The 62-year-old executive broke up the 2019 World Series-winning club he built by dealing superstars Soto, Turner, and Scherzer at the last two trade deadlines to acquire Abrams, Ruiz, Gray, and Gore, among other blue-chip prospects.
"Mike Rizzo, with those deals, which were not easy to make and were not popular with our fans, has rebuilt our minor-league system," Carpenter said.
Washington's current core will also get a major jolt in 2024 when two of the best outfield prospects in baseball are projected to arrive. Dylan Crews is the No. 2 pick from this year's draft and current No. 4 overall prospect, per MLB Pipeline, while James Wood also came in the Soto deal and is the No. 7 prospect.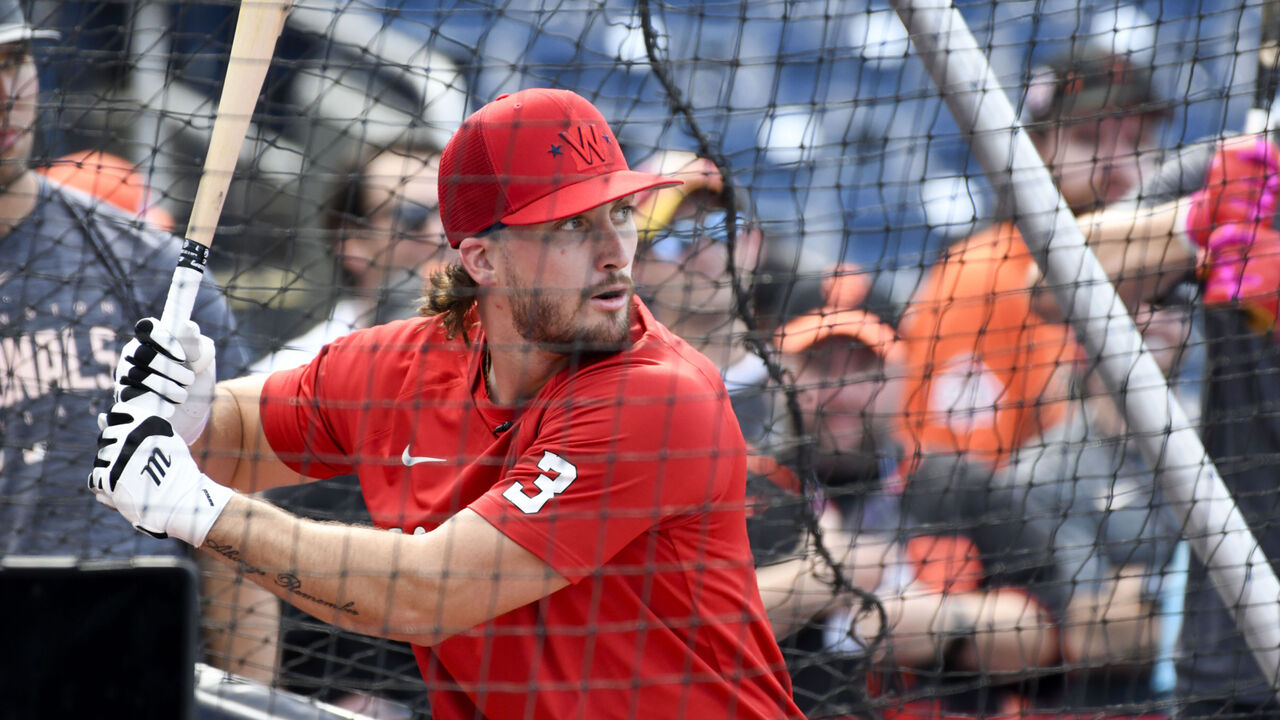 The Nationals' rebuild shares similarities with the club that lost 100-plus games in 2008-09 to earn the right to draft Bryce Harper and Stephen Strasburg. That team proceeded to open an eight-year contention window from 2012-19, resulting in five postseason trips, including the aforementioned championship, and an average of 91 wins per season.
"Dylan Crews, who looks like he might be the best thing coming out as a position player, maybe, since Bryce Harper," Carpenter said. "He's already in Double-A. Different players, different times, and the game is being played differently now than it was 10 years ago, but deep down, it's kind of the same feeling. We're on the way to really good things."
Crews is slashing .282/.355/.468 with five homers in 31 games over three minor-league levels since being drafted by Washington. The 21-year-old also helped Louisiana State win the 2023 College World Series and captured the Golden Spikes Award handed out annually to the best amateur baseball player in the United States. Meanwhile, the 20-year-old Wood has gone deep 25 times with 17 stolen bases and an .861 OPS over a combined 124 games between Single-A and Double-A this season.
"I expect big things," Abrams added when asked about the eventual arrivals of Crews and Wood. "I think we will be really good next year. Better than this year, for sure. Keep improving."
Thomas added: "It just adds to the fire. Those guys are definitely going to help us and hopefully come up here and do a good job and put us in a better place."
Comments
✕
Nationals primed to make jump from rebuild to contention sooner than expected
  Got something to say? Leave a comment below!