The Astros have begun their initial descent from baseball's top echelon
Carmen Mandato / Getty Images
Leading off …
The defending World Series champions - who some see as one of baseball's evil empires - are showing signs of decline.
The Houston Astros still have a number of talented players. Yordan Alvarez is one of the game's best hitters. The bullpen is very good. The club still possesses a couple of excellent rotation fixtures in Framber Valdez and Cristian Javier.
Last year's title validated the development processes the Astros' previous management regime had built, and the club is still a threat to win the AL West.
But a franchise that appeared to be set up for an extended run of sustained excellence - like the Dodgers, Rays, or Yankees - now appears to be on a different trajectory.
Houston's outlook is downgraded because of personnel losses following the sign-stealing scandal, the erosion of talent in the farm system, and the rest of the industry catching up to its once-innovative practices.
Before most teams had even experimented with high-speed cameras, the Astros had purchased and installed 75 Edgertronic cameras throughout its system by 2017 to hone pitch grips and evaluate mechanics. High-speed cameras are now standard technology in the game.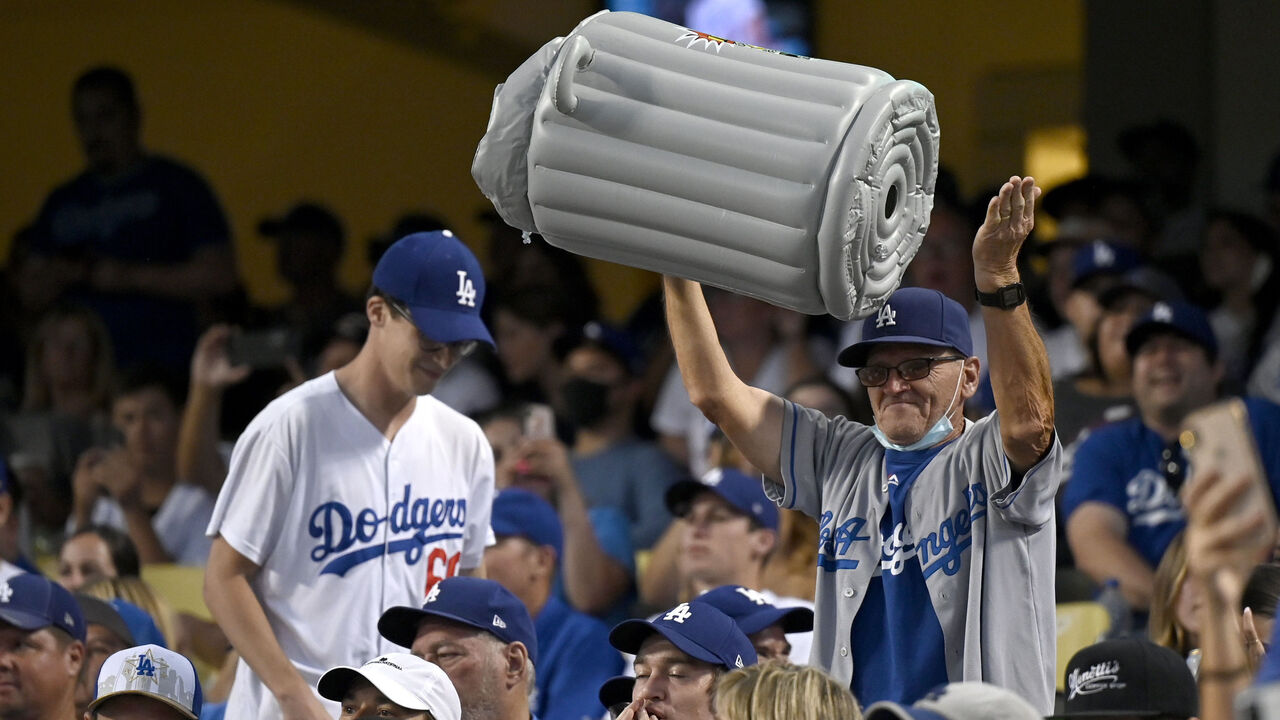 As for their organizational losses, they're starting to show up on the field and in the front office.
After winning 100 or more games in four of the last five full seasons, the Astros are currently projected by FanGraphs to win 89 this year. And of the 32 front office personnel listed in the baseball operations department in 2018, 23 have left, including all of the senior leadership team.
Jeffrey Luhnow, the former general manager who built the tainted 2017 title team, is now running a soccer club in Mexico. His top lieutenant, Mike Elias, is now the GM in Baltimore. He brought with him Sig Mejdal, who was a special assistant in charge of "process improvement" in Houston. Elias and Mejdal have recreated a lot of what made Houston successful in Baltimore. Mike Fast, who led the Astros' analytics research and development, is with the Atlanta Braves.
Among minor-league coordinators and major-league coaches, those who carry out the player development plans, only nine of the 21 listed in 2018 remain. Those losses include longtime pitching coach Brent Strom, who helped get the most out of pitchers like Gerrit Cole and Justin Verlander when they came to Houston, and who might now be working similar magic in Arizona with Zac Gallen.
Houston also seems to have made a philosophical shift by hiring Dana Brown as GM after choosing not to re-sign James Click. Brown comes from a more scouting-oriented background compared to the quantitative-centric hires who turned the so-called "Diasastros" into a dynamic organization.
The Astros of the last few seasons rarely missed when making player-acquisition decisions. But the new regime appears to have missed badly with free agent Jose Abreu, the major middle-of-the-order addition who hasn't yet homered this season.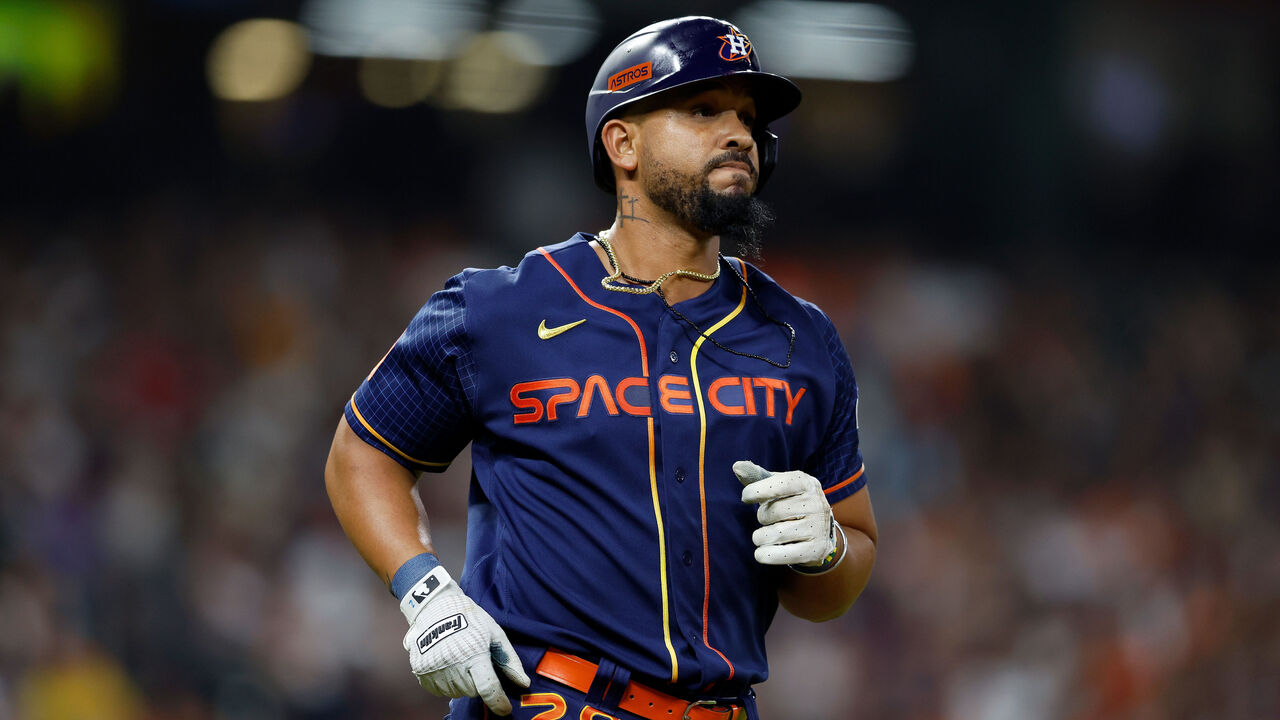 His power outage shouldn't be completely shocking given his age, 36, and the park fit. Of the 228 hitters with at least 175 batted balls in play last year, Abreu ranked 203rd in elevating batted balls to his pull side into the air (15%). The Crawford Boxes in left field don't work unless you can pull the ball in the air. Otherwise, Houston's home park isn't all that favorable to right-handed hitters.
But perhaps the effects of that brain drain are being felt most sharply in the farm system.
The Astros ranked 10th in Baseball America's organizational talent rankings in the spring of 2018. It was the fifth straight year they ranked in the top 10, and four times they ranked in the top five.
But they fell to 27th in 2020 due to injuries and graduations. They then ranked 26th in the 2021 preseason, 28th last year, and slotted 25th in Baseball America's organizational talent rankings this spring.
For now, it looks like this generation of Astros teams has likely already had its best days.
No. 2: It took a while, but Mitch Keller is here
Here's another example of why you should never give up on a young arm: Mitch Keller's 2023.
Although the Pirates have cooled off from their torrid start, Keller threw 16 shutout innings in his last two outings, including the first complete-game shutout of his career May 8 against Colorado. He followed it up Sunday with seven shutout innings against Baltimore, which included 13 strikeouts and no walks.
After being a second-round pick by Pittsburgh in the 2014 draft, Keller's enjoyed above-average velocity and an above-average breaking ball. But for a variety of reasons, the stuff never clicked. Now, after he first appeared in the majors in 2019, it's all coming together.
First, he's reduced his walk rate in each season since 2020. His percentage of pitches thrown in the strike zone is a career-best 57% this year.
Second, his arsenal is now among the deepest in the game. Keller throws five pitches after adding a sweeper and cutter in recent years, but none more than 25% of the time. Batters can't sit on a single one.
The Pirates haven't had a true ace since Gerrit Cole's 2015 campaign. They might have one now.
No. 3: More teams than just the Cardinals needed Sean Murphy
One thing that's been underscored with the drama and scapegoating of Willson Contreras, and the excellent performance by the Braves to date, is just how valuable catching production is.
It goes beyond what we can measure.
We can't quantify all the defensive value a catcher brings via things like pitch calling and playing psychologist/coach with pitchers. If a catcher can also hit while bringing that defensive acumen, they're incredibly valuable.
Perhaps the Cardinals should have upped their offer for Murphy. The Cleveland Guardians really ought to have, too.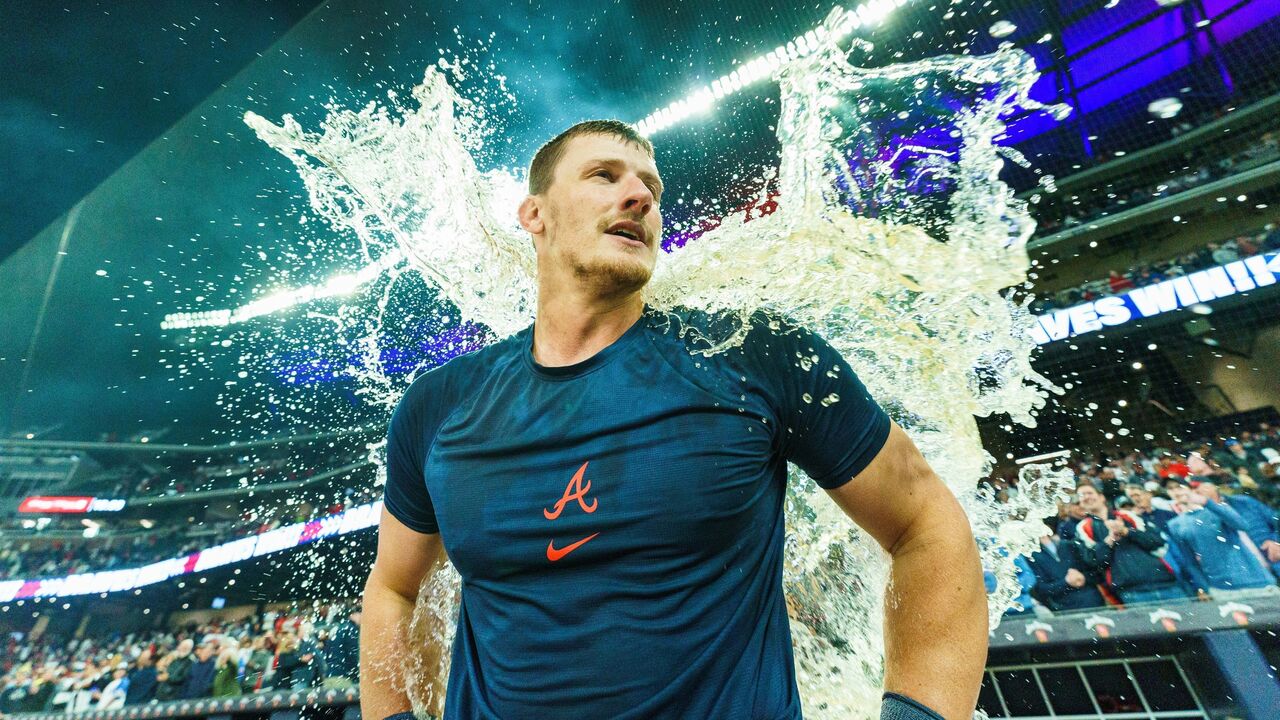 The Guardians' catchers have combined for a 32 wRC+ this year, which would match their team mark in the shortened 2020 season, tied for the fourth-worst catcher-hitting performance since 1960. (Marlins catchers have a 23 wRC+ this year, which is the worst currently).
Cleveland has long needed catching help. Perhaps prospect Bo Naylor, Josh's younger brother, is the answer. It's time to find out. And if there's doubt about his ability to catch, the club should've been even more aggressive in acquiring Murphy or Gabriel Moreno.
The Guardians signed Mike Zunino this offseason, who entered play Friday 0-for-27 with 21 strikeouts in May. There are too many zeros in the Guardians' lineup.
No. 4: Can Alek Manoah be fixed?
The good news for the Blue Jays is they roster a top-of-the-rotation fixture in Kevin Gausman, and perhaps another in Chris Bassitt (although he's been more of a mid-rotation arm in his career). Yusei Kikuchi and Jose Berrios are enjoying better campaigns early this season.
However, the club likely figured it'd need a great season from Alek Manoah to contend for an AL East crown and push deep into October. But Manoah is a mess right now.
Manoah's seven-walk, two-homer outing against the Yankees on Monday was about as non-competitive as it gets. He's lost a tick on his fastball, but it's his lack of command of his breaking ball that's derailing his 2023 season.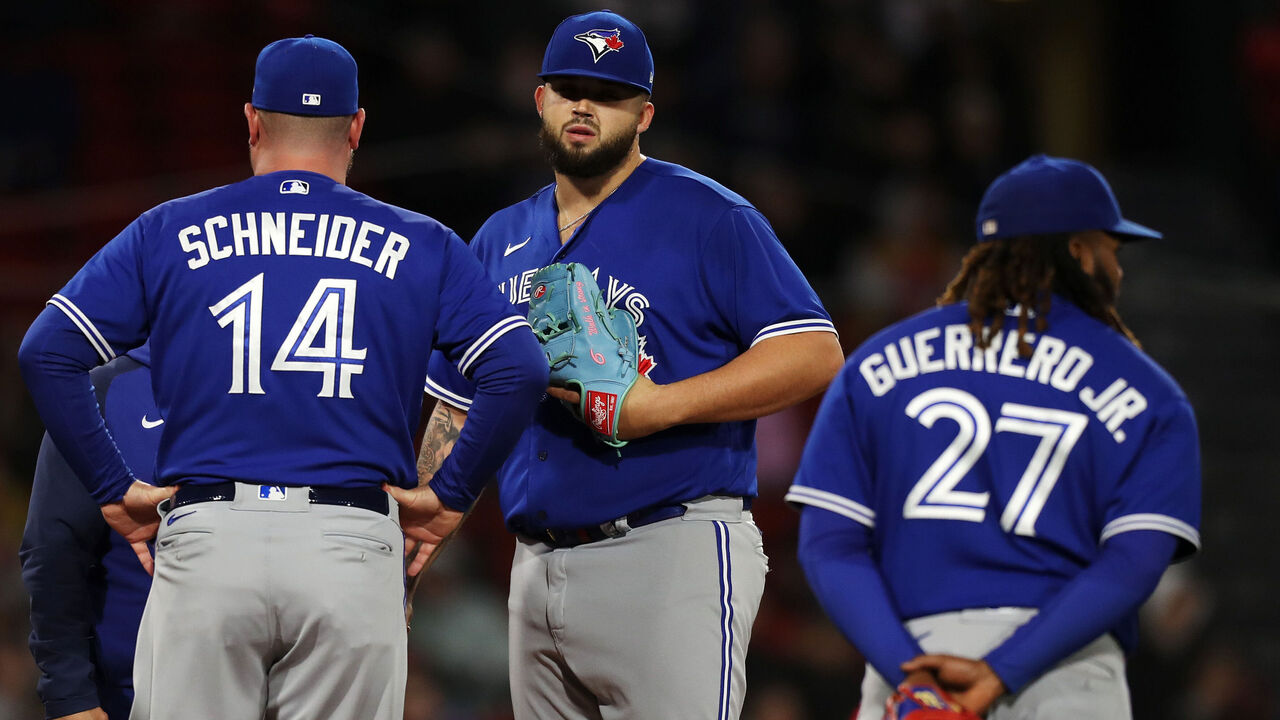 Manoah is getting strikes called at just an 8.5% rate with his slider, along with a 24% whiff rate. Compare that to last season when he owned a 12.5% called-strike rate and a 32% whiff rate on that pitch.
While the slider is often designed to be used as a chase pitch, he's throwing it in the zone just 34.7% of the time compared to 43.5% last year.
These are problems for someone who's essentially a two-pitch pitcher.
While his rate of called-plus-swinging strikes on his four-seamer is in line with the MLB average (28.7%), his slider's CSW (18.8%) is well below average (31.3%).
As poor as he's been (5.40 ERA), he's actually been fortunate (6.46 FIP). Manoah's walked 15% of the batters he's faced, which is the worst mark among qualified pitchers.
The Blue Jays will be hard-pressed to track down the Rays with this type of production from a key rotation member.
No. 5: Added artificial flavor is OK
Some view steals as artificially inflated this season, and records are certainly being threatened because of the new rules. But steals have artificially spiked before in the modern era. Baseball America's Matt Eddy wrote this week about how the advent of artificial turf usage in the National League in the 1980s increased stolen base totals and created a different game.
Eddy noted the NL stolen-base-per-game rate of the decade (1.3) was nearly double that of the 1960s (0.7), and much greater than the AL (1.0) in the 1980s.
We ought to be more interested in performance within the context of the environment in which it occurs (adjusting for the run environment and ballparks, etc.) and less concerned with raw stat counting and inflation.
More action and more athletic play are good for the sport.
No. 6: MLB's own witching hour is brewing
What's also good for the sport? More concentrated drama on TV.
The Blue Jays-Yankees and Rays-Mets games were excellent Wednesday night, and each ended with walk-off home runs within minutes of each other.
This is another positive from the pitch clock: games are ending at a more predictable time.
That means fans know when high-leverage drama is most likely to happen, and it makes MLB.TV's Big Inning coverage a lot more interesting - more like the NFL's Red Zone offering. It's difficult to quantify, but knowing when to tune in for drama is a good thing for the sport.
No. 7: The National League is bad
There are only six teams above .500 in the National League, and one of those is the Marlins, one game above entering play Friday.
The Padres have shown us that a stars-and-scrubs roster rarely works, especially when the stars aren't playing well.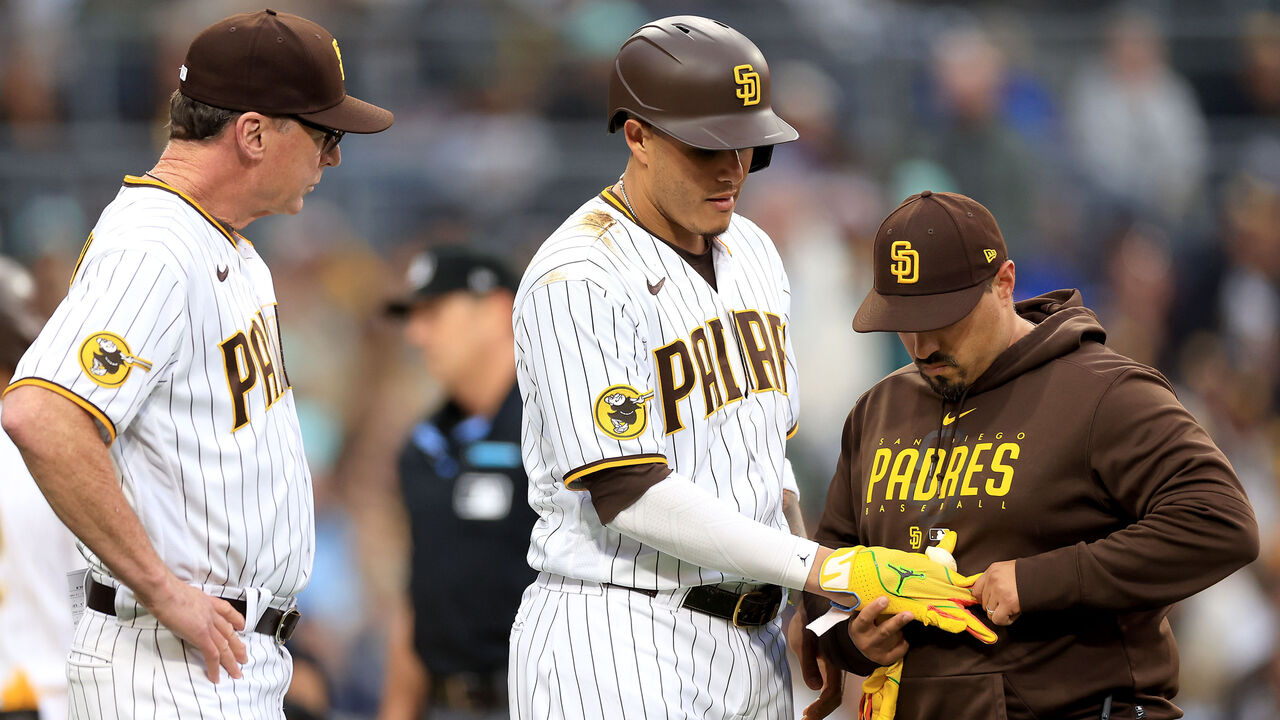 The Mets have demonstrated that constructing the oldest roster in the majors isn't a savvy approach.
The Cardinals haven't just botched the management of their public communications but misunderstood why they were falling short. Hint: It's the starting pitching. (Where was Matthew Liberatore all season? His debut Wednesday was excellent.)
The Dodgers essentially did nothing in the offseason - ostensibly to keep as much payroll space as possible to sign Shohei Ohtani this winter - and yet find themselves again atop the league.
The Atlanta Braves have looked like the class of the NL for much of this season, but a rash of starting pitcher injuries clouds their upside.
If the Dodgers and Braves remain healthy, they couldn't ask for a better path to a World Series.
No. 8: The Mariners' big edge
The Mariners lead the majors in starting pitcher WAR and FIP in May and are second in WAR for the season. Seattle already entered the season with an enviable top and middle of the rotation, and with rookie Bryce Miller's emergence - his fastball is nearly Spencer Strider-like - the Mariners have arguably the majors' deepest starting rotation.
At a time when so many teams are losing quality starters to injury, the Mariners have a big edge.
No. 9: Struggling shortstops
It's a golden era for shortstop play, but a number are struggling this year.
Not only do the Mets have enough issues with health and age, but Francisco Lindor owns a 24.1% strikeout rate, which is alarming given we're already a quarter of the way through the season. Lindor's carer-high rate was 18.8%
In Kansas City, Bobby Witt Jr. owns a .277 on-base mark and a .290 career OBP covering his first 827 plate appearances. He continues to bat leadoff.
In Minnesota, Carlos Correa is batting just .203.
The top six wRC+ seasons for shortstops as a collective have occurred since 2018. They're all at 94 or better, meaning what was once a glove-first position now demands about a league-average bat to keep up. Lindor, Witt, and Correa will almost certainly be better the rest of the season, but the bar to be an elite shortstop is higher now.
Stat of the Week
10 | The Oakland A's finally won their 10th game of the season Tuesday and have a .222 winning percentage going into play Friday. The last team to win only nine of its first 40 games was the 2003 Detroit Tigers, who went on to lose 119 games. The A's likely have a shot at the record for losses in a season since 1901, which is held by the 1962 New York Mets (120).
The interesting thing about the A's is they're not terrible at everything.
They're actually about an average hitting team. It's the pitching - particularly the bullpen - that's historically terrible.
The worst bullpens of all time by WAR are the 2013 Astros (minus-5.1 WAR) and 1966 Mets (minus-4.8). Without any added help, the A's (minus-2.0) might challenge those marks.
They said it
◾️ "You're a loser (expletive) organization. Every single one of you" - Bryce Harper to the entire Colorado Rockies team following his ejection after taking exception to some clapping from Rockies pitcher Jake Bird.
◾️ "We felt really good about the progress that we've made, and it lines up really well for him to catch on Monday with Jack (Flaherty) on the mound" - Cardinals manager Oliver Marmol before returning catcher Willson Contreras to his spot behind the plate Monday. Miraculously, the Cardinals transformed Contreras back into being a playable catcher in just nine days.
You don't see that everyday
RIP, innocent bird.
Starting Lineup is a bi-weekly collection of reporting, observations, and insights from the Major League Baseball beat.
Travis Sawchik is theScore's senior baseball writer.