Gunnar Henderson, Adley Rutschman, and the new 'Oriole Way'
Julian Catalfo / theScore
SARASOTA, Fla. - Jackson Holliday, the son of longtime major leaguer Matt Holliday, is waiting his turn.
The first overall pick in last June's MLB draft was in the cafeteria line at the Orioles' minor-league complex in Twin Lakes Park, Florida, last week. Pasta with meatballs and grilled chicken were on the lunch menu.
His attention turned to a flat-screen TV mounted on the far side of the wall. Highlights were playing from the previous day's major-league spring training game. Gunnar Henderson was batting. Holliday watched.
Henderson is where Holliday wants to be.
Matt Blood, the club's director of player development, stood next to Holliday and briefly chatted with him.
"When Jackson showed up (last summer), the first meeting we had, we were going through some of our process, and they had Gunnar on the screen," Blood said last week in his office. "He asked a question: 'What did you do with him? Whatever you did with him is what I want to do.'"
The Orioles haven't always had this kind of development credibility and buy-in.
Baltimore's original "Oriole Way" was considered one of the most successful player development systems, created after the franchise left behind its moribund roots as the St. Louis Browns in the mid-1950s. But since their 1983 World Series title, the Orioles have mostly wandered aimlessly.
Baltimore has made only five playoff appearances in the last 40 years and has 15 seasons of 90 or more losses. Four of those featured 100 losses, including a franchise-record 115 losses in 2018, their third 100-loss season in four years. But today, a new development manual is being written.
The Orioles enjoyed the ninth-biggest turnaround in major-league history last season, posting a winning percentage 191 points greater than the year before. Leading the pivot are two homegrown success stories: Adley Rutschman and Henderson, Baseball America's No. 1 prospects in 2022 and 2023, respectively. Like Holliday is looking up to Henderson, Henderson looks up to Rutschman.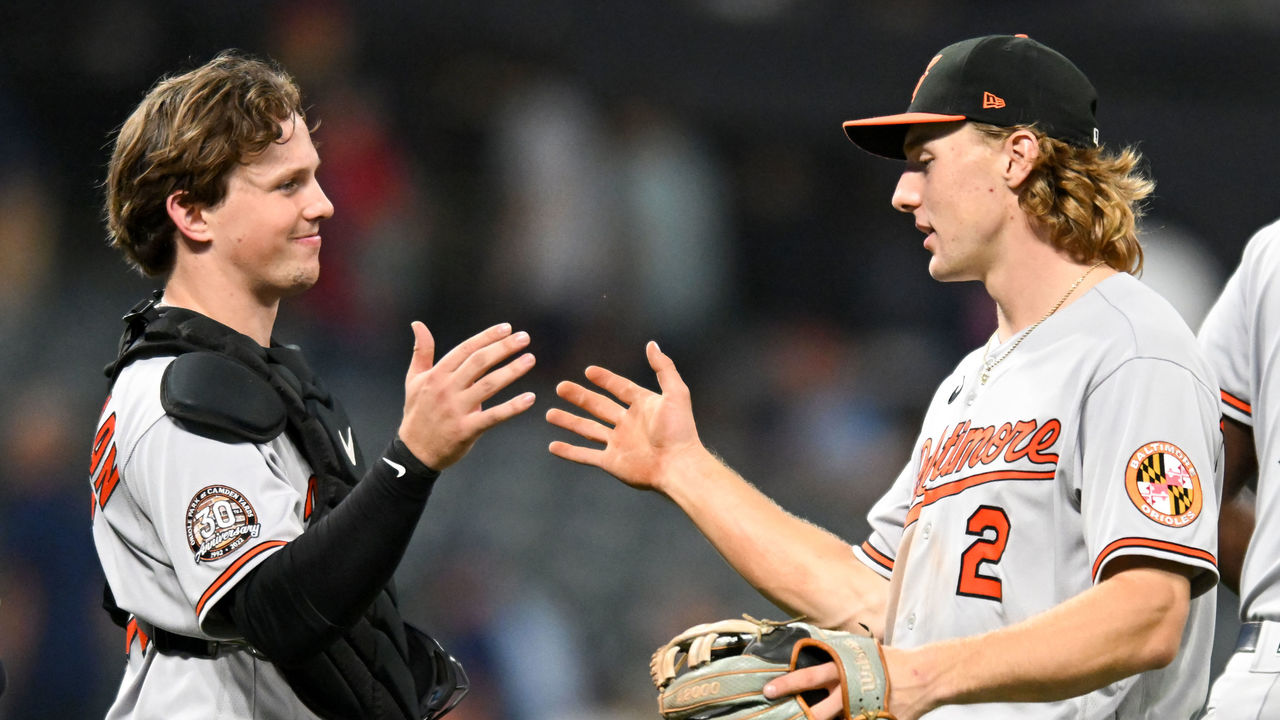 Henderson and Rutschman debuted last year and showed what is possible when premium talents with growth mindsets buy into best practices in modern player development. They're creating a new kind of "Oriole Way."
A new mindset
A successfully solved Rubik's Cube rests on Blood's desk. All six surfaces are solid colors: white, yellow, blue, red, orange, and green. He picks it up and twists the various movable tiles of the block into a messy mosaic. Then he works again to solve it.
How long does this take? He says his average time is two-and-a-half minutes. Sure enough, within a few minutes, it's back to its perfect state.
Blood isn't trying to show off his intellect or any sort of photographic memory; he's demonstrating something in contrast to the idea of mental or athletic giftedness.
"It's a perfect example of a growth mindset, which is what we're all about," Blood said.
Stanford psychologist Carol Dweck first coined the terms "fixed" and "growth" mindsets in her research and later in her 2006 book, "Mindset: The New Psychology of Success." A growth mindset believes skills can be learned and improved. A fixed mindset sees limits and caps on the ability to obtain or improve skills.
Blood watched a family friend solve the cube with ease in the bleachers during a youth baseball game he was coaching a few months ago. He was curious how she learned to solve it. Cube aficionados note there are 43 quintillion starting patterns in the 3x3x3 cube. But following the right process, it can always be solved.
"I was like: There is no way I can do that. No way," he recalled. "Well, yeah, there is. You just have to practice. Put your mind to it, and you will do it. After I learned it, I was like, wait a minute, 'This is how learning occurs.' No one was born to solve Rubik's Cube."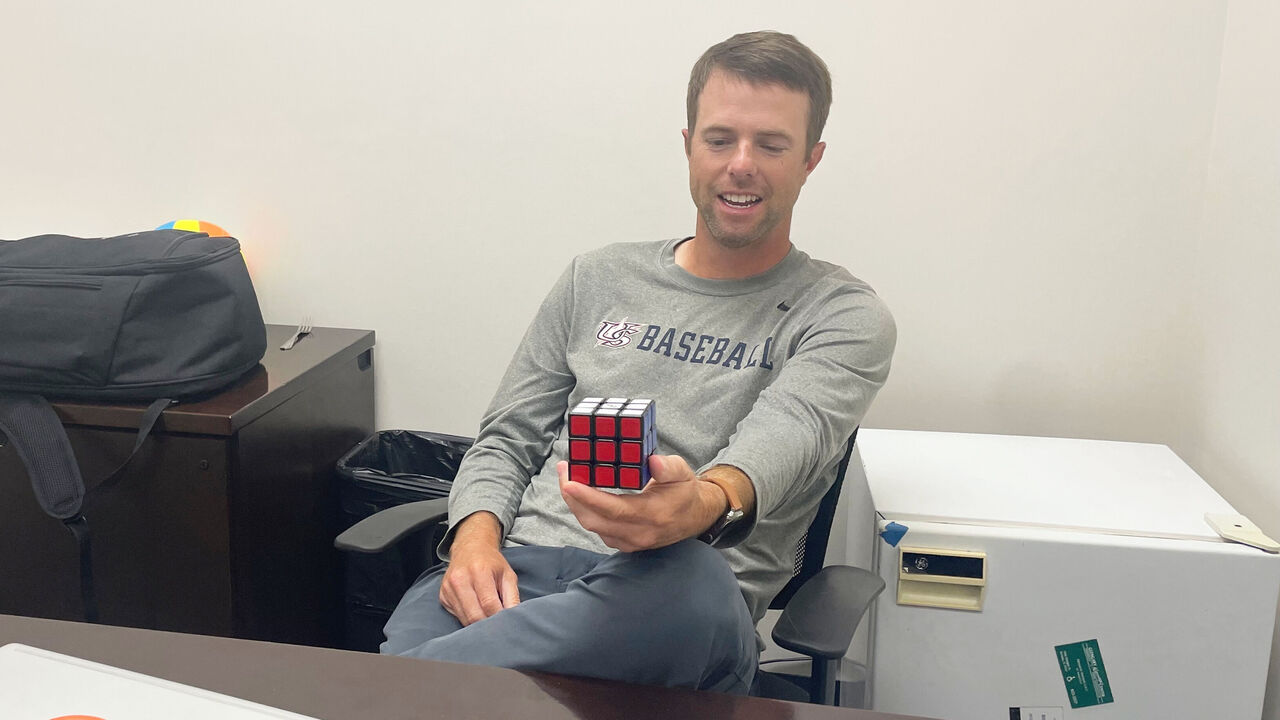 No one was born with the pre-programmed skills of a major-league player, either.
Blood thought the 3D puzzle was an excellent way to present the concept of growth mindset. He bought a dozen of them and presented them to the minor-league staff early this spring. By the time I visited, 10 more Orioles coaches had mastered a Rubik's Cube.
"The point is it can be taught, and it's super important, especially in this world," Blood said. "In what we do, if you don't think you can get better, then what are you doing here?"
And that takes us to the Orioles' alternate site in Bowie, Maryland, in the summer of 2020.
To prepare prospects for the alternate site during the pandemic season, Blood and hitting coordinator Ryan Fuller, now a member of the major-league coaching staff, started a voluntary book club. They would read a chapter of Dweck's book and meet periodically on Zoom with players to discuss it.
Fuller was something of an outsider when he was hired by the Orioles, like many new coaches who've entered the game in recent years. He played one season of minor-league baseball after playing at the University of Connecticut, but Blood said he's an excellent teacher; from 2013-19, Fuller was a high school English teacher and baseball coach at Haddam-Killingworth High School, which is about halfway between Hartford and the Long Island Sound coast.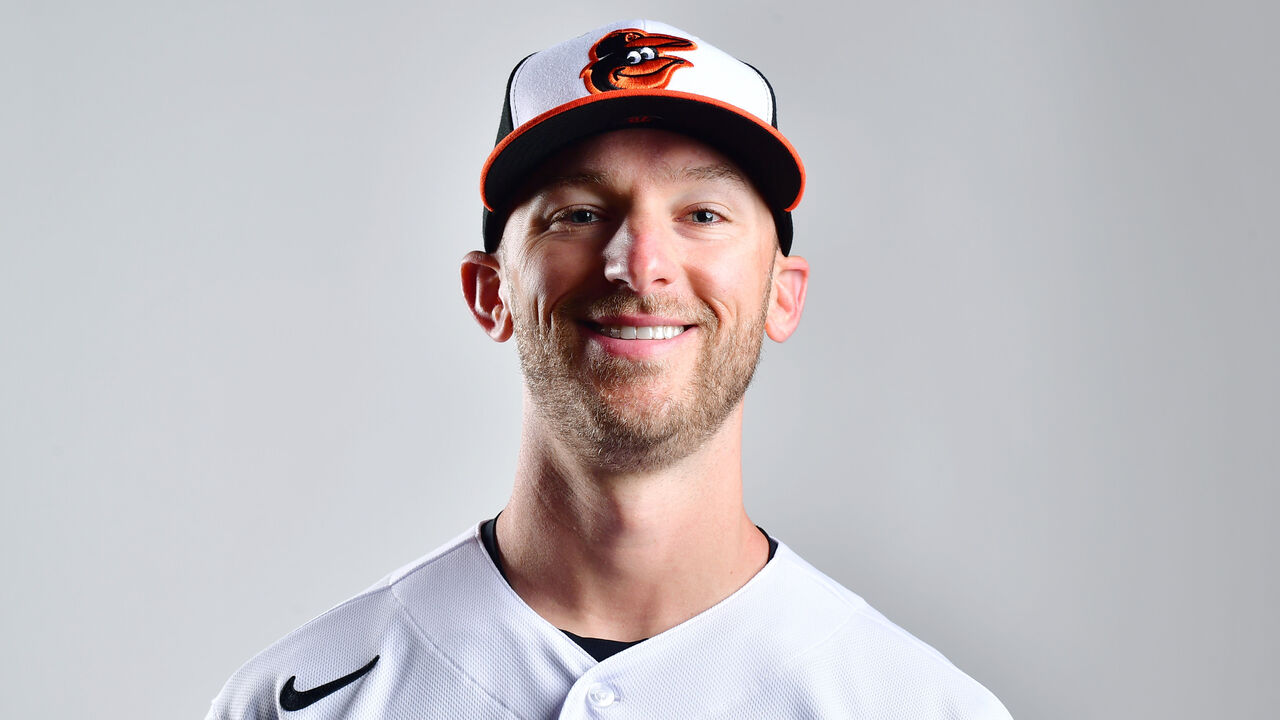 General manager Mike Elias and assistant Sig Mejdal took over the Orioles' front office in 2019 and hired a number of non-traditional coaches who were excellent teachers. The belief is that natural teachers are better at getting buy-in on new concepts. The effort helped the Astros' player development system transform from a lagging one into an industry model. Elias and Mejdal came to Baltimore from Houston.
Mejdal and Blood read "Mindset" years before, when they worked together with the St. Louis Cardinals. Mejdal was even on friendly terms with Dweck, and she joined one of the book club's Zoom calls.
What stuck with Blood about the book club is how serious a number of players were about it, including Rutschman and Henderson.
"One day, Adley had to drive from Oregon to somewhere during our Zoom time. He calls me and says, 'Hey, I can't be there. Would it be OK if I called you later and we just discussed it?'" Blood said. "That's rare. Most players would be like, 'whatever,' but he committed to it. He felt it was worth his time."
Henderson committed himself to the growth mindset in Bowie in 2020. What did he take from the book that he could apply to his development?
"In this game, you look for a lot of results, and that's not always the best thing to look for," Henderson said. "They're out of your control (in any single game). You can do everything right and still be out."
In summer 2020, Henderson, a newly turned 19-year-old, was one of the youngest players in baseball participating at an alternate site.
The Orioles are one of the most aggressive teams in advancing their prospects. Only the Guardians (22.3 years), Pirates (23.2), and Rangers (23.2) had a younger average age of prospects at their full-season affiliates last year than the Orioles (23.3).
There's a reason they do this, and, yes, it's tied to a growth mindset. To grow, one must be challenged. That's part of the Orioles' process.
Sending a 19-year-old to compete against the best 60 farm-system players selected for the alternate site - many were at least four years older and a number had played in the major leagues - was an exceptionally rare leap.
Henderson didn't set the world on fire during his short-season debut in 2019, after being selected in the second round in the same class as Rutschman and Kyle Stowers. But the Orioles believed Henderson had the right mindset - a growth mindset - to benefit from what was going to be a challenging experience.
"He got exposed," Blood said.
"For the first month, he got his teeth kicked in every single day," Fuller said. "He would be extremely frustrated. He knew he had some flaws in his swing."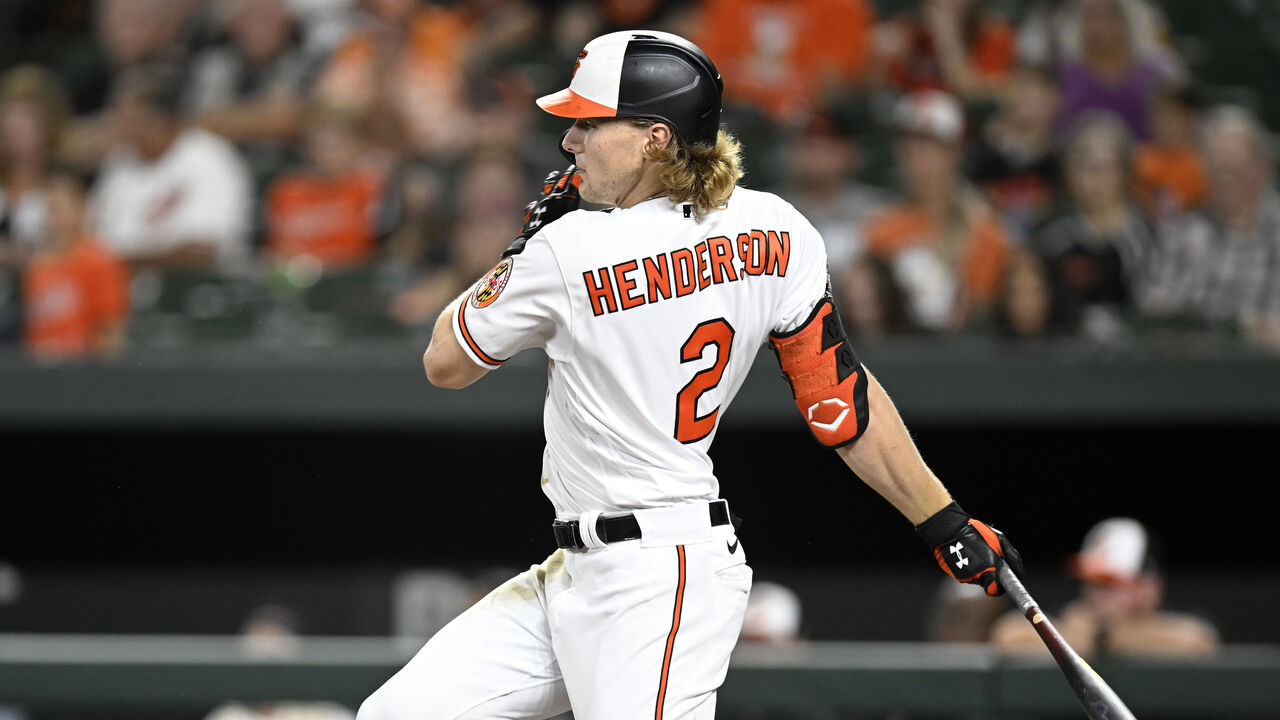 Facing Triple-A pitchers, top prospects, and arms with major-league experience, Henderson was exposed to the types of pitches most teenage prospects rarely see.
Henderson had never seen a curveball like Grayson Rodriguez's. He'd never faced an arm the caliber of DL Hall. For the first time in his life, Henderson felt like he was failing. He was so frustrated, so demonstrative about expressing it, Blood worked with him on breathing techniques.
Blood and Fuller said Henderson became adept at flushing the emotion quickly and moving on from each small failure.
"He said, 'Please expose me to as much nasty stuff as you possibly can,'" Fuller recalled.
This was a growth mindset. Blood said the experience was the best thing to happen to Henderson.
Blood said he'd never seen a player buy in more completely than Henderson, who he'd known as a younger amateur player when Blood was the director of USA Baseball's under-18 team.
With his mindset and athletic gifts - he's a lanky, 6-foot-3 shortstop with a lightning-fast left-handed swing that compares favorably to Corey Seager's - Henderson began to benefit from the new-age feedback loop.
The Orioles did something right as an organization during the lost COVID year of 2020, as they were among the top eight organizations in the improvement of slugging percentage, walk rate, and on-base percentage for their minor-league hitters from 2019 to 2021.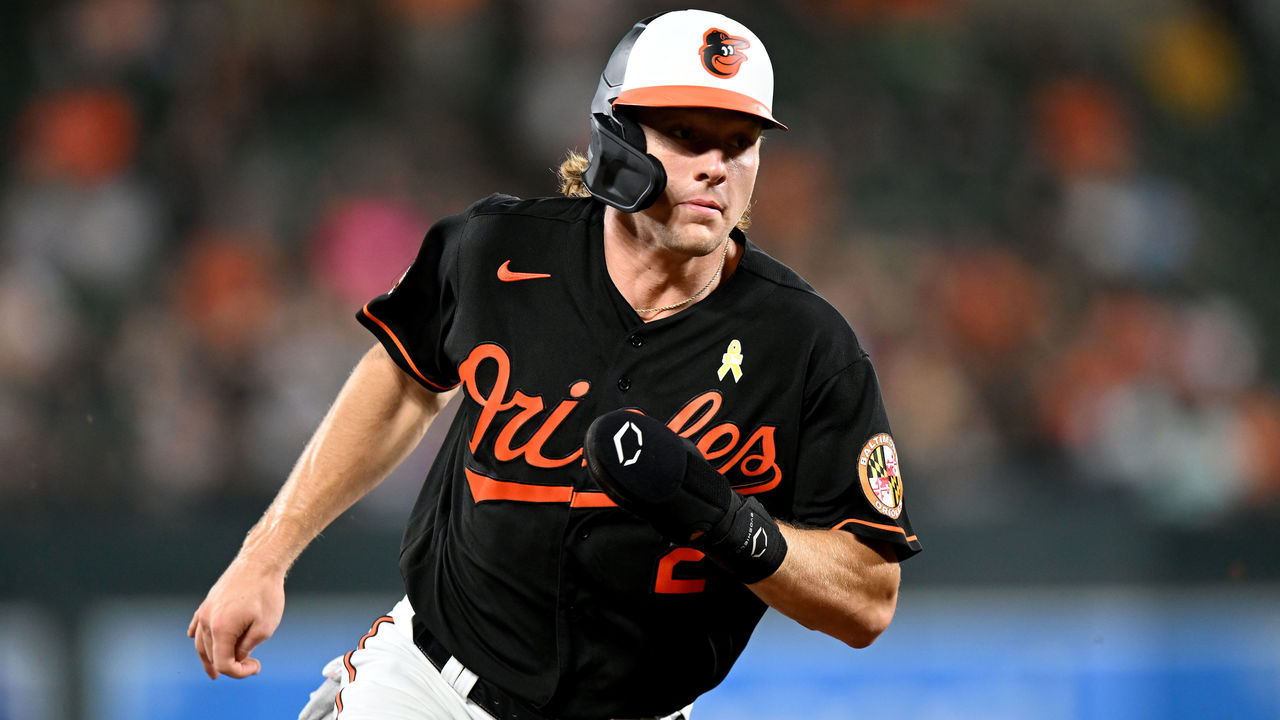 And by the closing weeks at the alternate site, Henderson was remarkably beginning to hold his own. It was a glimpse of rare baseball makeup.
"I think some people think baseball makeup is, 'Is he a nice guy? Is he going to get along with people?' Sometimes you hear the phrase, 'If I had a daughter, I'd want her to marry him.' I don't know that any of those things go into baseball makeup. What I think is most important is: What is a player's intrinsic motivation to practice and get better? How bad do they want to push through all the hard work that it takes?"
When that type of mindset meets modern training regimens and tech-based feedback tools, the process kicks into high gear.
A new method
During the pre-draft process in 2019, the Orioles knew Rutschman's dad was the college baseball coach at George Fox University, a Division III school in Oregon. They knew he'd thrown Adley countless pitches, filling and emptying a five-gallon bucket with balls thousands of times. They knew Adley was driven to learn how to switch hit as a kid, beginning in the third grade, swatting ball after ball into a portable net on their driveway in Sherwood, just outside Portland.
"I think my dad really did a good job of having a growth mindset before growth mindset was really a known concept," Rutschman said. "He was always passionate about the process and controlling the controllables, and that is synonymous with a growth mindset."
Rutschman can still vividly recall a postgame chat with his father after a freshman high school game. It had nothing to do with results.
"I remember the one time he said I didn't give a good enough effort because that was something I could control," Rutschman said. "He definitely instilled those things."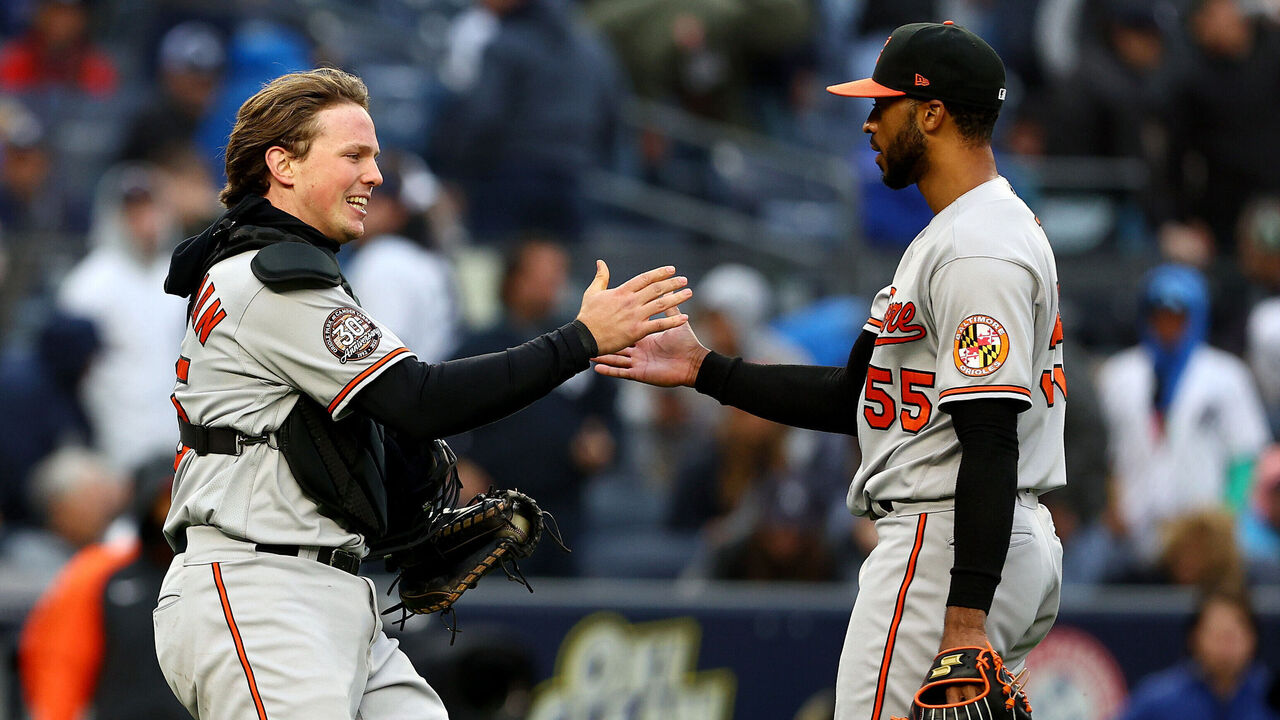 Gathering intelligence on a player's background and makeup is difficult. But Elias was struck by something from his pre-draft visit with Rutschman in a conference room at Oregon State.
"I was grilling him on all the success he had and what would it be like for him, in the minor leagues when his batting average is low, and the whole world is watching him. He was describing how prepared he felt for something like that," Elias told me last summer. "I remember saying something like, 'OK, for this next question, please put the Superman act aside for a minute for me.' And he cut me off, and said, 'Just ask.' Like I was implying that he was being phony. It struck me as the confidence he was displaying. It was genuine. He wasn't just telling me what I wanted to hear. He really felt this way about himself.
"To have that type of confidence only comes out of preparation."
The Orioles also liked that he'd been exposed at Oregon State to some new-age concepts, such as training with weighted bats to improve bat speed. That helped Rutschman be open to the Orioles' new and tech- and data-driven development practices that Elias brought from Houston.
It's difficult to herald a No. 1 pick like Rutschman as a development success story. But plenty of early first-rounders - talented athletes by a number of measures - never make it or become run-of-the-mill major leaguers. There's a player development part of the equation, too, and it seemed in the spring of 2019 that there were going to be zero issues with Rutschman buying in if Elias made him the first draft pick of his tenure as GM.
"Adley tells us all the time: 'If you see something, say it,'" Fuller said. "'I want to get better. Don't hold anything back.'"
It made an impression on Henderson, who was drafted out of high school. "Gunnar saw that, too," Fuller added.
Rutschman had rare polish, but he didn't think he was a finished product. He doesn't think he ever will be.
"I don't think we are ever not going to be making swing adjustments," Rutschman said. "I don't think you're ever going to reach a point in baseball where you say, 'Oh, I'm at my peak and there's no room for me to improve.' You're always looking for ways to get a little bit more of an edge, a little better until your career is done. That's how I look at it. I never want to be complacent with where I'm at."
During a biomechanical evaluation last year - the Orioles map many of their players' swings and throwing motions - the staff noticed that too often Rutschman's back leg would crash, or bend, too dramatically. That results in a swing plane that can tilt too upward, Fuller said.
"Lower-body stability was one thing we worked on," Fuller said. "Just getting that (launch angle) standard deviation nice and tight. Just putting his body in positions to have those nice drives and really hard exit velos show up more often.
"We have K-Vest (3D motion tracking), now we have Hawkeye. It's also tapping into what they love. They love to watch other hitters. Guys like (Bryce) Harper. (Rutschman) really likes him. We'd show him: Hey, this is what we were talking about with a stable rear leg. See the difference between the two? 'Oh yeah, of course. He's doing it better than I am. How do we attack it?'"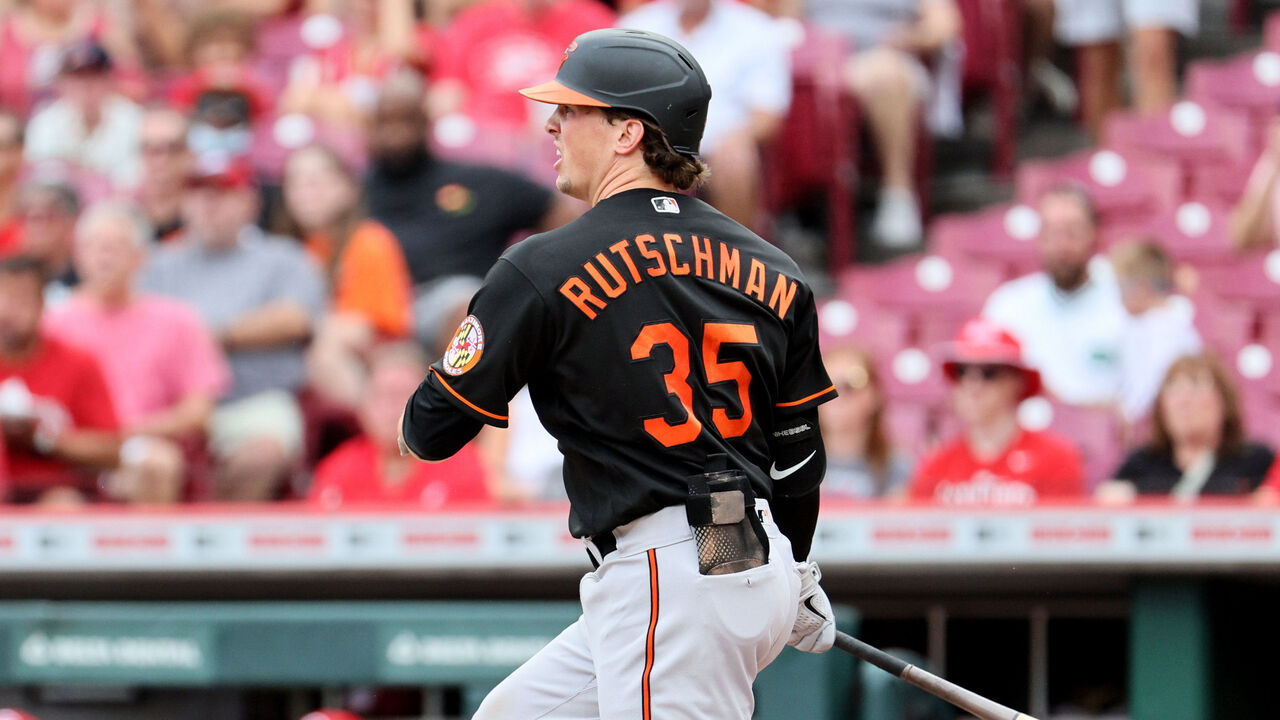 Coaches coordinated with the club's strength and training staff to create a plan to strengthen his back leg. They combined it with "a lot of dry work," Rutschman said - swings without hitting a ball.
And as they felt they made progress on his lower-body stability, they began to test the new swing.
When they practice, the Orioles often try to make it more game-like.
To do so, they've moved away - like many teams - from relying only on traditional batting practice.
In their indoor batting cages, the Orioles have iPitch pitching machines that are programmed to throw different pitch-type sequences.
In on-field BP, Fuller and other coaches throw at maximum effort from 45 feet away, topping out in the low 70s. From half the traditional distance, their pitches are a lot closer to game-like velocity. They try to mimic arm angles of the starting pitchers the hitters will face that night. Fuller's even worked on honing his breaking ball; he gets about eight inches of horizontal break now, he said.
He's trying to get batters like Henderson and Rutschman to swing and miss. Henderson said he treats them like game at-bats. The players and BP hurlers talk trash with each other.
"They love it. They give it right back to us," Henderson said.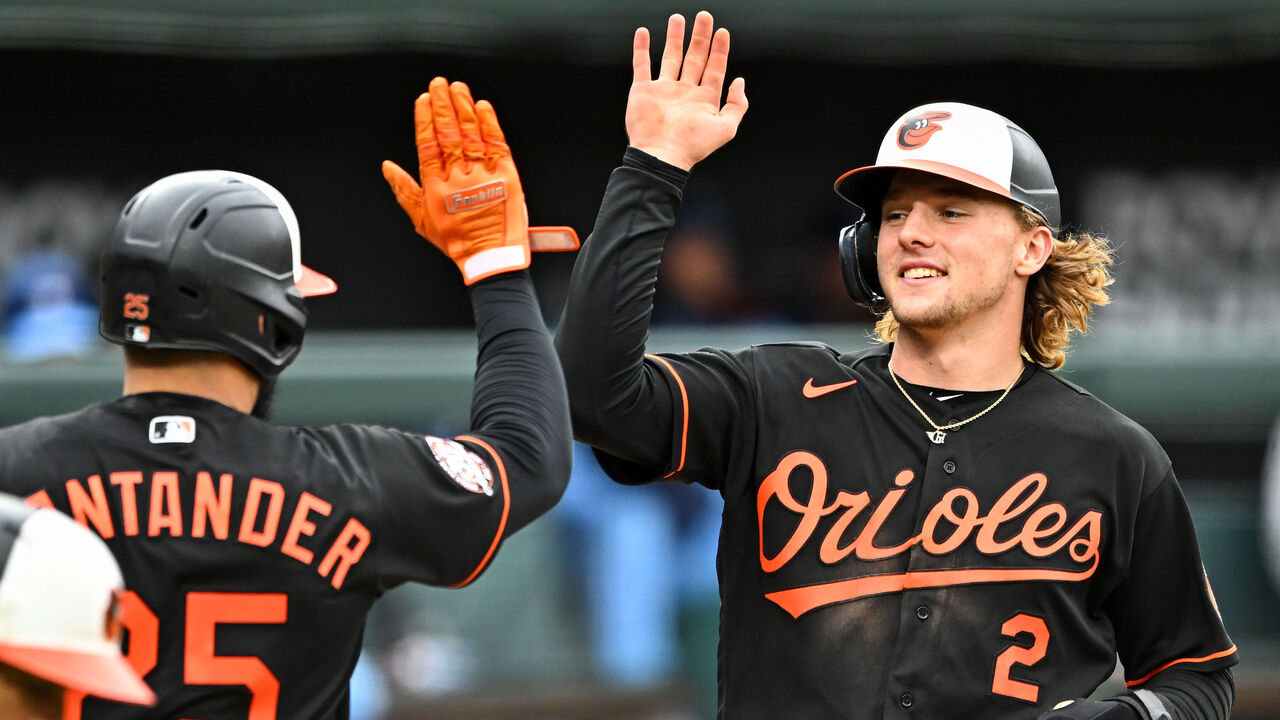 Coaches teach the players the science of it: How randomized practice - alternating between fastballs and breaking balls unpredictably - builds better skills than "block" practice where a coach lobs pitches down the middle.
There are weighted-bat routines, too, which Henderson said has added to his maximum exit velocity. Stowers, an outfielder sandwiched between Henderson and Rutschman in the 2019 draft, also made the Opening Day roster and said the weighted-bat routines have given him another 2 mph of exit velo.
To train better swing decisions, all hitters are graded on how they manage the strike zone each game. It's also designed to produce a better process at the plate, resulting in better swings and outcomes.
In 2021, at the minor-league level, Rutschman had a 16% infield pop-up rate, according to FanGraphs - a lot of weak contact. In 2022, Rutschman didn't hit a single infield pop-up in 81 minor-league plate appearances, and he cut his pop-up rate in the majors to 8%.
On Opening Day on Thursday in Boston, Rutschman was 5-for-5 with a solo home run and four RBIs in Baltimore's 10-9 victory.
A new ETA
Clear childhood memories are rare for many of us, but Henderson has one.
He was at Bloch Park in his hometown of Selma, Alabama, when he was asked by an adult what he wanted to be when he grew up.
He said he wanted to be a big leaguer. He remembers the cold water poured on the notion.
"'You know that is pretty rare,'" Henderson recalls being told. "That always stuck with me. I don't know why I remember that."
Henderson often makes seemingly outrageous goals - and meets them.
"After the alt site in 2020, he started in Low A. He said, 'By the end of the year I'm going to be in Double-A,'" Fuller recalled. "Well, that's three levels in one year. That's a pretty audacious goal. Not a lot of guys do that."
Henderson did.
Last year, he began in Double-A. His spring goal was to reach the majors, another two-level jump.
"His goals, sometimes you laugh. But then you go, 'OK, I am talking to Gunnar,'" Fuller said. "It's probably going to happen."
Henderson debuted in the majors on Aug. 31 in Cleveland.
In his second plate appearance, Henderson took a max-effort hack and connected with a Triston McKenzie slider. He swung so hard his helmet fell off and his shaggy blond hair spilled out.
Two years after struggling mightily at the alternate site, in Henderson's first taste of the major leagues, he posted a 125 wRC+ in 131 plate appearances, meaning he was 25% better than an average MLB hitter. Talk about solving baseball's Rubik's Cube.
As for Rutschman, in the second half of last season, only Aaron Judge produced more WAR among position players.
As the 2023 season opens, they are two of the most promising cornerstones in the game. But it will take more than two players to bring postseason success back to Baltimore. The next wave of prospects - players like Holliday and Colton Cowser - were watching intently this spring.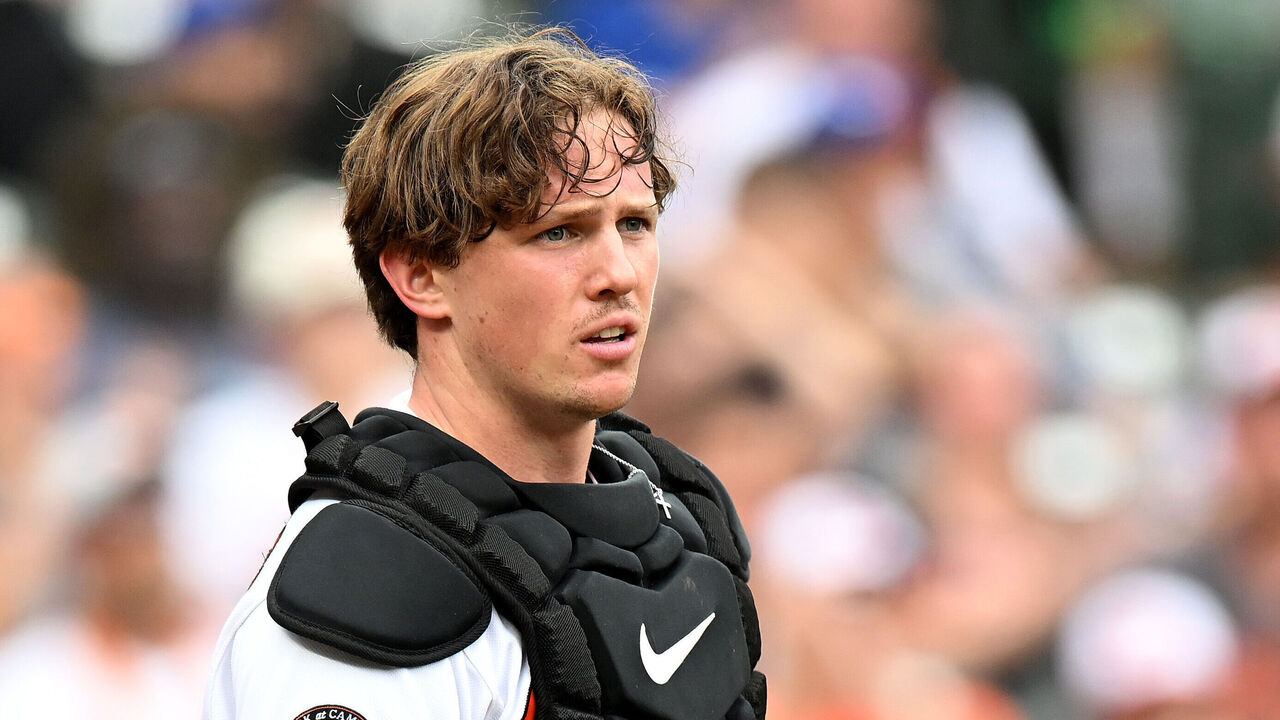 In the early days of this new Orioles regime, it was the coaches who encouraged a growth mindset by doing things like gamifying practice with elements like exit-velocity leaderboards to motivate players to not go through the motions. But Fuller's noticed a change: the competition has become player-driven.
"(Alabama football coach) Nick Saban talks about how mediocre people don't like to be around high achievers, and high achievers don't like to be around mediocre people," Fuller said. "That's the standard in the cage, in BP, at that level. Someone might say something to you, but you are going to be exposed when you are next to Austin Hays in the cage, next to Adley, just by your actions."
Culture is a common buzzword in corporate offices and in athletic organizations. What successful culture looks like can be difficult to articulate. Perhaps we're getting a glimpse of it in Baltimore.
"I think the Orioles have done a phenomenal job of getting guys with really good makeup," Rutschman said. "And once you get enough guys who are of that same mindset, because everyone is pushing each other and everyone is on the same page, it would be really difficult if guys were not bought in. When guys are bought in, it's a lot of fun."
Travis Sawchik is theScore's senior baseball writer.