'It's an art': MLB catchers seek balance between framing, robot umps
Julian Catalfo / theScore
TORONTO - Sal Fasano will go out of his way to tell you he's not a legend. But then again, he's highly regarded for his ability to lie. It's a core part of the skill set he tries to teach his students.
At first, the famously mustachioed Atlanta Braves catching coach is so modest about the discipline he likely knows better than anyone, I feel like I've accidentally probed the wrong instructor. But it's clear I've happened upon the right person when Fasano casually quotes Isaac Newton's first law of physics in its entirety, like it's his favorite song lyric (the one about objects staying in motion).
Fasano, who played 11 seasons in the majors and turned 51 this year, has dedicated most of his life to the craft of turning balls into strikes and then passing that knowledge down to the next generation of catchers. It's called pitch framing and, to many, it's an art. As a result, it's no surprise Fasano and numerous other backstops don't want to see it expelled from baseball to make way for the automated strike zone or robot umps.
"You may as well just get a big donut again and just catch two-handed or scoot as far back as you can and put a first baseman's glove on," Fasano quipped to theScore when asked about the majors potentially adopting the automated ball-strike (ABS) system. "My rebuttal is always, 'Okay, if you want to automate the strike zone, then any time any guy hits a ground ball under 100 mph, (they're) out.'
"I just still think there's too many flaws in the system. Talking to a lot of guys in Triple-A, I think the ABS system is still a little bit flawed," he continued, an overflowing binder stuffed under his arm, undoubtedly packed with specific ways to deceive whichever unsuspecting umpire was working the plate that night. "The challenge system is actually a very interesting idea, which I do like."
To its credit, MLB is being deliberate about testing the ABS system in the minors before bringing it to the majors. It started being tested alongside the pitch clock, which was swiftly brought into the majors for the beginning of this season and has paid immediate dividends. Robot umps, though, could drastically change the jobs of not only umpires but catchers, too, so commissioner Rob Manfred and Co. have to be sure they get it right.
This year, every Triple-A team's home ballpark was outfitted with Hawk-Eye Innovations' optical tracking system for ABS' biggest test yet. Half the league ran with it as is, while the other half used it to only settle challenges. Umpires called balls and strikes as usual but each team was afforded three ball/strike challenges per game, with the hitter immediately needing to signal for an appeal by tapping his helmet. At that point, the correct Hawk-Eye reading was relayed to the umpire via earpiece and the call either stood or was reversed. Some stadiums also showed the Hawk-Eye reading on the main video board so fans could see the resultant call and why it stood or was overturned.
"They're getting the call in their ear fast," Fasano added. "So, I don't think it'll slow down the game. (But) I still think there's some bugs. I think that's why they're still trying it in the minors, otherwise they would've already tried something up here. But, to me, catching is still an art. You should treat it as such."
Catchers around the league echoed Fasano's sentiments.
"I'm not a fan of it," said Yankees catcher Jose Trevino, who's saved an MLB-leading 23 runs via framing since the beginning of 2022. "It takes the human element out of the game. Guys that work their butt off for a certain amount of years to be good defensively and find ways to change the game. Everyone knows how important a 2-1 count to a 1-2 count is, so, I feel like if they take that away, it kind of hurts (a catcher's ability to influence) the game from behind the plate.
"It won't happen. It's an art, man. I know I take a lot of pride in it. I know there's a ton of dudes that take a lot of pride in it now. I just think taking it out wouldn't be beneficial for the baseball fan that loves to look at it, that enjoys the catching part of the game."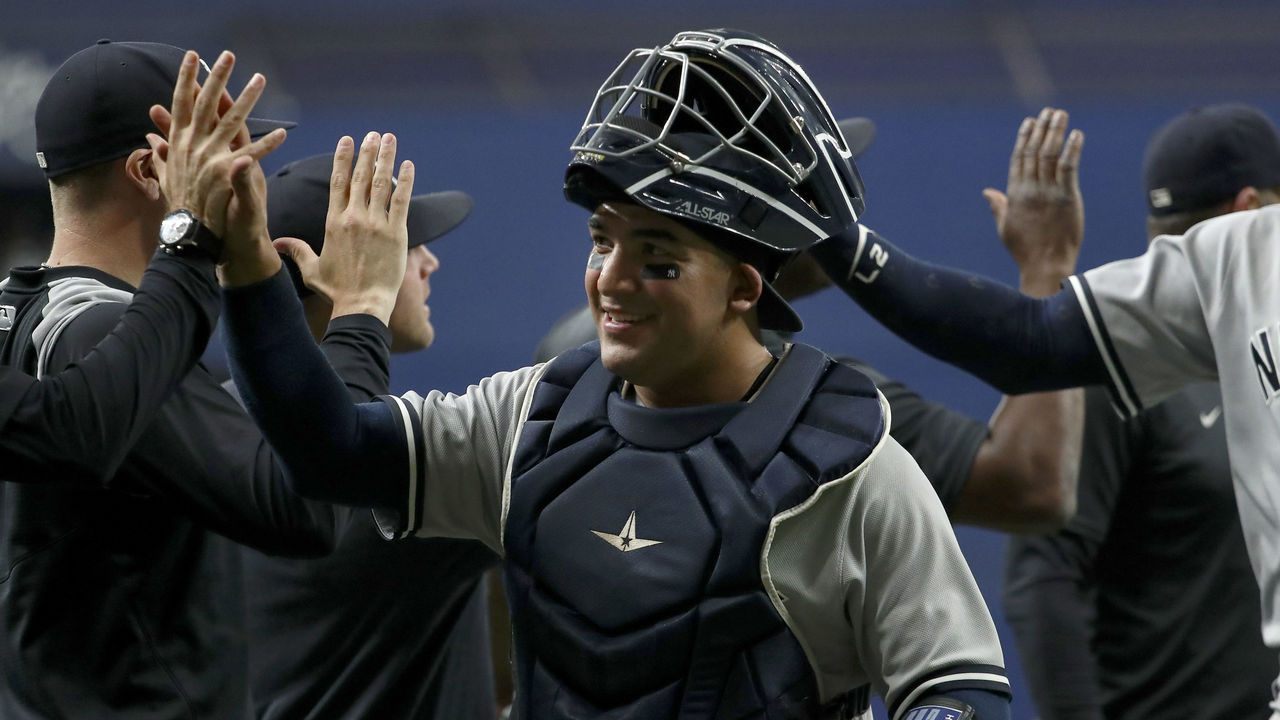 But what about those fans - likely very many - who want to see more objectivity from officials in all sports?
"They can write a letter or something," Trevino responded wryly. "But, I mean, for guys that love doing it, the guys that enjoy catching and love pitch framing and any kind of defensive stuff, it means a lot. It means a lot to us."
In reality, though, the automated strike zone is most likely coming, one way or another. And many catchers, including Texas Rangers tandem Jonah Heim and Austin Hedges - two of the best pitch framers in the league who've combined to save 22 runs this season - seem ready to welcome the appeal system.
"I think the best starting point would be the appeal system," said All-Star Heim, the rare catcher who's elite at framing but also a good hitter. "Just from hearing guys that come up in the minor leagues, they like that kind of system. It still has a human element. You just gotta be more strategic with it, I guess."
Hedges offered his own unique perspective, as a veteran with his fourth organization after being traded to Texas at the deadline.
"I like the challenge system. I don't think the fully automated system is a good idea," the 31-year-old said. "Having the umpire back there still brings a lot of value. There's certain things about baseball that you need a decision to be made versus where a ball is crossing electronically. But if you have the ability to challenge it and it can happen quickly, I think that'll still keep the value of a catcher (who) can receive the ball."
Hedges also provided insight that may seem counterintuitive, suggesting catchers who frame best - who deceive the umpires most often - may get challenged less frequently.
"I like to think that the guys that are receiving the ball well are probably not getting challenged as often," he said. "Because (hitters) might look back and the pitch looks probably better than you thought."
Braves catcher Travis d'Arnaud, a Fasano pupil, believes the ABS system in the minors is also paying an unforeseen dividend: it's better preparing rookie umpires for the majors.
"(It makes sense) in the younger leagues to help develop the umpires to where they learn the zone a lot faster," the 2022 All-Star said. "It's so hard to call balls and strikes and I think that's what makes umpires special. A lot of people forget how hard it is because they only focus on the ones they accidentally get wrong. They're not trying to fail. It's so hard."
By taking ball-and-strike decisions out of umpires' hands in the minors and showing what a ball and strike look like at the high speeds of Triple-A, d'Arnaud believes umpires are being given a much better rubric for when they reach the majors. And his theory has some validity: theScore's Travis Sawchik reported earlier this year that umpires - particularly younger ones breaking into the majors - were getting better at calling balls and strikes in recent seasons.
But d'Arnaud maintained his brethren's party line when asked whether he wants to see ABS in the bigs: "I don't think it'd be good for baseball."
D'Arnaud recently added a notable case of pitch-framing deception to his resume when he burned Pirates infielder Ke'Bryan Hayes. It's the umpire who faced the heat, though:
The league also must balance the fact that a catcher's earning potential is directly tied to his defensive ability, perhaps more than ever. Adopting a system that could potentially drastically reduce the value of one of the sport's most pivotal positions may not get union support.
"They're still calling a game obviously and blocking balls and throwing guys out," Athletics backstop Shea Langeliers said, "but pitch framing has become a really big thing and a lot of catchers seem to get paid for that stuff now, too, so I think it'd be taking something away from (them)."
Langeliers is a great example of Fasano's far-reaching impact on the sport. A former Braves prospect, Langeliers was able to pick Fasano's brain before being traded to the A's prior to the 2022 campaign in the Matt Olson blockbuster.
"(Sal's) super-intelligent and he's just very good at what he does and teaches it really well, so I tried to learn as much as I could (before) I got traded," Langeliers noted.
Sean Murphy, d'Arnaud's All-Star teammate, was a little more diplomatic about fans who may seek a bit more objectivity from sports officials.
"It depends what people want out of the game. But it would definitely change the position, (and) which skills would be valued behind the plate," the Gold Glove winner said. "If it does come along, I'll adjust. Until then, I'll just keep catching the way I'm catching."
In many ways, this issue was caused by MLB broadcasts. The overlayed strike zone displayed live on TV during at-bats is questionably accurate.
The superimposed strike zone was universally panned when ESPN began using it in 2015. And while Statcast software has made tracking balls and strikes on TV much better over the years, the broadcast strike zone doesn't necessarily calibrate for each individual hitter with perfect accuracy in real time.
In fact, the automated Triple-A strike zone was only recently updated to take into account varying body shapes and batting stances. It was previously set only by percentage of a player's height, but two players who are the same height may not have the same knee placement in their stance, which dictates the bottom of the zone.
Yet fans are still incensed when they see a call go against their team based on a relatively meaningless rectangle on their TV screen. Instead, spectators could choose to appreciate the artists behind the plate.
Remember: There's a set of critics for every change any league makes. Thanks to far shorter games, detractors of the pitch clock, shift restrictions, and the extra-innings runner have mostly been quieted. But none of those rules truly alter baseball.
With ABS, however, the league isn't simply evolving to adapt to new trends, like the ones that made the pitch clock and shift restrictions necessary. Deceiving officials has been an integral part of many different sports for as long as those games have existed - diving in soccer, drawing a penalty in hockey, and taking a charge in basketball, to name a few examples. If the decision to effectively ban pitch framing isn't done correctly, baseball will fundamentally change. One of the most difficult positions in pro sports will undoubtedly have less of an impact on the game. To Fasano's earlier point, why even have a catcher back there at all? And what's the upshot - maybe three more calls per game going the other way? Is that worth monumental change?
Not everything that makes fans upset should be altered, because some subjectivity isn't a bug, it's a feature. However, if the strike zone can be entirely personalized for each individual hitter, MLB could find common ground where catchers, pitchers, and hitters all support an appeal system. And fans will have to agree: that compromise will be enough.