Home plate umpires are getting better. Will that hold off the robots?
Frank Jansky / Icon Sportswire / Getty Images
Change is a theme of Major League Baseball this year. Most notably, the pitch clock has quickened the pace of play, and the new rules and larger bases have increased steals.
But something else is changing: Umpires are getting better at calling balls and strikes.
Really.
Boston University business school professor Mark Williams maintains an umpiring database, which grades ball- and strike-calling accuracy. Williams, a lifelong baseball fan, decided to start grading umps after getting frustrated by missed calls during the Red Sox' 2018 World Series run and became skeptical of MLB's accuracy claims. His data goes back to 2010, early in the pitch-tracking era.
Ball-strike accuracy was 7% better in April compared to April 2022. Williams' bad call ratio metric - the percentage of strikes called outside of the strike zone's confines and balls called within it - was 6.7% for the month. If it held, it would represent a record, bettering last year's 7.2% for April, which was also the mark for the entire season.
If this April's metric is extrapolated across the entire season, it'll represent better than a 50% improvement from 2010, when umpires missed 14.3% of calls.
Williams noted that the improvement is even more impressive when one considers all the new responsibilities umpires have this season in monitoring the pitch clock and enforcing violations.
So what's behind the improvement?
Williams, whose quantitative team has analyzed more than four million ball-strike calls over the years, ties it to one factor: umpires' age.
His database demonstrates that younger umpires are more effective ball-and-strike callers than older ones.
"MLB is waking up to fans, players, and coaches saying, 'Home plate umpires get it wrong more than they should,'" Williams said this week. "The response has been, 'We have to bring in tech.' But I think the best way of solving the problem is hiring better umpires and retiring the older ones sooner."
Ten umpires retired after last season, the largest exodus since 1999. That's 13% of the workforce of 76 full-time umpires. Those 10 umpires accounted for more than 200 years of service on the field.
The umpires who retired averaged 58 years of age, and Williams' data ranked them all as below-average performers. MLB replaced them with umpires in their 30s who rate above average, according to Williams' data.
He calls this 2023 class of umpires a "dream team."
Typically there are one or two retirements per season, but MLB replaced 15 in the last two years.
If athletes have an aging curve, umpires must, too, Williams surmised.
"Clearly, ballplayers have a peak. … Why should we expect umpires to not also peak?" Williams said. "If you think about it, the crouching behind home plate for upward of three hours is a physical event. (Calling an accurate game) requires visual acuity, mental alertness. … When you are younger, you have more energy and interest in improving."
Last year, umpires in their 60s incorrectly called 8% of balls and called strikes - worst among all age groups, according to theScore's analysis of the data. Umpires in their 20s and 30s ranked the best among the different age cohorts with a 6.6% rate.
The gap widens for close calls, pitches Williams defines as up to 2.94 inches, a ball's diameter, outside of the zone. Williams' data showed umpires aged 60-plus in 2022 missed 17.3% of close calls compared to 14.6% for umpires in their 30s and younger.
"Our research found that over 90% of pitch-calling errors fall into this zone," Williams said. MLB doesn't count errors in this area for umpires in evaluation, so Williams' group created the close bad call rate metric.
Williams said he believes umpires, who are unionized with good pay and benefits, are "incentivized to stay 10 years too long, and it increases fan frustration."
Michael Hill, MLB's senior vice president of on-field operations, posits a different theory for this year's improvement.
"I attribute it to the quicker pace," Hill said. "Shorter game time allows them to lock in every batter because the games are moving along."
Why did so many umpires retire after last season?
"We had a number of our umpires who had just been battling injuries," Hill said. "They felt the timing was right for them to step down."
Williams suspects MLB is also feeling more pressure to improve umpiring quality since every pitch is now tracked and placed under scrutiny. He said the league has put better pitch-calling umps behind the plate more often in recent years in the postseason.
What's interesting is if umpires continue to improve in ball-pitch calling, what does that mean for the prospect of robot umpires? Many view an automated ball-and-strike system as inevitable for MLB given how much the league has tested it in the minors. But could improving umpires slow such a movement?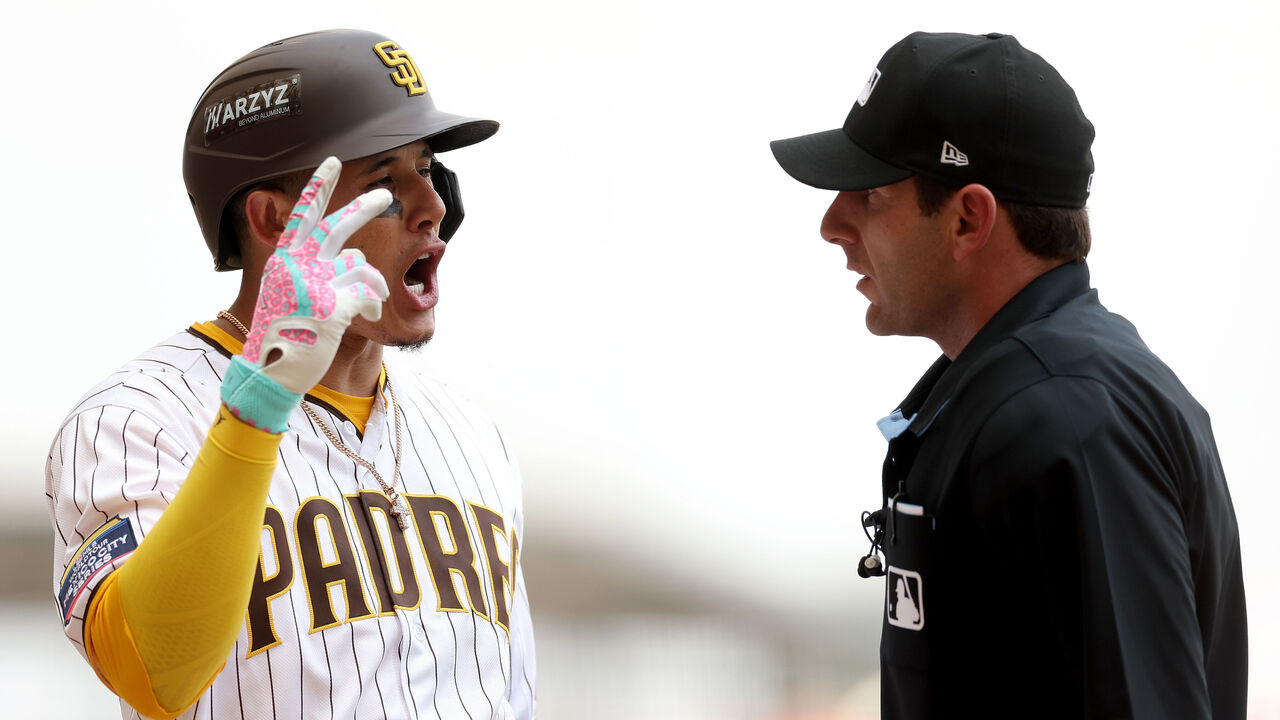 MLB is experimenting at Triple-A this year with a fully automated zone half the week and a challenge system - in which teams each have three challenges - the other half.
"I think you have to look at everything," Hill said. "Look at what the data looks like. Look at how our umpires are performing. I think you have to take everything into consideration before making a decision to move in that direction. From what I've seen in my short time in working with our umpires, there's a tremendous amount of pride in getting it right. They want to be right."
Williams noted that despite the improvement this year, each game still averages 11 missed calls. He called that number "unacceptable."
But Williams doesn't want a robot ump future. He just wants the humans to continue to raise their performance. He'd even like less focus on missed calls and more attention on the best umpires doing their job well.
On April 18 last season, Pat Hoberg came as close to a perfectly called game as any umpire in Williams' database, missing just one pitch. (Other sites claim Hoberg called a perfect World Series game last October, but Williams' data disagrees.)
Williams labeled Hoberg as a "superstar."
"I think tech-assisted umpiring is the future. It's not, 'Do away with umpires,'" he said. "I think the human element, the responsibility of umpires, the performance of umpires, adds something. … There's a sense of tradition and history. … I understand why many want robo umps, but there's a remedy to poor performance: Bring in the young and retire the old."
Travis Sawchik is theScore's senior baseball writer.
Comments
✕
Home plate umpires are getting better. Will that hold off the robots?
  Got something to say? Leave a comment below!