2022 Baseball HOF: Rolen, Wagner could be big winners next week
With the Baseball Hall of Fame's Class of 2022 announcement approaching, it's time to run down this year's candidates. Today, we check in on five players whose cases continue to gain steam. Is Cooperstown in their future?
Todd Helton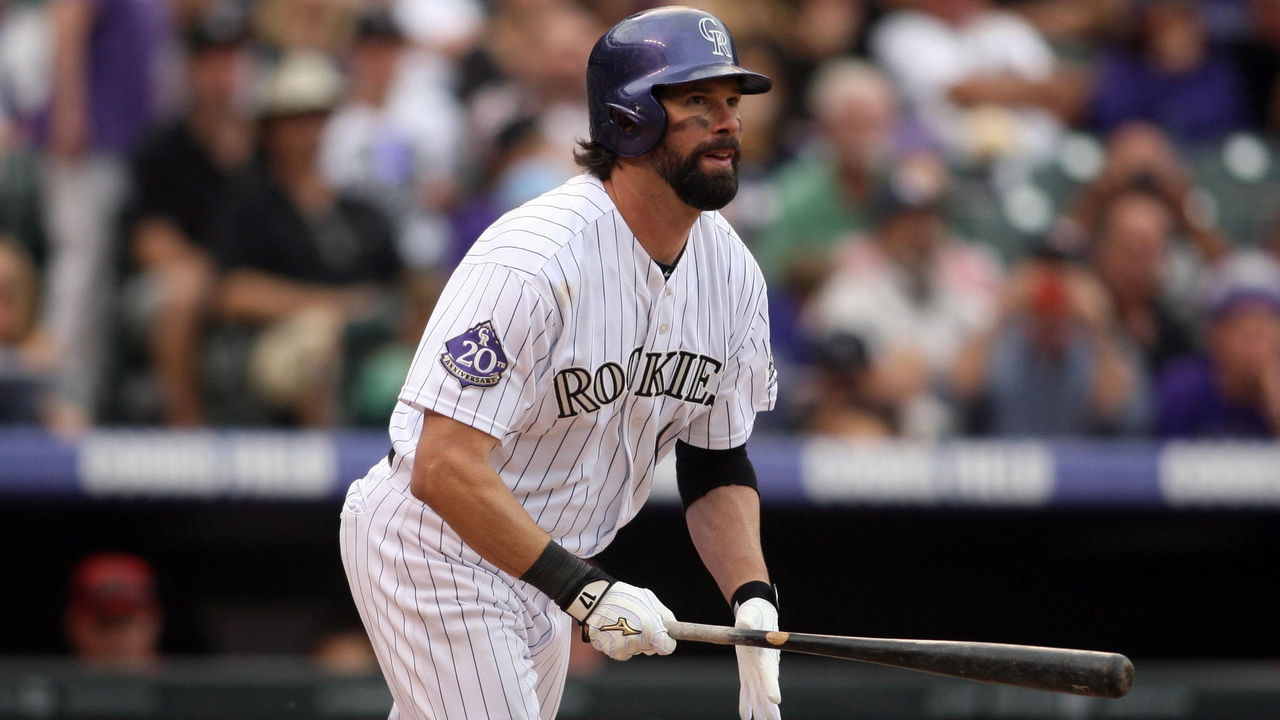 Position: 1B
Teams: Rockies
JAWS: 54.2 (15th at 1B)
WAR: 61.8 (17th)
Year on ballot: 4th
| GP | BA | OPS | H | HR | RBI |
| --- | --- | --- | --- | --- | --- |
| 2247 | .316 | .953 | 2519 | 369 | 1406 |
It took Larry Walker's election for voters to finally wake up to Helton's case, and it's about time. Helton, the Rockies' franchise icon, absolutely raked at his peak, averaging 35 homers a year during his first seven full campaigns while winning four Silver Sluggers and three Gold Gloves. His best season came in 2000 when he led the NL in hits (216), doubles (59), RBIs (147), and all four slash-line categories.
Yes, Helton played his entire career in Coors Field, something held against him even when he played. But he's no different from any other offensive superstar who padded their numbers in an extremely friendly home environment. Take this list, for instance:
Favorable home parks aided most of the above players during their legendary careers. Sosa raked at the friendly confines of Wrigley. Ruth and Gehrig famously launched bombs into Yankee Stadium's short porch. Philadelphia's Baker Bowl - a bandbox featuring a 280-foot right-field fence - helped Klein. Helton absolutely had the Coors advantage, but he still had to hit the ball, which he did with authority.
Helton may not have reached any round counting numbers normally associated with first base, but he put together a resume that stands with most of his peers at the position. He's just a hair below the average Hall of Fame first baseman, per JAWS. Walker's rise gave voters even more reason to give him a second look, and they're coming around. He won't go in this year, but Helton's already gained 16 new votes on public ballots, and he's poised to jump above 50%. That's a very good sign that his time is coming.
Andruw Jones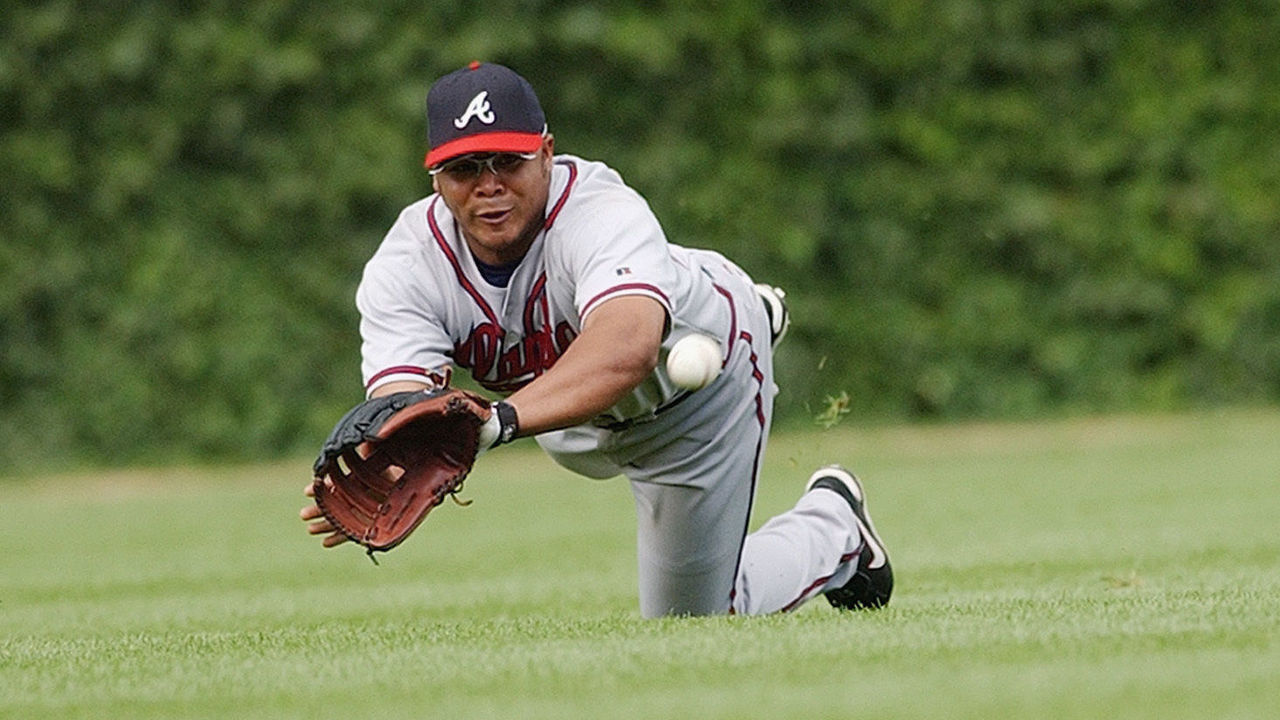 Position: OF
Teams: Braves, Dodgers, Rangers, White Sox, Yankees
JAWS: 54.6 (11th at CF)
WAR: 62.7 (14th)
Year on ballot: 5th
| GP | BA | OPS | H | HR | RBI |
| --- | --- | --- | --- | --- | --- |
| 2196 | .254 | .823 | 1933 | 434 | 1289 |
Jones has a legitimate case as the greatest defensive center fielder ever. His 10 Gold Gloves - only Willie Mays and Roberto Clemente won more in the outfield - don't even tell the story of how incredible he was defensively. You have to see it for yourself:
Jones' defense credibly builds his entire Hall of Fame case. If he hadn't declined so quickly at age 31 or spent his final two seasons in Japan, he likely would have reached 2,000 hits and maybe even taken a run at 500 homers. He still has several very good individual offensive seasons, most notably his 51-homer campaign in 2005. However, without the round numbers, his defense carries the load. It's the reason it's taken so long for voters to wake up to his case.
When he debuted on the ballot in 2018, Jones got just 7.3% of the votes to narrowly avoid being dropped. He didn't take off until two years ago, rising rapidly into double digits and up to 33.9% in 2021. Thanks to his non-traditional case, his totals have gone down somewhat on ballots released after the election, but he's now at the point where it shouldn't kill his momentum. Once the votes are counted Tuesday, Jones should be in good shape for the final five years.
Scott Rolen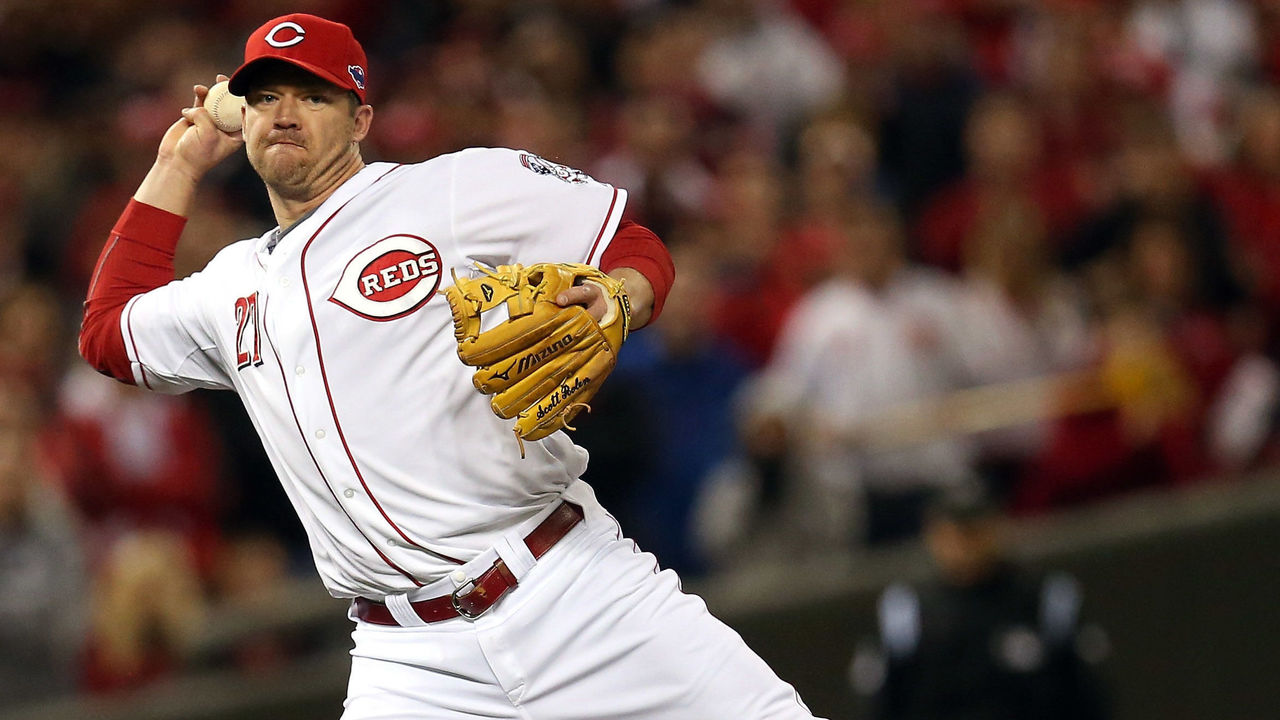 Position: 3B
Teams: Phillies, Cardinals, Blue Jays, Reds
JAWS: 56.9 (10th at 3B)
WAR: 70.1 (10th)
Year on ballot: 5th
| GP | BA | OPS | H | HR | RBI |
| --- | --- | --- | --- | --- | --- |
| 2038 | .281 | .855 | 2077 | 316 | 1287 |
Rolen is poised to be the biggest winner next week because he'll now be firmly on Cooperstown's doorstep even if he doesn't get inducted.
Perhaps the best defensive third baseman of his era, Rolen played the position with natural elegance. His eight Gold Gloves rank third at the position, and he's third among third basemen in the fielding runs metric, trailing only the great Brooks Robinson and future Hall of Famer Adrian Beltre. But he wasn't a one-trick pony. Rolen was a consistent and excellent hitter and finished with the ninth-highest OPS+ among primary third basemen.
As voters started to recognize his brilliance, Rolen began a truly incredible jump up the ballot that's about to pay off. He started at 10.2% in Year 1 before a series of spikes bumped him to 52.9% last winter. Rolen gained 18.1% from 2019 to 2020 and had a similar 17.6% gain in 2021. If the trends hold - and they should since he's at 69.4% on the known ballots - perhaps Rolen will be sitting in the area of 65% come Tuesday, with an outside chance at getting a very deserving call.
Gary Sheffield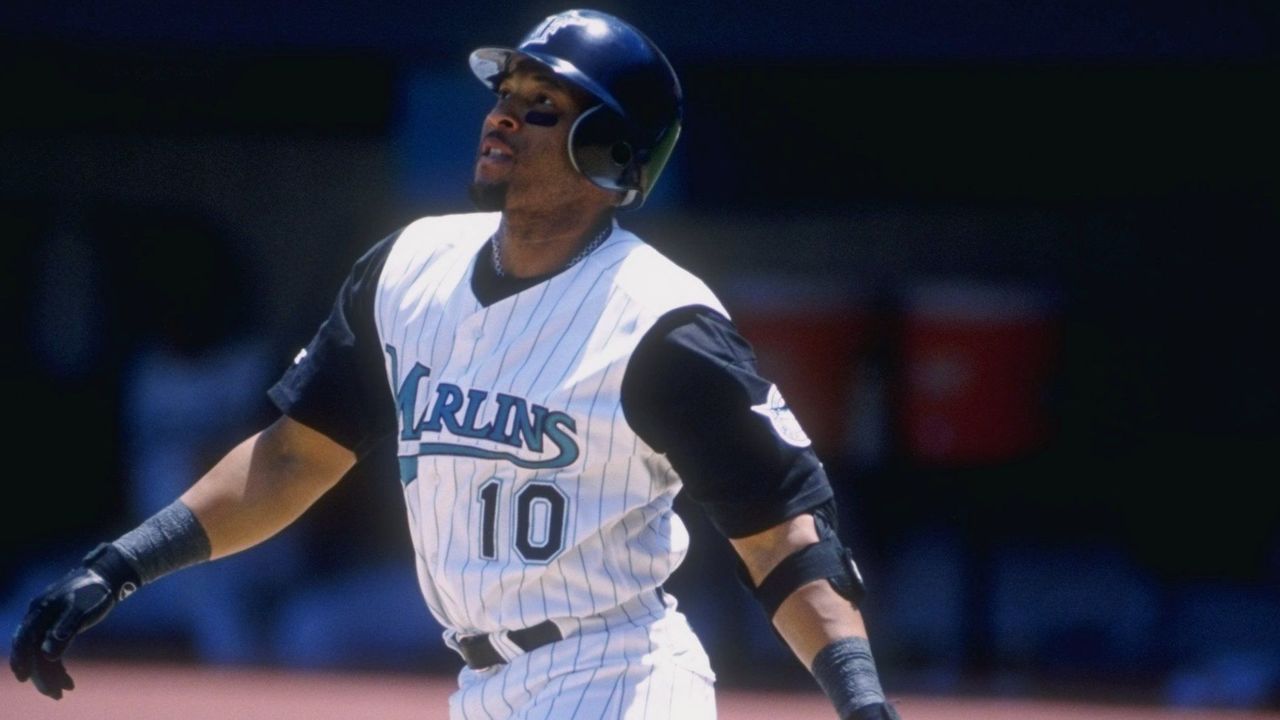 Position: OF
Teams: Brewers, Padres, Marlins, Dodgers, Braves, Yankees, Tigers, Mets
JAWS: 49.3 (23rd at RF)
WAR: 60.5 (18th)
Year on ballot: 8th
| GP | BA | OPS | H | HR | RBI | SB |
| --- | --- | --- | --- | --- | --- | --- |
| 2576 | .292 | .907 | 2689 | 509 | 1676 | 253 |
For a player as supremely talented and intimidating at the plate as Sheffield was, it's taken a long time for his career to start gaining recognition. Is he the next Walker or Edgar Martinez to receive a late groundswell of support?
Sheffield was a natural power hitter who also won a batting title thanks to his great contact abilities. He never struck out more than 83 times in a season and finished top 10 in home runs seven times. In addition to some raw numbers that should please traditionalists, he's top 50 all-time in OPS+, ranks 21st in walks, and was an MVP finalist three times. Sheffield also anchored the Marlins' 1997 World Series-winning lineup and reached the playoffs six times.
A few things have stalled Sheffield's momentum on the ballot. First, he played undeniably bad defense, to the point that it takes away from his overall metric totals despite the bat. Had he held his own defensively, he'd be closer to the average Hall of Fame right fielder. He also has at least one connection to PEDs, admitting to using a cortisone cream containing testosterone in 2002 that was given to him by Greg Anderson, the trainer at the center of the BALCO scandal. Sheffield said he was unaware the cream had testosterone and stopped using it after finding out. He also never failed a drug test later in his career. Finally, his outspokenness, brashness with the media, and an occasional penchant for controversy may also cause some voters to shy away.
Sheffield will need a massive jump to get a plaque, and it has to start this year. Emulating Martinez's rise in his last four years would be a good place to begin, but he's a bit behind the iconic DH. While he's now above the 40% mark, Sheffield's actually lost votes on public ballots so far and needs to get above 50% this time, which feels like a bit of a reach this year.
Billy Wagner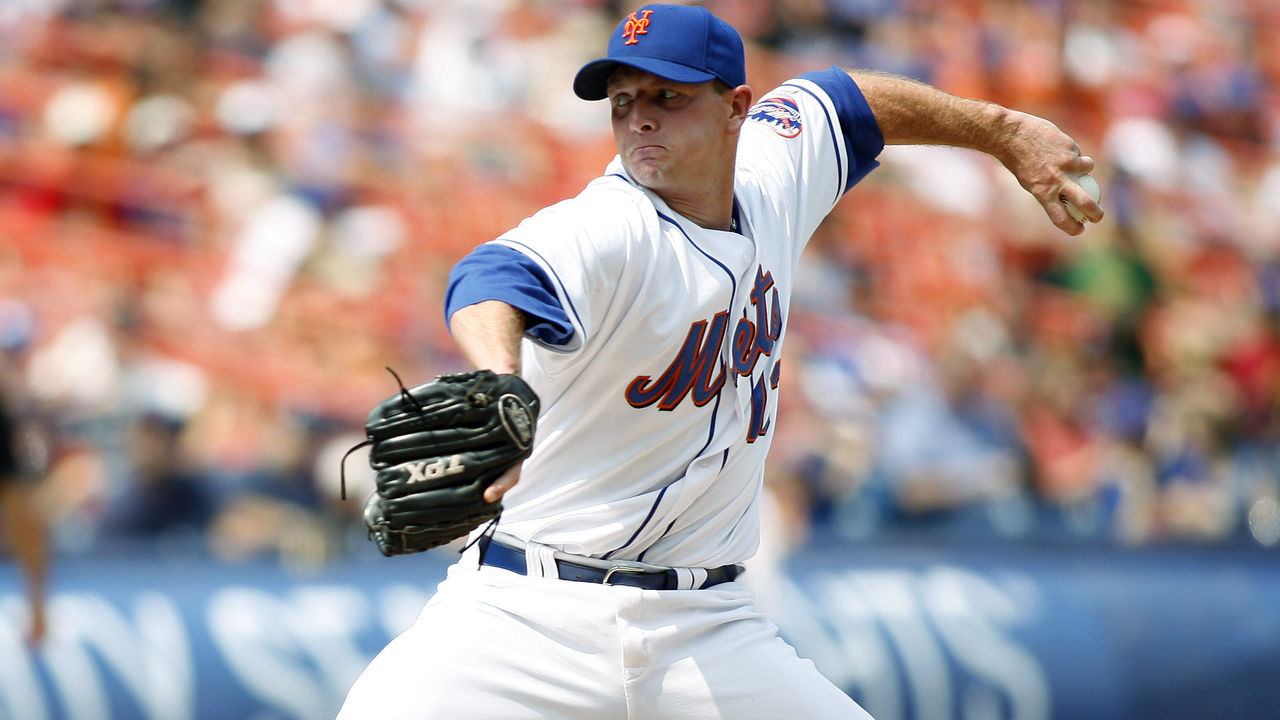 Position: RP
Teams: Astros, Phillies, Mets, Red Sox, Braves
JAWS: 23.7 (20th at RP)
WAR: 27.7 (14th)
Year on ballot: 7th
| IP | W-L | ERA | SV | WHIP | K |
| --- | --- | --- | --- | --- | --- |
| 903.0 | 47-40 | 2.31 | 422 | 1.00 | 1196 |
A reliever really has to stand out from the pack to be considered for the Hall of Fame, and even then, it's often difficult to evaluate them properly. Wagner did that during his career as one of baseball's premier closers, and he's among the best southpaw relievers ever.
Among his credentials: "Billy Wags" ranks sixth all-time in saves, has a lower WHIP than Mariano Rivera (albeit in fewer innings), and owns the highest K/9 rate among pitchers with at least 800 innings since 1901, per FanGraphs' Jay Jaffe. He never led in saves but ranked top 10 in 10 of 16 seasons and even cracked the bWAR leaderboard once.
On the other side, Wagner's 903 innings is a low total, even for a one-inning reliever. He ranks low in both WAR and his traditional JAWS score (though Jaffe's new "R-JAWS" metric gives him a much better placing). Wagner also struggled mightily in the playoffs and never closed for a World Series-winning club.
Still, Wagner's overall body of work isn't going unnoticed. He had a significant climb last year and now sits at 48% on public ballots. Getting over the 45% mark is massive for him, as that can often foreshadow an eventual election. For a one-inning reliever who's in the difficult position of not having too many Hall of Fame peers to judge him against, it's hard not to be happy with that standing.
Comments
✕
2022 Baseball HOF: Rolen, Wagner could be big winners next week
  Got something to say? Leave a comment below!