2021 MLB Mock Draft: Predicting landing spots for top prospects
The 2021 MLB Draft gets underway July 11. Here's a look at what the first round could look like.
Each pick is accompanied by its league-mandated value, the total bonus pool for that particular team, and where that bonus pool ranks in MLB. Individual pick values are added up to calculate a team's total bonus pool. Clubs are allowed to sign prospects above (over slot) or below (under slot) the expected value of the pick but can't exceed their total bonus pool when signing all drafted players.
1. Pirates - Marcelo Mayer, SS, Eastlake HS (Calif.)
Pick value: $8,415,300
Total bonus pool: $14,394,000 (1st)
The Pirates could go in any direction, but a prep shortstop seems most likely with a class full of them. Mayer appears to be the likeliest candidate, but Jordan Lawlar was also coming up in this spot less than one month ago. Kahlil Watson or Brady House might hear their names called here as well, and there's always a chance Pittsburgh goes with Vanderbilt ace Jack Leiter. This is one of the most difficult first overall picks to project in recent memory.
2. Rangers - Jordan Lawlar, SS, Jesuit Prep HS (Texas)
Pick value: $7,789,900
Total bonus pool: $12,641,000 (3rd)
The Rangers haven't drafted a shortstop in the first round in 19 years, and it's been even longer since they selected one out of high school (Benji Gil in 1991). Lawlar's five-tool talent may be too much to pass up for the Rangers, although Jack Leiter is a real possibility here too.
3. Tigers - Brady House, SS, Winder-Barrow HS (Ga.)
Pick value: $7,221,200
Total bonus pool: $14,253,800 (2nd)
Drafting based on organizational need isn't common in MLB, but, for the Tigers, it might be a tiebreaker. They're weak at shortstop and could go under slot with House. Alternatively, they've been linked to Jackson Jobe, who could also go under slot and would add to their notable pitching depth.
4. Red Sox - Jack Leiter, RHP, Vanderbilt
Pick value: $6,664,000
Total bonus pool: $11,359,600 (6th)
The Red Sox have been heavily linked to either Leiter or Louisville catcher Henry Davis. There's at least some likelihood that Leiter will be gone before Boston picks, so Davis might be the fallback. If both remain on the board, we're leaning Leiter.
5. Orioles - Kahlil Watson, SS, Wake Forest HS (N.C.)
Pick value: $6,180,700
Total bonus pool: $11,829,300 (5th)
This year's draft class is rich in talented shortstops, and the Orioles will likely try to scoop one with their first pick. Watson might be the third-best player available at his position, but he's a worthy top-five talent. Baltimore's farm system is already stacked at short with Gunnar Henderson and Jordan Westburg, so Baltimore may be inclined to take catcher Henry Davis instead.
6. Diamondbacks - Henry Davis, C, Louisville
Pick value: $5,742,900
Total bonus pool: $11,271,900 (7th)
It wasn't long ago that Davis was garnering consideration as a possible No. 1 pick. He's the top catcher available after seeing his stock skyrocket thanks to a fantastic year at Louisville, and the Diamondbacks could use a good catcher in their farm system; none of their top 30 prospects is a backstop.
7. Royals - Kumar Rocker, RHP, Vanderbilt
Pick value: $5,432,400
Total bonus pool: $10,917,700 (8th)
Rocker falling this far seemed impossible two months ago, but his up-and-down season has made it a real possibility. The Royals have done an excellent job stockpiling top-tier pitching prospects lately, and adding Rocker would certainly continue that trend.
8. Rockies - Jackson Jobe, RHP, Heritage Hall HS (Okla.)
Pick value: $5,176,900
Total bonus pool: $10,543,900 (9th)
Jobe's final draft position is a tough nut to crack. Rockies interim GM Bill Schmidt has overseen Colorado's draft for over two decades, so the recent front-office shuffle shouldn't mean a meaningful shift in strategy. The club has taken ill-fated chances on high school arms (Riley Pint, Mike Nikorak) in the past, but Jobe boasts a more complete repertoire than either. Still, if one of the high school shortstops is still available here, expect the Rockies to go back to a well that's worked for them (Trevor Story, Brendan Rodgers).
9. Angels - Ty Madden, RHP, Texas
Pick value: $4,949,100
Total bonus pool: $9,295,900 (12th)
The Angels' front office has very little in the way of track record under new GM Perry Minasian, but Madden fits the Reid Detmers mold of a somewhat underrated pitcher from a top-heavy college class.
10. Mets - Sal Frelick, OF, Boston College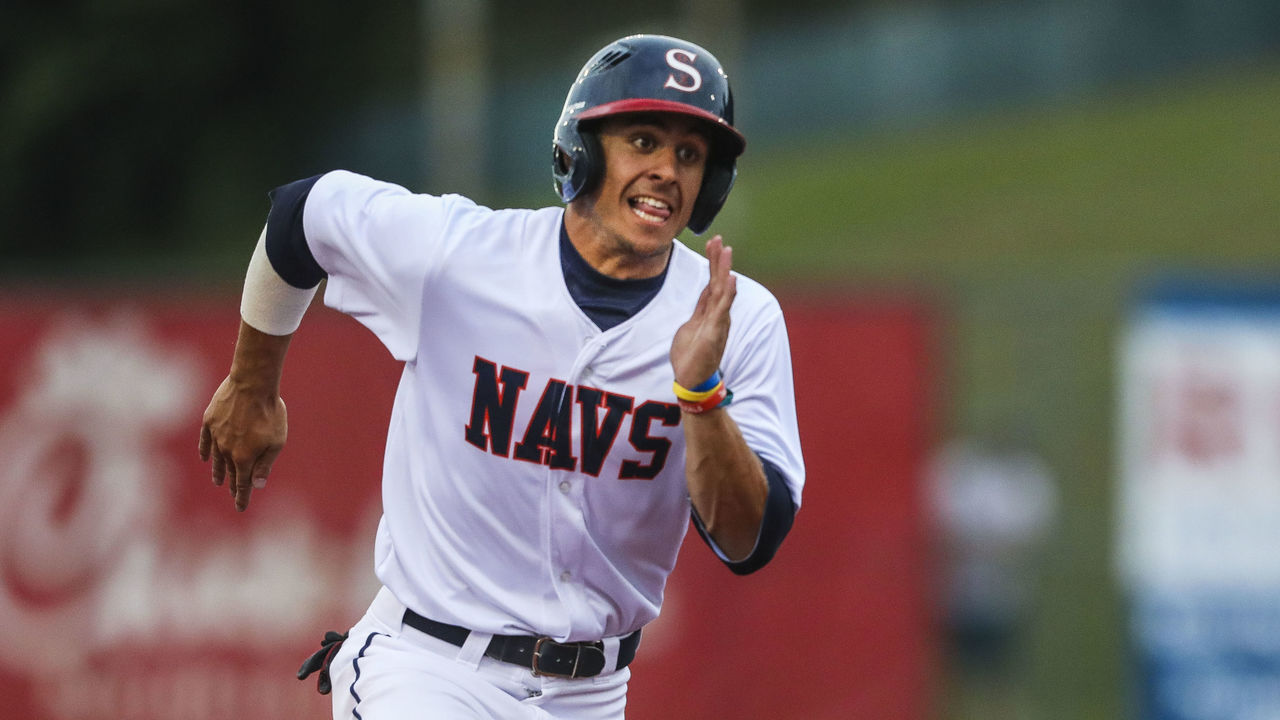 Pick value: $4,739,900
Total bonus pool: $9,026,300 (13th)
There seems to be a strong link between the Mets and Frelick. If it comes to fruition, the Boston College standout will join 2020 first-round selection Pete Crow-Armstrong and trade acquisition Khalil Lee as potential future outfield stars for New York.
11. Nationals - Sam Bachman, RHP, Miami (OH)
Pick value: $4,547,500
Total bonus pool: $8,770,000 (14th)
The Nationals love drafting college pitchers, so don't be surprised if they take Bachman and his power arm at No. 11. The idea of a future rotation composed of Bachman, Cade Cavalli, and Jackson Rutledge should have Washington fans drooling.
12. Mariners - Matt McLain, SS, UCLA
Pick value: $4,366,400
Total bonus pool: $8,526,000 (15th)
It's been all college for the Mariners in the first round over the past five years, so why break precedent after drafting studs like Emerson Hancock, Logan Gilbert, and Kyle Lewis? McLain's offensive profile is sky-high, and he could quickly become a big part of Seattle's future.
13. Phillies - Benny Montgomery, OF, Red Land HS (Pa.)
Pick value: $4,197,300
Total bonus pool: $8,295,000 (16th)
The Gatorade Player of the Year for Pennsylvania playing for the Phillies seems all too fitting, though he may go earlier. New president of baseball operations Dave Dombrowski has shown a preference previously for more polished college bats, so perhaps Colton Cowser could be a fallback.
14. Giants - Bubba Chandler, RHP/SS, North Oconee HS (Ga.)
Pick value: $4,036,800
Total bonus pool: $8,070,600 (19th)
It's wildly unclear whether Chandler will be treated as a two-way player on draft day, but he seems to have the tools to at least attempt it, and the Giants are the type of club to allow it. This was a team considered a very viable finalist for landing Shohei Ohtani before he signed with the Angels.
15. Brewers - Colton Cowser, OF, Sam Houston
Pick value: $3,885,800
Total bonus pool: $10,063,400 (10th)
If the Phillies draft Montgomery like many are predicting, the Brewers might wind up with the top outfielder in this year's draft at No. 15. If Cowser is gone, look for the Brewers to shift to Plan B and draft pitcher Jordan Wicks or catcher Harry Ford.
16. Marlins - Jordan Wicks, LHP, Kansas State
Pick value: $3,745,500
Total bonus pool: $9,949,800 (11th)
It'll be interesting to see what direction Miami goes in with Kim Ng in charge of its draft for the first time. Wicks is the top lefty available and has received comparisons to 2017 No. 3 pick MacKenzie Gore, so don't be surprised if he's off the board. The Marlins could opt for fellow southpaw Anthony Solometo if they go for a prep player instead.
17. Reds - Will Taylor, OF, Dutch Fork HS (S.C.)
Pick value: $3,609,700
Total bonus pool: $11,905,700 (4th)
Taylor's biggest question mark entering the draft is signability due to his two-sport commitment (baseball and football) to Clemson. He's not highly touted enough out of high school to go in the top five where the money is, but the Reds have the fourth-largest signing pool and could offer an over slot at No. 17 to pay him like a top-five player.
18. Cardinals - Will Bednar, RHP, Mississippi State
Pick value: $3,481,300
Total bonus pool: $8,167,100 (17th)
It wouldn't be a huge shock to see Bednar slip outside the first round but winning Most Outstanding Player in the College World Series should improve his draft stock. It's a small sample, but only one team needs to buy in, and the Cardinals won't pick again until No. 54, so if they're looking for a live arm who could be fast-tracked to the majors, Bednar is a good bet.
19. Blue Jays - Harry Ford, C, North Cobb HS (Ga.)
Pick value: $3,359,000
Total bonus pool: $5,775,900 (28th)
The Blue Jays are in a bit of a tricky spot, with a decent first-round pick but not a lot of bonus pool to work with after signing George Springer this offseason. They've been tied to prep pitchers Andrew Painter and Anthony Solometo, but we landed on Ford here as the best player on the board. Toronto already has Gabriel Moreno and Riley Adams in the pipeline, but you can never be too rich in catching.
20. Yankees - Gunnar Hoglund, RHP, Mississippi
Pick value: $3,242,900
Total bonus pool: $6,943,700 (22nd)
The Yankees showed they're not shy about drafting a top college arm sidelined by Tommy John surgery when they selected Clarke Schmidt in 2017. If Hoglund is available this late - and he really might not be - history could repeat itself.
21. Cubs - Jud Fabian, OF, Florida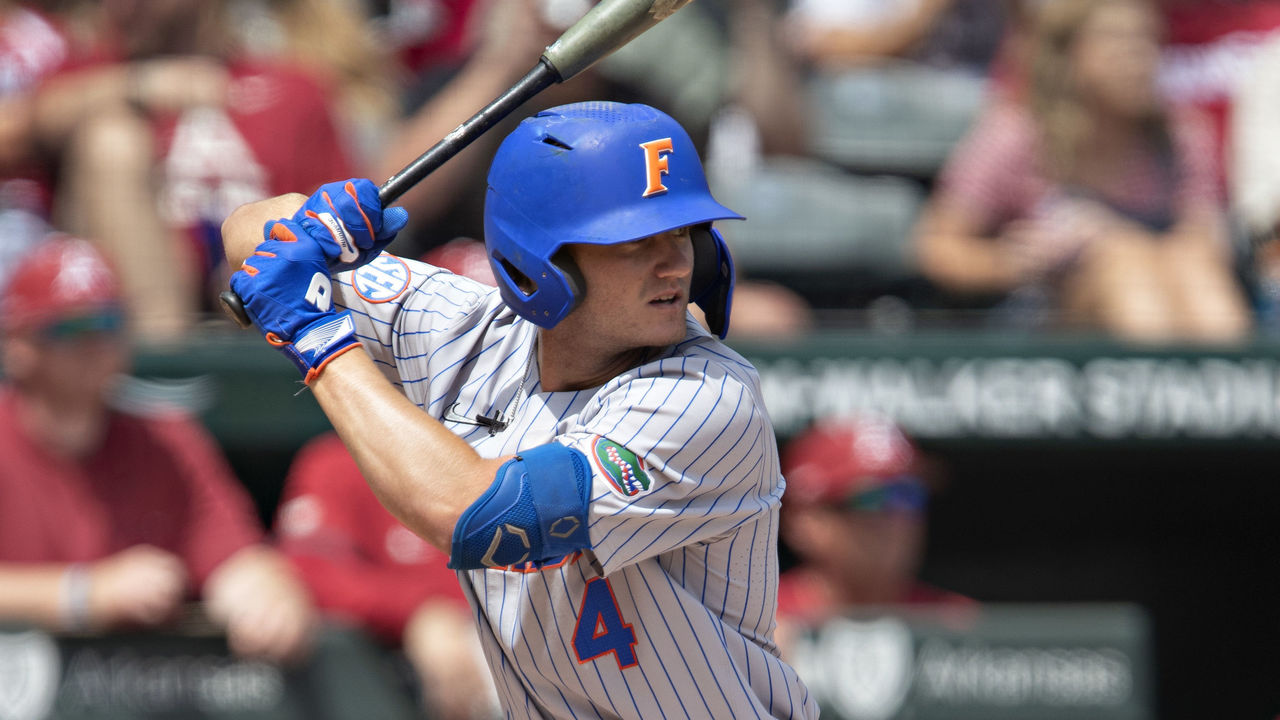 Pick value: $3,132,300
Total bonus pool: $6,779,400 (24th)
Fabian will need to work on making more contact, but he's younger than most of his college counterparts and could develop well in the right system. Even further, his stint in the Cape Cod League showed he has pop with a wooden bat, hitting six homers and eight doubles in 35 games - a similar trajectory to Nico Hoerner.
22. White Sox - Colson Montgomery, 3B, Southridge HS (Ind.)
Pick value: $3,027,000
Total bonus pool: $6,618,600 (25th)
The White Sox haven't drafted this low very often over the past decade, so it'll be interesting to see how their strategy is impacted. They don't usually go with a high school bat, but Montgomery continues to be a rumored target.
23. Indians - Michael McGreevy, RHP, UC Santa Barbara
Pick value: $2,926,800
Total bonus pool: $7,398,800 (21st)
The Cleveland pitching factory adds another potential ace in McGreevy, who remains underrated despite boasting an elite 115-to-11 strikeout-to-walk ratio. Oh, and he just so happens to come from Shane Bieber's alma mater.
24. Braves - Anthony Solometo, LHP, Bishop Eustace HS (N.J.)
Pick value: $2,831,300
Total bonus pool: $6,326,300 (26th)
Solometo is a surprisingly filled-out high school lefty with a funky delivery. He's been compared to MacKenzie Gore, though Solometo's stuff isn't quite as lethal. But some team - perhaps the Braves - will absolutely bet on his tantalizing upside.
25. Athletics - Izaac Pacheco, 3B, Friendswood HS (Texas)
Pick value: $2,740,300
Total bonus pool: $6,188,900 (27th)
The Athletics seem to be eyeing a prep hitter at a skill position with this pick, and Pacheco fits the mold somewhat. However, Wes Kath and Max Muncy (no relation to the Dodgers All-Star) both show more promise at the plate and could also be targets for Oakland.
26. Twins - Joe Mack, C, Williamsville East HS (N.Y.)
Pick value: $2,653,400
Total bonus pool: $8,101,400 (18th)
The knock against Mack is his defensive game, but the Twins have turned themselves into something of a framing factory. He could thrive with Minnesota.
27. Padres - Ky Bush, LHP, St. Mary's
Pick value: $2,570,100
Total bonus pool: $6,812,300 (23rd)
Bush is a lanky lefty with surprisingly refined control and might have the profile of a reliever. But if he goes in the first round, it's because a team sees starter potential, and the Padres have been stockpiling arms exactly like his for some time.
28. Rays - Ryan Cusick, RHP, Wake Forest
Pick value: $2,493,900
Total bonus pool: $7,955,800 (20th)
Getting Cusick at No. 28 might be a coup for the Rays. A somewhat wild college arm with one of the best fastballs in the class, Cusick could hear his name called anywhere in the back half of the first round.
29. Dodgers - Gavin Williams, RHP, East Carolina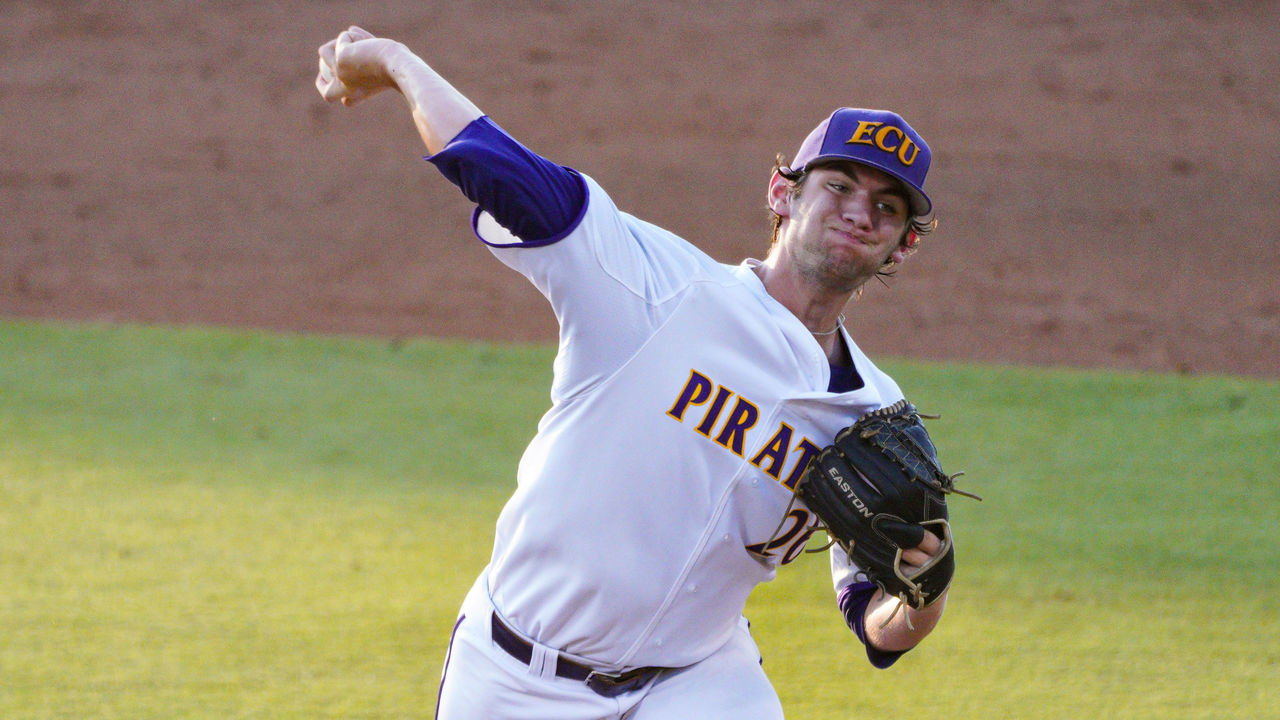 Pick value: $2,424,600
Total bonus pool: $4,646,700 (29th)
If Cusick's fastball isn't the best in the college class, Williams' might be. Boasting a 130-to-21 strikeout-to-walk ratio over 81 1/3 innings in his final season with East Carolina, the big righty can be overpowering and has plenty of upside.
The Astros surrendered their first-round pick as punishment for the 2017-18 sign-stealing scandal.
Comments
✕
2021 MLB Mock Draft: Predicting landing spots for top prospects
  Got something to say? Leave a comment below!