Two-time All-Star catcher J.T. Realmuto hits free agency after a solid two-year stint with the Philadelphia Phillies and, with apologies to Yadier Molina, is by far the best backstop on the open market.
He may be the most coveted bat among all free agents this offseason, and teams won't be scared off by draft pick compensation after he declined the Phillies' $18.9-million qualifying offer.
Let's break down some of the pros and cons of signing the catcher, as well as some potential suitors for his services.
Pros
Realmuto is stability personified on both sides of the ball. He's been one of the game's best catchers since his breakout sophomore campaign in 2016. Yasmani Grandal, who signed a four-year, $73-million contract with the Chicago White Sox last offseason, is the only backstop to accrue more fWAR in that time.
Offensively, Realmuto may not have Grandal's power ceiling, but he's the more balanced player and doesn't lack significantly in any category. Over the last five seasons, Realmuto ranks fourth among catchers in home runs (85), third in batting average (.282), fourth in slugging (.466), fourth in wRC+ (114), and second in fWAR (18.8). He's also shown remarkable durability by appearing in 595 games in that time - most among players at his position.
Would-be base-stealers have also learned to exercise caution when testing Realmuto's arm. He's thrown out 139 runners and is seventh among active catchers in caught stealing percentage (35.8), and the six he's trailing don't offer his offensive upside. Realmuto's also an elite pitch-framer who manages a pitching staff thoughtfully.
His speed is as good as it gets among catchers. His 28.2 feet-per-second sprint speed ranked tied for 73rd in MLB last season, barely behind Mookie Betts (28.3) and ahead of former teammate Christian Yelich (28.1). While you can't rely on him stealing a ton of bases, he also doesn't make many mistakes on the basepaths.
Basically, Realmuto's production has the highest imaginable floor. There are no real peaks and valleys in his game, so while that may limit his ceiling, Realmuto is clockwork.
Cons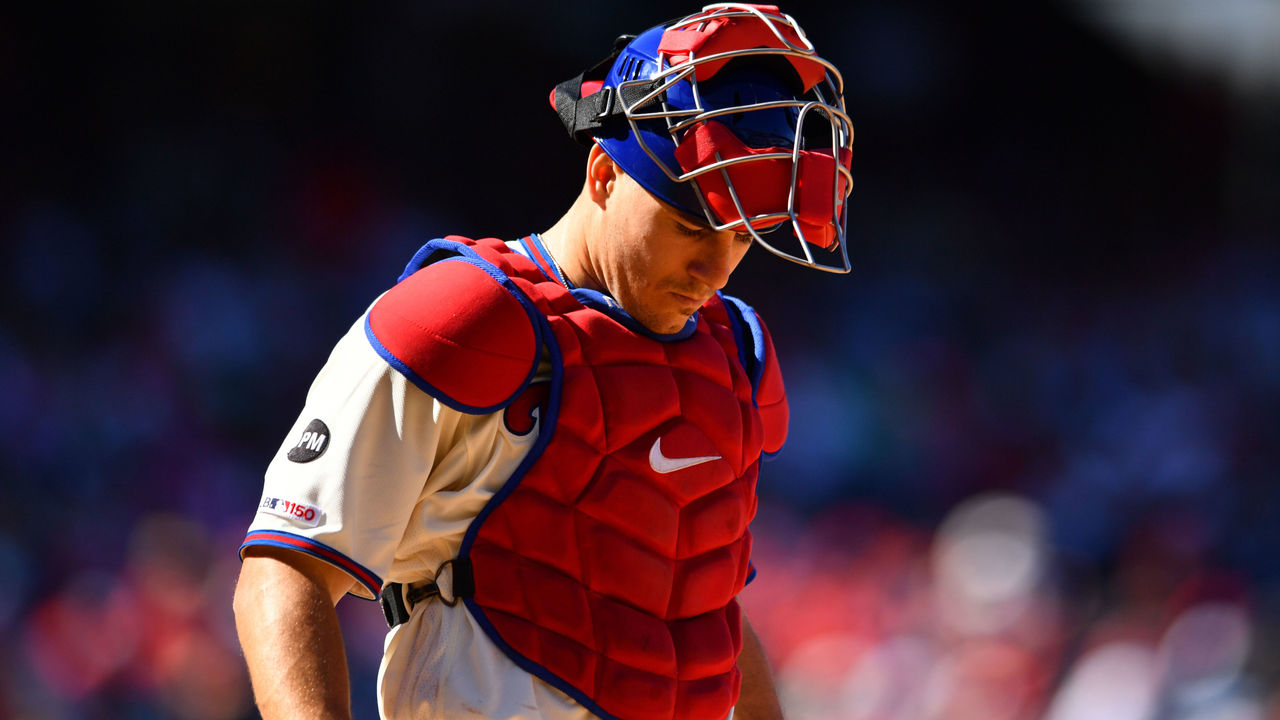 There aren't many cons, other than hypotheticals related to age and possible injuries.
Realmuto will be 30 on Opening Day, and there's no position in baseball that takes a beating quite like catcher. He hasn't seen much of a spike in games at first base but has played there a bit. Even if he does move to the less premium position, his bat can play there better than perhaps Joe Mauer's did after he moved out from behind the plate later in his career.
While most of Realmuto's offensive numbers are sterling, he does trail many of his peers in walk rate and, as a result, on-base percentage. His 6.5 BB% ranks 28th among catchers since 2016, just behind the likes of Yan Gomes and Stephen Vogt. His .336 OBP is 11th but is buoyed by his ability to make good contact.
Realmuto's unflinching - and more-than-reasonable - desire to get paid what he's worth could price some cash-strapped teams (ahem, Chicago Cubs) out of his services. But with teams using the COVID-19 pandemic as an excuse to cry poor, Realmuto may find himself fielding offers significantly below his expectations.
He's reportedly seeking a $200-million deal, which simply may not come to pass. Buster Posey signed the richest contract for a catcher when he inked an 8-year, $159-million pact with the Giants in 2013. The caveats: It was an extension and he was 27. On the open market, Grandal and Russell Martin top the list of catcher deals, as they both received contracts in the $80-million range.
Potential Suitors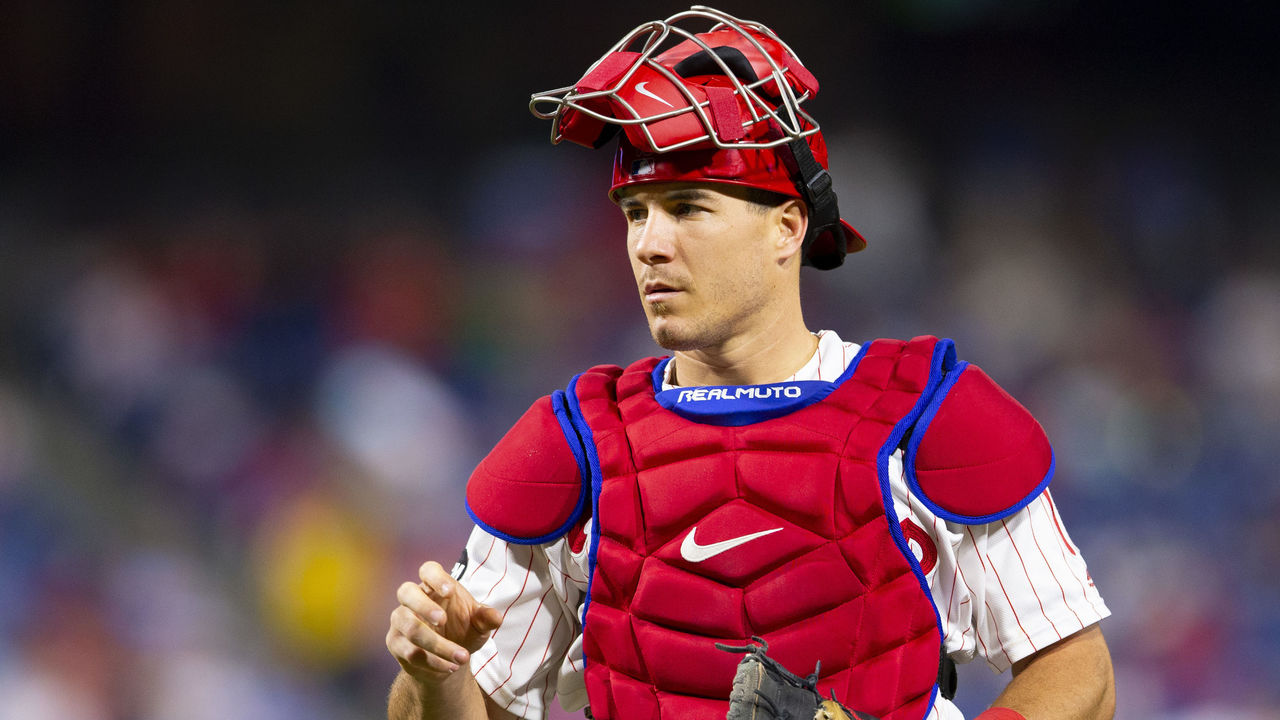 Philadelphia Phillies. A reunion with the Phillies isn't out of the question, and he has to be a priority. In addition to outfielder Bryce Harper clamoring for him to re-sign during the summer, losing him to another team with only a compensatory draft pick coming back would be disastrous. Remember, the Phillies sent top prospects Jorge Alfaro and Sixto Sanchez to the Miami Marlins to get Realmuto. Alfaro has had some injury issues and hasn't been at Realmuto's level and Sanchez only just debuted, but both have shown signs of their potential. The only way that trade will age well is if Realmuto sticks around.
New York Mets. With Steve Cohen's purchase of the Mets complete, the club will be connected to every big-ticket free agent this offseason regardless of need. However, the Mets are in the market for a catcher after declining Wilson Ramos' option, and Realmuto would be an upgrade. With Marcus Stroman accepting his qualifying offer to remain in Queens, they may not be as desperate to spend on a starting pitcher, which could make Realmuto their top target. If the Mets are going to go for broke in free agency, they could absolutely go for both Realmuto and, say, Trevor Bauer.
New York Yankees. With the struggles that have befallen Gary Sanchez, both at the plate and behind it, the Bronx Bombers could be in line to make a change. Re-signing DJ LeMahieu is the club's priority, especially if they haven't lost hope with El Gary just yet. He did, after all, hit 34 homers in 2019.
Washington Nationals: The Nationals appear on the verge of making a big splash, having been linked to LeMahieu and Cubs third baseman Kris Bryant. Incumbent catcher Gomes could be shuffled into a backup role with the addition of someone like Realmuto. If the pursuit of LeMahieu proves fruitless, bringing in MLB's best backstop to catch Max Scherzer and Stephen Strasburg would be a fantastic consolation and would almost certainly not be the team's only move.
Los Angeles Angels: The Angels need pitching above all else, and a year after trying to fill the void of missing out on Gerrit Cole by signing Anthony Rendon - and still missing the postseason - this remains true. If the Angels don't land Bauer, the starting pitching market becomes noticeably less expensive, which could push them toward Realmuto. He'd be an upgrade over Max Stassi and Anthony Bemboom, and with Albert Pujols coming off the books after next season - and Justin Upton the year after - a contract for Realmuto won't be a long-term handcuff.
Prediction: Realmuto signs a six-year, $150-million contract with the Phillies.