Valdez shines again in loss, Cash lives to regret questionable call
Sean M. Haffey / Getty Images
The best-of-seven American League Championship Series got underway Sunday night at Petco Park, where the Tampa Bay Rays - as per usual - parlayed a masterful performance from their vaunted pitching staff into a 2-1 victory over the Houston Astros. Here are a few takeaways from a tightly contested series opener:
Valdez keeps shoving
Last October, when the yet-to-be reviled Astros navigated their way within inches of a second World Series title in a three-year span, Framber Valdez was a complete non-factor. In fact, Valdez, an erratic left-hander who stumbled to a 5.86 ERA over eight starts and another 18 relief appearances during the regular season, didn't even crack Houston's playoff roster.
What difference a year makes.
This October, in the wake of a profoundly transformative year during which the Astros lost Gerrit Cole to free agency and Justin Verlander to a torn ulnar collateral ligament (plus, you know, that whole sign-stealing thing), Valdez isn't merely an important part of the Astros' pitching staff. Rather, the 26-year-old is suddenly Houston's ace, an emergent star who played an outsized role in propelling his club through the first two rounds of the postseason and did everything in his power to nudge the Astros to an early lead in their best-of-seven showdown with Tampa Bay. (Alas, his offense didn't cooperate.)
In Game 1, Valdez held the Rays to just two runs on four hits and four walks while fanning eight over six innings, and he wouldn't have been saddled with the loss were it not for some bad BABIP luck: Mike Zunino's go-ahead, two-out single in the fifth came off his bat at just 83.4 mph. Amazingly, Valdez's six innings of two-run ball represent his worst outing of the postseason thus far; he pitched five innings of scoreless relief in Game 1 of the wild-card round against the Minnesota Twins and held the Oakland Athletics to two runs over seven innings in Game 2 of the division series.
In total, Valdez owns a 2.00 ERA and 1.00 WHIP through 18 playoff innings, and his newfound status as Houston's de facto top starter represents the culmination of the most unlikely evolution.
Valdez didn't throw his first professional pitch until he was 21, which is practically ancient by international signee standards. And though he showed considerable promise in the minor leagues, including the dastardly curveball and bowling-ball sinker that were on full display Sunday night, Valdez was plagued by a wildness that - combined with his age - prevented him from ever earning top-prospect status.
That wildness followed him to the majors. As a late-season call-up in 2018, Valdez issued a whopping 24 walks in 34 innings with the Astros, marring the 2.19 ERA he fashioned in his first go-around. His inability to throw strikes soon caught up to him. In 2019, Valdez was essentially replacement-level in a swingman role with Houston due to his control issues - his walk rate of 13.4% was the second-worst among pitchers with at least 70 innings - and newfound home run problem.
A year later, however, he looks like an entirely different pitcher. First and foremost, Valdez is throwing strikes with far more consistency, having increased his zone rate by nearly 3% (52.5) from last year's (49.9). As such, he's obviously walking way fewer hitters - Valdez went from 5.6 walks per nine innings a year ago to just 2.0 in 2020. And by working himself into favorable counts more frequently, he's also been able to expand the zone more effectively, particularly with his elite-spin-rate curveball: his chase rate (26.5%) also jumped nearly 3% year-over-year, and his strikeout rate in 2020 (25.9%) trumped those of Zack Wheeler, Jose Berrios, and National League Cy Young contender Max Fried.
Valdez also made another critical adjustment, though. In 2019, he had little success throwing his four-seam fastball. Opponents hit .392 off of it. They slugged .549 against it. It was a cookie of the most delicious variety, truly one of the most hittable pitches in baseball, yet Valdez threw his four-seamer nearly once out of every five pitches.
Highest wOBA by individual pitch type, 2019
| Player | Pitch Type | wOBA |
| --- | --- | --- |
| Jhoulys Chacin | 4-Seam Fastball | .590 |
| Wade LeBlanc | Curveball | .535 |
| Mike Leake | Sinker | .517 |
| Edwin Jackson | Cutter | .515 |
| Michael Wacha | Curveball | .514 |
| Chris Archer | 2-Seam Fastball | .504 |
| Kyle Freeland | Changeup | .502 |
| Mike Montgomery | 4-Seam Fastball | .485 |
| Luis Garcia | 4-Seam Fastball | .478 |
| Martin Perez | 4-Seam Fastball | .478 |
| Drew Smyly | Cutter | .474 |
| Luis Garcia | 2-Seam Fastball | .471 |
| Jeff Hoffman | 4-Seam Fastball | .470 |
| Nick Pivetta | 4-Seam Fastball | .460 |
| Felix Hernandez | Sinker | .457 |
| Chris Bassitt | Cutter | .456 |
| Framber Valdez | 4-Seam Fastball | .453 |
(Note: To qualify, pitchers had to throw their worst pitch a minimum of 200 times, and at least 1,000 total pitches over the course of the season.)
So, Valdez made a change: He just stopped throwing it.
In 2020, Valdez, who started the entire season save for one early-summer bulk relief appearance, all but scrapped his four-seamer, throwing it only a handful of times each game and relying instead on the sinker that hitters have a much harder time squaring up.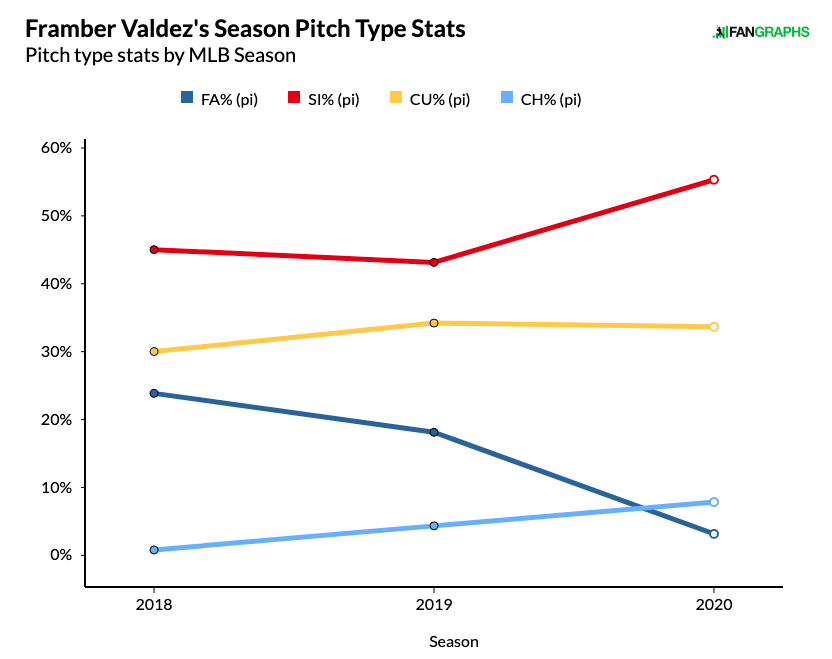 The results have been staggering. Valdez posted a lower barrel rate in 2020 than Clayton Kershaw and managed a lower expected weighted on-base average than Blake Snell, who tossed five solid innings of his own in Game 1. The surface stats - a 3.57 ERA and 2.85 FIP across 70 2/3 regular-season innings - speak for themselves. And, ultimately, in a season so trying for the Astros in so many ways, Valdez's emergence was an unqualified bright spot.
His transformation has been integral to Houston's postseason run, as well, and if the Astros end up falling short of their third pennant in the last four years, it won't be because of Valdez.
Cash makes curious call
Tampa Bay Rays manager Kevin Cash is often lauded for his bullpen-managing prowess, and deservedly so, but that doesn't mean every decision he makes is beyond reproach. On Sunday night, with his club clinging to a one-run lead in the eighth, Cash made a downright puzzling call. It nearly cost Tampa Bay the lead, too.
The entire "stable full of guys (who) throw 98 mph," as Cash put it earlier this year, was rested after getting the day off Saturday - only John Curtiss and Ryan Thompson pitched in relief to that point in the game - yet Cash decided to entrust the top of the eighth to left-hander Aaron Loup, which was questionable for several reasons. For one, Loup hadn't pitched in nearly two weeks, with his last appearance coming in Game 2 of the wild-card round. Secondly, Loup struggles against right-handed hitters, and the Astros had two imposing righties - Alex Bregman and Carlos Correa - due up after leadoff man Michael Brantley. And, finally, due to the three-batter rule, Loup would have to face all three of those guys regardless, even if things immediately went haywire, which they did.
Loup hit Brantley in the leg with the first pitch he threw. Then, after striking out Bregman, Loup walked Correa (after first uncorking a wild pitch) to put runners on first and second. Cash could've yanked him at that point but instead chose to leave him in to face the left-handed-hitting Kyle Tucker. He singled, scalding a ball into left field at 108 mph, to load the bases for Yuli Gurriel. At that point, with the game essentially on the line and another right-hander up, Cash had seen enough. Only by virtue of Diego Castillo's almost-unrivaled nastiness did the Rays escape the inning with their lead still intact.
To be sure, Loup had a solid regular season with Tampa Bay and remains a fine option against left-handed hitters, but that so clearly wasn't the spot to use him, especially after such a long layoff. And for a manager who puts such an emphasis on optimizing matchups, and whose team's success is so predicated on putting players in a position to succeed, the gaffe feels particularly noteworthy. Luckily, it didn't cost him.
No more heaters for Arozarena
Randy Arozarena may not, in fact, be the greatest baseball player who ever lived, but so long as he keeps hitting like this, the Astros would be wise to feed him a steady diet of breaking balls.
Arozarena, who's inexplicably carried Tampa Bay's offense so far this postseason with a mind-boggling .419/.471/.935 slash line through eight contests, delivered yet another big hit in Game 1 with a fourth-inning solo shot off Valdez. Like most of the damage he's done throughout the playoffs, it came against a fastball.
In fact, three of the four homers Arozarena has hit this postseason have come off fastballs: a 96.4-mph four-seamer from Gerrit Cole, a 93.7-mph four-seamer from Deivi Garcia, and a Valdez sinker at 92.7 mph. And throughout his brief major-league career, Arozarena has generally had much more success against velocity than anything soft and/or spinning.
| | wOBA | xSLG | xwOBA |
| --- | --- | --- | --- |
| Fastballs | .525 | .668 | .444 |
| Offspeed | .289 | .251 | .238 |
| Breaking balls | .217 | .207 | .197 |
To their credit, the Astros' staff did give Arozarena more breaking balls than fastballs in the series opener, and only four of those heaters were in the strike zone, but he still managed to make them pay. Ultimately, if Arozarena gets a fastball in the zone right now, there's a good chance it's not coming back. He's as locked in as a hitter can be, and the Astros need to stop playing to his strengths, even if that means working around him with offspeed stuff.
Jonah Birenbaum is theScore's senior MLB writer. He steams a good ham. You can find him on Twitter @birenball.
Comments
✕
Valdez shines again in loss, Cash lives to regret questionable call
  Got something to say? Leave a comment below!