Check out theScore's World Series betting preview here.
The 2019 Fall Classic is set, with the Houston Astros looking to propel themselves into legitimate dynasty territory with their second championship in three years. The only thing standing in their way is a potent Washington Nationals club that's routinely underperformed - until now.
Here's everything you need to know about this year's World Series:
How to watch
| Game | Date | Start Time (ET) | Network |
| --- | --- | --- | --- |
| 1 | Oct. 22 | 8:08 p.m. | FOX |
| 2 | Oct. 23 | 8:07 p.m. | FOX |
| 3 | Oct. 25 | 8:07 p.m. | FOX |
| 4 | Oct. 26 | 8:07 p.m. | FOX |
| 5* | Oct. 27 | 8:07 p.m. | FOX |
| 6* | Oct. 29 | 8:07 p.m. | FOX |
| 7* | Oct. 30 | 8:08 p.m. | FOX |
* - if necessary
Projected rosters
Rotation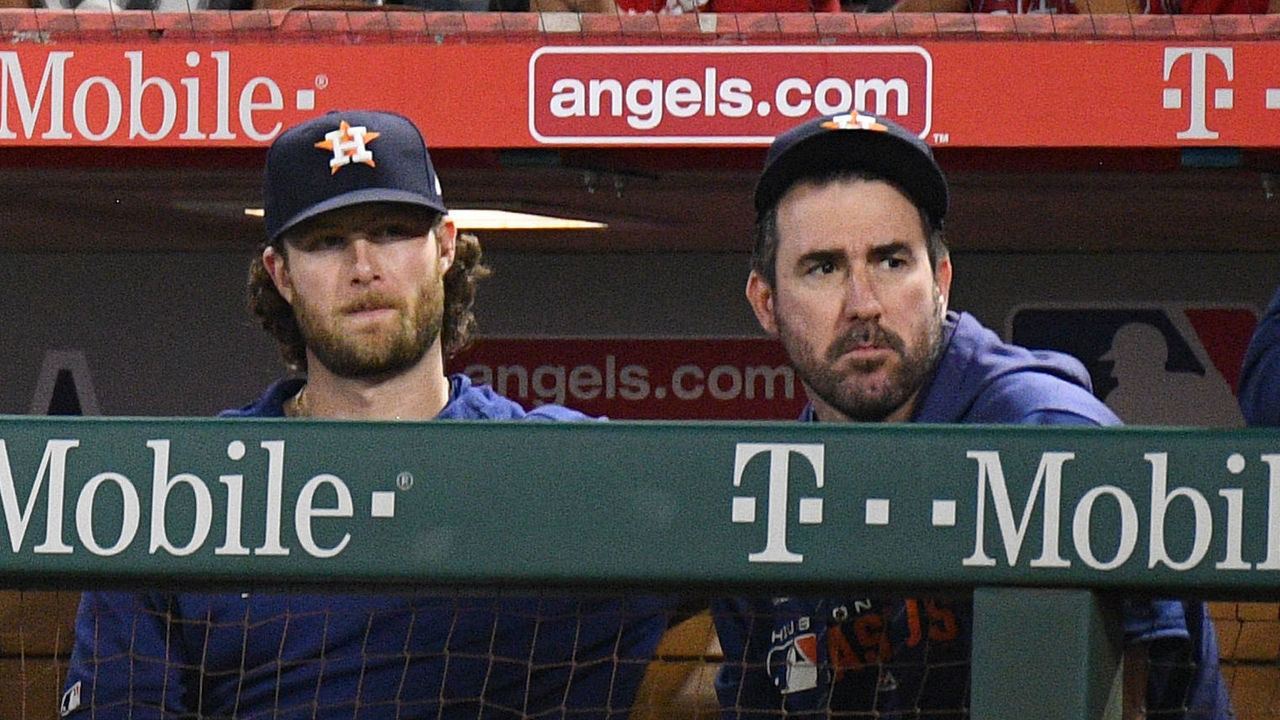 | Game | Nationals | Astros |
| --- | --- | --- |
| 1 | Max Scherzer | Gerrit Cole |
| 2 | Stephen Strasburg | Justin Verlander |
| 3 | Patrick Corbin | Zack Greinke |
| 4 | Anibal Sanchez | TBD |
The first three games will feature starters with a combined five Cy Youngs between them - and a sixth pending, with Cole or Verlander likely earning this year's Junior Circuit nod. Game 4, however, is completely up in the air. Particularly for the Astros.
The Nationals will almost certainly entrust Sanchez with one start, especially after his stupendous performance against the St. Louis Cardinals in Game 1 of the NLCS. The Astros, on the other hand, could turn to one of Brad Peacock, Jose Urquidy, or Josh James for a potential Game 4 start with left-hander Wade Miley being left off the World Series roster.
Lineup
| | Nationals | Pos. |
| --- | --- | --- |
| 1 | Trea Turner | SS |
| 2 | Adam Eaton | RF |
| 3 | Anthony Rendon | 3B |
| 4 | Juan Soto | LF |
| 5 | Howie Kendrick | DH |
| 6 | Ryan Zimmerman | 1B |
| 7 | Victor Robles | CF |
| 8 | Asdrubal Cabrera | 2B |
| 9 | Yan Gomes | C |
The Nationals have a ton of options beyond their top four hitters. Instead of giving Kendrick designated hitter duties, they could go with Zimmerman in that role. Zimmerman's more likely to garner a pinch-hit, however, and he's easier to replace defensively. In a late runners-on situation, look for Dave Martinez to turn to Matt Adams at that spot.
Further down the lineup, Martinez could opt for Brian Dozier over Cabrera at second base, though the latter got more reps and performed better down the stretch.
Beyond that, Michael A. Taylor is included as a late-inning defensive replacement/pinch runner, Kurt Suzuki continues his tandem with Gomes behind the dish, and midseason acquisition Gerardo Parra gets the final spot over a bullpen arm like lefty Roenis Elias.
| | Astros | Pos. |
| --- | --- | --- |
| 1 | George Springer | CF |
| 2 | Jose Altuve | 2B |
| 3 | Michael Brantley | LF |
| 4 | Alex Bregman | 3B |
| 5 | Yuli Gurriel | 1B |
| 6 | Carlos Correa | SS |
| 7 | Yordan Alvarez | DH |
| 8 | Robinson Chirinos | C |
| 9 | Josh Reddick | RF |
Martin Maldonado will be included to work catcher alongside Chirinos, with Jake Marisnick and Aledmys Diaz the obvious defensive options in the outfield and infield, respectively.
Houston went with rookie Kyle Tucker for its final bench spot over Myles Straw. Straw could have been an interesting pinch-run option in a series where runs might need to be manufactured, but Tucker is the better hitter and gives the club an extra left-handed bat.
Bullpen
| Nationals | Throws |
| --- | --- |
| Sean Doolittle | L |
| Javy Guerra | R |
| Daniel Hudson | R |
| Tanner Rainey | R |
| Fernando Rodney | R |
| Joe Ross | R |
| Wander Suero | R |
Washington's bullpen was dubious during the regular season, to say the least, and it seems Martinez still doesn't trust anyone except Doolittle and Hudson to do the heavy lifting.
That said, Rainey and Rodney will likely have to enter in a big moment at some point - regardless of how many times the Nats call on starters out of the 'pen. Suero got picked over Hunter Strickland, while Ross' inclusion gives the Nats a multi-inning option or a potential Game 3 starter if Corbin is used out of the bullpen.
| Astros | Throws |
| --- | --- |
| Chris Devenski | R |
| Will Harris | R |
| Josh James | R |
| Roberto Osuna | R |
| Brad Peacock | R |
| Ryan Pressly | R |
| Hector Rondon | R |
| Joe Smith | R |
| Jose Urquidy | R |
The biggest question mark heading into the World Series was Pressly's health. He insisted his ailing right knee is fine, which was seemingly enough to convince the Astros to include him. Devenski was left off the roster for the previous two rounds, and he could be here as insurance in case Pressly isn't fully ready.
Pressly's health aside, Osuna and Harris remain in the highest-leverage roles. Smith will serve as the bridge man with Peacock, James, and Urquidy as multi-inning options.
Epic pitching matchup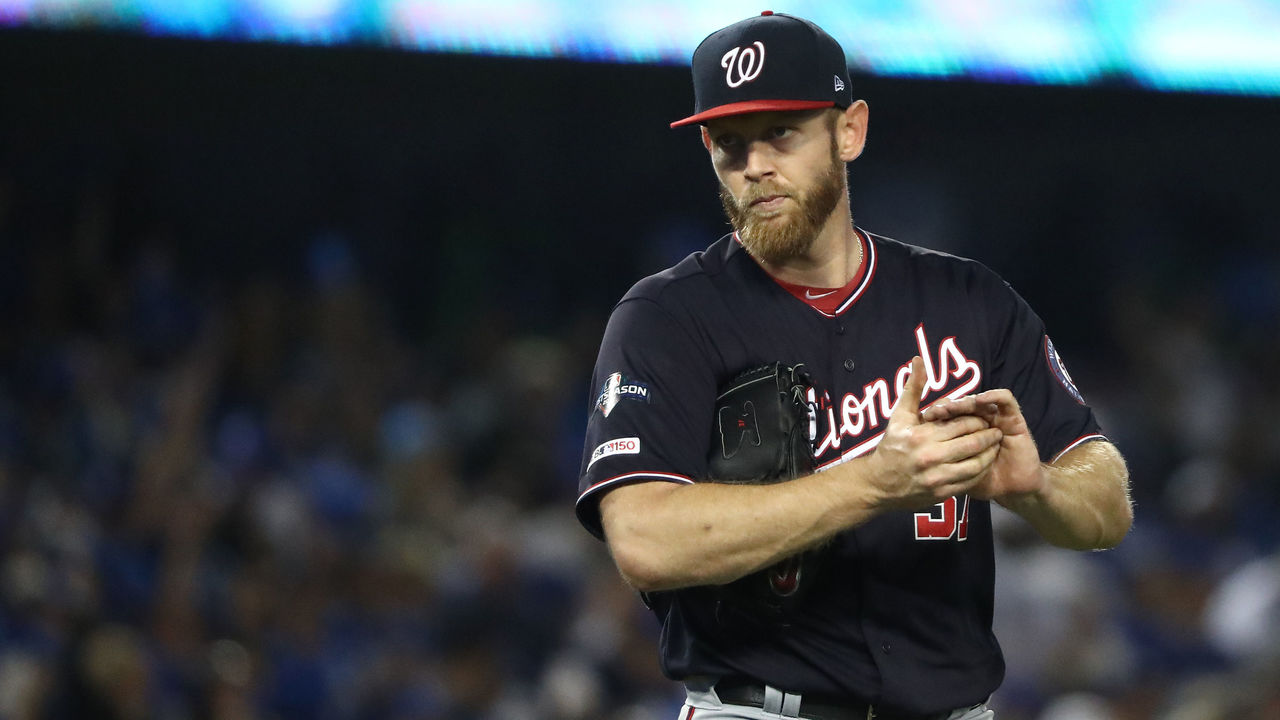 Talk surrounding this World Series will be all about the pitching. And deservedly so: These are likely the two best rotations to ever go head-to-head in the Fall Classic.
The Nationals have ridden the outsized contributions of Strasburg to their first pennant. The No. 1 overall pick of 2009 currently has the third-lowest postseason ERA in MLB history among starters with at least six starts, trailing only Sandy Koufax and Christy Mathewson.
Houston, meanwhile, is coming off a franchise-best 107-win regular season and its third straight 100-victory campaign. This team is a juggernaut in every sense of the word. Cole best personifies the Astros' dominance, having not lost since May, including postseason play.
Nats make it after losing Harper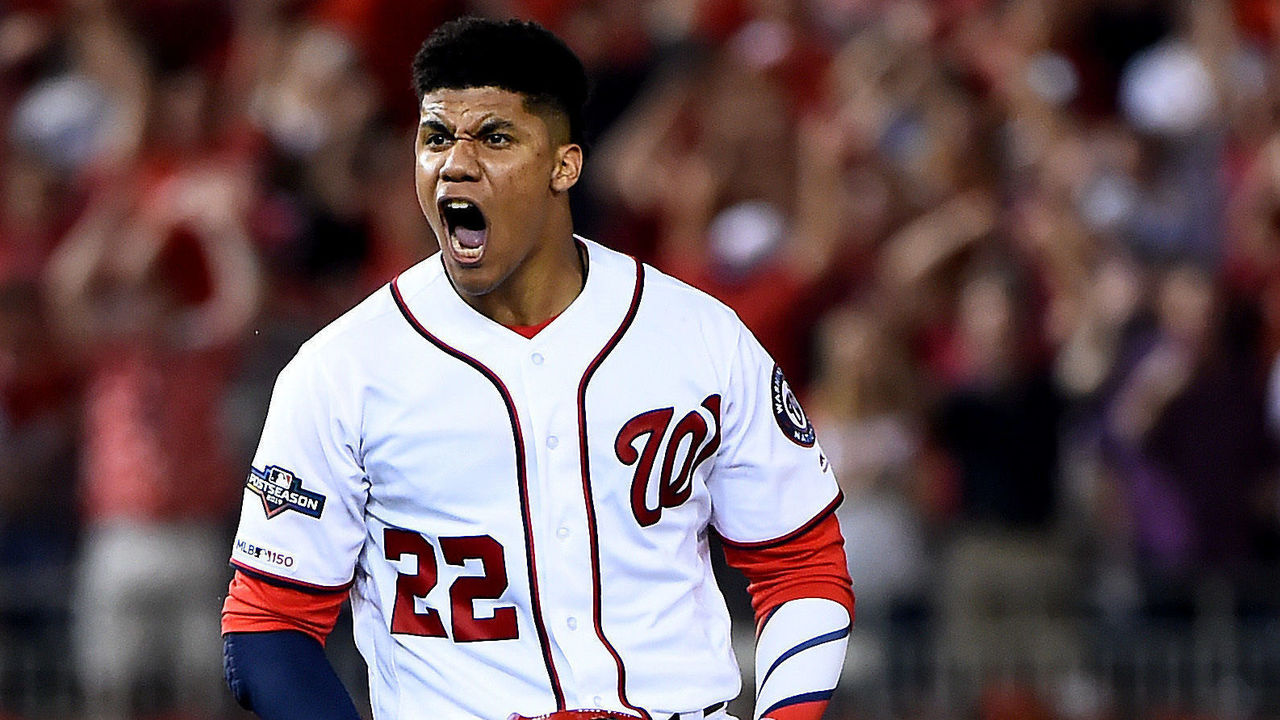 The biggest story in D.C. heading into the World Series is the Nationals' exorcism of playoff demons past in their first season without Bryce Harper. Harper left as a free agent this past winter, signing a 13-year, $330-million contract with the Philadelphia Phillies.
It should be noted: Harper is still one of the best hitters - if not the best - to ever play for the Nationals, and his absence is certainly not an asset to Washington.
In his place, however, is a budding superstar, a 20-year-old who stands poised to become a household name as he takes the sport's biggest stage. Juan Soto finished as the runner-up for NL Rookie of the Year as a teenager in 2018 and has been one of the most elite hitters in the league ever since. He also absolutely oozes confidence.
3 things to watch for
Corbin vs. Greinke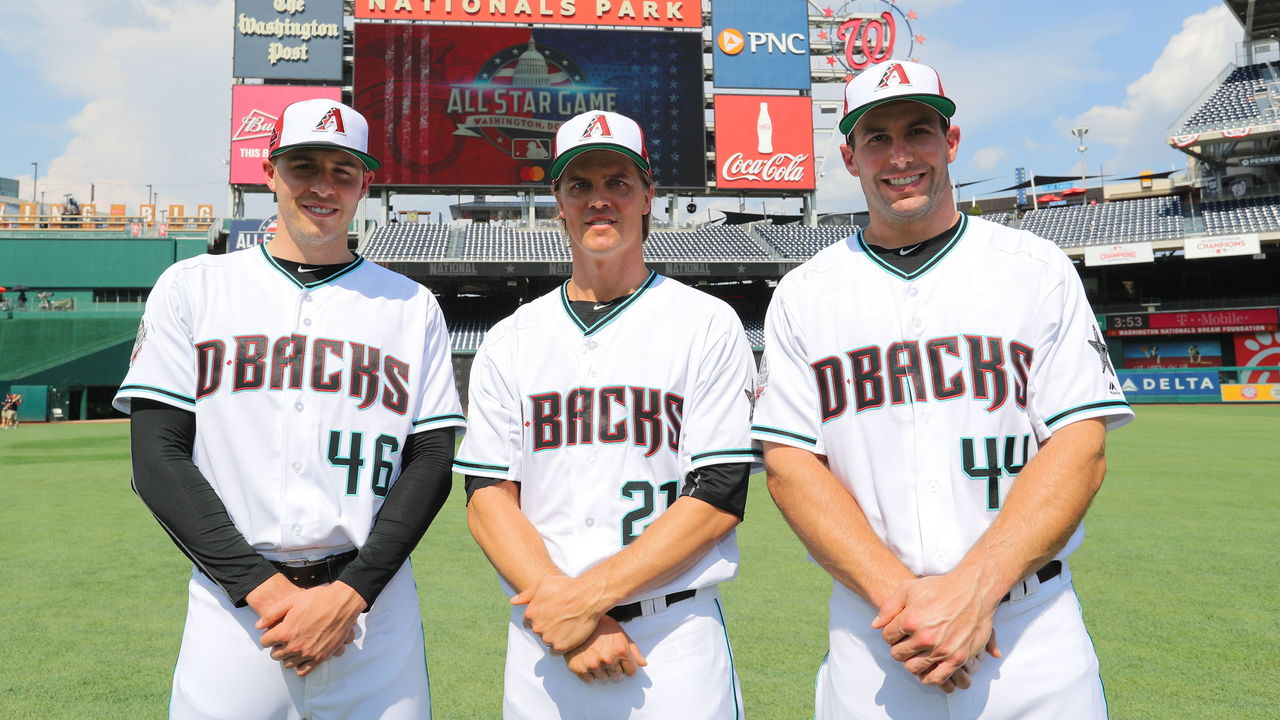 Though it may pale in comparison to the matchups of the first two games, Game 3 will feature a duel between two pitchers who were Arizona Diamondbacks teammates just one year ago. Both have also made notable appearances at Nationals Park as members of the NL All-Star team. Now, they clash as foes in the biggest battle of all.
Corbin used an incredible platform season with the Diamondbacks to earn a six-year, $140-million payday in Washington this past winter. In his first season as a National, he didn't disappoint. The left-hander threw the second-most innings of his career, authoring a 3.25 ERA and 3.49 FIP. And though he's allowed 11 runs over 13 1/3 innings this postseason, Corbin's peripherals are remarkable - he's struck out 26 of the 63 batters he's faced.
The veteran Greinke, meanwhile, joined Houston as a midseason acquisition from Arizona this year. The 35-year-old posted a 3.02 ERA and 3.28 FIP over 10 starts with his new club down the stretch, but he's looked rather beatable in the playoffs, mustering a 6.43 ERA and 6.86 FIP in three games.
Yordan Alvarez, pinch hitter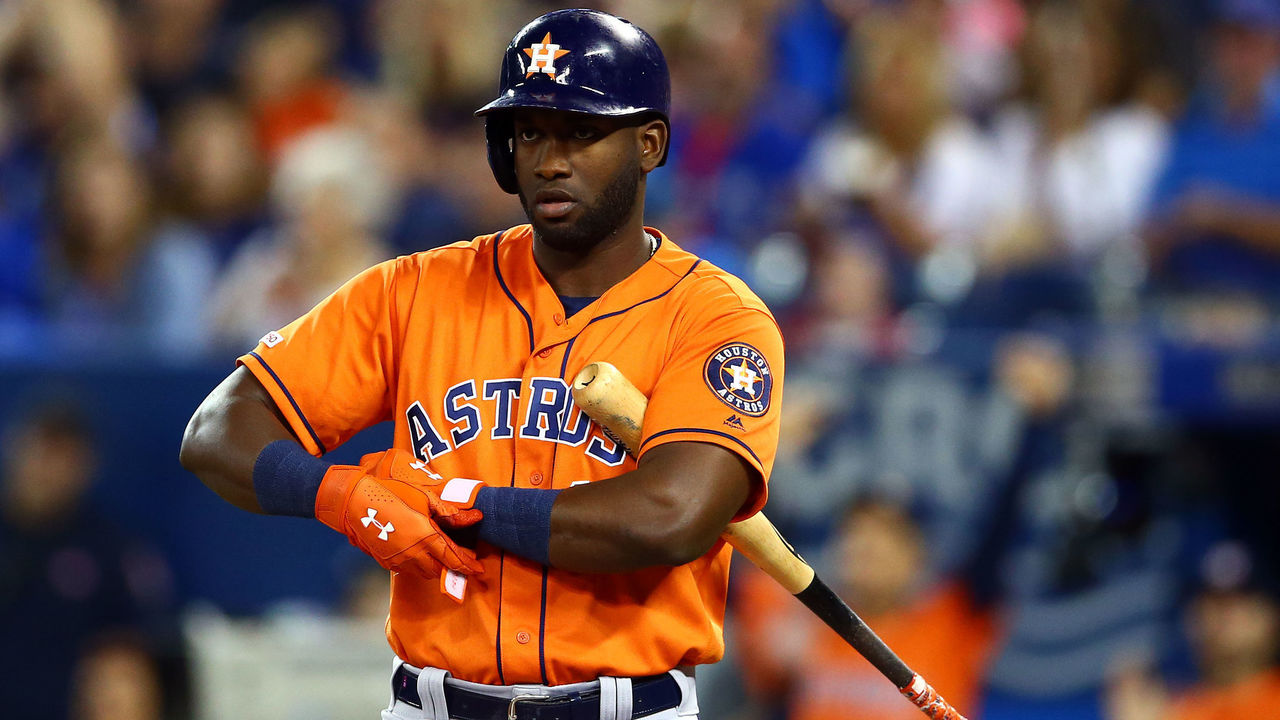 Neither team will be able to play its designated hitter once the series moves to Nationals Park for Games 3-5, which means Alvarez will take a seat on the bench.
This really isn't the worst development for the Astros after the rookie slugger went a measly 1-for-22 with two walks and 12 strikeouts in their ALCS clash with the Yankees. A bad series doesn't mean they've given up on the 22-year-old, though. Alvarez is still likely to pinch hit, doing so in at least one big moment.
Don't look for Alvarez to come off the bench against lefty closer Doolittle, but bet on AJ Hinch deploying him with runners on against Hudson or perhaps Rodney.
Nats generating runs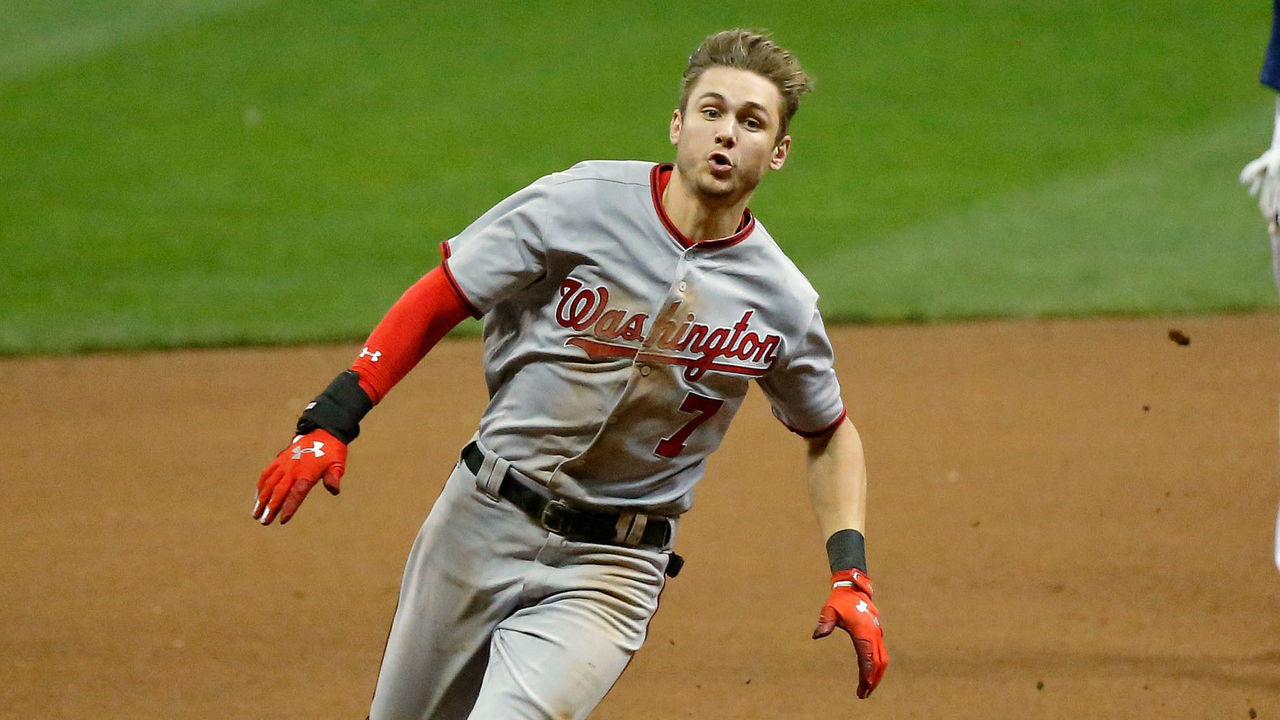 Runs will be at a premium in this series, and the Nationals know it. Expect Turner to get the green light, along with one or both of Robles and Taylor.
Watch for Washington's baserunners to test Chirinos' arm when he's behind the plate. He's been essentially league average - or just below - at preventing the run game throughout his entire career. Testing Maldonado, however, might be too dangerous for Martinez to stomach.
Maldonado went 17-for-35 catching would-be thieves last season, leading the league with a 49% rate. Steals are good, but running into outs is very, very bad.