'He does everything perfect': Mike Trout is proving he's baseball's GOAT
Alex Trautwig / MLB / Getty Images
Ted Williams knew he had a gift.
To be sure, the Boston Red Sox legend - widely considered the greatest hitter in history after Babe Ruth - worked tirelessly to perfect his craft, approaching the task with a legendary studiousness and indefatigable work ethic. But he also understood that he was blessed with an innate, preternatural ability for whacking the bejesus out of a baseball.
"If there was ever a man born to be a hitter," Williams wrote in his autobiography, "it was me."
Mike Trout is similarly blessed. Just, you know, more so.
"I was born to play baseball," Trout says in a promo video released Monday by Major League Baseball, which features the two-time American League MVP's voiceover along with snippets of his humble past and glorious present.
Indeed, with baseball in the midst of its annual breather, another accounting of Trout's historic greatness seems apropos, and the numbers plainly indicate that the Los Angeles Angels superstar was, if you will, made for this.
Trout has, for instance, already accrued more career WAR than a litany of Hall of Famers, from Willie McCovey to Jim Thome to Tony Gwynn to Yogi Berra. By season's end, he will likely surpass the likes of Rod Carew, Reggie Jackson, and Johnny Bench, too, yet he doesn't turn 28 until August.
And Tuesday night, Trout appeared in his eighth career All-Star Game. No teammate or opponent in this year's event has played in more. (As it happens, Trout endured his first hitless Midsummer Classic, dropping his career All-Star Game slash line to a paltry .412/.500/1.000 with an 0-for-2 showing.)
"Obviously, he's way better than everyone else," Angels catcher Jonathan Lucroy said in a conversation last month. "I mean, he's just so much better than everybody else. I don't think there's anybody even close. I mean, maybe the Yelichs of the world, or the Bellingers of the world, but as far as consistency the past six, seven years - however many years he's been in the league now - there's really nobody that's been as consistent and that's been as good."
Nope. There isn't.
Since becoming an everyday player in 2012, Trout has amassed a whopping 70.4 WAR, according to FanGraphs, never once registering fewer than 8.3 in a full season.
How bananas is that? Tony Gwynn, a 15-time All-Star who received 97.6 percent of the vote in his first year on the Hall of Fame ballot, never had a season with more than 7.4 WAR. And Buster Posey, the next best player since 2012, has accrued roughly two-thirds of Trout's total.
In fact, Trout is somehow the major-league leader in WAR stretching all the way back to 2004. He didn't make his big-league debut until 2011.
As such, it's not just his contemporaries who pale in comparison. Over more than a century of Major League Baseball, no player - not Ruth or Williams or Ty Cobb or Mickey Mantle or Alex Rodriguez - has ever dominated the game more thoroughly through their age-27 season. Let's note again that Trout has yet to finish his own age-27 season. Just look at this ridiculousness:
All-time WAR leaders through age-27 season
| Name | WAR | G | OPS | HR | SB |
| --- | --- | --- | --- | --- | --- |
| Mike Trout | 71.1 | 1152 | .998 | 268 | 197 |
| Ty Cobb | 68.8 | 1241 | .938 | 49 | 484 |
| Mickey Mantle | 67.9 | 1246 | .994 | 280 | 98 |
| Rogers Hornsby | 64.6 | 1119 | .958 | 116 | 104 |
| Jimmie Foxx | 64.6 | 1256 | 1.079 | 302 | 48 |
At the risk of belaboring the point, we've never seen anyone this good at hitting, running, and catching. Ever. Dude hits like Barry Bonds, runs better than Luis Aparicio, and defends better than Jim Edmonds.
And the scary part is that Trout could - and likely will - get better. He's currently in the midst of his best season yet, boasting a career-best 1.098 OPS - while also leading the American League in on-base percentage (.453), slugging percentage (.646), OPS+ (191), home runs (28), and walks (76) - that's continuing his remarkable pattern of year-over-year improvement. Pitchers aren't even throwing him strikes this year, for goodness sake, and he's still doing more damage than ever before.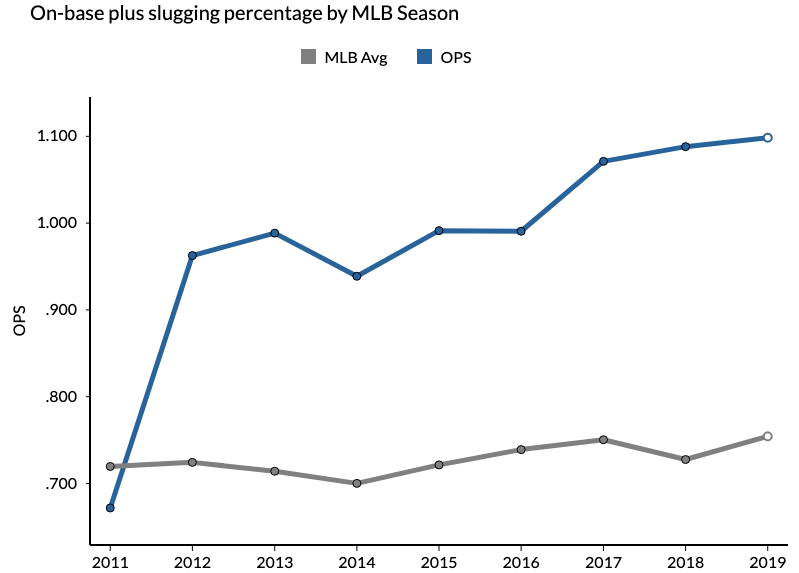 "He came into this game as a kid, and that's nine, ten years ago," said Angels right fielder Kole Calhoun, who's been Trout's teammate since his rookie season. "Now he's turned into a superstar. So it's been just cool to see. ... He's obviously grown up a lot.
"It's been a lot of fun, honestly, getting to watch him every day and watch how he goes about his business. We've been playing together for eight years now so (we) definitely have built a relationship up in those eight years, and just watching what has happened in his career and where he's went and the player that he's turned into has been fun."
It's certainly been fun for all of us.
Trout's assault on the history books, and on baseball's previous standards of excellence, is the greatest marvel of this generation. It's a constant source of wonderment and awe for fans, as each passing 10-WAR season, All-Star nomination, and AL MVP award (or inexplicable second-place finish) reinforces that Trout was indeed born to play this game - better than anyone else has ever played it.
"He doesn't do anything wrong," Calhoun said. "He does everything perfect. The only knock on him is I saw him park crooked one time. So (he's a) bad parker. Write that."
Jonah Birenbaum is theScore's senior MLB writer. He steams a good ham. You can find him on Twitter @birenball.
Comments
✕
'He does everything perfect': Mike Trout is proving he's baseball's GOAT
  Got something to say? Leave a comment below!