In 2004, three years after he broke Mark McGwire's single-season home run record, Barry Bonds walked 232 times. On the scoresheet, 120 of those free passes were intentional, but it's also fair to presume that more than a few of the unintentional ones had some intent behind them.
The point is, pitchers finally conceded that putting Bonds - more god than man at that time in his career - on first base was preferable to throwing him strikes. Greg Maddux, a four-time Cy Young Award winner and a first-ballot Hall of Famer, admitted as much. It's clear that even if their manager didn't prescribe four balls, pitchers approached the prodigious slugger with extreme - and unprecedented - caution.
Fifteen years later, Mike Trout is getting similar treatment. And, much like with Bonds, it probably should've happened sooner.
Since becoming a full-time player in 2012, Trout has been the game's best hitter by a laughable margin. His park-adjusted weighted runs created mark of 175 is 21 points better than the second-best qualified hitter in that span, according to FanGraphs, and the two-time American League MVP has somehow managed to improve over the last few years. He's made adjustments to eliminate the rare holes in his swing, causing endless headaches for opposing pitchers.
"I'd have a great game against him and be like, 'Alright, I think I've figured it out,'" said veteran left-hander Derek Holland, who's faced Trout 57 times. "And then next time I got to face him again, it was like, excuse my language: 'What the f---?' He just changed.
"He's a guy that makes adjustments every at-bat. I mean, all these guys do, but he's just ... he's a different breed. He's a special guy."
Trout, for instance, has struggled with high fastballs at times in his career. Last season, his slugging percentage against hard stuff in the upper third of the strike zone was just .302, according to Baseball Savant. But he patched up that hole this year, and is currently sporting a stellar .581 mark.
Ultimately, Trout's ability to adjust - along with his preternatural talent for hitting a baseball ludicrously hard - has made throwing him a strike an increasingly dubious proposition. Though he remains somewhat vulnerable to inside pitches - up and in, particularly - Trout's zone profile essentially confirms that you can't stop him. You can only hope to contain him.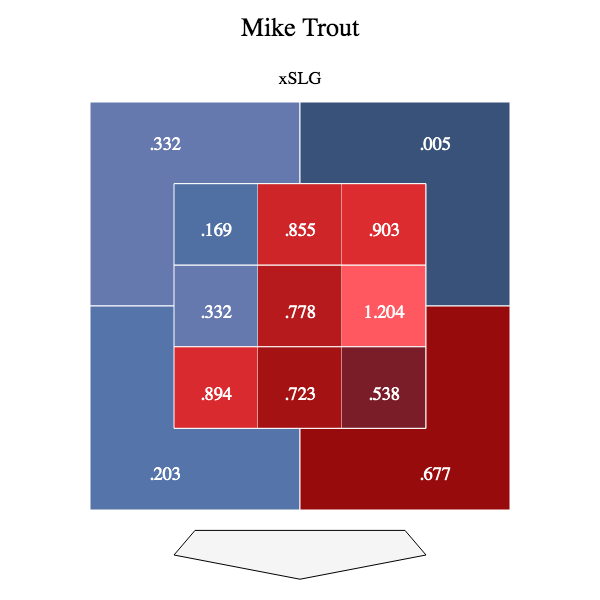 And with virtually no recourse to get him out these days, pitchers are simply not throwing Trout many pitches to hit.
Through the first two months of the 2019 campaign, Trout has seen the smallest percentage of pitches inside the strike zone (40.4 percent) of his career. And while MLB hurlers have been more disinclined, in general, to throw pitches inside the zone this year, Trout's drop-off is disproportionate, having fallen 2 percentage points from 2018. The paucity of strikes he's seeing right now is downright Bondsian. In fact, Trout's current zone rate is lower than Bonds' was in 2004.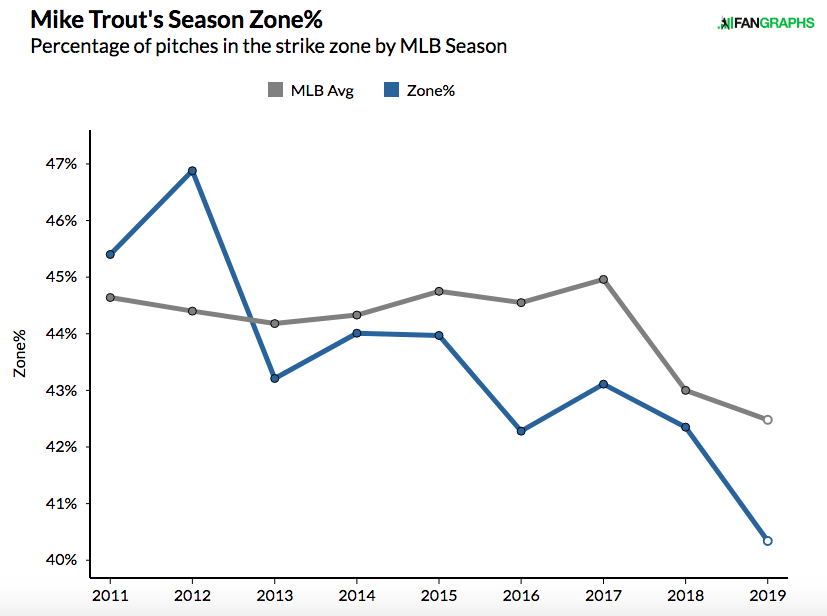 The strategy is sound. Mike Trout, after all, is Mike Trout. ("You're very nitpicky when you face him," as Holland put it.) Yet, given how the seven-time All-Star has seemingly advanced as a hitter in 2019, it's almost surprising that he isn't seeing even fewer pitches in the strike zone.
Trout, who ranks third in the American League in OPS (1.060), just isn't missing the strikes he's seeing this year, boasting a career-best 94.2 percent contact rate when he swings at offerings inside the zone. For his career, Ichiro Suzuki had a zone-contact rate of 93.9 percent. In other words, Trout's ridiculous complement of skills now includes the bat-to-ball ability of one of history's most gifted contact hitters.
It should come as no surprise, then, that he's also currently rocking career bests in "barrel" rate (18.7 percent), expected batting average (.323), and expected slugging percentage (.637). Over a large enough sample, his surface stats - a "mere" .298 average and .596 slugging percentage - should more closely resemble those numbers.
Still, Trout's most impressive adjustment, considering how pitchers have attacked him this year, isn't necessarily his increased ability to punish the strikes he does get, but it's perhaps his ability to lay off junk. Though pitchers are trying harder than ever to get him to chase, Trout has demonstrated unprecedented plate discipline this season, offering at a career-low 18.3 percent of pitches outside the zone.
The only qualified hitter who's swung at a lower percentage of non-strikes in 2019 is Andrew McCutchen, another former MVP. And, as you'll notice in the chart below, Trout's newfound level of discipline hasn't come at the expense of his aggressiveness inside the zone, either.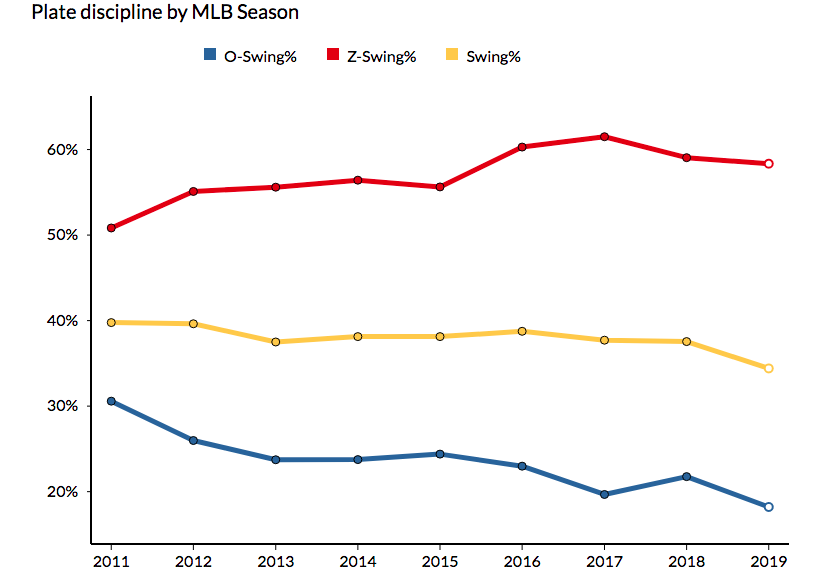 Of course, Trout has always been supremely disciplined at the plate. Since his rookie season, he's walked more frequently than every hitter (min. 2,000 plate appearances) but Joey Votto, and he's led the American League in walks three times over the previous six years. Right now, though, his eye is infallible. Combined with the lack of the strikes he's seeing, it's fueled a career-best 22 percent walk rate, the highest single-season mark since - yep, you guessed it - Barry Bonds.
Trout, by the way, currently leads the majors with a .464 on-base percentage, his career high.
"He has unbelievable zone judgment," Toronto Blue Jays right-hander Marcus Stroman said. "(He) doesn't swing at balls."
Stroman continued: "I think he's going to be the best player ever. Can't get much higher praise than that."
Indeed, while many won't consider Trout a legitimate candidate for the Greatest Player of All Time for another half-decade or so, it speaks volumes that pitchers would almost rather put him on first than throw him a strike.
That, in fact, may be the highest praise.
Jonah Birenbaum is theScore's senior MLB writer. He steams a good ham. You can find him on Twitter @birenball.