Where do the 2018 Orioles rank among the worst teams ever?
Tom Szczerbowski / Getty Images Sport / Getty
Let's get this out of the way: The 2018 Baltimore Orioles were bad. Historically bad. Buck Showalter is going to need several stiff drinks this winter after his team finished with a disastrous 47-115 record.
But were they the worst team ever? Only a select few teams have been truly awful enough to qualify for that title, as losing so frequently is something of an art form.
Where do the 2018 Orioles fit on our list of the 10 worst teams in baseball history? Let's find out.
Note: Statistics in bold indicate MLB records.
10. 1909 Boston Doves
| W-L | Pct. | GB | Run Diff. |
| --- | --- | --- | --- |
| 45-108 | .294 | 65.5 | -248 |
Best Player: Roy Thomas (only qualified hitter with OPS above .650)
Worst Player: Beals Becker (152 games, second-lowest fWAR in NL)
Tragedy: Owner/namesake George Dovey died in June
It all started off so perfectly for Frank Bowerman's Doves, with the team winning its first four games to sit in first place three games into the season. By the end of the year, Bowerman was fired as manager and the Doves (still two name changes away from being the Braves) sat a modern-era record 65 1/2 games behind the pennant-winning Pittsburgh Pirates.
Along the way, the Doves put together a 15-game losing streak, went 1-20 against the NL champion Pirates, and were 1-21 against the second-place Cubs. And if that wasn't all bad enough, owner George Dovey - who gave the franchise its nickname - died in June, postponing a game in the process.
9. 1909 Washington Senators
| W-L | Pct. | GB | Run Diff. |
| --- | --- | --- | --- |
| 42-110 | .276 | 56 | -276 |
Best Player: Walter Johnson (2.22 ERA, 164 K, 3.5 fWAR)
Worst Player: Gabby Street (.508 OPS in 137 games)
Runs Scored Per Game: AL-record low 2.45
These Senators were so bad that even Walter Johnson had an abnormally mediocre season. Pongo Joe Cantillon's squad lost 29 games in July, which is still a major-league record for defeats in any single month.
Washington's record was largely the product of a historically anemic offense that was bad even by dead-ball era standards. The Senators were shut out an American League-record 30 times.
8. 1952 Pittsburgh Pirates
| W-L | Pct. | GB | Run Diff. |
| --- | --- | --- | --- |
| 42-112 | .273 | 54.5 | -278 |
Best Player: OF Ralph Kiner (led NL in HRs for seventh straight year)
Worst Player: 1B Tony Bartirome (48 OPS+, 0 HRs in 386 PAs)
Pitchers with 100-plus Ks: 1 (Murry Dickson, who also lost 21 games)
Branch Rickey is a Hall of Fame executive because he built many powerful teams. The 1952 Pirates are most certainly not among them.
A spring-training incident that resulted in one of their pitchers being suspended, fined, and eventually traded foreshadowed things to come. The Pirates went 3-12 in April and never won more than two games in a row. They were eliminated in the first week of August.
This team fielded 13 rookies and seven of the eight youngest players in the National League, many of whom were rushed to the big leagues. That included 20-year-old Ron Necciai, who got the call after throwing a 27-strikeout no-hitter in the minors, but he quickly suffered a career-ending arm injury. The disastrous season ended up costing popular skipper Billy Meyer his job.
7. 1939 St. Louis Browns
| W-L | Pct. | GB | Run Diff. |
| --- | --- | --- | --- |
| 43-111 | .279 | 64.5 | -302 |
Best Player: George McQuinn (154 games, .898 OPS, 20 HR)
Worst Players: The entire pitching staff (6.01 ERA)
Luckiest Player: Bobo Newsom (Had the best season of his career after the Browns traded him to Detroit in May.)
During their 52-year existence, the St. Louis Browns were known for one thing: losing. And this was the losingest bunch of Browns that ever lost.
Fred Haney's team couldn't hit, as evidenced by its 81 wRC+. But the Browns' pitching staff was somehow even more atrocious with its ERA of 6.01. Since 1940, only two teams - the 1996 Tigers and 1999 Rockies - finished with a staff ERA above six. Among Browns pitchers who threw 100-plus innings in 1939, only one, the immortal Bill Trotter, finished the season with more strikeouts than walks. This team remained untouched for decades as the worst in Browns/Orioles franchise history ... until finally being let off the hook this week.
6. 1935 Boston Braves
| W-L | Pct. | GB | Run Diff. |
| --- | --- | --- | --- |
| 38-115 | .248 | 61.5 | -277 |
Best Player: Wally Berger (led NL in HRs and RBIs, sixth in MVP voting)
Worst Player: Billy Urbanski (566 PA, minus-2.6 fWAR)
Out-of-place icon used as traveling sideshow: Babe Ruth
The 1935 Braves are infamous for fielding a clearly washed-up Babe Ruth to boost attendance. Ruth's return to Boston came with great fanfare, and the plan was for him to eventually manage the Braves. But he retired on June 1 after hitting just .181 with six homers - a total that still ranked second on the team.
Ruth wasn't the only problem, though, as this awful Braves team allowed 10-plus runs in 19 games, gave up 15 runs in five games, and eight of their pitchers who threw 70-plus innings allowed over 10 hits per nine. Right-hander Ben Cantwell, who would later walk out on lunch with George Costanza as an old man, became the most recent hurler to lose 25-plus games.
This team was so bad that it forced Braves owner Emil Fuchs into bankruptcy. He sold the franchise halfway through the year.
5. 2018 Baltimore Orioles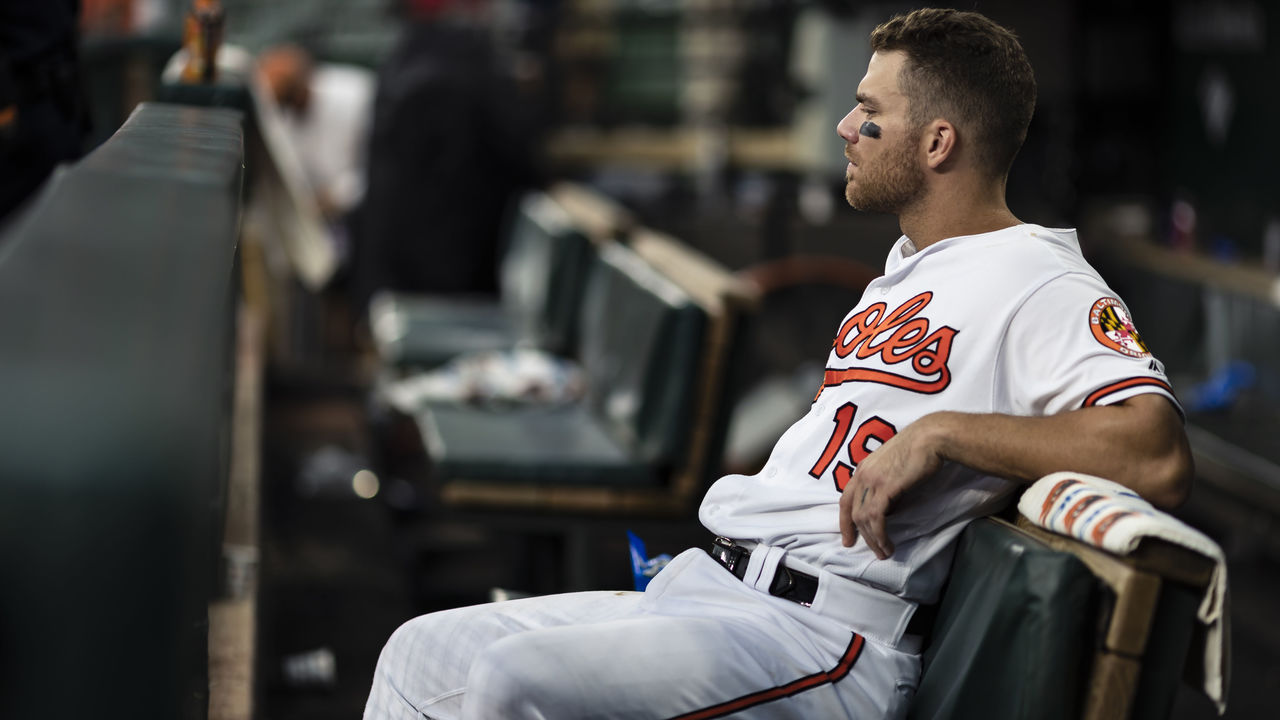 | W-L | Pct. | GB | Run Diff. |
| --- | --- | --- | --- |
| 47-115 | .290 | 61 | -270 |
Best Player: Manny Machado (team-best 3.8 fWAR, was traded in July)
Worst Player: Chris Davis (one of the worst seasons in baseball history)
Pitchers with 10-plus wins: Zero
Somehow, the Orioles finished 2018 without putting together a 10-plus game losing streak. Considering the O's didn't win more than nine games in a single month, that's a feat worth celebrating.
They still took losing to a new level during a season to forget, becoming just the second team since World War II to finish 60-plus games back of first place, and the fourth in that span to post a winning percentage below .300. It may be a long time before we see a team this bad take the field again.
4.1962 New York Mets
| W-L | Pct. | GB | Run Diff. |
| --- | --- | --- | --- |
| 40-120 | .250 | 60.5 | -331 |
Best Players: Richie Ashburn (All-Star, .817 OPS); Frank Thomas (34 HRs)
Worst Player: Roger Craig (42 games, 10-24, 4.51 ERA)
Strangest acquisition: Acquiring Harry Chiti from Cleveland for a PTBNL that became ... Harry Chiti
"Can't anybody here play this game?" Mets manager Casey Stengel famously said during his team's awful 1962 season. The answer? Nope.
The 1962 Mets are baseball's most infamous losers, a squad bad even by expansion-team standards. Mostly made up of ex-Brooklyn Dodgers and New York Giants stars past their primes - plus many other endearing characters - this team only won three games in a row twice, and failed to win 10-plus games during any month of the season.
The Mets were so bad that they finished 24 games behind their 1962 expansion cousins, the Houston Colt .45s, a team that beat New York 13 times. The only thing Stengel's Mets had going for them was the excuse of being an expansion team that was supposed to lose - and they were pretty lovable while losing.
3. 1916 Philadelphia Athletics
| W-L | Pct. | GB | Run Diff. |
| --- | --- | --- | --- |
| 36-117 | .235 | 54.5 | -329 |
Best Players: Bullet Joe Bush (2.57 ERA, threw a no-hitter)
Worst Player: Nap Lajoie (455 PAs, 80 OPS+, sad end to legendary career)
Connie Mack's shame fielding this team: Zero
The 1962 Mets had a built-in expansion excuse. The 1916 Athletics did not.
Following the 1914 World Series, legendary manager/owner Connie Mack had no money to keep running the Athletics franchise without fielding a team of cheap and bad players. His '16 team went through three separate losing streaks of 10-plus games, including a 20-game skid that's still tied for the third-longest since 1900.
Although another team eventually broke their AL record for losses, the 1916 Athletics still own the worst winning percentage in baseball's modern era.
2. 2003 Detroit Tigers
| W-L | Pct. | GB | Run Diff. |
| --- | --- | --- | --- |
| 43-119 | .265 | 47 | -337 |
Best Player: Dmitri Young (All-Star, .909 OPS)
Worst Player: Mike Maroth (9-21, 4.1 K/9)
Player you forgot was on this team: Fernando Rodney (27 games, 6.07 ERA)
This century's worst team is also the worst in American League history. The 2003 Tigers won five of their last six games to narrowly avoid sinking to the 1962 Mets' level.
Alan Trammell's club started 0-9, lost 16 of its first 17 games, and somehow got worse from there. Mike Maroth's league-high 21 losses made him the first 20-loss pitcher since 1980. He led the league in losses, while rotation-mates Jeremy Bonderman (19) and Nate Cornejo (17) ranked second and third. Chris Mears and Franklyn German tied for the team lead with five saves each. Ramon Santiago's 58 wRC+ was the worst among qualified AL hitters - and he still played in 141 games. The Tigers actually finished above .500 in one-run games, but they were 7-40 in contests decided by five-plus runs.
Remarkably, Trammell earned a single vote for Manager of the Year in 2003. We'll assume it was a sympathy vote.
1. 1899 Cleveland Spiders
| W-L | Pct. | GB | Run Diff. |
| --- | --- | --- | --- |
| 20-134 | .130 | 84 | -723 |
Best player: By default, Jim Hughey (team-best 2.1 WAR, 30 losses)
Worst players: All of them
Best names: Highball Wilson and Crazy Schmit
In an act of egregious collusion that nobody in baseball seemed to mind at the time, Cleveland Spiders owners Stanley and Frank Robison bought the St. Louis Brown Stockings (now called the Cardinals) and immediately traded all of Cleveland's stars - including future Hall of Famers Jesse Burkett, Bobby Wallace, and Cy Young - to St. Louis for little return days before the 1899 season began. The Robisons continued to own both the Cleveland and St. Louis franchises, but they neglected the Spiders and the team faced a slow death. The 1899 season was the result.
The 1899 Spiders didn't win their 10th game until June 25 (ironically against St. Louis). They ended the season on a 16-game losing streak and dropped all but three of their final 57 contests. Thanks to several relocated home games, the Spiders recorded 101 road losses - a record that can literally never be broken.
Their longest win streak, accomplished just once, was two games long. Their winningest pitchers were Jim Hughey (4-30, 5.41) and Charlie Knepper (4-22, 5.78). Poor right-hander Frank Bates, meanwhile, went 1-18 over his first 19 starts to set a record that stood untouched until this year.
Offensively, the Spiders hit just 12 homers - Wallace, the former Spider, hit 12 for St. Louis - while their leading hitter was outfielder Tommy Dowd, who had a .668 OPS. After drawing just 6,088 fans to League Park all season, the Spiders franchise folded.
If there's some solace for Orioles fans after a miserable 2018 season, it's that their team didn't even come close to catching the Spiders for the title of worst team ever.
Comments
✕
Where do the 2018 Orioles rank among the worst teams ever?
  Got something to say? Leave a comment below!