Every Tuesday, theScore highlights the most outlandish moments from the wacky, sometimes daft, and perennially entertaining world of football. Here's what made us smile - or cringe - on the pitch this past week.
Malaga boss sacked for explicit video that goes viral
Days after criticizing the club's board, Malaga manager Víctor Sanchez del Amo was suspended pending the results of an internal investigation, and was then fired for an explicit video that went viral. Cue the conspiracy theories.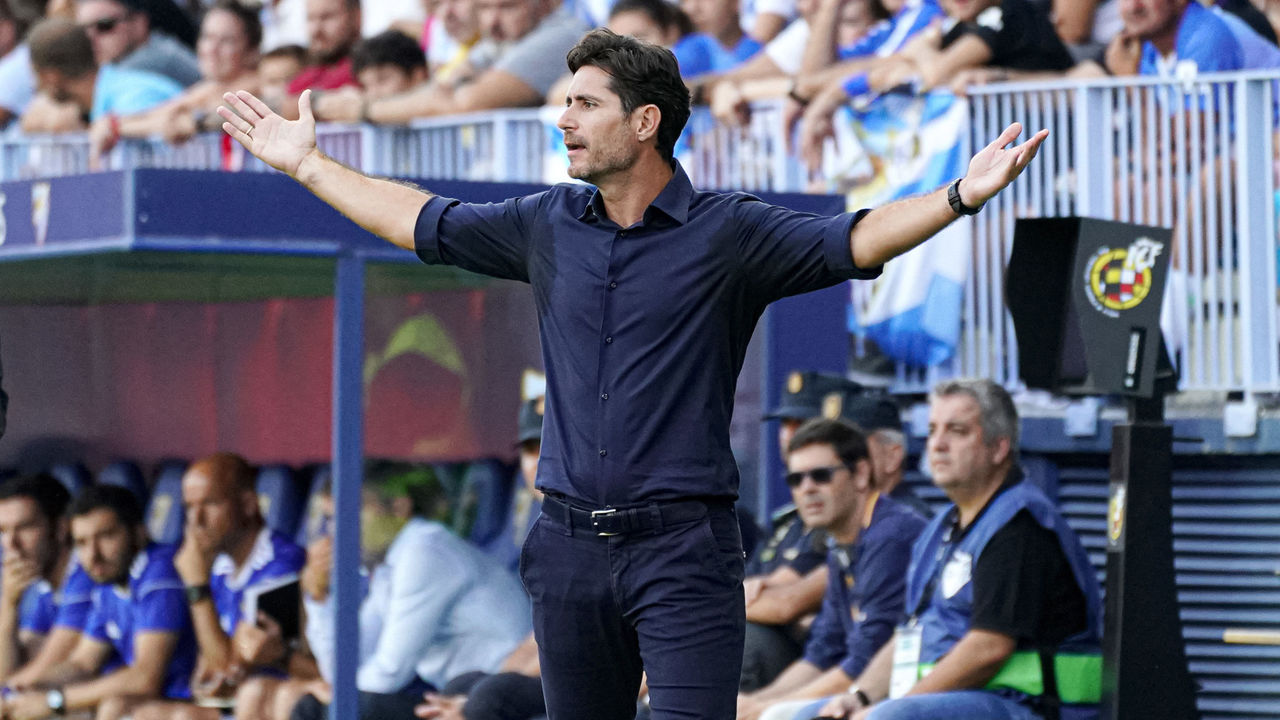 Video of a visibly tumescent Sanchez showing a lot of skin surfaced earlier in the week, prompting the former Real Madrid midfielder to take to Twitter with claims he's being extorted:
I want to report that I am being the subject of a crime against my privacy with harassment and extortion. The matter is in the hands of the police and I begin to follow their instructions. In the same way I want to inform you that sharing or disseminating an intimate content of any person without consent is also a crime, whether through social networks or messages or in any other way according to article 197 of the Criminal Code with penalties for those who disseminate personal content without consent of the affected person. Thank you for your understanding and support.
Malaga haven't exactly been a symbol of excellence under Qatari investor Abdullah bin Nasser Al Thani. Los Boquerones, Champions League quarterfinalists in 2012-13, labor near the relegation zone in the second tier of Spanish football.
South Wales roundabout headache for Swans supporters
Swansea supporters who live in Cardiff faced a logistical nightmare for Sunday's south Wales derby against Cardiff because of police enforced travel restrictions for the "high-risk fixture."
As per rules, all but 100 Swansea fans will make the drive west from Cardiff to take club-designated buses from the Swans' Liberty Stadium that depart at 7:45 a.m. GMT to the Cardiff Stadium. Post-match, the fans will then be transported back to the Liberty Stadium, where they'll all climb into the same car and head back to Cardiff for some rarebit and a nap.
"Application to travel independently to the #SouthWalesDerby turned down. So instead of walking one mile to ground I'll have to go to Swansea at 6 a.m. (no trains, obvs), back to C'diff, then back to S'sea after game and back to C'diff. 200-mile round trip instead of 2!" Swansea fan Tim Lewis eloquently told Wales Online. Proper nightmare, obvs.
Smalling doing Smalling things, again
When Pablo Neruda offered, "You can cut all the flowers but you cannot keep spring from coming," the Chilean poet-diplomat spoke of inevitability, and of Chris Smalling, who in defeat to Torino offered the Giallorossi faithful a glimpse into what frustrated Manchester United fans for years.
Smalling has enjoyed a bounce-back campaign at Roma on loan from United, though it was only a matter of time before the former England man made a ghastly error.
Thank goodness VAR was around to rule this a handball. Borderline stuff.
Weird Week in Goalkeeping
After a few weeks reprieve, horrendous goalkeeping makes its return to the Weird Week, with European football again providing a bounty of gaffes featuring some familiar faces.
The Weird Week is reveling in Romelu Lukaku's Smalling-like return to form at Inter, but it's impossible to overlook the ease with which the Belgian forward potted his 14th Serie A goal this season against Napoli's Alex Meret. Oof.
Staying in Serie A, Napoli mistake-maker and frequent fan of feigning injuries David Ospina gifted Ciro Immobile a Capocannoniere-leading 20th of the Serie A season. Quite impressive the leaps in video quality over the last few years.
He's baaaaaack. Former Champions League finals flub Loris Karius is never far from a miscue. It's part of who he is, the fabric of fault and flaws from which the German quilt of boo-boos is tailored.
The Besiktas 'keeper was in fine form during a seasonal friendly against second-tier Altinodru, conceding an own-goal equalizer 12 minutes in when he mistook his hands for tennis rackets.
Minutes later, Karius inspired more confidence with this snafu.
Should Liverpool recall Karius from loan in the summer? Is he better than current Reds No. 1 Alisson? Sound off in the comments?
Saint-Etienne sign Rick O'Shea
Paris-Saint Germain didn't need any help bouncing Saint-Etienne from the Coupe de la Ligue on Wednesday, though Les Verts were happy to oblige with this pinball-esque own goal.
Whatever the opposite of the Puskas Award is, this is it.
Lower league laughs at Lingard
Jesse Lingard has become a symbol of Manchester United's underwhelming quality, and without a goal or an assist in 28 appearances over the calendar year, the out-of-favor England man has become a popular target of derision.
Even Southern League Division One Central *deep breath* side Corby Town FC got in on the laughs. Let's be fair, Lingard would totally boss the Southern League Division One Central. Probably.
And it gets even worse for Lingard, who was forced to slash the price of his "JLINGZ" aftershave from £45 to £15.
Newcastle botch calendar curation
Former Newcastle attacker Ayoze Perez joined Leicester City in the summer on a £30-million move, and on New Year's Day, the sprite Spaniard scored against his ex-mates in a comprehensive 3-0 win.
What better way to honor the former Magpie than by featuring him in the official Newcastle desk calendar for 2020?
Newcastle departures Salomon Rondon (Dalian Yifang) and Kenedy (Getafe) also feature prominently in the calendar that the club have since publicly expressed embarrassment over. Order yours today.
Youth players fawn over pitch invader
Crewe Alexandra's Under-18 date with Bolton was interrupted by some enterprising bucks looking to make it rein on these bros. All pace and power with no final product, the animal kingdom's version of pre-2019-20 Adama Traore.
Same player signed by two teams
We should all hope to be as popular as Comoros international Rafidine Abdullah. On Thursday, the former Marseille academy product was signed by two second division sides, Spain's Hercules and Switzerland's Stade Lausanne.
Hercules beat Lausanne to the chase by 15 minutes, though Abdullah ended up agreeing to an 18-month loan with the Swiss side after Hercules circled back to admit the 24-year-old's Spanish switch was just a trial. One guy, two clubs: an unprecedented mix-up.
Swipe right for transfer news
Or is it?
Far away from the glitz and glamour of Europe's top leagues, and without the luxuries of meeting a member of Little Mix at Jack Grealish's birthday bash at Laser Tag Birmingham, some footballers resort to more common means of meeting a mate.
This week, popular dating app Tinder became both a popular hub for singles and January signings when Dundalk newcomer Jesus "Chino" Perez leaked his move to the Irish champions prior to a formal announcement from the club.
For Dundalk and khakis connoisseur Chino, it was a match made in heaven. Still, it didn't stop New York City FC from selecting the American with the 22nd pick in the 2020 MLS SuperDraft on Thursday.