MADRID - Emili Planas didn't look like a man in charge of the biggest event in club football. Wearing jeans, runners, and a blue polo, he walked around the sprawling TV compound at the Wanda Metropolitano with a breezy gait and a casual grin. There were 12 hours to go before kickoff at the 2019 Champions League final, and Planas was in no rush at all.
That was the theme on this sunny Saturday morning. No one was running around, and no one was panicking. Many of Planas' colleagues had staged a show like this before, and it showed.
Planas, the chief technical officer at Spanish production company Mediapro, had already done his work. The cameras were in position, the cables were connected, and the instructions had been handed out. So yes, he did have time to sit down and speak with reporters about everything that happens behind the scenes of a European final.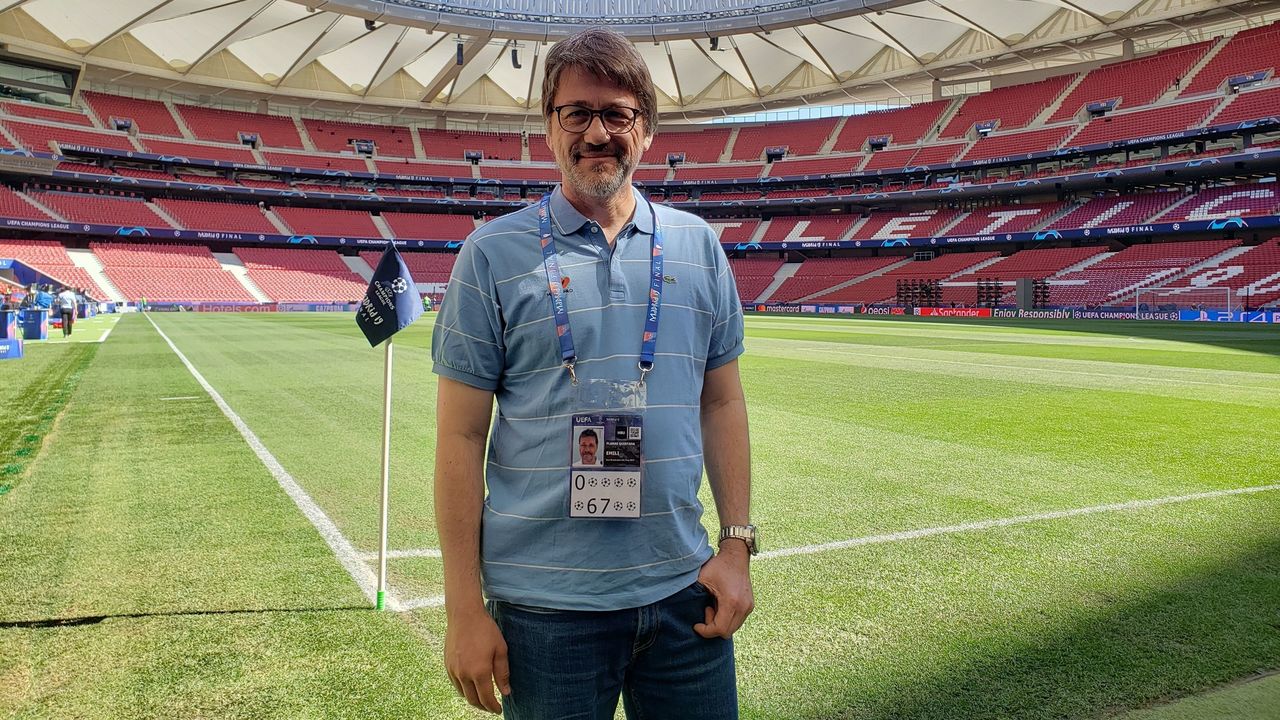 Mediapro, which won the right to transmit the international feed for the match, provided the live pictures on DAZN Canada, TNT, and several other networks all over the world. Planas led a crew of more than 150 people that also worked on individual feeds for FOX in Argentina and Mexico, beIN Sports in the Middle East, and Canal+ in Spain.
Mediapro had served as the host broadcaster for the Champions League final in both 2010 and 2014, but it didn't rest on its laurels. Preparations for 2019 began a year ago, starting with a visit to the 2018 final in Kyiv, Ukraine, between Real Madrid and Liverpool.
"This is the most important event in the sports year. We cannot produce this as a traditional match," Planas told theScore.
Indeed, with a potential audience of 400 million viewers, it's easy to understand why.
The best of the best
For the 2019 final, Mediapro's production team dropped 52 cameras all around the stadium. Its reference point was El Clasico, the only other match on the club calendar that demands as much from its staff, and even that pales in comparison to the Champions League. Mediapro used between 30 and 35 cameras for that fixture last season.
Luckily, the Wanda Metropolitano, Atletico Madrid's new home ground, is a familiar spot. As the host broadcaster for La Liga, Mediapro travels across Spain to cover the country's biggest teams all season long.
Planas and his troupe borrowed some of the things they use on a weekly basis, including an automated sound mixer that adjusts volume without human intervention.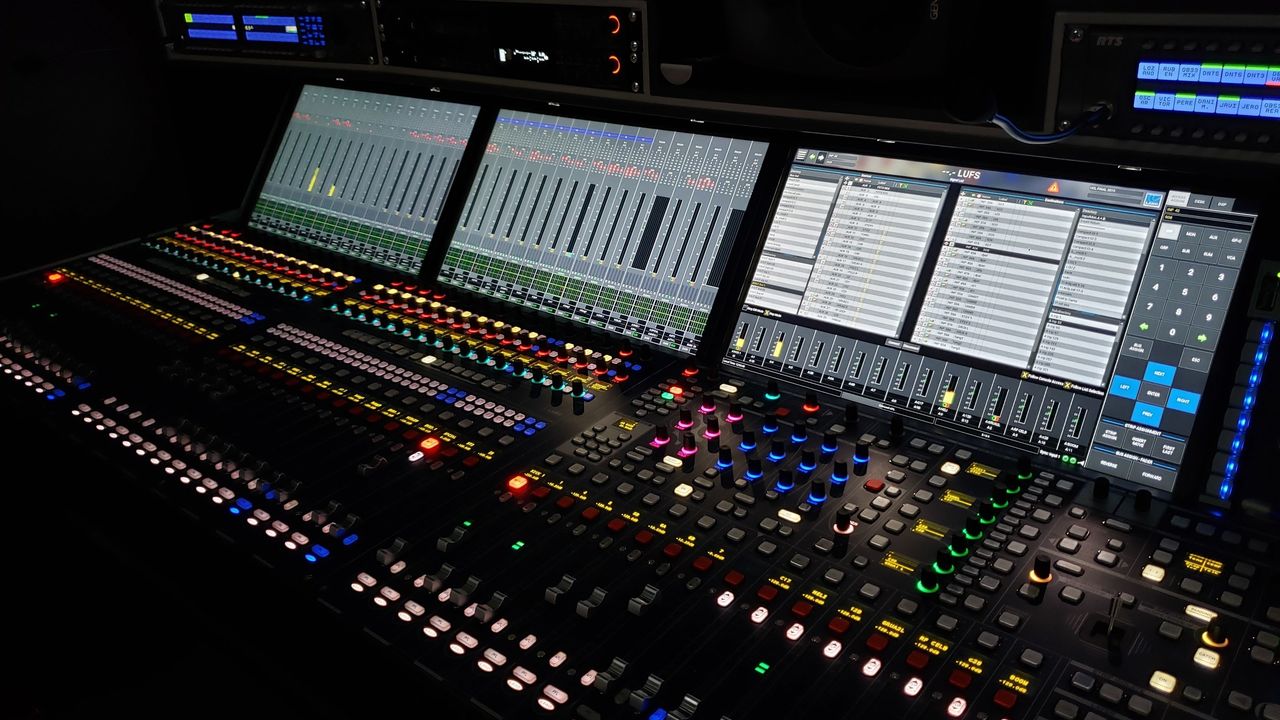 "It allows the audio director to concentrate on the detail of the ambiance," Miguel Mur, operations manager at Mediapro, told theScore. "The nice, big sound. The director doesn't have to worry about fading in and out when the ball is in play."
The mixer knows, for example, to turn up a mic near the byline when a goal-kick is taken. It moves by itself, with its keys going up and down in rhythmic fashion.
Drawing on historical data, Mediapro's innovative tracking system also allows it to locate the approximate position of the ball and each player on the pitch. It provides 60-to-70 pages of data, including kilometers covered, passing accuracy, and other useful statistics that coaches and journalists reference after matches. Additionally, Mediapro was obligated to hand over this information, as well as every video recording, to the two clubs that participated in this year's final, Liverpool and Tottenham.
But there are many things unique to the final. Operators participate in workshops for nearly a year to establish the right broadcasting style, and directors work with manufacturers to commission industry-leading cameras. Mediapro had to request permission from UEFA to eliminate seats - even at the cost of potential revenue - so it could position cameras in certain places. It hired a specific TV director to coordinate the shots for the pre-match show - "this is not sports, this is another kind of production," Planas said - and it needed clearance from the local airport to capture images from a helicopter circling above.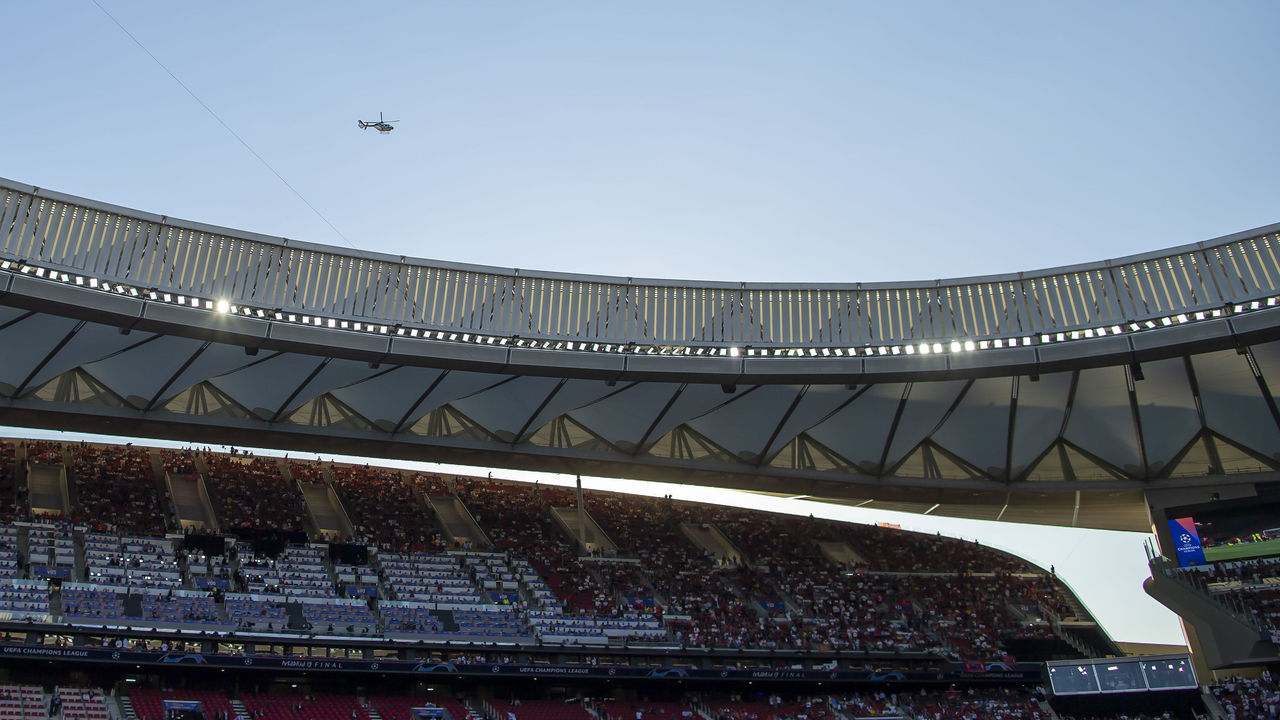 It's not just about doubling the recipe, though. More cameras are great, but that's not the only prerequisite.
"We need the best professionals for these kinds of events," Planas added. "We need people from all parts of the world: Portugal, Argentina, Miami, Madrid, Barcelona, Valencia, and France."
Talent off the pitch
Everyone in the TV compound knew what they were doing. They were so confident in their work that they were relaxed on the morning of the match. Mediapro had not only assembled a team of technical wizards - who else could tell all the blue wires from the green ones? - but one that could cope with the stress of something of this magnitude.
The production would've felt a lot different without Oscar Lago, the deep-voiced Catalan producer who was selected as match director for the final. It was Lago's responsibility to tell the story of the ensuing 90 minutes, ordering his operators to switch between camera views. Among other moments, Lago was responsible for what the world saw after Liverpool scored their early penalty: a sequence of images showing Mohamed Salah celebrating, Hugo Lloris in disbelief, and fans going wild.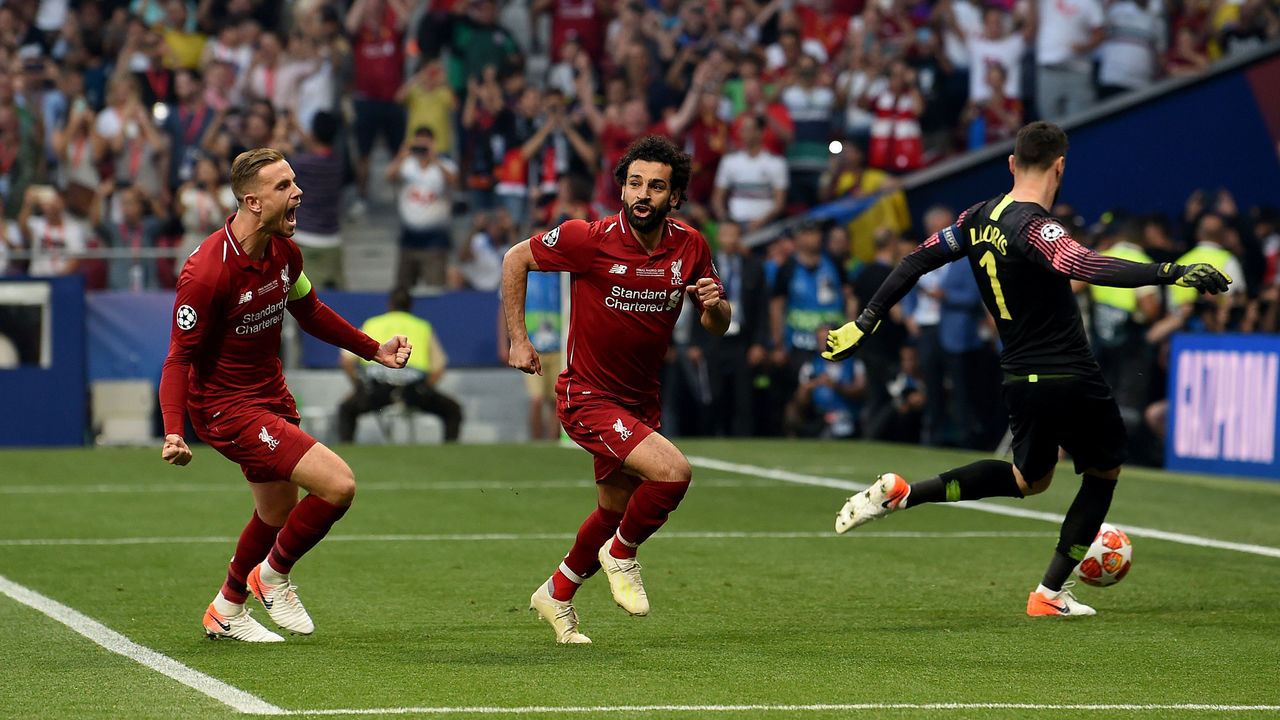 "Oscar is spectacular," Planas said. "When he is directing, he's calm, but when he needs to be speedy, bam, bam, bam, bam, bam. He keeps calm, but he switches 25 cameras per minute or more. With all the replays and with intensity."
Twenty-five cameras per minute. And it's not just mindless splicing; it's a methodical selection of shots that improves viewers' understanding of the game.
That's why it's important for Lago to work in peace and quiet. The atmosphere in Mediapro's production booths is far from the chaos you'd see in Italy or the United States, where jumping and shouting is the norm.
Instead, Lago and his colleagues decided a few years ago to make sure each production is done with maximum calmness. The match director, for example, is sitting down. And rather than putting operators at the mercy of one loud intercom, headsets were introduced for one-on-one communication.
"When you come to the room, it's complete silence," Planas said. "Nobody is speaking loud."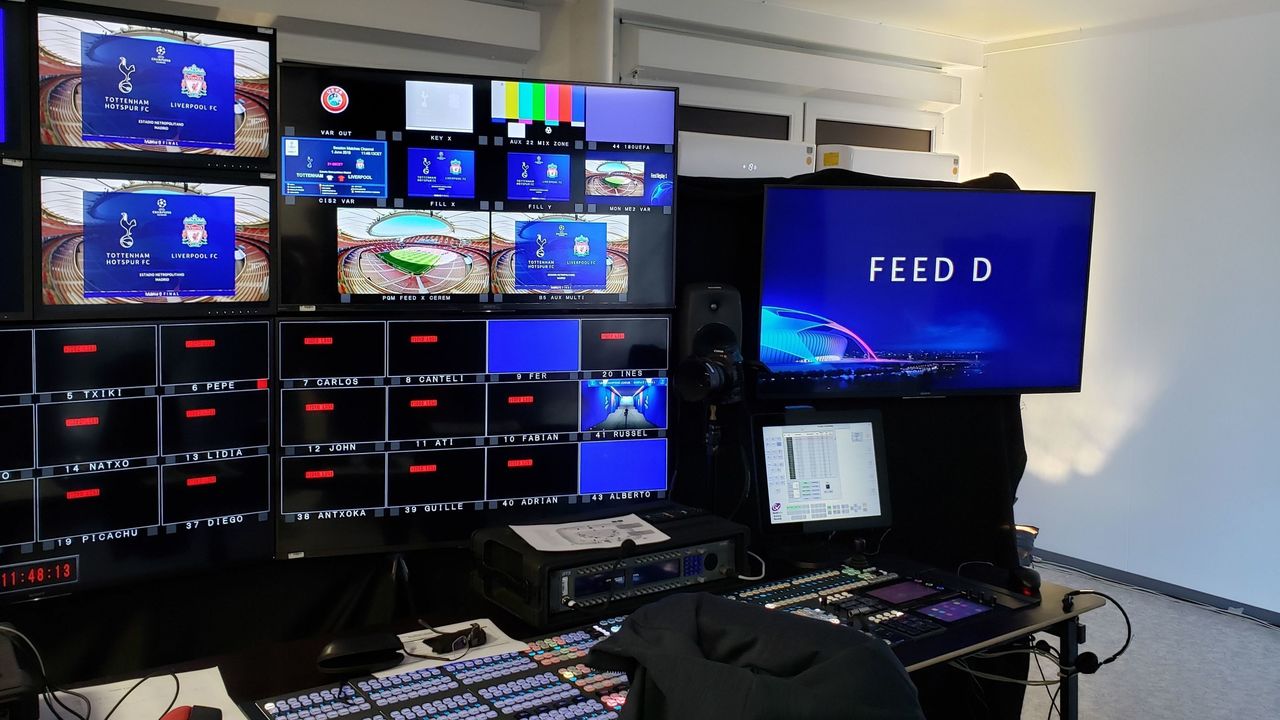 Of course, all the state-of-the-art equipment would go to waste without someone as capable as Lago making important editorial decisions. Sometimes, the temptation is there to use the highest-quality camera, but if it's not necessary to tell the story, Lago won't consider it. He understands the rhythm of the game and, when the play begins to wane, he knows how to ratchet up the broadcast.
It certainly would've taken some clever maneuvering to keep viewers' attention in a final as uneventful as Saturday's. Lago had his hands full with Liverpool and Tottenham proving to be unwilling sparring partners on the pitch.
But in the end, Planas, Lago, and their team can only adapt to the conditions in front of them. And who wins isn't something they worry about.
"I'm not a football fan," Planas said. "I played basketball. I like Formula 1, Moto GP, but this is something that helps from a technical point of view. For me, who plays on the field doesn't matter. I see (camera) quality, I see colors, I see different technical questions. For me, the replays have to be perfect and the quality of the cameras has to be the best."