Every Monday, theScore's Daniel Rouse breaks down the weekend that was in English football. Welcome to the "Eye on England."
When results didn't improve following the sacking of Ronald Koeman, a respected coach at Everton defended caretaker manager David Unsworth. As far as this anonymous individual was concerned, neither Unsworth nor the best bosses in world football could turn around the class of 2017-18. The players weren't good enough.
Farhad Moshiri, the owner whose £220-million squad outlay over three transfer windows garnered that stern evaluation, disagreed. He believed Everton possessed fantastic players, and that the right manager would thrust them into the Champions League.
Since Moshiri's meeting with the blunt coach, Everton have spent another £240 million. Idrissa Gueye is the only first-team regular to depart during that time. Presumably, Moshiri thinks the team is even better than before and - like Koeman and Unsworth - Sam Allardyce, Marco Silva, and Duncan Ferguson just weren't right for Everton.
But now, with costs for the new stadium spiraling, it's time for Moshiri to get it right. Step forward, Carlo Ancelotti.
"This is a great club with a rich history and a very passionate fan base," Ancelotti, a three-time Champions League winner during his managerial career, said following his appointment on Saturday. "There is a clear vision from the owner and the board to deliver success and trophies."
Vision is not a word one would associate with Everton's recent history. To prepare the Toffees for the 2016-17 campaign, Moshiri hired Steve Walsh, whose recruitment ignited Leicester City's 2015-16 title-winning season, and Koeman. The two were meant to lead the modern Everton, but the team assembled over Walsh's two years as director of football had little sell-on value (Wayne Rooney, then 31, and Ashley Williams, who was nearly 32, were among those brought in), a surplus of No. 10s, and no replacement for Romelu Lukaku when he left in the summer of 2017.
The plan - if there was one - was muddled, to say the least.
By the time Walsh was relieved of his duties in 2018, Unsworth had stumbled through a tricky run of games with Gylfi Sigurdsson moonlighting as a false nine and Sam Allardyce had overseen an anesthetizing 167 days at the helm. It was time for Moshiri to alter the strategy on Merseyside. Ancelotti arrives a year-and-a-half into the owner's revision.
Drafted in as director of football after Walsh was dismissed, Marcel Brands has taken an approach reminiscent of his youth movement in his previous role at PSV Eindhoven by buying footballers who can be developed. Seven of Brands' 11 buys were aged 25 or under when they were signed, and Everton's transfer activity is generally better under his watch.
As for managers, the promise Silva showed at Hull City and fleetingly at Watford was only evident at the start of his reign. His team couldn't defend set-pieces, and there was nothing particularly inspiring about the Portuguese handler or his tactics. The Silva gamble - Moshiri himself described the hire as a "big bet" - was an unmitigated failure.
Judging from Everton's finances, patience must be waning. The club is set to submit a detailed planning application for its new stadium at Bramley-Moore Dock on Dec. 23; BBC News reported in January 2018 that costs for the project have already risen by £200 million to £500 million due to inflation and remediation works required on the historic site.
Everton also recorded a pre-tax loss of £13.1 million in the year ending May 2018 - a deficit softened by Europa League income. Surely, with the strains of no continental football in 2019-20, more severance pay for Silva, and pricey stadium plans, Everton's transfer expenditure is unsustainable.
"I have seen from the performances in the last two weeks that the players are capable of so much," Ancelotti said after watching Saturday's soporific nil-nil with Arsenal. "The work (Ferguson) has done (as interim manager) is a great credit to him. Strong organization, strong discipline, and the right motivation are some of the key ingredients in football."
Sadly for Ancelotti and Moshiri, recruitment is the most important ingredient in building a successful team. Can Everton fund one last splurge to help Ancelotti realize the club's ambitions? Even if they scrape the funds together, can they afford no Champions League windfall for a few more campaigns?
It could be Europe's top table or bust for Everton.
Further thoughts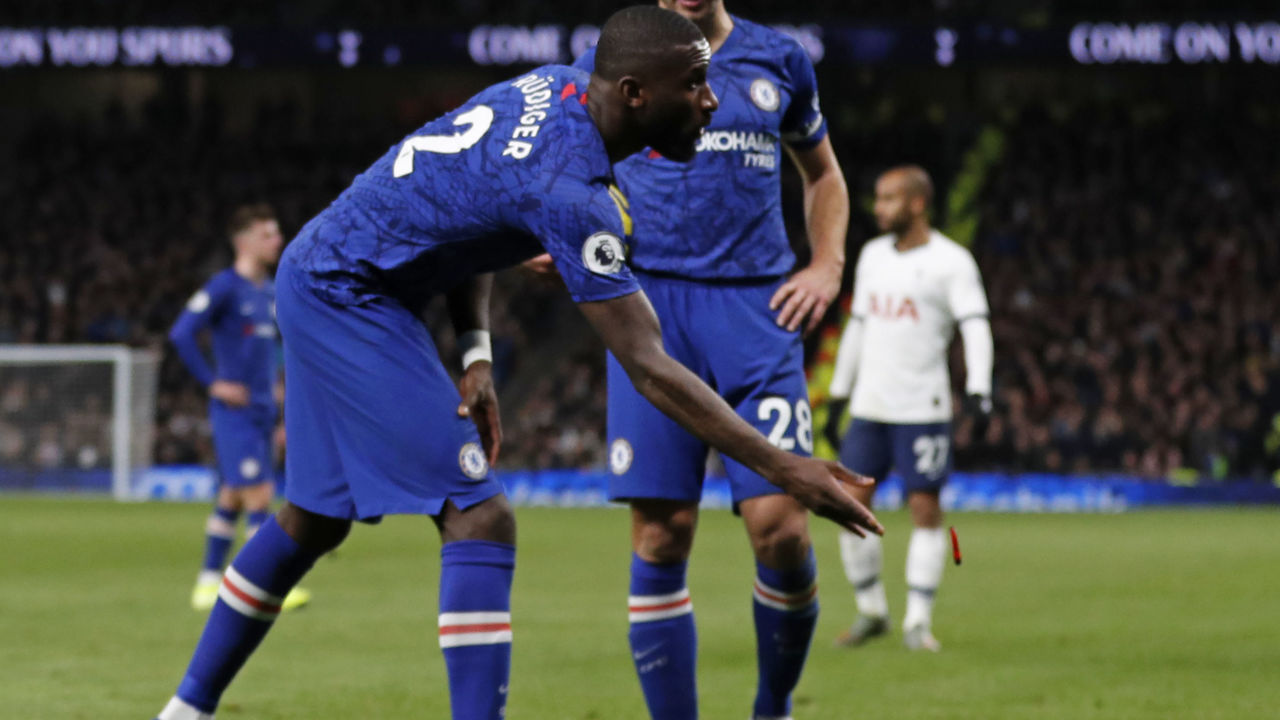 Spread of racism
The primary story should have been Frank Lampard masterminding Chelsea's 2-0 win at Jose Mourinho's Tottenham Hotspur, but Sunday's match was marred by racial abuse directed at Antonio Rudiger by a section of the home support.
The Football Association and Premier League need to close stadiums and dock points. Teams need to assess the situation on the pitch and, with the blessing of the person victimized by vermin in the stands, seriously consider walking off.
But it's not an issue unique to football.
There has been a glaring rise in racism across the United Kingdom since Brexit - 71% of ethnic minorities now report having faced racial discrimination compared to 58% before the 2016 EU referendum, according to polling data seen by The Guardian. It will take a lot more than a hard stance from the FA and Premier League to combat what is a worsening societal disease. Every able-minded Brit, football fan or not, needs to fight back.
United - but only for the big games
There have been some memorable matches during Ole Gunnar Solskjaer's first year at the helm, including the comeback at Paris Saint-Germain and recent victories over Tottenham and Manchester City.
But Manchester United's cohesiveness and effort evaporate when they face supposedly lesser teams. Sunday's 2-0 defeat in Watford followed a worrying trend for the Red Devils.
This season, United have taken an average of 2.2 points per game against last term's top six. Impressive stuff. Against the rest? A measly return of 1.08 points per game. Serious questions must be asked regarding the players' motivations and, indeed, Solskjaer's own motivational skills.
Christmas Day belongs to Sheffield
The performances of Sheffield's two professional football clubs mark a welcome change from when they both competed in League One only eight years ago. Things were so drab back then that some Sheffielders turned their attentions to the local ice hockey outfit, the Steelers.
Now, Sheffield United will go into Christmas Day in fifth place, despite being a popular preseason pick for relegation from the Premier League. And, for the first time this century, Sheffield Wednesday will be third in the Championship outside the month of August.
Drown everything you cook in Henderson's Relish. Listen to Pulp. Raise a pint from Kelham Island Brewery. This is Sheffield's Christmas.