Thoughts and analysis from revealing weekend of Premier League action
theScore examines the most important developments and biggest talking points from another entertaining weekend of Premier League football.
No surprise Spurs fans are happy again
During the reigns of Jose Mourinho and Antonio Conte, it sometimes seemed Tottenham Hotspur would just sit back and allow football to happen to them. They were passive, and then, when things went wrong, they were reactive. Games were seldom played on their terms. They were difficult to watch.
Spurs' identity has undergone a rapid change under Ange Postecoglou, and the on-pitch changes were clear during Sunday's 2-2 draw at Arsenal.
The fear of making mistakes no longer weighs on their shoulders. Daring passes are played around the backline, inviting opponents to press. When things go wrong - like when Gabriel Jesus robbed James Maddison and almost scored - the errors aren't met with an aggressive, unsettling burst of words from the technical area. It's part of the learning process. And, as Postecoglou is keen to stress, they're actively trying to entertain their supporters. Taking risks contributes to that goal.
Postecoglou replacing Maddison and Son Heung-Min with Pierre-Emile Hojbjerg and Richarlison with just over 10 minutes of normal time remaining wasn't necessarily an indication that Spurs were settling for a draw. The changes gave the visitors more bite off the ball, and Dejan Kulusevski was an increasingly dangerous outlet in counter-attacks and battled hard for second balls. The Swedish winger almost set up a last-gasp winner, but Richarlison's shot was deflected wide. Once again, Postecoglou was trying to control the game's flow through his substitutions.
In short, Tottenham are now a proactive team.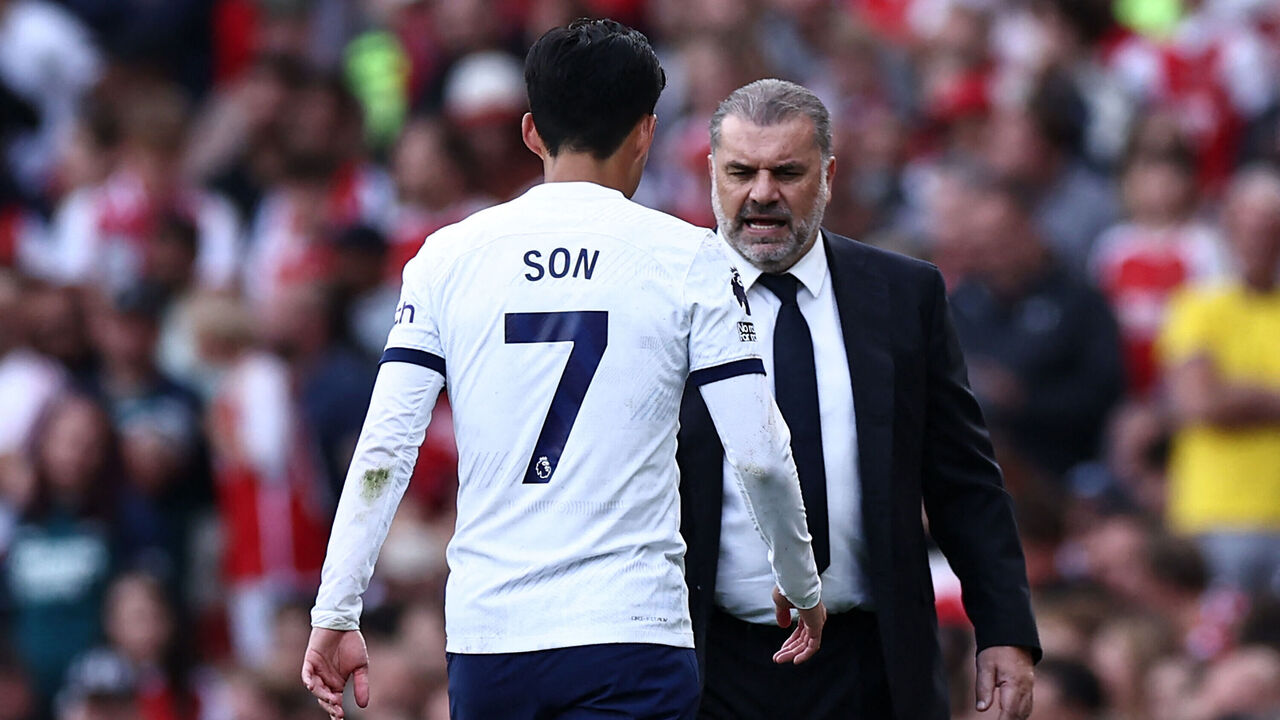 "We wanted to win, so one point is a shame, but the performance was perfect," Son said post-match.
The off-the-pitch decisions are working out as well. In addition to Postecoglou charming supporters and the media with his honesty and wit, his appointment of Son as captain was a masterstroke. The South Korean has helped bridge the divide between the squad and fans by detailing regular stories of team friendships in interviews and intentionally conducting team huddles in front of the Spurs faithful. The bond between the pitch and stands is the tightest it's been for years.
It also helps that Son leads by example. His brace against Arsenal has taken his season tally to five goals over six matches, and he's forging one of the league's strongest double-acts with Maddison. The former Leicester City playmaker has already tallied two goals and four assists for his new club.
A gradual rebuild was anticipated when Harry Kane left for Bayern Munich. The opposite has happened. Tottenham are immediately bold, progressive, and fun under Postecoglou - everything they weren't when Mourinho and Conte weren't in charge - and their fans should relish every moment.
No end to Chelsea's embarrassing form
It felt like Groundhog Day at Stamford Bridge. Once again, Chelsea failed to score a goal. Once again, they missed chances. And once they went down to 10 men against Aston Villa on Sunday, there was no coming back. Defeat was inevitable.
Nicolas Jackson and Raheem Sterling - the main culprits in Chelsea's sputtering attack - spurned glorious one-on-one opportunities, and while Sterling's effort was ruled offside, replays showed he wasn't. It's too early to tell whether Jackson is anything more than a £35-million substitute, but the only thing he's managed to rack up is yellow cards, of which he now has five, enough to earn him a one-match suspension. We know all about Sterling's history in front of goal - you can almost see the gears moving in his mind as he dithers in possession - and now that malaise has infected the entire squad. It's hard for anyone to "believe in the process," as manager Mauricio Pochettino requested in August, if the same problems go unsolved.
How can Axel Disasi, a center-back by trade, look the most dangerous going forward in a side that cost £1 billion to assemble? How can that possibly be? It's almost as if Disasi, who has the rugged attributes his attacking teammates lack, feels the need to fill an everlasting void. He often flies into the final third and makes himself useful whenever he gets into the area. He'd have scored his second goal of the season Sunday had he not drifted offside.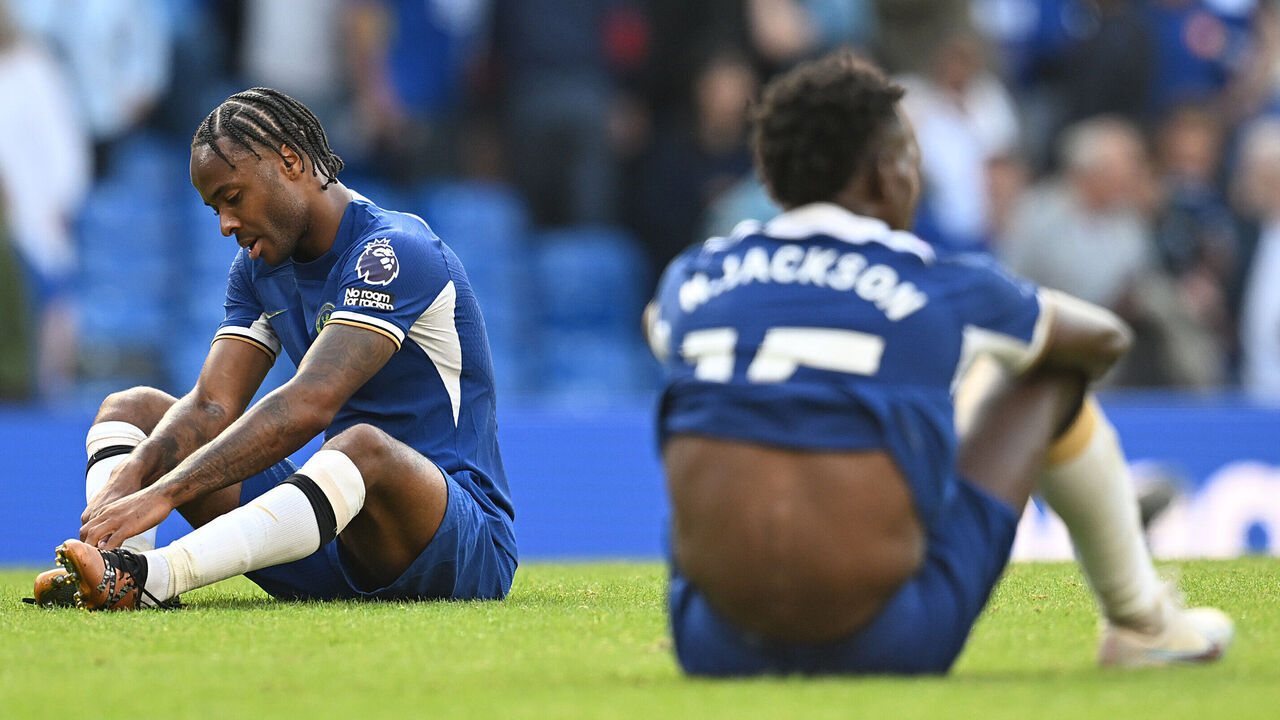 While Chelsea created enough chances to at least take the lead before Malo Gusto's ankle-breaker of a challenge led to his untimely dismissal, a team with as low of a conversion rate as Pochettino's has to produce more. It's simple arithmetic: The more shots you create, the more likely you are to score. But instead of tallying up opportunities, the Blues are trending in reverse. After lashing 21 attempts in a 1-0 defeat to Nottingham Forest and 14 in a goalless draw with Bournemouth, Chelsea managed just 10 in the 1-0 loss to Villa. (Four of those 10 against Villa were blocked.)
There's just not much to convince fans that the pain will subside, not with the same attackers muddling through the final third. With Jackson suspended for next Monday's match at Fulham, Armando Broja will get his turn up front. He hasn't scored a goal in any competition since October 2022.
City's arrivals already paying off
Manchester City's signings having teething problems is a regular theme under Pep Guardiola. In Jack Grealish's first season at the club, he would consider taking on a player before turning away and playing the ball backward, and he took time to adjust to the rotating cast of left-backs behind him. John Stones had to learn from his errors, and Rodri becoming an authoritative force in midfield was a drawn-out process. There are many more examples throughout the squad.
Players hitting the ground running like Erling Haaland are quite rare.
But this season is different. Josko Gvardiol's encountered few issues while playing almost exclusively at left-back and dealt well with Morgan Gibbs-White's movement and physicality when he moved to center-back during Saturday's 2-0 win over Nottingham Forest. Mateo Kovacic, who's missed the last three matches due to injury, has been a natural fit as one of the No. 8s.
Matheus Nunes and Jeremy Doku have been most impressive. They slotted into good areas out of possession and carried the ball forward at any opportunity against Forest. Until Doku was unfortunately sacrificed following Rodri's needless red card, the Belgian winger and Nunes were even switching positions.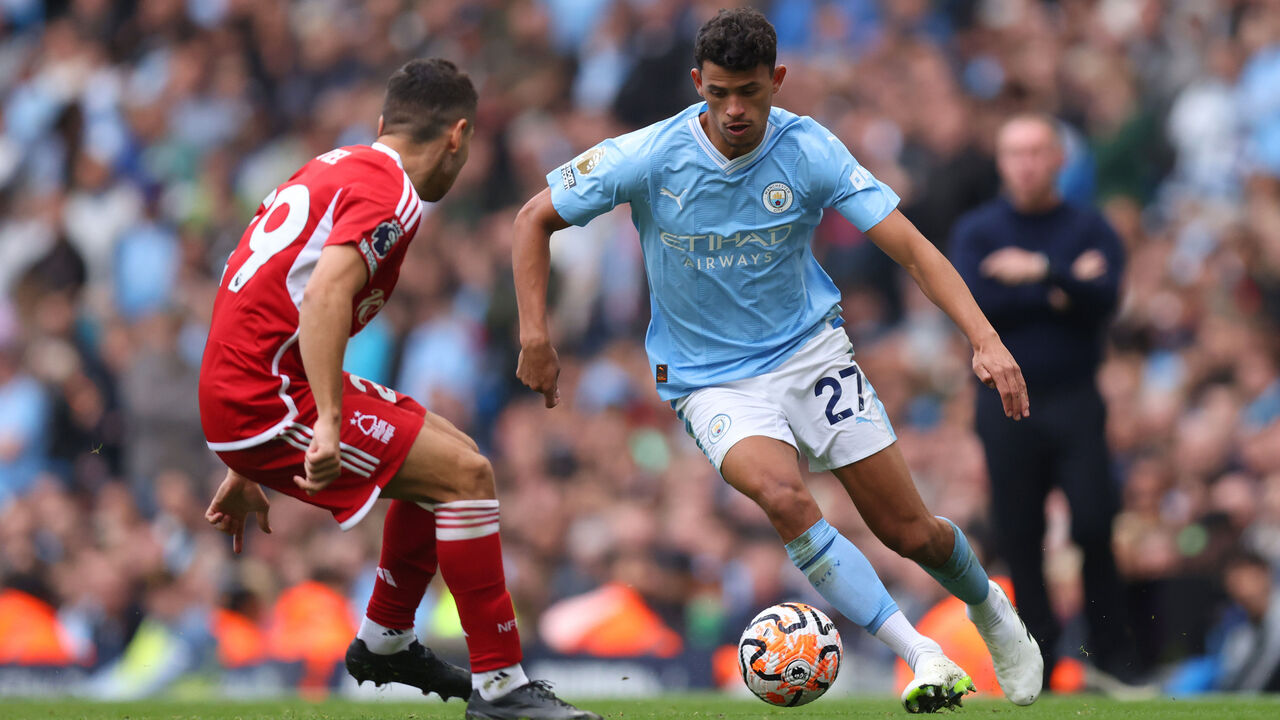 Nunes' cross for Haaland's goal was perfection, and he earned another appreciative hug from the Norwegian striker after battling to win a corner late in the second half.
There could be a few reasons why the new arrivals are settling in so quickly. Unlike most campaigns, these players have been brought in out of necessity rather than to provide competition after three players who were key in recent seasons - Ilkay Gundogan, Riyad Mahrez, and, to a lesser extent, Aymeric Laporte - departed. Additionally, City's injuries have increased the need for the fresh recruits to play plenty of minutes.
Nunes, Doku, and Kovacic also neatly fit into a stylistic shift to Guardiola's side. The team has lifted its number of progressive carries and decreased the amount it moves the ball forward with passes, and each member of that trio is gifted at sidestepping or riding challenges and then filling space ahead of them. Instead of adapting to an existing plan, they're part of a new plan.
And, with the exception of Doku, the summer arrivals aren't projects. Doku is relatively inexperienced, and numerous aspects of his game will be improved; he's typical of the kind of player City have brought aboard during Guardiola's tenure. However, Nunes, Kovacic, and Gvardiol had already proven their ability to fit into a top-level team. They were ready to go.
Handball rule still a disaster
Gary O'Neil was right to be incensed.
Wolverhampton Wanderers' manager bemoaned a decision from referee Josh Smith to award Luton Town a spot-kick in their eventual 1-1 draw, branding the rookie official's handball call on Joao Gomes as "absolutely terrible" after Saturday's stalemate. Gomes, racing back into defensive position inside his own penalty area, blocked Issa Kabore's powerful effort, only for the ball to violently ricochet off his leg and up onto his outstretched arm. Carlton Morris' subsequent goal from the spot earned Luton their first Premier League point.
O'Neil wasn't alone in his criticism.
Oftentimes, a deflection will negate the penalty call; the UEFA Football Board recommended earlier this year that the handball law be amended to clarify that "no handball offense should be called on a player if the ball is previously deflected from his own body." Former Premier League referee Mike Dean, speaking after the match on Sky Sports, said he had "no idea" why the on-field penalty decision hadn't been overturned by the VAR; when even your fellow referees are baffled, something's wrong.
The International Football Association Board (IFAB), which administers the laws of the sport, didn't take UEFA's recommendation going into the season. The only explanation for upholding Saturday's call against Gomes is that, despite the deflection, the Brazilian midfielder's arm was adjudged to have made his body "unnaturally bigger," based on the IFAB's wording of the ever-changing, always-confounding law that nobody within the sport seems satisfied with. "A player is considered to have made their body unnaturally bigger when the position of their hand/arm is not a consequence of, or justifiable by, the player's body movement for that specific situation," according to the IFAB. That's inherently subjective, and that's the issue.
Luton supporters will say that Gomes' arm shouldn't have been raised when he tried to make the initial block, but Wolves fans, justifiably upset, will counter by saying that it was impossible for him to react to the deflection, and the initial block should supersede the handball. Where should he put his arms, exactly? Players can't move robotically on the pitch with their limbs glued to their sides all the time, and the rules should reflect that.
After Wolves received an official apology from the Premier League's refereeing body following a blown penalty call in their match against Manchester United earlier this season, this is just more fuel on the fire for O'Neil's team.
Quick free-kicks
Newcastle can't rest on their laurels
Newcastle United's 8-0 shellacking of Sheffield United won't matter this time next week if they lose to Manchester City in the League Cup and against Burnley in the Premier League. While the result is in and of itself something worth celebrating - the biggest away win in Newcastle's long history - it doesn't guarantee further success this season. Liverpool's 9-0 win over Bournemouth in August 2022 was a mirage that appeared before Anfield early in their campaign last season, and look what happened. A couple of weeks later, Liverpool lost 4-1 to Napoli, a defeat that made manager Jurgen Klopp realize just how far behind his team really was. So, Newcastle can't feel good about themselves for too long. Enjoy the win tonight and move on.
Nunez proving his worth to Liverpool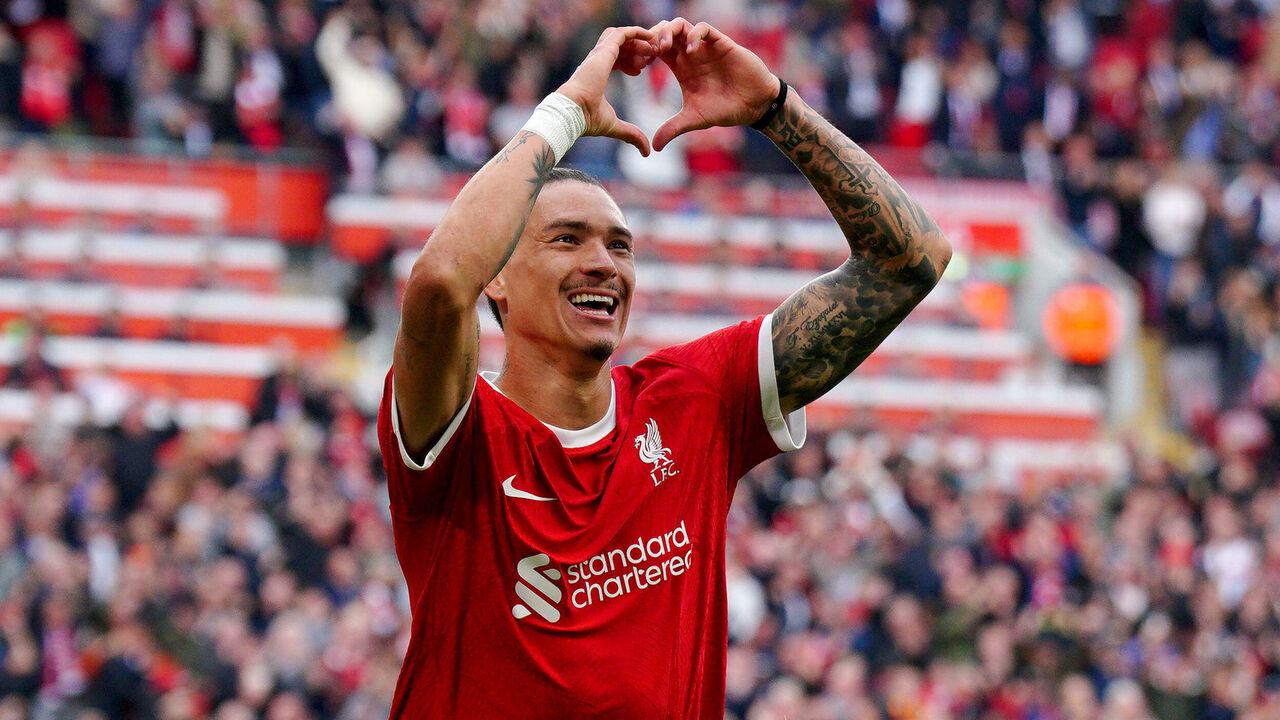 Liverpool are finally getting production out of Darwin Nunez. The Uruguayan forward never had an issue getting into scoring positions. Now, he's converting with greater regularity. Even if he misses a chance earlier in the match, he atones quickly, as he did during Sunday's 3-1 win over West Ham United. Given how quick Nunez is, he'll always give his teammates someone to target on the run, and Klopp is seeing a more coordinated contribution from the defensive third. It's never been about a question of application. Nunez just needed a full year to adapt.
Gibbs-White does Arsenal a favor
Mikel Arteta's thank-you card is probably in the post. Morgan Gibbs-White may have handed Arsenal an advantage when they face Manchester City next month after his tangle with Rodri culminated with the influential midfielder's dismissal. City's trip to the Emirates represents the final match of Rodri's anticipated three-match suspension, meaning the base of the reigning Premier League champions' midfield could instead be manned by Kalvin Phillips, John Stones, or Mateo Kovacic, although the latter pair have missed recent matches through injury. "Hopefully Rodri will learn. He has to control his emotions," Guardiola said of the red card.
Midfielders conduct Everton's best display so far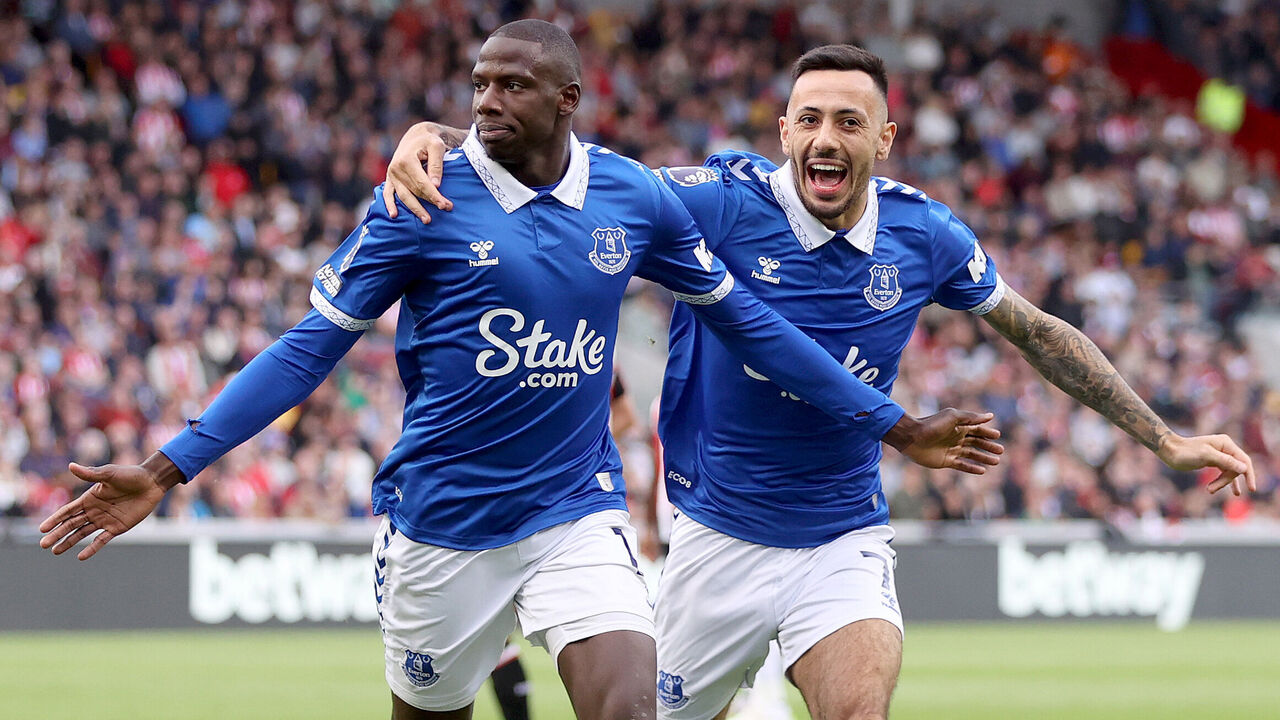 Everton's attack-minded midfielders stepped up for Saturday's 3-1 win at Brentford. Abdoulaye Doucoure's excellent half-volley to open the scoring lifted him to seven goals over his last 16 Premier League appearances, and he cracked the woodwork with another effort later in the first half. Dwight McNeil's improvement toward the back end of last season continued as he delivered a perfect corner-kick for James Tarkowski's header. And James Garner, who's struggled to recreate his Championship form in the top tier, squeezed the ball off Nathan Collins before clipping through an excellent pass for Dominic Calvert-Lewin to score. With more performances like these, Everton can compensate for the work rate and dribbling ability they lost when Alex Iwobi moved to Fulham late on transfer deadline day.
Evans steadies the ship
Jonny Evans, now 35, obviously isn't the long-term solution for Manchester United. Nor will he rectify the many ongoing issues at the club. But the veteran defender can, in the immediate term, help stem the tide and provide a calming presence for the injury-ravaged Red Devils. Evans, starting his first match for the club since 2015, provided a lovely assist for Bruno Fernandes' stunning goal in Saturday's win over Burnley and nearly had a goal himself before VAR intervened. He was stout at the back when Burnley pushed for an equalizer that never came in the second half, too. For a club in utter turmoil right now, Evans, signed as a free agent after leaving Leicester City, could play a vital role in helping Erik ten Hag's team get back on track.
Stat of the weekend
Chelsea haven't scored a competitive goal in 25 days. Either Chelsea stink, or the U.K. truly loves Domino's Pizza.
Tweet of the weekend
At least she didn't leave at 7-0.