Nadal defeats Djokovic in 4 sets to win 9th French Open title
Vincent Kessler / Reuters
When a competition ends with both winner and loser in tears, it tells you something about the emotional toll of the fight. The tears don't seem to speak so much to the relative joy or sorrow of victory or defeat. They are something more like tears of relief. Win or lose, the war is over; we can all go home.  
Rafael Nadal prevailed 3-6, 7-5, 6-2, 6-4 over Novak Djokovic in the French Open final on Sunday. It was the sort of cruel and barbaric match that makes your muscles ache just watching it, the kind we've come to expect anytime the planetary forces of the two best tennis players in the universe come into each other's orbit. And yes, when it was over, both men's eyes were moist. 
Djokovic needed a little push from the crowd, who basically refused to stop cheering him until they saw him squirt a few. (Even if reactions to him were mixed throughout the match, the fact that Djokovic can inspire this kind of reverence, after being treated for years as the Big Four's impish little brother, is a story unto itself.) Nadal needed only to hear the first bar of the Spanish national anthem, and let the realization that he'd just claimed another piece of history wash over him.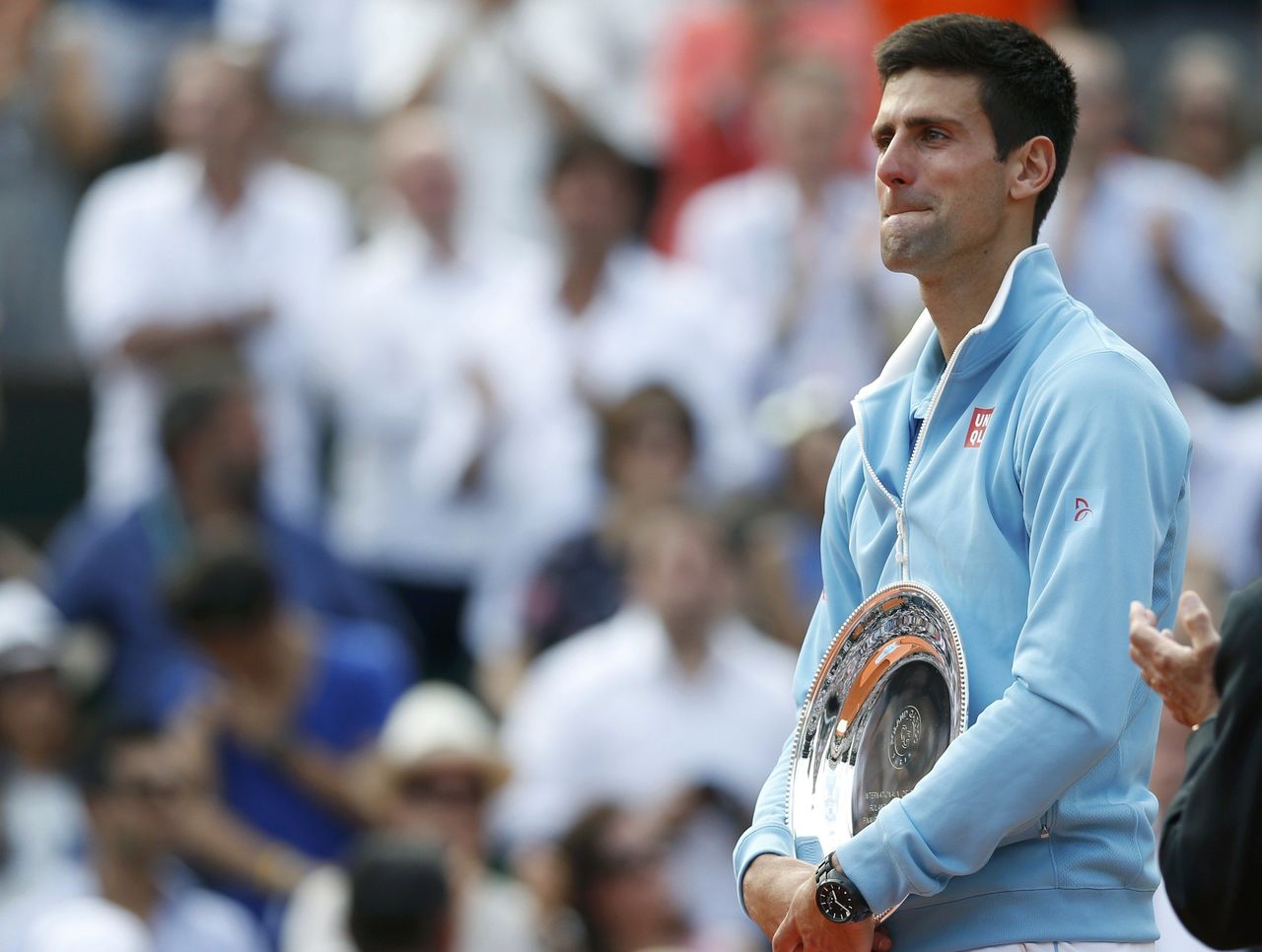 After beating Nadal in the Rome finals before this tournament, Djokovic was actually considered a slight favorite coming in. He'd proven he could beat Nadal on clay, while Nadal was looking more vulnerable on the surface than he had at any point in recent memory, with early losses in both Monte Carlo and Barcelona. But Roland Garros does something different to Nadal. It isn't just another red-clay venue; the air in Court Philippe Chatrier basically functions as his performance-enhancing drug. When he obliterated Andy Murray in the semis, you suddenly knew who the favorite really was. 
Still, the thinking went that Djokovic would be hungrier. Nadal had already won more championships here than anyone is ever likely to win. Djokovic, despite his ever-improving clay-court game, despite having bested Rafa in multiple finals on the dirt, remained empty-handed. Nadal, you figured, simply didn't have as much to play for. This match just proved once again that wondering about his competitive fire is a fool's errand. 
It was Djokovic who came out looking stronger. In the first set, Nadal couldn't get much going with his forehand, which is the rough equivalent of a thoroughbred not being able to get much going with its legs. He wasn't striking cleanly, sent a bunch of shots sailing past the baseline, and Djokovic capitalized to grab the set. 
The second set, in many ways, proved to be the most important of the match. Nadal still didn't look quite right - in truth, neither player looked to be operating at 100 percent physically - but he did just enough to stay on top of Djokovic, until he finally started to feel comfortable. He handed back an early break, but broke back when it counted, pouncing on Djokovic's second serve to steal the set and take a ton of wind out of his opponent's sails. 
That momentum carried into the third set, where Djokovic was huffing and puffing, looking increasingly overwhelmed and overmatched. A spirited push in the seventh game - in which he saved six game points - to try get back on serve, seemed to take Nadal by surprise. But he ultimately came up short, dropped the game, and seemed ready after that to let the set go. 
There was a window in the fourth. It was brief, but it was there. A window of time when it looked like Djokovic could turn things around. Down a break and two games from defeat, he tapped into some impossible energy reserve, took advantage of a lucky break - a defensive lob that landed, with Nadal-like prescience, right on the baseline - and broke. He held his next serve easily. Then it was Rafa keeling over, wincing, looking exasperated, wanting it to be over. 
Nadal had to dig eyeball-deep to pull out his next service game, which went to two deuces. If Djokovic breaks there, the match almost certainly goes to a fifth set, and after that who knows what happens. But he punched a backhand long to lose the game and in a flash, his momentum seemed to evaporate. Suddenly he had to serve to stay in the match. All the pressure was back on his shoulders.  
It ended with a double fault. After three hours and 31 minutes of tireless brutality, it felt like it deserved a better finish. But that usually isn't how these things go. Neither of these guys "deserved" to lose. But, to borrow a phrase, deserve's got nothing to do with it. 
In the end, Nadal was better and he won. For the ninth time, he fell to the dirt on Philippe Chatrier. For the ninth time, he bit the solid silver of the Coupe des Mousquetaires trophy. Djokovic looked like he barely had the stomach to watch. Nadal looked, for a fleeting instant, apologetic. 
Djokovic had the crowd in his corner for much of the final set. Maybe they just wanted to see the match go the distance. But you also sense that the fans at Roland Garros are growing restless. They've seen the same man win nine of the last 10 championships here. They're likely ready to see somebody else hoist the trophy. The fact that they haven't turned on Nadal completely probably speaks to the amount of goodwill he's built up with fans over the years. But you wonder how much longer it can last. 
With his 14th Grand Slam overall, Nadal is now tied with Pete Sampras for second all-time. Djokovic, meanwhile, will have to wait at least another year to compete for the career Grand Slam. But those things hardly seem to matter. What matters is that the war is over. 
We can all go home. 
Comments
✕
Nadal defeats Djokovic in 4 sets to win 9th French Open title
  Got something to say? Leave a comment below!