5 top moments of Federer's legendary career
It's hard to imagine a tennis world without Roger Federer.
The "Swiss Maestro" elevated the sport to new heights over his 24-year professional career, winning 20 Grand Slam singles titles, 28 Masters 1000 crowns, and six year-end ATP championships.
His 103 tour-level titles rank second in the Open era behind only Jimmy Connors.
Federer's memorable rivalries with Rafael Nadal and Novak Djokovic also ushered in a golden era of men's tennis that's unlikely to be replicated.
Before Federer bids farewell at next week's Laver Cup, here are five of the legend's top moments.
Federer's 1st major title
Federer eventually won a record eight Wimbledon singles titles. However, the future Hall of Famer didn't have fond memories of the All England Club early on, suffering three first-round exits in his first four main draw appearances.
The lone breakthrough was significant, as a then-teenage Federer knocked out four-time defending Wimbledon champ Pete Sampras en route to the quarterfinals in 2001. Federer's triumph over the American star set the stage for his inaugural Grand Slam title two years later.
Federer took home his first career grass-court title at a Wimbledon tune-up event in Halle and carried that momentum to London, dropping just one set en route to the 2003 tournament championship.
His legacy only grew from there as Federer won three more Grand Slams the following year, including his second of five straight Wimbledon crowns.
Epic '08 Wimbledon final against Nadal
Federer may have ended up on the wrong end of the 2008 Wimbledon final, but his duel with Nadal that year is considered by some as the greatest tennis match ever played.
After dropping the first two sets 6-4, 6-4, Federer's serve and forehand got him back into contention. He claimed each of the next two sets in a tiebreaker, saving a pair of championship points in the fourth set.
Federer was on the verge of completing the comeback in the deciding set. He moved within two points of a sixth consecutive Wimbledon title, which would've broken Bjorn Borg's modern-era men's record. However, Nadal managed to hold serve.
Nadal eventually prevailed 9-7 in the fifth set to capture his first title at the All England Club, ending Federer's 65-match winning streak on grass in the process. The showdown concluded more than seven hours after its scheduled start - due to a pair of rain delays - and was the longest singles final in tournament history. When Federer netted a forehand to give Nadal the win, it was so dark outside that officials couldn't use the Hawk-Eye system.
Federer completes career Grand Slam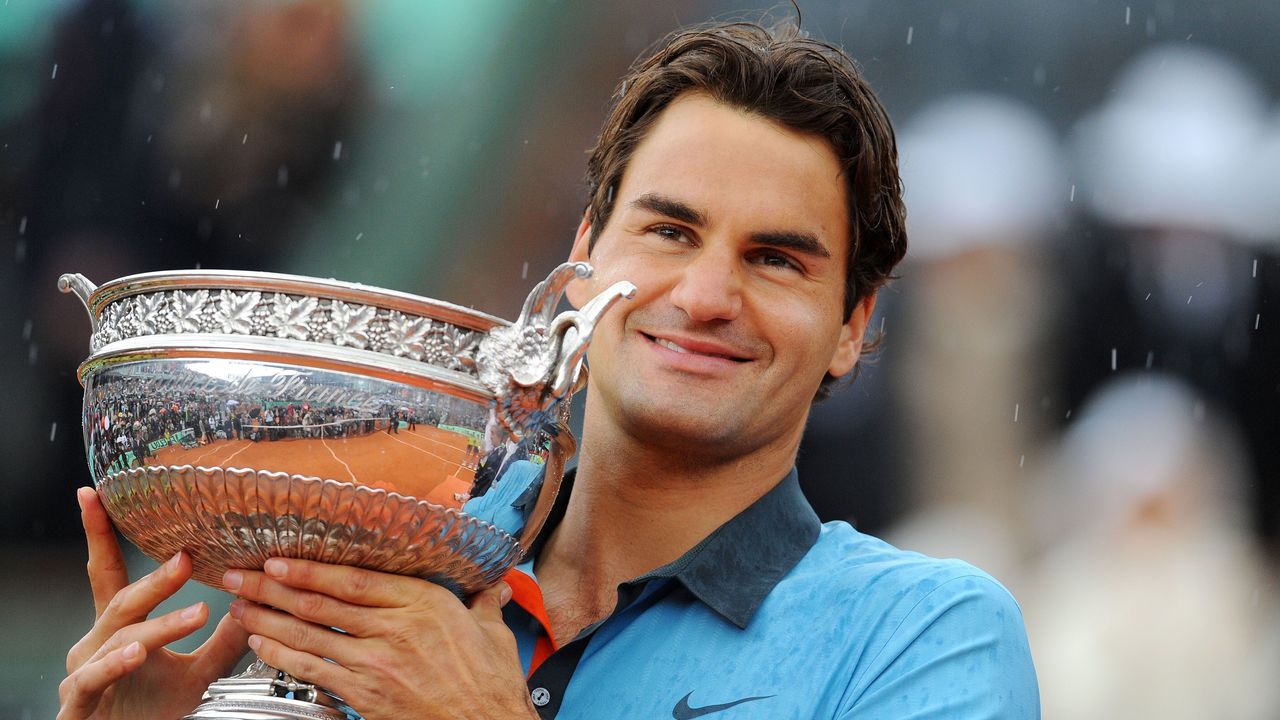 The one glaring omission from Federer's resume heading into the 2009 season was a French Open singles title.
Federer reached the previous three finals at Roland Garros, only to fall to Nadal each time. Entering the 2009 tournament, the Spaniard had yet to lose a singles match at the tournament since making his French Open debut four years earlier.
Federer and Nadal were on opposite ends of the draw and could've met in the championship match for a fourth consecutive year, but the latter suffered a shocking defeat to Robin Soderling in the round of 16.
Federer suddenly had a clearer path to his first Coupe des Mousquetaires, though it wasn't smooth sailing. He had to rally from two sets down against Tommy Haas in the fourth round and a 2-1 set deficit versus Juan Martin del Potro in the semifinals.
Federer had a comfortable straight-sets win over Soderling in the championship match, becoming the sixth man to complete a career Grand Slam and equalling Sampras' then-record for men's singles major titles.
"It might be the greatest victory of my career," Federer said postmatch, according to Julien Pretot of Reuters. "It takes away so much pressure. Now, I can play in peace for the rest of my career.
"Nobody will never tell me again that I have not won Roland Garros."
Federer surpasses Sampras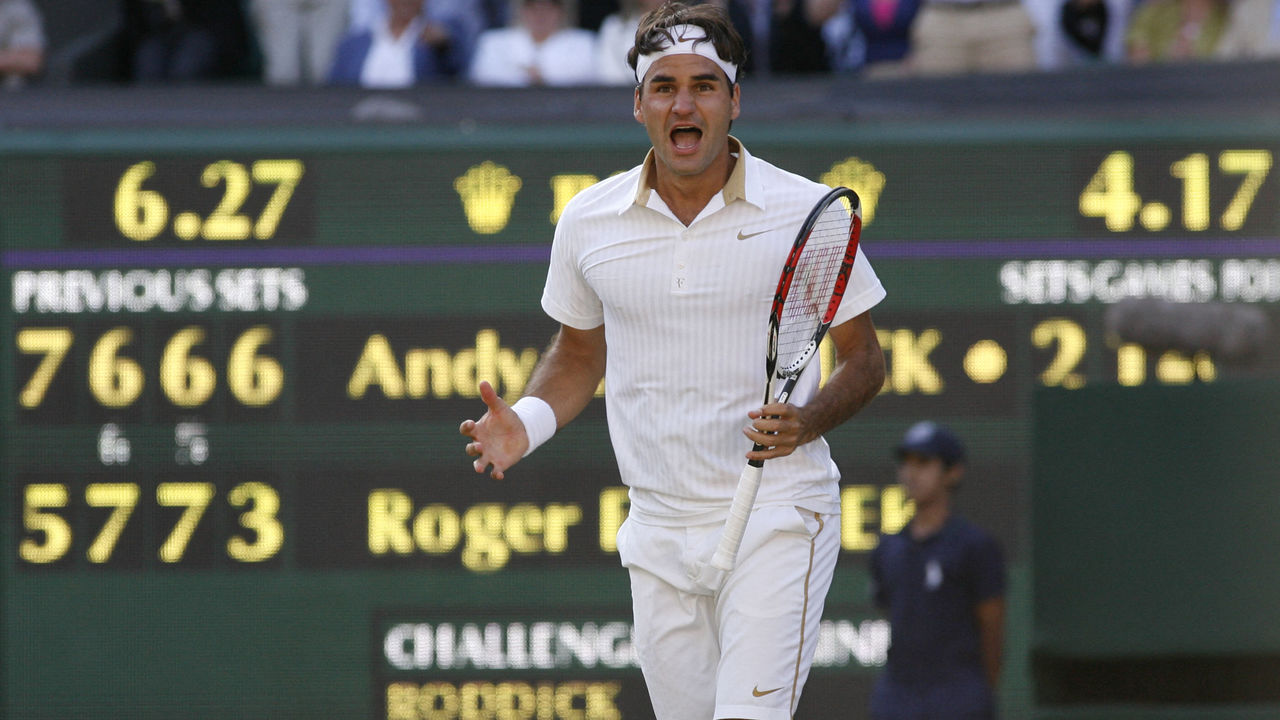 Federer was involved in another epic championship match at the All England Club just a year after his heartbreaking loss to Nadal. This time it was Andy Roddick on the opposite side of the net. The former world No. 1 had only two victories in 20 career meetings against Federer, but this would be no cakewalk.
Federer was immediately on the back foot after losing the opening set 7-5. He nearly dropped the second set as well, but Roddick was unable to convert on any of his four set points. Even when Federer pulled ahead two sets to one, the resilient American struck back to ensure the match went the distance. The fifth set required 95 minutes and a Grand Slam-record 30 games.
Federer needed to be razor sharp, especially on grass against the hard-serving Roddick. He tallied a career-high 50 aces and won 89% of his first-serve points to squeak out a thrilling five-set win. Federer broke Roddick's serve only once in the match, but it just happened to be in the very last game. The victory gave Federer his 15th Grand Slam singles title, moving him past Sampras for the all-time lead.
"I threw the kitchen sink at him, but he went to the bathroom and got his tub," Roddick said after the hard-fought battle.
Federer defies Father Time to capture No. 20
Federer's longevity can't be understated. There aren't many players on the ATP Tour still playing in their mid-to-late 30s, let alone competing at an elite level. The Swiss superstar continued to thrive until injuries got the best of him.
Federer's victory over Marin Cilic in the 2018 Australian Open final was special for all sorts of reasons. He was the first male player to hoist 20 Grand Slam singles trophies. It was also the 10th Grand Slam defense of his career and his first since the 2008 US Open.
Additionally, Federer became the third man in the Open era to win four major titles after turning 30. At 36 years and 173 days, he trailed only Ken Rosewall as the oldest male player to claim a Grand Slam in the Open era.