Every Sunday, theScore highlights the week's lighter moments from around the basketball universe. Here's what caught our eye this week.
Let's give 'em something to Tacko 'bout
With the 2020 All-Star starters announced, the NBA revealed the final voting results. As always, some corners of NBA fandom remain a little estranged from reality.
The backers of Lakers guard Alex Caruso and towering Celtics center Tacko Fall were the main offenders. Caruso ranked fourth in fan voting among Western Conference guards but didn't receive a single vote in player balloting or the 100-member media panel.
Fall finished sixth in fan voting among the East's frontcourt players but didn't pick up a media vote. Somehow, the gargantuan galoot collected seven votes from his peers (Tacko Tuesday has gone too far!).
This is why we can't have nice things - and why a panel of media members and the players themselves now comprise 25% of the fan vote each.
Celibate Celebrate good times
This submission from Weird Week reader Mitchell Morrison pretty much speaks for itself.
Golden State Warriors point guard Steph Curry may not have gotten lucky during the Finals last June, but Toronto Raptors fans Steph and Kyle on the other hand ...
(You get the picture.)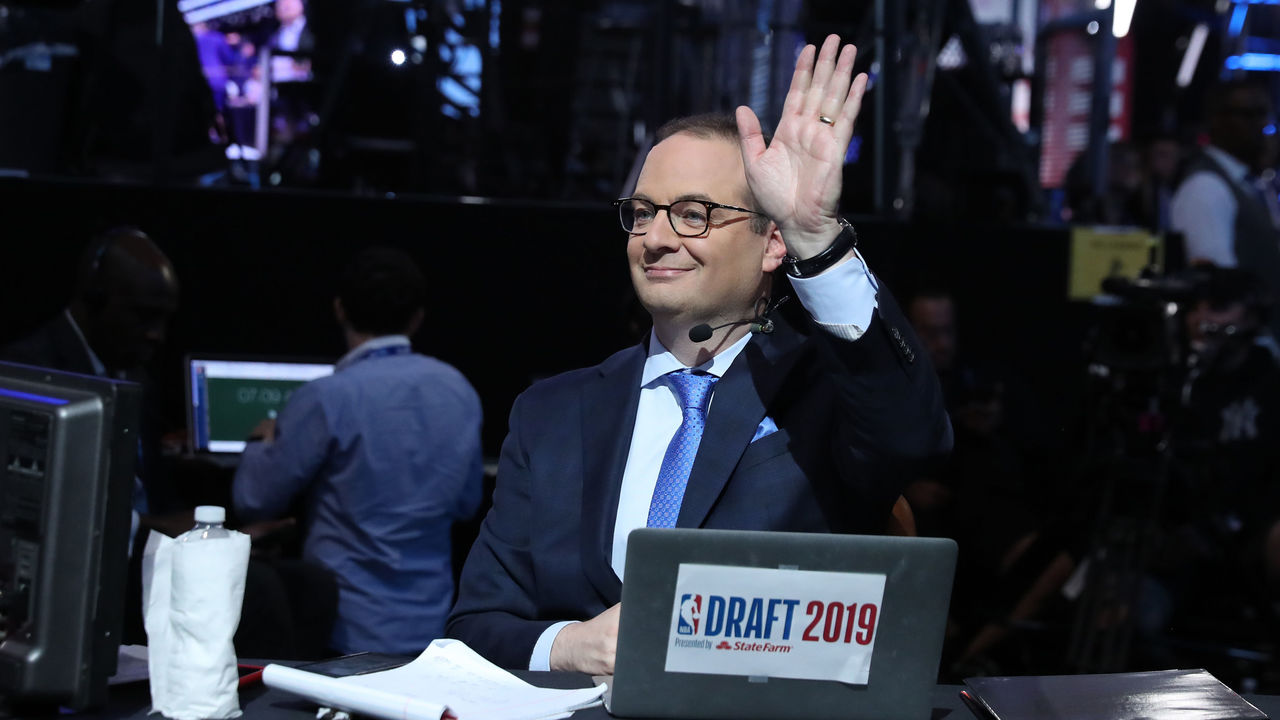 Woj Bomb 💣
ESPN had all hands on deck for Zion Williamson's debut Wednesday, including Adrian Wojnarowski and analyst (and Los Angeles Sparks forward) Chiney Ogwumike.
Hence, this incredible picture:
Innocent until proven chalky
Ahead of Lakers-Rockets on Jan. 18, Danny Green ended up standing a little too close to LeBron James' chalk-toss tradition.
Two games later against the Brooklyn Nets on Jan. 23, LeBron's chalk was nowhere to be found.
Look, this definitely isn't enough to convict, but the District Attorney for New York should at least grant a warrant to search Green's locker.
Hard one to swallow
The rivalry between Reggie Miller's Pacers and the New York Knicks produced a couple of iconic moments - including Miller flashing the choking sign to Knicks fan Spike Lee during the 1994 conference finals.
Apparently, it's also produced a useful infographic on how to initiate the Heimlich Maneuver.
Warren peace 🕊️
Rather than hold on to a player who had averaged just shy of 19 points per game over the previous two seasons, the Phoenix Suns dumped T.J. Warren (and the final three seasons of his four-year, $50-million contract) on the Indiana Pacers for cash considerations last June.
Warren hasn't missed a beat in Indiana, putting up 18.3 points per game on a solid 55.4 effective field-goal percentage for the likely playoff-bound Pacers.
Meanwhile, "cash considerations" is having a tough season, which the Pacers' social media team pointed out in a since-deleted tweet after Wednesday's Pacers-Suns tilt.
Obviously someone had second thoughts about the pointed jab, but we should really be encouraging the outright mockery of any team that jettisons a good player simply to save a few bucks.
Off-the-sharts athleticism
Minnesota Timberwolves announcer Dave Benz hoped to add a new phrase to the dictionary on Friday.
The only problem is, there's already an established colloquial meaning of the word "shart."
You may Google "shart" at your own leisure.
Come back next Sunday for more oddities, inanities, and obscenities from the wonderful world of basketball - and send nominations and submissions to andrew.potter@thescore.com