LEAGUES News
How C.J. Miles transformed himself into one of the NBA's most feared shooters
John E. Sokolowski-USA TODAY Sports / Action Images
When the Toronto Raptors identified long-range shooting as an area of need in the offseason, they wasted little time pulling the trigger on a sign-and-trade with the Indiana Pacers that landed them veteran forward C.J. Miles.
The cost - the Raptors gave up point guard Cory Joseph in the deal, then signed Miles to a reported three-year, $25-million contract - confirmed what most hardcore hoops heads had already known for years: Miles has quietly become one of the NBA's most underrated specialists.
Those two labels alone are worth exploring, but Miles is neither bothered by the "specialist" title - "To a certain extent, that's what I worked to be" - nor concerned with whether the average fan appropriately "rates" his impact on the game.
"That used to get me when I was younger," Miles told theScore after a terrific Raptors debut that saw him sink 6-of-9 long-range attempts en route to 22 points. "Now it's about, 'How do you help your team? What does your team ask you to do?' Nobody outside of it knows what they're asking me to do.
"They're not coaching. They're not in the gym with me. They don't get up at 4:30 in the morning to be in the weight room at 5:45, and working 'til 12. None of those people did that with me, so why do they get to be in the car and ride with me? It doesn't bother me."
If that seems an overly passionate response to a rather simple question about the meaning of being underrated, then you need to get to know C.J. Miles, who can't answer a question about basketball without his beaming passion dripping off every word. He's put too much time and sweat into continuously reinventing himself as a player since being drafted in the second round 12 years ago - and into adapting to a changing game - to not be passionate about it all.
And what a specialist Miles has become; over the last five years, he's made more threes than Jamal Crawford, Bradley Beal, Kevin Love, and Kyrie Irving, while attempting as many as Kevin Durant and hoisting 32 more than Carmelo Anthony.
Last season, only Kyle Korver was more efficient as a spot-up scorer, and Miles joined Stephen Curry, Klay Thompson, Kyle Lowry, C.J. McCollum, and J.J. Redick as the only players to shoot 41 percent or better on at least 400 3-point attempts.
It wasn't always this way.
Through his first seven seasons in Utah, less than 35 percent of Miles' field-goal tries were from long range - and he connected on less than a third of those attempts.
"At that time, it was more about me getting up and down the floor, being athletic, running and jumping, and shooting it if I was open," Miles says.
Then, a revelation:
| C.J. Miles Seasons | 3PA rate (per FGA) | 3P% | On/off net rating |
| --- | --- | --- | --- |
| 1-7 | .348 | 32.9% | +0.3 |
| 8-12 | .569 | 37.8% | +3.3 |
"I wanted to go from 'he can shoot it' - being able to have big games, getting hot, the 'don't let him get going' kind of thing - to people not wanting me to shoot the ball, ever," Miles says. "That was the respect I wanted, and the weapon I wanted to be, where you felt like if I got an open look, you might as well run back on defense."
Miles more than doubled his 3-point attempts in his first season (2012-13) with the Cleveland Cavaliers compared to his last of seven seasons in Utah, but the final push he needed to become an elite shooter came from a sit-down with Mike Brown, who took over the Cavs (for a second time) in 2013.
"I saw length, I saw athleticism, and I saw his ability to get his body ready quickly, when it comes to shooting the ball, no matter where he was or how he caught it," Brown, now a Golden State assistant, told theScore.
"There's guys who are volume guys - who get up a lot of shots, but are streaky - and then there are shooters. I just believed he could be a shooter, with the little details he already had in place, for a guy at his size and his length."
What does Miles remember about that conversation with Brown?
"He told me straight up, 'you can shoot the basketball, but I don't think you work enough on that particular part of your game. The situations you're in during a game, most of the time are shooting situations, so why not try to really buckle down on that, and become as great a shooter as you can?'"
From that point on, Miles tailored his workouts toward a 3-point-heavy game, shooting himself into exhaustion to prepare his body and mind for the challenges the league's best shooters must endure.
"I practiced shooting off bad passes, rolling it off my feet some days, making it so that if I made three in a row (without missing) from one spot, now we moved it to needing to make six in a row, then moved it up to eight," Miles recalls. "Shooting tired, really challenging yourself, not just going to spots and making shots and getting reps.
"I need the reps to be game speed. I need the reps to be tough, because I'm not going to be open during a game. I don't have that luxury, because the target's on my back now."
Between last season and the start of this year, 63.9 percent of Miles' field-goal attempts have been threes - more importantly, he's connected on 41.5 percent of them.
"It didn't happen by osmosis"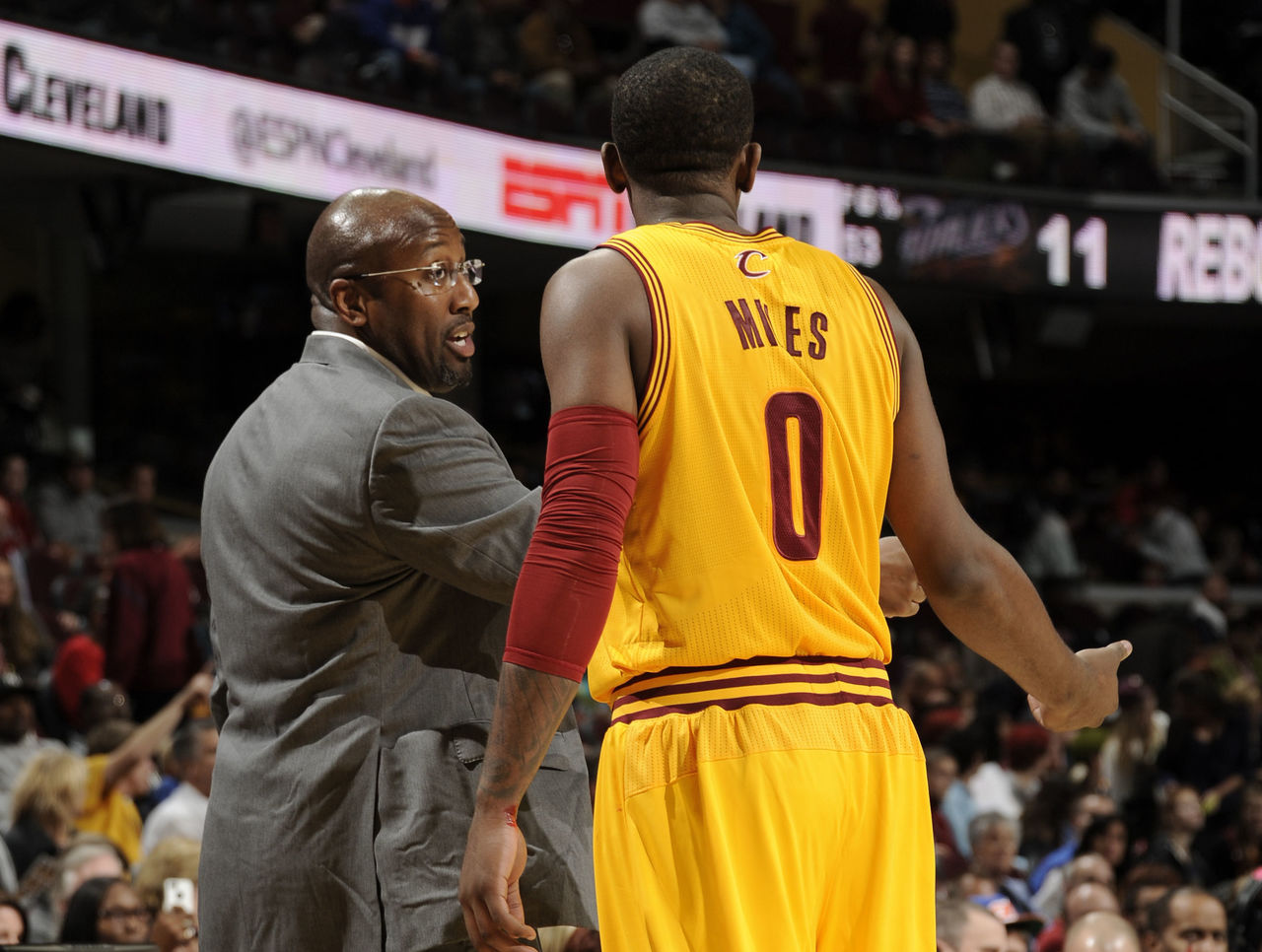 During coaching stops in Seattle and Dallas, Dwane Casey got an inside look at how two of the best shooters to ever grace a court fine-tuned their craft. And though he's only months into coaching Miles, the Raptors' head coach already sees the work ethic that turned Miles into an elite gunner.
"It didn't happen by osmosis," Casey says of Miles' evolution. "He reminds me a lot of Ray Allen. The hardest part of Ray Allen's practice, the hardest part of Dirk Nowitzki's practice was after practice, when he worked on his 3-point shot. And it's the same thing with C.J. He goes as hard in his after-practice (shooting) work as he does in a game."
Miles also goes hard in the weight room and his personal film-study - poring over the finest details of every mechanical component needed to pull the trigger on a 3-pointer in the NBA, discovering ways to up his shooting percentages before he's even picked up a ball or stepped on the court to work with it.
"I had to get my legs stronger. You don't want to get tired, shooting standing up straight, and start shooting flat. We broke down so many things," Miles says of his summertime film sessions. "When I got winded a little bit, you would notice my follow-through would drift to the left. Little things like that corrected, takes you from being a 36, 37 percent shooter to a 40 percent shooter. It's that much of a difference."
When you're launching as many threes as Miles did last season (409), the difference between a 36.7 percent 3-point shooter - which Miles was during the 2015-16 campaign - and the 41.3 percent shooter he was in 2016-17, is 56.4 points, or roughly 0.69 points per game.
That may not sound like much, but it's slightly more than the average difference in point-differential between teams in last season's plus/minus rankings - a season in which Miles' Pacers beat out the East's ninth seed by one game.
With such little margin for error during their run to the 2017 postseason, Indiana also owes Miles for his willingness to soak up minutes as an undersized, small-ball power forward - bruising minutes the team couldn't force on then-franchise star Paul George, and for which Miles hadn't been able to apply his usual offseason preparation toward.
Into the fire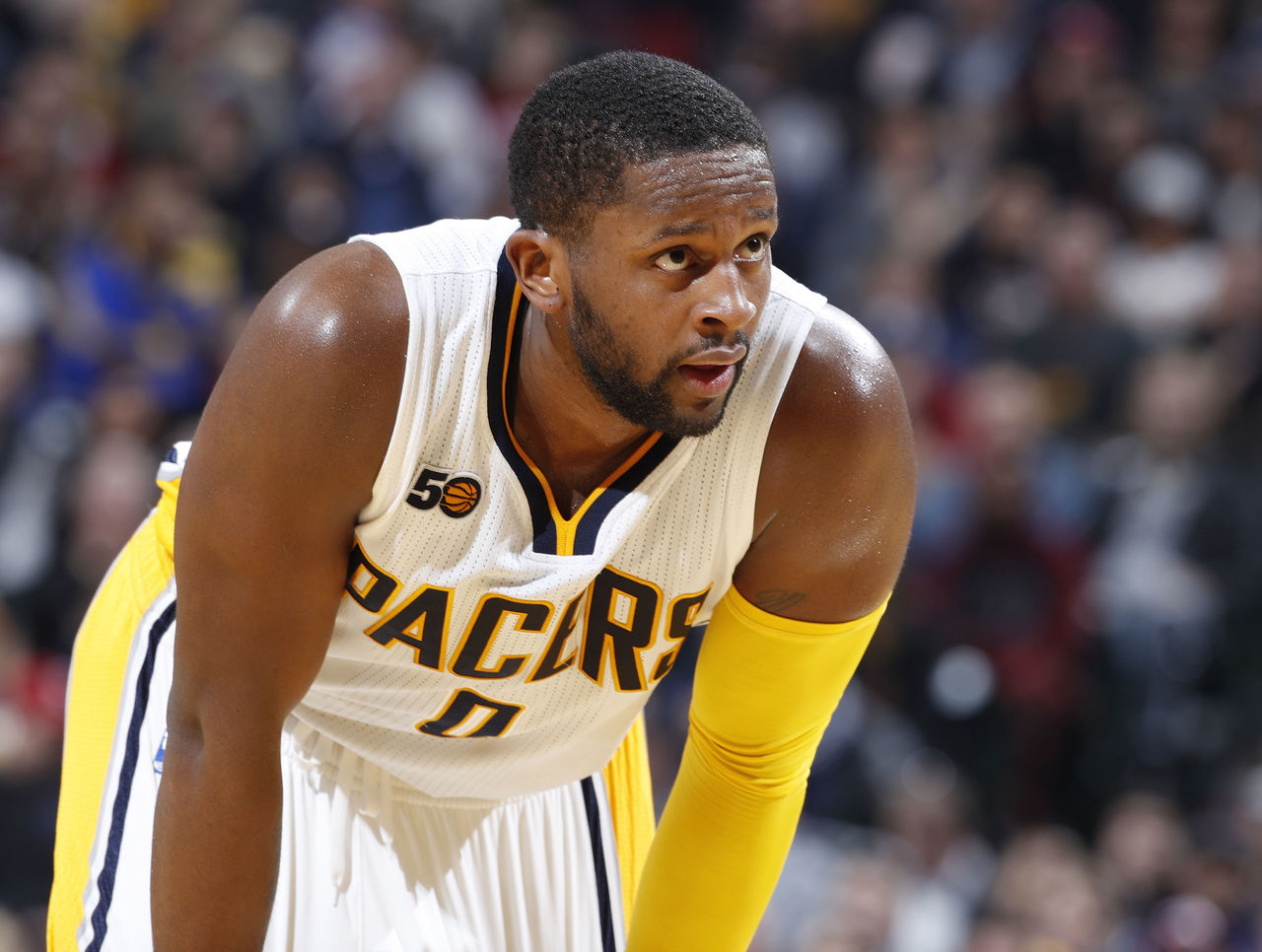 "The power forward thing, I kind of just got thrown in the fire," Miles says of his Pacers coaches coming to him with the request in the middle of last year's preseason. "They said they wanted to go smaller to try speeding the game up, and asked me if I was up for it. They felt we could be better by doing it, so of course I took on the role."
To get a glimpse of Miles' willingness to make himself as malleable as coaches need, look no further than the 30-year-old's history of bouncing in and out of starting lineups.
Miles came off the bench for all 23 games he appeared in as a rookie and started all 72 games he played in his fourth season. Outside of those two years, he has always started at least 20 percent of games in a season, but never more than 67 percent. That type of yo-yoing would frustrate most players - but not Miles, who subscribes to an adapt-or-die philosophy.
"My belief in my coaching staff is always going to be there," Miles says. "They're never going to do something that they feel is going to be a hindrance to the team or myself.
"I just wasn't prepared for the beating that came with (the move to power forward). There were some nights I had to guard some really big guys. I never trained for that. I had trained to play my position, and guard guys my size. I had to figure out how to get strong enough but not too slow - not get top-heavy and unable to move."
To meet the physical demands required to defend fours while maintaining the shooting prowess the Pacers still needed out of him, the 6-foot-6 Miles did what he's done time and time again when presented with a new professional challenge - study the film, hit the gym, and get to work.
"I had to change a lot of my footwork going into my shots (as a power forward), because it was pick-and-pop stuff now. I was used to coming off curls and being on the baseline, then it came to me now having to literally do a full circle, catching, and shooting it.
"It took a while to adjust to that little change of pace. Little things like that affect your balance, because it's foreign to your body. So I had to go (practice) and just shoot those full speed, learning how to get myself on balance faster, get my feet better. It took some time to adapt and figure it out, but it helped me as a player.
"I wouldn't be here (Toronto), I don't think, if I wasn't able to grow into a player that's now able to play three positions," he added. "I'm grateful for it. I wasn't at the time - my body wasn't at the time - but I'm grateful for it now."
Shooters shoot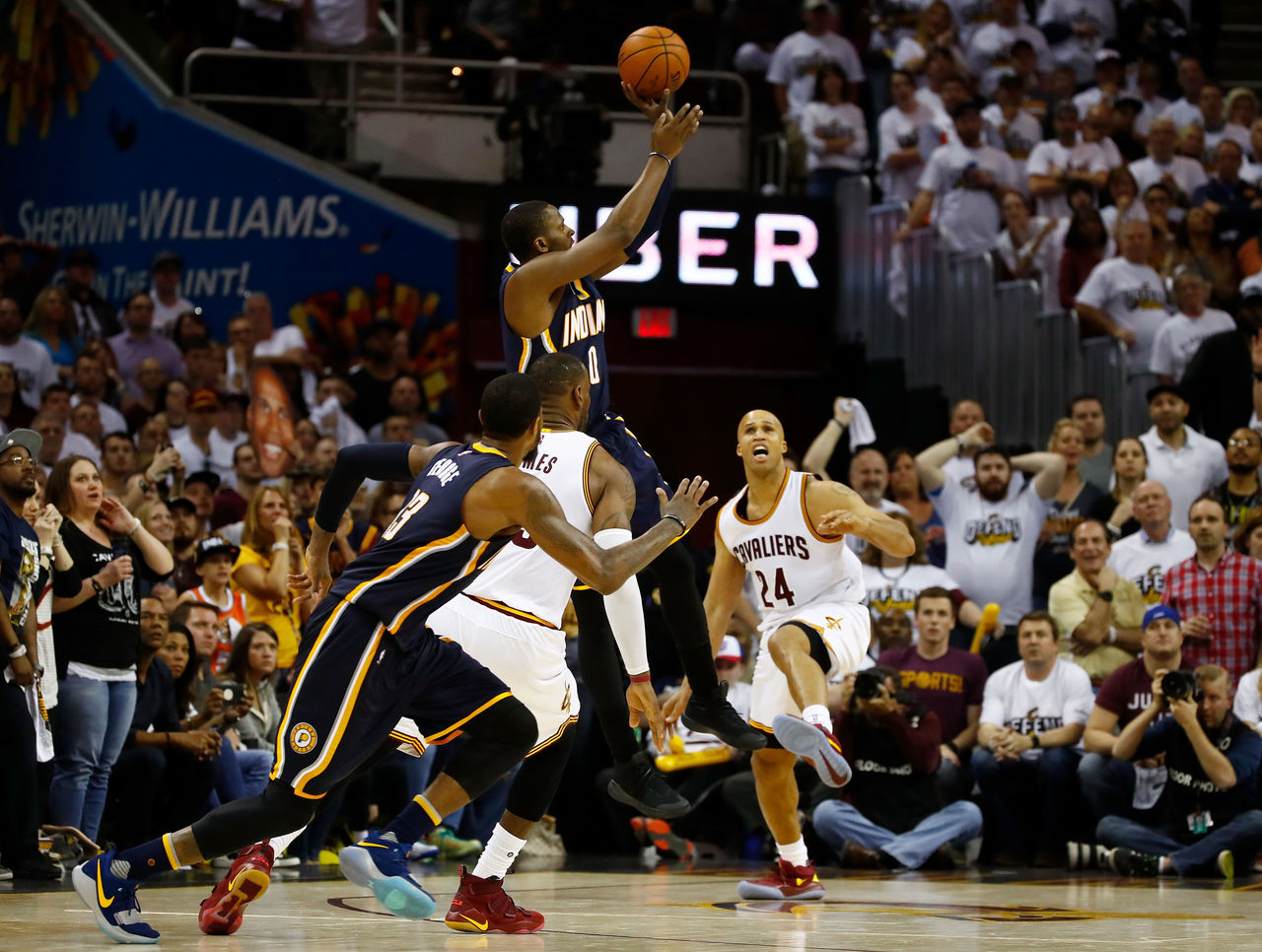 You might think a veteran who made the physical sacrifices Miles made for Indiana would've been due some basketball karma - or some recognition, at least. Instead, he was shut out of Sixth Man of the Year voting (a ballot that saw 13 different players earn a vote), and didn't find himself in the headlines until George publicly criticized his failed decision to launch a potential game-winner in the Pacers' playoff opener against Cleveland.
That kind of viral brick, coupled with George's postgame comment, has to rattle even the most confident of shooters, leaving them second-guessing themselves at least for a moment. Or does it?
Miles shakes his head and rolls his eyes, the pffft look on his face answering the question as emphatically as possible before actually saying anything.
"Not even a little bit," Miles says, stressing all seven syllables. "I was on the floor for that reason. We (George and I) talked about it. It was over, and I haven't talked about it much since. I've worked extremely hard on my skill set.
"That's the reason why I'm here (Toronto), that's the reason I was there (Indiana), and on the floor at that time. I have the utmost confidence in it (my shot). And there's a reason - because you'll see me in the gym before practice, after practice, before games, working at game speed to get ready."
The April disappointment was nothing new for Miles, whose teams have been mired in mediocrity during the half-decade he's revolutionized his game. Miles' first seven seasons in Utah saw him experience five playoff appearances, multiple 50-win seasons, and a trip to the 2007 Western Conference finals. His five years between Cleveland and Indiana produced two playoff appearances, zero series victories, and a 45-win peak.
That's where the Raptors come in.
Toronto has averaged an East-leading 51 wins over the last four years, racked up three series victories in the last two seasons, and figures to be a postseason contender again come April.
"You see them on the cusp of breaking it all the way open," says Miles. "There's youth, there's guys right in their primes, and there's a lot of things that are great about it."
The Raptors also just happen to be in the midst of implementing a new, 3-point-heavy attack to diversify their previously predictable offense, which often stumbled in April and May after regular-season scoring binges.
"I knew what they were looking for," Miles says of free agency. "I knew that my skill set would be valued here, that I could come in and help. It felt right from the second we started having conversations."
Miles' shooting and his ability to make plays after attacking closeouts should go a long way in creating space for All-Stars Kyle Lowry and DeMar DeRozan to operate.
"If you can shoot the basketball, you're two steps faster than everybody else, because everybody is closing out hot," Miles says when asked to describe how a shooter with playmaking ability can unclog a stagnant offense.
"The better and better I got at shooting the basketball, the better I got at being able to read (defensive) rotations, seeing plays develop, seeing a rotation two passes before the ball got to me. I have to be a playmaker, too. It's not about just shooting the ball every time, even though I'd like to," he says with a smirk.
The man who convinced Miles he should shoot it every time now gets to game-plan against the monster he helped create, and Mike Brown sees what he envisioned for Miles four years ago.
"He puts a lot of fear (in opposing teams)," Brown chuckles. "He's not just a spot-up shooter. You can run C.J. off of screens, and he gets his body and his feet right, so you have to keep your body attached to him. If you try to gap a screen versus C.J., you can count that as three points, and once he gets going, he's hard to stop.
"You've got to defend him like an elite shooter, and you have to be a little more conscientious about it, because he's long, and can shoot over you. You can't give him the 6 inches (of space) you might give a shooter who's 6-foot-3."
The Raptors hope all of that defensive attention Miles demands clears the path for Lowry and DeRozan to lead the team to new heights this spring - the type of deep postseason run that would place Miles on his biggest stage in more than a decade.
Once there, perhaps he'll even get the ball with the game on the line again, just as he did six months ago in Cleveland. If he does, don't expect Miles to defer to an All-Star, as George expected. He's worked too hard on turning himself into a shooter. And shooters shoot.
Comments
✕
How C.J. Miles transformed himself into one of the NBA's most feared shooters
  Got something to say? Leave a comment below!