Gostisbehere strengthens Calder case, gives Flyers hope with latest heroics
Patrick Smith / Getty Images Sport / Getty
The legend of the "Ghost Bear" continues to grow in Philadelphia.
With an overtime goal Saturday in Toronto, Flyers rookie defenseman Shayne Gostisbehere extended his point streak to 15 games, not only strengthening his case for Calder Trophy consideration, but also giving the City of Brotherly Love a measure of hope for the future despite being outside the NHL playoff picture.
Here's what Gostisbehere's emergence means for the Rookie of the Year race and the Flyers' future:
Crunching the numbers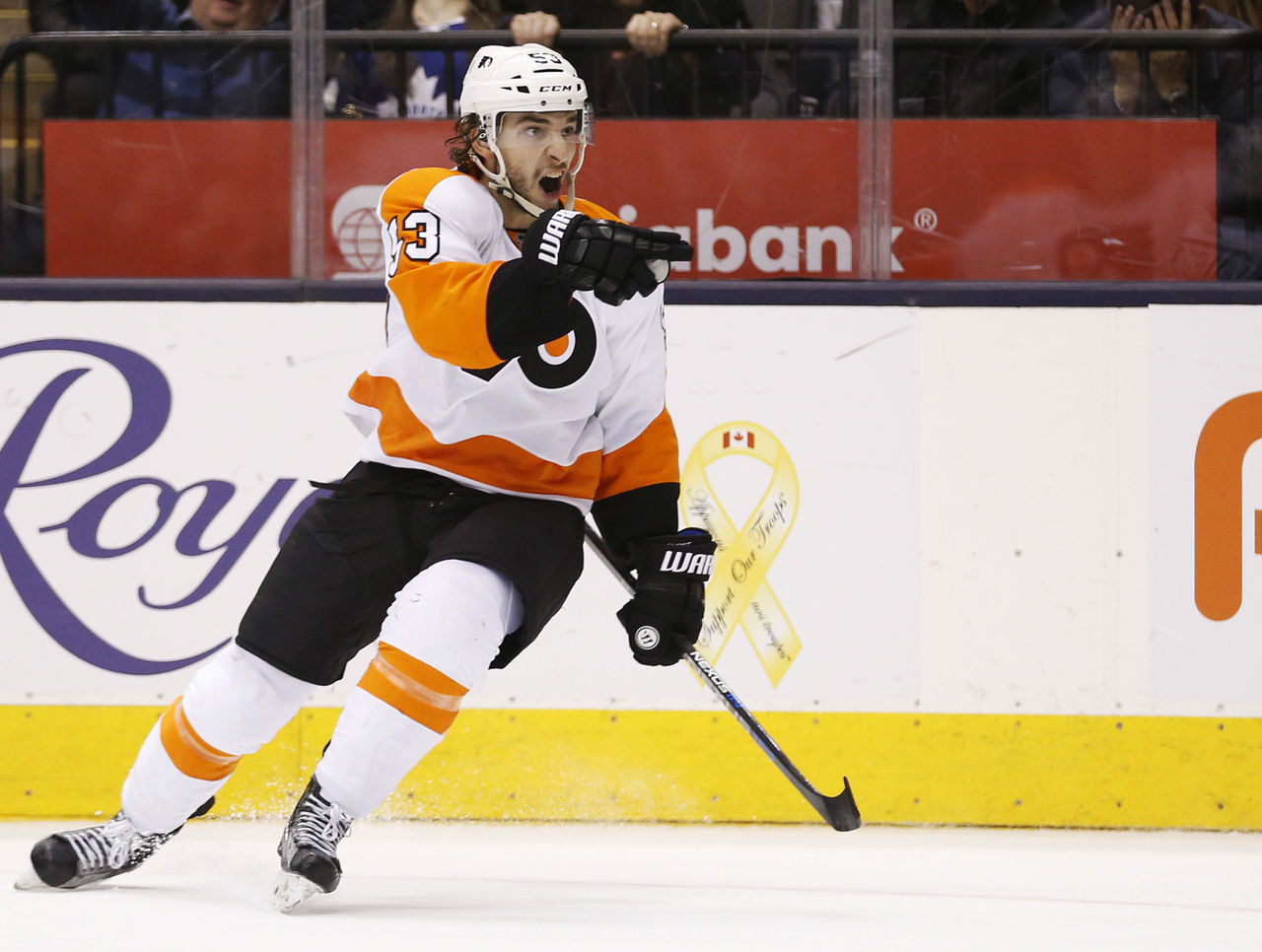 Gostisbehere has firmly established himself as the top first-year defenseman, having recorded eight more points than second-ranked Colton Parayko of the St. Louis Blues in 18 fewer games played.
But where does he rank among all rookies?
With 12 goals and 22 assists, Gostisbehere sits fifth in rookie scoring, behind Artemi Panarin, Max Domi, Jack Eichel, and Dylan Larkin. In terms of points per game, however, his ranking rises to third, and only by lowering the minimum amount of games played to 20 to allow for Connor McDavid's inclusion.
| Player | Games Played | Goals | Assists | Points | P/GP |
| --- | --- | --- | --- | --- | --- |
| Connor McDavid (EDM) | 23 | 10 | 17 | 27 | 1.17 |
| Artemi Panarin (CHI) | 59 | 22 | 35 | 57 | 0.97 |
| Shayne Gostisbehere (PHI) | 40 | 12 | 22 | 34 | 0.85 |
On top of that, Gostisbehere's 18 power-play points ranks first, while his four game-winning goals - all coming in overtime - slots him third.
What's even more impressive is where he ranks among all defensemen. While his 34 total points put him within the top 20, his points-per-game rate bumps him up to fourth, with only Erik Karlsson (1.08), Kris Letang (0.89), and Brent Burns (0.86) averaging more points.
That's the cream of the crop league-wide, with his name among those who'll be in the Norris Trophy conversation. Gostisbehere doesn't see as much ice time as this group, nor is he charged with as much defensive responsibility in terms of shutting down the opposition. From a production standpoint, though, there's no denying he's in good company.
Gostisbehere's numbers may not be enough to eclipse Panarin or McDavid in Rookie of the Year consideration, but he should be a finalist for the award.
The caveat here is that if Gostisbehere can help propel the Flyers - who sit three points out of a wild-card spot - into the postseason, it would greatly boost his chances of earning the nod as the NHL's top rookie.
Flyers' changing of the rear guard
What's even more encouraging for Flyers fans is Gostisbehere represents the initial onslaught of a new wave of highly touted defensemen in Philadelphia.
Heading into 2015-16, NHL.com pegged Gostisbehere as the third-ranked defensive prospect in the organization, behind Ivan Provorov and Travis Sanheim. This assessment was shared by Broad Street Hockey, who placed Gostisbehere sixth among the team's top 25 under 25, and third behind the aforementioned blue-liners.
Gostisbehere was drafted in the third round of the 2012 NHL Entry Draft out of Union College, marking the beginning of Philadelphia's stockpiling of potentially high-end defensemen.
2013 - Samuel Morin, selected 11th overall
2014 - Travis Sanheim, selected 17th overall
2015 - Ivan Provorov, selected 7th overall
Those players are currently honing their games in the junior and AHL ranks as the Flyers continue to carry some unfortunate contracts on the blue line, namely Andrew MacDonald ($5-million cap hit through 2020), Mark Streit ($5.25-million cap hit through 2017), and Nick Schultz ($2.25-million cap hit through 2017).
While MacDonald's contract is likely immovable, the others could be shopped by general manager Ron Hextall, as their deals aren't as cumbersome due to their upcoming expiry dates. Space on the roster could be coming.
Either way, if the projections hold true and Gostisbehere does indeed end up behind Provorov and Sanheim on the depth chart, with Morin close behind, the Flyers may soon boast one of the NHL's most exciting young crop of defensemen as well as significant building blocks for the long sought-after return to glory.
Comments
✕
Gostisbehere strengthens Calder case, gives Flyers hope with latest heroics
  Got something to say? Leave a comment below!