How the ever-present threat of 'backhand shelf' influences breakaway dynamics
Every hockey player who tells you his breakaway technique is to come down, look for a hole, and just shoot is a liar. He may not know he's a liar - he almost certainly doesn't - but he is.
Years of hockey history, on both sides, influence our decision-making when we're in alone. Shooters know how goalies generally move, where holes open when they move the puck, and where to find the best places to shoot from certain angles. Goalies make their own reads based on historical tendencies, too, factoring in player speeds, stick angle, angle of attack, and so on.
These things are ingrained, and players use them consistently - consciously or not.
On a breakaway, the onus is on the player to make a move. If nothing happens, the goalie wins, so the player has to create.
Knowing goaltender tendencies over the years, and knowing we're the ones who have to make the magic happen, shooters have been led to the dead horse that forms the spine of all breakaway moves: backhand shelf, and the threat of backhand shelf.
It may not fool many people, but its prevalence around the NHL speaks to its effectiveness. You can barely watch a game today and not see it influence a play.
To explain what I mean, let's start by watching this old, grainy, fan-made video of Frans Nielsen, owner of the "Backhand of Justice," as New York Islanders fans call it. Thanks to Nielsen's perfection of the move we're discussing, he's the best shootout scorer of all time.
Frans can tuck it, boy.
The tough part for goalies is that they have to honor the shot. Have to, absolutely have to. When 'tenders clued into Frans' deadly backhand, he started doing this hilarious thing where he'd just whip a line drive through the five-hole before he got to the spot where he'd usually make his move.
Goaltenders who chose to wait for him to come in and go to the well were burned for not honoring his shot. As you can see in the pictures below, whether he's going to be shooting: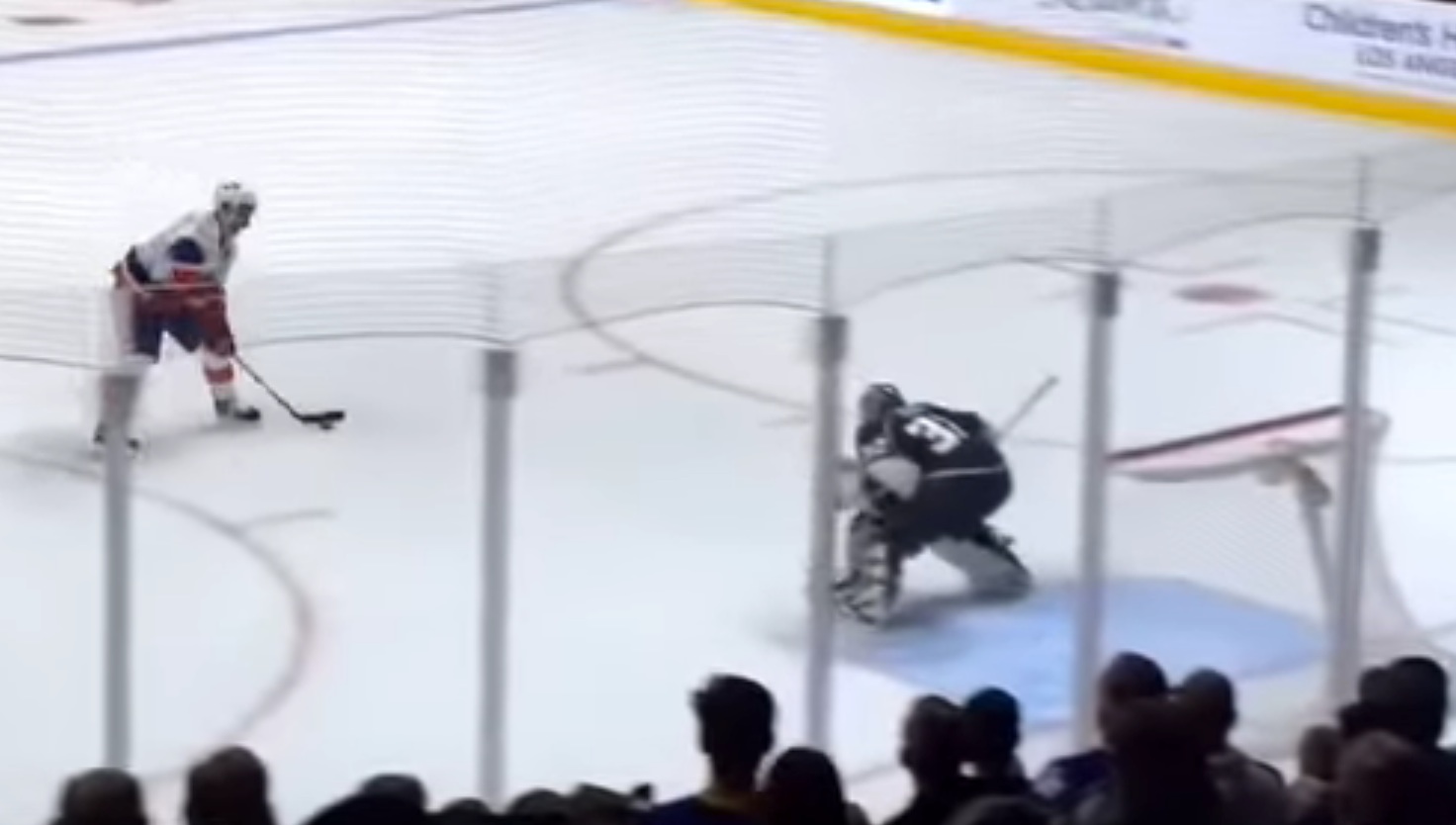 Or going backhand shelf: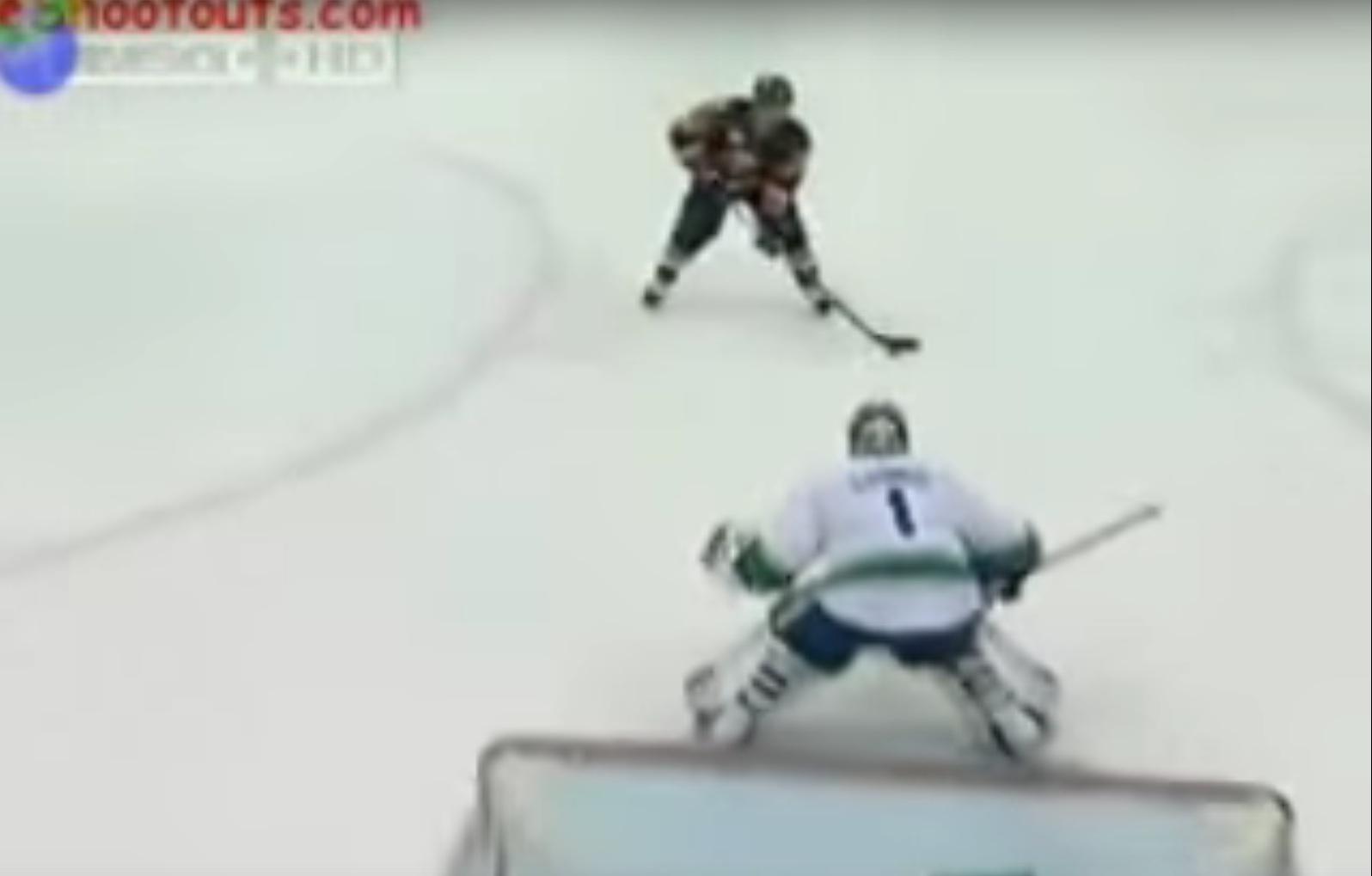 You need to honor the shot because it's nearly impossible to tell - and I'm not just talking Nielsen.
Because of that, and because players can move the puck a wide distance across their bodies faster than a human can back in on skates, the situation almost immediately creates a goaltender in desperation mode, reaching back with his legs. That's partially because goalies come out so high to challenge breakaways.
What a win for skaters, right? You've taken a big ol' set goalie, and with one large stickhandle, you've opened him up, brought him to the ice, and given yourself a chance. No wonder that poor dead horse takes so many beatings. Even better is that to go down in that manner, goalies often do it while falling forward, which means their glove or blocker can only go so high.
As a shooter, you've created a situation where you know that if you can execute getting the puck to that certain spot in the net - under the bar - you have yourself a goal.
But here's the difficult part for a player - even an NHLer - and the major reason goalies don't get massacred by this basic move.
When you pull the puck across your body, you want to get the backhand off quickly, because A) you want to beat the goalie to that side, and B) you want to use the speed of the puck to help its lead edge climb your blade before the lift.
The problem is that this all unfolds awfully fast, making it real easy to have the puck slide off the toe of your blade.
Let's look at Monday night in the NHL.
First, here's Bo Horvat bearing down on Steve Mason: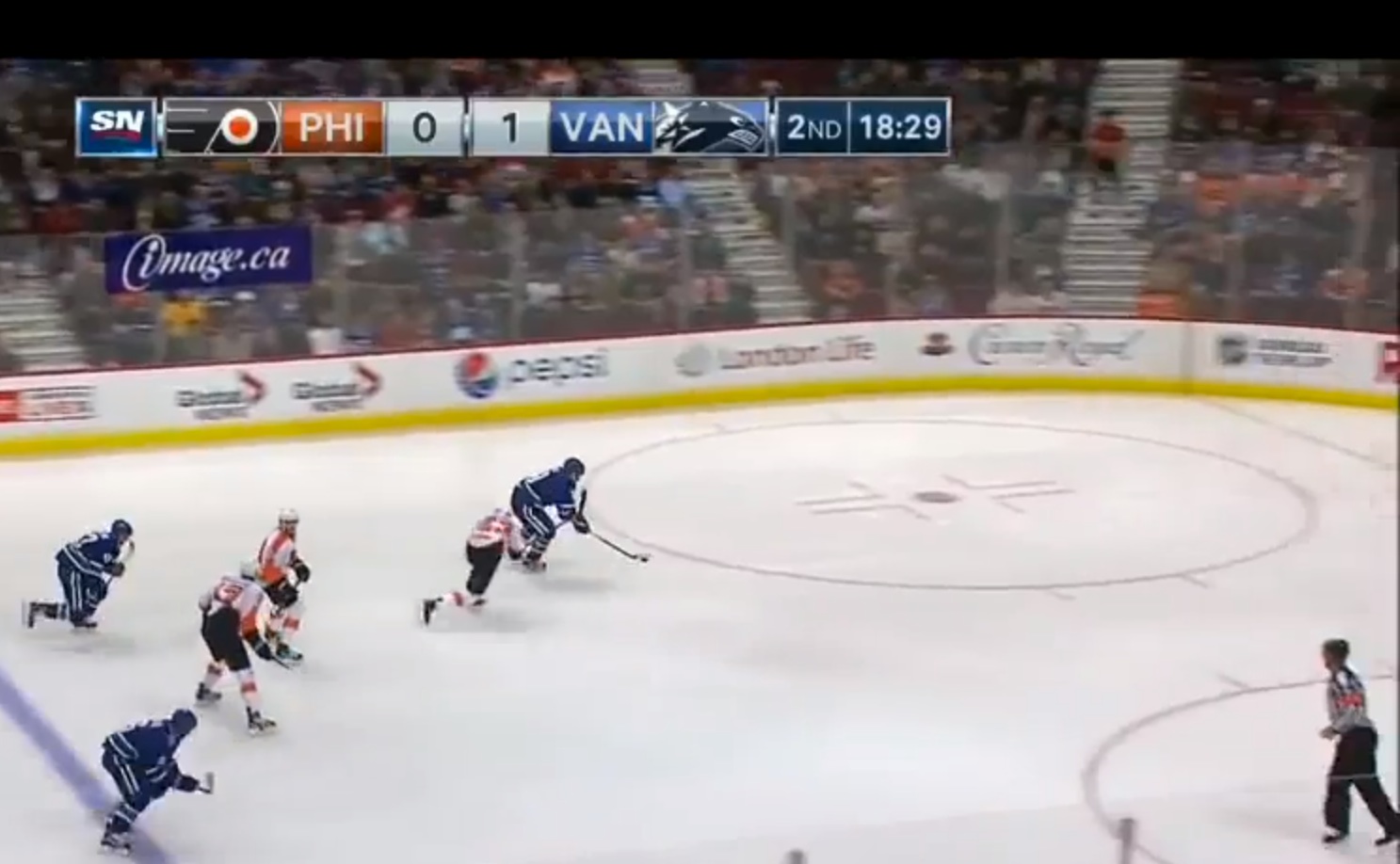 Around here he opens up his blade. Mason is going to be honoring the shot, so opening his blade implies shot, hopefully making the goalie freeze for a sec.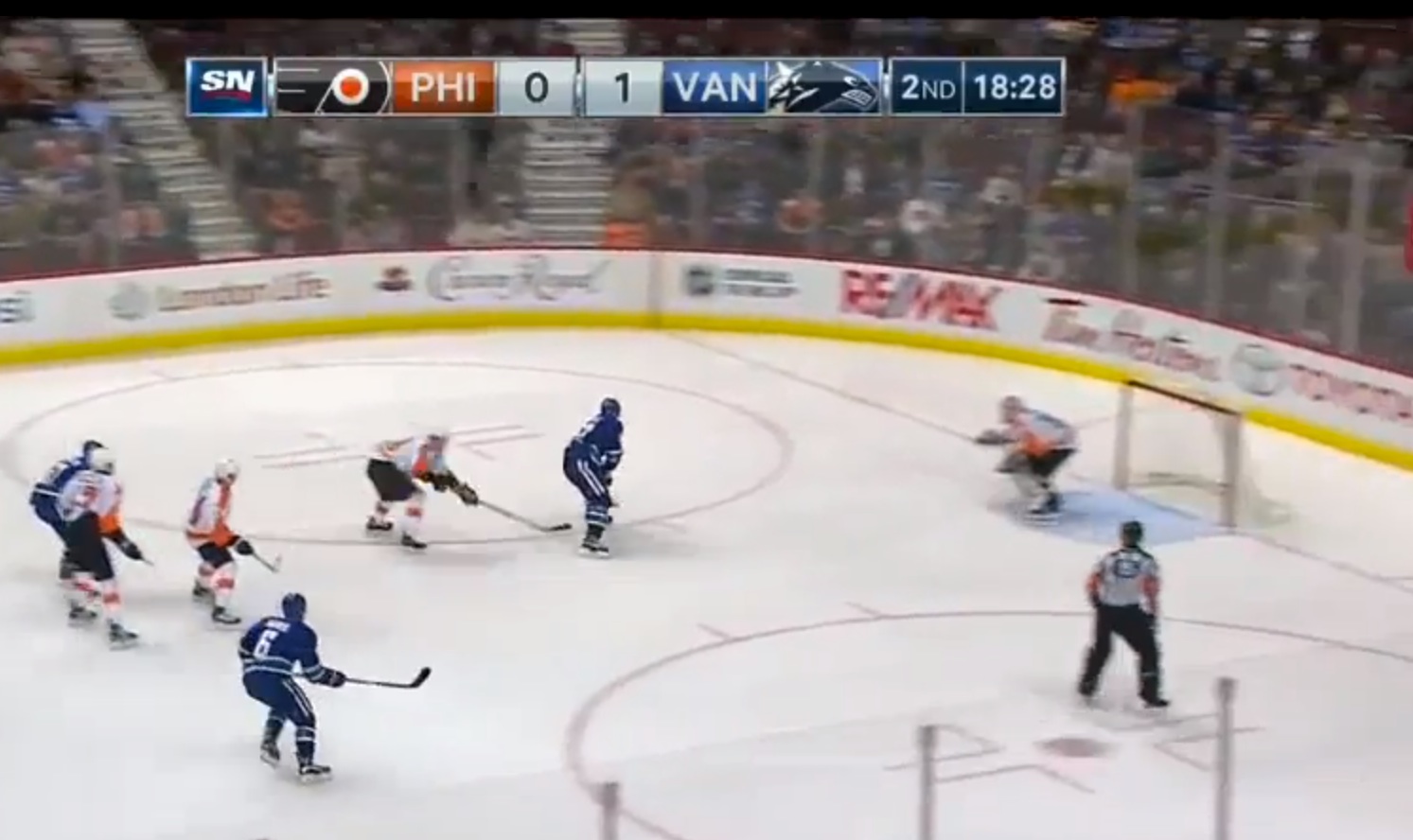 But the speed he's traveling at and the angle he's coming from make it a tough finish: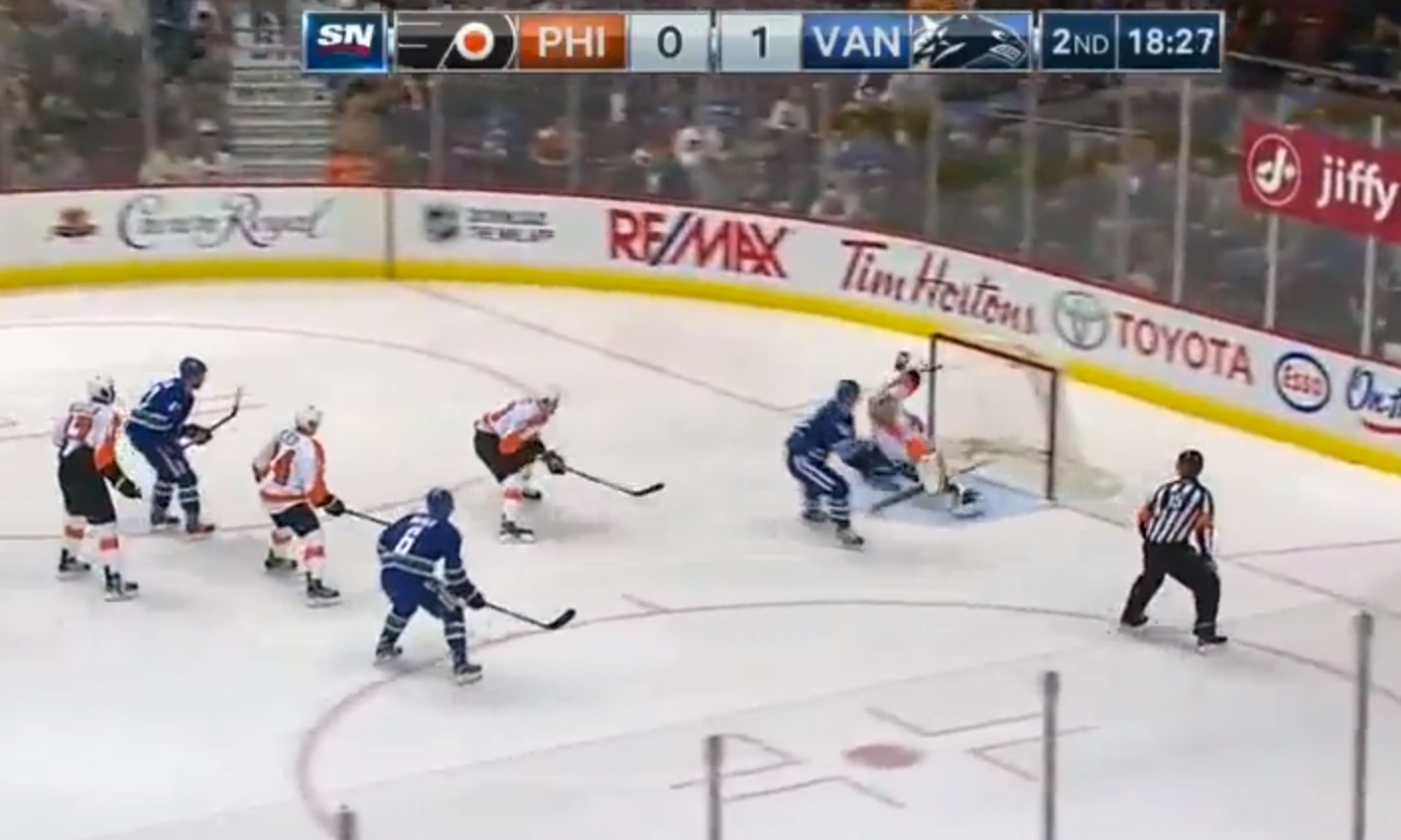 It ends up wide, but still, you can see in the picture above that top-right corner is there for him if he just pulls it a bit farther, and directs it back at the net. Here it is at full speed:
Val Nichushkin also lost one off his toe Monday:
Still, the prevalence with which we see the move reinforces what I was saying about how it influences every breakaway interaction. It's the constant threat that players default to and goaltenders protect against. Moves like backhand five-hole aren't even effective if goalies aren't protecting against backhand shelf.
This constant overprotection has led to the next step for shooters.
Artem Anisimov scored on a clean breakaway deke Monday night, not because goaltenders are guessing the direction a player is going to go like a soccer goalie. That's not a thing. On the play below, Jonathan Quick could just do the paddle down post-to-post splits if his fear was "left or right."
His fear was that if Anisimov goes backhand shelf, he needs to be farther over than just the post to protect against it, to get his glove high enough up to make it as hard as possible on the Chicago Blackhawks forward.
Below is the standard "I could shoot from here" frame, but Quick, anticipating where Anisimov may go (something he often does quite well), is already loading up to push across to his left to protect.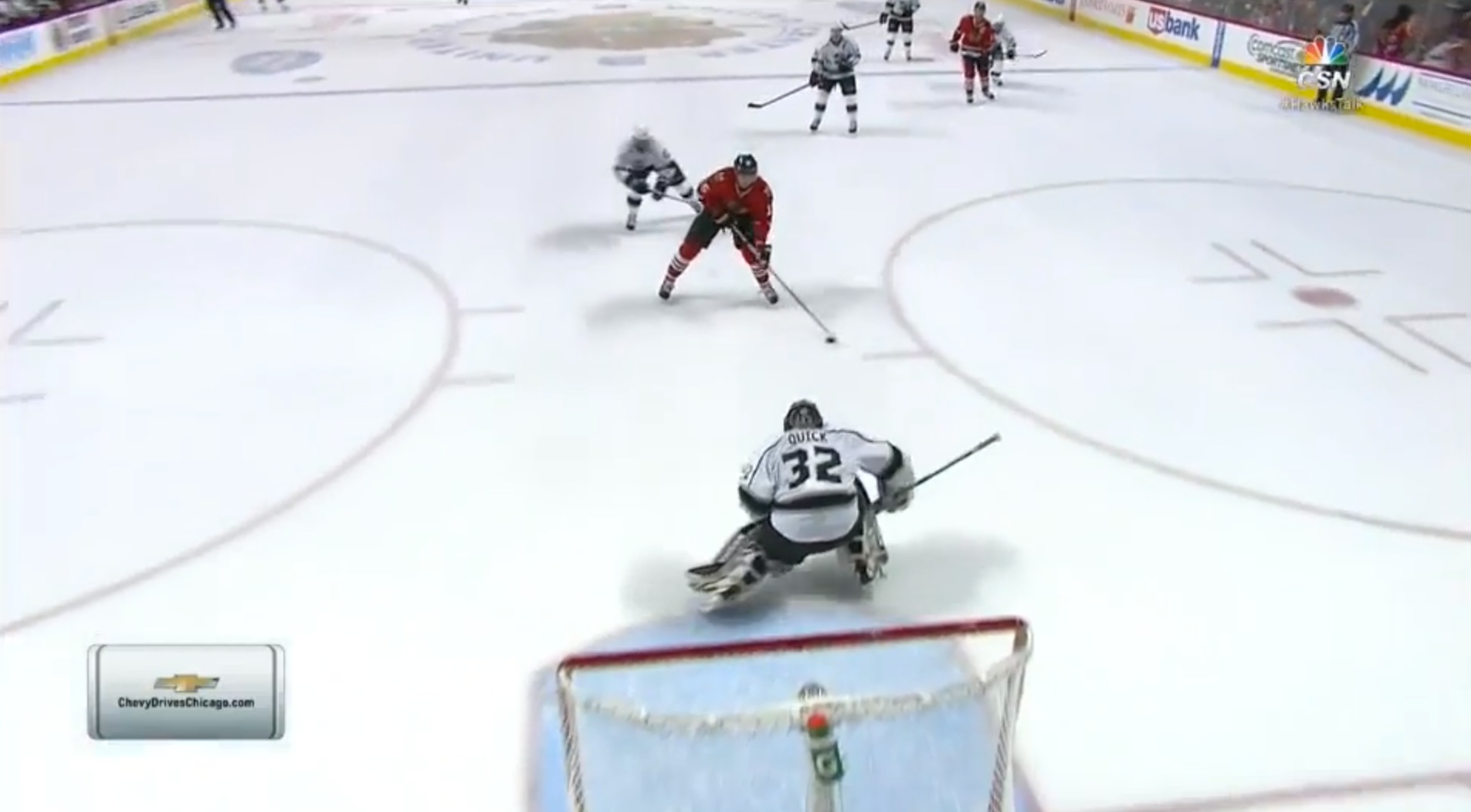 So Anisimov shows backhand shelf by pulling the puck in front of him, validating Quick's read, and the goalie is on the move. But then ...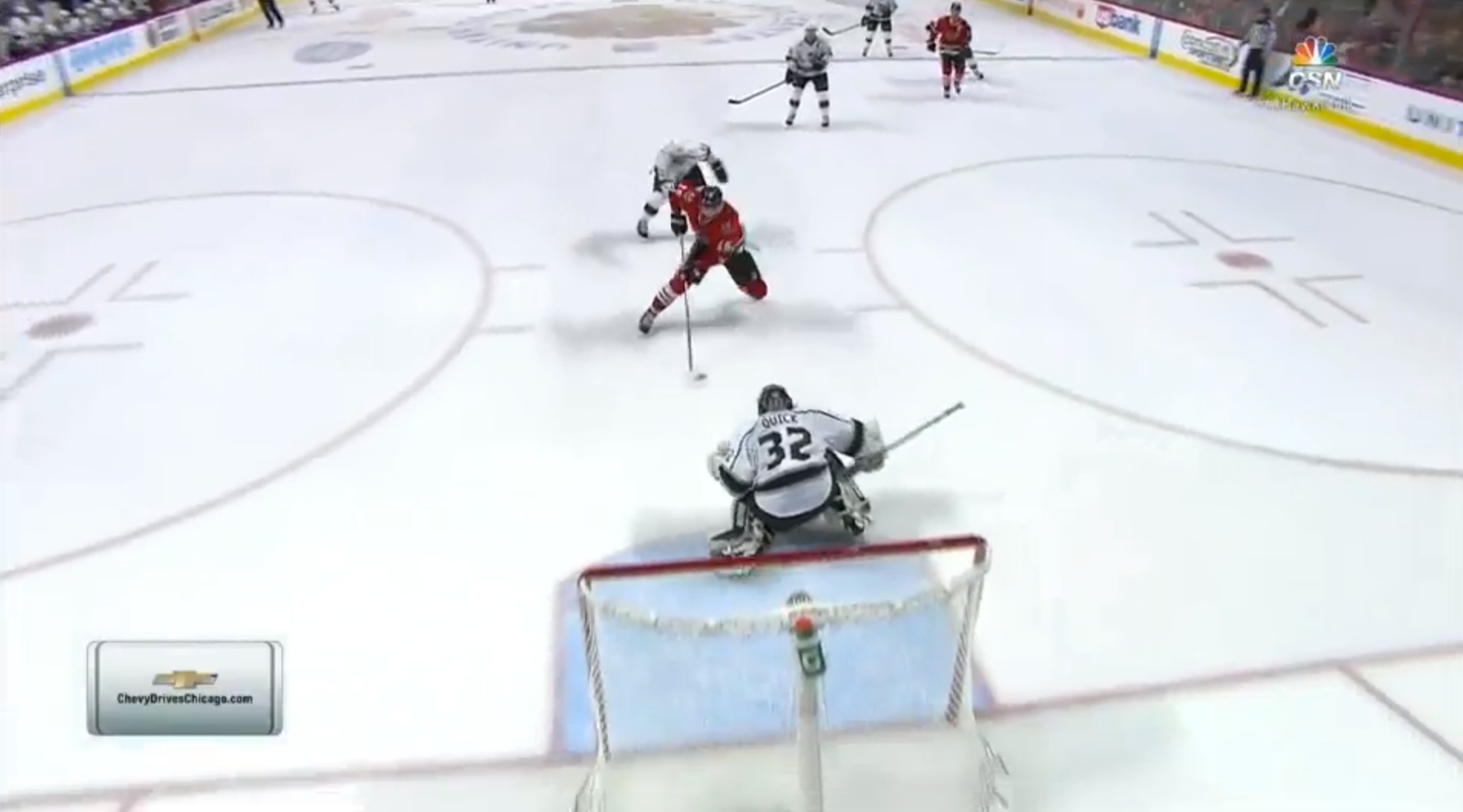 As you can see, Anisimov's backhand closes, which, bam, right there, Quick - who's all loaded up for the big push - realizes he needs to abort and correct. So, he lifts his right inside edge to kill the push.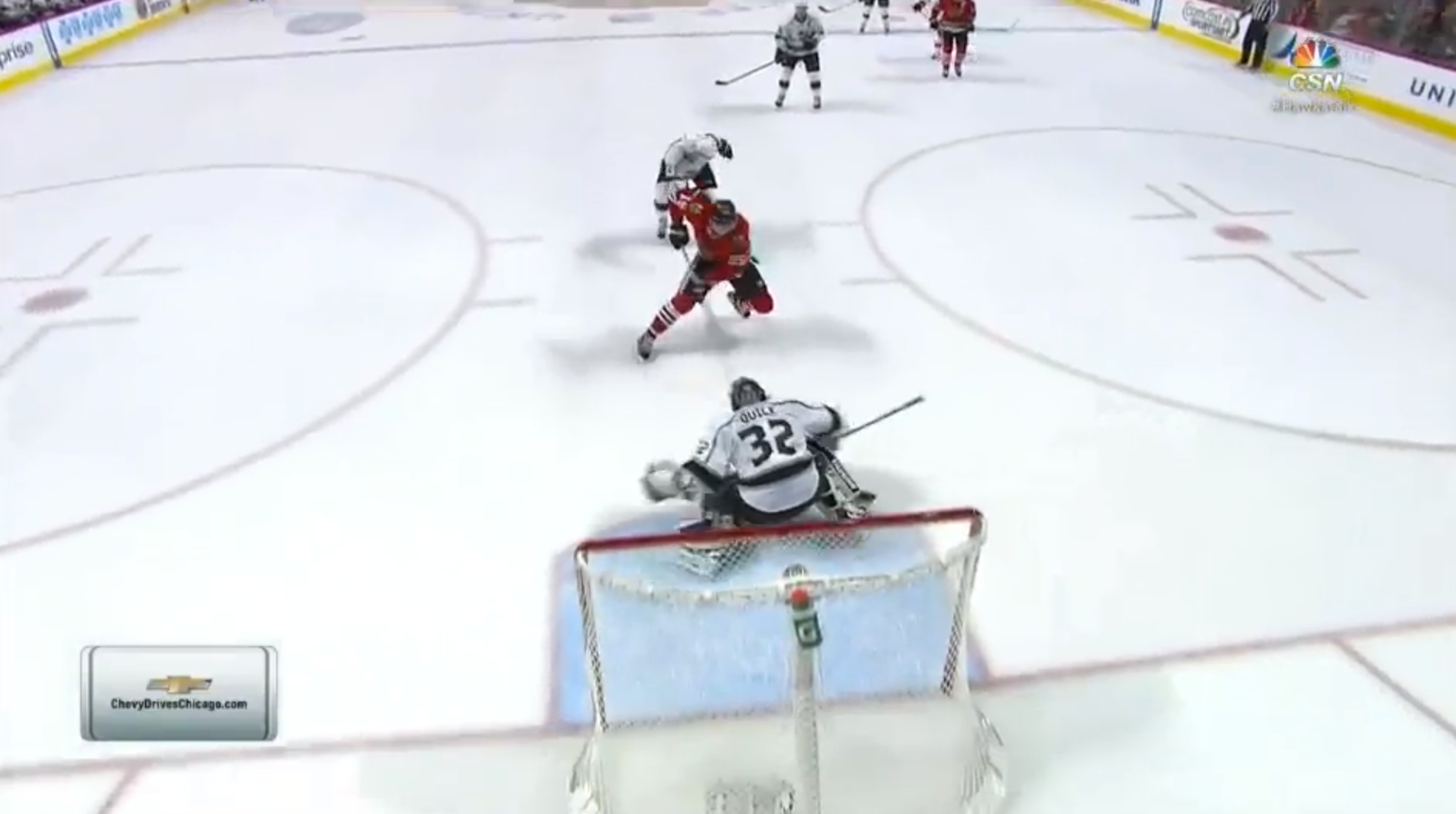 And now he's gotta find a way to get the left one in the ice, but by then, he's dead to rights, in no small part because he's protecting against backhand shelf.
Here's the video:
You'll recall that move was a Mike Modano staple, and is now a favorite of Rick Nash.
As goaltenders have gotten bigger and faster and better and, frankly, more annoying, us shooters have to do everything we can to make them move, make them open up, and gosh darnit, get them out of the way.
Going backhand shelf has become a staple for shooters. Now goalies know it, and it influences nearly every one-on-one interaction we see in today's NHL.
(Videos courtesy: NHL.com)
Comments
✕
How the ever-present threat of 'backhand shelf' influences breakaway dynamics
  Got something to say? Leave a comment below!