The NHL Redux: Drew Doughty's greatness not measured in numbers
Juan Ocampo / National Hockey League / Getty
Presented by

Go ahead: solve for X.
Institute an ingenious new idea, test the hypothesis, develop an algorithm, toss that data into a spreadsheet and infer a game-changing conclusion.
Map it out on scatterplot. Click. Tweet. Fav.
But be forewarned: it oughta be bang-up. Because while quantification has become king, the league's best defenseman, Drew Doughty has been immune to such measurement.
In both the conventional and analytical sense, the Los Angeles Kings blue-liner possesses numbers that won't make anyone swoon. His shot metrics and goals percentages - no matter how they're sliced - are quite strong, but don't quite measure up to many of his teammates. And among rearguards league-wide, he's failing to produce at top-20 per-game clip offensively. 
Take his shooting percentage, for example. At 2.9 percent, he's rubbing shoulders with the likes of Stephane Robidas and Mark Barberio at 167th overall among his peers.
There is a stat though, that's screamed off the page since the season's outset - and it only requires a stopwatch to measure. Doughty is averaging nearly 29 and a half minutes per game, and has seen more than two hours of total ice than the next most-utilized skater, Roman Josi.
For the championship brain trust that slotted Doughty ahead of Steven Stamkos on their 2008 draft board, the Kings wouldn't want anyone else - no possession marvel or offensive dynamo - logging those taxing minutes.
"I don't think any player is as valuable as he is," Michael Futa, Los Angeles' vice president of hockey operations told theScore. "His ability and willingness to eat minutes - mind-boggling would be the term."
"It's easier to quantify through numbers - he defies that with excellence," Futa added. "There are nights he plays against other team's top lines, eats up 31 minutes of ice, doesn't register a point and you leave the game shaking your head saying, 'we have no chance of winning this game without what he just contributed.'"
Regrettably, this isn't the framework for producing a Norris Trophy winner. Seven of the nine recipients since the lockout finished first or second in scoring among defenseman, while plus-minus - a stat rejected by many hockey types - seems to serve as the pseudo-tiebreaker.
For Doughty, whose been named a finalist for the award just once, it's much more than an exhausting, incomparable usage. It's instinct, vision, drive, confidence, hockey sense, another gear and ultimately, sacrifice. It's these unfixed variables and a completeness to Doughty's game that has the Kings' staff still fawning. 
"The others are just easier to register statistically," Futa said. "As far as I'm concerned, what Doughty brings to our team and his selflessness in doing it, probably costs him Norris Trophies and wins him championships."
It's always been difficult to appropriately measure a defenseman's worth - this plight remains. Foremost, their job is to limit and minimize the quality of scoring chances, but the statistical onus tends to fall on the goaltender. It's a bonus when a blue-liner chips in offensively, but at what expense does it come of his duties in his own end?
Thus, the mark of an effective blue-liner should be swift puck retrieval, the ability to push it in the right direction and to facilitate those responsible for scoring goals by continuously putting them in a position to do so. 
This is Doughty's mastery. 
It's difficult to measure, and as a consequence, unappreciated, but it does draw quite an interesting comparison from Futa, who likens the way his star reads the opposition to New England Patriots quarterback Tom Brady.
"We always say, 'make that good first pass.' He has the ability to look off the first pass, the second pass and hit his third option. And the poise with how he does it, again it's unteachable."
Much like Brady, Doughty has a burning desire to be the best at his craft. So, despite being a two-time Stanley Cup champion, two-time Olympic gold medalist and one of the more decorated players in the game at 25, he makes no apologies for wanting to be recognized. 
"The trophy says to people that you were the best defenseman in hockey that year - and that matters to Drew. He knows he's one of the best - if not the best in hockey," Futa said. "That's an acknowledgement of it. That's just another affirmation of why he plays the game - to win championships and to be the best."
Though the sport consumes him for eight months of the year, Doughty's care-free, fun-loving ethos lives throughout. But make no mistake: the schoolboy persona veils an extensive knowledge and appreciation of the game, as well as a deep understanding of what it takes to be great. 
Prior to his 500th game last month, Doughty asked around the dressing room, trying to figure out how many games Rob Blake finished for his career to measure his progress against the long-time great, whose now an executive with the organization.
With some research, Doughty, now in his seventh season, will have dug up a little added incentive for the stretch run of the season. 
For Blake, a Hall of Famer with his No. 4 jersey hanging over the Staples Center ice Doughty now commands, needed eight seasons to capture his first and only Norris Trophy.
The Next 48
Philadelphia Flyers vs. Boston Bruins: Saturday, 1 p.m. ET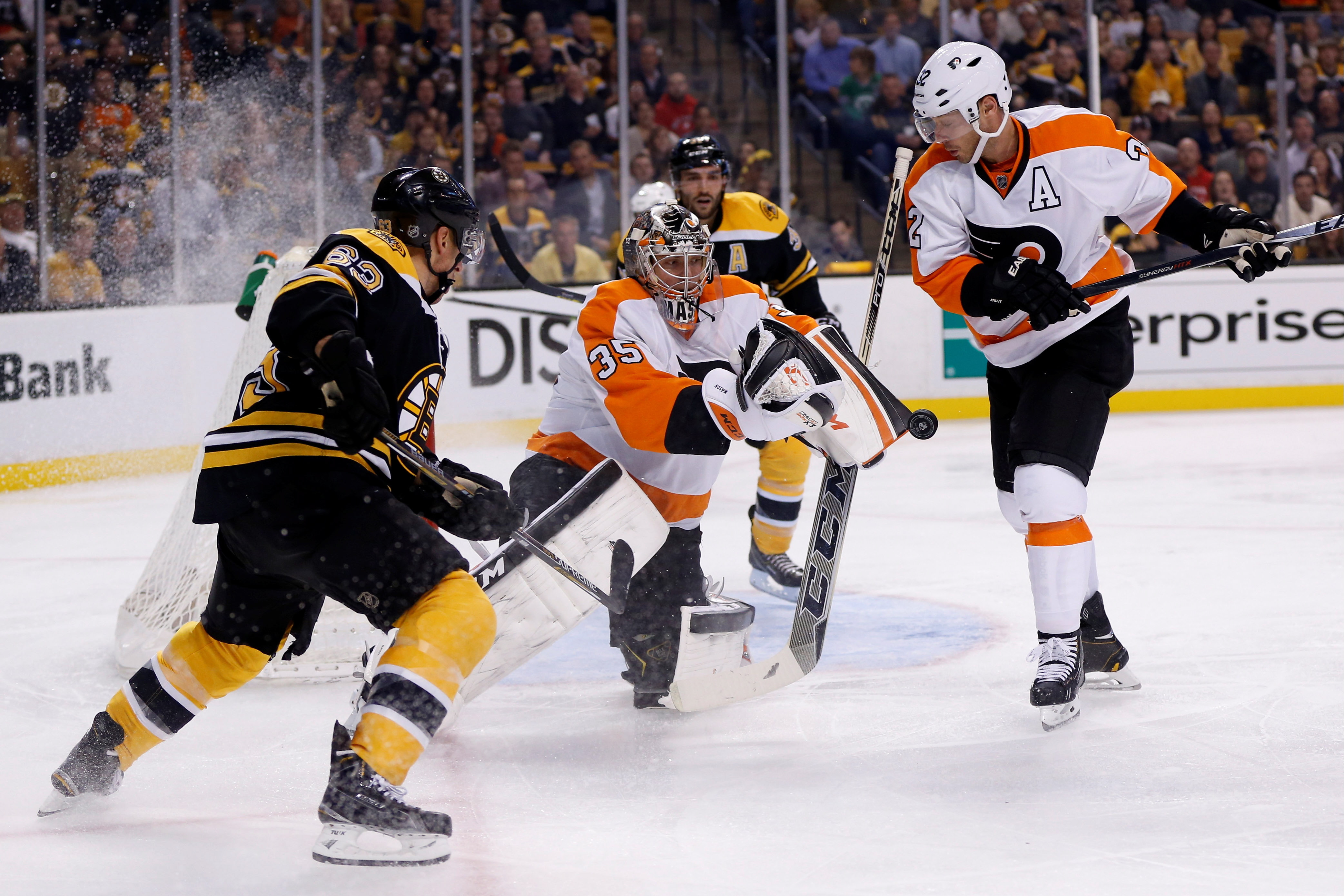 Ah, the four-point game. 
The Flyers and Bruins will square off in an Eastern clash with mammoth playoff implications Saturday in Boston. With a regulation win, Philadelphia will pull to within two points in its quest for the postseason, but would drop six back in the wild card with a similar defeat.
Despite its struggles of late, Boston will carry a decided edge, having won five straight over the Flyers, who continue to struggle away from home ice. They have just nine road wins all year and have just a win over the Sabres to show for their last five outings.
New York Rangers at Chicago Blackhawks: Sunday, 7.30 p.m. ET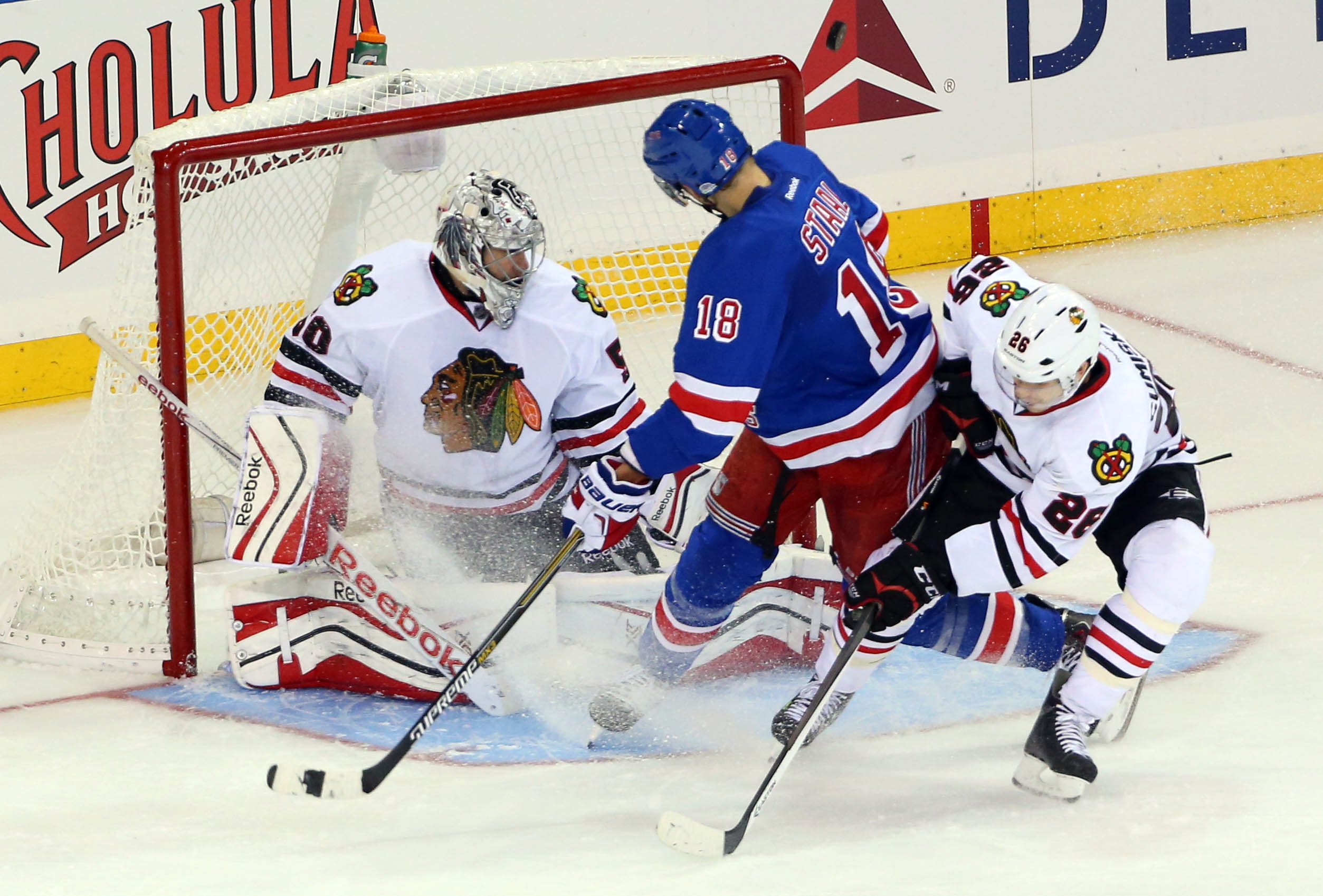 Antoine Vermette and Keith Yandle will reunite on uncommon ground as the Rangers and Blackhawks - the two key consumers in the Coyotes' firesale - will close out the weekend's worth of action. 
New York has been the hottest team in the East since the calendar turned, authoring an 18-6-2 record mainly without the services of goalie Henrik Lundqvist. The Blackhawks, meanwhile, were zapped 4-0 by the Lightning in their only true test since losing their superstar, but were slipping in the Central well before Patrick Kane suffered a broken collarbone.
Chicago hosts the Oilers on Friday in a tune-up before joining the Rangers with a full charge for their matchup Sunday.
The Pylon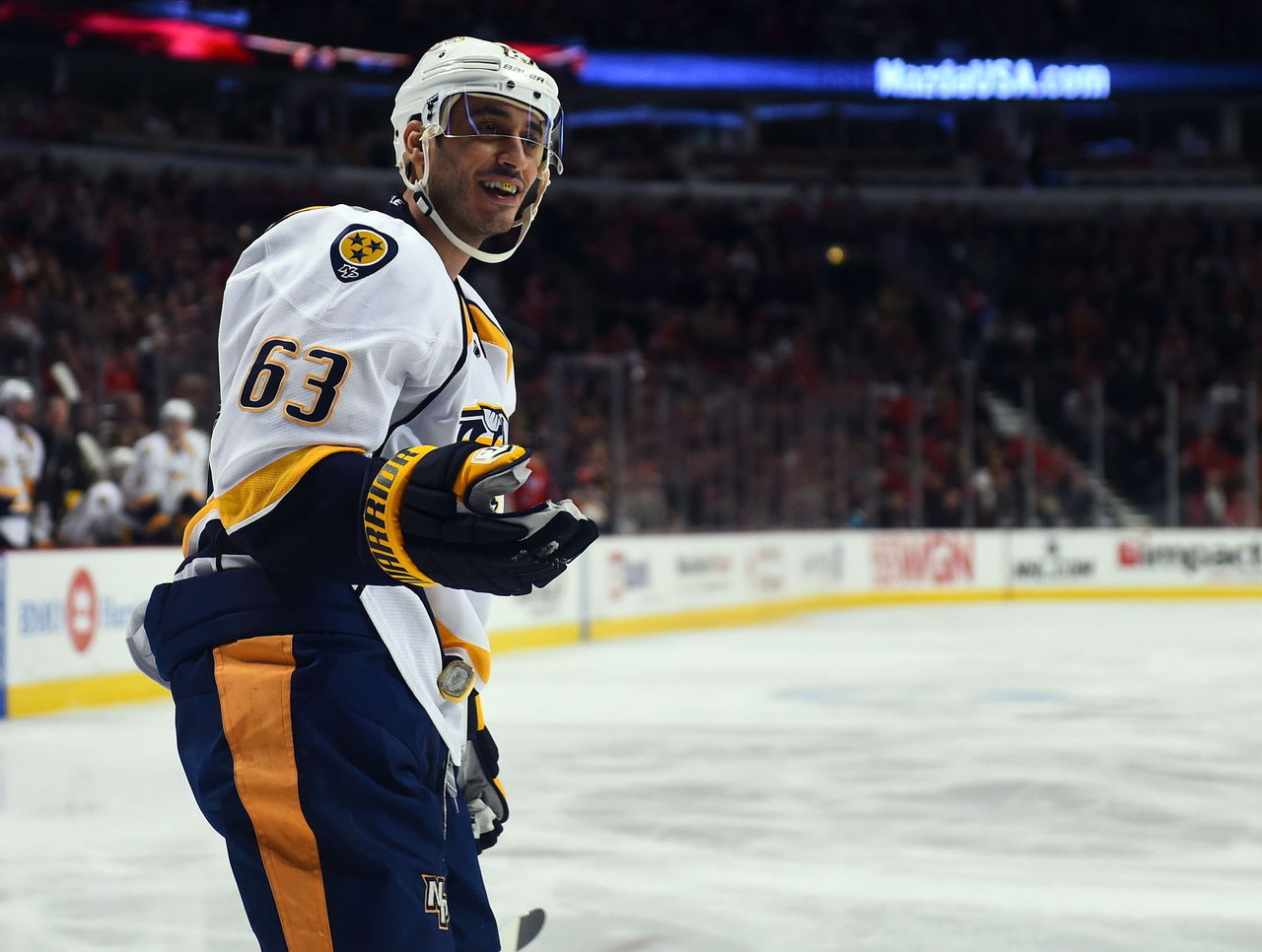 It's been a pretty ugly week all around, especially with the media, but it's bound to get uglier for a certain top-line center of the Predators. 
Mike Ribeiro and his wife were issued a $1 million lawsuit from their former nanny, who claims to have been assaulted by Predators center and verbally attacked by his wife. 
Parting Shots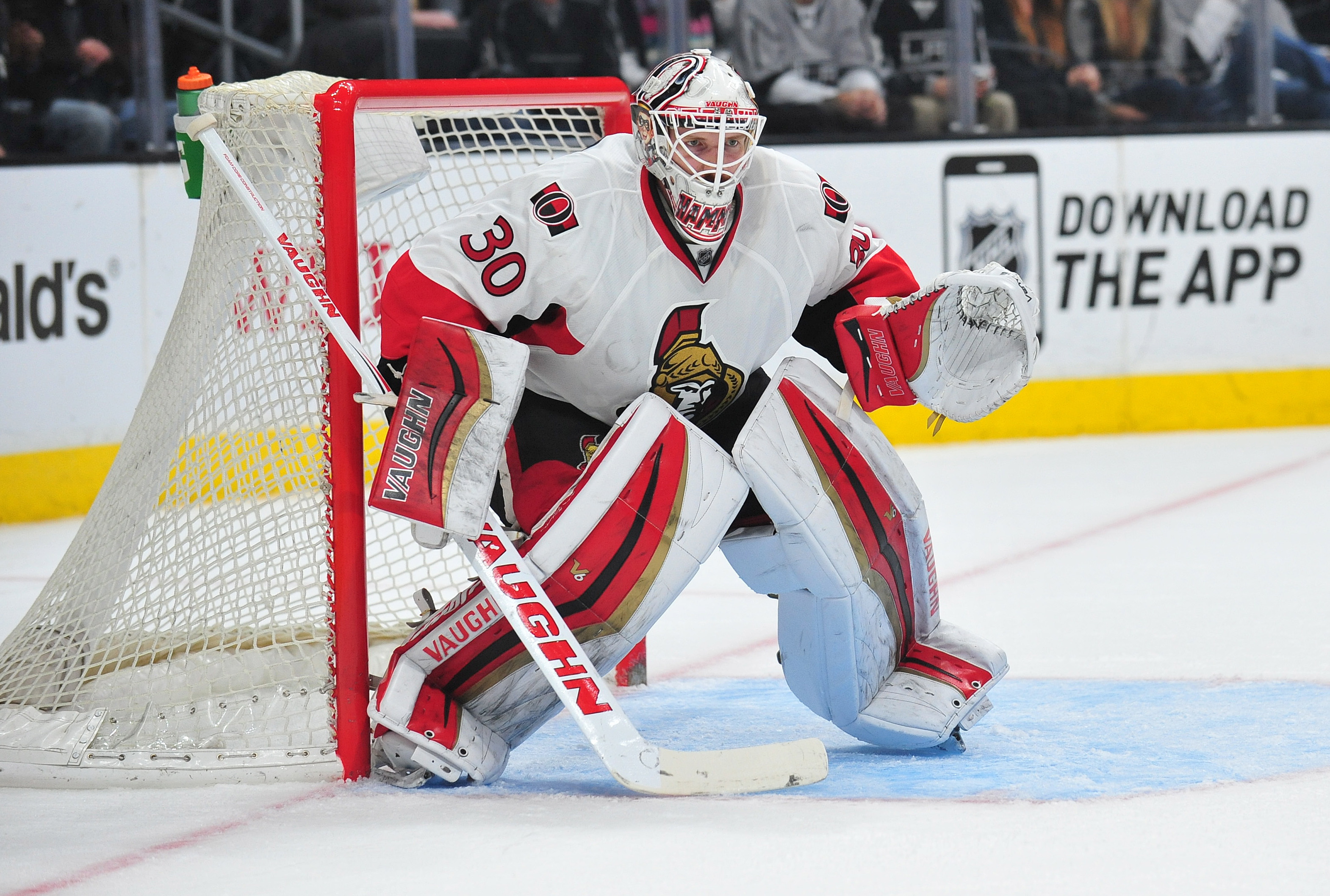 1) Andrew Hammond allowed three goals on three shots in a start for the Binghamton Senators earlier this year. He hasn't conceded more than two since his recall from the big club, who is 6-0-1 with him as a starter.
2) The Predators are 2-5-1 with Cody Franson and Mike Santorelli in the lineup. Stink travels. 
3) I'll take the Coyotes' Kachina scheme over their current garb any time. Alice Cooper, though, I can live without. 
4) Mark Giordano's bizzarro inclusion in warmup last week was apparently smoke and mirrors in an effort to not look desperate prior to the trade deadline. Dennis Wideman may have duped some, but the captain's wrist shot wasn't fooling anyone. 
5) Speaking of Giordano, though, Kris Russell was the second coming of the captain versus the Bruins, shattering the single-game record for shot blocks with 15. 
6) Without Zemgus Girgensons, the Sabres will deploy 18 skaters who own 66 goals between them Friday versus the Senators. That's 3.67 goals on the season per skater. 
7) It could be just me, but Ryan Getzlaf seems to be morphing into Ryan Kesler. The captain, of course, has always had a physical presence, but just seems to be irritating like never before. 
8) Henrik Sedin hit 900 points for his career this week. Pick it up, Daniel. 
9) Desperate for a little offensive in the stretch run of your fantasy season? Check out Panthers forward Brandon Pirri, who has 10 goals in his last 13 games.
10) David Schlemko forever. 
Comments
✕
The NHL Redux: Drew Doughty's greatness not measured in numbers
  Got something to say? Leave a comment below!