On context: The NHL's all-minus team would be nothing but a positive
Presented by

Most hockey people would agree that when Alex Ovechkin finished 884th out of 886 skaters in plus/minus last season, it meant something, even if something small. Minus 35 is pretty deep in the red, particularly for a guy who's been held up as one of the world's best hockey humans for the better part of the decade.
But at the same time, a sizable swath of fans have (or at least should have) altered their view on the importance of plus/minus. Again, it may mean something, but that something isn't much, and it needs a huge amount of context to parse any information worth considering. It shouldn't be taken at face value.
If you play a lot of minutes on a non-playoff team, your plus/minus is gonna be ugly (see: Ovi). If you take chances to create offense - the hardest thing to do in hockey - you're exposed to giving up some chances the other way. And hey, sometimes you just have rotten luck. There's a myriad of reasons why players see their numbers spike and plummet.
If you organize the 678 players who've skated in the NHL this season by their plus/minus, you may notice something - there's some pretty damn good players in the bottom 10%.
The job of most low line players is to spell off their team's top guns so they can get some rest, while not giving up any goals against. Literally, that's the stated, expressed goal of most fourth lines, and even some thirds: do not get scored on. If you don't get scored on tonight, you've had a successful night.
That leads to playing a different type of game, where those players are happy to pin the puck against the boards and battle for it. Why pull it out when it's nice and safe on the paint? They're happy to dump the puck, because that means it's 200 feet from their net. That means they're not risking a turnover at the opposing blue line, because offense creation, whether it's statistically worth the risk or not for your team, is not what they've been assigned. So, get it deep.
All this leads to a misconception that certain skilled players on lesser teams are defensive donkeys because they're taking risks, and some pucks are going in the other way. Maybe they don't have the d-corps or goalies to bail them out as much.
A lot of minutes on bad teams will generally equal a bad plus/minus, which should make you ask yourself: is that player actually bad defensively based on his plus/minus? Is that a fair barometer? If that player were on the Kings, would his plus/minus still abhorrent?
To prove my point, I looked at the bottom 50 players in the league in plus/minus - that put the cutoff at minus five, which actually left us with 57 skaters. That's players 621st in plus/minus and worse, down to minus-11.
Consider the team you could make from that crop, and ask yourself how you think they'd do if they played together. (Ignore the positions, we're just making a point here.)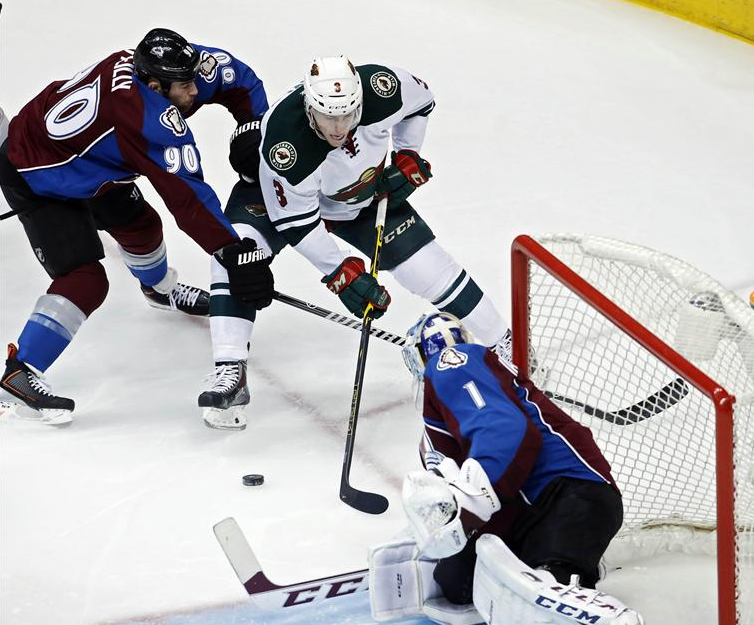 Top 12
Jeff Skinner - Ryan Johansen - Jason Spezza
Gabriel Landeskog - Nathan MacKinnon - Cody Hodgson
Scott Hartnell - Ryan O'Reilly - Ales Hemsky
David Perron - Matt Moulson - Nail Yakupov
Top 6
Erik Karlsson - Kevin Bieksa
Dan Hamhuis - Oliver Ekman-Larsson
Jack Johnson - Brooks Orpik
That's probably the best team in hockey, who combined would draw a cap hit well north of 80 million dollars. This is the dregs of plus/minus players.
It is at least partially due to their team-based circumstances that pigeon-holes these talents as poor defensively. I mean, look at those same names when you replace them with their teams.
Top 9
Carolina Hurricanes - Columbus Blue Jackets - Dallas Stars
Colorado Avalanche - Colorado Avalanche - Buffalo Sabres
Columbus Blue Jackets - Colorado Avalanche - Dallas Stars
Edmonton Oilers - Buffalo Sabres - Edmonton Oilers
Top 6
Ottawa Senators - Vancouver Canucks
Vancouver Canucks - Arizona Coyotes
Columbus Blue Jackets - Washington Capitals
Not exactly a list of Stanley Cup threats.
This isn't to say that those players are entirely excused for their plus/minus numbers. It's not to say that their defensive contributions aren't partially the reason their teams aren't having success.
But with plus/minus, you can't let that raw number affect your opinions much unless you consider the context. Luck and team influences have a huge impact on who we consider defensive liabilities and defensive stars.
Comments
✕
On context: The NHL's all-minus team would be nothing but a positive
  Got something to say? Leave a comment below!