Unique Team Traits: Ryan Suter thrives in crazy minutes for the Wild thanks to his efficient style
theScore's multi-part team previews include a look at something that separates each team from the pack. From specific breakouts to power-play formations and beyond, Justin Bourne and Thomas Drance hope to highlight something you haven't noticed in the past.
What we noticed
Despite being handed a near-historic minutes burden, Ryan Suter gets the Minnesota Wild out of the D-zone with an efficiency comparable to hockey's best D-men
Ryan Suter kind of skates like Philip Rivers throws, for those of you who know football. It ain't pretty, but damned if both don't achieve their exact goals with (almost) every motion they make.
The thing is, most hockey fans probably don't consider Suter a janky skater because, think about it - have you ever really seen Ryan Suter skate? Like, really bust it? Probably not. He goes entire games without doing it, because like Nicklas Lidstrom, he's effective by being efficient and well positioned (calm down, it's just a style comparison). You basically have to be to play as many minutes as those two.
As much as we like to put athletes in boxes, it's tough with him. He's a "stay-at-home defenseman" who breaks the Wild out of the D-zone like an "offensive defenseman" and plays "shutdown defenseman" competition and gets "Hall-of-Fame defenseman" ice time.
You don't have to love his contract to acknowledge that without him, the odds of the Wild seeing the second round of playoffs last year, let alone the post-season, were somewhere between Slim and None, with 'ol Slim having been shoved off the roof of a building.
The numbers
Ryan Suter logged an average of 29:24 per game during the 2013-14 campaign (2:20 more than the guy in second), making him the first NHL player since Nicklas Lidstrom in 2002-03 to surpass the 29-minutes-per-game mark. Oh, and he missed a total of zero games along the way. Though his relative Corsi-for numbers were in the red, the Wild outscored their opponents handily when he was on the ice.
Suter's zone entry numbers were fine, if unspectacular. His record defending zone entries was pretty good, but not dazzling. But his ability to get the Wild out of the D-zone? Good gravy.
Suter recorded 1444 defensive zone touches through January 19, almost 350 more than his next closest teammate (Jonas Brodin). His success rate clearing the zone on those touches was an astounding 31.2 percent, which puts him in the company of elite puck movers like Erik Karlsson, Kris Letang, Keith Yandle, and the St. Louis Blues top three defenders (Pierangelo, Shattenkirk and Bouwmeester). His turnover rate was also an anemic 5.5 percent, and he rarely iced the puck.
You can't ask for much more than that from your own end.
That Suter managed to be that responsible despite playing every second shift is pretty insane, so, how'd he do it? Is he an underrated puck mover or are his impressive numbers - in part - the result of conserving energy?
The breakdown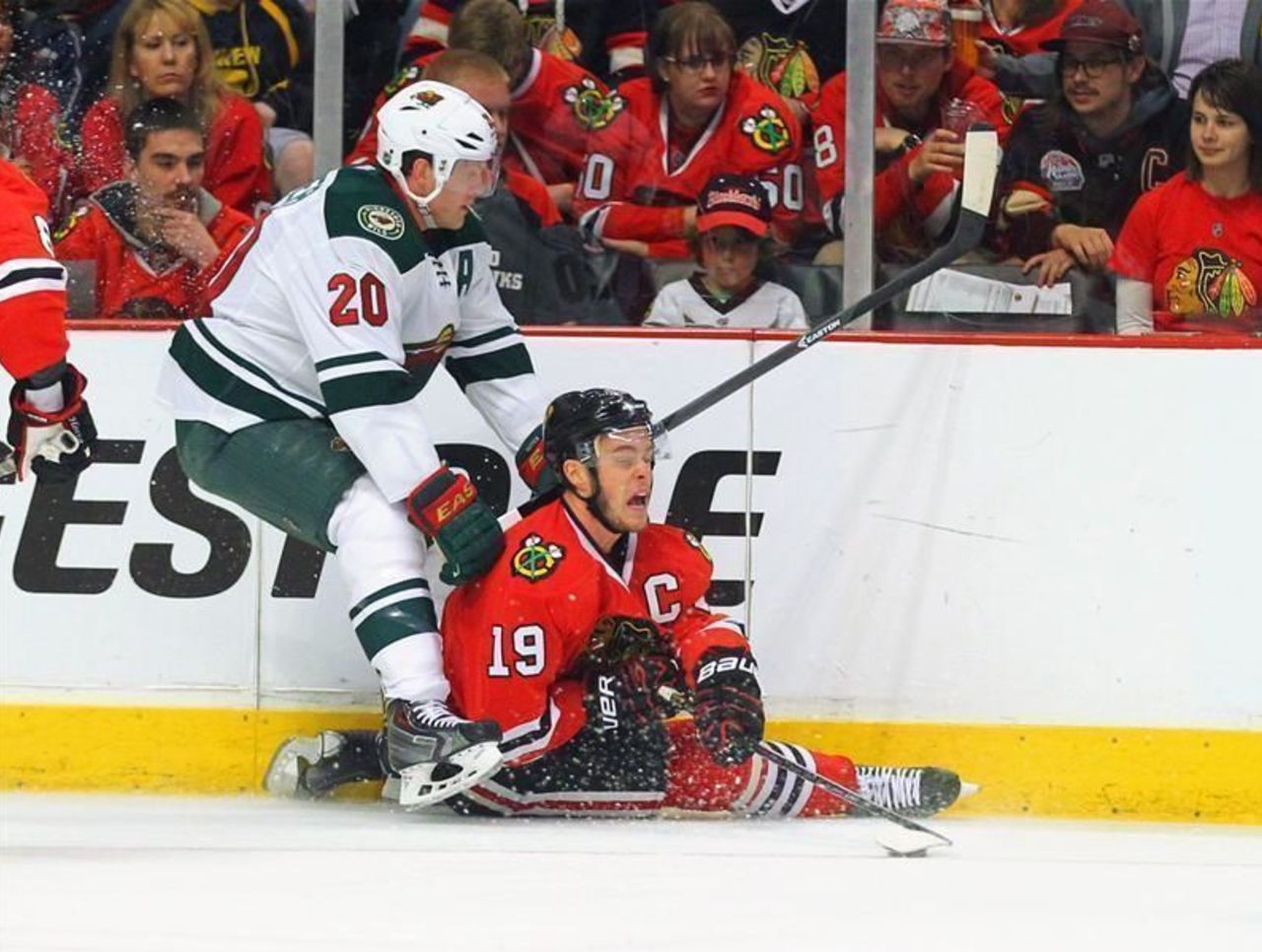 In the D-zone, Ryan Suter is two things: efficient and mean. He's basically bizarro-Justin Schultz, who's one of a handful of Edmonton Oilers trying so, so hard in the D-zone that he makes life harder than it need be.
Suter is smart in that he reads his partner as much as he reads the opposition. If his partner is being aggressive, he's content to stand his ground in front. He finds his man, and being that he's a strong guy, he takes the ice that guy wants and owns it. When that guy tries to take it, he'll treat them to a nice, fresh bruise, and he'll lay it out tactically enough to avoid sitting in the box (17 minors through 82 games in those minutes is pretty impressive).
He excels at using his body to acquire the puck without skating overly hard. You can see what I mean below. He's in a race for the puck, and like Fedor Tyutin of the Blue Jackets, he's able to use mild interference to keep his opponent at bay.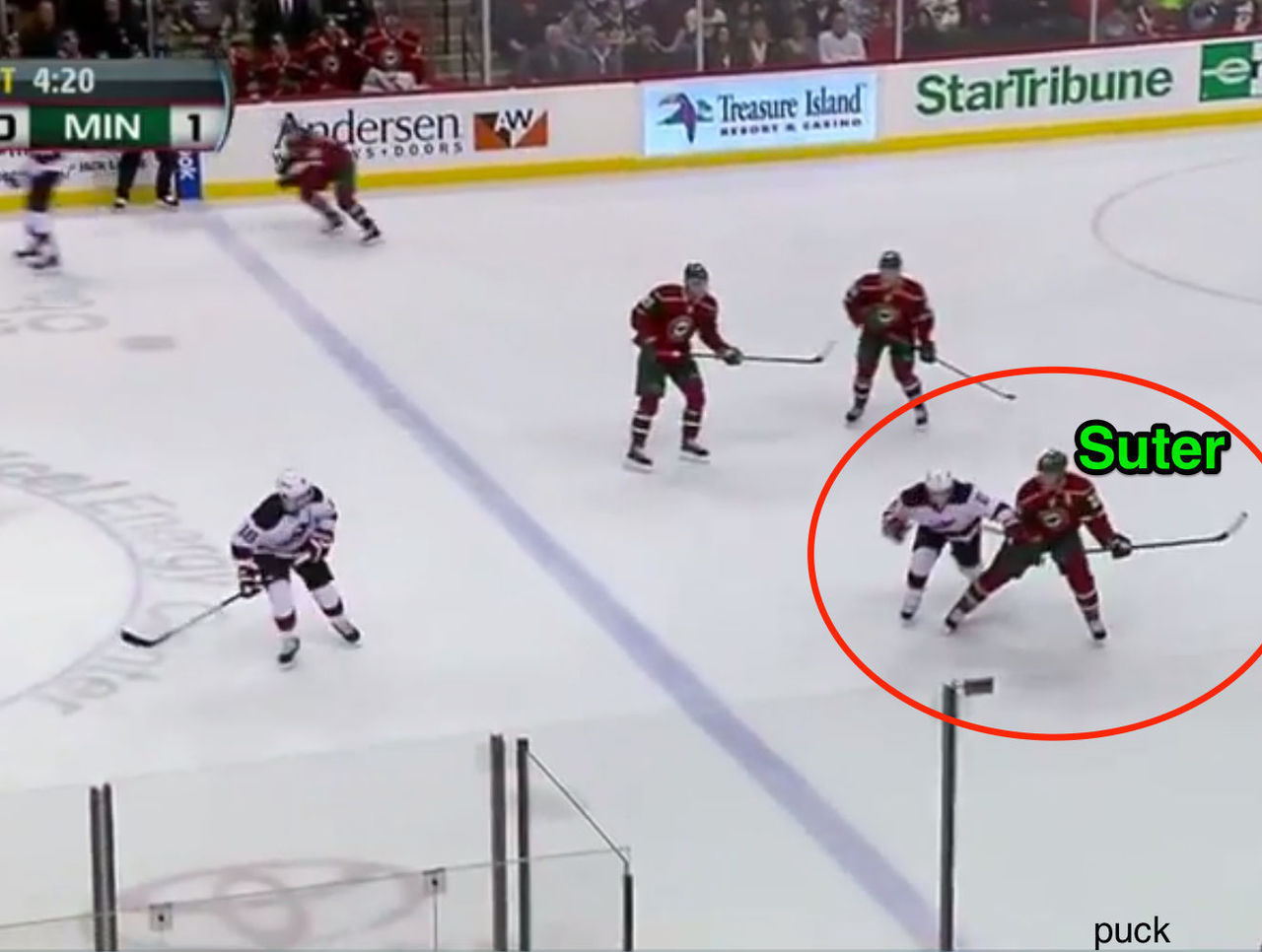 Is it interference? I mean, not reeeally - he's taking an area of the ice that he has every right to. It's not gonna get called, but look how effective it is for him.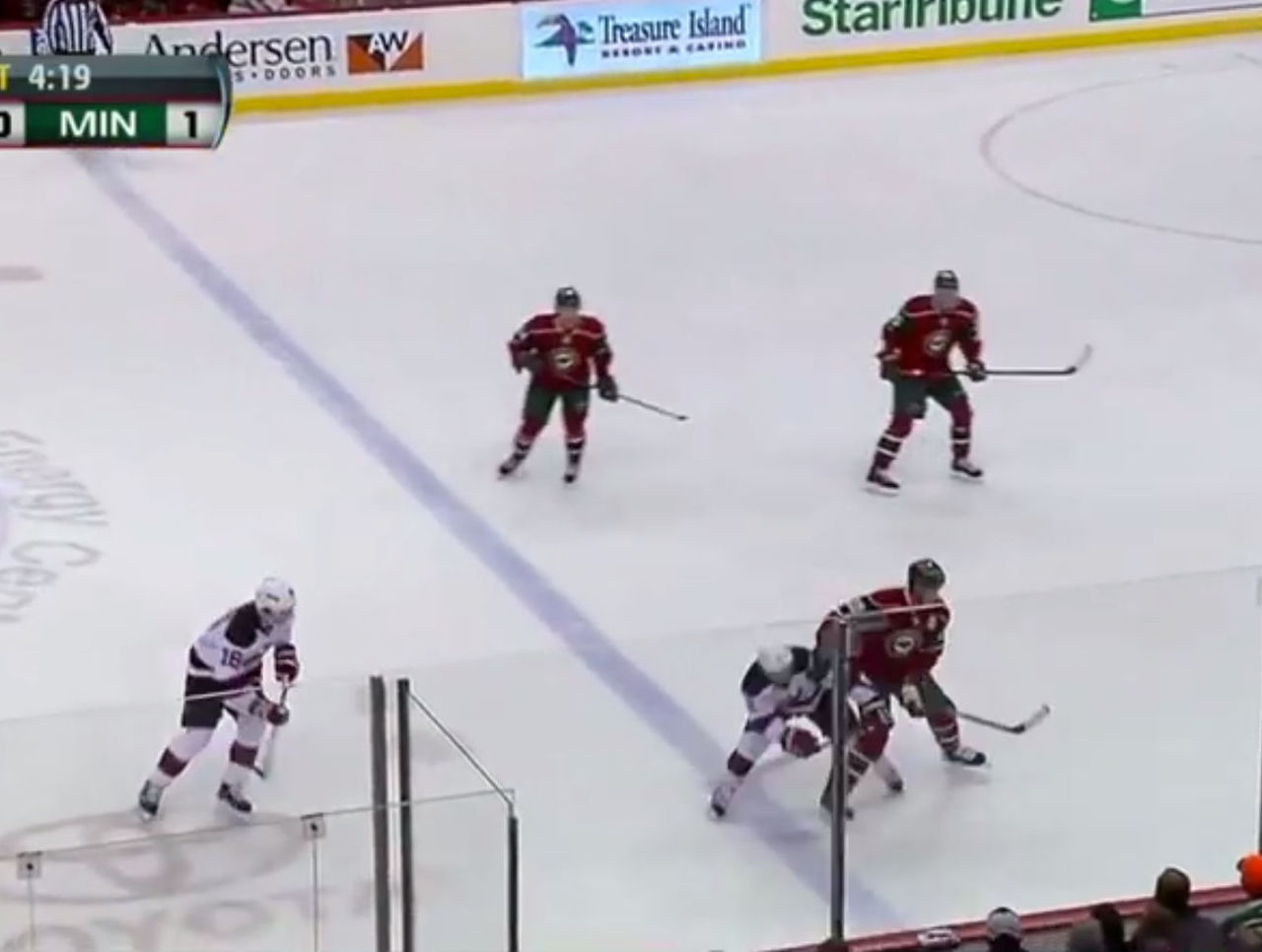 Look at that leg!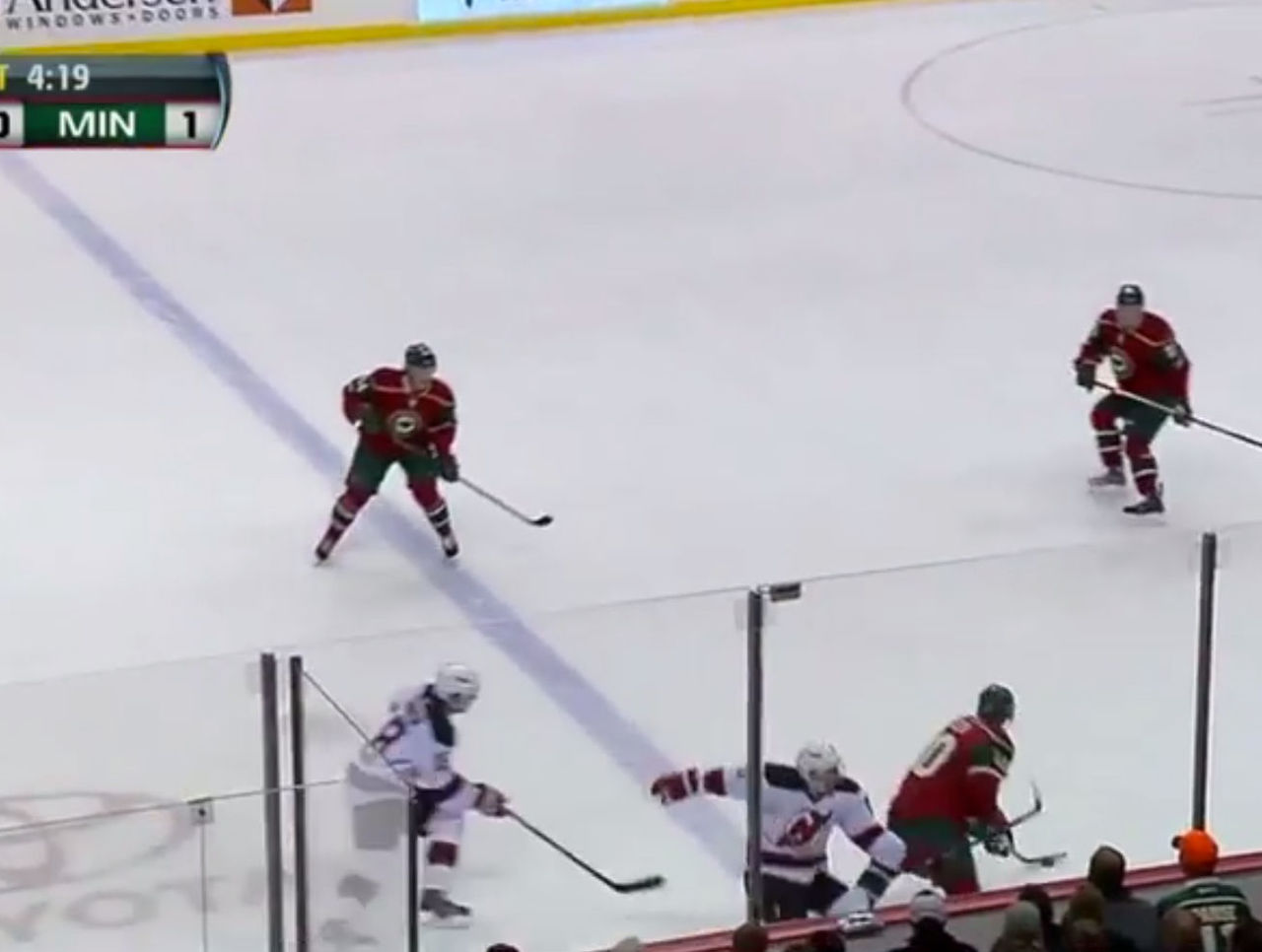 Annnd, his puck. It could've been a flat footrace, but nope, he just angles the other guy off the puck.
While he lacks the escapability of Erik Karlsson, he might feel pressure just as well. Below, the Canucks cycle the puck behind the net, which he reads and cuts off.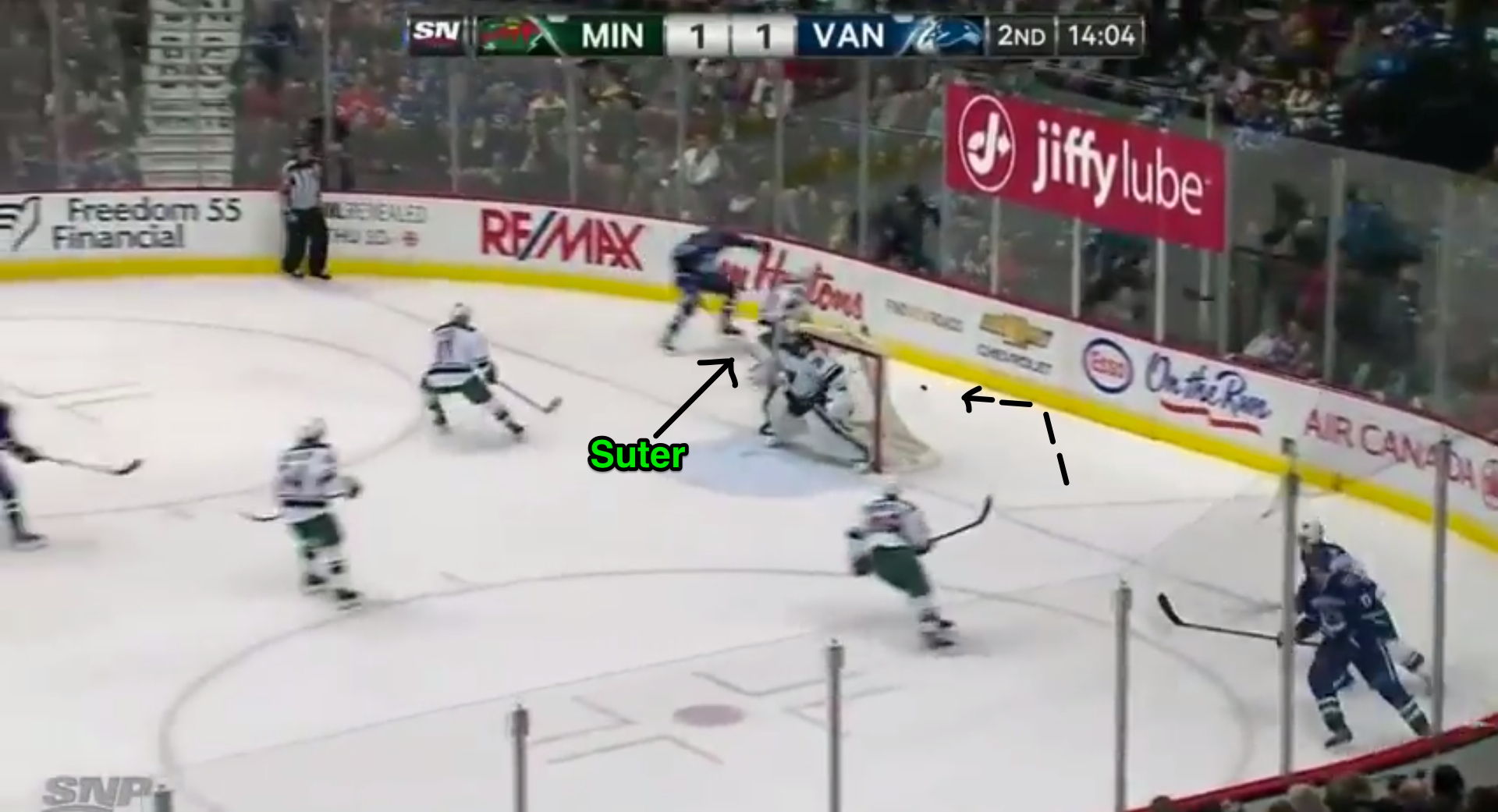 He takes off with it.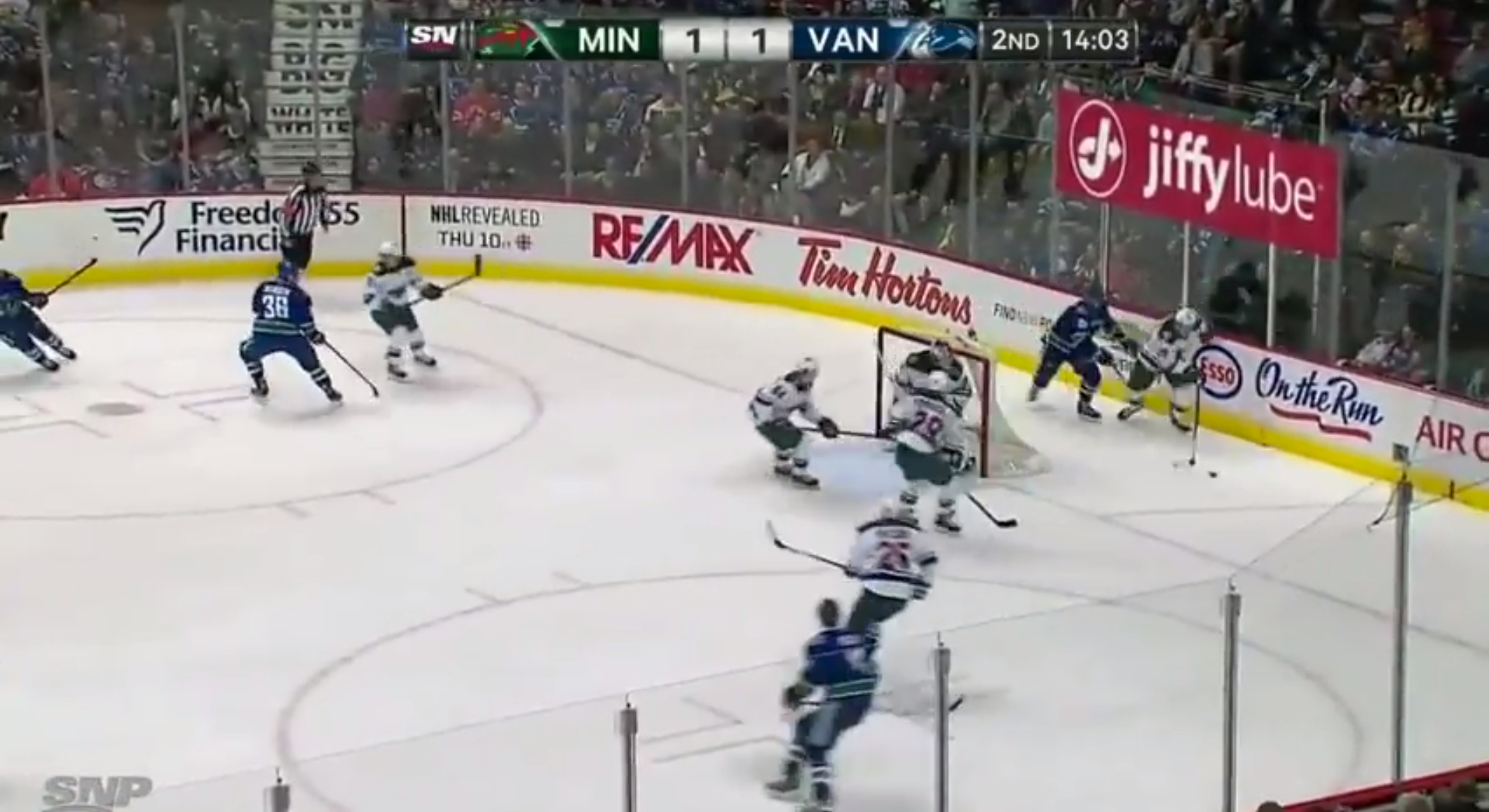 He feels the pressure on his back hip, and sees it up the wall as well.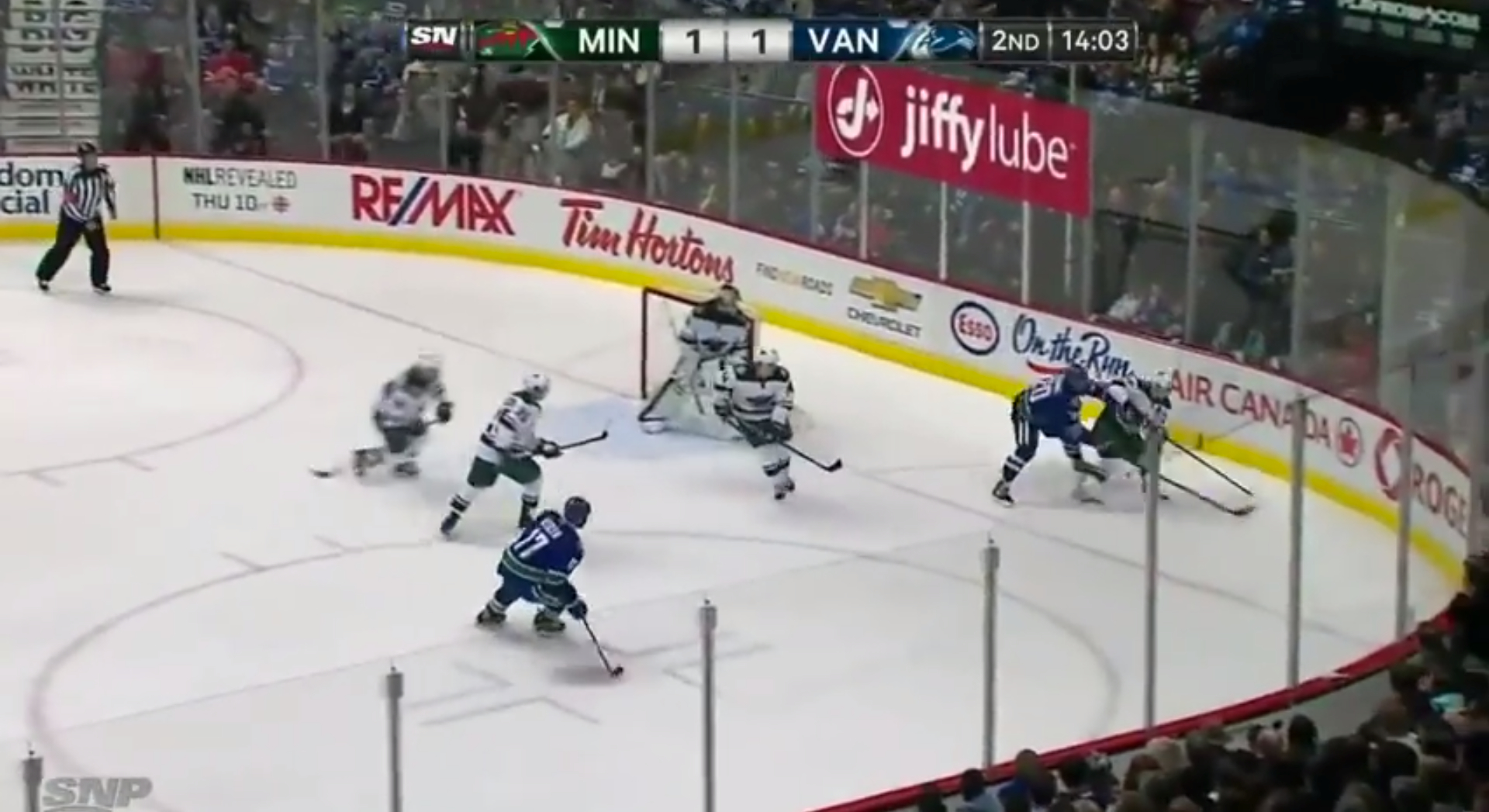 And instead of banging it around the wall, he cuts back, and the Wild are heading out the other way.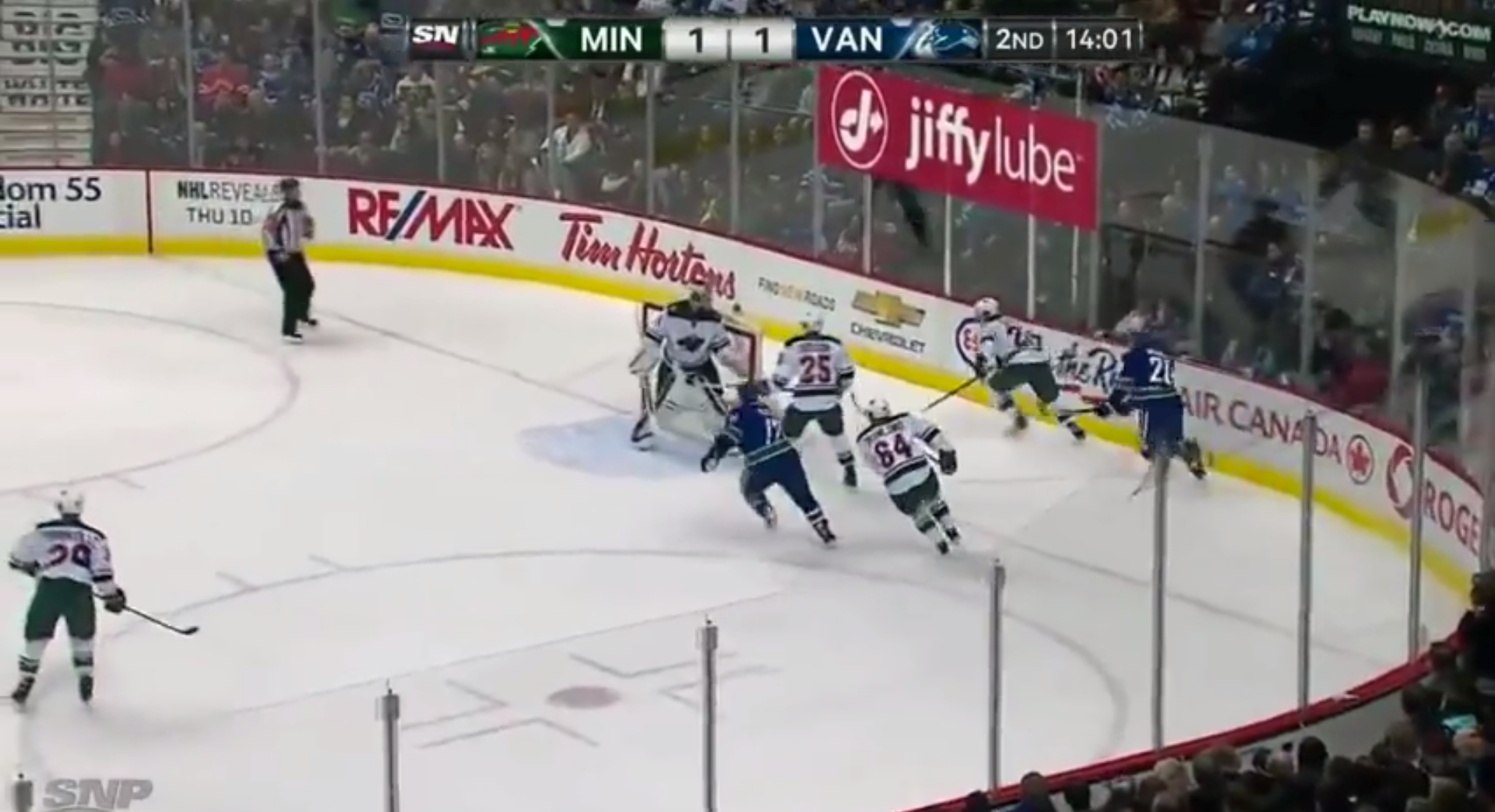 He uses that feel from a defensive standpoint too. I know this isn't the most exciting clip, but look at what I'm talking about with how he never has to over-skate, at the bottom right of the screen, below.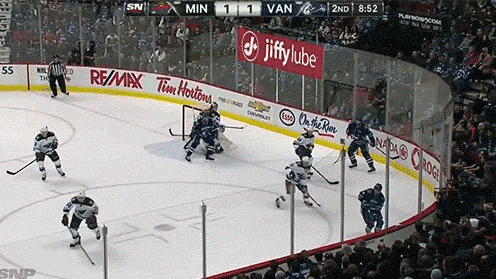 (Courtesy Sportsnet)
What's he take, four strides in that clip? The puck goes up top, and he simply keeps himself on his guy, between him and the net. And when that player goes to make a sharp cut, he doesn't get burned because he's playing patient. By playing "soft" like this he doesn't have to skate fast - he can just take better angles to keep the guy on the perimeter.
Below is just another example of feeling pressure, not being rushed, and making a play instead of smashing the puck into the wall and hoping for the best.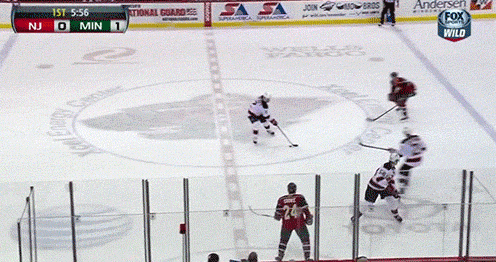 (Courtesy Fox Sports)
No need to panic, he's strong on his skates and able to make plays when guys are putting some weight on him.
And once he's used his body to acquire the puck, he can execute something you've heard scouts herald as all important for years on end: he makes "that first pass."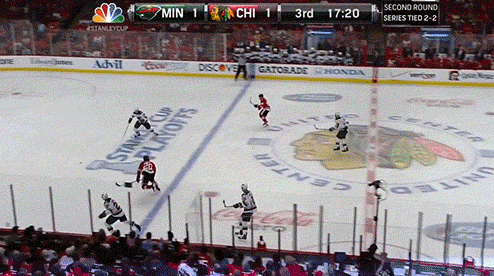 (Courtesy NBC)
If you move the puck early, hard, and tape to tape, you allow your forwards more time and space to make plays. You let them use their skills.
Ryan Suter isn't flashy, but that's partially a product of what he's being asked to do. If he were on a team loaded with D-men maybe he could play less and hit the speed burst button a little more to help on offense - he's pretty darn good in that zone too - but in the meantime, there's just no need. What he does works, and it works well.