Unique Team Traits: Hockey's best breakout machine belongs to the Ottawa Senators
theScore's multi-part team previews include a look at something that separates each team from the pack. From specific breakouts to powerplay formations and beyond, Justin Bourne and Thomas Drance hope to highlight something you haven't noticed in the past.
What we noticed
Erik Karlsson is the NHL's most dynamic puck carrier, which often allows him to break the Senators out without help
You already know that Erik Karlsson is special, but you may not be aware that he might quite literally be the most "unique" player in hockey right now.
When he's able to get solid possession of the puck in the Sens D-zone, they're as good as broken out thanks to his quick first step (to go with all the ones after), his ability to read pressure, his agility, and his puck skills.
In soccer, they measure how far a player runs over the course of a given game. When I heard that one of the sport's greatest players, Lionel Messi, doesn't run a great distance without the ball, I immediately thought of Karlsson's play in the D zone. He conserves, he's efficient, then when he touches the puck and hits the nitrous, people get out of their seats.
The numbers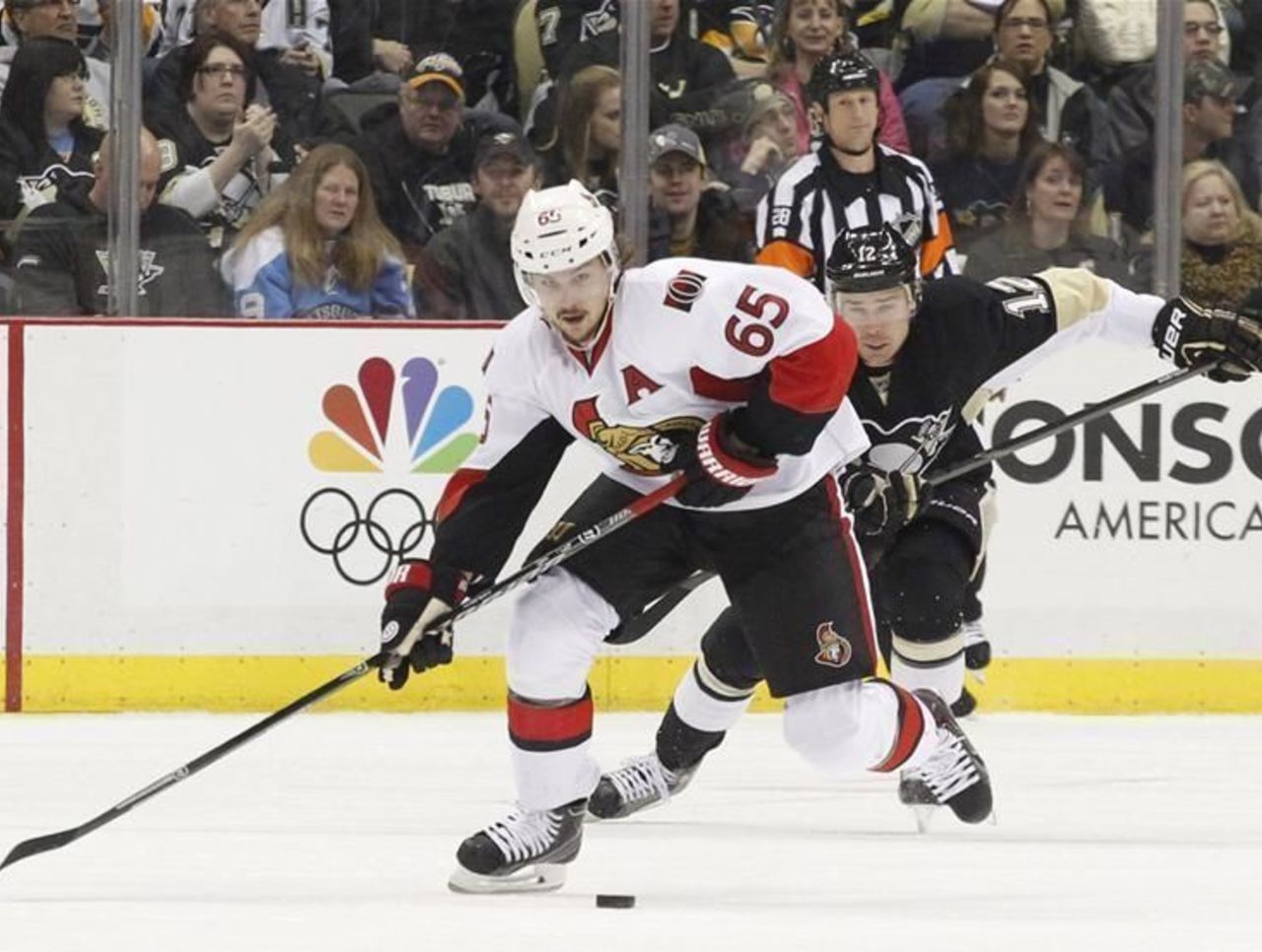 Karlsson led all defenseman in points last season with a staggering 74, 13 more than next best on the list, Duncan Keith. While Keith scored six times last year, Karlsson hit 20, joining Shea Weber as one of only two defensemen to hit that mark.
But, this isn't about boxcar numbers. The eyeball test has clearly shown that he's a one-man breakout machine, but the data we now have takes that idea to the next level. He's out-performing the next-best defenseman at getting the puck out of the D-zone and into the O-zone by light years.
(All numbers below come from Corey Sznadjer's terrific tracking data, which provides a roughly 48 game sample for each player. That's every game from the start of the 2013-14 season through January 19th.)
Karlsson compiled the most zone entrances with possession among all D-men, and it wasn't close. His total was 117. The next closest Sens D-man had 22 (Cody Ceci) and the next closest NHL defender in the league was Brian Campbell, who recorded 46 fewer controlled entries over that same time frame (71). P.K. Subban was behind Campbell by a couple, and everyone else was farther in the rearview.
They did well off all those zone entrances too, averaging a shot roughly 70 percent of the time.
In terms of zone exits, Karlsson's 36 percent success rate on touches is also unparalleled. Only Kris Letang (33.2 percent), Keith Yandle (32.2 percent) and Ken Hitchcock's three best puckmovers (Shattenkirk, Pietrangelo and Bouwmeester, all over 31 percent) are in the same stratosphere, and even then, not really. Karlsson's 7.9 percent turnover rate is a bit high, but the numbers still clearly point to him as the league's best escapist blueliner.
And finally, Karlsson is also solid when it comes to defending zone entries, as opponents managed just a 54.5 percent carry-in against rate when they targeted him (very good), and he managed a breakup rate above 10 percent (also very good). He's got a good stick, and isn't the defensive liability he's made out to be.
The breakdown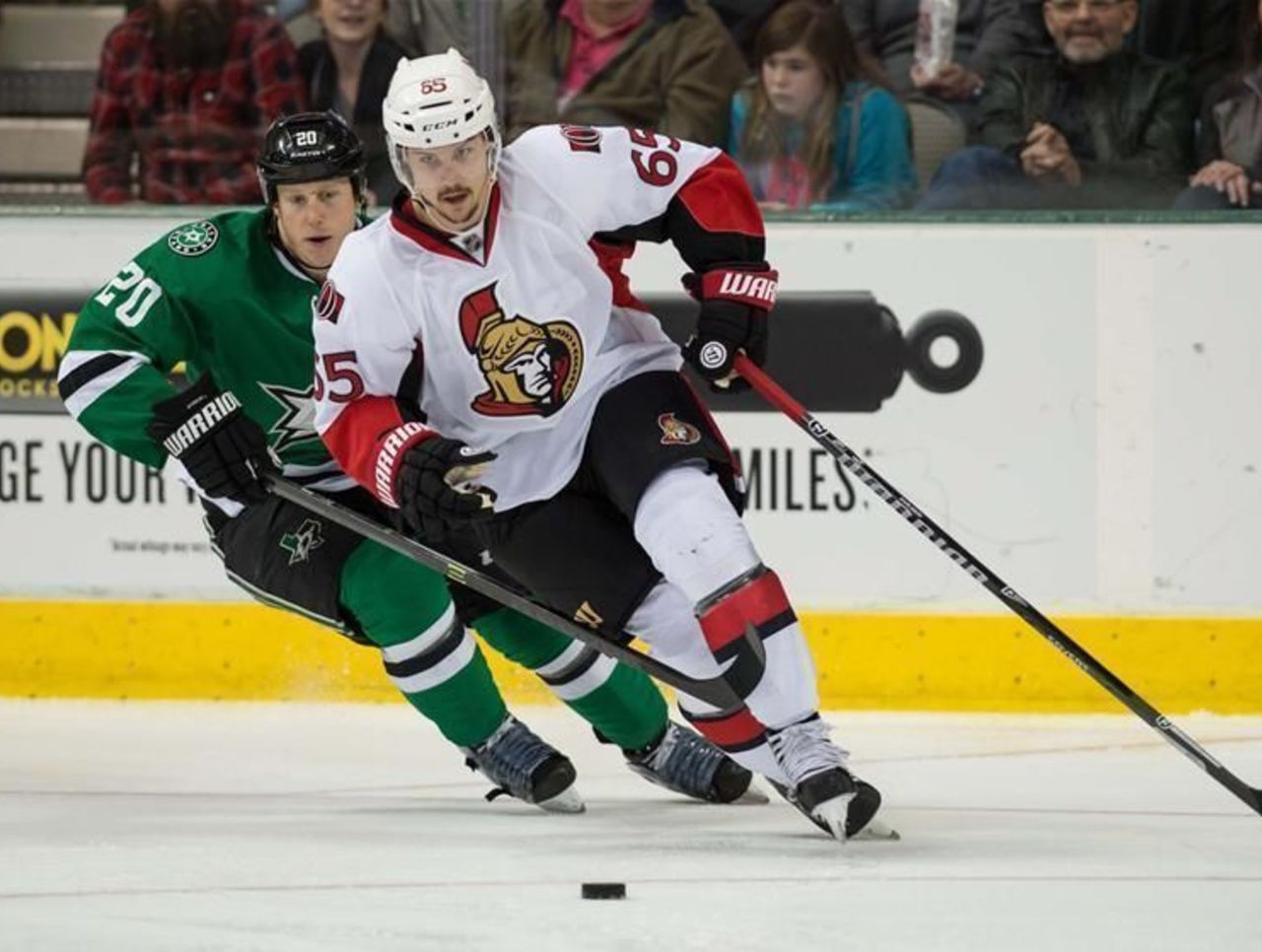 What can you really say when there isn't a "system," just one man's ability to skate through people? I recommend sitting back at and enjoying.
The first play involves some nice D prior to the turnaround, so let's look at some screenshots.
The puck comes up the boards to Jakub Voracek, and he's off towards the Ottawa end.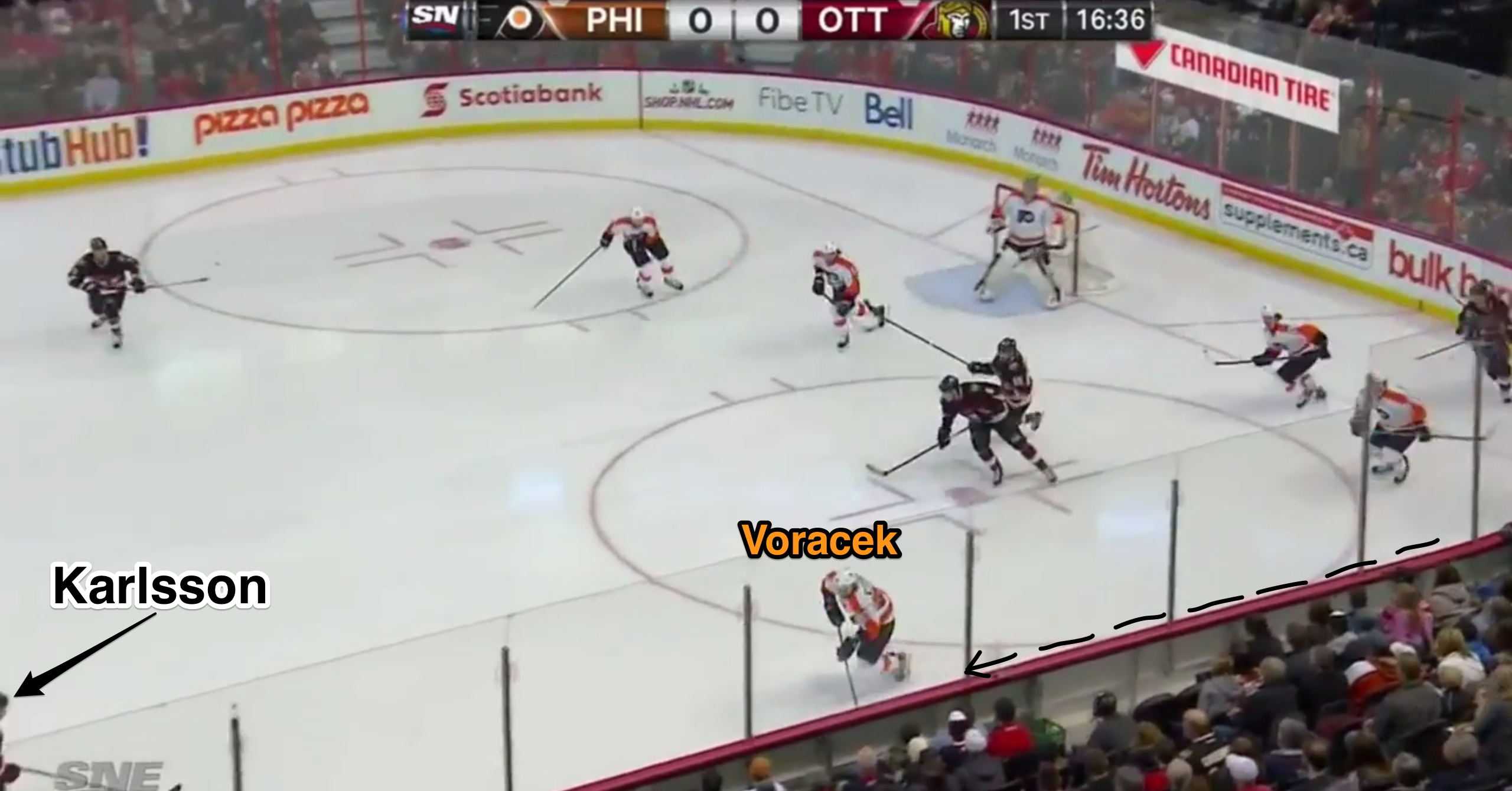 Karlsson knows he has to tighten up the gap, so he bows out with a nice big "C" cut.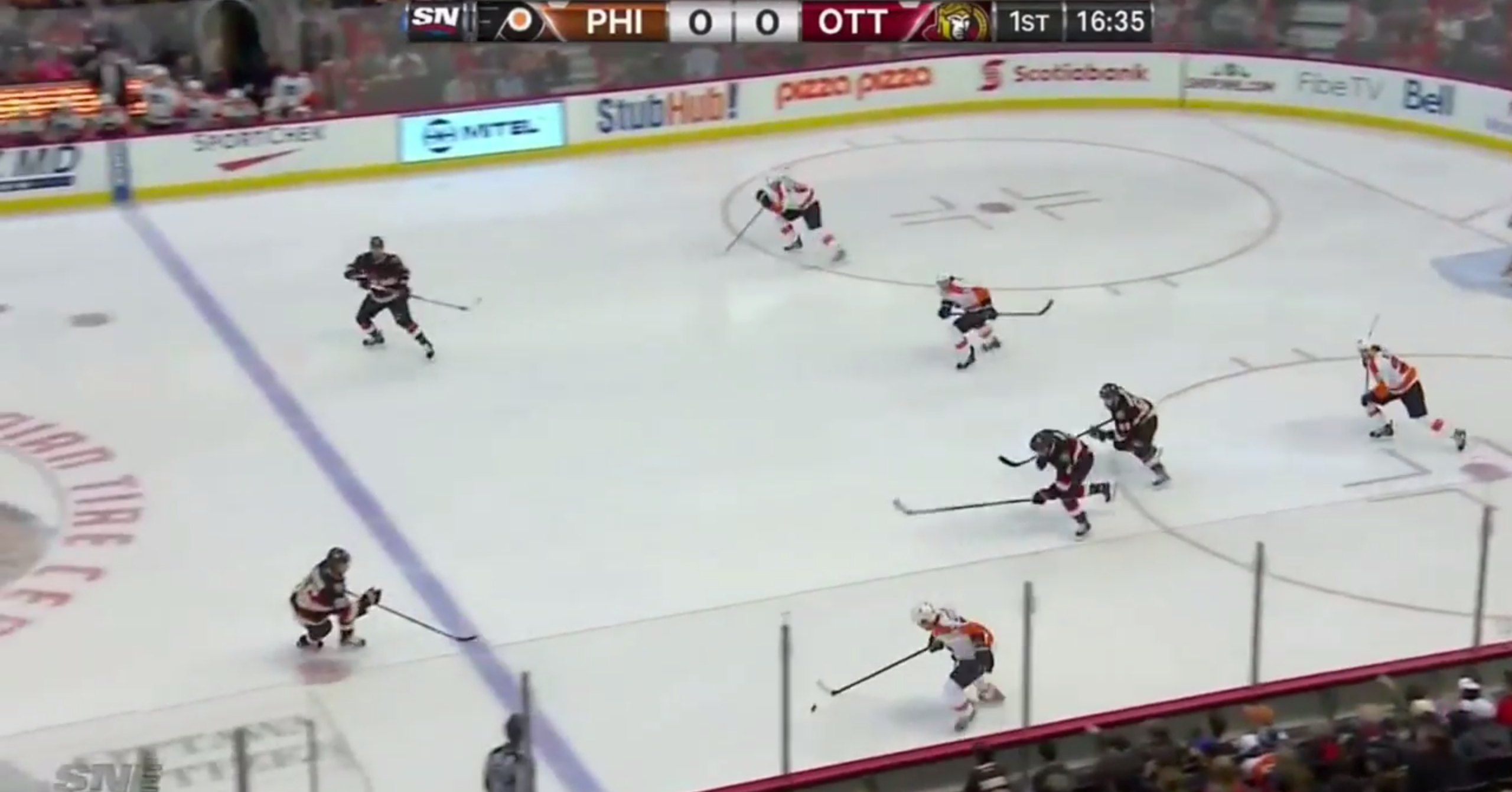 He cuts back into the proper lane, and gets his shoulder on Voracek's, angling him towards the boards.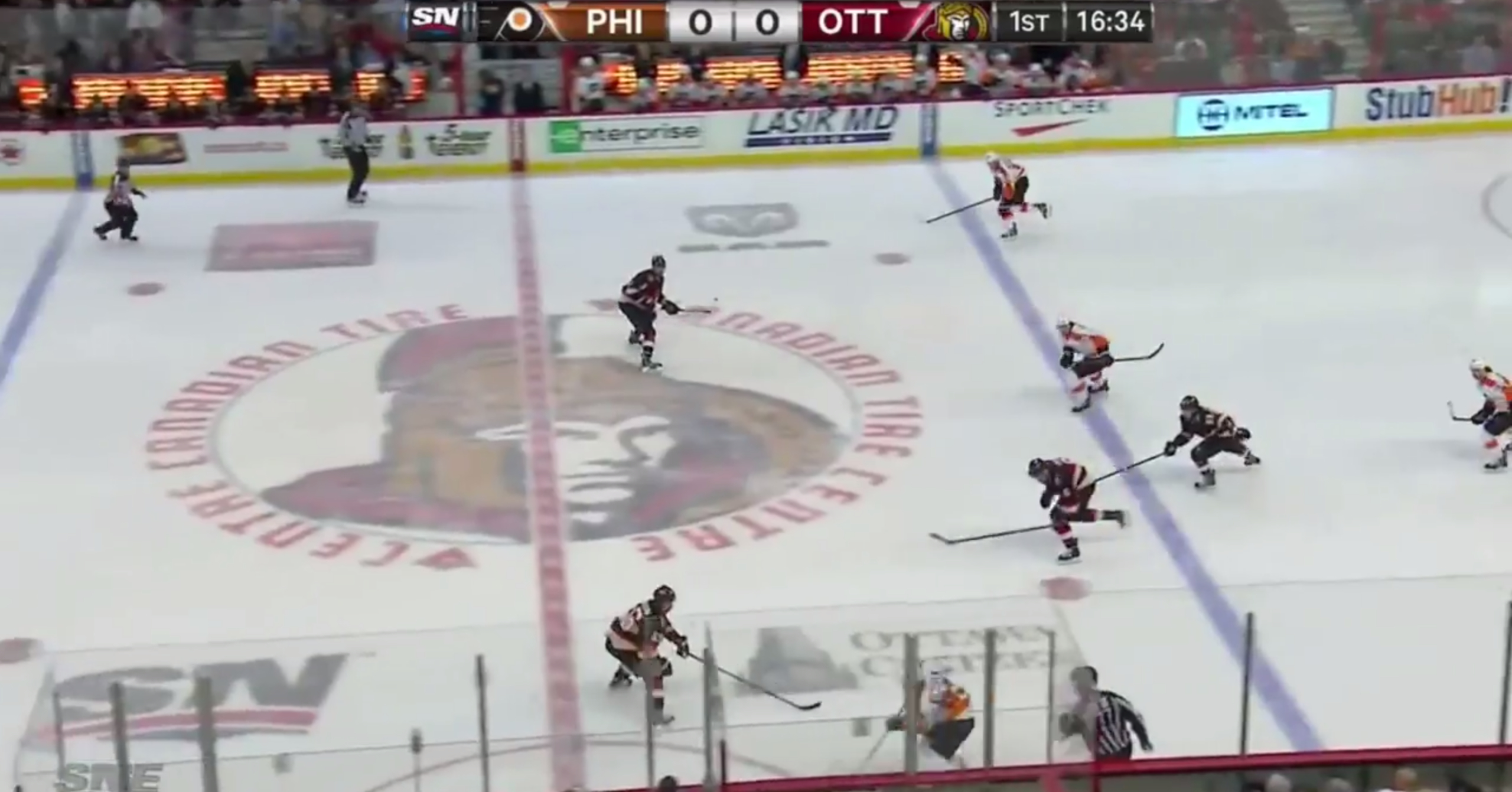 He gets body on him, and separates him from the puck nice and early in the neutral zone (unlike the Islanders D).
He pivots to retrieve the puck.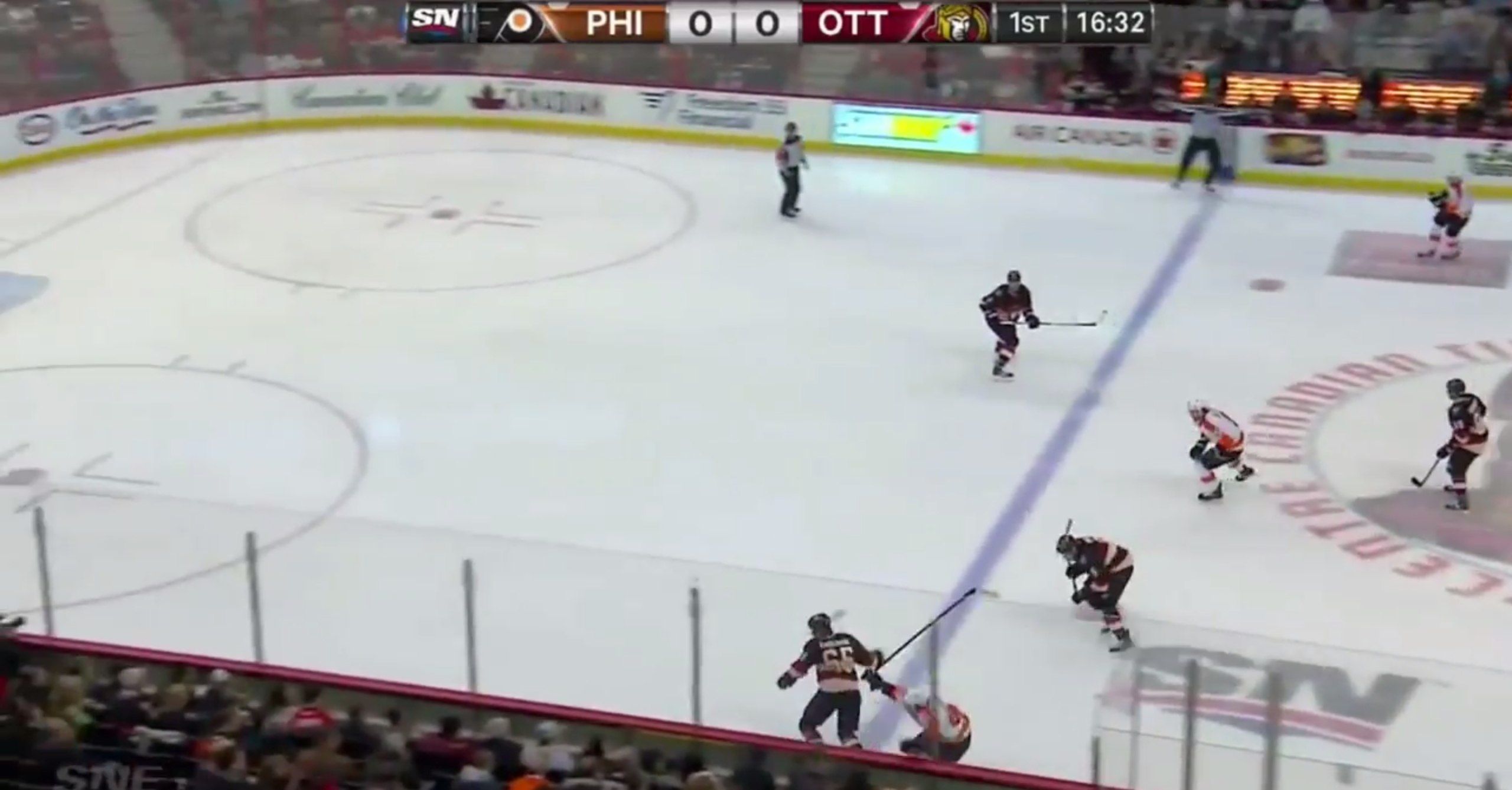 And just like that, he's got it.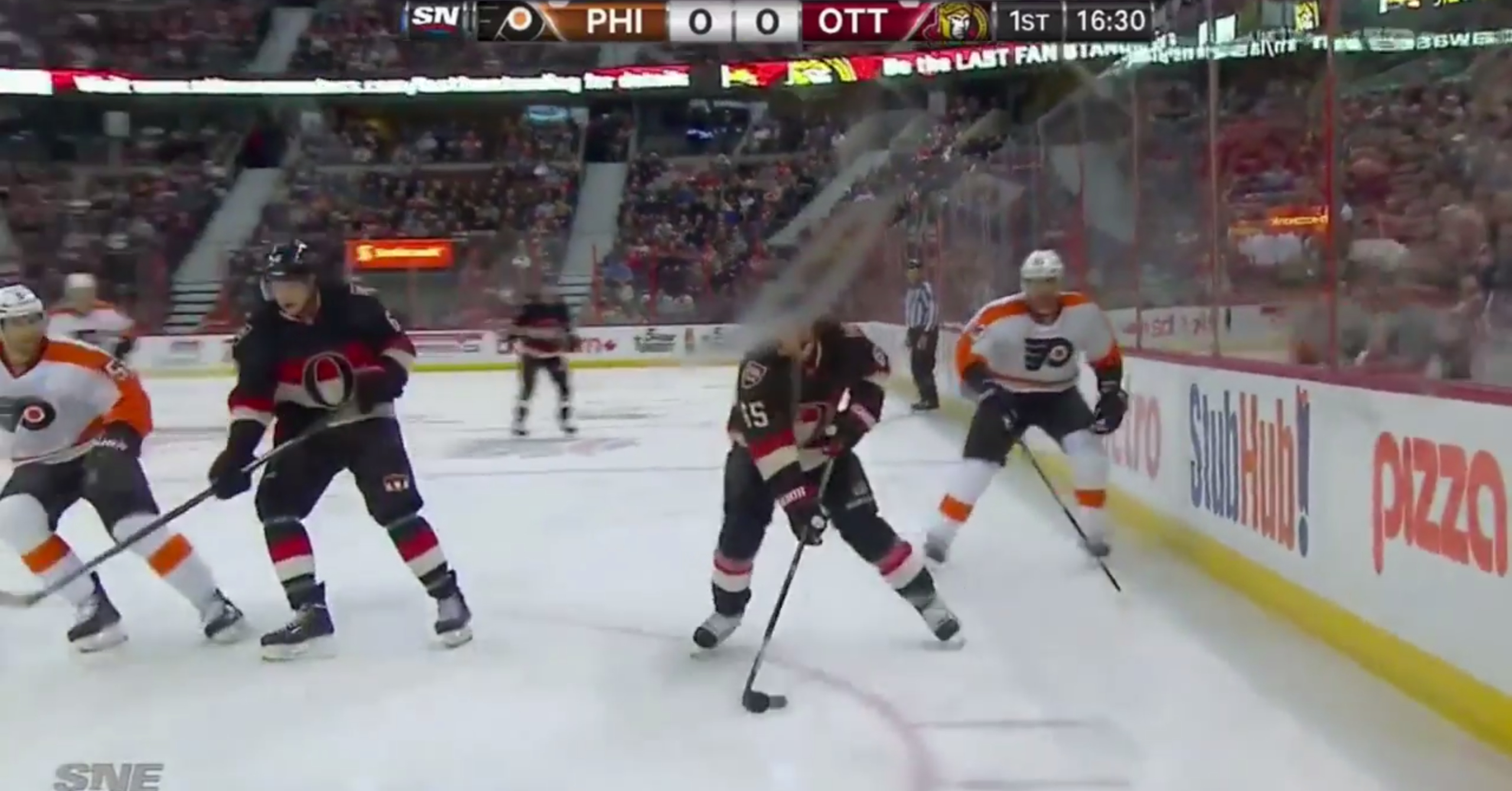 Activate breakout machine, GO.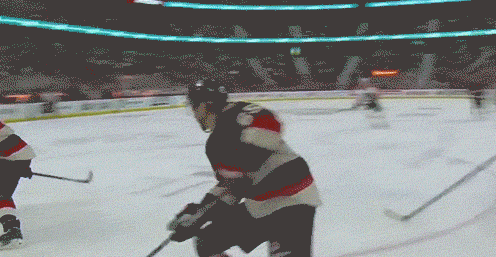 (Courtesy: Sportsnet)
Yes, players like Erik Karlsson take more risks than your average defenseman, but the debate about whether takes those chances are worth it or not is nonsensical. It would take a well-choreographed breakout to do what he does alone, and when he does get caught up-ice, he's like Duncan Keith at his best. You don't care because he can get back.
That's him off a rush in front of the Sharks net.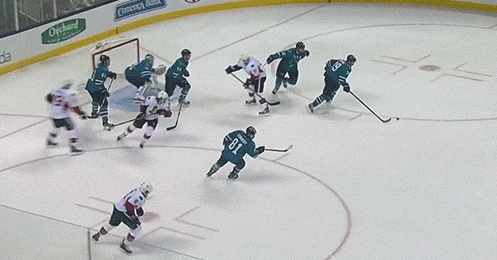 (Courtesy: CSN)
He's got a great combination of patience and jump, meaning he doesn't feel the need to immediately hit the jets the second he gets the puck until there's an opening.
Here's one of hockey's best defenders and notoriously terrific skaters, Patrick Marleau, harassing Karlsson, who feels the pressure, and again, takes the puck into the O-zone.
(Courtesy: CSN)
I mean ... that's just about all you need to see. Oh, and maybe this, from @TravisHeHateMe:
Erik Karlsson turned 24 on May 31 of this year, meaning it's quite likely we're still about to see some of his best years. The great part about that if you're Ottawa, is that you're only going to be paying him $6.5 million a year through 2019 to do it.
Karlsson may be one of hockey's best bargains. If nothing else, he's certainly one of the game's most unique players, and an important cog in the Senators' machine.
Comments
✕
Unique Team Traits: Hockey's best breakout machine belongs to the Ottawa Senators
  Got something to say? Leave a comment below!