Unique Team Traits: The Winnipeg Jets aren't sure how to use their most valuable tool
theScore's multi-part team previews include a look at something that separates each team from the pack. From specific breakouts to powerplay formations and beyond, Justin Bourne and Thomas Drance hope to highlight something you haven't noticed in the past.
What we noticed
When Dustin Byfuglien was drafted into the NHL, it was as a defenseman. Then Chicago made him a forward, except when they needed an extra D-man. Then the Thrashers/Jets picked him up, and he played D, then forward, then D, then forward. As it stands, he's heading into next year as a forward.
This is a unique situation to be in with a player; basically only the San Jose Sharks can relate with Brent Burns. These guys are true rovers.
With Byfuglien being such a massive part of the Jets success and/or failures, it's integral that they get the most out of his skill set.
Below I'll lay out the pros and cons of using him at both positions, with a conclusion drawn at the bottom. Come along for the ride, won't you?
Dustin Byfuglien should be a forward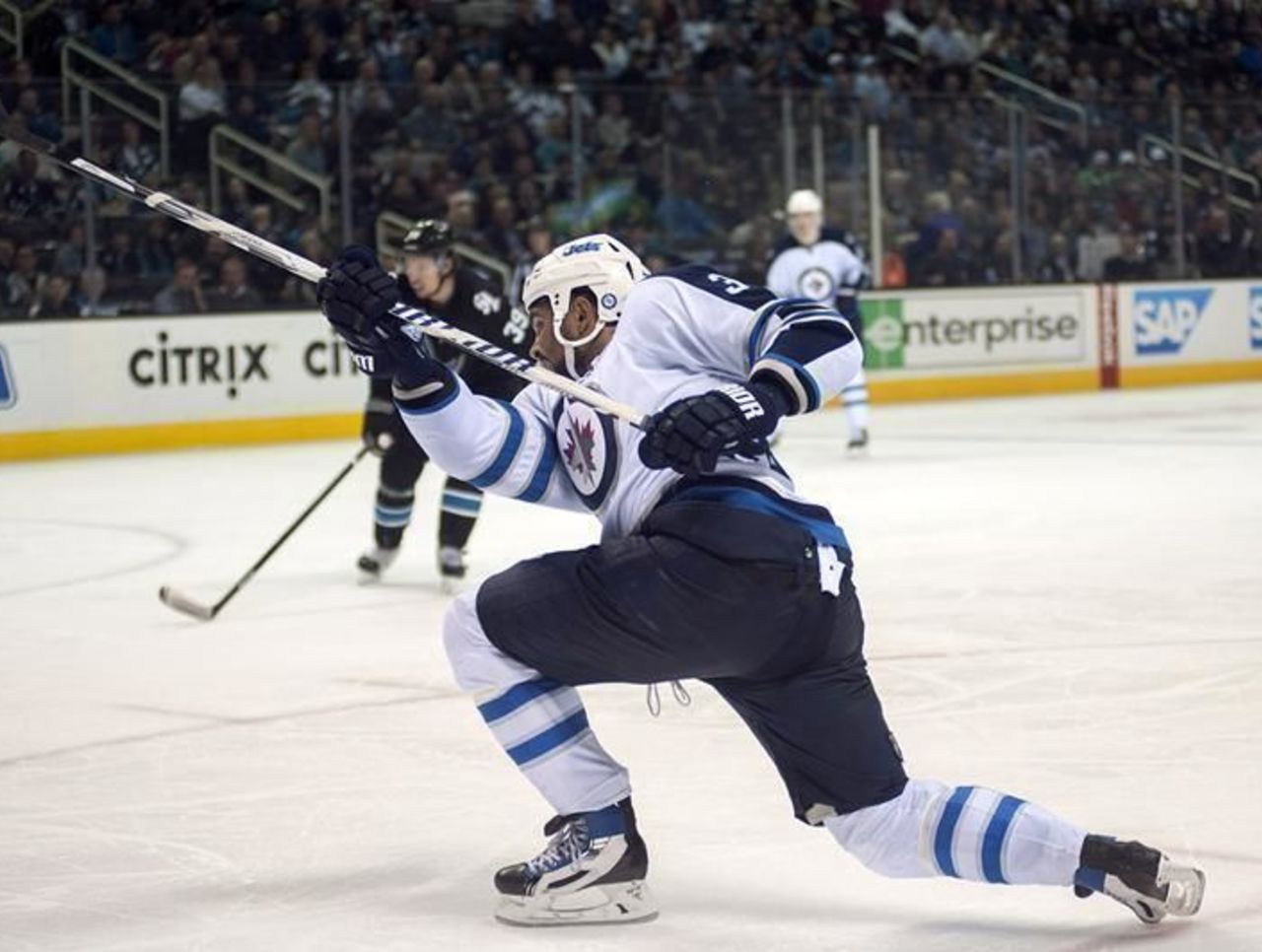 Dustin Byfuglien should absolutely be a forward. There's a reason the San Jose Sharks moved Brent Burns to forward permanently - when you get manimals like these two, you don't want them sitting back with the play in front of them, you want them in the midst of the muck, making life difficult for their opponents.
When Byfuglien was on the ice as a forward at even-strength, the Jets were only outscored by four goals at even strength in 32 games. When he was playing D, they were outscored by 18 in 46.
He started to put together some nice chemistry with Blake Wheeler last year. The team has Zach Bogosian and Jacob Trouba at right defense, meaning they're far better off plugging a hole in their depth chart at right wing then on the back end.
It's pretty obvious - there's a reason two smart coaches have made him a forward.
Dustin Byfuglien shouldn't be a forward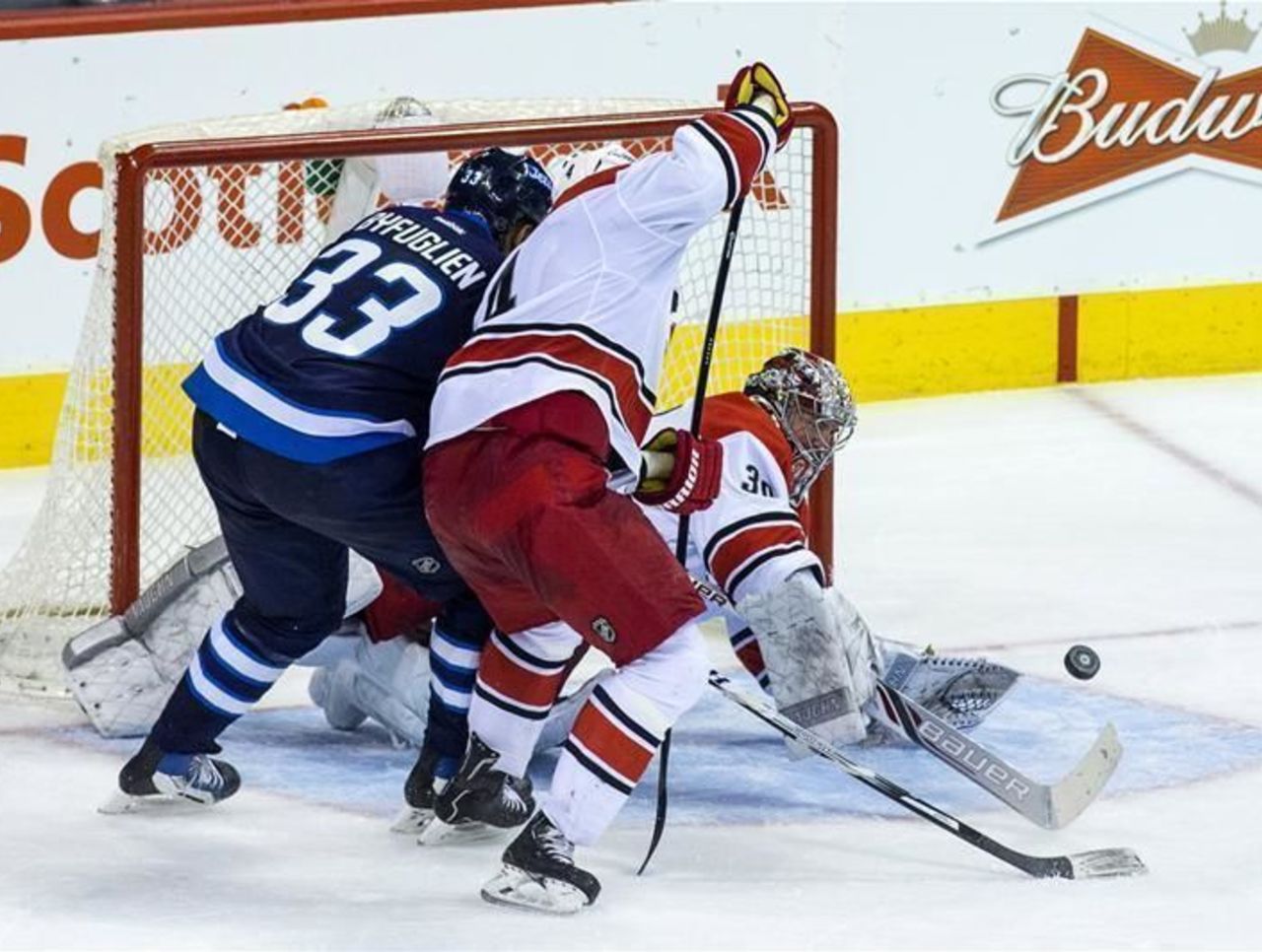 Dustin Byfuglien simply shouldn't be a forward. Actually, it's not even that he shouldn't be, he can't. He gets absolutely obsessed with the puck, which means you're left with shifts like the two in the frames below.
Excuse all the pics, but yeah - check the game clock so you'll believe me this was all in a span of two shifts in the same game.
Below, his D-man is spread out wide, but he wants to help block the shot, maybe.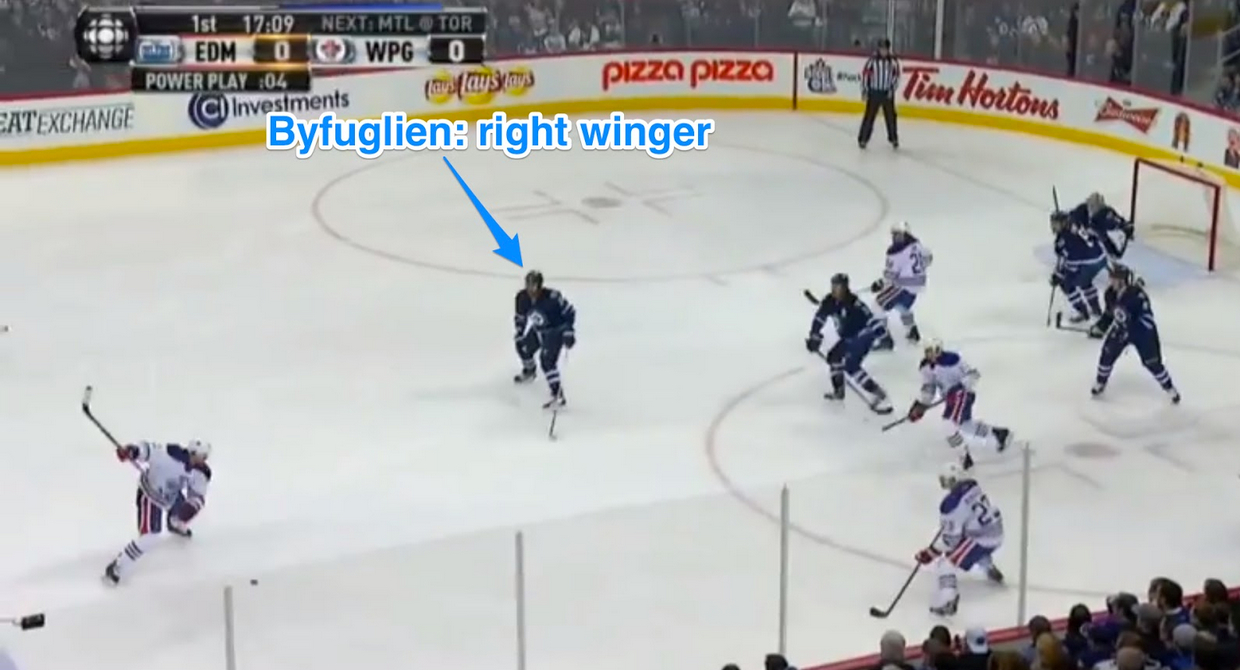 Also he'd like to play center.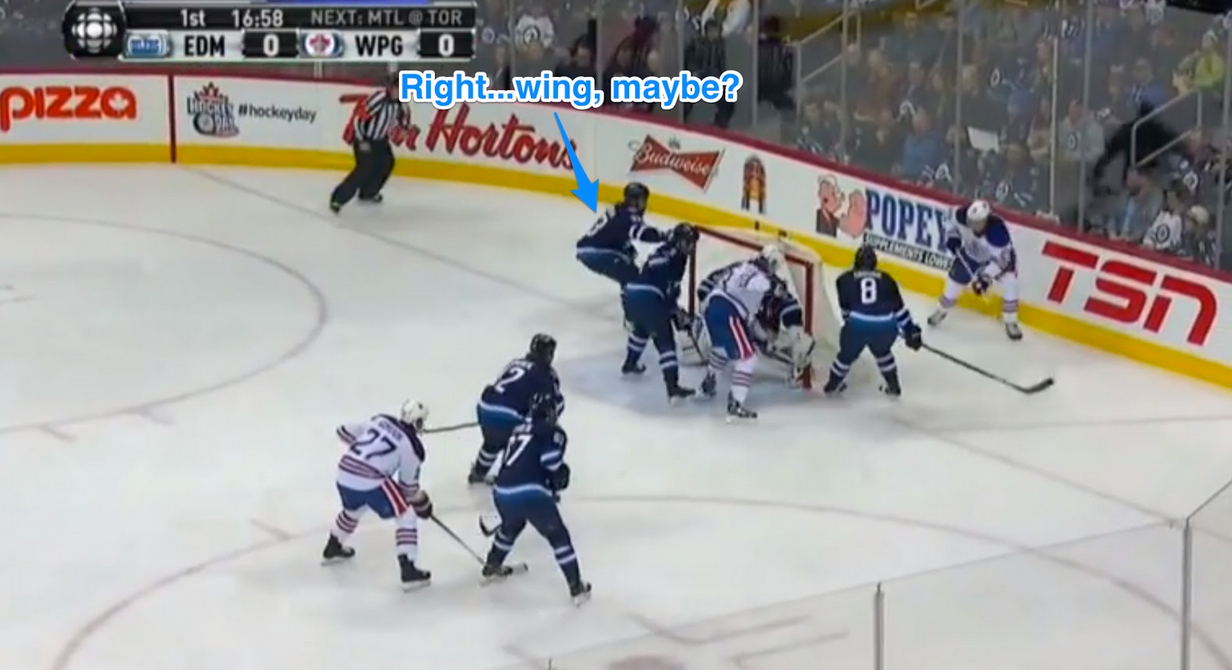 He breaks his stick and heads to the bench, to return to right wing. ...Sorta. He's certainly not worried about the slot.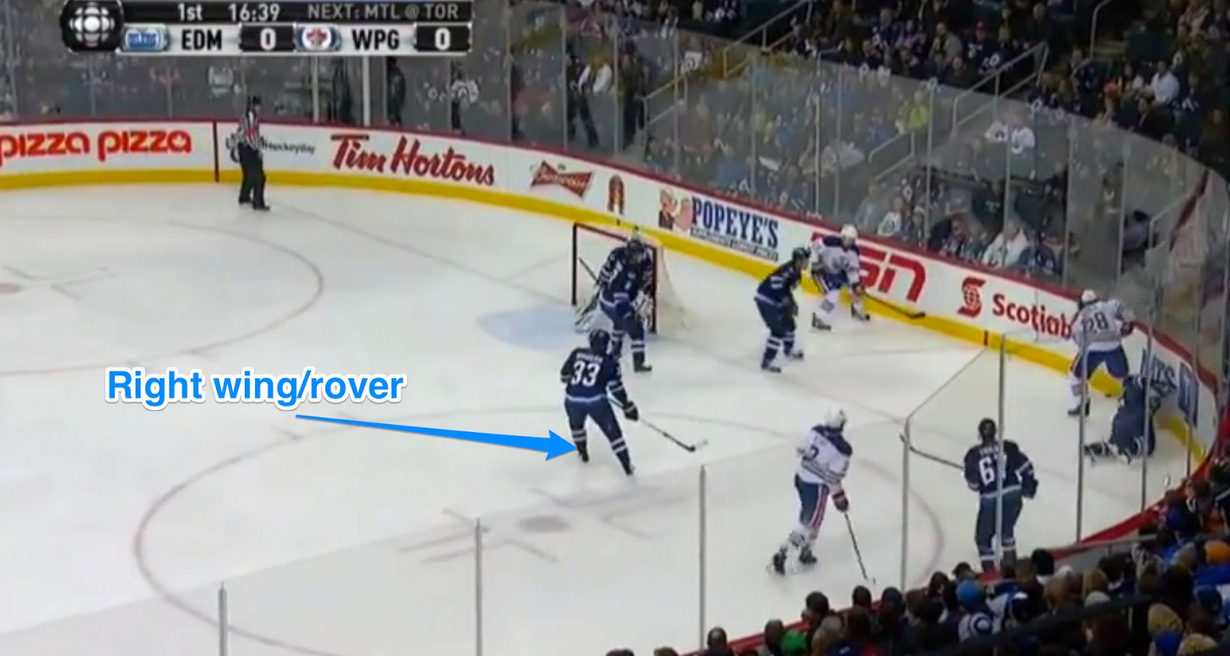 And he'd like the puck, which is nowhere near his side of the ice.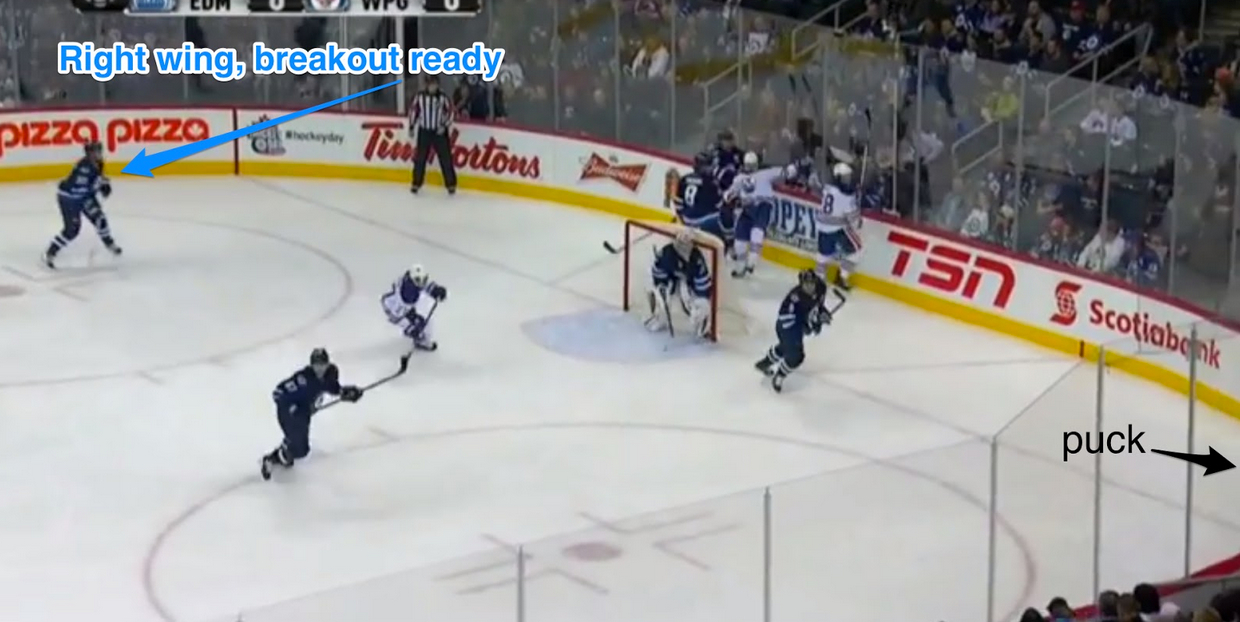 And if you won't give it to him, dammit, he'll go get it himself.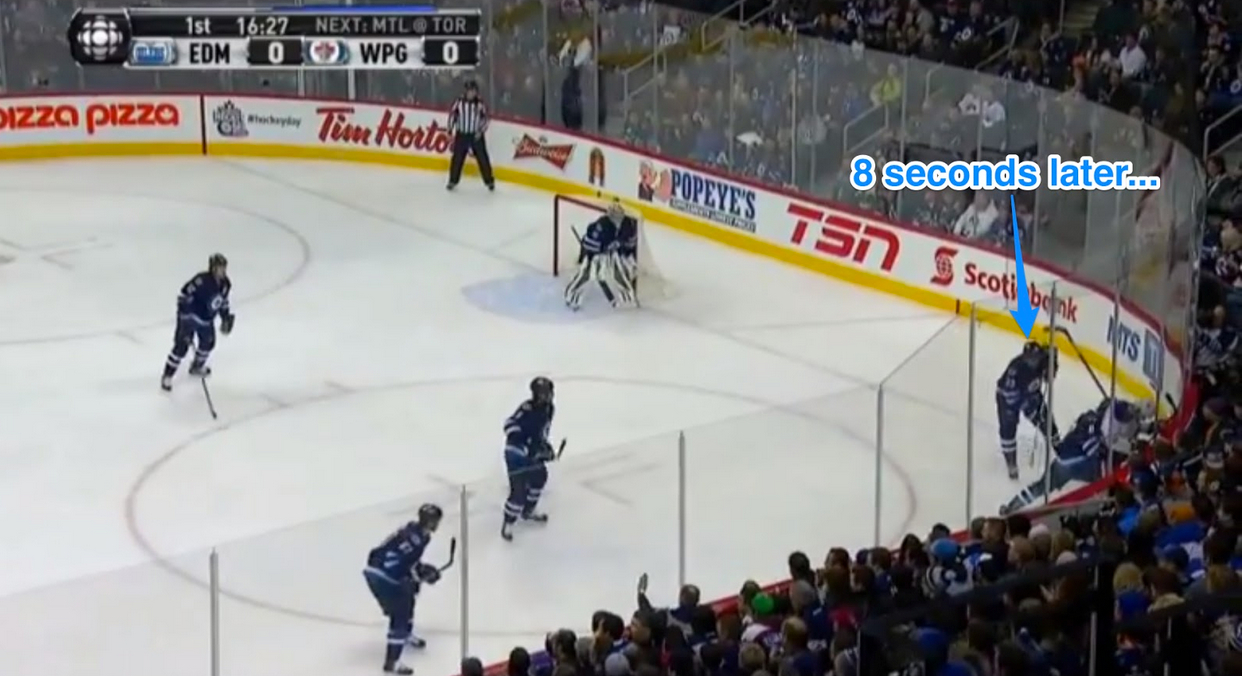 His next shift?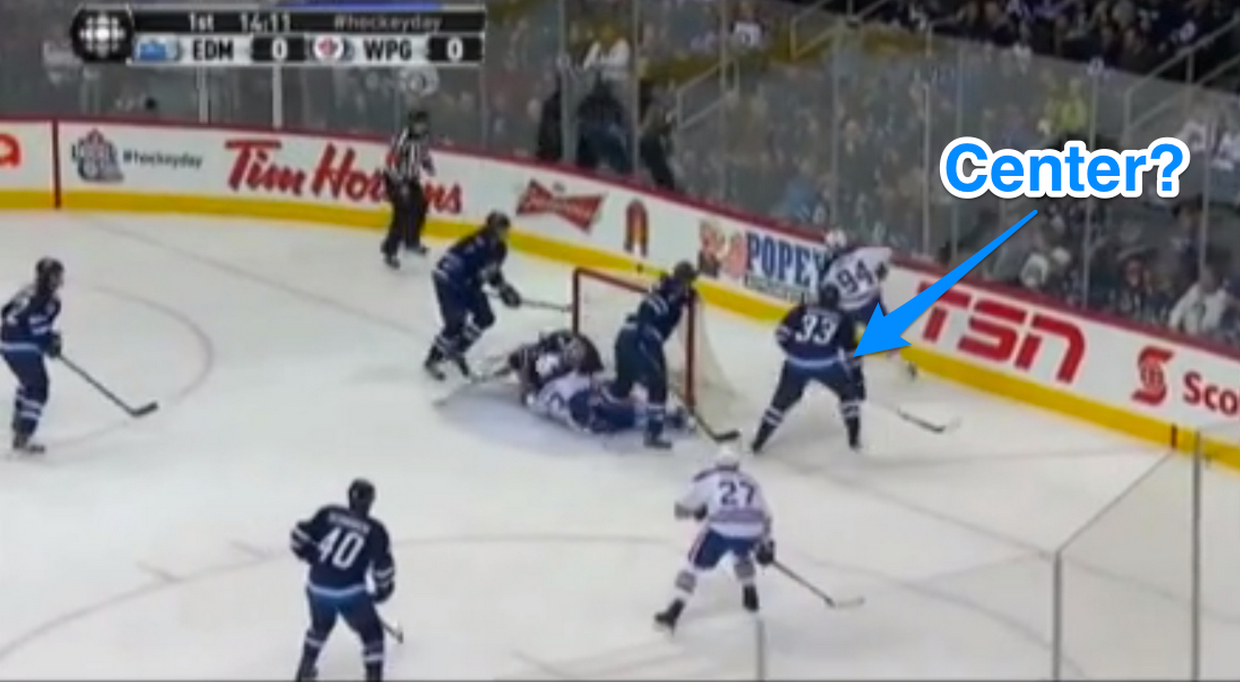 His linemates spend the majority of their shifts figuring out how to rotate while he aimlessly rovers around.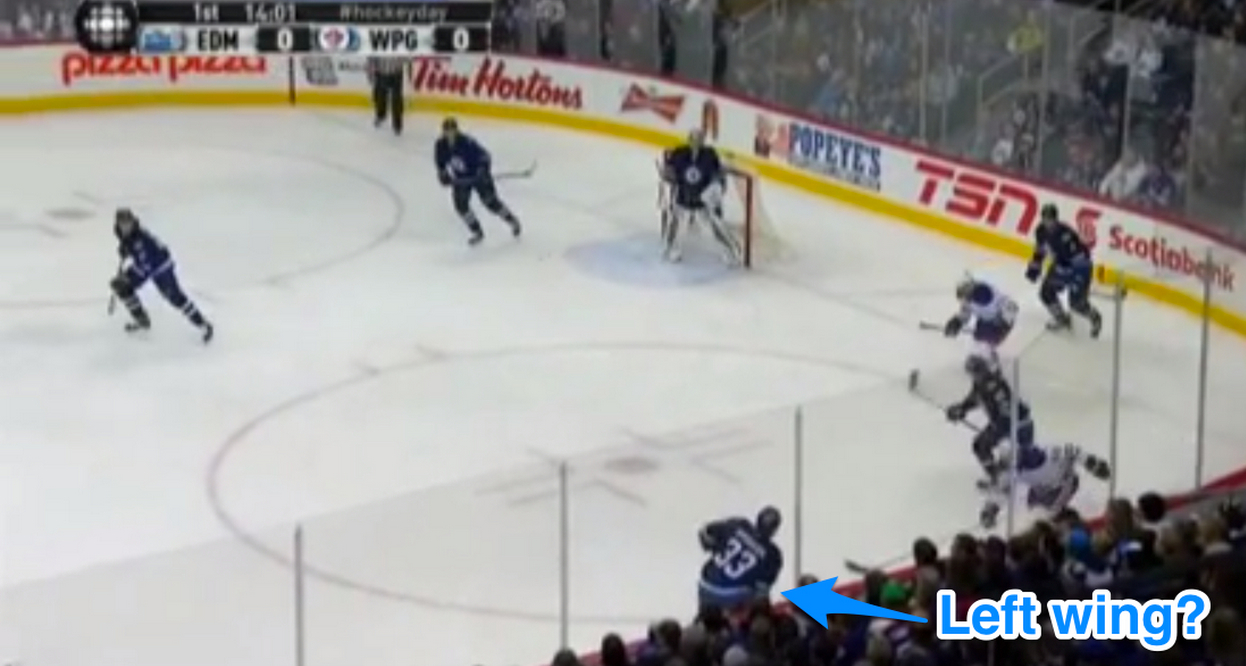 Dustin Byfuglien should be a defenseman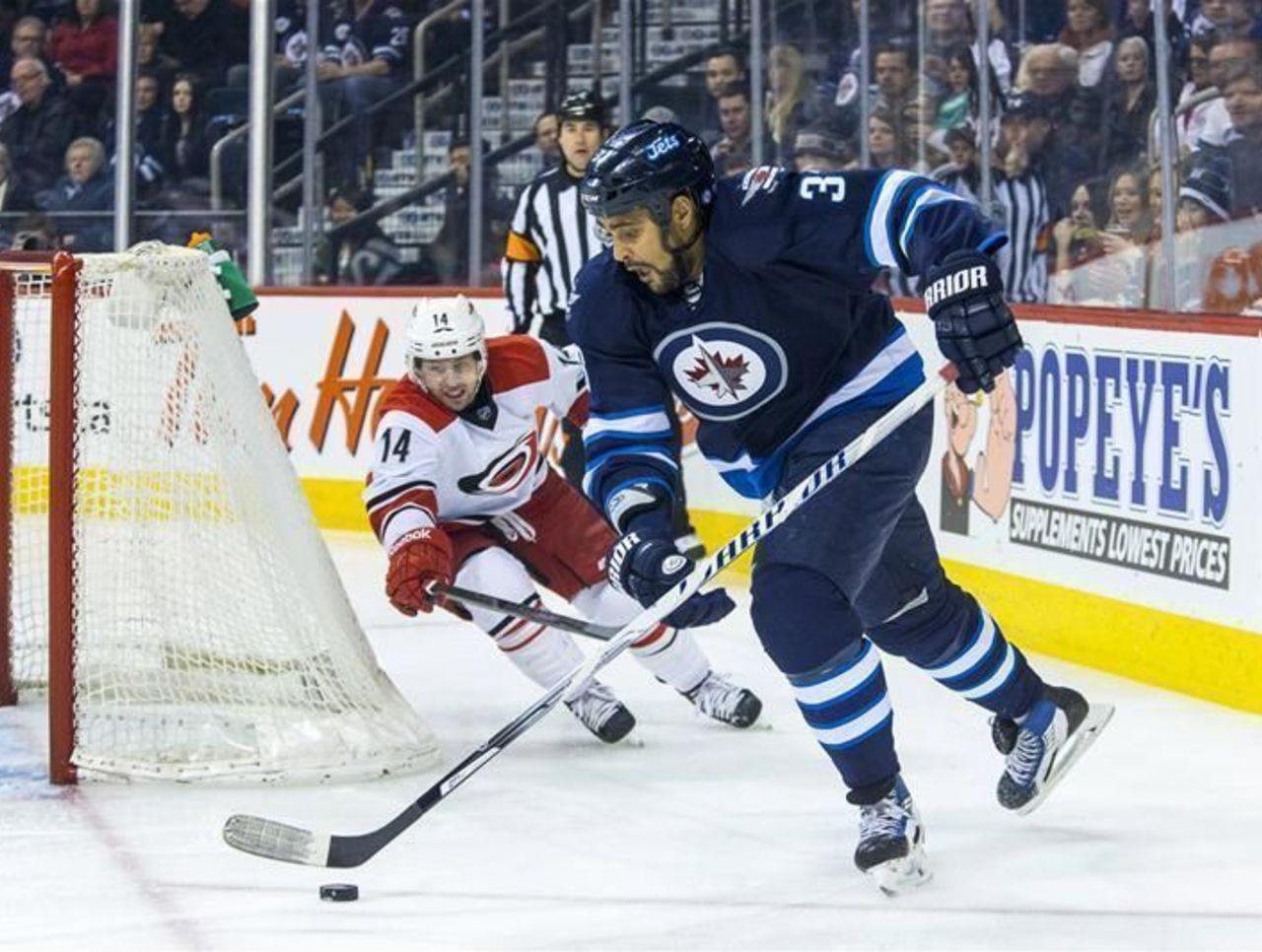 Dustin Byfuglien should absolutely be a defenseman. He's better than people think at actually defending, where he's efficient at keeping players on the paint with body position and a good reach.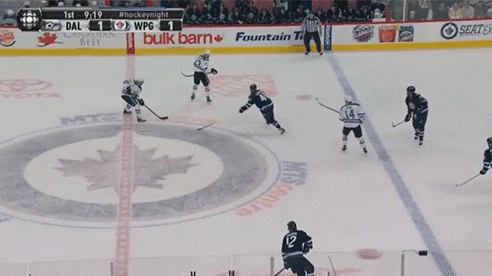 That leads to physical puck battles, which is a strength of his game. He still produces as a defenseman, and production from the point is something recent Cup winners have had in common. It's of huge value.
The zone entry/exit data is overwhelmingly complimentary of him playing D. He rarely turns the puck over, and clears the zone well. Opponents don't go down his side as often as they do his most frequent partner (Tobias Enstrom), and for a reason.
Most staggering is his ability to gain the opposing blue line with control from the rear. The following list of 20 D-men had over 40 controlled zone entries over the roughly 48 game per-player sample put together by Corey Sznajder (Carolina Hurricanes skaters excluded excluded):
Victor Hedman, Drew Doughty, Andrew MacDonald, Travis Hamonic, Mike Green, Alex Pietrangelo, P.K. Subban, Keith Yandle, Sami Vatanen, Jake Gardiner, Morgan Rielly, Justin Schultz, Brian Campbell, Kris Letang, Nick Leddy, Jared Spurgeon, Alex Goligoski, Erik Karlsson, Seth Jones and Roman Josi. And Dustin Byfuglien.
Among those names, only three players' teams generated shots more efficient off of their entries: Doughty's, Pietrangelo's and Spurgeon's.
And finally, when he played D the Jets had a 52% share of shot attempts when he was on the ice. When he played forward, they saw a 48% share.
The big boy is pretty effective back there.
Dustin Byfuglien shouldn't be a defenseman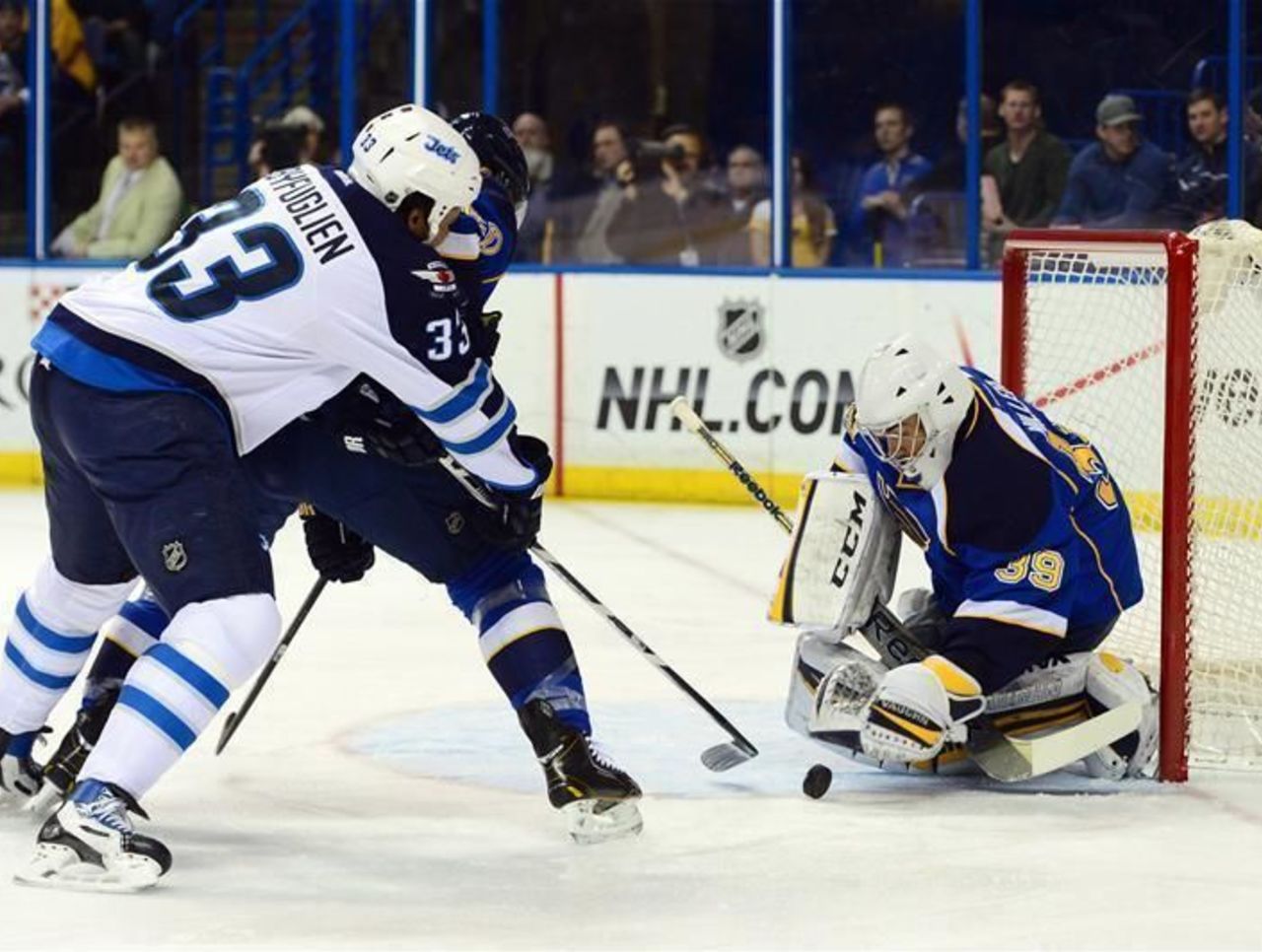 It's pretty obvious Dustin Byfuglien shouldn't be a defenseman. Maybe he could play D on a team with an actual NHL starting goalie, but not in front of Ondrej Pavelec. The reality is that Byfuglien is prone to substantial brain cramps, which means when he messes up - which is probably just as often as most D-men - he messes up bad, which is different from most D-men. If you have a goalie who can bail you out on those mental explosions here and there, you're fine. It simply doesn't happen in Winnipeg.
As a defender, Byfuglien just doesn't do a good enough job getting into players. To wit:
When Dustin Byfuglien has been on the ice playing D the last three years, Jets goalies managed only a .908 save percentage (it was at .880 last season). When he was on the ice as a forward for the last 32 games a year ago, Jets goalies posted a .917. Call it luck, but I say he simply gives shooters too much room.
The conclusion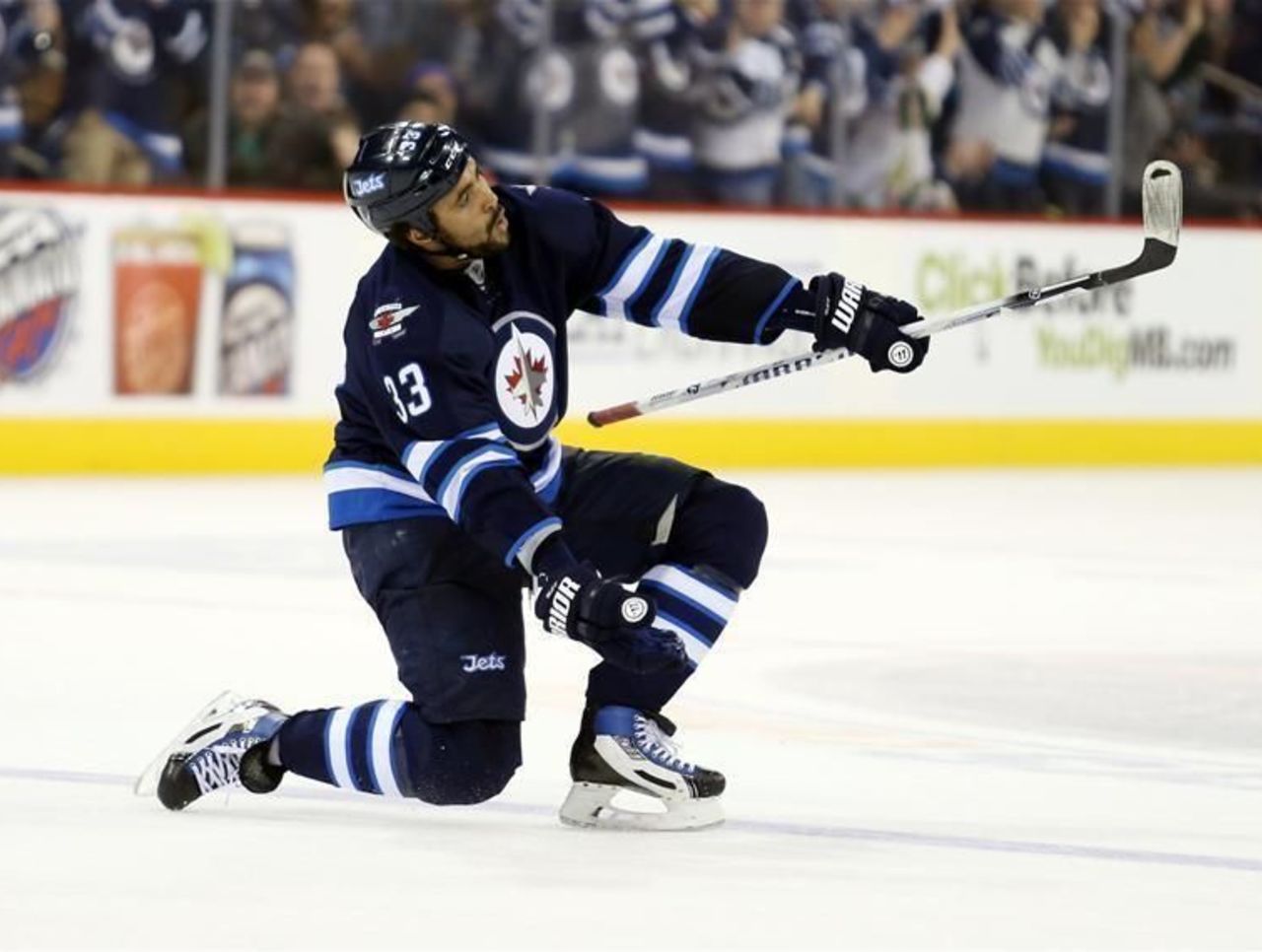 Dustin Byfuglien is a seriously good hockey player, and he's going to help your team either way, but he should be playing defense.
Like a good quarterback, he seems to be able to take over the game from there. The added offensive punch you're getting from him as a forward isn't exactly huge, while having a big point producer occupy a spot on the roster you'd normally get near nothing from increases the value of his contribution.
Unlike Burns he's not overtaking anyone with speed up front, but he can control the game from the back. He has a patience with the puck that brings the game to his pace and allows him to remain offensively dangerous while playing D. He's not going to hurt you as a forward, arguably he might hurt you a bit less, but you're going to get more out of him as a defenseman.
Comments
✕
Unique Team Traits: The Winnipeg Jets aren't sure how to use their most valuable tool
  Got something to say? Leave a comment below!