Unique Team Traits: Mikael Backlund, the Calgary Flames, and the secretly great penalty kill
theScore's multi-part team previews include a look at something that separates each team from the pack. From specific breakouts to powerplay formations and beyond, Justin Bourne and Thomas Drance hope to highlight something you haven't noticed in the past.
What we noticed
The Calgary Flames penalty kill was really good last season (and Mikael Backlund was a big reason why)
"Your best penalty killer needs to be your goalie" is an old adage in hockey, because if he's terrible when you're short-handed, it doesn't really matter what you do. During the 2013-14 NHL season, the Calgary Flames lived that, finishing in the bottom half of the league in penalty killing (18th) thanks to their goalies' four-on-five save percentage coming in as the sixth worst (a dismal .866). Karri Ramo and Joni Ortio set the unit back as a whole.
But aside from those two, the Flames kill was kinda nails.
Calgary was the 8th best team at suppressing shots when out-manned, allowing just 48 shots against per 60 minutes (for context, the Los Angeles Kings allowed 49.4). They also led all NHL teams with 12 short-handed goals.
The brightest flame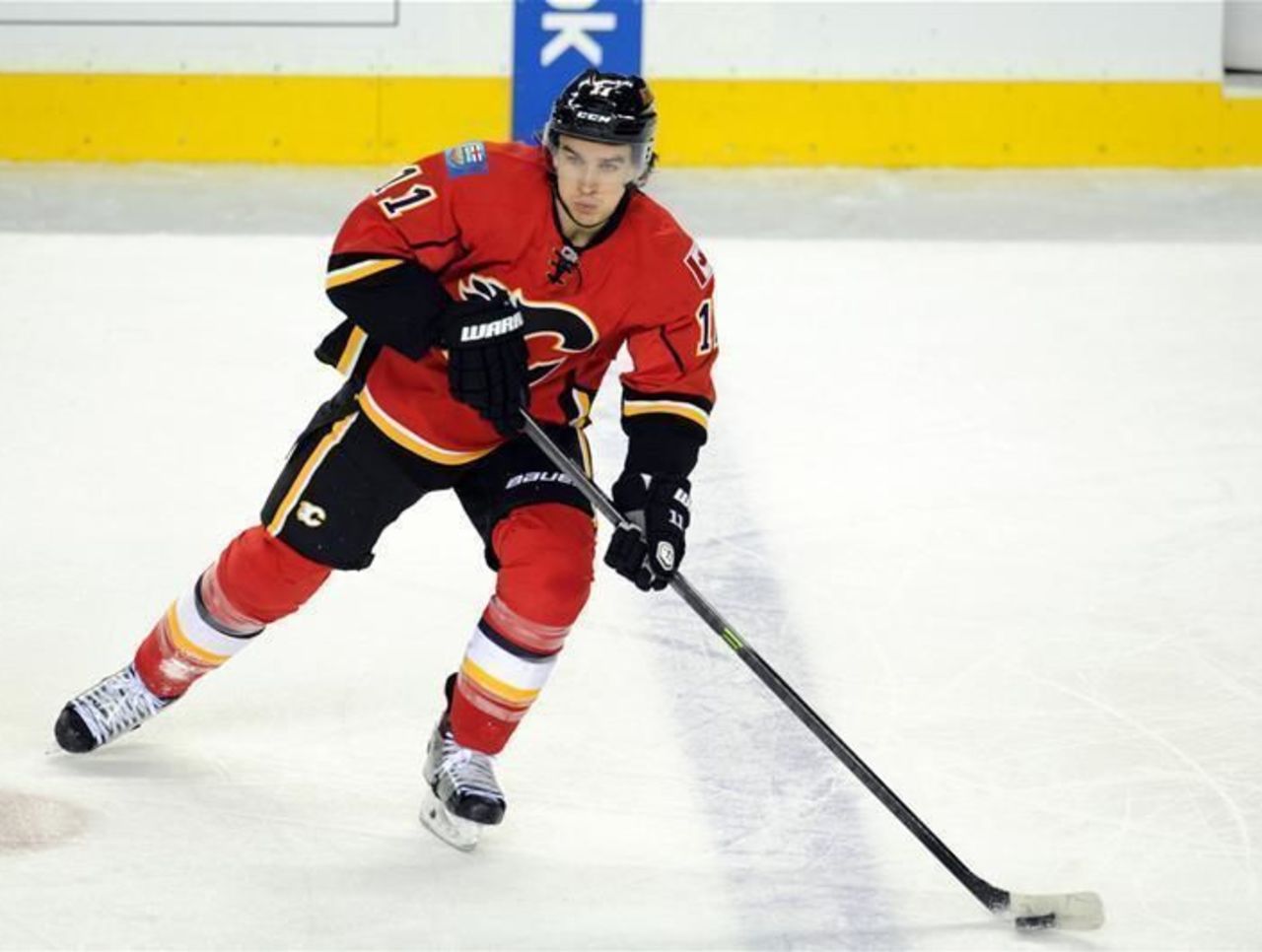 Maybe Mikael Backlund's not on your radar. Unless you're a Flames fan, there's not really a reason he should be. He was drafted in the first round, but not super high (24th). He can score, but his numbers last year weren't jaw-dropping (18 goals, 39 total points). He's 6'0", 198 pounds. He's 25. In a league of elite athletes, he might come off as somewhere around average.
Only, he's not. He's a sneaky smart defensive player with some pop to his stride who kills penalties with the best of them, making anything he brings to the other end that much more valuable. There's a pinch of Frans Nielsen in his game.
Among regular penalty killers (forwards who logged at least 1:30 of short-handed TOI per game), Mikael Backlund was the eighth best shot suppressor in the NHL, ahead of names like Jordan Staal, David Backes and Sean Couturier. As you may be aware, suppressing shots is more or less the goal of the penalty killer. Of the names ahead of him on the list, only Ryan Kesler and Chris Higgins started more of their shifts in the D-zone.
Even amongst his own team he stood out. The Flames gave up a mere 35 shots per 60 minutes with Backlund on the ice, which is 15 better than Matt Stajan's per-60 number, and no forward on the Flames sees more short-handed ice than Stajan.
To top it all off, Backlund drew short-handed penalties at the 5th best rate among regular penalty killers last season, behind only Jordan Staal, David Backes, T.J. Oshie and Brian Gionta.
That's an awful lot of praise for the efficiency of one penalty killer, but it's worth noting that he wasn't alone in making life difficult for opposing powerplays.
Let's look at how the Flames did it.
The breakdown
Calgary plays a pretty basic in-zone system, they just happen to have personnel that thrives within it - hard-working, smart D-men, and smart, quick forwards. Down low that was Kris Butler, Mark Giordano and TJ Brodie, up front it was Stajan, Backlund, Lance Bouma, Lee Stempniak and Paul Byron.
They generally do a nice job fronting shooting lanes...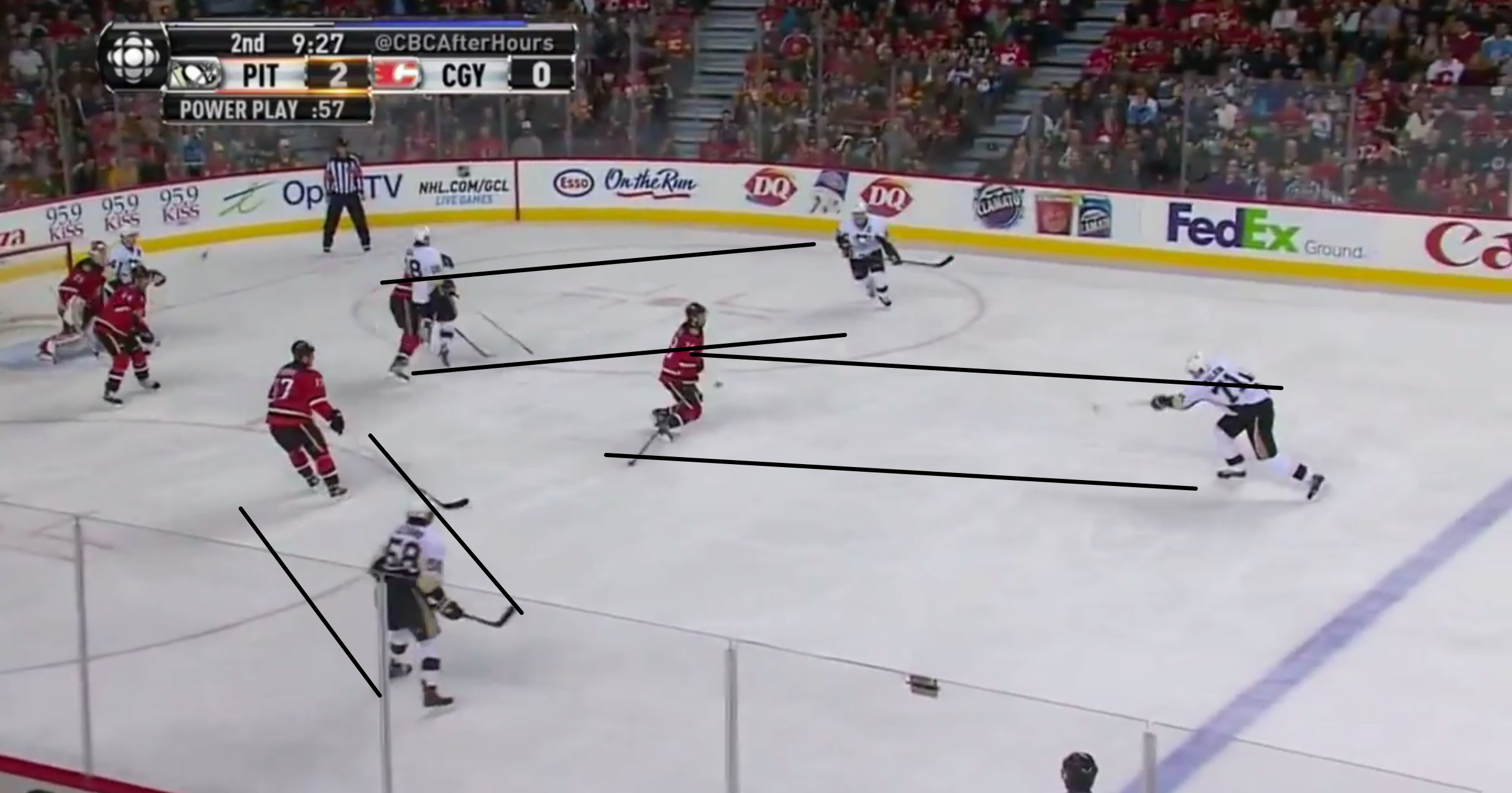 And they're annoyingly consistent at taking away the powerplay's easy option with good stick position.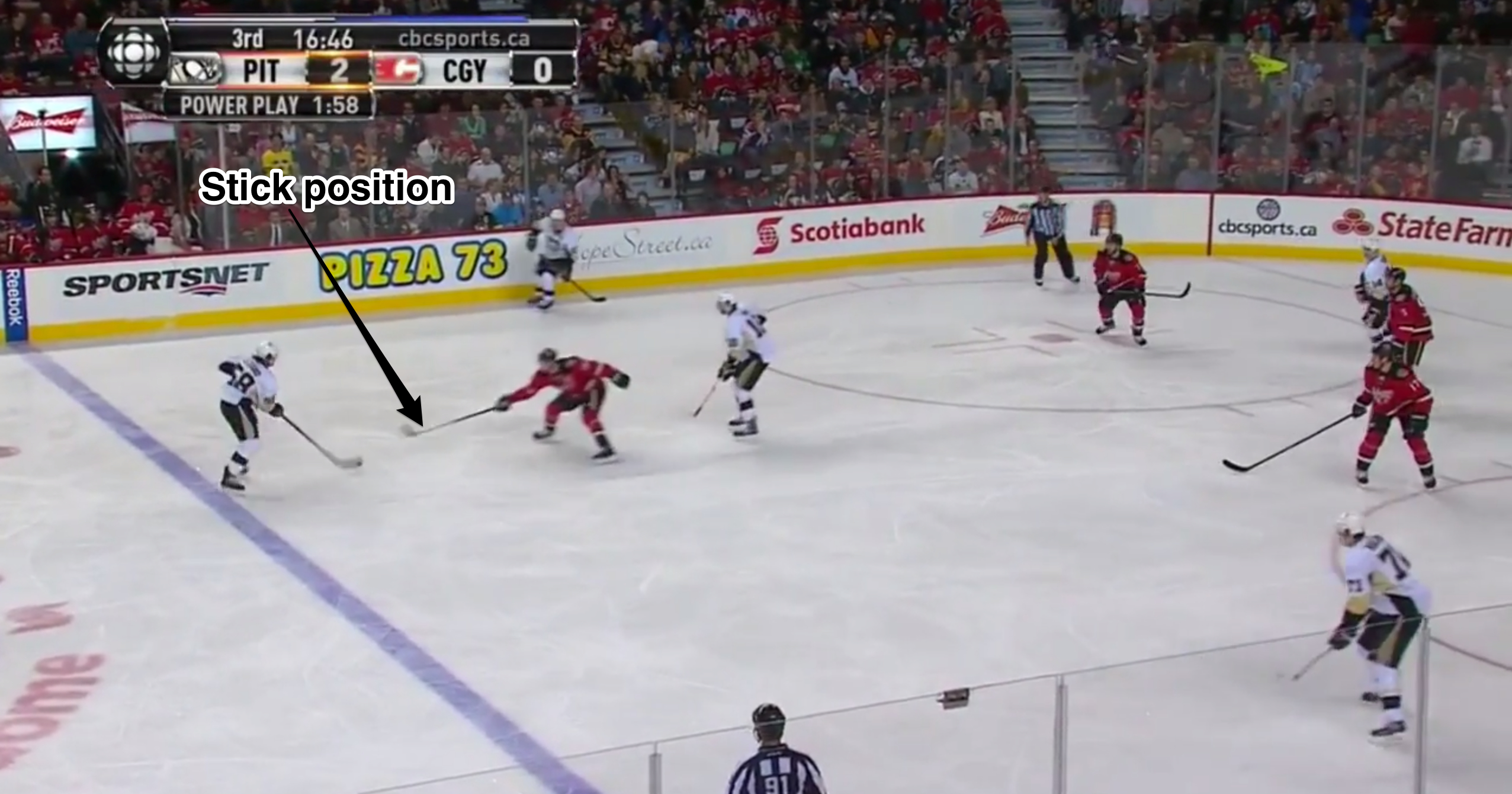 But in general, they thrive because they don't allow their opponents to get set-up easily, and when they get possession, they aren't content to just gun it down the ice. Their willingness to push offensively helps explain both their ability to limit shots and to produce short-handed goals.
What's interesting is the divide between their actions when they think they can create havoc on the puck in the opposing zone, and when they know they have to back off. They have a tenacious short-handed forecheck, but if they think they can't cause a real disruption, they go super passive.
They string three players across the blue line (two D and a forward), because you want to make the puck carrier make a decision there: either dump it in or try to beat guys cold, which is a turnover waiting to happen. They compliment that defensive string with a forward that skates back with - not at - the opposing team.
That way they can have a guy with momentum able to jump on overly cute plays at the blue, he can retrieve dumped pucks, and he can just generally disrupt passing efforts by going the same way at the same speed.
Three Flames skating backward, and a guy skating forwards, who appears to be steering the puck carrier to a certain side in most instances.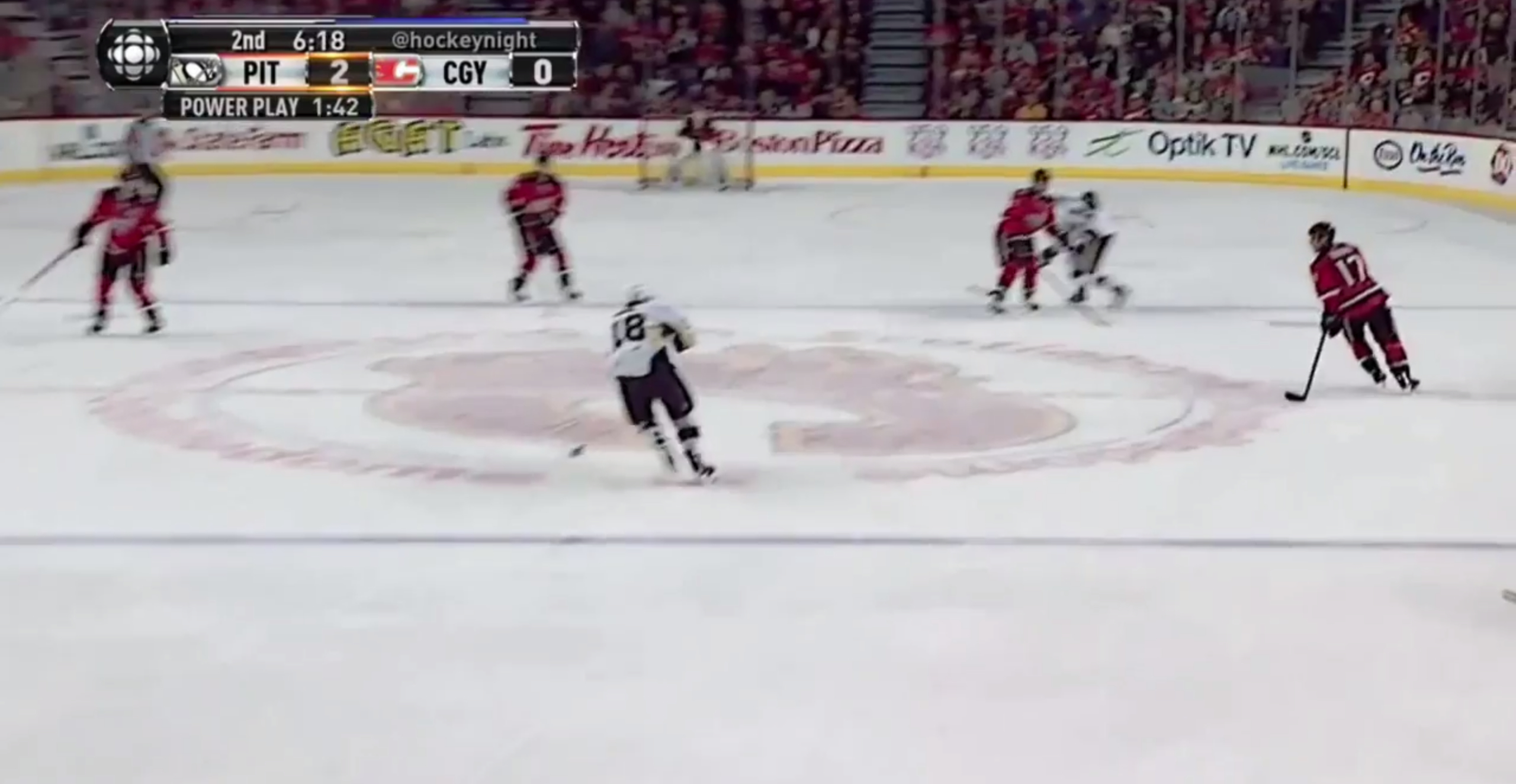 Here's a different powerplay - I just love the forward who swings with the opposition, like he's an option for the D-man or something.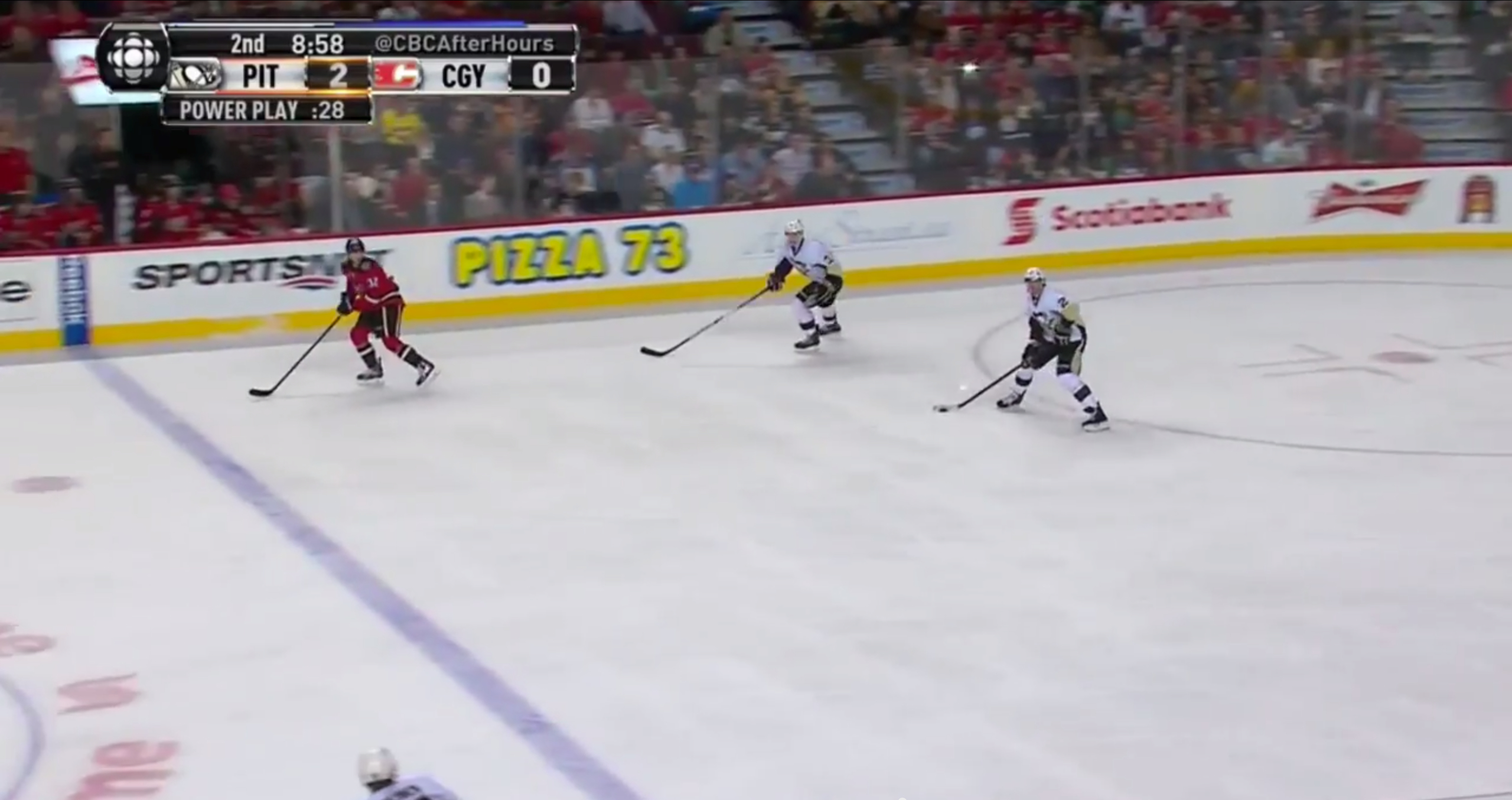 Players on most powerplays are skilled, and going right at skilled players often results in a defender getting burned and chasing the play the opposite way. As a power play, you love to trap an aggressive opponent or two that way. So, the Flames don't bother.
It really frees up a player to provide pressure right inside the blueline, which should encourage the bad guys to dump it in on future zone entries.
Here's Backlund, who has to pivot to backwards because of the Leafs late drop, but he still stops just inside the blue and reads the Leafs standard "gain the zone" play, and gets it out: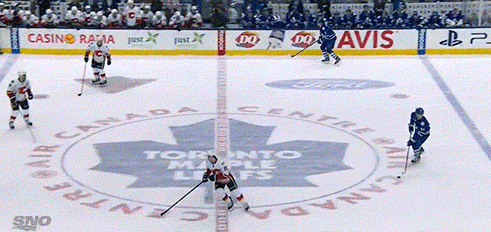 [Courtesy: Sportsnet]
Backlund again, making life difficult on set-up: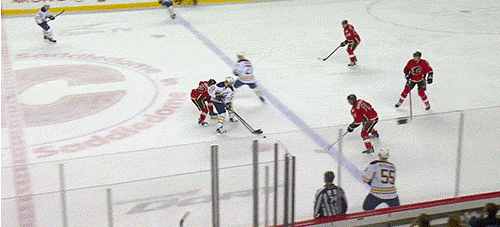 [Courtesy: Sportsnet]
He's got great jump, doesn't he?
The Flames again not allowing a set-up without a dump: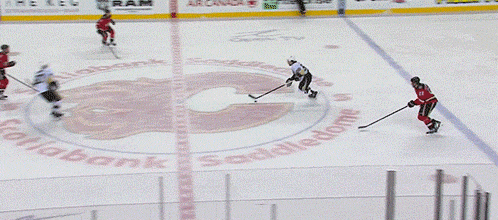 [Courtesy: CBC]
Early pressure eliminates late problems.
Even with their rough save percentage short-handed, the Flames penalty kill was statistically average. It just took being a lot better than average to get there.