Unique Team Traits: Good luck stopping the Philadelphia Flyers' top power-play unit
theScore's multi-part team previews includes a look at something that separates each team from the pack. From specific breakouts to power-play formations and beyond, Justin Bourne and Thomas Drance hope to highlight something you haven't noticed in the past.
What we noticed
It was borderline unfair how good Philly's PP1 was last season
During the 2013-14 NHL season, the Philadelphia Flyers' first power-play unit was near perfect.
The "perfect unit" doesn't mean the five best players - the Kings have five excellent players and they were dog meat - Philly just had the ideal guys for the job.
Like a Danny Ocean handpicked team of specialists, they had all the ingredients: size, skill and savvy. And like any overachieving, ragtag group of lovable crooks (or pirates), they had a demolitions expert.
The Flyers power play operated at 19.7 percent in 2013-14, a goal shy of cracking the NHL's five best, and it was the first unit that did the heavy lifting.
PP goals by the first unit: 40 (total power play TOI: roughly 1,380 mins)
PP goals by the rest of the team combined: 18 (total power play TOI: roughly 1,030 mins)
When the dust settled Claude Giroux finished fourth league-wide in power-play points (37), Wayne Simmonds was third in power-play goals (15) and Kimmo Timonen was 12th among D in power-play points (12). All five players were in the top 40 in power-play points, and generally by a lot. (They also had an exceptionally high GPU - that's gingers per unit - but that's neither here nor there.)
This group used a mess of options to make defending them largely unpleasant.
The background
A good power play generally involves a lot of movement.
Teams have a number of set plays that are triggered by directional cues. Since players can't really hear each other, plays are initiated by the puck-carrier moving to a particular part of the zone.
The Flyers rarely do that - move, that is - and they get away with it because Claude Giroux is so comically good, and everyone else is perfectly suited to their role.
The set-up
The Flyers want the puck on Giroux's stick. While Timonen is up top, and has distributing options, he's not the QB.
Here's what Giroux sees.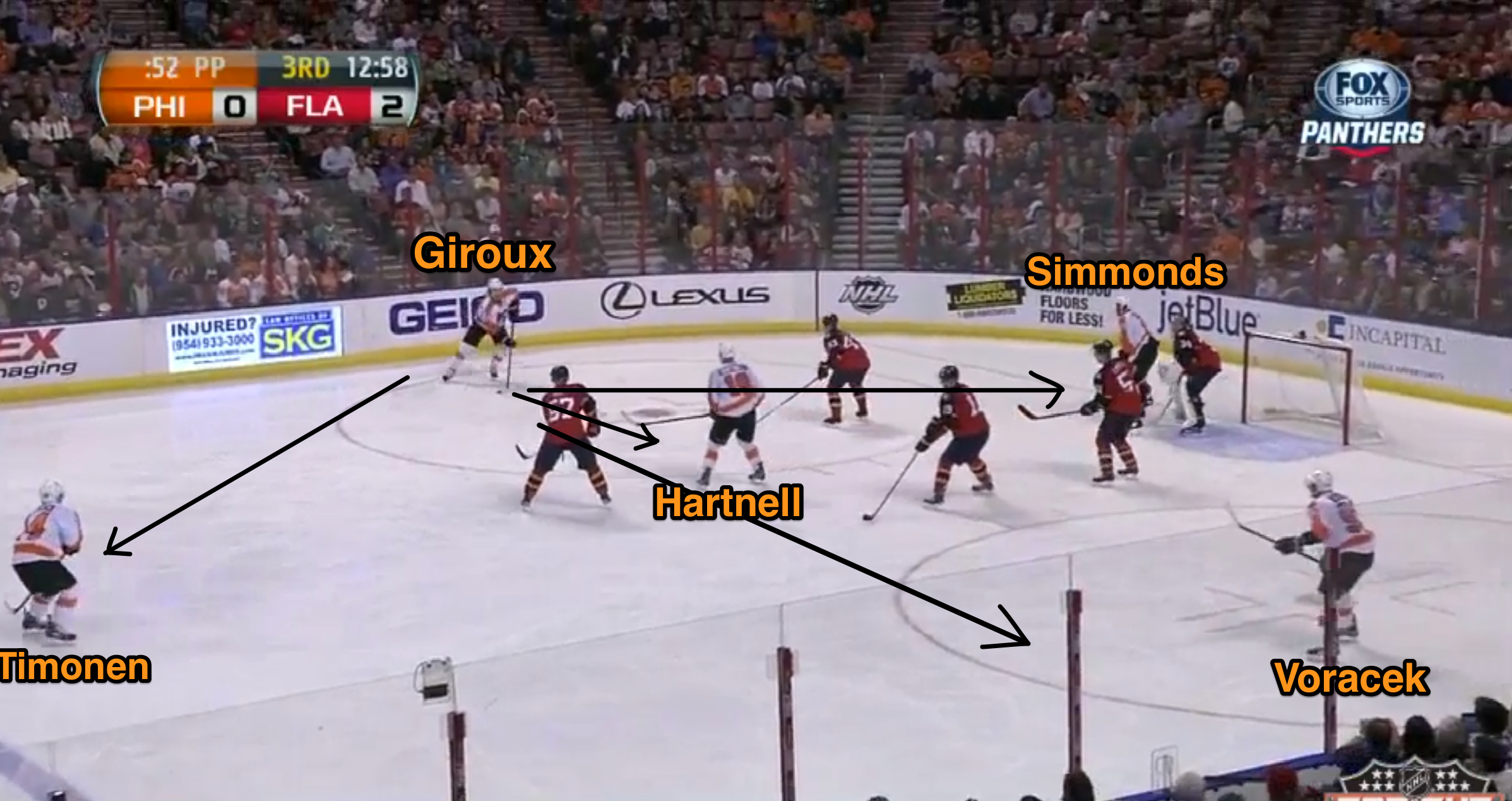 Timonen, Scott Hartnell and Jakub Voracek each have a one-timer available. Simmonds has a stick available off the net where he can take a pass, turn and stuff it. He's also providing a screen if Giroux wants to shoot. Oh, and if Timonen gets the puck, Giroux is on his one-timer side too.
All that means is every player is a realistic option, as each can score from their current location. Good luck defending that.
It works in part because of handedness, but also because the individual skill sets are so nicely tailored to each player's positioning. Hartnell - who thrives playing in traffic - is a perfect fit for the high slot, where he can create havoc no matter what Giroux decides to do. He can screen Timonen point shots, or fade in to do the same when Giroux is high with the puck. Double screens are deadly and the Flyers repeatedly took advantage.
Moments after the screen cap above, Philadelphia scores a PP goal for the seventh straight game, and it's the myriad options that create the chance.
The breakdown
Giroux receives a pass from Timonen after the Flyers recover a loose puck, and everyone slides into their positions.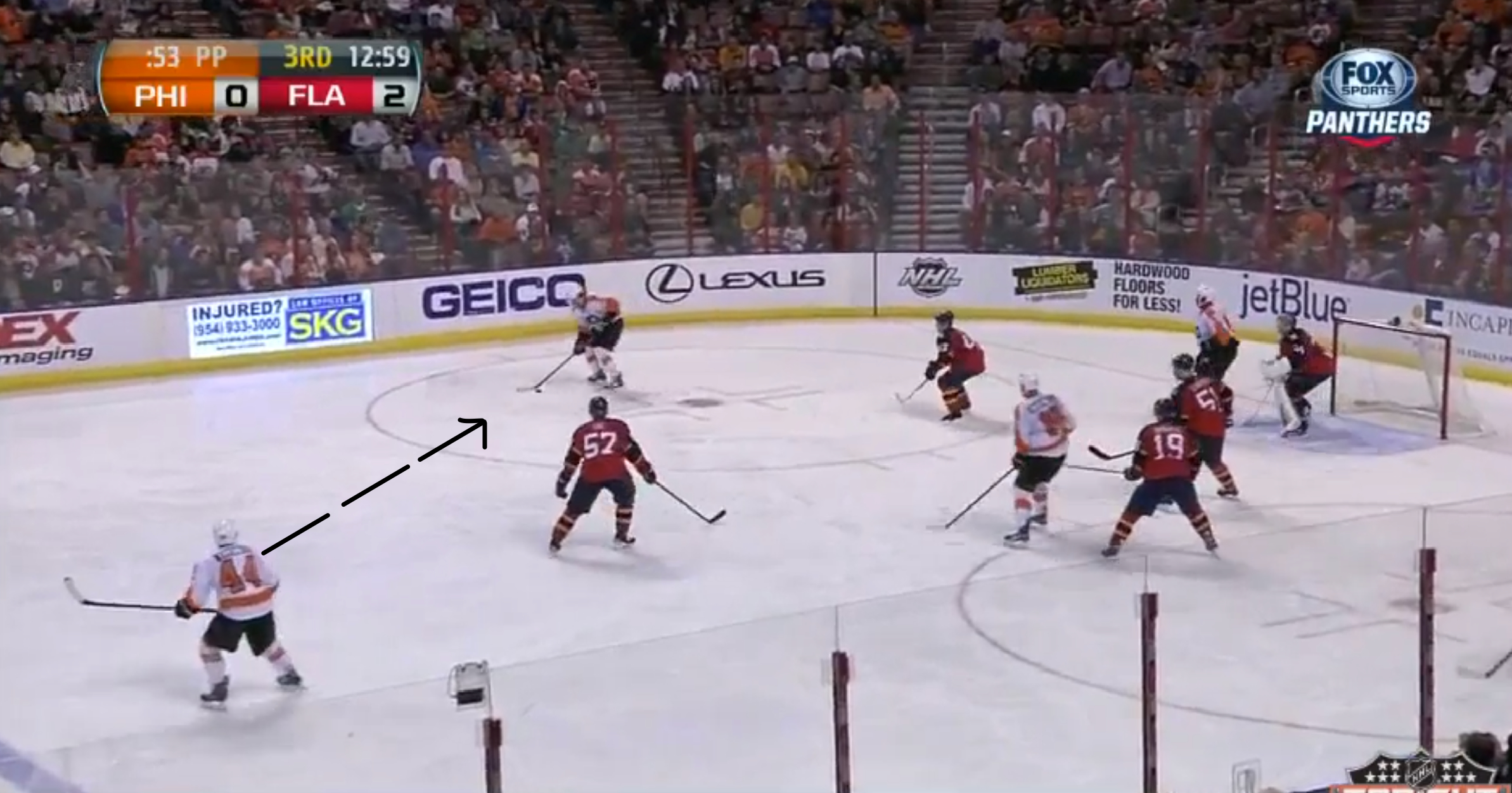 Below you can see the Panthers D-man (Mike Weaver) and high forward (Marcel Goc) close off the biggest immediate threat - the one-timer from the slot. Weaver does it with his stick, Goc with body position.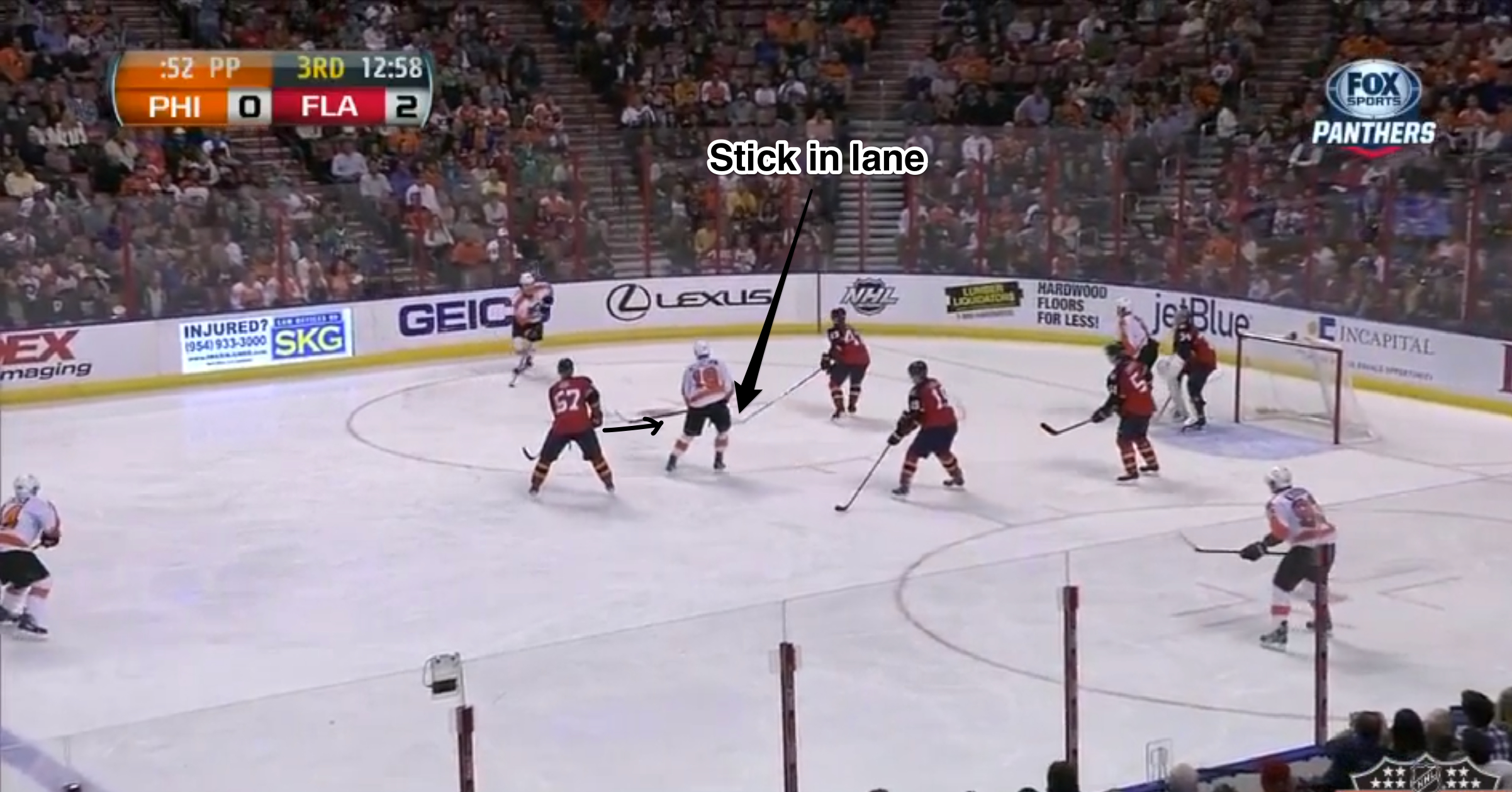 But then Giroux takes a step or two down from where he received the pass towards the goal line. This makes Weaver change his stick position to cut off a direct pass to Simmonds at the net front.
When he does that, look what happens to the lane to Hartnell, below. Giroux's eyes light up. (Scottie Upshall's do too - he's the Panther's backside forward - so he knowingly drifts over, giving Voracek space).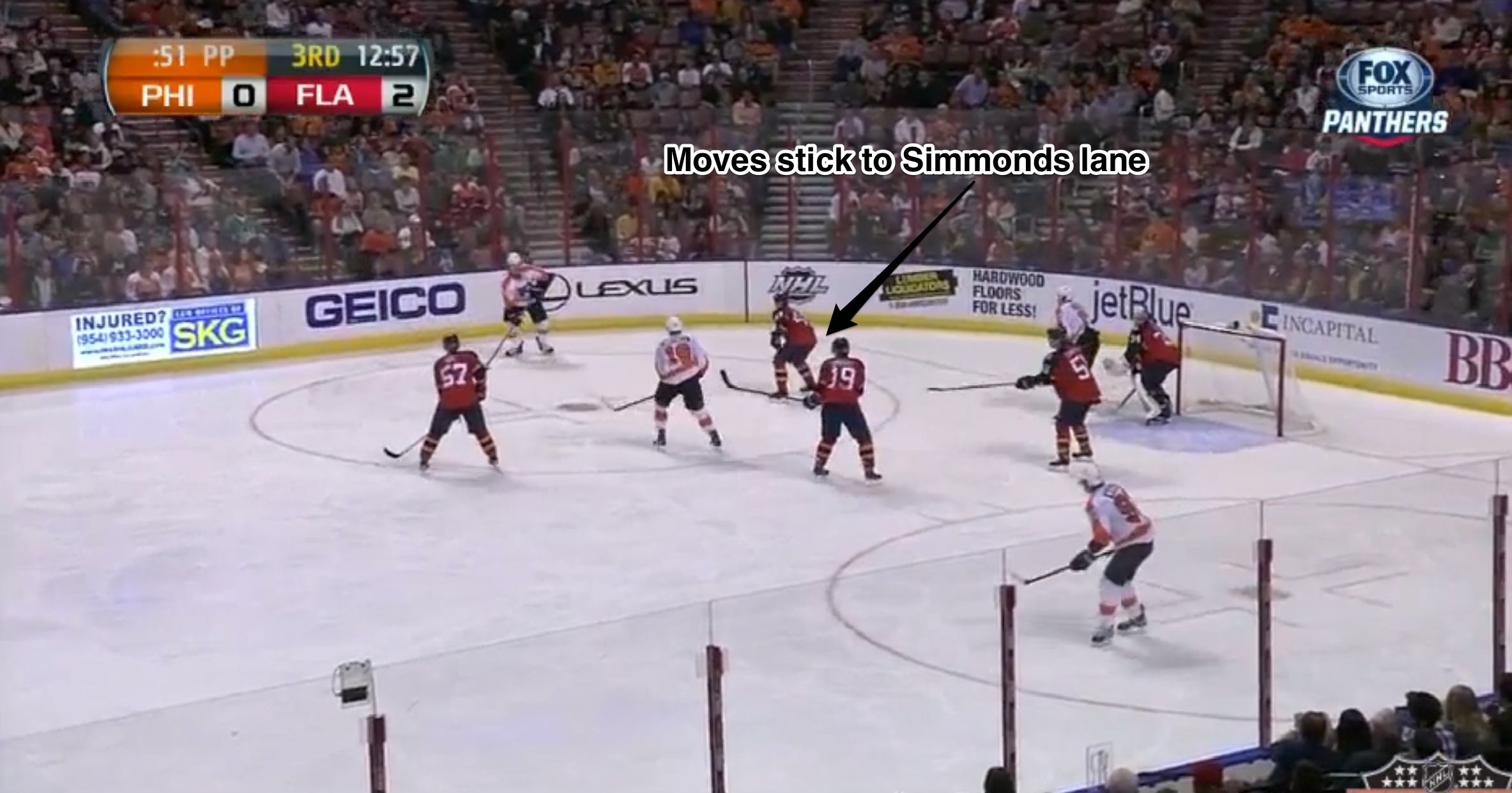 All Giroux has to do now is make sure Goc doesn't mess up the open lane to Hartnell by switching his stick position, so he takes a step up towards Timonen, and Goc slides up like the puppet he is.
After the step up he slids the puck in; Weaver sees the pass coming, and jumps up to stop the shot.
But it's too late, the shot's off, and Weaver's commitment to Hartnell has left Simmonds all alone. Shot, rebound, goal.
Simply by moving his feet Giroux has the defenders thinking about Timonen and Simmonds, and there that opening is: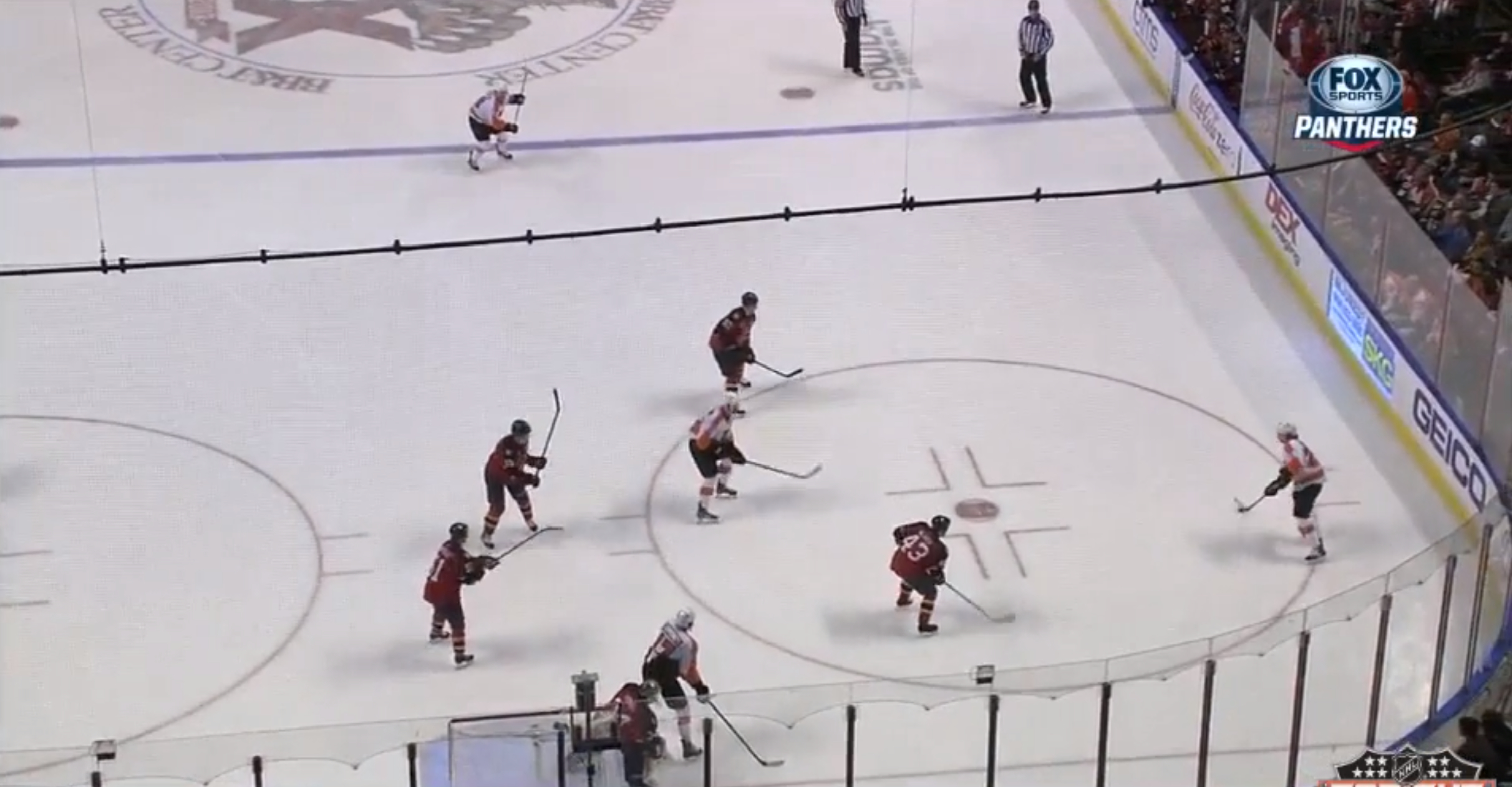 This doesn't work if the net front presence is just some donkey the team trots out as a screen, and it doesn't work if it's some skill guy who can't stand in against pressure to be effective on tips and rebounds.
Kurt R. of Broad Street Hockey wrote about Simmonds last season as he racked up 15 power-play goals, all of which came from within five feet of the net.
Here's a look at his power-play goal locations as of late March, before Simmonds scored three more all from same part of the ice.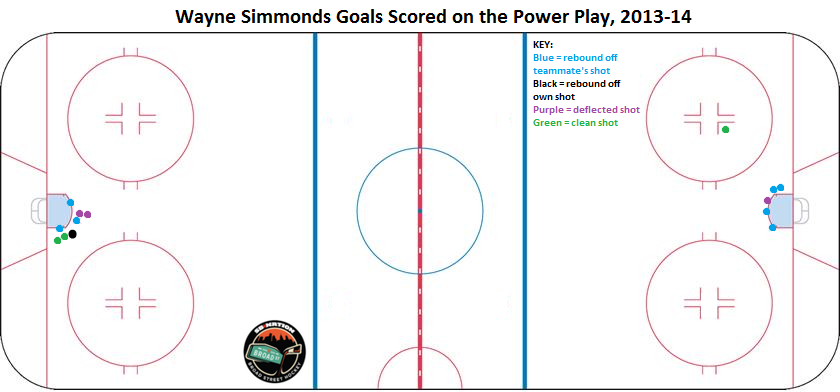 As he noted, Simmonds is the best net-front presence on power plays in the league.
Without that deadly low threat, the opposing blue-liner would simply lock down on Hartnell, eliminating the most dangerous shooting option, and leave the guy in front. But, as we'll see below, Simmonds has the skill set to suck people away from Hartnell.
Giroux has a lane…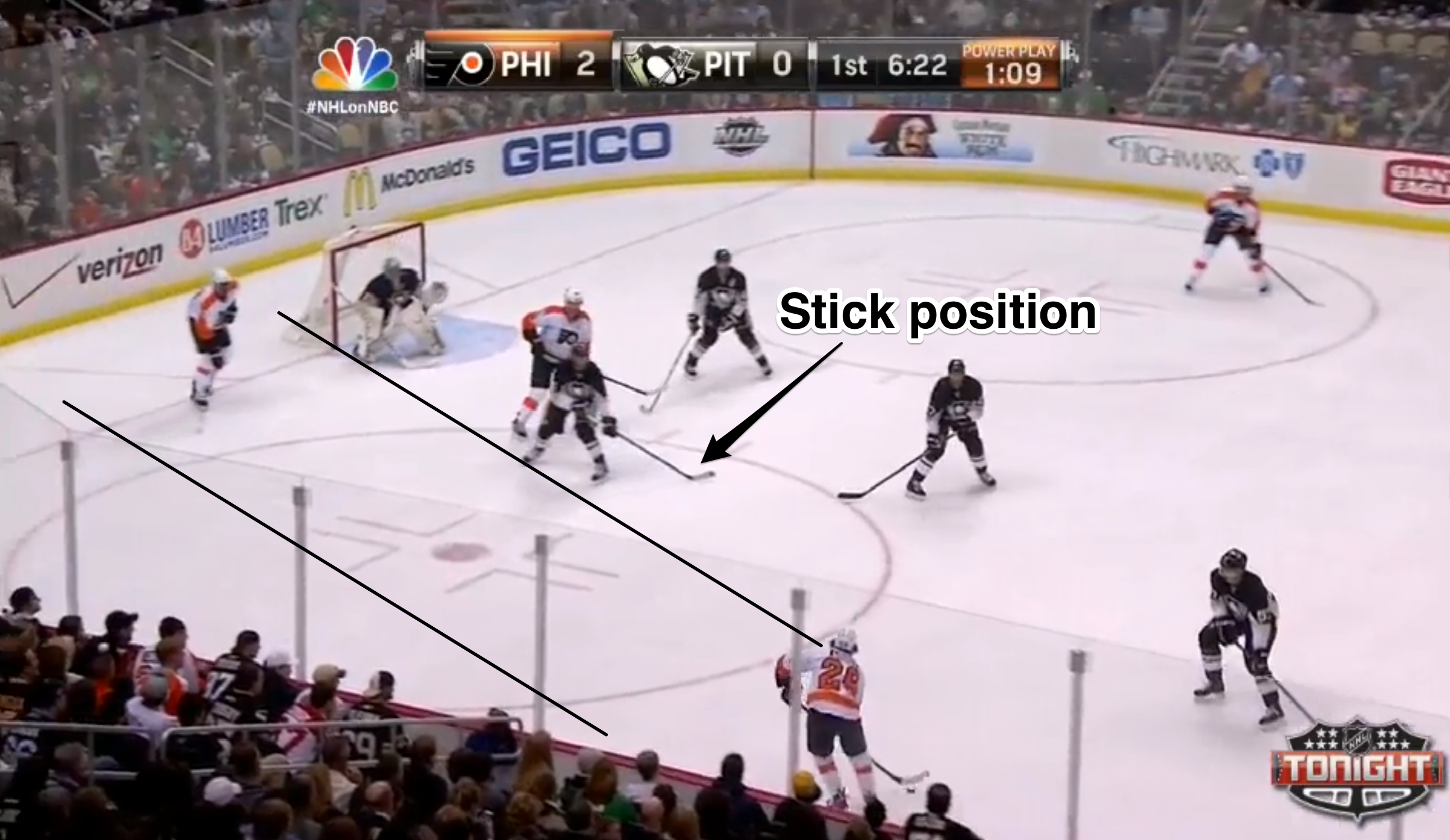 He uses it…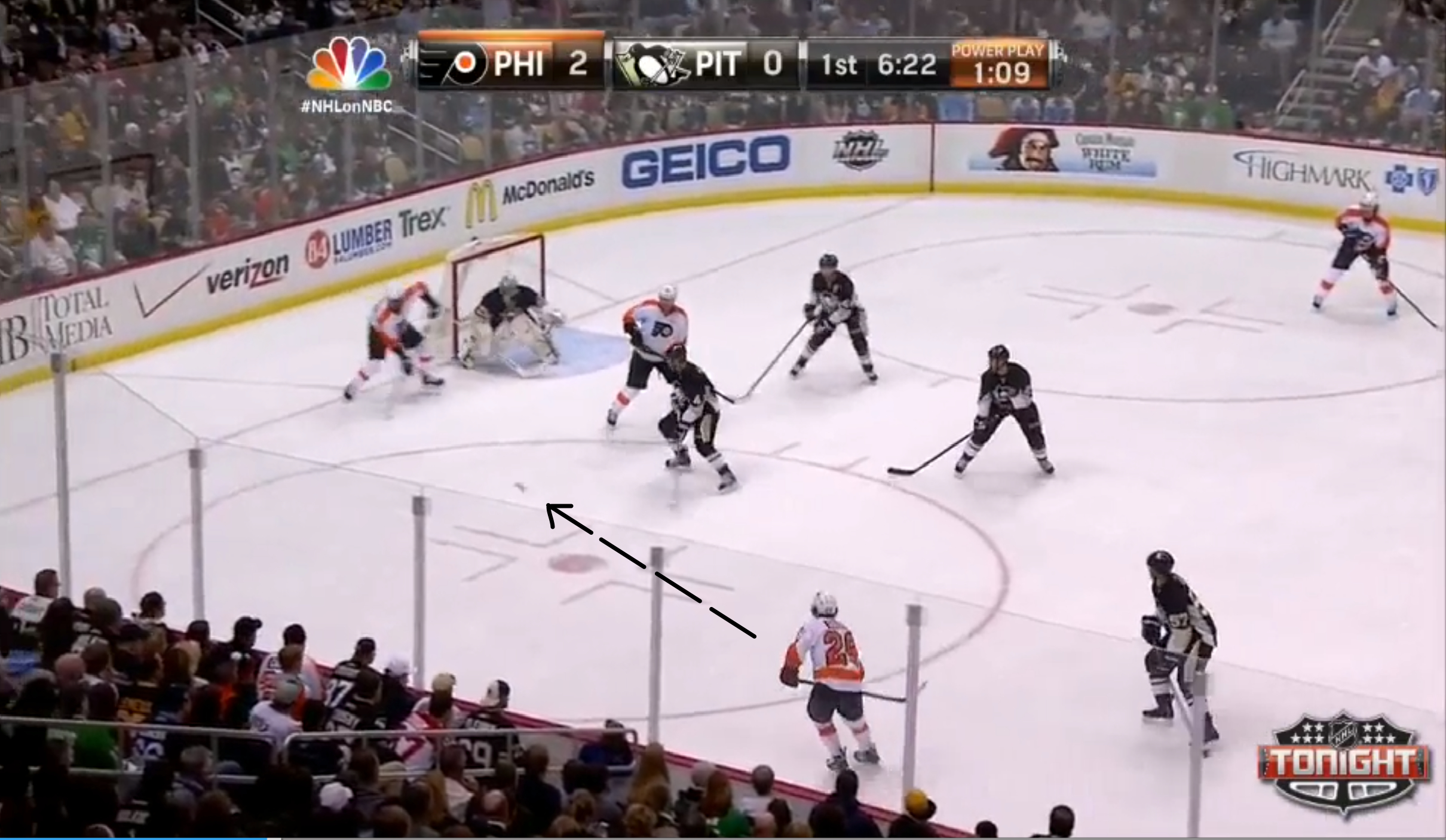 A quick spin and a stuff, combined with the strength to ward off pressure...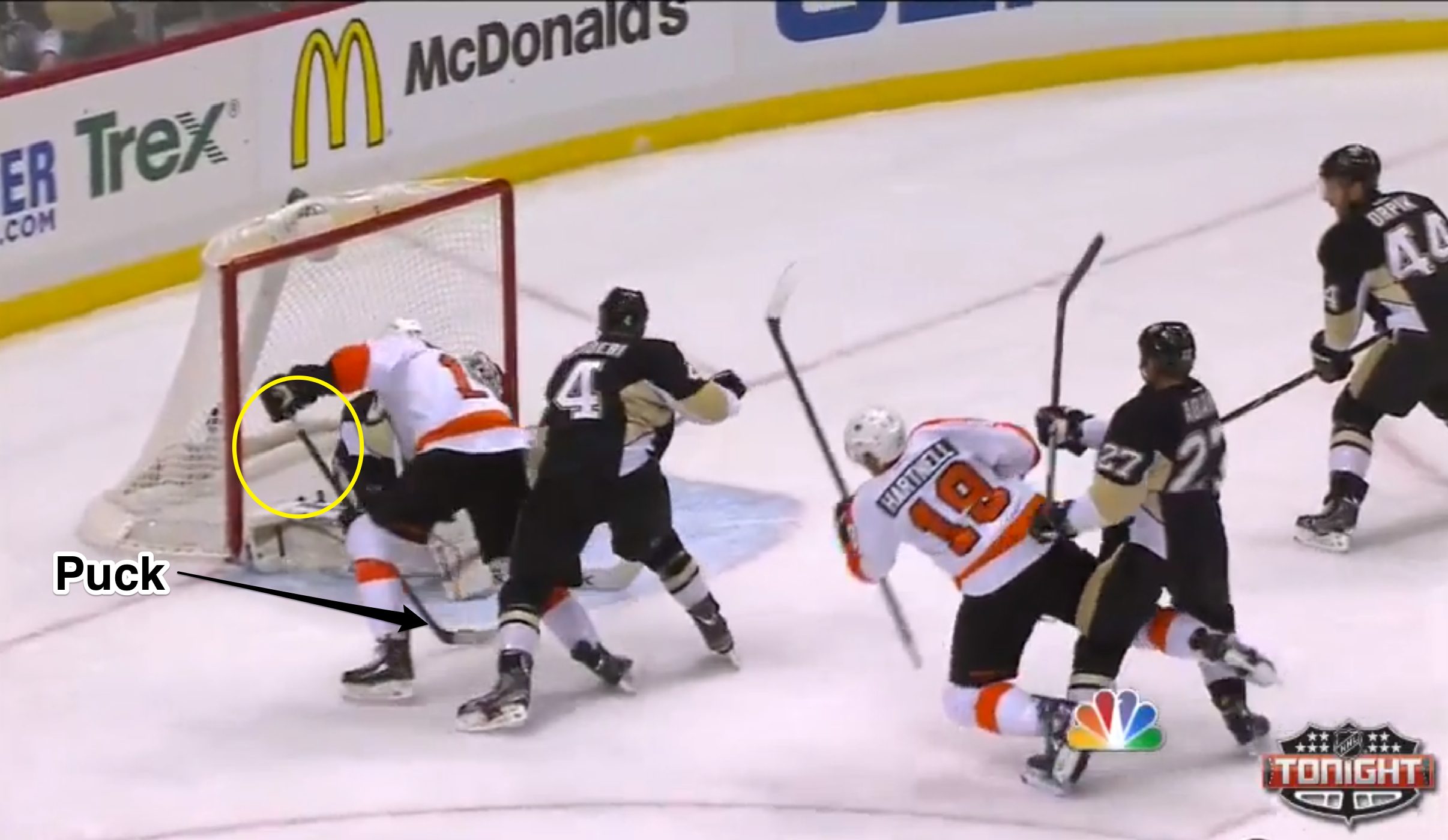 Count it, power-play goal.
From that spot on the ice Simmonds can screen the goalie, tip pucks in, bang rebounds home, handle passes cleanly and score goals.
When the puck does go up top away from him, Timonen has his choice of three shooting spots - himself, or one-timers to Giroux and Voracek. The rich get richer.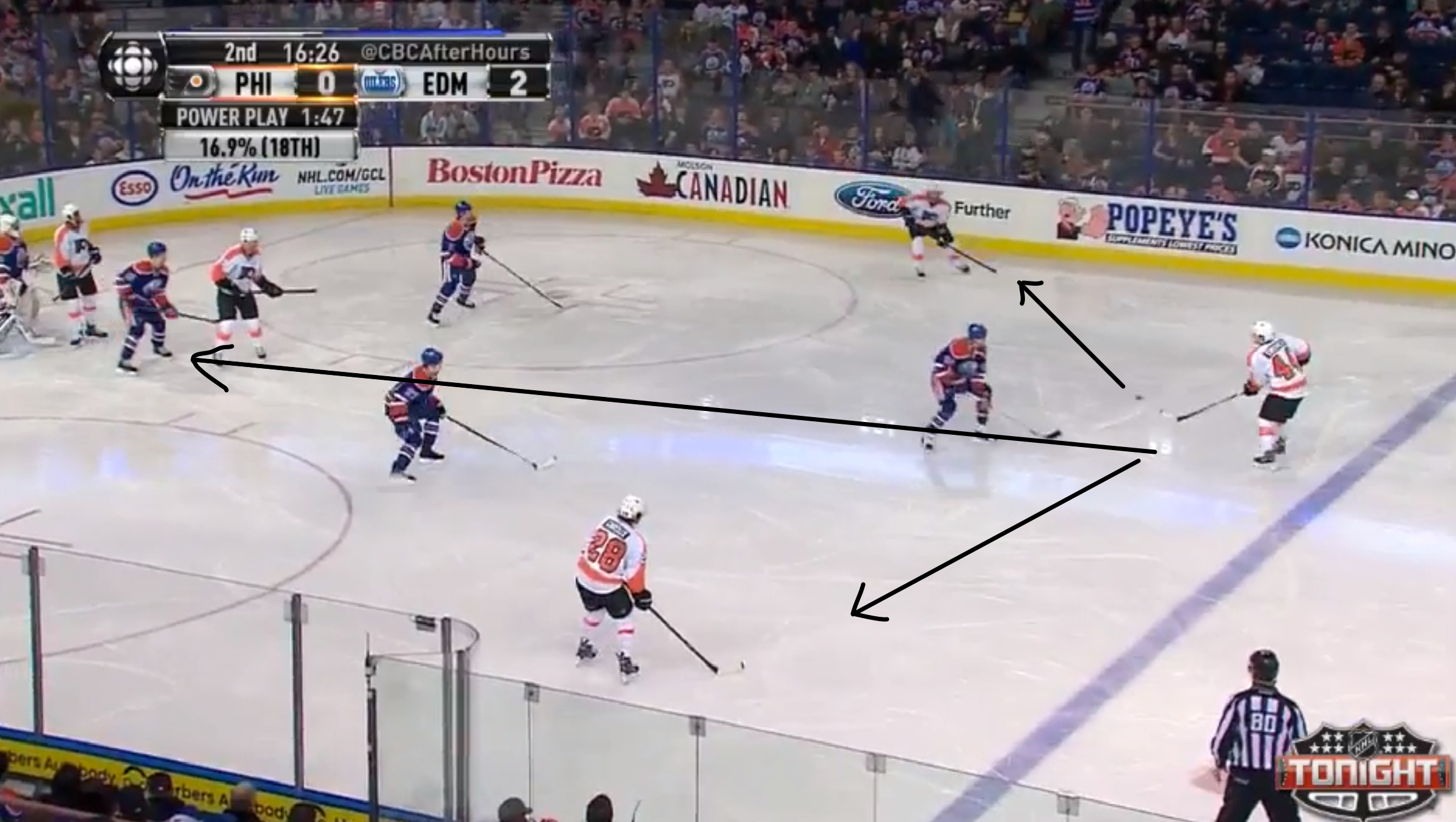 And Voracek has options. He can shoot through a double screen, or use the seam to Giroux (that goes both ways, both of which can result in more one-timers).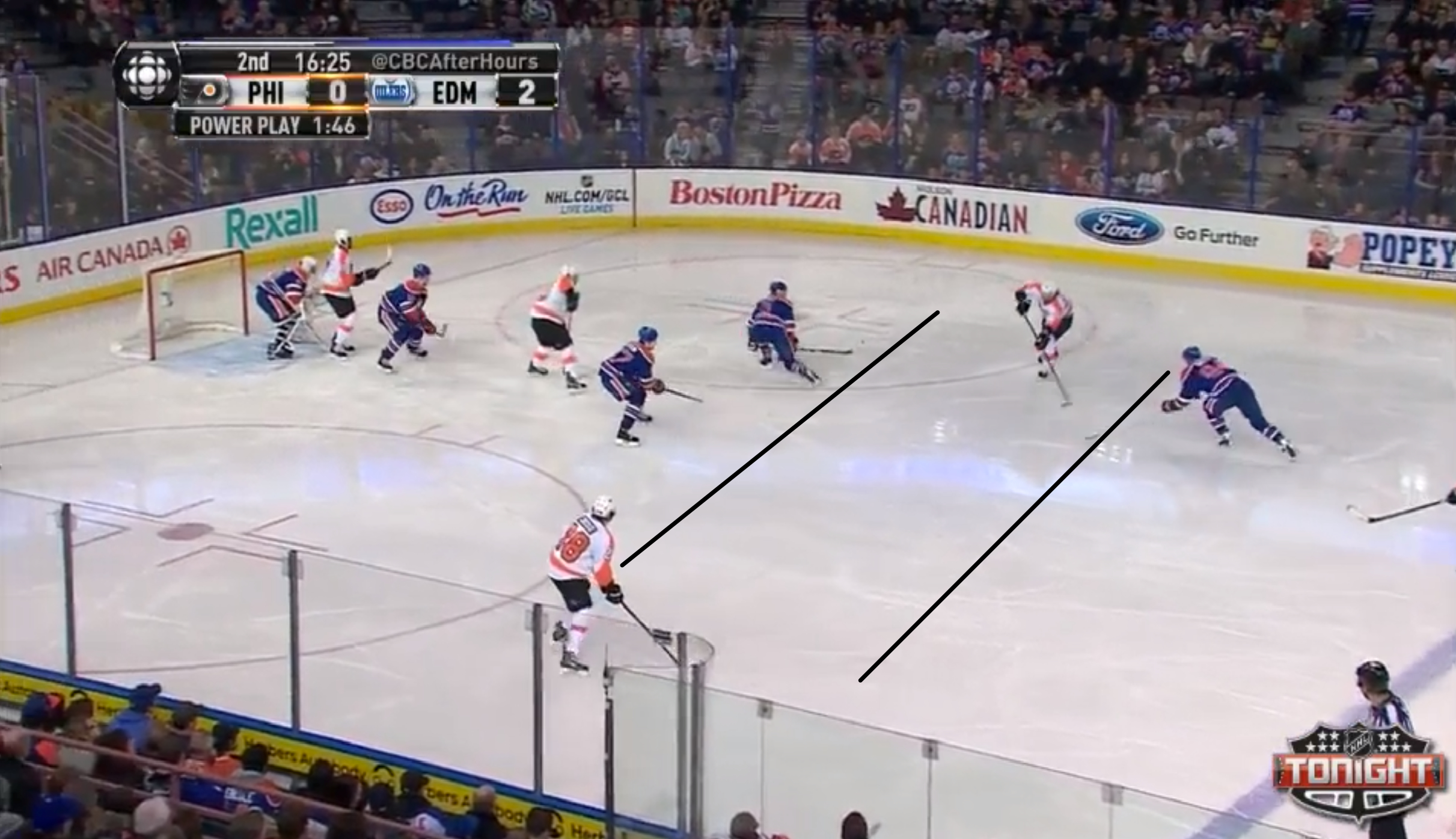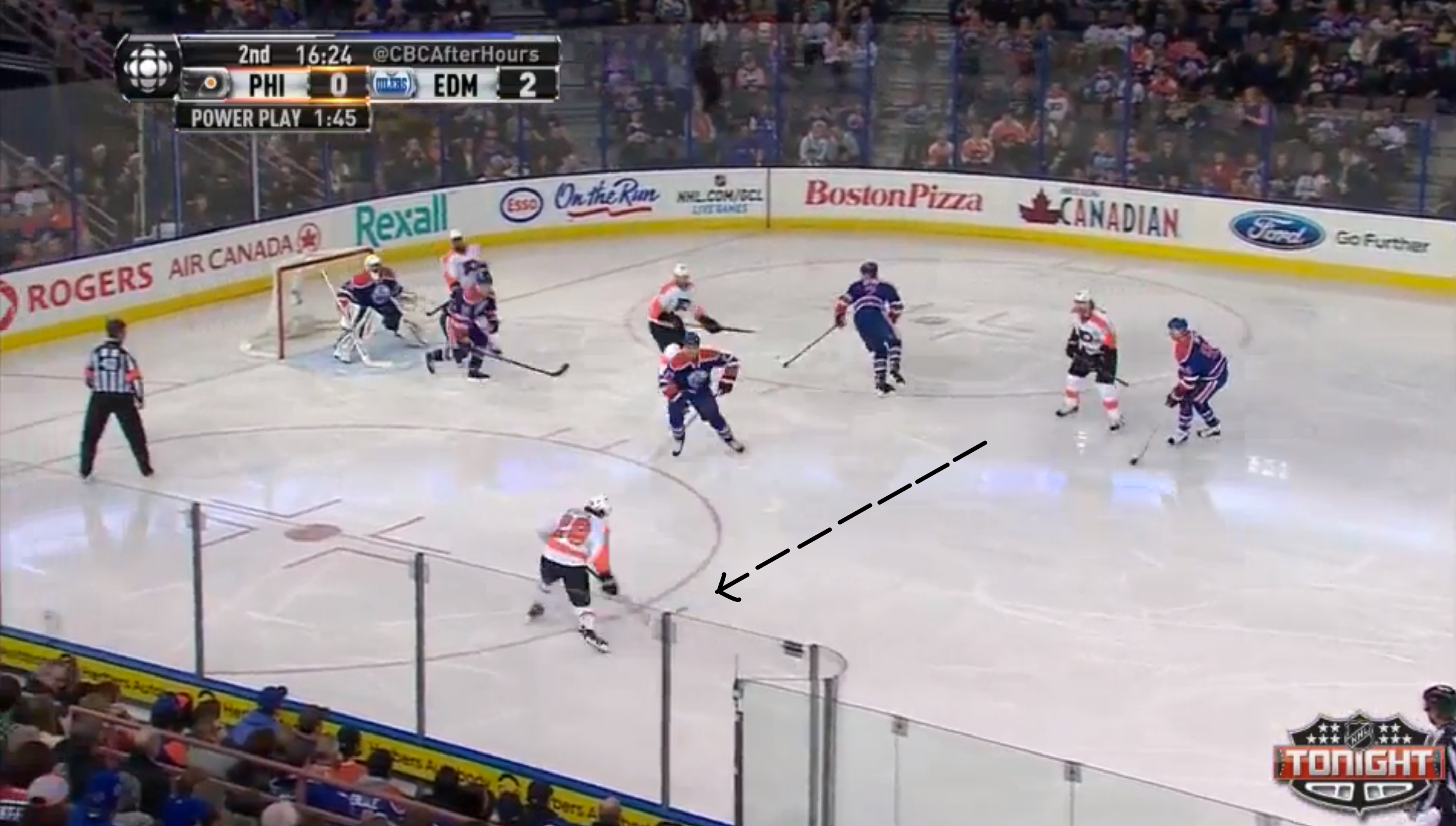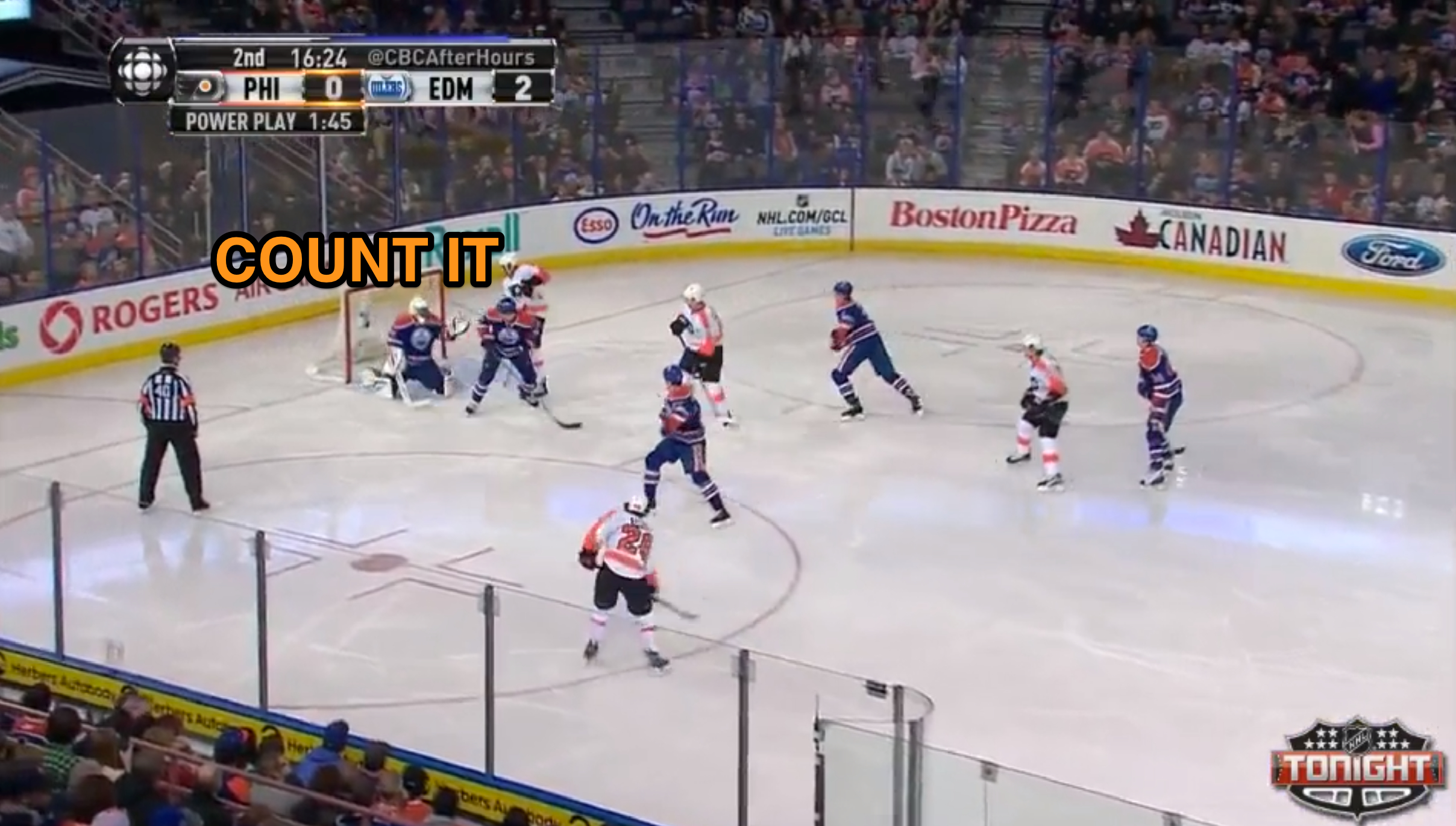 Voracek can even hit Simmonds back-door if the PK is sleeping. You won't believe this, but it's a one-timer for Simmonds. Notice the theme?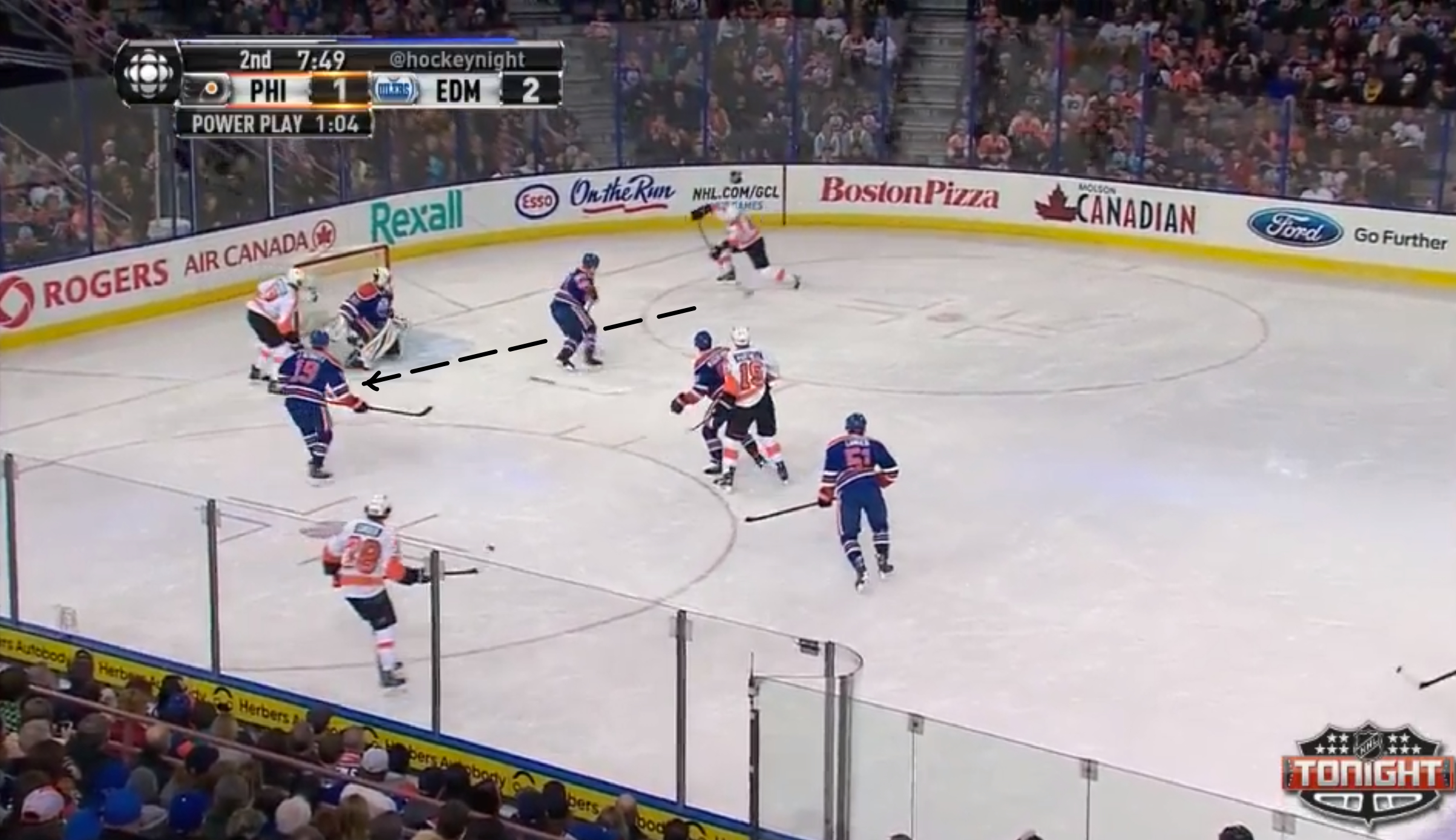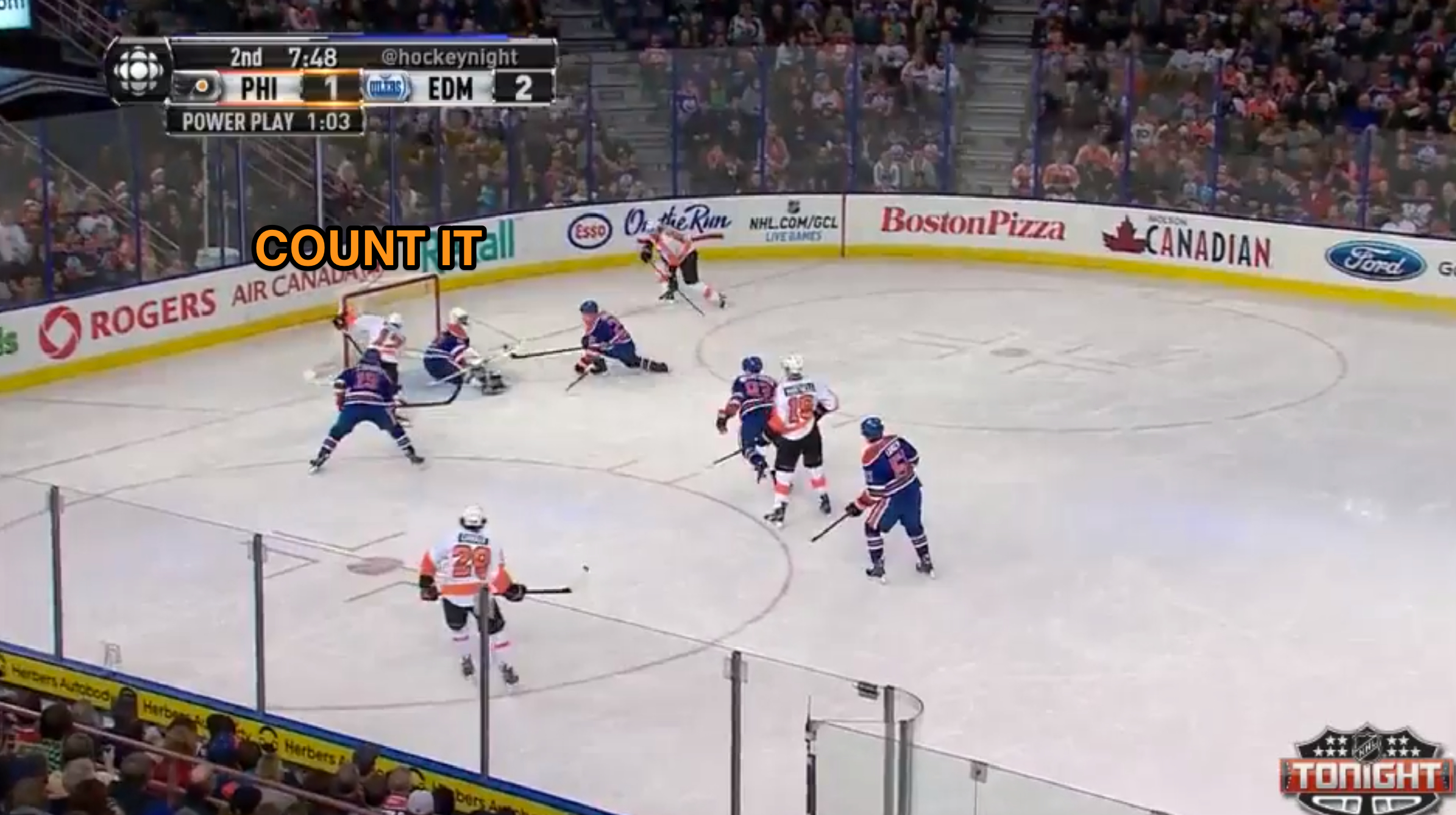 It's a combination of handedness and specialization that allows the Flyers a seemingly endless array of dangerous shooting options.
From Giroux being able to create from a stand still on the wall, to Simmonds being a net front specialist, and Hartnell's knack for playing in traffic and beyond, the Flyers' top unit is easily one of hockey's best.
Comments
✕
Unique Team Traits: Good luck stopping the Philadelphia Flyers' top power-play unit
  Got something to say? Leave a comment below!