Are the Jets tanking for Connor McDavid?
It's going to be tough to out-terrible the Buffalo Sabres in 2014-15.
The last team to finish with fewer points than Buffalo's 52 from last season was the expansion Atlanta Thrashers in 1999-2000 (39!). Having added little of real consequence this off-season means the Sabres could once again be the worst team in the league, and the front-runners to land prospect gold in Connor McDavid or Jack Eichel.
But over in the West, a challenger lurks like Gollum, looking to snatch away the preciousssss prize the Sabres seem to have their collective hands wrapped around.
There's every reason to believe the Winnipeg Jets will be just awful, too.
The biggest issue for the Jets, is that to get points, you have to beat teams. I know, stay with me here, this gets complex.
To get points, you have to beat teams. You play teams in your division the most. Let's take a gander at theirs, the Central:
Chicago Blackhawks: Two Cups in the last five years, narrowly missed one with a Game 7 OT loss to the Kings in the West Final last season. (Let's be honest: they'd have beaten the Rangers, too.)
St. Louis Blues: Coming off 111-point season, added Paul Stastny. Brutally tough team.
Colorado Avalanche: Coming off 112-point season - nearly 30 better than Winnipeg - with a young core getting better. Due for a drop, but not to Winnipeg's level.
Dallas Stars: Tremendous group coming off a playoff year that added Jason Spezza and Ales Hemsky. Young guys like Valeri Nichushkin and Jordie Benn are ready to take steps. Potential home-ice-in-playoffs team.
Minnesota Wild: 98-point team that made the conference semis last year, added Thomas Vanek.
Nashville Predators: Missed playoffs by a scant three points after going 2-9 in the shootout. Added James Neal, Olli Jokinen, Mike Ribiero, and Derek Roy to a team with solid D and goaltending.
The Jets finished last in the Central by four points, and did next to nothing this summer. Here's their complete list of their offseason transactions, according to CBC: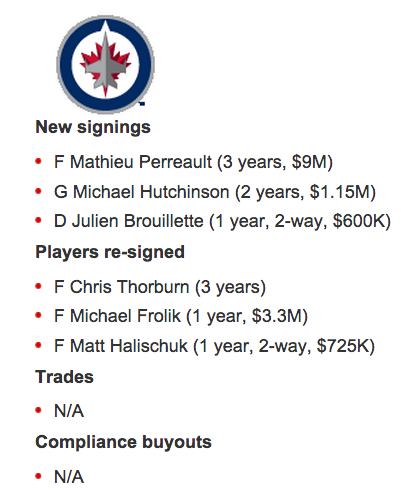 Hey, Perreault's a nice signing. And then …???
So who do they beat this year? When they play the other division, is it Los Angeles, Anaheim or San Jose? Are they better than the re-loaded Canucks? What about the Oilers, who just added some nice pieces to a growing core of talent? Nope, nope and nope.
Maybe they give the Flames and Coyotes some good games - they have to win some nights - but beyond that, how do they look at their roster, see it isn't good enough, and be so inactive? Banking on improvement from Mark Scheifele and Jacob Trouba isn't enough when every team's young talent does the same.
Their goaltending is still among the worst in the league, their best player (Evander Kane) seems to want out of town, and they're apparently content heading into next season with the same roster that saw them miss the playoffs by miles.
So the question is … are they tanking the season?
Cheveldayoff on the hot seat? Not likely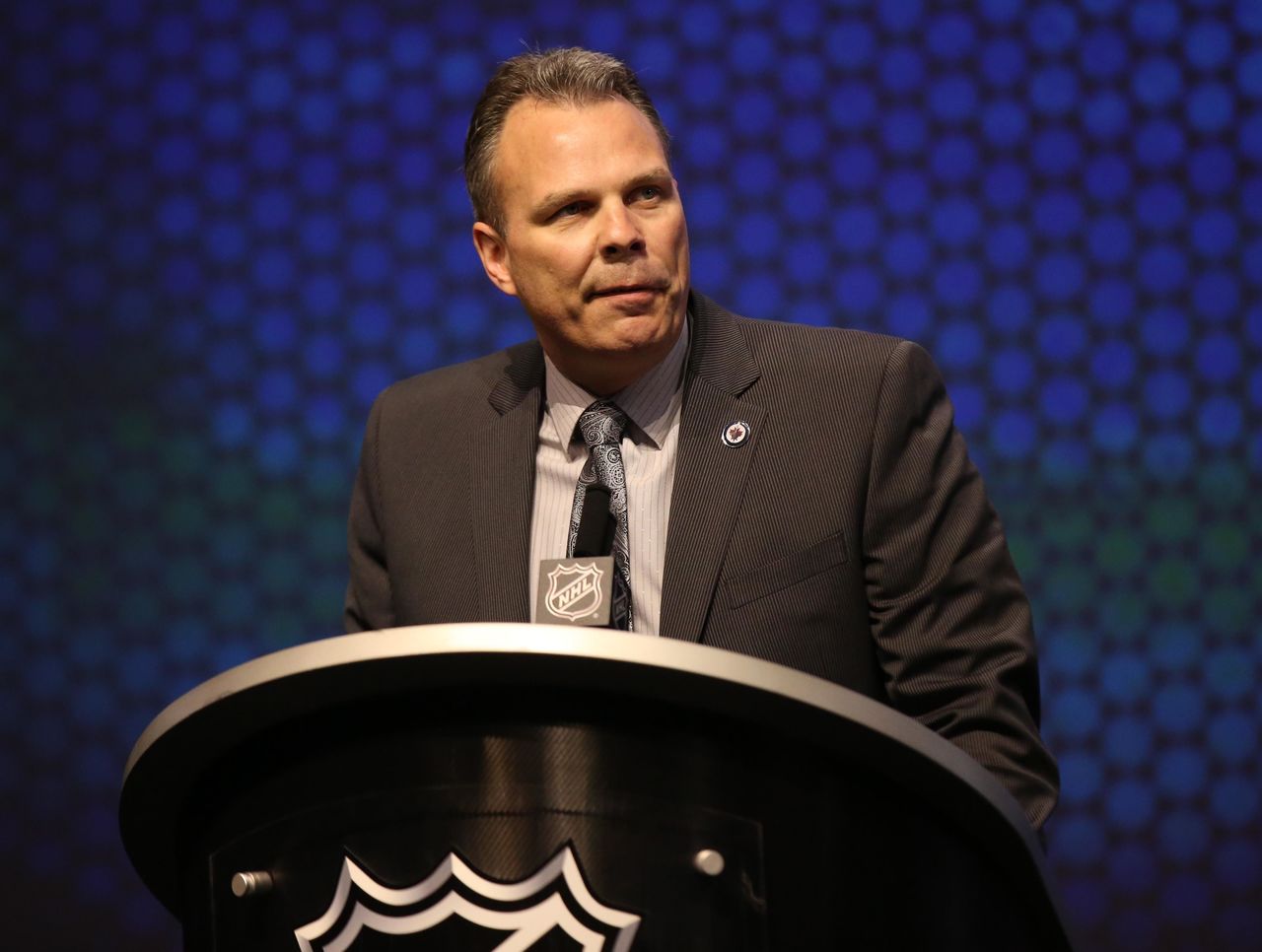 For GM Kevin Cheveldayoff (more like Kevin Chevelsummeroff, amirite?), that might be the plan. He might recognize the need for a world-class difference maker like the two that are available next summer. He might recognize that a few stop-gap pickups aren't going to put them over the top in their division. This inaction may have been his version of what the Pittsburgh Penguins did years ago when hoping to acquire Mario Lemieux.
There's never any guarantee that tanking a season results in acquiring the top pick, but it certainly gives you the best chance. Being terrible for the season could be a direct route to picking up one of those huge assets, which would be monumental for a franchise whose highest rated prospect (via Hockey's Future.com) has a "probability of NHL success" grade of "C."
If the Jets aren't, in fact, aiming to stack Ls on Ls on Ls, then somebody needs to take a closer look at Cheveldayoff's employment. My hunch though, is that he and Jets owner Mark Chipman are on the same page here. This seems intentional. The Jets and their patient fans are likely in for another long season. As that train enters the 2014-15 tunnel, here's hoping they find some light on the other side.
Comments
✕
Are the Jets tanking for Connor McDavid?
  Got something to say? Leave a comment below!