Systems Analyst: How the Rangers used the Canadiens forecheck against them
Presented by

The Rangers have been a pretty tough nut to crack when they've played with a lead, particularly over their five-game, post-season winning streak. In Game 2 the Canadiens found themselves knotted at one after a well-played period that saw Henrik Lundqvist shut the door. There was a draw in the offensive zone, their third line of René Bourque, Lars Eller and Brian Gionta was on the ice, and they were hungry to take the lead heading into the second period.
Unfortunately, Rangers coach Alain Vigneault out-foxed them: I have no doubt he watched tape to figure out how the Canadiens like to forecheck their o-zone lost draws, and added this wrinkle.
Let's take a look at how his club beat the forecheck before scoring the game-winning goal.
****
The first question I have, and one I'm unable to answer, is whether Lars Eller intentionally lost the faceoff or not. That may sound stupid, and it would be a stupid thing to do if you did it often, but running intentional lost draws is common among certain coaches. You can catch d-men sleeping here and there, and pick off pucks like a safety jumping a pass route in some pretty dangerous areas. The other reason I think it could be the case is the speed with which Eller jumps by Derek Stepan (more on that below).
With that in mind: it's highly unlikely that the Rangers somehow picked off a lost-draw plan and called the perfect play to counter it. My hunch is that this is how the Canadiens usually forecheck on lost draws, and the Rangers have been periodically trying this.
So they line-up, and Stepan wins the draw back.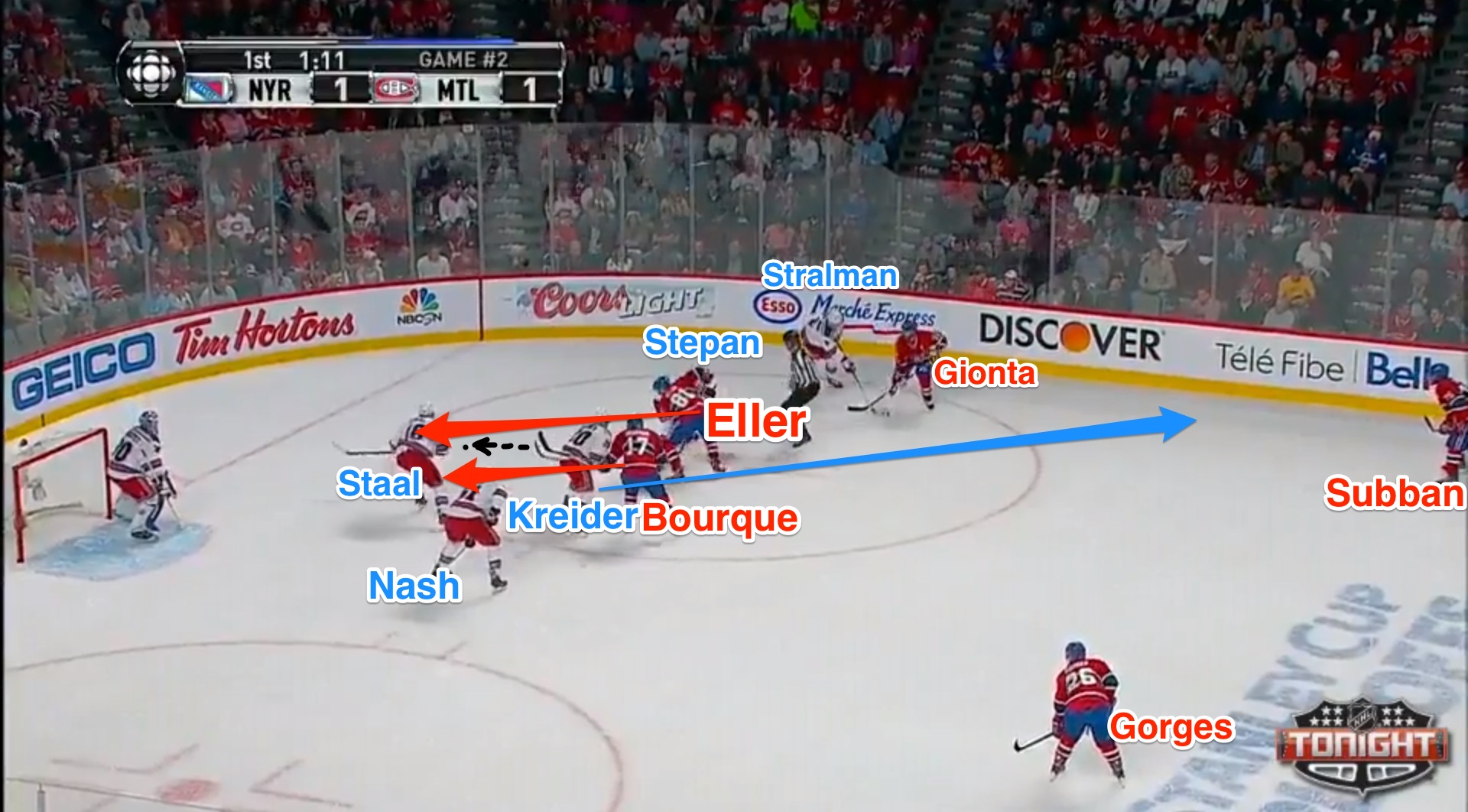 Eller jumps by to forecheck the puck, and Stepan, who would normally "get into" Eller a bit more, lets him by (which also explains why Eller was so unimpeded). Kreider goes through the motions like he's going to hold up Bourque, but he lets him go quickly as well.
Staal leaves the net-front to retrieve the puck, which isn't standard for d-men - Stepan appears to be trying to win it net-side, so that's clearly part of the play. It's also why Staal, a left-shot d-man, is on the right - so when he retrieves it, he can immediately fire it on his forehand.
Nash hangs back in front of the net in case of a disaster, and Stralman hangs around Gionta.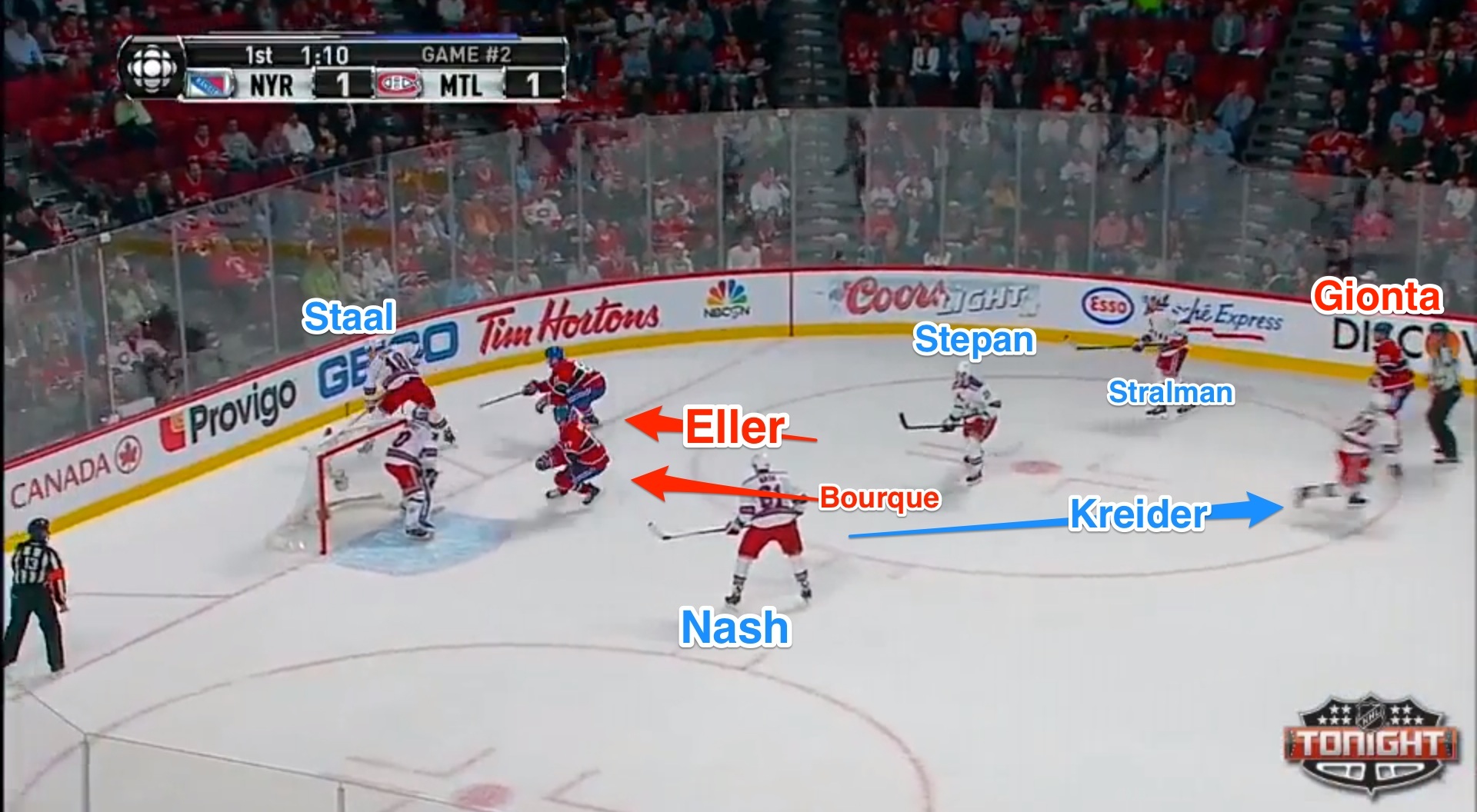 As Staal goes back on the puck, Kreider has taken off.  Eller and Bourque have received no resistance, so they're in on the Rangers d-man quick, while their linemate Gionta has taken up the strong side wall.
The issue now is this: here's what P.K. Subban and Josh Gorges see - a sprinting Chris Kreider. It's one of those "Oh, they're running a set play here" moments.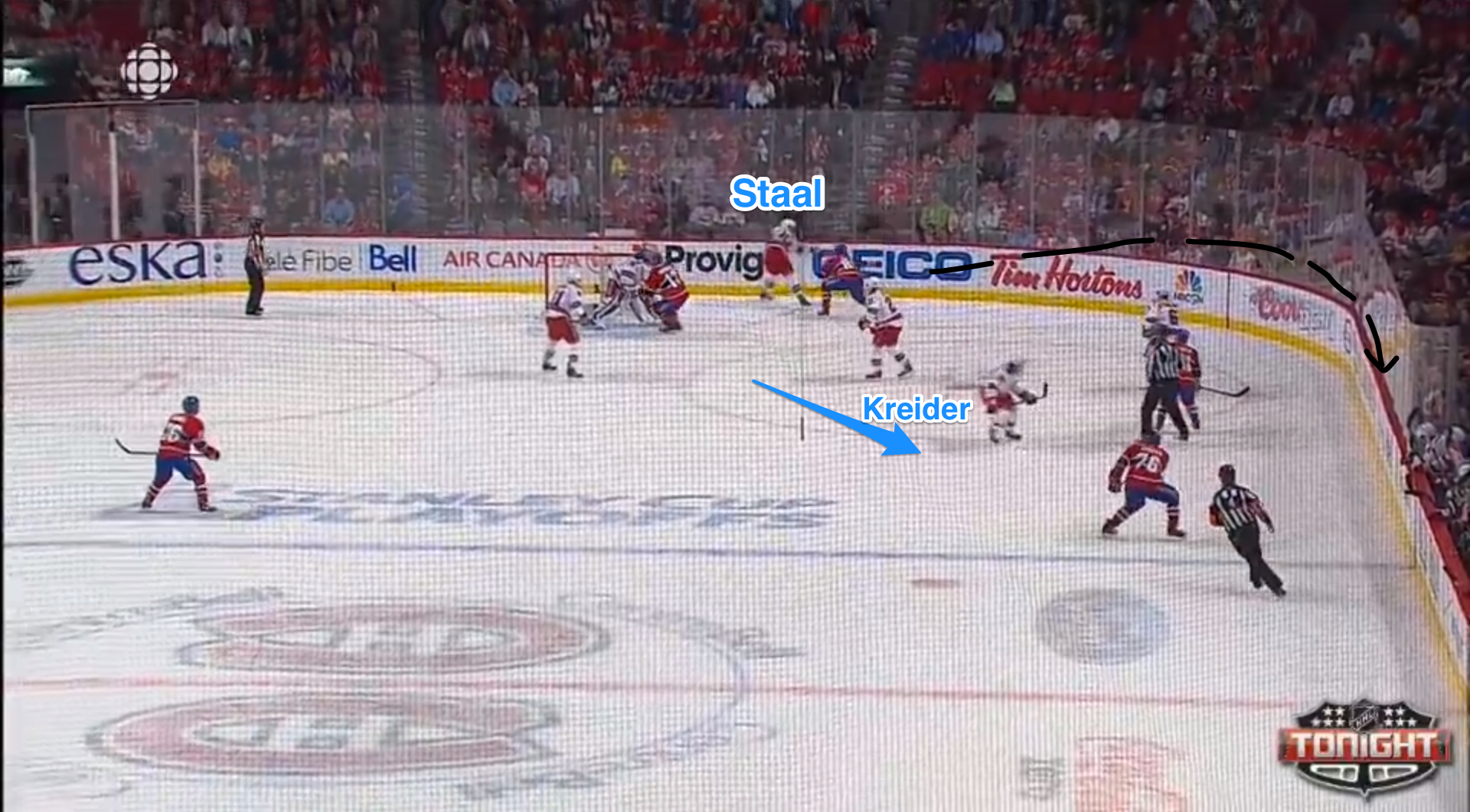 Staal is in solid possession, and the Rangers are flying a winger, Kreider, so Subban appropriately backs out.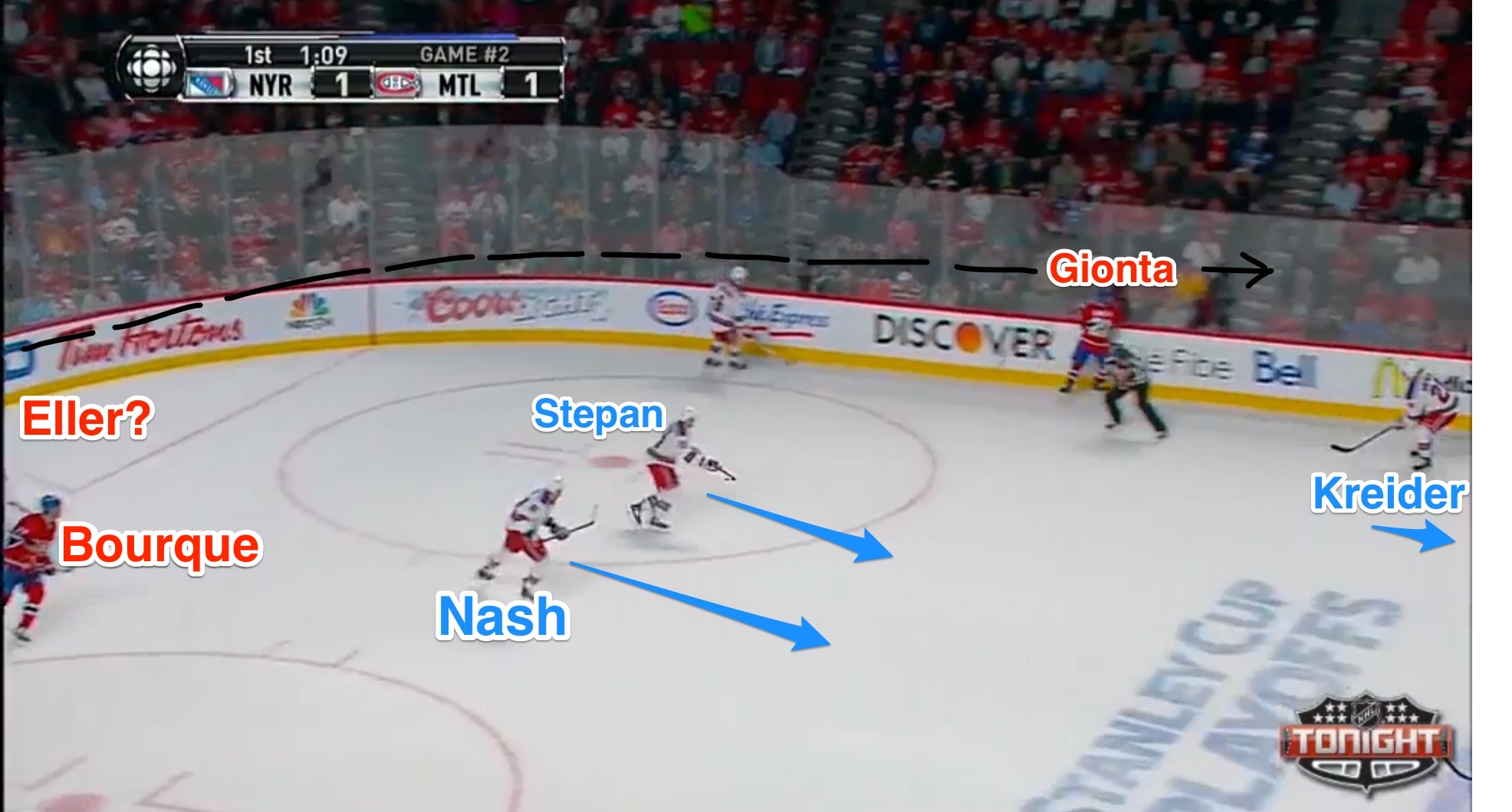 At this point, Gionta has thrown his momentum into the boards trying to keep the puck in, which has been rimmed high around the glass. Kreider, knowing where the puck is going to end up if things goes well, gets to the right area of the ice.
And that's it. Simple. They've used a team's forecheck against them.
Stepan and Nash have their momentum going up ice (you'll note they stayed on the d-side of the puck until it passed Gionta), and the d-men see Kreider surging out of the zone and about to get the puck, so they slide back. From there it's just a standard 3-on-2, which the Rangers execute to perfection.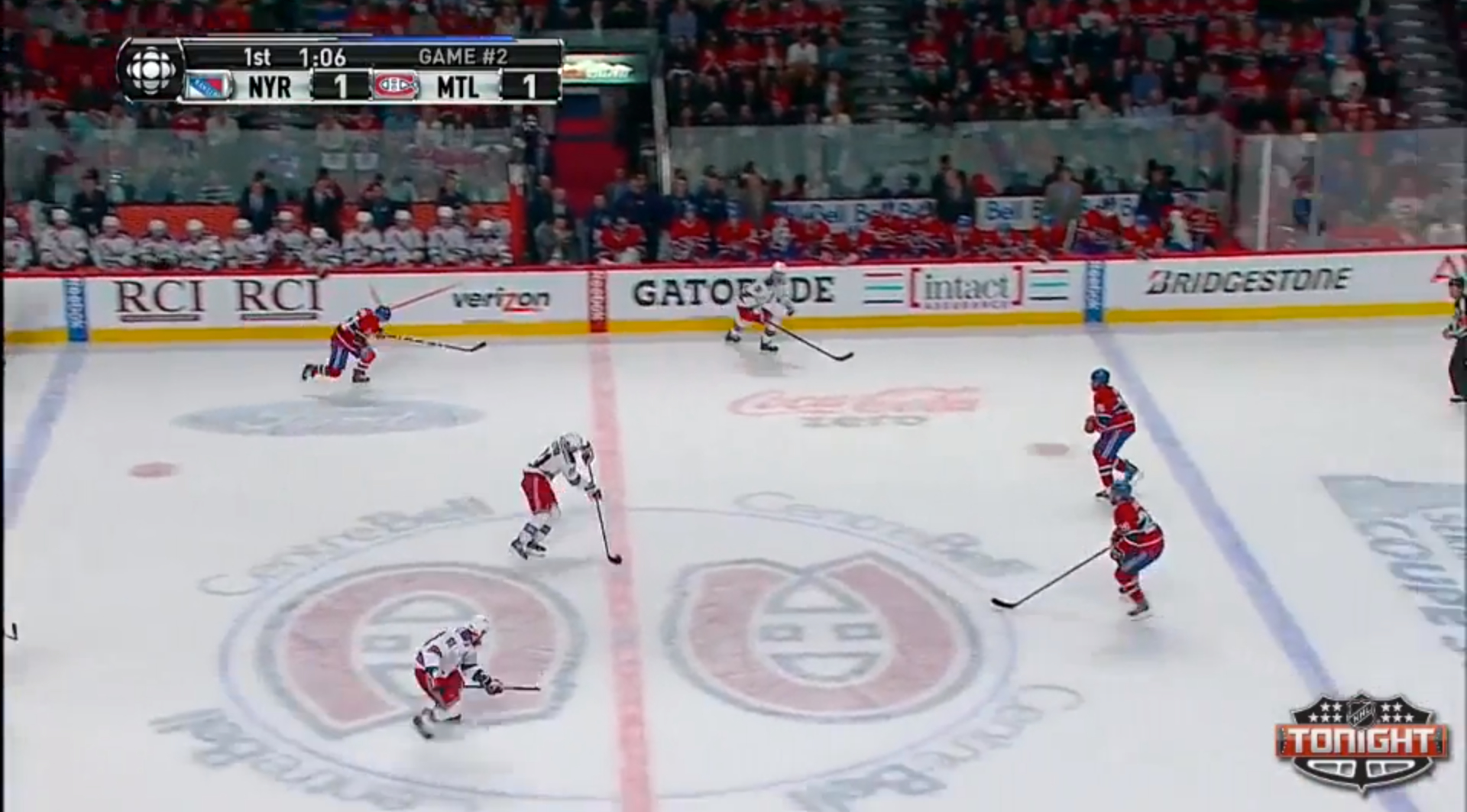 Kreider has given them the gift of bad gap by pressing, and has moved the puck to the middle. I wouldn't be surprised if Subban saw it was Kreider and, in fear of getting roasted, backed-off earlier than he otherwise might have.
And, just as coaches draw it up, the Rangers talented line moves it wide…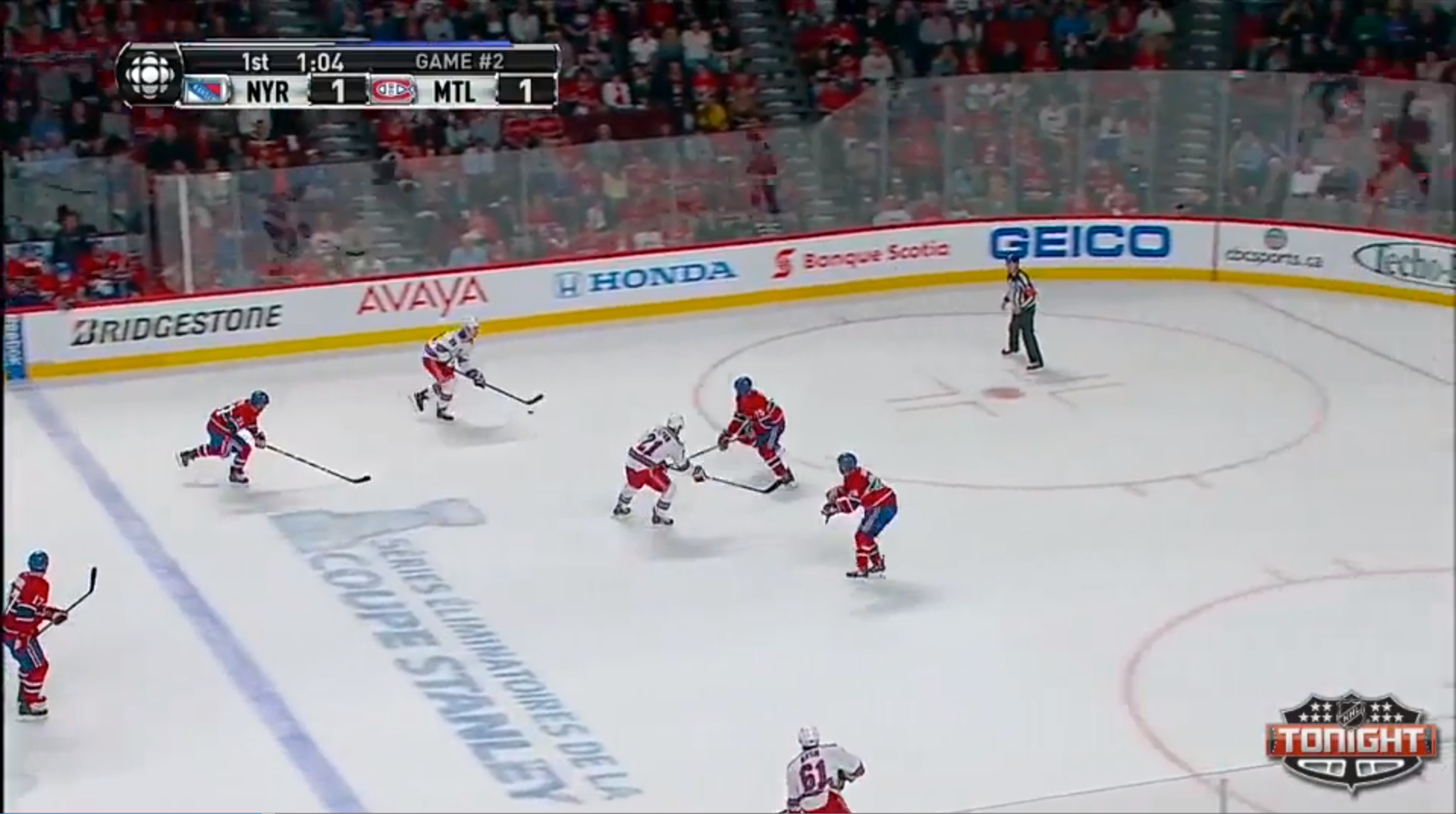 Stepan drives the middle, which forces Gorges to make a decision - go with him or let him go. He chooses to go with him (honestly, he's entirely boned either way by the terrible gap they've kept so far), which just makes Rick Nash's job of finding the soft spot above it all that much easier.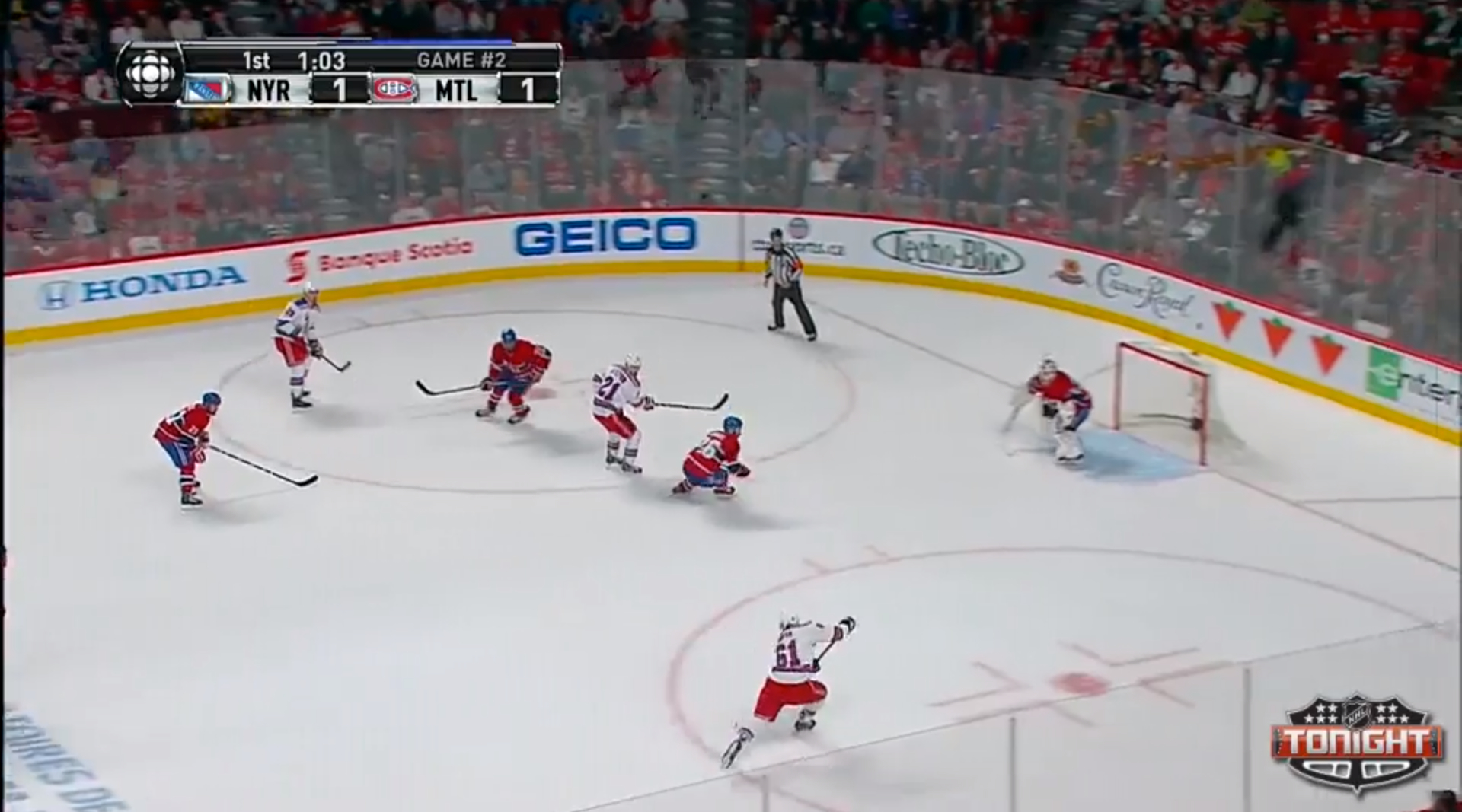 Nash only has to elevate the puck a foot and hit the net, as Dustin Tokarski doesn't do a great job getting over on the shot. It hit the middle bar after hitting a piece of him.
But the rush aside, this is a play that was drawn up by Alain Vigneault to counter what appears to be the Habs' aggressive lost-draw forecheck. They simply let the forecheckers in, and then whipped the puck by them.
It's not a breakout you'd run a lot- rimming the puck up the strong side can turn into a few turnovers real quick if the other team starts to sniff out your plan - but it's an effective way to push the puck towards an area where you're either creating a battle at the blueline, or it's getting out.