Fantasy: 5 players to stash in keeper leagues
National Hockey League / Getty
The following players may not be fantasy relevant during the 2023-24 season, but they could become incredibly valuable in keeper leagues down the line.
Most of these players will need to be designated as not active, so be sure to check your league's settings before drafting any of them.
Gabriel Landeskog, LW, Avalanche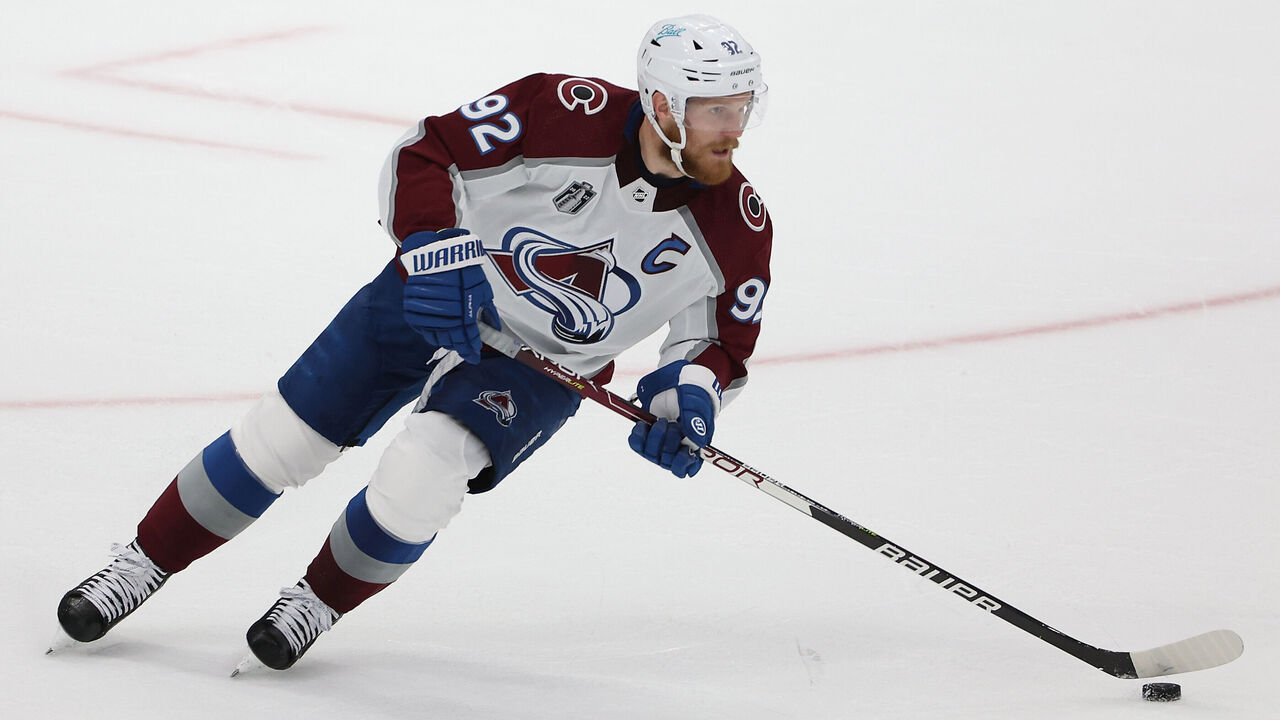 Those in true dynasty leagues where almost the entire roster is kept year to year can probably ignore this advice, but for those in keeper leagues where only a portion of the roster is kept or where players are kept based on draft position, this is for you.
Landeskog has been ruled out for the entire 2023-24 season after undergoing a third knee surgery, so he likely won't be on most fantasy managers' radars. But if your league has enough injured reserve spots, it's worth grabbing Landeskog late in your draft, stashing him on IR, and reaping the benefits in 2024-25.
While there's no guarantee Landeskog returns to his pre-injury form after missing two seasons, it's worth a shot since the risk is almost nonexistent. Landeskog was still a threat offensively when he was last on the ice, racking up 30 goals and 29 assists in 51 games during the 2021-22 regular season. He also added 94 hits and 78 penalty minutes for leagues that factor in certain secondary stats.
Matthew Savoie, C, Sabres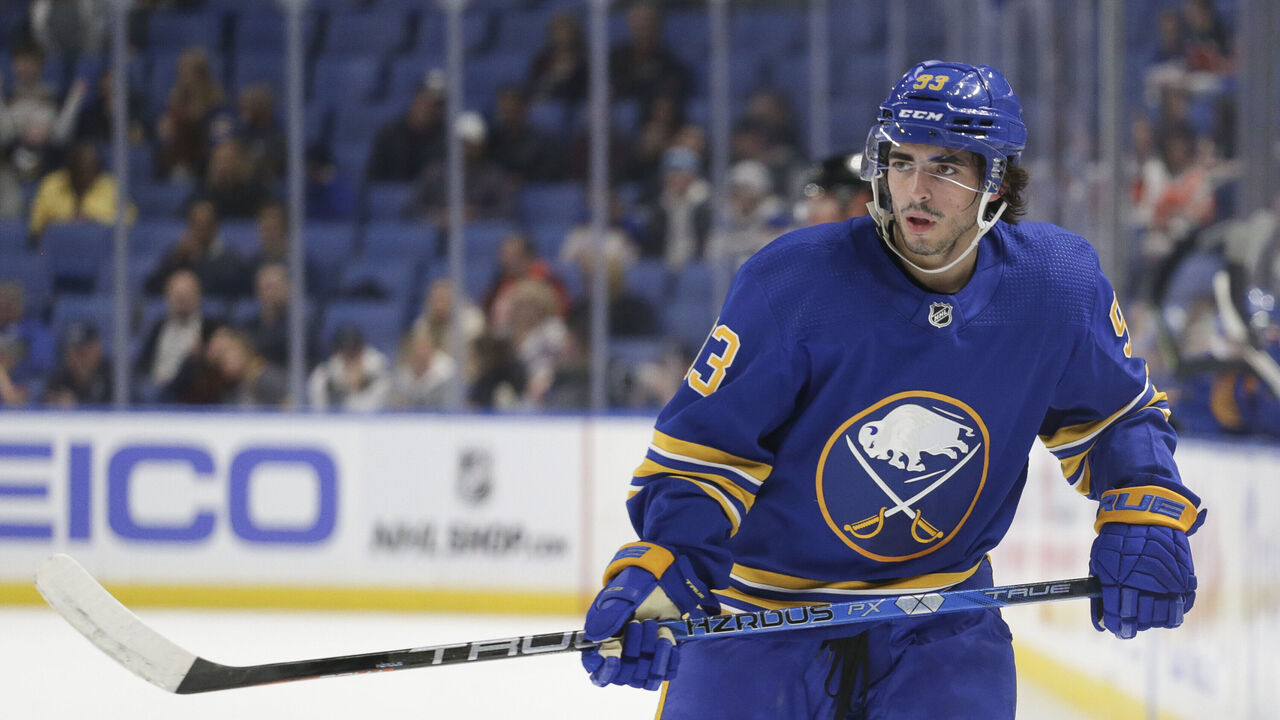 Savoie might have the longest path to fantasy stardom of any player on this list, but it could be worth it in the end. The Sabres selected the highly skilled forward ninth overall in 2021. The 19-year-old is likely destined for another season in the WHL, a league in which he tallied 95 points in 62 games last season. What happens after that remains to be seen.
He could debut with the Sabres in 2024-25, although the club may want to give him a year of seasoning in the AHL once he turns pro. So 2025-26 seems like the year Savoie will definitely be a full-time NHLer. With all of the young talent the Sabres already have in the NHL and coming through the system, it'll be a great environment for Savoie to shine and rack up points.
David Jiricek, D, Blue Jackets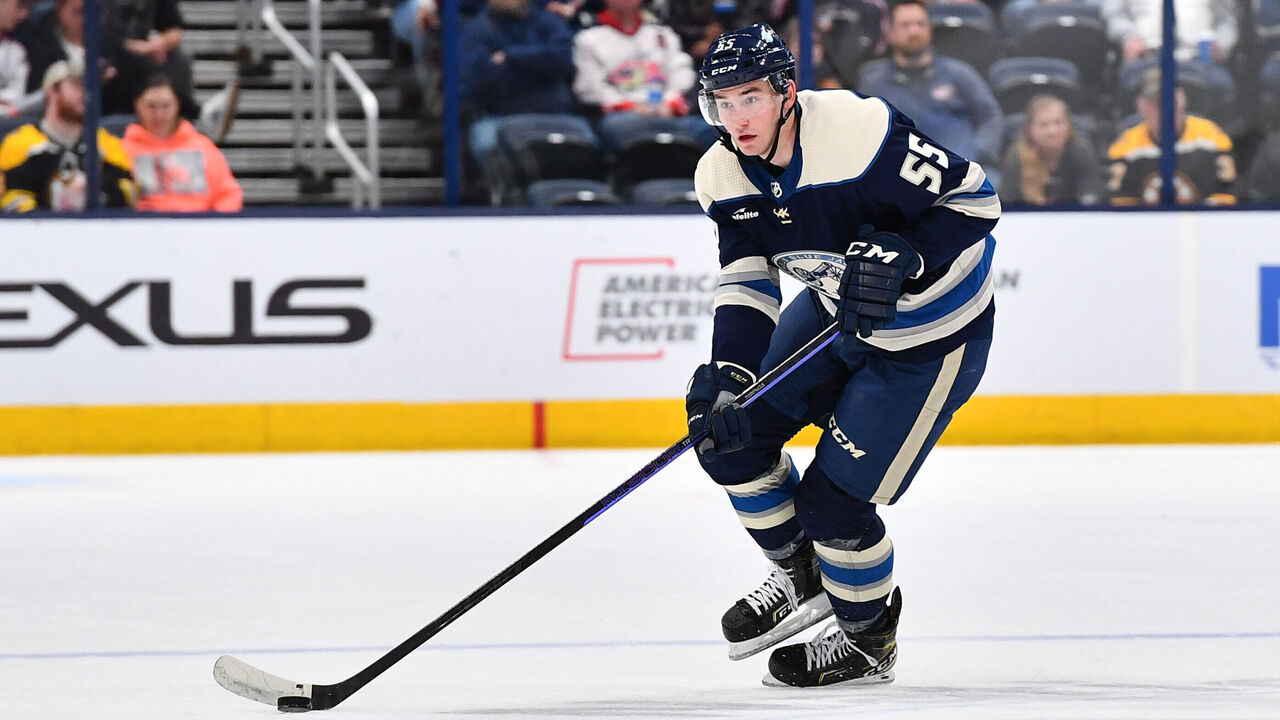 Jiricek looks NHL-ready after dominating the AHL as a teenager with 38 points in 55 games. He even got into four NHL games due to injuries on Columbus' blue line, displaying strong secondary-stat potential with seven blocks and nine hits.
While shooting right typically works in a defenseman's favor to get more minutes, it's actually hurting Jiricek's path to the opening-night NHL lineup. The Blue Jackets have significant financial commitments to four right-shooting defensemen: Damon Severson ($6.25-million average annual value), Erik Gudbranson ($4 million), Andrew Peeke ($2.75 million), and Adam Boqvist ($2.6 million). With Zach Werenski and Ivan Provorov logging big minutes on the left side, there doesn't appear to be room for Jiricek to get a regular role.
Rather than being in and out of the lineup in the NHL, the best path for his development would be another year dominating the AHL. This would also help his value for fantasy keeper leagues - he could be placed on NA for the majority of 2023-24 before coming up and playing a big role for the Blue Jackets in 2024-25.
The 2022 No. 6 pick has all the makings of a future star, too. He was named top defenseman at the 2022 World Junior Championship after carrying Czechia to the gold-medal game. He possesses great size, skill, and offensive awareness.
Jesper Wallstedt, G, Wild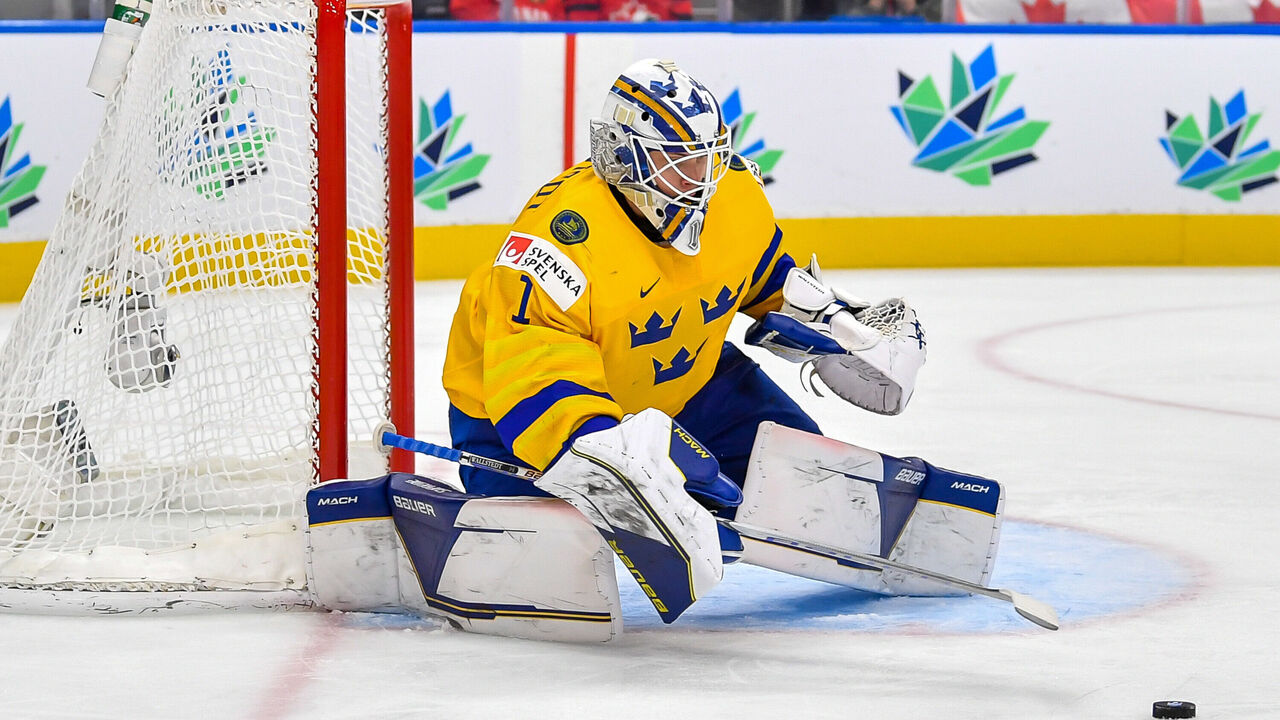 Wallstedt's path to the NHL is blocked for at least another year - barring injury, of course. Filip Gustavsson re-upped for another three years, and Marc-Andre Fleury still has one more year left on his contract.
It wouldn't be shocking if this is Fleury's last year with the Wild, though - or in the NHL in general. He turns 39 in November and has accomplished just about everything a goalie possibly can. And if he does want to continue playing, the Wild may just let him walk if they view Wallstedt as NHL-ready. His entry-level salary would be a boon for a team that'll once again be facing a significant cap crunch until the Zach Parise and Ryan Suter buyouts become palatable in 2025-26.
Wallstedt has all the pedigree to make the NHL by 2024-25. The Wild drafted him 20th overall in 2021 and viewed him as a mature, technically sound, goalie they could fast-track to the NHL. The 6-foot-3 netminder's first year in North America was a success, as he posted a .908 save percentage in 38 games with the AHL's Iowa Wild. One more year in the minors should be enough.
The Swede has been lights out on the international stage, posting a .940 save percentage in five games at the 2022 world juniors and a .947 mark in three appearances at the 2023 World Championship.
If he gets to the NHL in 2024-25, he could become an immediate fantasy contributor. The Wild are perennially one of the NHL's best defensive teams, and they historically like to ride a two-goalie platoon rather than relying on one workhorse. Don't be surprised if Wallstedt works his way into a near 50-50 split with Gustavsson in his rookie season.
Yaroslav Askarov, G, Predators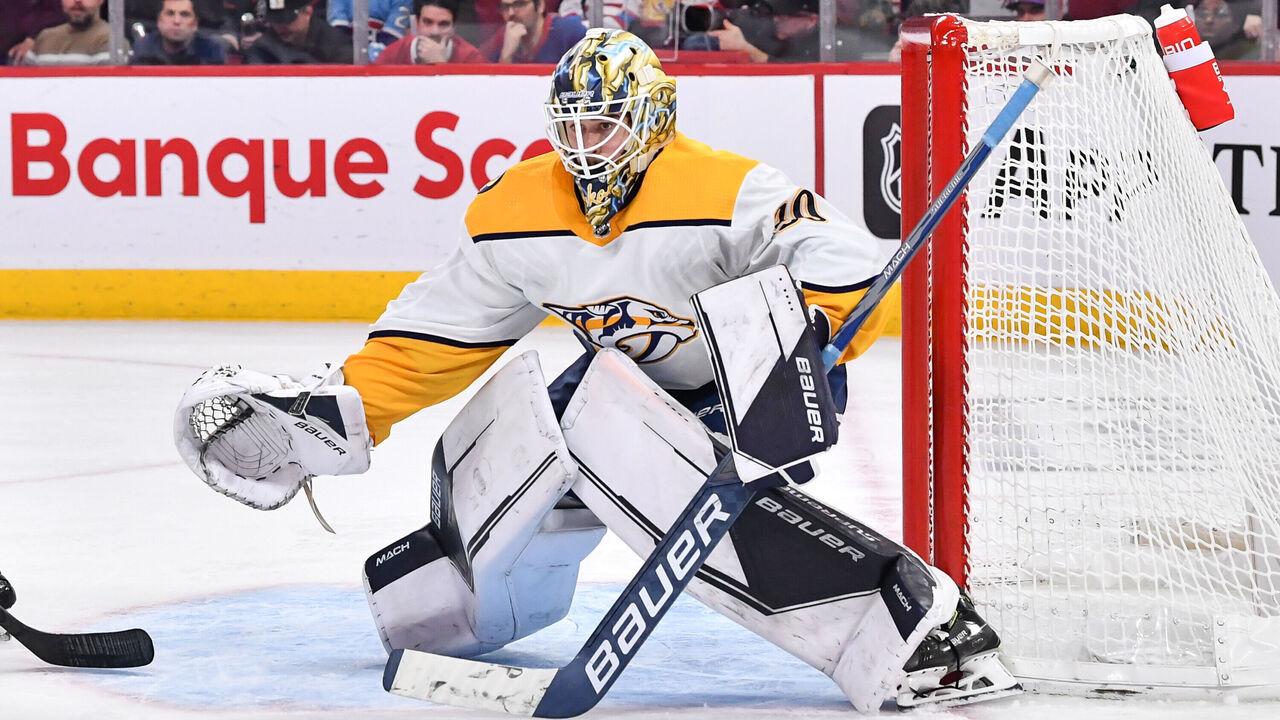 It's a toss-up between Wallstedt and Askarov as to who the NHL's best goalie prospect is. Wallstedt is probably a safer bet to be a long-term NHL starter, but Askarov has more upside due to his raw athleticism.
The Predators selected the 6-foot-3 Askarov 11th overall in the 2020 NHL Draft. He's had some ups and downs since then but is coming off a strong debut AHL campaign in which he posted a .911 save percentage in 48 games.
Askarov is likely to spend another year as an AHL starter barring injuries to the Predators' goalie tandem of Juuse Saros and Kevin Lankinen. But after the 2023-24 season, all bets are off. Lankinen will be a free agent, and Saros will be entering the last year of his deal.
If the Predators miss the playoffs again, they could pivot to a full rebuild under new general manager Barry Trotz. That could result in trading Saros, which would open the door for Askarov to be the starter in 2024-25. Even if they keep Saros, Askarov would be the likely backup as long as he has another strong year in the AHL.
Josh Wegman has been theScore's resident fantasy hockey expert since 2015. Find him on X @JoshWegman_.