Maple Leafs add Max Domi on 1-year, $3M pact
Glenn James / National Hockey League / Getty
The Toronto Maple Leafs added more grit and scoring to their lineup, signing forward Max Domi to a one-year, $3-million agreement, the team announced Monday.
It's the second splash on Day 2 of free agency for Toronto, which also added Tyler Bertuzzi on a one-year, $5.5-million contract.
Domi recorded 20 goals and 36 assists in 80 games between the Chicago Blackhawks and Dallas Stars last season. He added 13 points in 19 postseason games during an impressive playoff run with the Stars.
The 28-year-old was born in Manitoba but grew up in Toronto while his father, Tie - a beloved fan favorite - was playing for the Leafs.
While Domi isn't a true enforcer like his father, he certainly isn't afraid to drop the gloves or mix things up physically, as he recorded 82 penalty minutes last season. The toughness may be a welcome addition to the Leafs' lineup, but he's proved to be a defensive liability. Here's a look at his underlying numbers over the past three campaigns.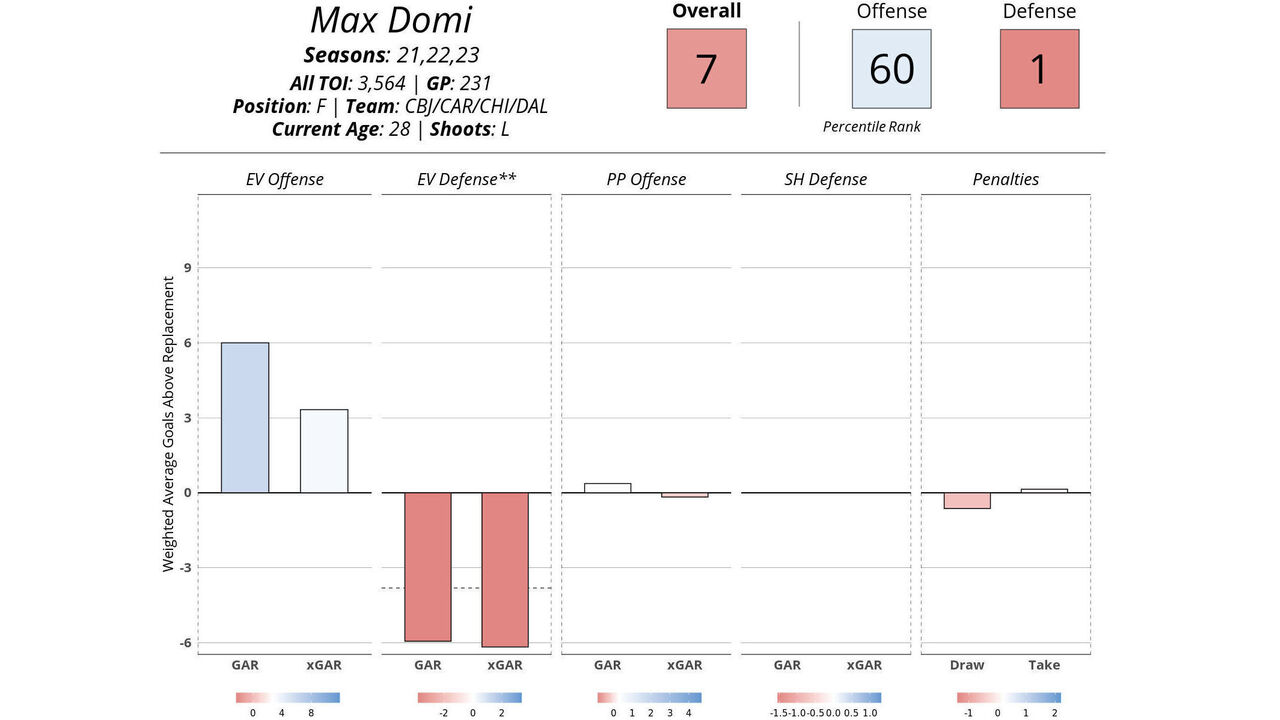 He's capable of playing center but is best suited to the wing due to his defensive struggles. His best asset is his playmaking.
Domi's best season came in 2018-19 with the Montreal Canadiens when he racked up 28 goals and 72 points. His 56 points this past season represented his second-most productive campaign. He's bounced around a lot, as Toronto will be his fifth team since the beginning of the 2021-22 season and seventh overall as he enters his ninth year in the NHL.
New Leafs general manager Brad Treliving goes way back with Domi. Treliving was the assistant GM with the Arizona Coyotes when the club drafted Domi 12th overall in 2013.
There will also be familiarity for Domi in the Leafs' lineup, as he and Mitch Marner played together with the OHL's London Knights from 2013-15. He may even get a chance to play alongside Marner. Bertuzzi is likely locked into a spot on the first or second line at left wing, meaning Domi and rookie Matthew Knies will compete for the other top-six role on that side.
The Maple Leafs are now roughly $2.5 million over the cap with a roster of 13 forwards, seven defensemen, and two goalies, although teams are allowed to be 10% over the cap during the offseason. Netminder Ilya Samsonov is the club's lone remaining restricted free agent of significance. Shedding Matt Murray's contract - either via trade or the second buyout window - is the most likely avenue to creating additional cap space.