McDavid's season has lit up Edmonton, but a Cup remains on everyone's minds
Julian Catalfo / theScore
He attended one playoff game in what he called the "glory years" - that franchise-defining run of 13 seasons after joining the NHL in 1979. What he remembers is how loud it was.
"There was just this continuous, continuous noise," the 40-year-old recalls. "It was super overwhelming as a 9-year-old. People stood for two-thirds of the game."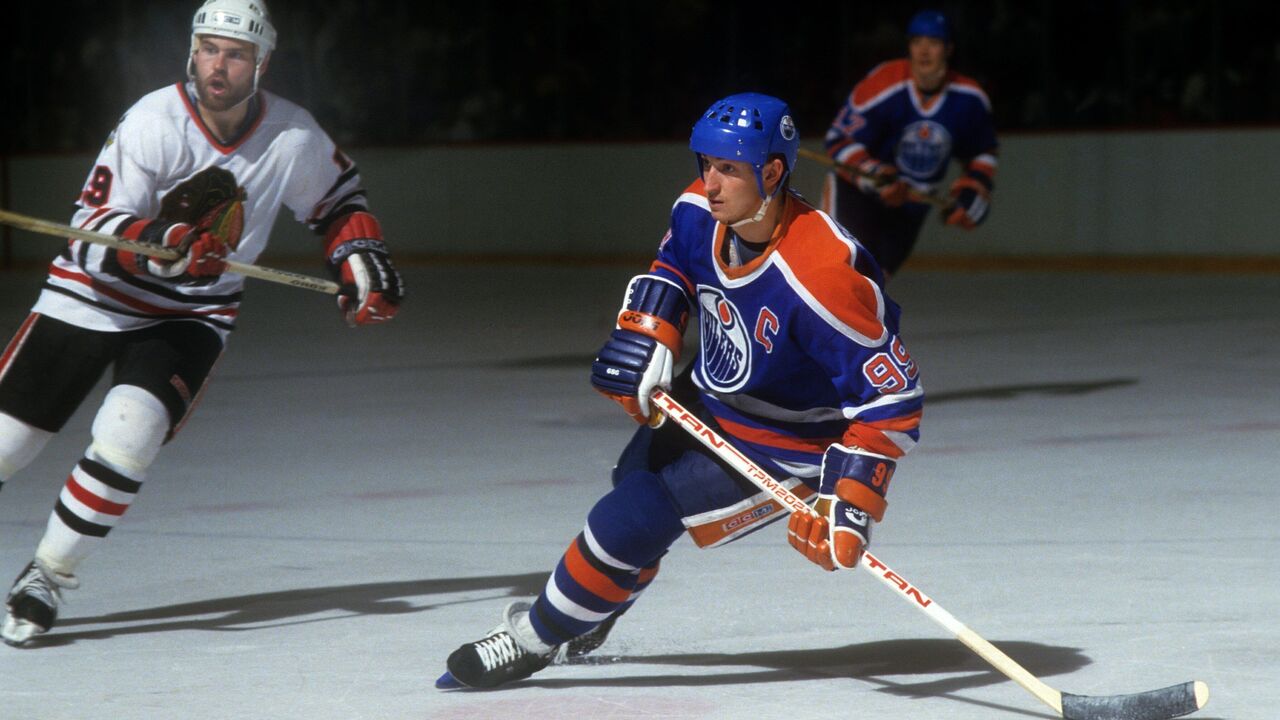 The Oilers were one of four teams to join the NHL from the WHA for the 1979-80 season, and they made an immediate impact. Bolstered by a kid phenom by the name of Wayne Gretzky - who, legend has it, was acquired in a backgammon game - they were the lowest playoff seed in their first season but truly announced themselves the next year by taking down a legendary but aging Montreal Canadiens team in the first round.
They didn't have to wait long to become legends in their own right: Between 1983-90 they appeared in six Stanley Cup Finals, winning five. They even managed to lock down a Cup without Gretzky, who had been sent to the Los Angeles Kings in one of the most stunning deals in sports history.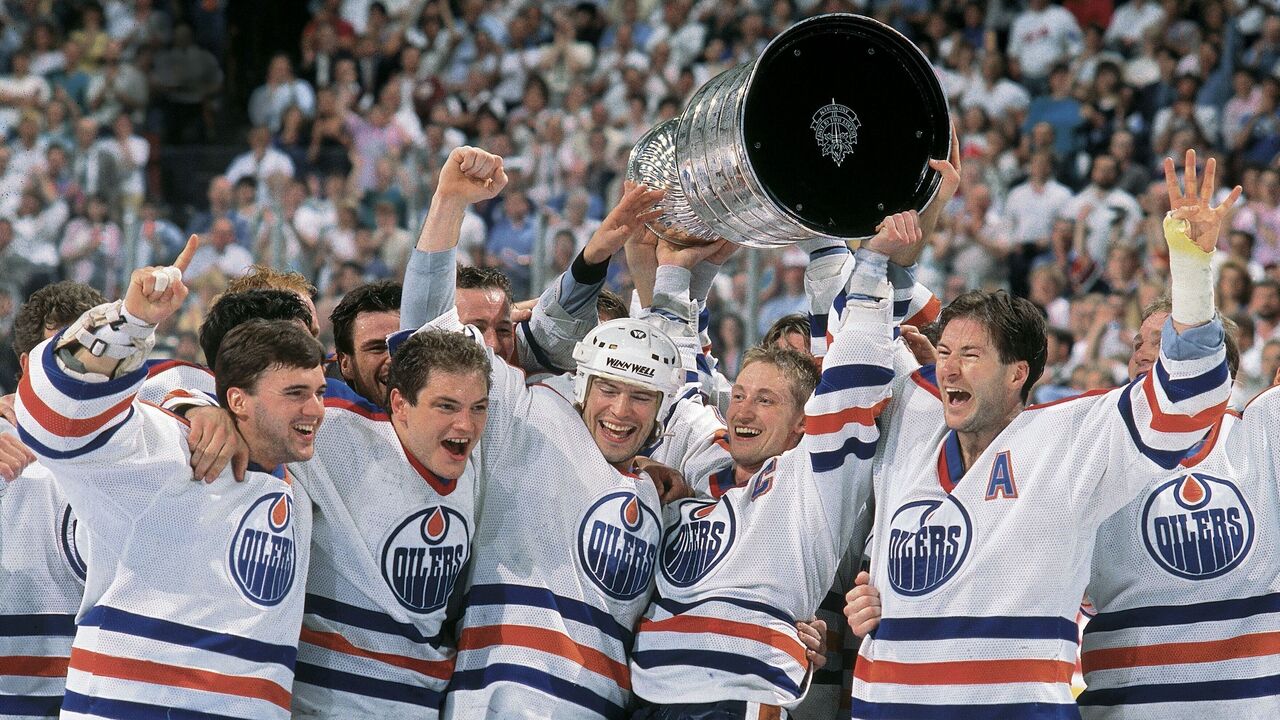 Of course, shortly thereafter, the dark ages fell upon the Edmonton faithful as their team struggled to reach those heights again. The Oilers have not hoisted the Cup in 32 years. Other than a flash of brilliance in 2006 when they made it to Game 7 of the Stanley Cup Final, they've otherwise existed in what appeared to be a perpetual state of rebuilding. For those just slightly younger than Chris Davies, the "glory days" were little more than oral legends, highlight clips, and jersey retirement ceremonies.
"My dad was an Oilers fan growing up, and I remember him talking about Gretzky and Messier, all those guys. All those years (since), it felt like maybe we'd be at the bottom forever," lifelong fan Tyler Melanson, 28, said.
Perhaps as a sign of acceptance, the city meekly scrubbed the audacious "City of Champions" slogan from its branding in 2017. But help was on the way. A savior had arrived in Canada's gateway to the North. McJesus was drafted first overall by the Oilers in 2015, and with him came the hope of a new era.
Today's youngest Oilers fans have been spared the lifetime of angst that their millennial parents have endured. The only captain they've ever known is Connor McDavid, who seems to do something special every time he steps on the ice. With him, the once faraway dream of bringing the Cup back to Edmonton seems within the realm of possibility.
Chris Davies' 10-year-old son Sam, a self-proclaimed Oilers megafan, remembers well the first game he fell in love with the team. It was May 6, 2022, Game 3 of the Oilers-Kings Round 1 matchup. He didn't even watch it. His teachers provided updates during a school event. But the excitement of an 8-2 Oilers victory from the people around him left an unshakeable mark.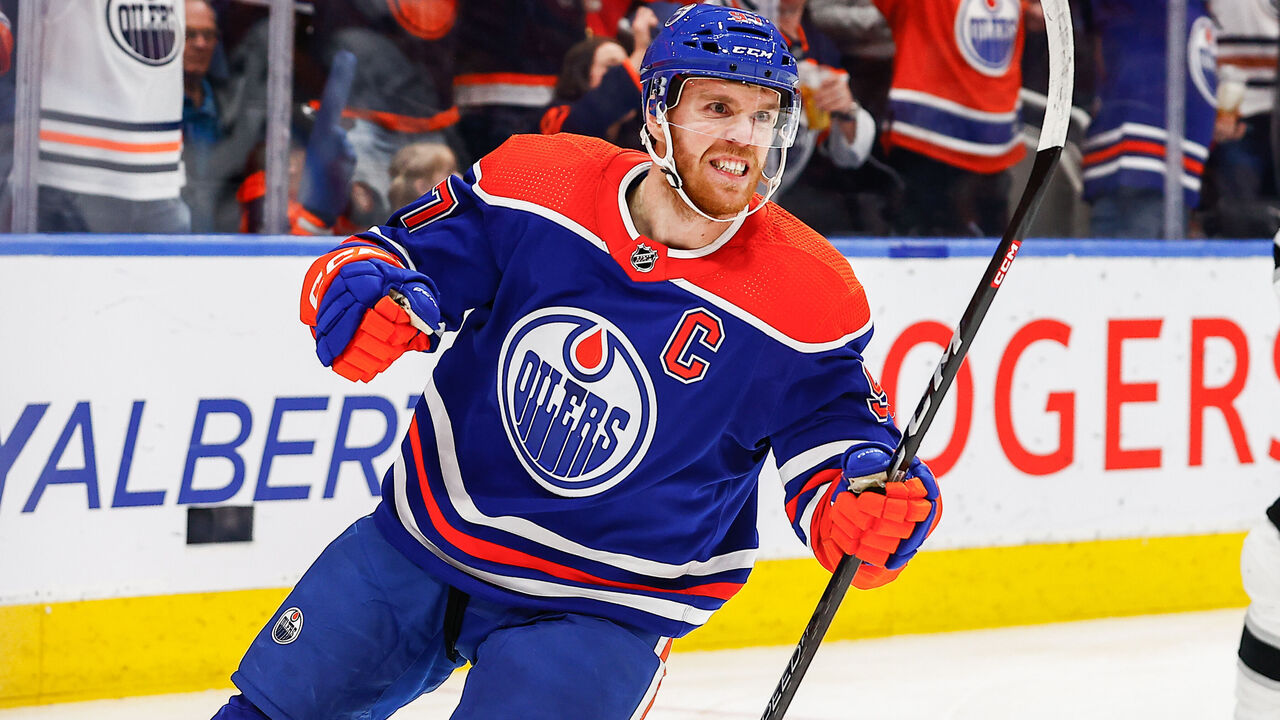 "McDavid is my favorite Oiler," Sam said. "Just, generally, the way he plays - I like how he plays a level of hockey above everyone else."
After watching McDavid in last year's playoffs, Sam begged his dad to let him sign up for youth hockey. "I used to think my goal was to be like McDavid. Now that I see just how good he is, I can see how hard that will be," Sam said. He became a goalie.
Winning the Hart Trophy as MVP twice and the Art Ross Trophy four times in his first seven years were merely the appetizer before the main McDavid show. This season, he ascended to hockey's throne room, becoming the first Oilers player since Gretzky to break 140 points. The last time someone approached a rate of two points per game was when the Pittsburgh Penguins' Mario Lemieux recorded 2.3 per game (161 points in 70 contests) in 1996. McDavid is at 1.9 with six games left.
Over the last four years, Matt Laird has seen a lot of those points in person - he's only missed about four home games in his role as bandleader and sousaphone player for the Oilers Drum and Brass Crew. Perched with his band in the upper deck of Rogers Place, he has a unique gauge on the crowd.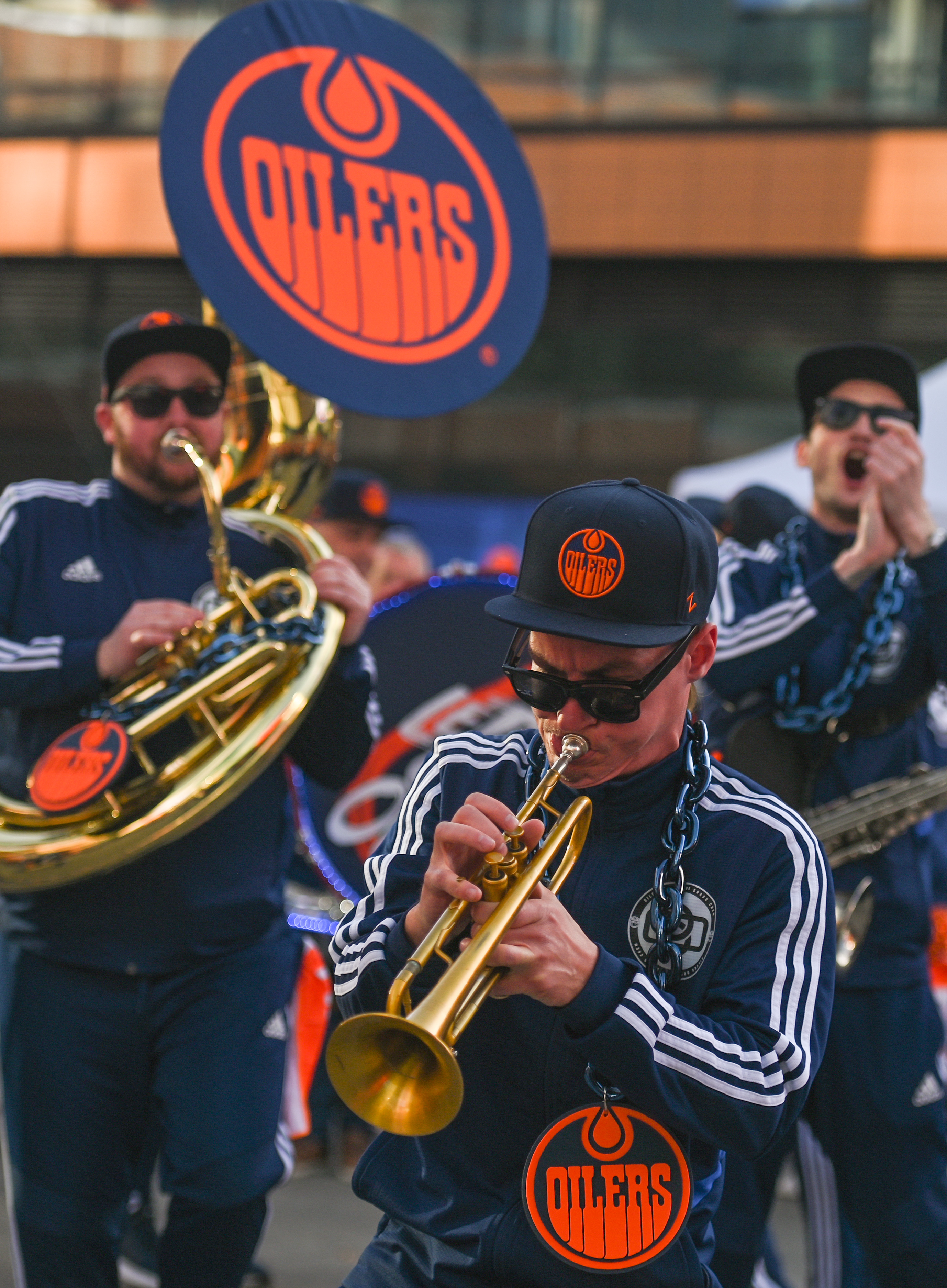 On the nights when McDavid dazzles, the crowd pulses. "You can feel the energy is ... almost like a tangible thing," he said. Laird's band will often perform on the concourse during period breaks. "You can actually feel the floor in Ford Hall shaking when everyone's in there. It's pretty cool, but also a little scary."
McDavid's career-high 61 goals and 83 assists through 76 games are certainly giving fans something legitimate to get excited about. And some of those goals are notched in such exquisite fashion that they push the crowd to an even more feverish climax. His 60th goal was one such accomplishment, earned in overtime against the Arizona Coyotes while the Oilers are locked in a heated search for points down the stretch.
"That was my favorite goal that I've ever seen him score," Laird says. "Such an amazing pass from Draisaitl. He strips the goalie. Misses the net on his own accord. Then Draisaitl fights it back off the boards and another insane pass to Connor who does the exact same move. He strips the goalie again. On the same move. And puts it in the net. I had a tough time sleeping that night because I was electric."
After that goal, even McDavid's right-hand man had to acknowledge there's something different about him. "Crazy to try that same move again and score on them the second time, but that's just what he does, I guess," Draisaitl said. "It's pretty hard to score in this league. To score 60 in a season and still have 10 games to go is pretty remarkable. He's just a special player."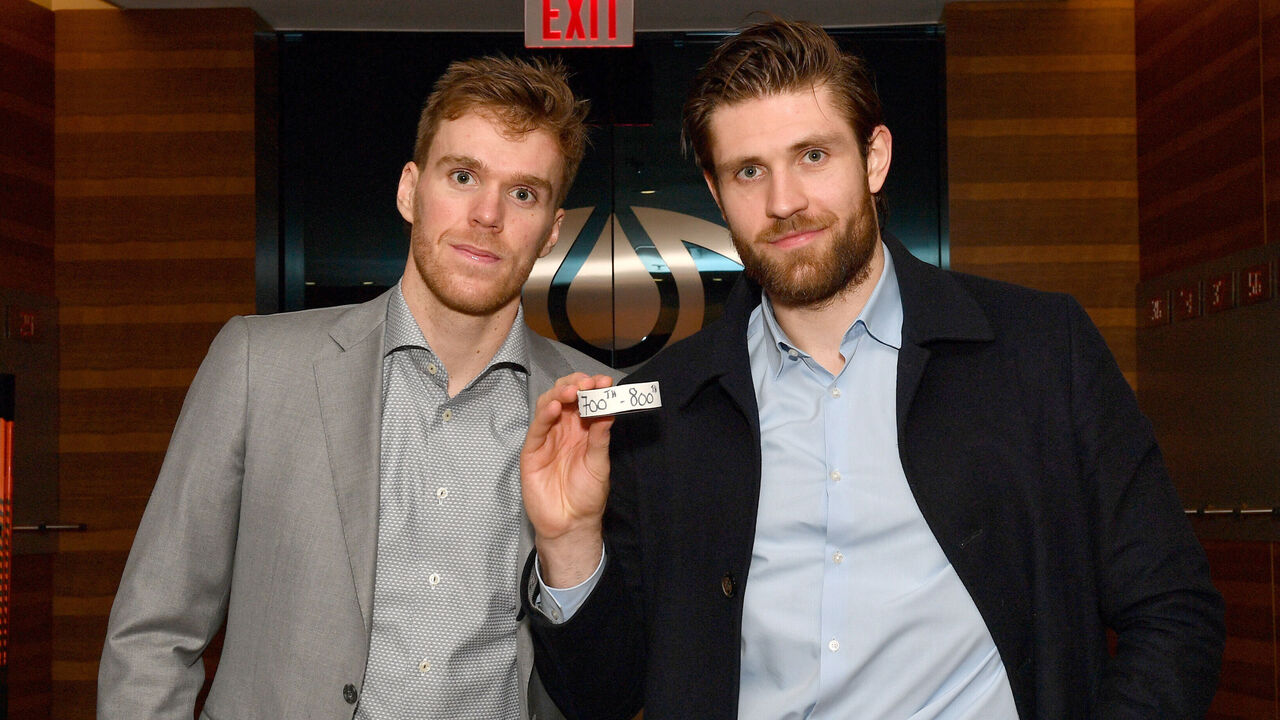 Even the characteristically understated McDavid himself admitted that goal was pretty cool.
"I felt like I was kind of pressing for the 60th all night. At this point, not to bury that one in ... I couldn't get many better looks than that. Not every day you get two breakaways back-to-back like that. Just ridiculous," McDavid said.
Surrounded by his mere mortal peers, some nights McDavid looks like a man among boys. Sam compared his own experiences on the ice playing with his younger brother to describe it. "He's playing at a level of hockey above everyone else. He just needs a little bit more competition. He just needs to play with other people at his level."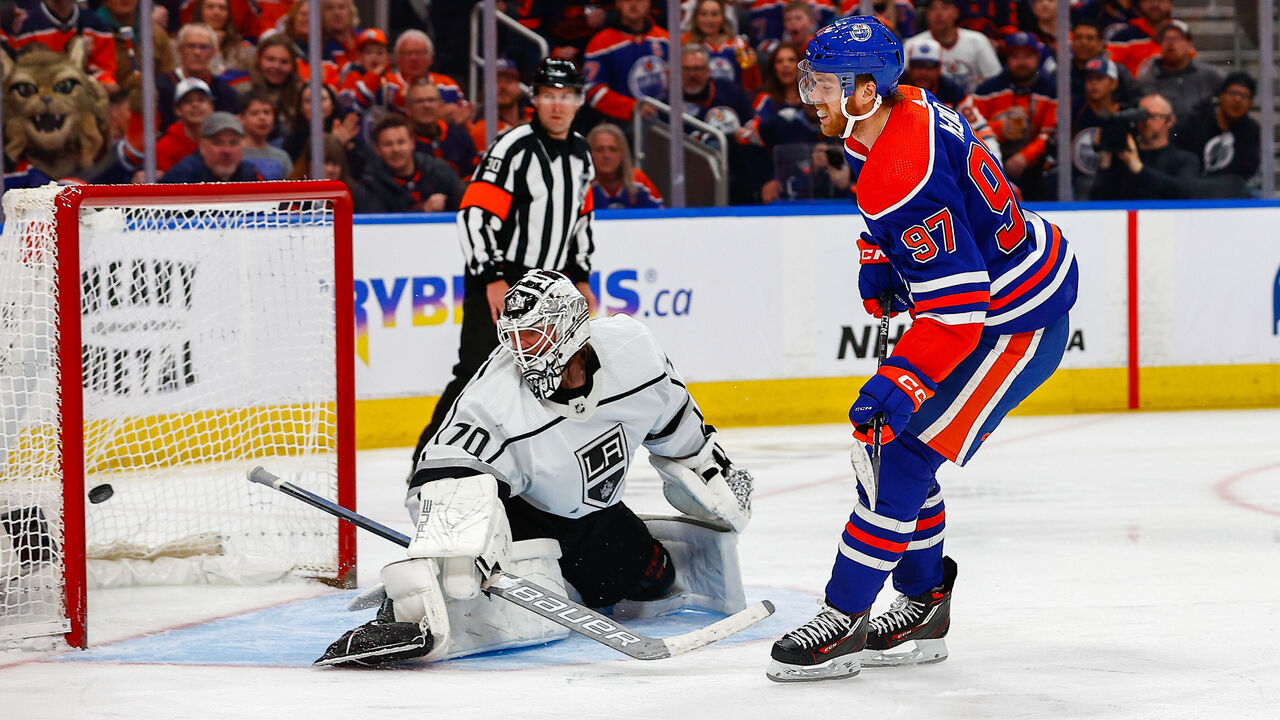 It's not just the atmosphere inside Rogers Place that's building, the crowd's momentum is overflowing into nearby bars. "I think people recognize that they're watching - or potentially watching - history happen," said Taylor Iwaasa, owner and operator of popular downtown Edmonton hotspot Greta. "Milestones. Records. The things (McDavid) does on the ice. I think people are in awe of that part of it aside from the records. We're going into another playoff season with a lot of high hopes, and I definitely see a lot of rejuvenation with people starting to come out."
But behind all the excitement lurks anxiety. It's not just the 32 years of Cup futility. Oilers fans recognized McDavid's rare talent from the outset. But for the last seven years, the organization has struggled to surround him with the right pieces to make a deep playoff run. McDavid and Draisaitl can't accomplish the feat on their own. Whether it be goaltending, lack of scoring depth, or defensive holes, something has always scuttled the team's chances. Meanwhile, the clock is ticking. Not only will McDavid not be young forever, he's already more than halfway through his eight-year deal.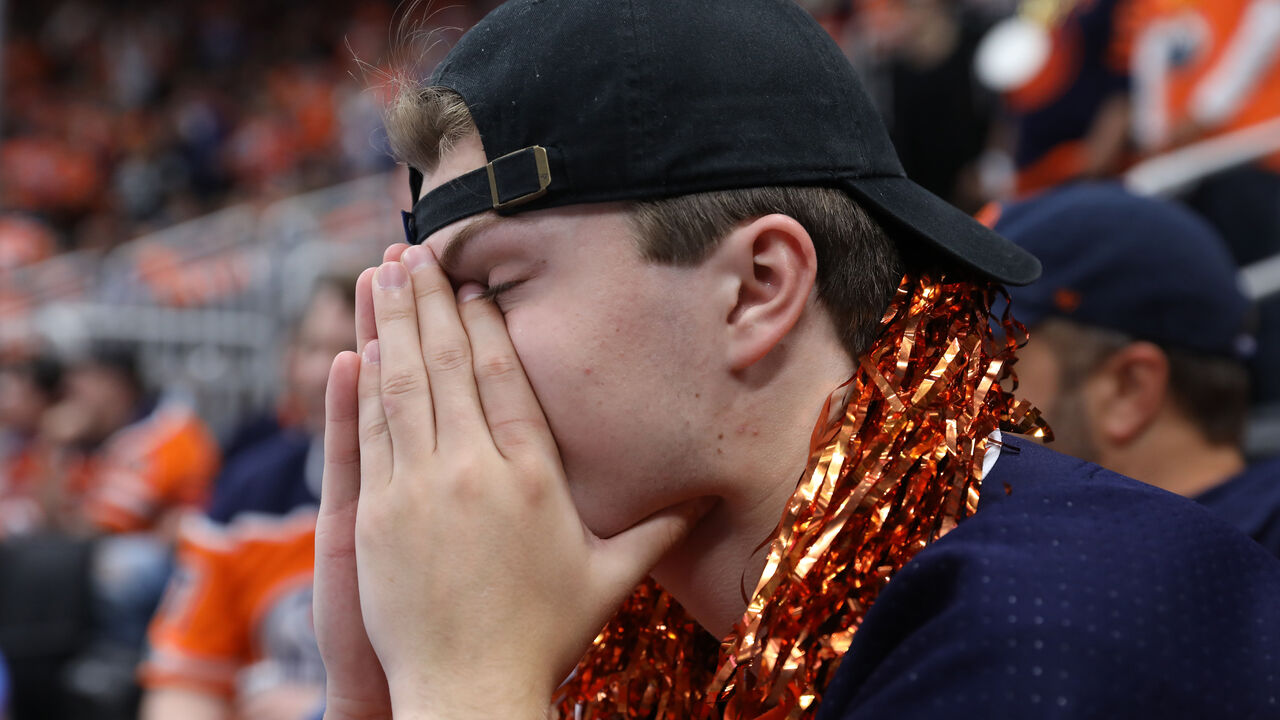 Chris Davies said it like a grizzled vet: "Part of my heart does not want to be ripped out again."
Melanson, with the realism of an Oilers fan who has lived through the dark times, said: "I feel like it's a bit of holding our breath." He then guessed that even McDavid himself might say something akin to, "It's great to do well, but if he doesn't win a Cup - was it worth it?"
Fans can be thrilled with McDavid's personal accomplishments and the opportunity to see one of the most spectacular seasons in more than a century of NHL hockey. But, ultimately, they want the same thing their McJesus does.
"At the end of the day, (the milestones) are all just a number. ... Obviously we've got a lot of work left this year," McDavid said.
Jolene Latimer is a video producer and feature writer for theScore.
Comments
✕
McDavid's season has lit up Edmonton, but a Cup remains on everyone's minds
  Got something to say? Leave a comment below!