10 defensemen Maple Leafs could target to ease injury crisis
The Maple Leafs are in a serious pinch.
Toronto placed top blue-liner Morgan Rielly on long-term injured reserve with a knee injury Tuesday. Fellow rearguard Jake Muzzin may not play again this season due to a cervical spine injury. T.J. Brodie's oblique ailment, originally given a two-week recovery timeline, isn't progressing as the team initially hoped.
Suddenly, the Leafs are missing 75% of their top four on the back end and will need to operate with the following depth chart:
| LD | RD |
| --- | --- |
| Mark Giordano | Justin Holl |
| Jordie Benn | Mac Hollowell* |
| Rasmus Sandin | Timothy Liljegren |
| Victor Mete | |
* - Never played in NHL
That is, of course, unless they make a trade.
There's no guarantee general manager Kyle Dubas makes an imminent move, but his hand may be forced if the remaining group of defenders struggles to tread water.
The Maple Leafs have been buyers throughout Dubas' tenure but have some financial wiggle room to facilitate a move for once. Toronto has over $13 million on LTIR between Rielly and Muzzin, and it'd be able to accommodate a sizable contract even after the former returns if Muzzin's $5.625 million remains off the books.
Trades at this juncture of the season are rare, and a deal could throw a wrench in what the Maple Leafs were planning for the deadline in March. Surrendering assets now could backfire when the market heats up over the winter, but the right move could reinforce the club's depth when it gets closer to full strength for the stretch run.
The Maple Leafs have been solid defensively this season, ranking in the upper half of the league in both expected and actual goals against while sitting fifth in shots allowed per contest.
Rielly, despite some individual defensive flaws, is a big piece of Toronto's system. He averaged nearly 23 minutes per night over the past four seasons and runs the club's top power play. Giordano or Sandin can fill in on the man advantage, so instead of finding a Rielly replacement, the Leafs might be better off shopping for some reliable placeholders capable of eating valuable minutes until some familiar bodies return.
Here's a list of options Toronto could target amid its injury crisis.
Pending UFAs
Vladislav Gavrikov, Blue Jackets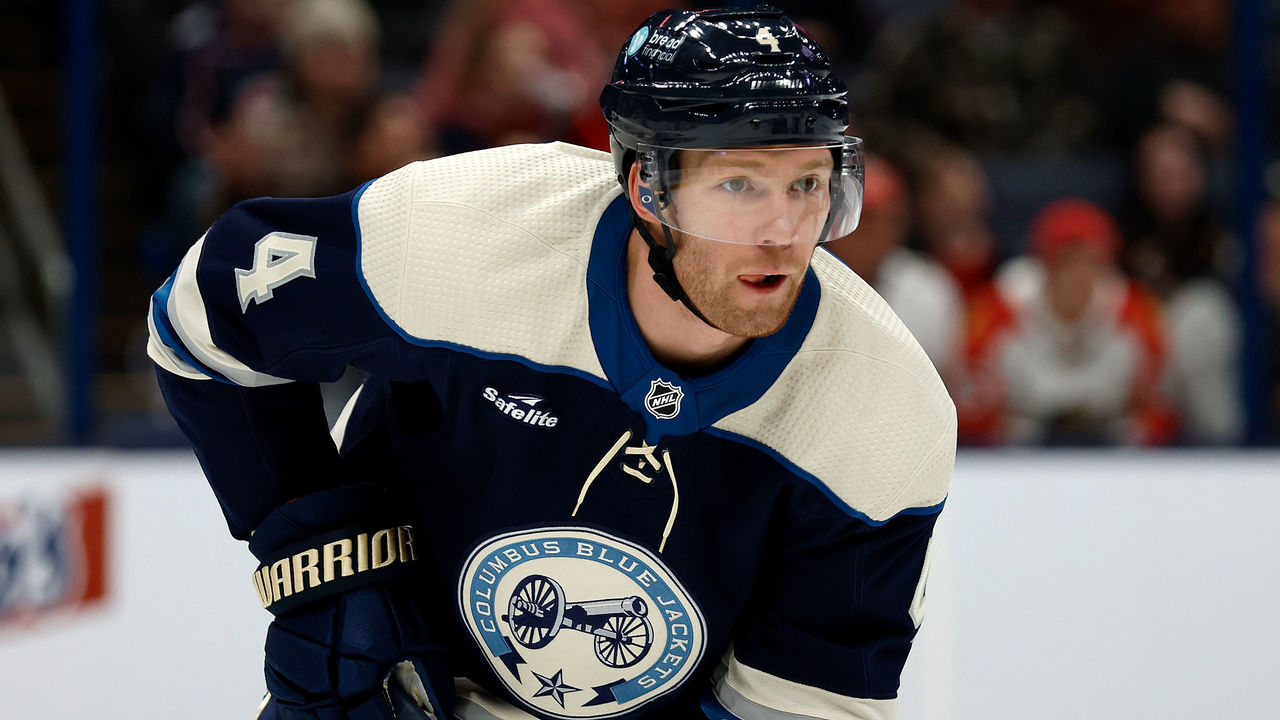 Cap hit: $2.8 million
2022-23 stats: 18 GP, 4 P, 22:28 ATOI
Trade clause: None
Though not a household name, Gavrikov checks several boxes for any contender. He's not a flashy offensive player but is dependable in his own end. He brings an element of physicality, which the Leafs prioritized in recent years through players like Ilya Lyubushkin and Zach Bogosian. The Blue Jackets are bound to sell by the deadline, and Toronto could benefit from getting ahead of the market and nabbing the 27-year-old lefty before prices go up.
Dmitry Orlov, Capitals
Cap hit: $5.1 million
2022-23 stats: 13 GP, 5 P, 21:16 ATOI
Trade clause: Five-team no-trade list
Injuries have ravaged the Capitals, and their playoff chances are in danger unless they go on a major heater for the remainder of the season. Orlov is one of many key players currently sidelined, but his injury isn't considered long term. The 31-year-old has Stanley Cup experience and a long history of strong underlying metrics, along with a snarl to his game. He's Washington's best player on an expiring contract, so the Capitals may be forced to cash in if their season doesn't turn around fast.
Matt Dumba, Wild
Cap hit: $6 million
2022-23 stats: 18 GP, 4 P, 20:40
Trade clause: 10-team no-trade list
Trade rumors have surrounded Dumba for much of his career, but now that he's a pending free agent, the writing could be on the wall. The Wild are struggling to find momentum after a brilliant 2021-22 campaign, and cap issues leave little chance for them and Dumba to come to terms on an extension. Toronto also has some expendable forwards to make a potential deal feasible for both teams. Dumba isn't the offensive player he used to be but still has an enticing skill set. Perhaps a change of scenery would reinvigorate his game.
Damon Severson, Devils
Cap hit: $4.166 million
2022-23 stats: 19 GP, 5 P, 18:02 ATOI
Trade clause: None
It may seem odd to see a player from the hottest team in the league on this list, but Severson is averaging the least ice time among the Devils' regularly deployed blue-liners and carries a hefty price tag for a third-pairing player. New Jersey could move Severson to free up some extra money in order to go all-in at the deadline to cement its status as a sudden contender.
Carson Soucy, Kraken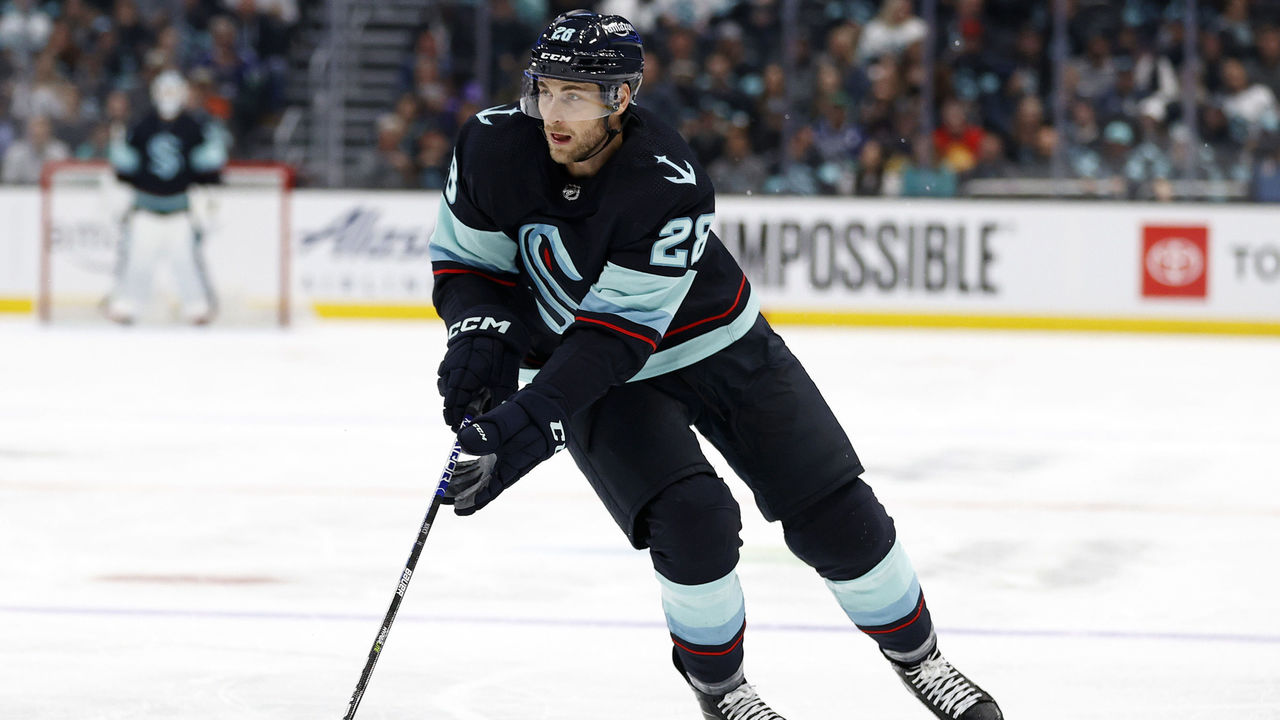 Cap hit: $2.75 million
2022-23 stats: 18 GP, 4 P, 16:53 ATOI
Trade clause: None
The Kraken are in the thick of the Pacific Division playoff race, but it remains to be seen if they'll be in the mix for the long haul. If Seattle starts to struggle, Soucy is an attractive trade target for his cap hit and versatility in playing both sides of the ice. He boasts strong underlying numbers this year with a 54.9% expected goals rate along with a 73.31% actual goals rate at five-on-five. He also has the size (6-foot-5) many teams covet.
Luke Schenn, Canucks
Cap hit: $850,000
2022-23 stats: 19 GP, 8 P, 17:30 ATOI
Trade clause: None
Schenn isn't a 20-minutes-per-night kind of player, but he'd be relatively cheap to acquire and could ease the load of those ahead of him on the depth chart in Toronto, where he started his career in 2008. The Canucks are bound to be sellers after a disastrous start to the season, and Schenn is one of their most flippable assets. He won two Stanley Cups with the Lightning and has more experience than the majority of the Leafs' current crop of defensemen.
Players with term
Jakob Chychrun, Coyotes
Cap hit: $4.6 million until 2025
2022-23 stats: 1 GP, 0 P, 23:04 ATOI
Trade clause: None (modified no-trade clause begins next season)
Chychrun's trade saga has been ongoing for a year and is bound to ramp up again now that he's healthy for the first time this season. The Coyotes are going to have a ton of suitors for the 24-year-old, and the Leafs were reportedly in the mix for Chychrun's services well before their current injury problems. There may never be a better time to pay up.
Mike Reilly, Bruins
Cap hit: $3 million until 2024
2022-23 stats: 10 GP, 1 P, 16:44 ATOI
Trade clause: None
You know what they say: When one Rielly closes, another Reilly opens. OK, no one's ever said that, but this trade could work. The Bruins waived the 29-year-old multiple times this season, and Reilly is struggling to find a role now that Boston's back end is healthy again. While trades within the same division are rare, Toronto would be wise to call its rivals about Reilly, who's posted strong analytics throughout much of his career when given the chance to play.
Matt Roy and Sean Walker, Kings
Cap hit: $3.15 million / $2.65 million
2022-23 stats: 21 GP, 9 P, 18:03 ATOI / 17 GP, 3 P, 14:36 ATOI
Trade clause: None
Dubas has a history of trades with the Kings, and another one could be in the works. Roy and Walker have seen significant cuts to their ice time this season as Los Angeles tinkers to find its best six options among an overload of defensemen. Neither will light up the scoresheet or be a top-pairing stalwart, but each can succeed on a middle or bottom pair - an area Toronto could stand to reinforce when its regular roster is up and running again.
(Stats source: Evolving-Hockey)
Comments
✕
10 defensemen Maple Leafs could target to ease injury crisis
  Got something to say? Leave a comment below!