Ranking the NHL's top 5 goaltending duos for the 2022-23 season
Mark LoMoglio / National Hockey League / Getty
With more and more NHL teams embracing a true tandem approach when it comes to goaltending, a handful of clubs possess netminding duos that stand out above the rest.
As usual, our list prioritizes the individual performance of both goalies on a given club, rather than focusing solely on a prolific starter or their squad's overall success. For example, Vezina Trophy winner Igor Shesterkin is clearly the league's best netminder. But his new backup with the New York Rangers is subpar 37-year-old Jaroslav Halak, who doesn't inspire much confidence.
Speaking of the Big Apple, the New York Islanders - a previous lock to land on this list - don't qualify this time around. Despite Ilya Sorokin's exceptional play, Semyon Varlamov's underlying numbers were among the NHL's worst last season, and his counting stats were barely average. The Isles' struggles didn't help that tandem's cause, either.
We've also ruled out tandems in which the backup has only played a handful of NHL games, because that's not enough to accurately gauge how effective they'll be with a much larger role.
With that in mind, here are our top five puck-stopping pairs in the league:
Stats in charts are from 2021-22
GSAx = Goals saved above expected
GSAA = Goals saved above average
5. Tristan Jarry and Casey DeSmith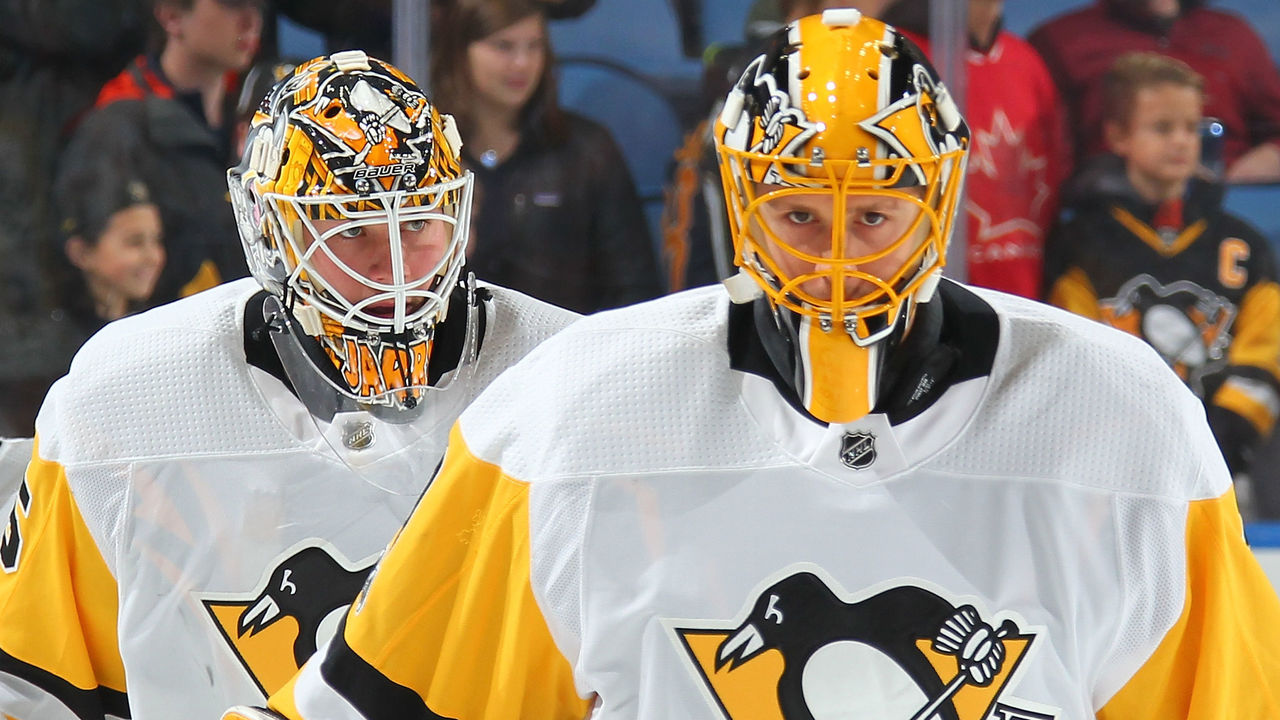 | Goalie | GP | SV% | 5-on-5 SV% | 5-on-5 GSAx | 5-on-5 GSAA |
| --- | --- | --- | --- | --- | --- |
| Jarry | 58 | .919 | .924 | 0.35 | 11.39 |
| DeSmith | 26 | .914 | .922 | -1.26 | 3.49 |
Jarry rediscovered his commendable 2019-20 form during this past regular season before an April injury forced him to miss all but one playoff game in the spring. DeSmith then got hurt once the postseason began, forcing Louis Domingue to unexpectedly take the reins - after eating spicy pork and broccoli - late in a triple-overtime Game 1 win. Domingue had to suit up for six of seven contests in the Pittsburgh Penguins' first-round loss to the Rangers.
However, both of the Pens' primary goalies were more than dependable when healthy in 2021-22. Jarry tied for the fifth-best all-situations save percentage among those with at least 20 games played. At five-on-five, he placed 12th in the same category and eighth in GSAA. As for DeSmith, he was one of the league's best No. 2 netminders.
Pittsburgh revamped its defense over the summer, but the club doesn't look much worse in that regard than it was beforehand. Injuries remain a concern for this goaltending duo, but if Jarry and DeSmith can avoid them, they should again be one of the NHL's best partnerships.
4. Jacob Markstrom and Dan Vladar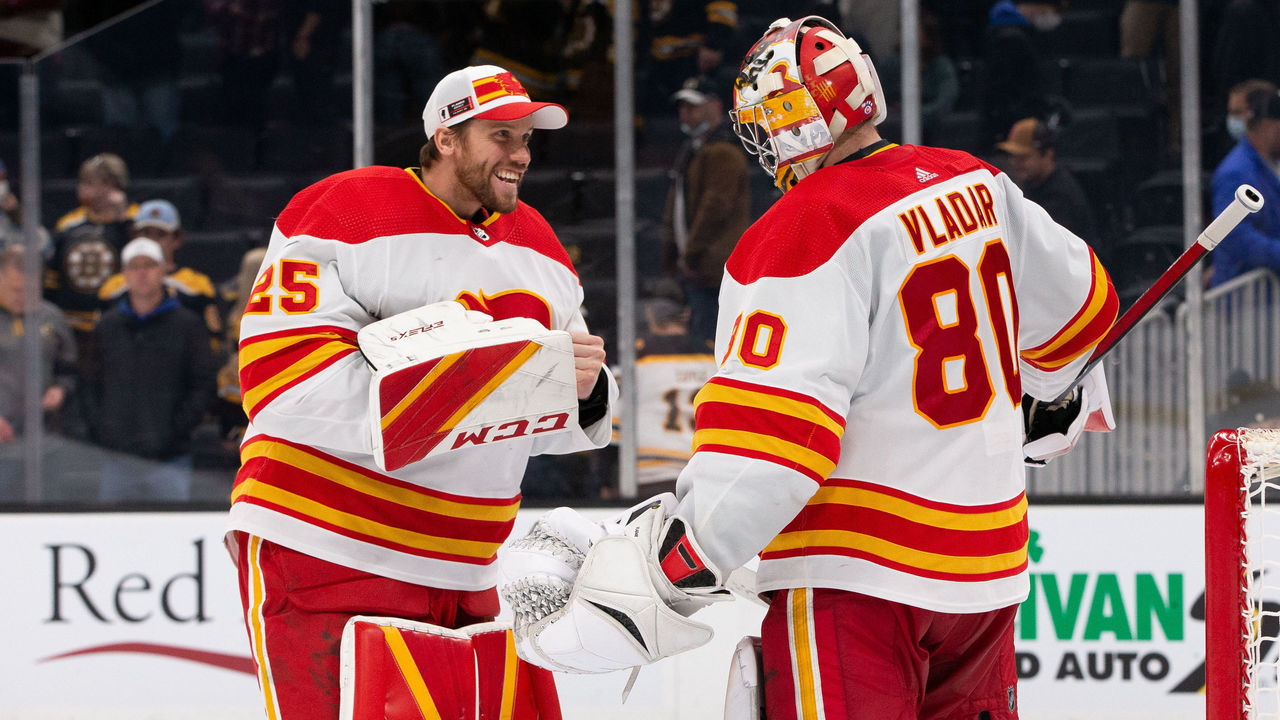 | Goalie | GP | SV% | 5-on-5 SV% | 5-on-5 GSAx | 5-on-5 GSAA |
| --- | --- | --- | --- | --- | --- |
| Jacob Markstrom | 63 | .922 | .927 | 12.62 | 14.55 |
| Dan Vladar | 23 | .906 | .918 | -0.98 | 1.08 |
This tandem does feature a superb starter, but what sets it apart from most of the others with that distinction is that there's a solid backup. Vladar's all-situations save percentage is below league average, but it's very good at five-on-five, and that's the true barometer of success. The Czech goalie had a small sample size to work with in 2021-22, but he was fairly steady in the No. 2 role and should only improve with more reps.
Markstrom has pristine figures in all of the important categories, and that's impressive considering Calgary Flames head coach Darryl Sutter leaned on him heavily last season. Sutter could reduce Markstrom's load a bit in the upcoming campaign in hopes of a longer playoff run after the Swede struggled last postseason. Vladar has also proven worthy of more starts in his own right.
The Flames look a little different up front and on defense after a wild summer of departures and arrivals. But it's business as usual in goal, and that's because the two players patrolling Calgary's crease have mostly been reliable.
3. Linus Ullmark and Jeremy Swayman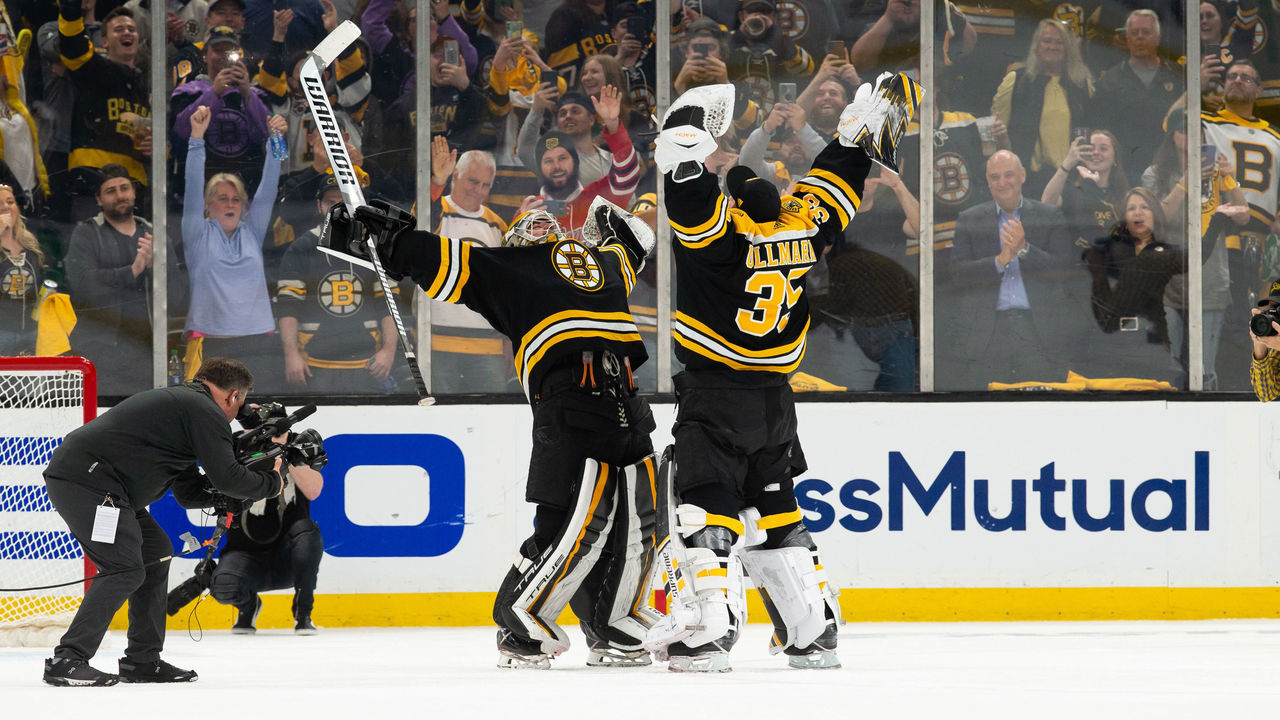 | Goalie | GP | SV% | 5-on-5 SV% | 5-on-5 GSAx | 5-on-5 GSAA |
| --- | --- | --- | --- | --- | --- |
| Ullmark | 41 | .917 | .919 | -8.56 | 2.87 |
| Swayman | 41 | .914 | .921 | -3.66 | 4.33 |
The Boston Bruins boast the NHL's most egalitarian goaltending tandem in Linus Ullmark and Jeremy Swayman, who largely thrived while playing exactly half of the schedule apiece. Neither netminder's GSAx was positive in 2021-22, but the rest of their numbers more than make up for that.
It doesn't even matter that the Bruins don't have an obvious starter. The combined ability and play of both Boston puck-stoppers cements the duo as one of the league's most talented. Perhaps it's the very fact that neither Bruins goalie has to carry a heavy load that makes them so successful.
Neither of them is outstanding, but knowing the crease is in capable hands on any given game night isn't something most other NHL teams can tout. Boston will likely be without Brad Marchand and Charlie McAvoy until December, so the Ullmark-Swayman duo will certainly be tested in the early going. But if any pair is capable of overcoming those key absences, it's this one.
2. Frederik Andersen and Antti Raanta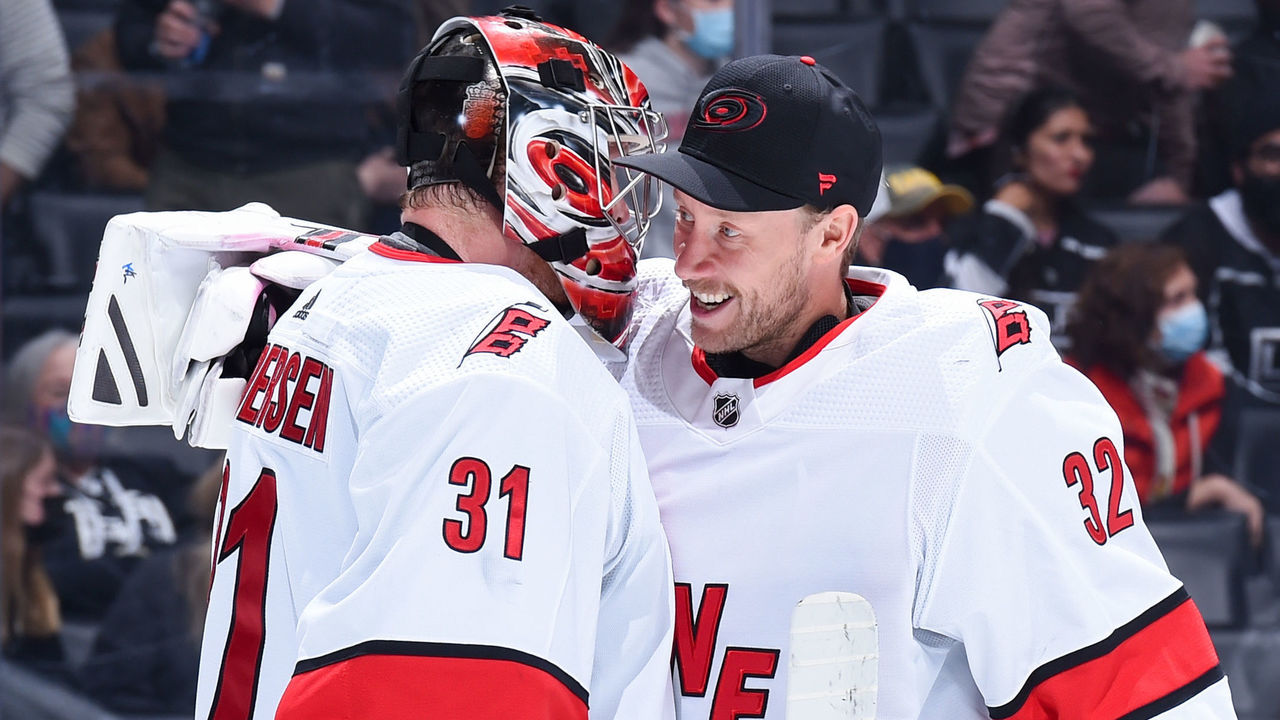 | Goalie | GP | SV% | 5-on-5 SV% | 5-on-5 GSAx | 5-on-5 GSAA |
| --- | --- | --- | --- | --- | --- |
| Andersen | 52 | .922 | .925 | 14.73 | 10.14 |
| Raanta | 28 | .912 | .924 | 10 | 4.67 |
The Carolina Hurricanes have an excellent goaltending tandem, but there's a clear caveat that prevents them from being No. 1: Andersen and Raanta both have a history of injuries. That came to a head last season when the Danish netminder missed the team's entire playoff run and the Finn was also forced to miss time, thrusting third-stringer Pyotr Kochetkov into the spotlight.
However, Andersen did post stellar numbers when healthy, and he suited up for 52 regular-season games. Raanta was solid before the playoffs, and he was one of the NHL's best backups in 2021-22, both in terms of conventional and underlying numbers.
The Hurricanes allowed the fewest goals per game as a team last season. Even with some new faces this season, there's no reason to believe they can't do it again - barring injuries, of course.
1. Andrei Vasilevskiy and Brian Elliott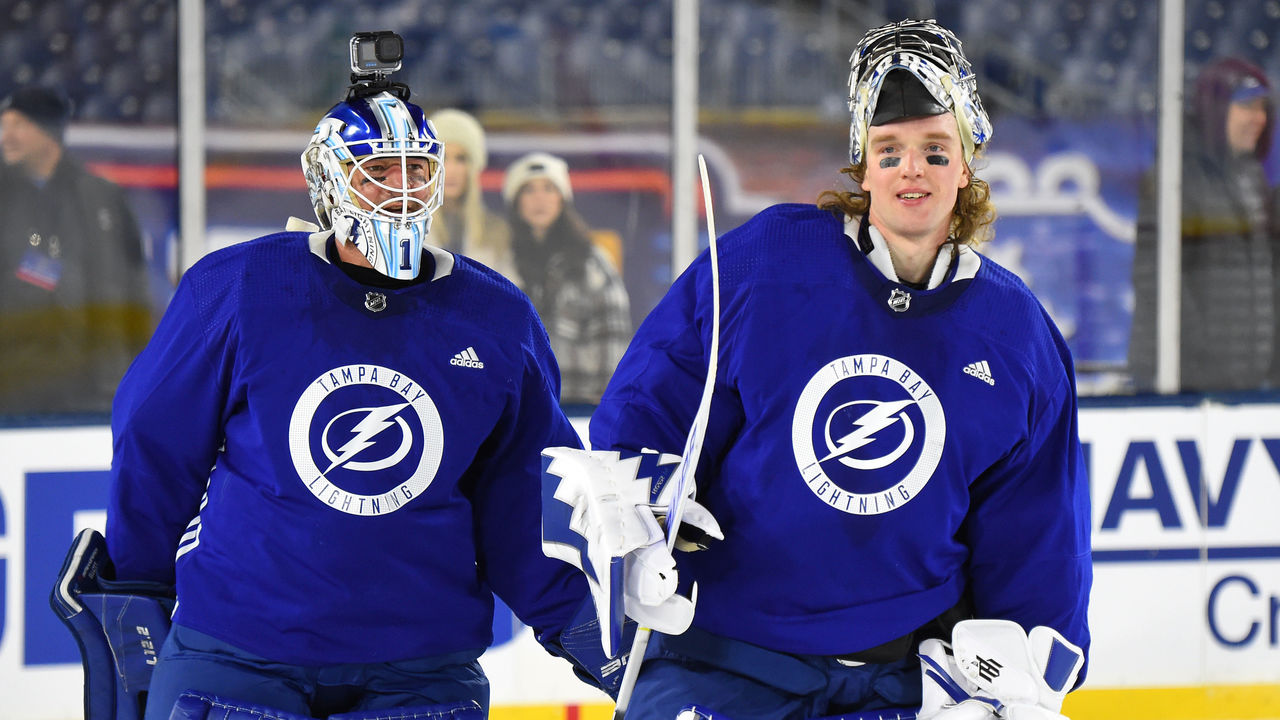 | Goalie | GP | SV% | 5-on-5 SV% | 5-on-5 GSAx | 5-on-5 GSAA |
| --- | --- | --- | --- | --- | --- |
| Vasilevskiy | 63 | .916 | .925 | 12.71 | 13.56 |
| Elliott | 19 | .912 | .924 | -0.47 | 2.21 |
The Tampa Bay Lightning have long had an elite No. 1 goalie in Vasilevskiy, but Elliott's shakiness prevented the duo from cracking our list heading into last season. However, that trend changed significantly in 2021-22.
Yes, Elliott only played 19 regular-season games with the Bolts. But the grizzled backup's .912 save percentage in all situations was above the league average and his best since 2015-16. He brought stability to the team's backup role, greatly improving upon the .889 save percentage he authored in 2021.
While Vasilevskiy didn't have his best season by his standards, he was still among the NHL's top netminders in terms of both counting stats and analytics. The frequent Vezina contender and one-time winner provided elite goaltending while playing more games (63) than he had since 2017-18.
Vasilevskiy ranked sixth in the NHL in GSAx at five-on-five and seventh in GSAA in the same situations. Elliott's age is a concern heading into the upcoming campaign, but if the Lightning manage his workload as effectively as they did last season, this should again be a formidable tandem.
(Analytics source: Evolving Hockey)
Comments
✕
Ranking the NHL's top 5 goaltending duos for the 2022-23 season
  Got something to say? Leave a comment below!