Could a Miller-Severson swap work for Canucks, Devils?
Player-for-player blockbuster trades between NHL teams trying to be competitive are rare, largely due to the hard salary cap. However, as the Matthew Tkachuk deal showed us, they're not impossible. So, we've come up with another one.
Vancouver Canucks forward J.T. Miller for New Jersey Devils defenseman Damon Severson (and more).
Now, hear us out before you close the page. Miller is more of a household name, but Severson is underrated. The Devils would have to add more pieces to this hypothetical swap, but we'll get to that later. First, a little background on each centerpiece.
Miller, 29, is coming off a career-high 99-point campaign. He's capable of playing both center and left wing and is an exceptional offensive player, even if he gives up a fair amount defensively. He also brings an element of size (6-foot-1, 218 pounds) and physicality (172 hits last season) that teams covet.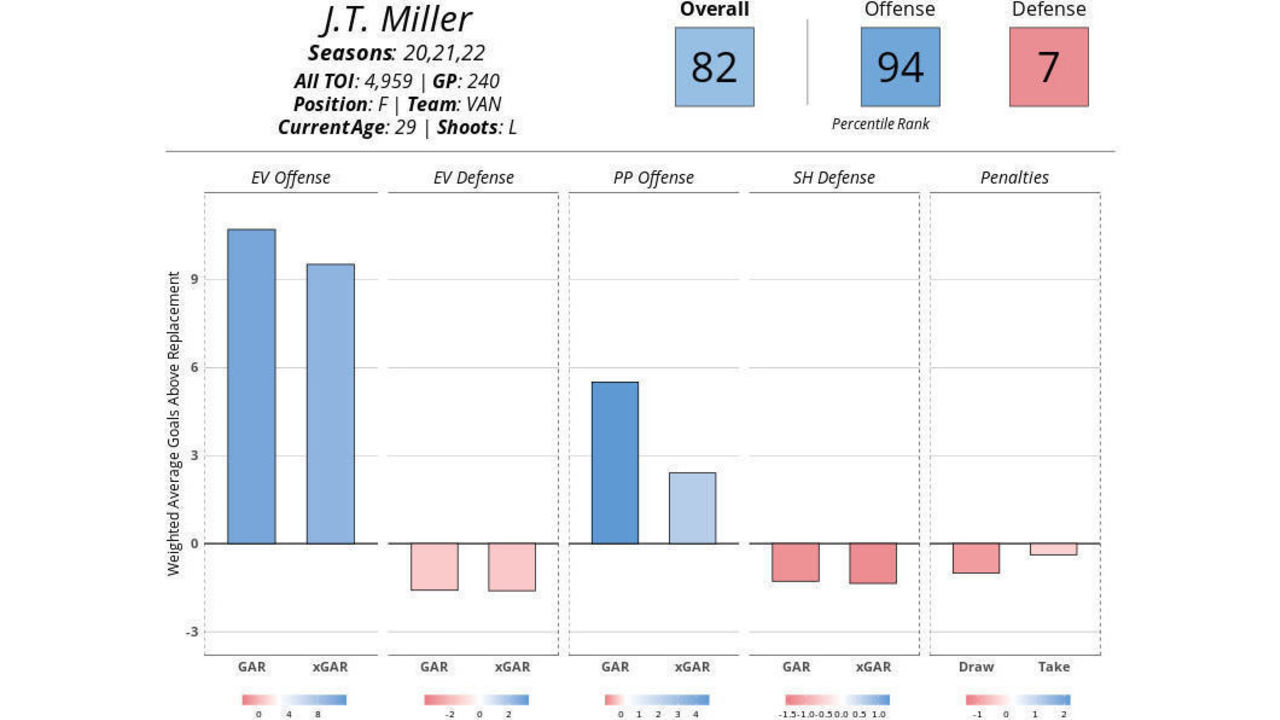 Severson, who turns 28 next week, is also coming off a career year after tallying 46 points. He defends well, in large part due to his size (6-foot-2, 205 pounds) and mobility. Severson averaged more ice time per game (23:36) than Dougie Hamilton last season (21:13), which says a lot about how much coaches trust him to handle tough minutes.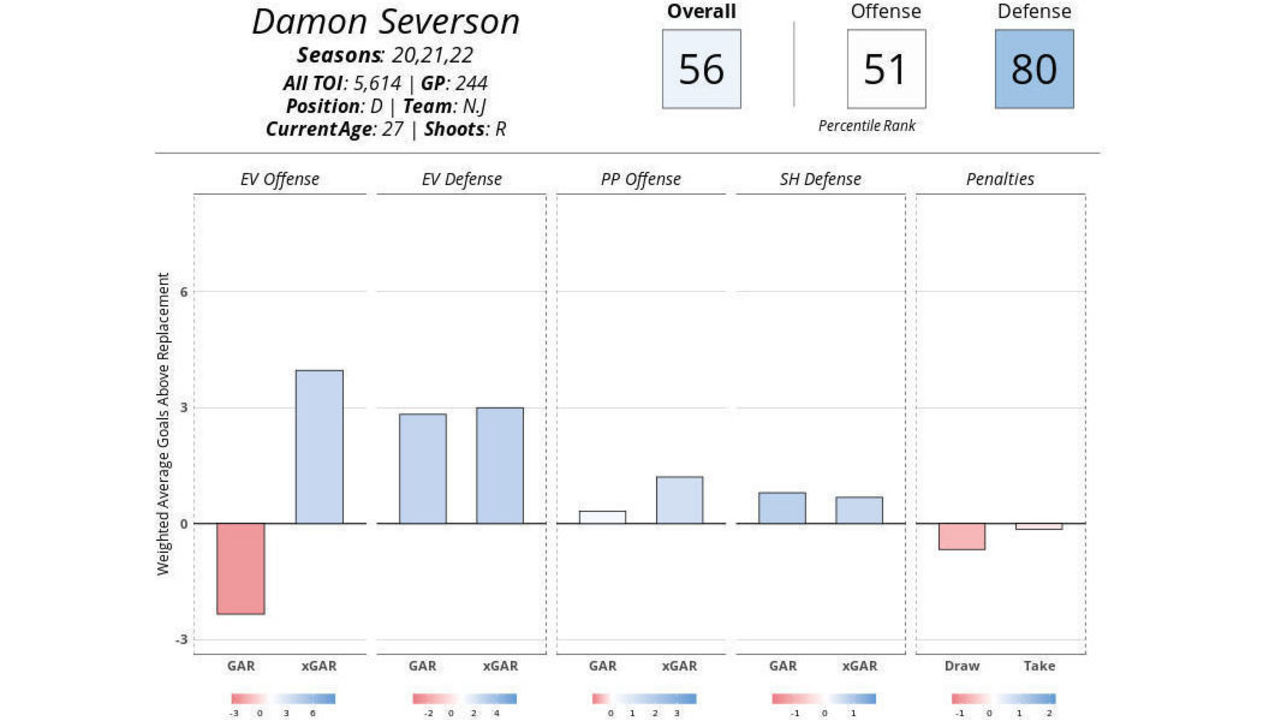 Another thing to remember: there's familiarity between Devils general manager Tom Fitzgerald and Canucks GM Patrik Allvin, who worked together in the Pittsburgh Penguins' front office from 2007-08 to 2014-15.
Now, let's dive into why this trade would make sense for each side, and what final assets would need to be included to get a deal done.
Why it makes sense for the Devils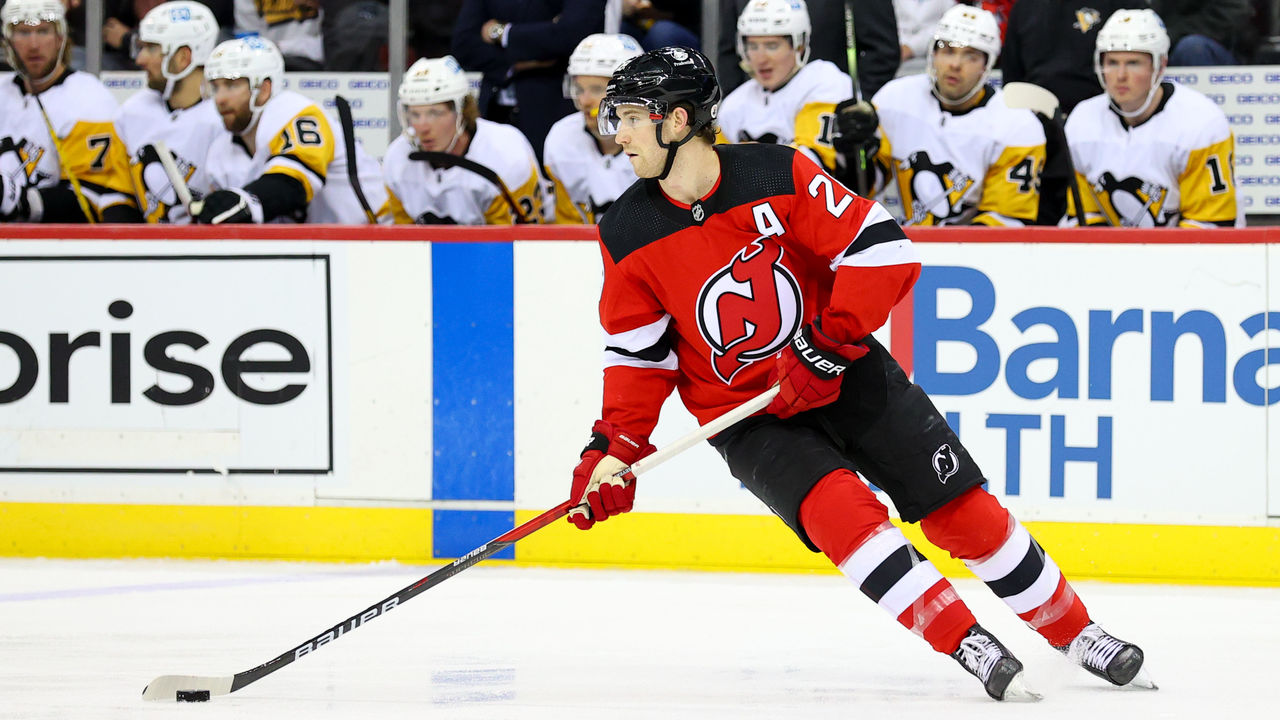 Severson ($4.16-million cap hit) will be an unrestricted free agent in 2023. There have been no reports of his availability, but it'd be sensible for New Jersey to move him following the recent John Marino acquisition.
With Marino and Hamilton signed long term on the right side of the blue line, locking up another righty in Severson would be illogical. That's especially true after the club selected Simon Nemec, yet another right-shot defender, second overall in the draft. Even if Nemec isn't ready to play in the NHL this season, Fitzgerald could sign a one-year stopgap until the young Slovak arrives.
The Devils struck out on Johnny Gaudreau in free agency. They signed Ondrej Palat, but they could still use a veteran, star forward to complement Jack Hughes, Nico Hischier, and Co. Miller would be an even better fit than Gaudreau, considering he'd bring a different element with his size and tenacity to a forward group that's mostly on the smaller side.
Perhaps most importantly, New Jersey possesses the cap space to sign Miller, a 2023 UFA, to a long-term extension. As of now, only Hughes, Hischier, Palat, Hamilton, and Marino are making significant money beyond next season. Miller projects to land an eight-year deal with a $9.7-million cap hit if he signs an extension, per Evolving-Hockey.
Why it makes sense for the Canucks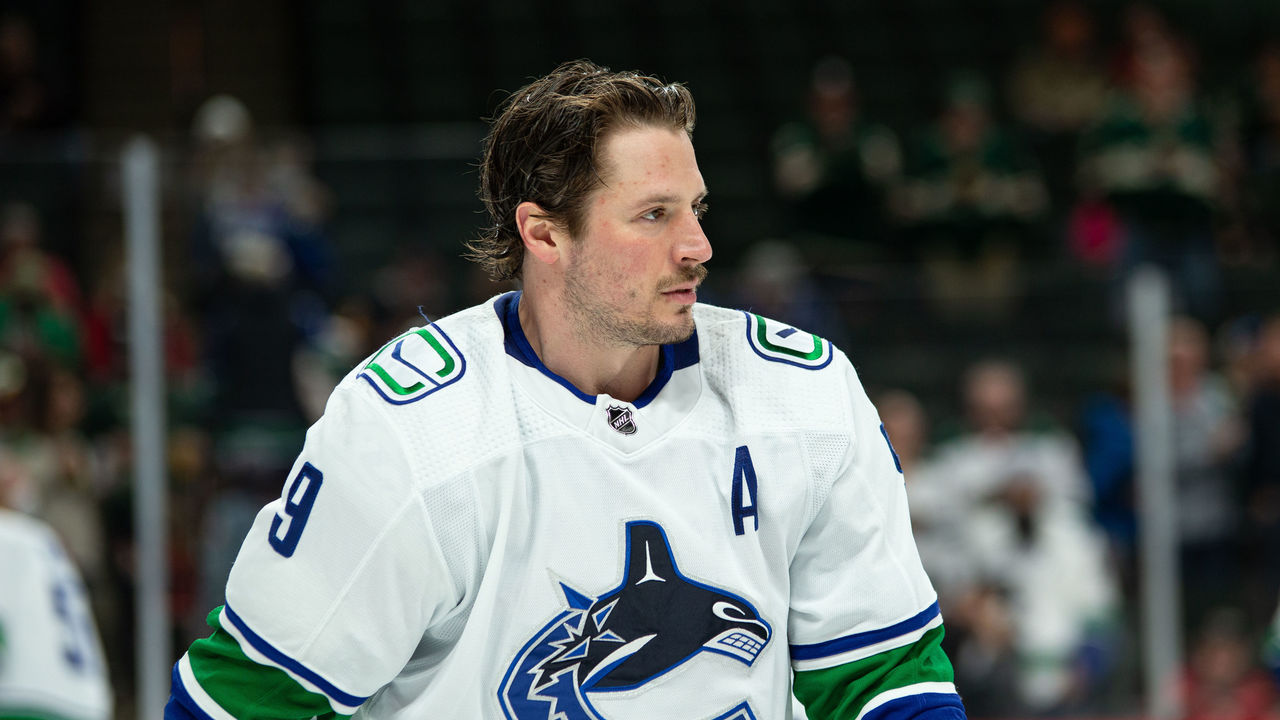 Miller ($5.25-million cap hit) was expected to be traded at the deadline, but a move never materialized. Reports in early July indicated that he and the Canucks were far apart on a possible extension, thus causing trade talks to intensify. But more recently, Miller's agent said there's a "realistic path" to an extension.
Basically, nothing is off the table at this point. However, extending Miller would be tricky, considering captain Bo Horvat also needs a new contract for next year and Elias Pettersson is due up in 2024. It might be smart for Allvin to allocate that money to positions of greater need, like the back end.
The right side of Vancouver's blue line is among the league's worst. It currently consists of Tyler Myers, Luke Schenn, Kyle Burroughs, and Tucker Poolman, whose status for 2022-23 is still up in the air. Lefty Travis Dermott is capable of sliding over to his off side, too.
Severson would represent a massive upgrade. Regardless of whether he plays alongside Quinn Hughes or Oliver Ekman-Larsson, he'd help elevate either top-four pairing.
Severson will also be much cheaper than Miller. Evolving-Hockey projects his next contract to be a six-year deal with a $6.8-million cap hit.
What would the Devils have to add?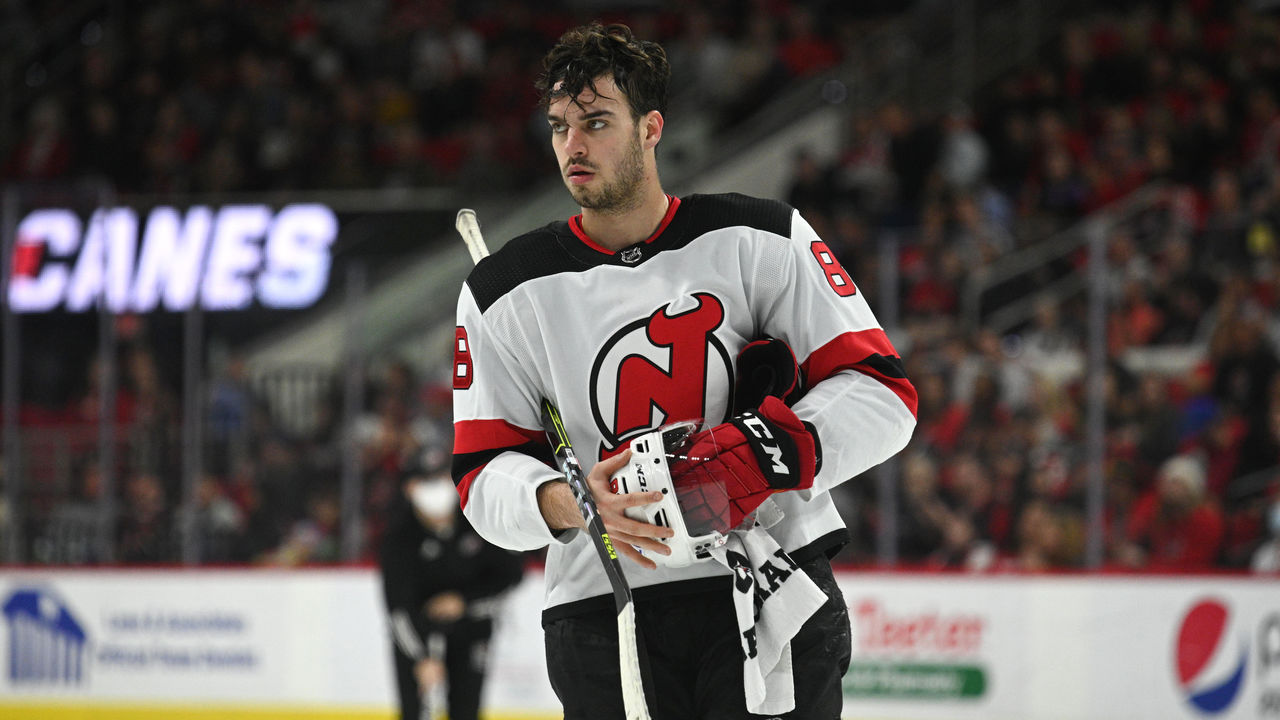 Clearly, Miller is more valuable than Severson. Based on the aforementioned contract projections, he's about $3 million per year more valuable, to be exact. So, New Jersey would have to have to add a piece or two to sweeten the deal.
We've noted that Vancouver's current blue line needs work, but its defensive prospect pipeline could use a jolt, too. The Canucks haven't drafted a defenseman higher than the third round since they took Hughes seventh overall in 2018. Jett Woo was also taken in the second round that year, but it's not certain he'll become a full-time NHLer.
So, it'd be logical for the Canucks to target a defensive prospect in this trade. Fortunately for them, the Devils are loaded with young blue-line talent. Nemec and Luke Hughes, the 2021 No. 4 pick, are likely untouchable. But Shakir Mukhamadullin, Reilly Walsh, Kevin Bahl, and Nikita Okhotyuk could all potentially be in play.
Proposal No. 1
| Devils receive | Canucks receive |
| --- | --- |
| J.T. Miller | Damon Severson |
| | Shakir Mukhamadullin |
Mukhamadullin, selected 20th overall in 2020, is considered the best of New Jersey's defensive prospects outside of Hughes and Nemec. He's 6-foot-4 but skates really well for his size, and while he shoots left, he can play the right side.
The Canucks would be smart to persist for Mukhamadullin, but it's possible the Devils would hesitate to give him up. So, we've come up with some alternative offers.
Proposal No. 2
| Devils receive | Canucks receive |
| --- | --- |
| J.T. Miller | Damon Severson |
| | Kevin Bahl |
| | Jesper Boqvist |
| | 2023 2nd-round pick |
In this deal, the Devils give up less quality but more quantity.
Bahl doesn't share Mukhamadullin's upside, but he's already played 24 NHL games and didn't look out of place. A second-round pick by the Arizona Coyotes in 2018, the New Westminster, B.C., native stands at 6-foot-6 and 230 pounds. Whether he can play a top-four role one day remains to be seen, but at the very least, he has a future as a shutdown, third-pair blue-liner.
Boqvist, chosen 36th overall in 2017, hasn't quite found his footing in the NHL yet, recording 34 points in 119 career games. It's possible a change of scenery could help, though. At the very least, he'd give Vancouver some forward depth.
Proposal No. 3
| Devils receive | Canucks receive |
| --- | --- |
| J.T. Miller | Damon Severson |
| | Kevin Bahl |
| | Reilly Walsh |
Walsh shoots right, so he'd have a much clearer path to NHL playing time in Vancouver than in New Jersey. The 2017 third-rounder is coming off an impressive AHL campaign in which he tallied 43 points in 70 games. He brings more upside than Bahl but less than Mukhamadullin.
Including both Walsh and Bahl may seem steep for the Devils, but it'll be hard for them to crack New Jersey's roster considering they're the organization's fourth- and fifth-best defensive prospects behind Nemec, Hughes, and Mukhamadullin.
For Vancouver, getting three defensemen would help give its blue line the facelift it needs. And if Walsh and Bahl aren't already NHL ready, they're close, which is key for a Canucks team still trying to remain competitive.
These trade proposals may not be perfect, but it's clear there's an avenue to grind out an agreement that'd benefit both sides. Could old colleagues Fitzgerald and Allvin find a middle ground?
(Cap source: CapFriendly)
Comments
✕
Could a Miller-Severson swap work for Canucks, Devils?
  Got something to say? Leave a comment below!