5 most interesting teams entering NHL free agency
Free agency is set to open at noon on Wednesday, and while every team will be active in some capacity, there are five clubs in particular NHL fans should pay close attention to.
These teams aren't necessarily just the ones with the most cap space - though, that does help - but the ones that could make the biggest splashes due to their trajectory. We're also keeping an eye on one squad, in particular, that's in jeopardy of losing its franchise player.
Here we break down the five most interesting teams entering free agency:
New Jersey Devils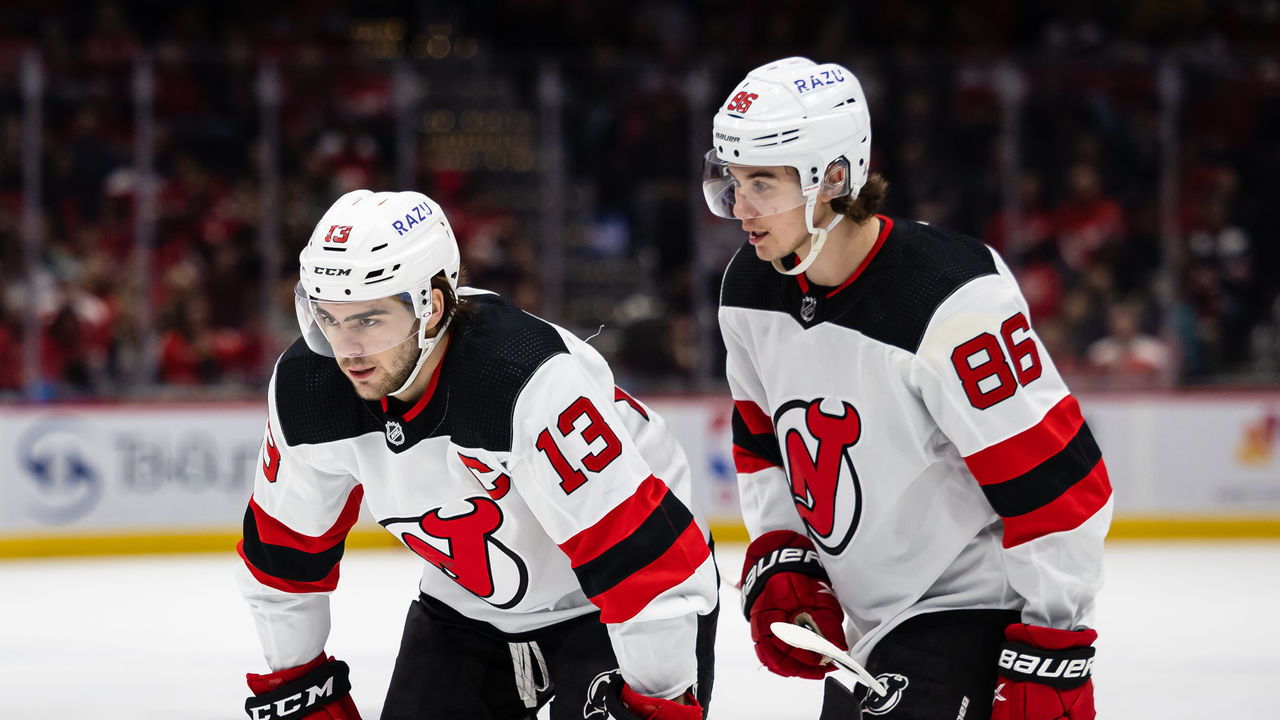 The Devils are ready to get over the hump. They have a deep crop of young forwards, a stellar defense core, and most importantly, lots of cap space with no bad contracts.
They have $25 million in projected cap space, and while Jesper Bratt and a few other restricted free agents will take up a decent chunk of that room, there's plenty of flexibility to make a splash - especially considering the only three players signed beyond next season are Jack Hughes, Nico Hischier, and Dougie Hamilton, whose seven-year, $63-million signing last offseason is evidence this ownership isn't afraid to spend.
Needing an upgrade in goal after posting a league-worst .886 save percentage last season, the Devils opted to go the cheap route by acquiring Vitek Vanecek from the Washington Capitals on Friday. While a tandem of MacKenzie Blackwood and Vanecek is far from comforting, it leaves the Devils lots of flexibility to make a serious splash.
No pending free agent makes more sense for the Devils than Johnny Gaudreau, who grew up in Carney's Point, New Jersey. Gaudreau, who's coming off a career-high 115-point campaign, would form a dynamic duo with Hughes to push the Devils over the top.
Washington Capitals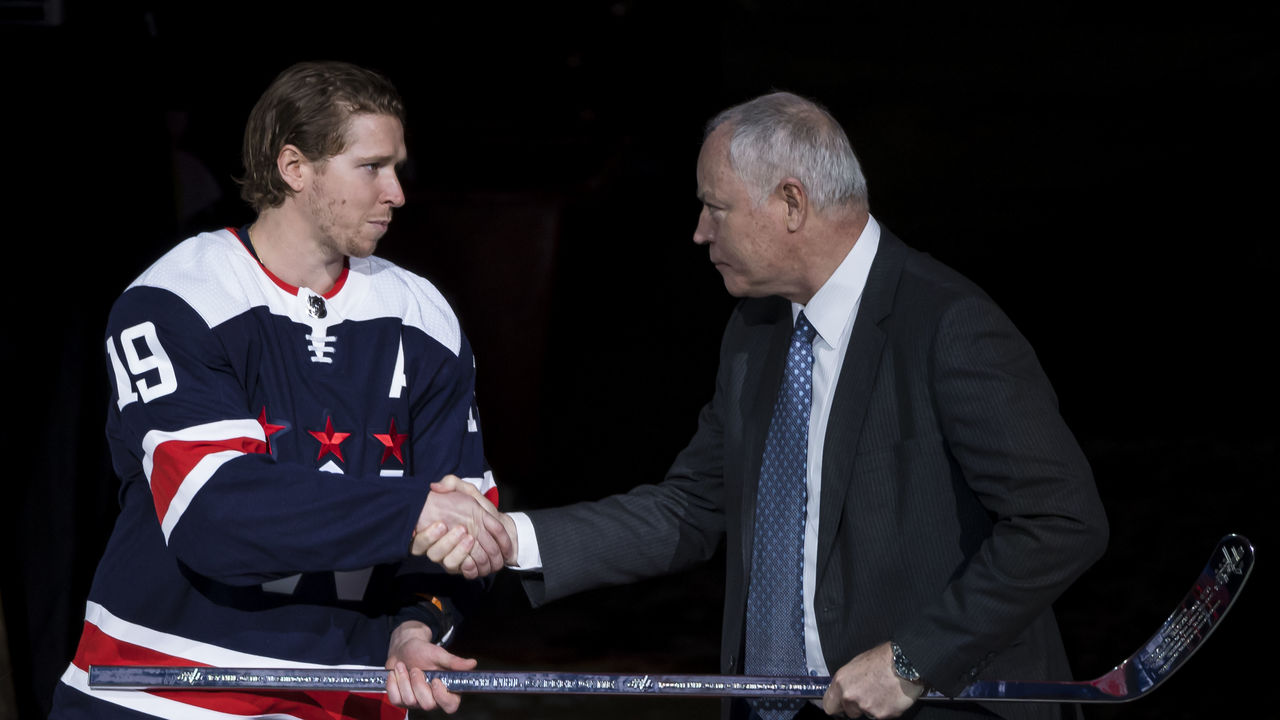 The Capitals are usually cap-strapped entering an offseason, but this summer is different. They currently project to have $9 million in cap space with a roster of 13 forwards and five defensemen. They traded away Vanecek, so it's clear they're looking for an upgrade in the crease even though 2015 first-round pick Ilya Samsonov is still in the fold (albeit as an RFA). They'll also need to add at least one blue-liner - ideally a left-hander who can play in their top four.
Washington may also need a top-six center. Nicklas Backstrom underwent a hip resurfacing surgery in June and while there's no exact timeline, he's set for a lengthy recovery process. This procedure has effectively ended careers in the past (see: Ryan Kesler). GM Brian MacLellan said Backstrom intends to play at some point next season, but that hardly seems like a sure thing.
It's possible MacLellan is trying to remain optimistic about his star player and, at the same time, not give away his cap situation to the rest of the league. If Backstrom is going to miss the entire 2022-23 campaign (which seems like a real possibility based on the surgery's history) then it does open up an additional $9.2 million in cap space.
So not only would the Caps be able to upgrade in goal and find a partner for John Carlson, but they could also make a splash at center to help fill the potential void left by Backstrom. Would Claude Giroux make sense? Or Nazem Kadri? Or perhaps Vincent Trocheck? Time will tell, but it's possible the Caps could be major players for the first time in several years when free agency opens.
Seattle Kraken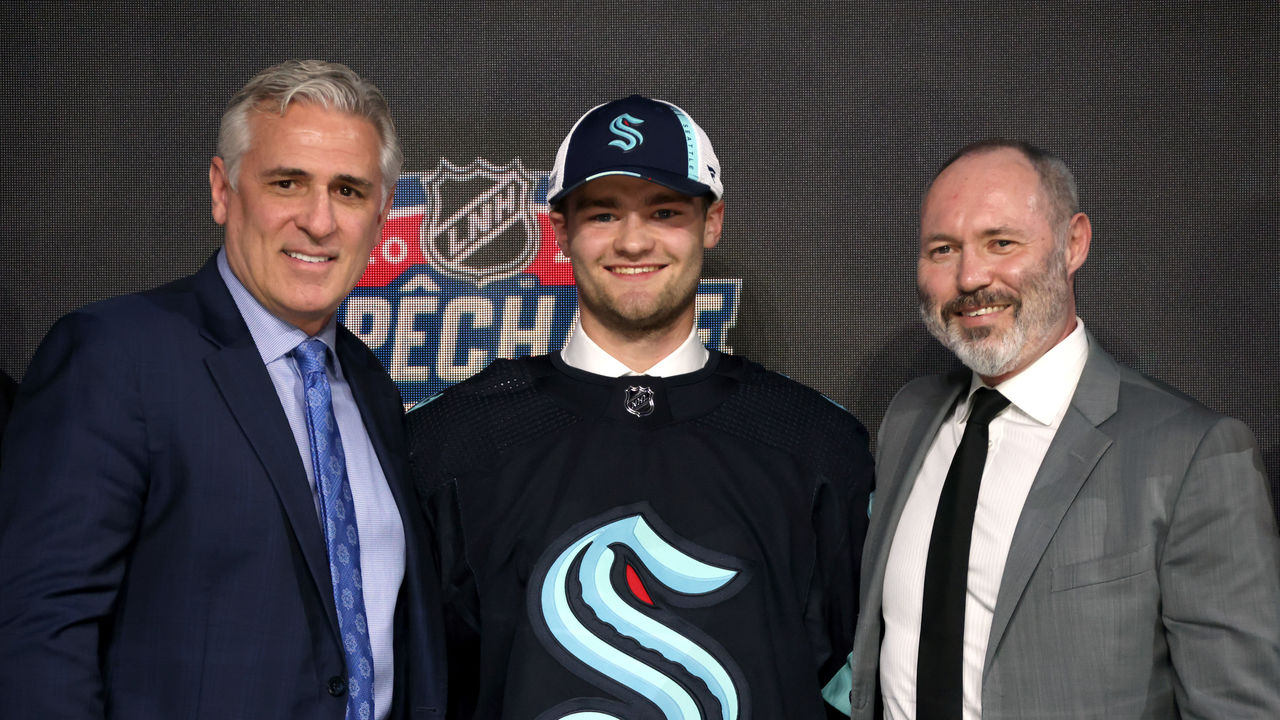 The NHL's newest team showed last season it wasn't afraid to spend in free agency. They handed out contracts to UFAs Philipp Grubauer (6x$5.9M), Jaden Schwartz (5x$5.5M), and Alexander Wennberg (3x$4.5M). Even though none of the signings worked out great in Year 1, it still showed a willingness to spend.
And despite last summer's spending spree, the Kraken still have $22.8 million in projected cap space this offseason. There's a handful of RFAs to retain, but nobody who will break the bank.
But instead of going for quantity like they did last offseason, don't be surprised if the Kraken aim for quality this time around. That could mean going after a big fish, such as Gaudreau, Kadri, or John Klingberg. They may have to overspend to make it happen, but it could be worth it. Seattle has plenty of depth, but it needs a marketable star player to help lead the way while mentoring Shane Wright, Matty Beniers, and others.
Detroit Red Wings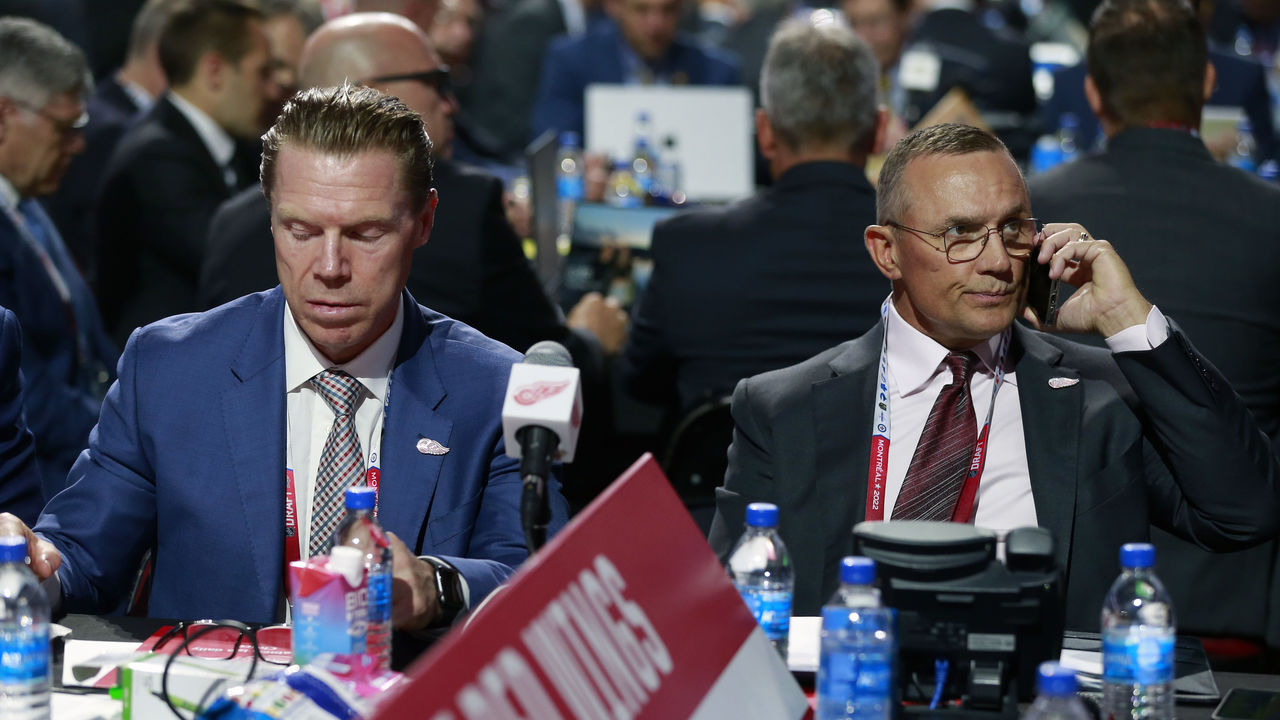 Are the Red Wings ready to make the leap from rebuilder to playoff team? Maybe not as much as the Devils or Ottawa Senators are, but they're close. Moritz Seider and Lucas Raymond were exceptional as rookies last year, and there are still plenty of other prospects coming through the pipeline.
All of the bad contracts GM Steve Yzerman inherited from Ken Holland are off the books, so the Wings have $31 million in projected cap space this summer.
Yzerman has already showed his aggressiveness with the addition of Ville Husso between the pipes, but Detroit still has plenty of needs up front and on the back end.
Some of the older UFAs, like Kadri and Giroux, may not be suitable, but somebody who could help push the team forward now and still fit the winning timeline would be ideal. Valeri Nichushkin, Andre Burakovsky, Mason Marchment, and Andrew Copp are all potential fits. Gaudreau can't be ruled out, either. And even though Ondrej Palat is 31, he would make sense given the connections to Yzerman and new head coach Derek Lalonde.
Calgary Flames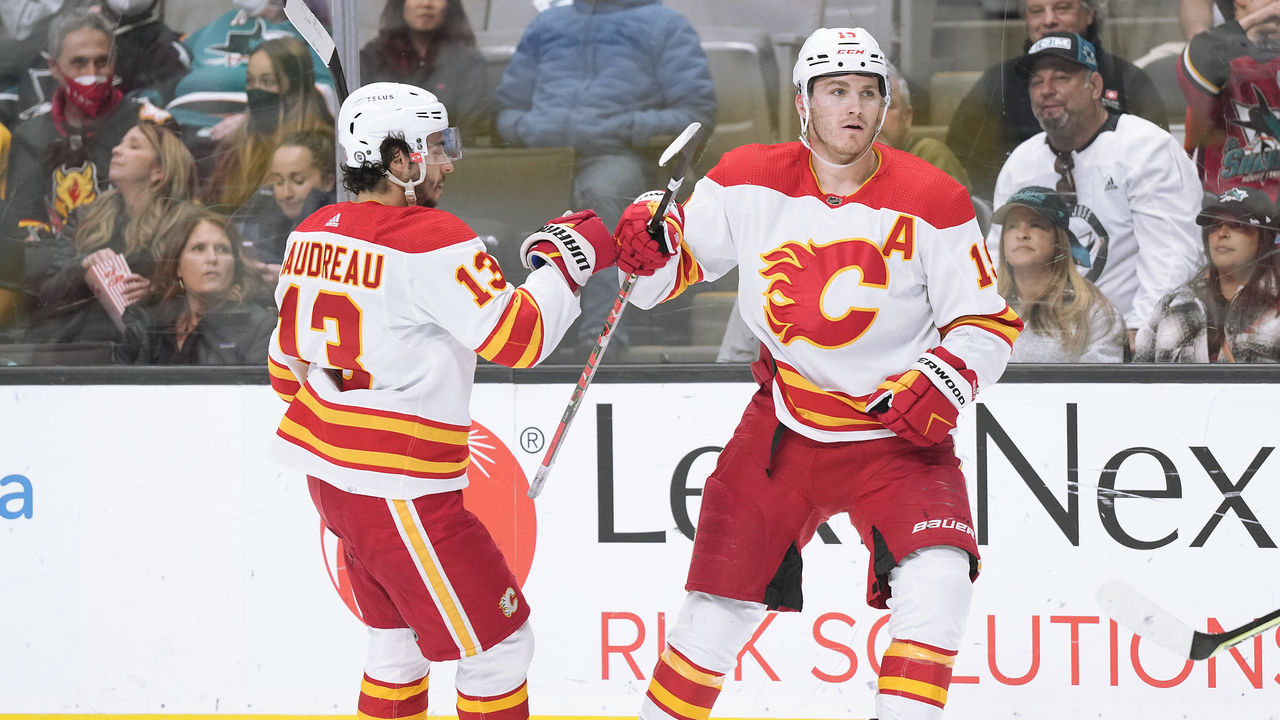 The Flames are a team to watch, but for different reasons. They're in danger of losing Gaudreau, and if he bolts, it could change the direction of their entire franchise.
Would the Flames go out and try and lure a different high-profile free agent to replace Gaudreau? Recruiting big names to Calgary has historically been difficult. Or would they spread the wealth with two or three mid-tier signings? Or, nothing at all?
If Gaudreau leaves, would pending RFA Matthew Tkachuk still sign a long-term deal? Or, would he accept his $9-million qualifying offer and then become a UFA himself in 2023? That's likely keeping GM Brad Treliving up at night.
In addition to Tkachuk, Calgary has two other prominent RFAs to sign - Andrew Mangiapane and Oliver Kylington. If the Flames manage to keep both Gaudreau and Tkachuk, would they be vulnerable to offer sheets for Mangiapane and Kylington?
One way or another, Gaudreau's decision will result in massive ramifications for the Flames.
(Cap source: CapFriendly)
Comments
✕
5 most interesting teams entering NHL free agency
  Got something to say? Leave a comment below!