How the Eastern Conference champion Lightning were built
The Tampa Bay Lightning are on the verge of making history. After punching their ticket to the Stanley Cup Final again on Saturday, the Bolts will look to become the first team since the early-'80s New York Islanders to win three straight titles. Given what's at stake, we're taking a deeper dive into how Tampa Bay constructed this star-studded roster.
Steve Yzerman did not win a Stanley Cup ring as a Lightning executive, but his fingerprints are all over this team. During his run as general manager from 2010-2018, Yzerman routinely found gems in the draft - both in the first round and beyond - and made several savvy trades.
When Yzerman stepped down as GM in September 2018, Julien BriseBois took over and didn't miss a beat. He hasn't been afraid to get aggressive when putting the finishing touches on the lineup, and it's clearly paid massive dividends.
Below, we'll break down exactly how the organization got this 2021-22 team together.
| Method | Players |
| --- | --- |
| Homegrown | 10 |
| Trade | 7 |
| Free agency | 5 |
Homegrown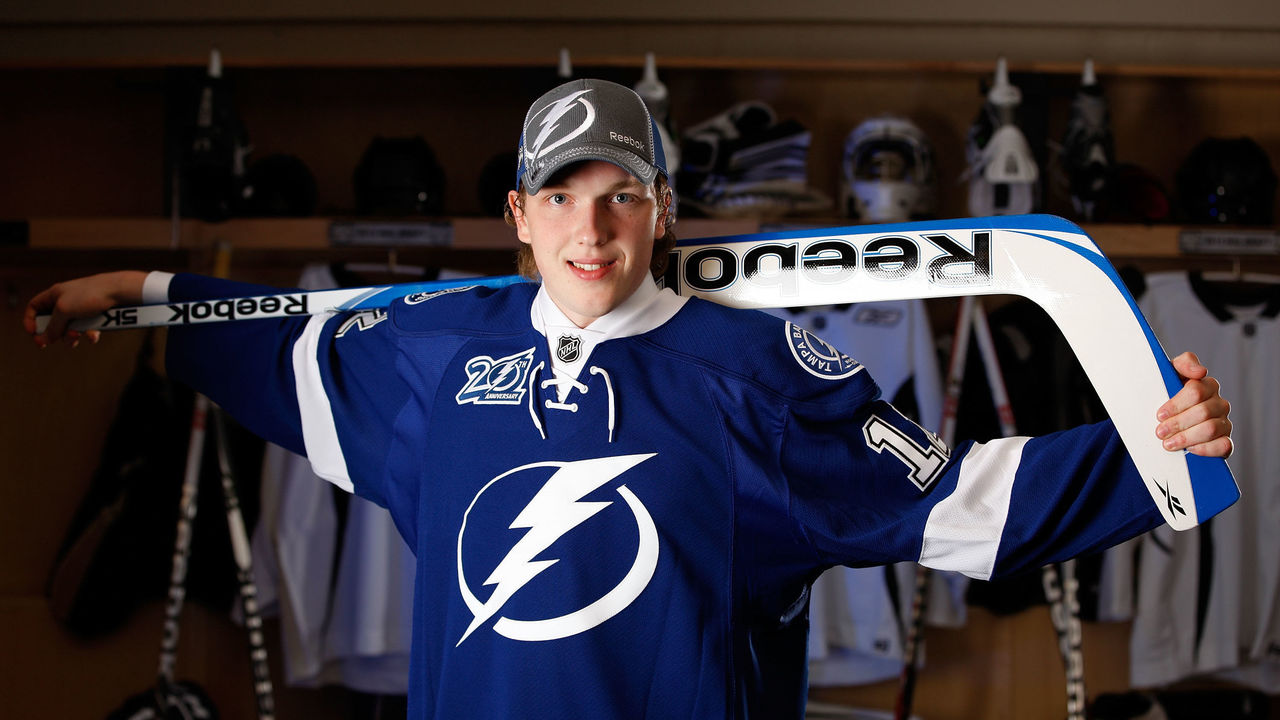 As always, the best way to build is through the draft, and no team has done a better job of that over the last 15 years than the Lightning.
Alex Killorn (June 23, 2007): One of the final parting gifts from Jay Feaster, the architect of Tampa's 2004 Stanley Cup team, was drafting Killorn in the third round in 2007. The gritty two-way winger has proven he can excel in any role he's played during his 10 seasons with the Bolts.
Steven Stamkos (June 20, 2008): Stamkos has lived up to the billing since being taken first overall in 2008. A two-time "Rocket" Richard Trophy winner, his name is littered across the franchise leaderboards, and he's in his ninth season as captain.
Victor Hedman (June 26, 2009): Hedman was chosen second overall - one pick after John Tavares and one before Matt Duchene. The 6-foot-6 Swede is not only the best player from his draft but one of the best defensemen ever. Hedman's been a Norris Trophy finalist six years in a row and is arguably the most important player of Tampa's dynasty.
Nikita Kucherov (June 25, 2011): Yzerman's first draft in 2010 came just a month after he started the job, but following a full year of proper preparation with his scouts, he hit multiple home runs in 2011. Kucherov somehow managed to slip to the second round despite his immense talent, and the 2019 Hart Trophy winner is now one of the most dangerous players in the game.
Ondrej Palat (June 25, 2011): Yzerman found another gem in the 2011 draft, nabbing Palat in the seventh round. He was also the second of two seventh-round picks for the Lightning that year (Matthew Peca being the other), so even the front office didn't know he'd become this good. Palat doesn't garner too many headlines, but he's blossomed into the perfect complementary top-six winger.
Andrei Vasilevskiy (June 22, 2012): Drafting Vasilevskiy - the 2019 Vezina winner and 2020 Conn Smythe winner - at 19th overall was obviously a brilliant move. But what's even more brilliant is how the Lightning acquired the pick (they drafted Slater Koekkoek 10th overall with their own first-rounder). Ahead of the 2012 trade deadline, Yzerman sent Steve Downie to the Colorado Avalanche as part of a three-way trade that netted Tampa the Detroit Red Wings' first-round pick, which the club used on Vasilevskiy.
Brayden Point (June 28, 2014): It's a mystery how Point fell to the third round despite coming off a 91-point season with the WHL's Moose Jaw Warriors in his draft year. Yzerman was clearly excited to draft him because he traded up one spot to snag him at 79th overall. Point is arguably Tampa's most complete forward.
Anthony Cirelli (June 27, 2015): Cirelli only tallied 36 points in 68 games during his draft year, so it's not as much of a surprise that he fell to the third round, where the Bolts scooped him at 72nd overall. Chalk it up to tremendous scouting - Cirelli has since developed into a Selke-caliber center with a knack for scoring big goals.
Ross Colton (June 25, 2016): Another late-round gem, the team selected Colton in the fourth round. While he's not as much of a household name, Colton brings a lot of the same things Cirelli and Point do: Speed, versatility, and a 200-foot game. He's also coming off a breakout year with 22 goals.
Cal Foote (June 23, 2017): Foote has taken some time to develop after getting drafted 14th overall. He's yet to lock down a permanent spot on Tampa Bay's blue line, but he's still just 23, and defensemen tend to take longer to develop.
Trade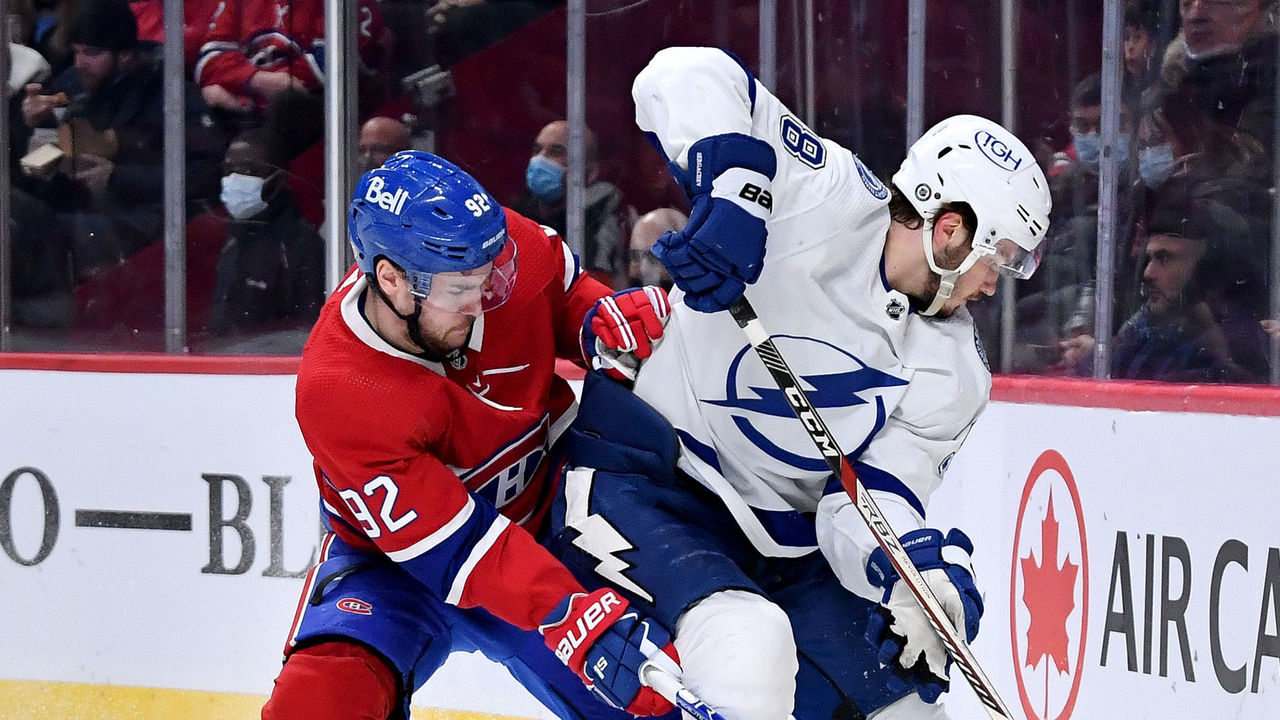 The Lightning drafted and developed the bulk of their roster, but several key pieces - including most of the blue line - were acquired via trade.
Erik Cernak (Feb. 26, 2017): Looking to offload Ben Bishop knowing Vasilevskiy was waiting in the wings, the Bolts shipped their starting goalie and a fifth-rounder to the Los Angeles Kings for Peter Budaj, a seventh-rounder, and Cernak. The 6-foot-3 blue-liner plays hard minutes and is arguably the team's most underrated player.
Mikhail Sergachev (June 15, 2017): Just one year after the Montreal Canadiens selected Sergachev ninth overall, they sent him to Tampa Bay in exchange for Jonathan Drouin, the 2013 third overall pick. It was a bold move for the Lightning at the time - Drouin was excellent in the 2016 playoffs, and 2016-17 was his best campaign - but it's clearly been a massive win as Sergachev is still just scratching the surface of his potential.
Ryan McDonagh (Feb. 26, 2018): This should be considered grand larceny. Before the 2018 deadline, Tampa landed McDonagh and J.T. Miller from the New York Rangers for Vladislav Namestnikov, Brett Howden, Libor Hajek, a 2018 first-rounder (Nils Lundkvist), and a 2019 second-rounder (Karl Henriksson). McDonagh is an indispensable member of the Bolts' blue line, playing tough matchups that free up Hedman for more offensive chances.
Jan Rutta (Jan. 11, 2019): Koekkoek didn't quite pan out, so the Lightning traded him and a fifth-round pick to the Chicago Blackhawks for Rutta and a seventh-rounder. Rutta isn't flashy, but he's been a solid, stay-at-home partner for Hedman. This marked BriseBois' first notable trade as GM.
Brandon Hagel (March 18, 2022): Some scoffed at the price for Hagel. The Lightning gave the Blackhawks two first-round picks, Boris Katchouk, and Taylor Raddysh for the 23-year-old winger and a pair of fourth-rounders. Hagel hasn't produced much in a Bolts uniform, but if he helps them win another ring, it's all worth it. Plus he has two more years on his contract at just $1.5 million per season.
Nick Paul (March 20, 2022): To bolster the bottom-six forward group, Tampa landed Paul from the Ottawa Senators in exchange for Mathieu Joseph and a fourth-round pick. Paul has been massively important to the Lightning this postseason, averaging 18:28 per contest, scoring clutch goals, and using his size to wreak havoc on the forecheck.
Riley Nash (March 21, 2022): The club acquired Nash from the Arizona Coyotes for future considerations. He's played four games this postseason.
Free Agency
The Lightning haven't been very busy in free agency - mainly because most of their money is tied up in their homegrown stars. But the Bolts have still used this method to make low-cost additions to the fringe of the roster.
Pat Maroon (Aug. 24, 2019): Maroon initially signed a one-year, $900,000 deal with the club. He re-upped on a two-year deal with the same average annual value and then again on another two-year contract for $1 million per season. The fourth-line enforcer has become an important "glue guy."
Zach Bogosian (July 28, 2021): Bogosian is in his second stint with the Lightning. After the Buffalo Sabres terminated his contract in 2020, he joined the Bolts for their first Cup run. After spending one year with the Toronto Maple Leafs, Bogo returned to Tampa on a three-year deal with an $850,000 AAV this past offseason.
Brian Elliott (July 28, 2021): Needing a new backup for Vasilevskiy after Curtis McElhinney retired this past offseason, Tampa inked Elliott to a one-year, $900,000 contract. In April, the team handed the veteran netminder an identical contract for 2022-23.
Pierre-Edouard Bellemare (July 28, 2021): The Lightning signed Bellemare to a two-year, $2-million contract. The 37-year-old Frenchman is still a great skater and responsible defender - the perfect mix for a fourth-line center.
Corey Perry (July 29, 2021): If you can't beat 'em, join 'em, right? Perry lost in back-to-back Cup finals to the Lightning with the Dallas Stars in 2020 and the Habs in 2021, so he decided to sign with the reigning champs on a two-year, $2-million contract. The 37-year-old has proven he can still play while primarily in a fourth-line role after a 19-goal, 40-point season.
Crafty contracts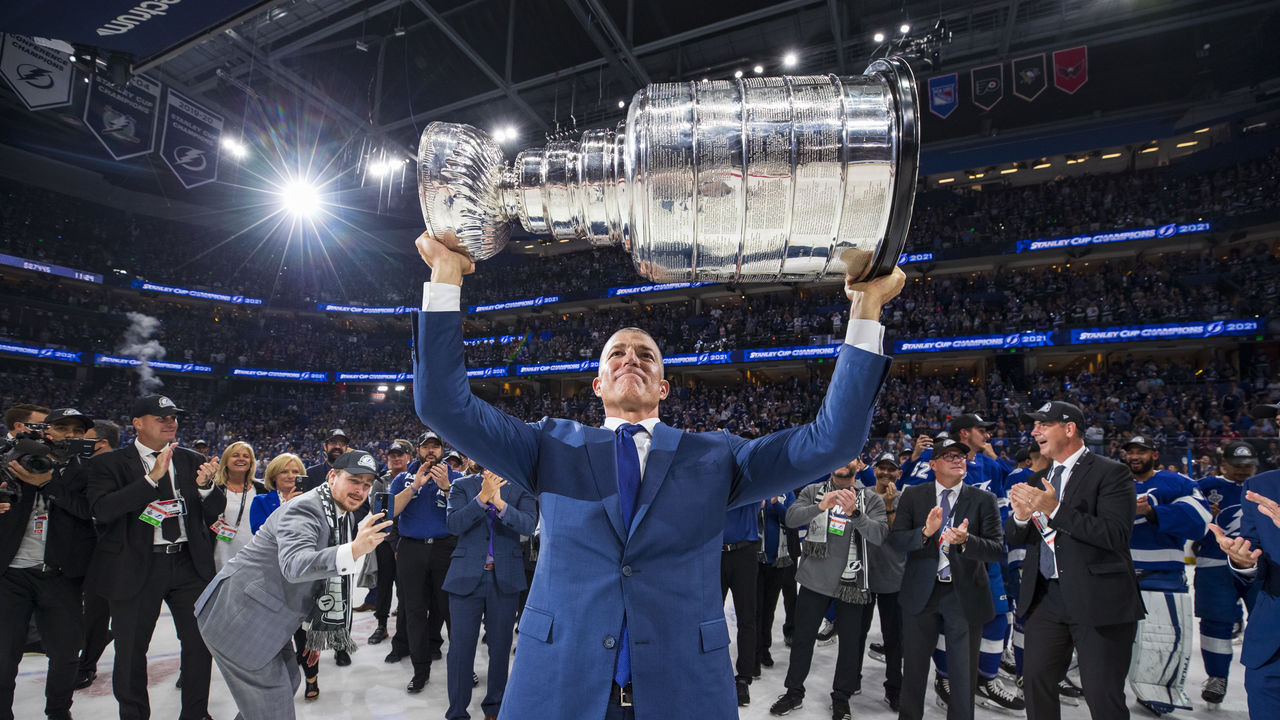 Acquiring the right players is one part of the job, but keeping them under the hard salary cap is another. Playing in Florida - where there's no state income tax - helps, but the Lightning have still received extraordinary value per dollar with almost all of their key players.
Up front, Kucherov ($9.5 million AAV) is easily worth over $10 million. Stamkos ($8.5 million AAV) likely took less to stay in Tampa instead of testing the market in 2016. Point just played out the final year of his three-year deal with a $6.75 million AAV, and even his eight-year extension beginning in 2022-23 with a $9.5 million AAV is a bargain. Cirelli is also underpaid at $4.8 million per year.
Defense is where the value is even more tremendous. Hedman ($7.875 million AAV) was the 14th highest-paid blue-liner in the league this season. Sergachev ($4.8 million AAV) and Cernak ($2.95 million) are easily worth more, too.
Vasilevskiy ($9.5 million AAV) is the third highest-paid goalie in the league, but he easily could've demanded over $10.5 million, surpassing the AAVs of Sergei Bobrovsky and Carey Price.
Yes, being in Florida provides an advantage, but Yzerman and BriseBois deserve plenty of credit for finding ways to keep this core together.
Comments
✕
How the Eastern Conference champion Lightning were built
  Got something to say? Leave a comment below!