Draft survey: Prospects talk NHL comps, fashion, teammates, and resilience
Chase Agnello-Dean, Joe Hrycych, Chris Tanouye, Claus Andersen, Icon Sportswire / Getty Images
The 2022 NHL Draft runs next Thursday and Friday in Montreal. We surveyed 32 of the best prospects in the class on various subjects, from their outside interests and standout teammates to the relaxation of hockey's dress code.
Brad Lambert, F, Pelicans (Finland, Liiga): Me and Mat Barzal have some similarities. ... His play with the puck in the neutral zone, protecting the puck. Beating defenders with his skills and skating and vision.
Joakim Kemell, F, JYP (Liiga): David Pastrnak. I like how he plays and his style. He has a good shot and skating and vision on the ice.
Cutter Gauthier, F, USA Hockey National Team Development Program: Mark Scheifele and Pierre-Luc Dubois. Both are big power forwards with lots of skill. They can change the game at any time. As well, Mark's leadership skills: I like to be like him in that way.
Frank Nazar, F, USNTDP: Brayden Point. The way he uses his speed and his feet to manipulate the defenseman and create open plays. He's not afraid to go to the net. Neither am I.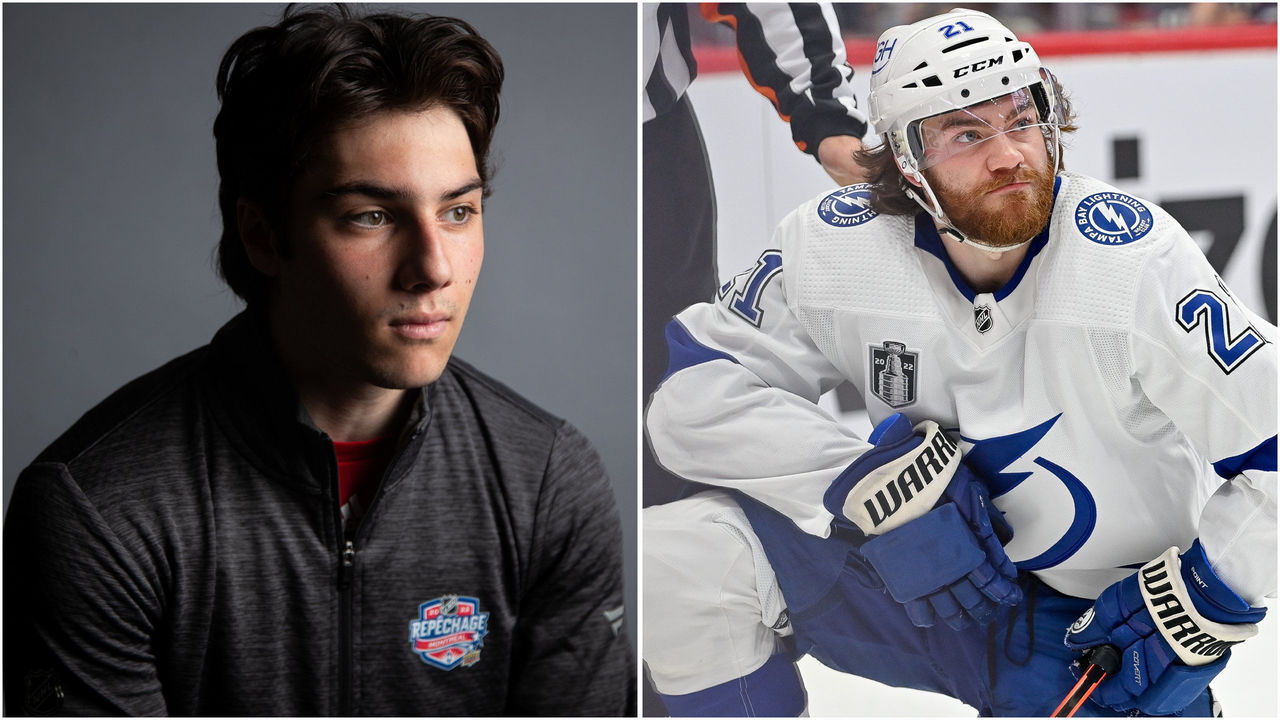 Jagger Firkus, F, Moose Jaw Warriors (WHL): Mitch Marner. He's a smaller, quicker guy. He has a good shot that catches goalies off guard a lot of the time.
Filip Mesar, F, Poprad (Slovakia, Extraliga): My favorite player is Nathan MacKinnon. But I think I'm more like, maybe, Marner or Point.
Rutger McGroarty, F, USNTDP: Matthew Tkachuk would be the No. 1. His competitiveness. His energy. I feel like he's a skilled power forward. I look at myself the same way. He can put the puck in the back of the net.
David Goyette, F, Sudbury Wolves (OHL): Dylan Larkin or Evgeny Kuznetsov. Both guys play at a high speed. They're really smart and make players around them better.
Owen Beck, F, Mississauga Steelheads (OHL): Bo Horvat. I think he's a very responsible 200-foot player. He skates well. Wins a good number of faceoffs.
Hunter Haight, F, Barrie Colts (OHL): Bo Horvat for his positional play and leadership - who he is as a person. And then Mitch Marner for his skill set and playmaking.
Liam Arnsby, F, North Bay Battalion (OHL): Ryan O'Reilly. Being a centerman, maybe not a bigger guy, but likes to compete. Good down low. Crafty. Good on the draws.
Bryce McConnell-Barker, F, Soo Greyhounds (OHL): Ondrej Palat. I think he plays a good two-way game. He's really competitive all over the ice. He can penalty kill, play the power play.
Owen Pickering, D, Swift Current Broncos (WHL): I try to take things from a lot of defensemen. I watch a ton of hockey. Bit of a hockey nerd. Try to be like Miro Heiskanen. ... The way (Joel Edmundson) defends: very underrated. He also brings a little bit of a physical element to the game that I want to develop. He's very good at taking guys into small ice and closing plays, killing cycles.
Christian Kyrou, D, Erie Otters (OHL): Adam Fox. He's a smart, skilled, puck-moving defenseman. He knows when and where to take chances. He's great at executing.
Lane Hutson, D, USNTDP: Definitely Adam Fox. He's a guy who sees the ice really well. He's super deceptive. He can look one way, look back the other way, and make a play. He's super calm out there. … Another guy who I really enjoy watching is Torey Krug. He's competitive in all three zones. He has a simplicity to his game in the offensive zone, but he also has that flair to make a play that not many can make. Defensively, he's hard to play against. He has a great stick. Uses his body when he can. His skating is to his benefit, too.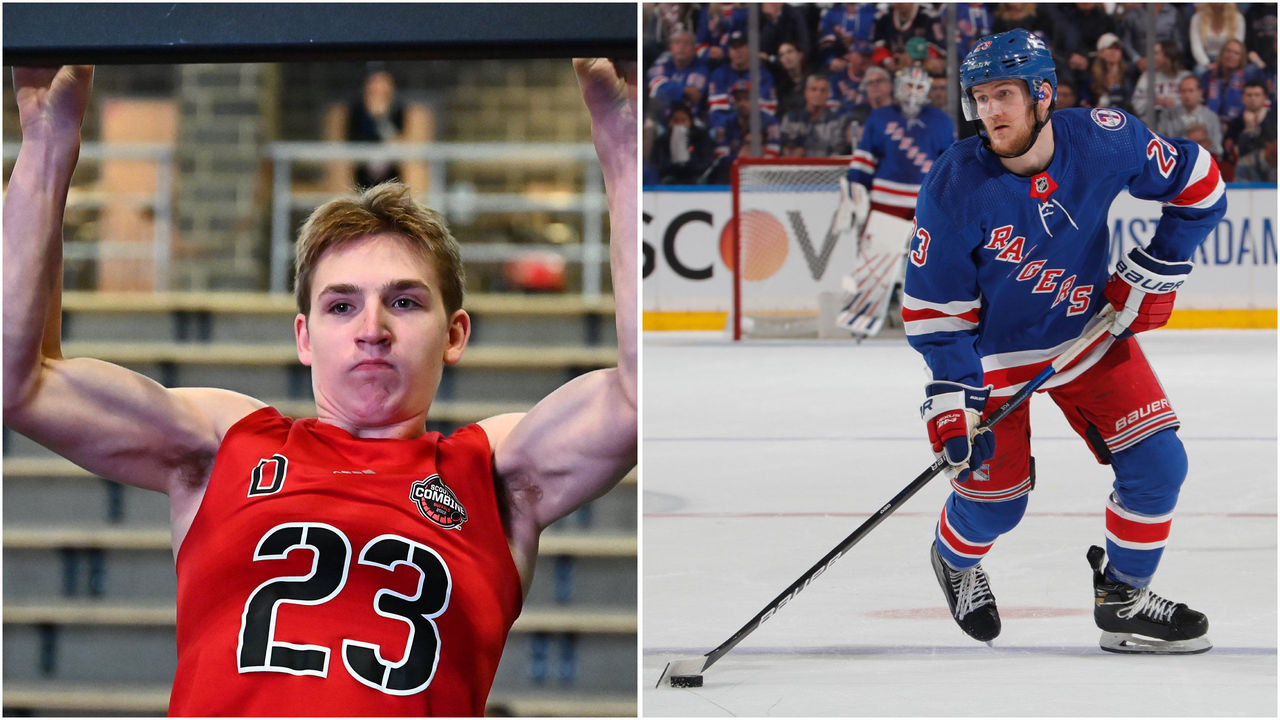 Ryan Chesley, D, USNTDP: Ryan McDonagh, Jaccob Slavin, and Charlie McAvoy. Slavin's defending is unbelievable. McAvoy's a little more physical and brings a little more offense. Then I'd say McDonagh's all-around game.
Charlie Leddy, D, USNTDP: I feel like I have the defensive tendencies of (Brandon) Carlo. And then if I strive to improve my game, I feel like I could play somewhat like Brett Pesce.
Calle Odelius, D, Djurgardens J20 (Sweden, HockeyAllsvenskan): Devon Toews or Shea Theodore. Good skating ability. Both of them can really pass the puck and also are good on the power play.
Jeremy Langlois, D, Cape Breton Eagles (QMJHL): Josh Morrissey. I think we're both puck-moving defensemen. We both skate really well. We're both good on the power play, on the PK.
Ty Nelson, D, North Bay Battalion (OHL): I like Cale Makar for his offensive ability and his power play. Morgan Rielly for his skating ability and first pass. And then Ryan Ellis because he's a shorter, stockier guy like myself, and he's an outstanding defenseman.
Jackson Edward, D, London Knights (OHL): I like to take different attributes from different players in the NHL. I see a similar skill set with (Moritz) Seider on the Red Wings. I know he's a right-shot defenseman, and I'm a lefty, but I think that I play a skilled game but also like to lay the body a lot. I like watching Miro Heiskanen for his two-way game a lot, too.
Topias Leinonen, G, JYP U20 (Finland, U20 SM-sarja): I like Thatcher Demko. He's a big goalie and moving good. Young. He stops the puck. I like that.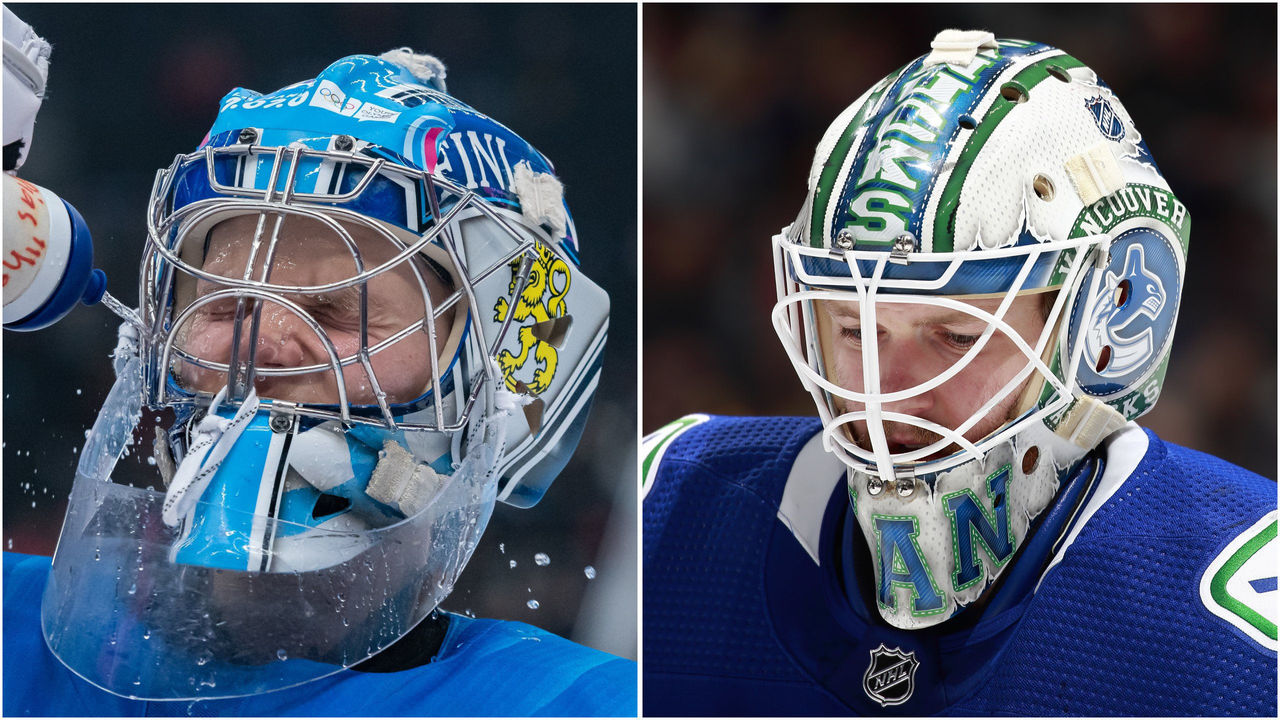 Marek Hejduk, F, USNTDP: Frank Nazar. He's special because of the way he competes every day at the rink. The way he is on both sides of the puck. His speed is exceptional. How smart he plays.
Leddy: Rutger McGroarty. He's an amazing player. I know he's very high up there. Everyone loves his game. But off the ice, he's just an amazing guy. He had the 'C' on our team for a reason.
Nazar: Seamus Casey or Charlie Leddy. They're team guys. Casey's just super skilled, super talented. … And then Leddy, he blocks so many shots.
Hutson: There are two guys who I really think are dynamic in all parts of the game. Logan Cooley, everyone knows him. He's obviously the most talented player in this draft class. He is the best player in this draft class. That's my opinion. He's a super hard worker. On top of that, he's got the talent, the skating, the passing. He has a physical presence in his game. He has an underrated shot, too. … And also Isaac Howard. He's a guy who's competitive. He practices hard. He's a goal-scorer. That's what he does, and he finds ways to do it. He also is a very underrated passer. He sees plays that other guys can't see.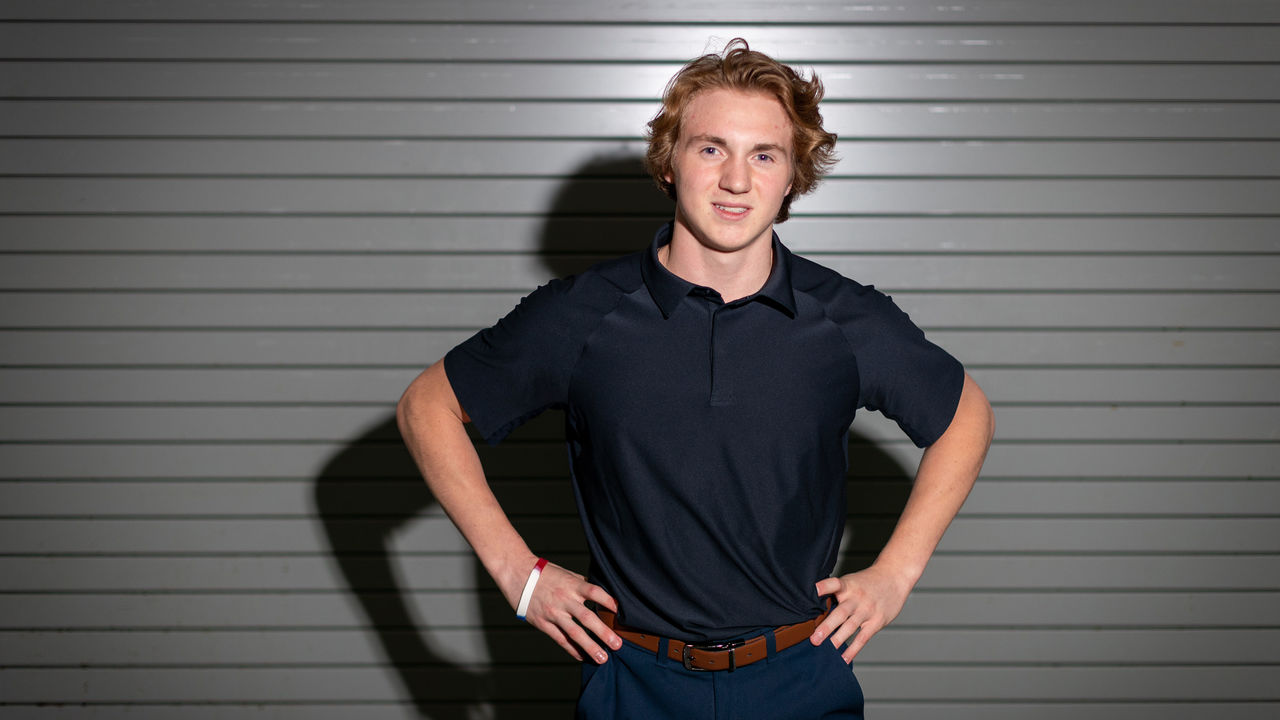 Denton Mateychuk, D, Moose Jaw Warriors (WHL): Jagger Firkus ... His hockey sense is great. He can come into the zone, and he'll make it look like he's going to shoot, and then he'll slide a pass across everybody. He picks his spots really well with his shot, too.
Alexander Suzdalev, F, HV71 J20 (HockeyAllsvenskan): Calle Odelius. He's a great guy overall. How smart he is on the ice. Really good two-way defenseman.
Odelius: (Jonathan Lekkerimaki) has a really good shot. He also has really good hockey IQ. Can really skate and stickhandle. His hockey IQ is underrated.
Luca Del Bel Belluz, F, Mississauga Steelheads (OHL): Other than Owen Beck, Zander Veccia and Zak Lavoie are good players. They work extremely hard. I think they're a little under-the-radar. … Skating is a huge thing at the next level, obviously. Watching (Lavoie) skate is like watching him float. It's really cool to see him fly at full speed.
Pickering: Connor Hvidston. Great kid. He's 6-foot-2.5. He's got size. Really good shot. Good hockey sense. For him, it's all about confidence. There were games this year where I thought he was the best player on the ice for both teams.
McConnell-Barker: Kirill Kudryavtsev. He was an import D. I think he's a really good defenseman. Really good IQ. I don't think many people beat him one-on-one. He's a really strong kid. And Owen Allard. He's an underrated player. He's a fast player, and he's competitive all over the ice.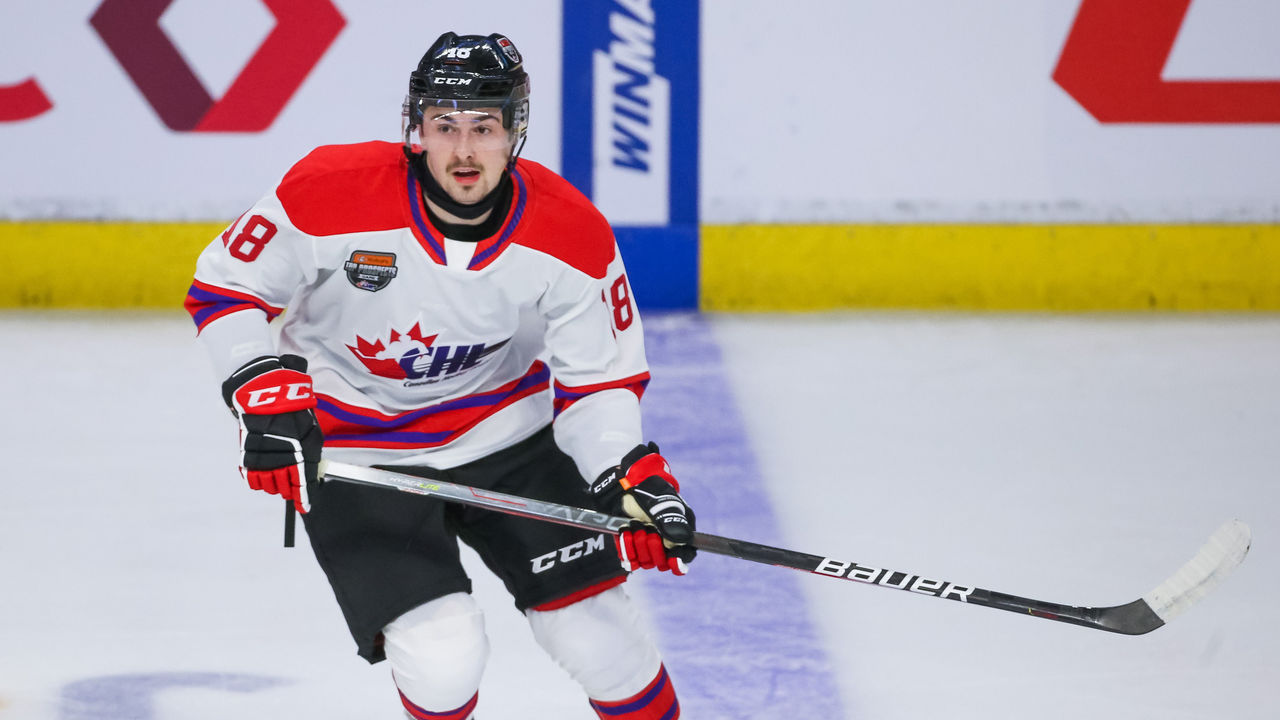 Seamus Casey, D, USNTDP: I've always wanted to go into business with my brothers. We're all pretty entrepreneurial. … My older brother Ben has already started a business. He owns Bahia Bowls. Smoothies and wraps. He has a ton of locations already. He's doing really well. Declan, my little brother, is a software developer. We're thinking about different stuff. We have a perfect team.
Haight: My brother's in the military, and my dad is a police officer. I'd probably be following those routes: firefighting, policing, military. If not that, I have a passion for cars and the automotive industry. That business, it's always changing, evolving. Maybe owning dealerships or being a part of luxury brands in some way.
Mateychuk: I'd probably be a carpenter. Done quite a bit of work in that, and I really enjoy that. I like working with my hands.
Lucas Edmonds, F, Kingston Frontenacs (OHL): When I was younger, I did quite a few magic tricks. … If I end up getting drafted by Vegas, maybe we'll go see a Criss Angel show and meet him. See if he can give me a couple of tips and tricks. I also like to play the guitar quite a bit. So if you put enough hours into playing guitar as I did playing hockey, you never know how that could end up.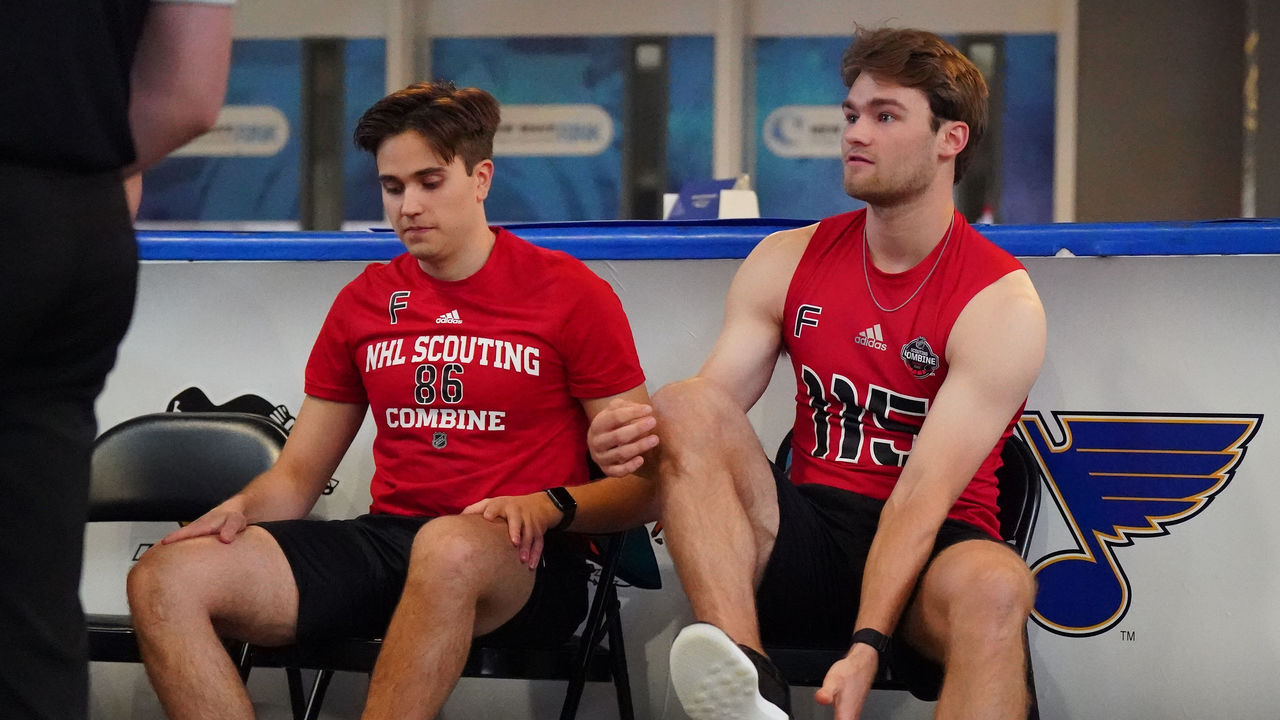 McConnell-Barker: I really like chiropractic stuff. I'm really interested in the human body. I'm also a big fan of basketball. I like basketball. Maybe playing that.
Nazar: I like to play tennis outside of hockey. Fish. Spend time with family. But I don't know. I feel like I'd just be going to school for something. At Michigan, I'm taking finance. … When I'm done playing hockey, I'd rather just sit back with family. It's something that, while I'm playing, I can use to my advantage and look toward the future. I can invest with the money I make.
Langlois: I'm looking to, if hockey doesn't work, maybe be a lawyer. Or an architect.
Pickering: I want to play hockey for as long as I can and then probably stay in the game. But I don't know. Engineering, possibly. For right now, I'm obsessing over hockey, though, and that's what I want to do.
McGroarty: Wow, that's a good question. (Thinks for five seconds) Probably the album cover of my favorite album. My favorite song is "Heat Waves," so maybe something to do with that song (by Glass Animals). It's just a good vibe song during the summer. The American flag would be really cool to add to the back, too, with me playing (for the USNTDP) for two years. Also, the outline of the state of Nebraska would be cool.
Gauthier: Growing up in the desert, not many hockey players come from (Arizona). So I'd throw in a couple of cactuses there. I'd throw in my family members' initials because if it weren't for them, I wouldn't be where I am today. A couple of other things: A player I like, a saying or quote that I live by. All of that, throw it on one mask, and I think it'd be a pretty cool-looking thing. … With the saying, my mom gave me one as a young kid: 'Train like you're in second, play like you're in first.' Having that mentality, especially off the ice, has really helped with my development these last few years.
Cruz Lucius, F, USNTDP: I have a quote that I like that me and my brother go by. It's my wristband. 'Shoot for the stars, aim for the moon.' … I'd put my American flag on - the country I was born in and played for. I'd maybe put a family symbol.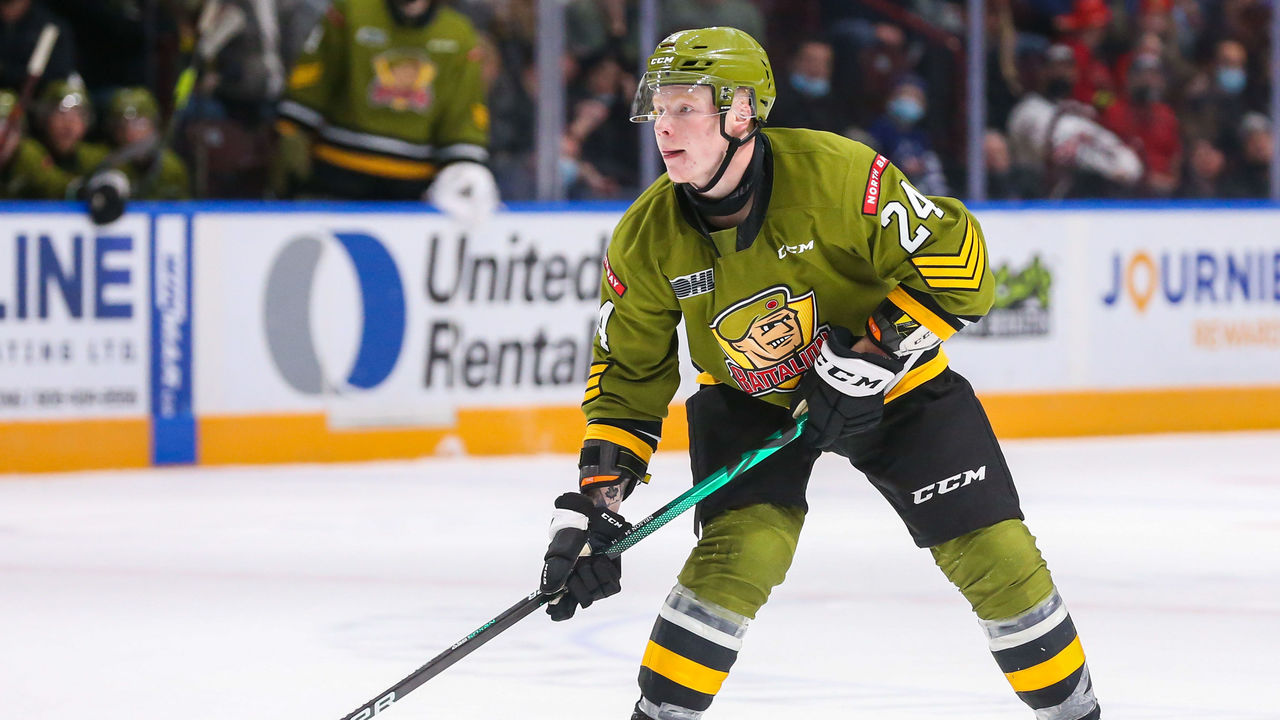 Nelson: Definitely a quote from the Bible. I'm a big Jesus believer. Then a pretty sick design of whatever team I'm playing for.
Langlois: Probably something from the city where I play. In Cape (Breton), it would be a bridge or the fiddle. Definitely my nickname and my number.
Ryan Greene, F, Green Bay Gamblers (USHL): Probably something involving Newfoundland. It's my roots. Then I'd probably put something on there about Boston University. … We won a big Bantam tournament back when I was younger. It was my second year of Bantam, right before I left Newfoundland, which was very memorable. Maybe something on there about that. And then a little bit about my family, too. Mix it up. It's cool that goalies get to do that.
Tristan Luneau, D, Gatineau Olympiques (QMJHL): I like tennis, so I'll probably have my favorite tennis player, Rafa Nadal. Probably have something golf, like a golf club. Or a basketball. I love all sorts of sports. Put a fishing rod in there, maybe. Maybe a fishing boat. Some sort of nature, maybe trees or someone fishing.
Edmonds: I'd have to respect my heritage, put on the Canadian flag and Swedish flag. … When I was younger, I wanted to be a goalie. My dad made sure to put my pads on the wrong way to make sure that I wasn't going to end up being a goalie. (Laughs) I'm glad he did that. But, yeah, no, anything with Canada, Sweden. Maybe some superhero.
Pickering: The names of people who are important to me. Definitely my grandpa. People in my family. I'd probably put my little brother's face on it.
Gauthier: That's something I'm really getting into. It was more basic back in the day, but now you can show yourself and express yourself through fashion. When I come into more money, have more flexibility in that sense, I'll be into it even more. … I'm glad hockey is leaning away from the stricter code or rule. I think I saw Tom Holland and Jack Harlow with the overlaid suit, the double-(breasted) suit. … Just look professional, classy. I don't think I'd ever show up to a game in a T-shirt and shorts.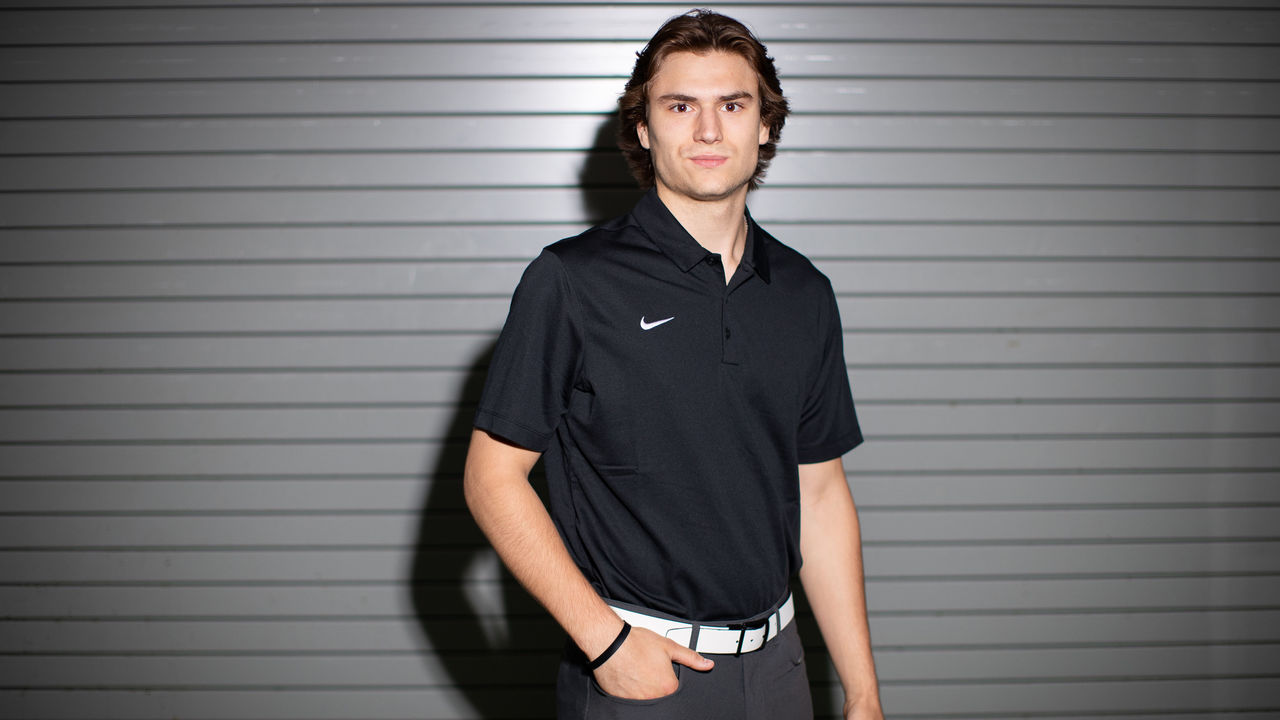 Haight: I'm pretty traditional in terms of my suit. Maybe a little color pop here and there. Clean cut, wear a suit, look professional. Look good, feel good, play good.
Luneau: Suit. I love dressing in a suit. Feels good, feels right. Game days are big days, and you should dress for it. I love going into the arena with a suit, feeling fresh, and not going in casual and showing off.
Arnsby: I think keeping it suits is ideal. It looks professional. It's easier. … I think it'd be tougher figuring out every day, worrying about what you've got to wear. I think having a suit would make it nice and simple.
Edward: I like a bit of everything. Some people might see some of my fashion stuff as funny or out-there. A bunch of the boys on my team would razz me about wearing certain clothes, but I do like to wear a variety of different stuff. Having a broad sense of fashion is pretty cool. I like knit sweaters. Boys didn't really like those.
Edmonds: Right when I ended up moving to Sweden, I played in Gothenburg. Many of the players who come from that area are pretty well-off, so they have a little bit more high-end fashion going on. That definitely opened my eyes up when it comes to fashion. I'm a guy who likes to be comfy heading to the rink in everyday stuff, but if the occasion arises, I may throw on a nice fit.
McConnell-Barker: I see a lot of NBA players, like Russell Westbrook, wearing random stuff. Some guys are even coming in on bikes. I don't think that will come into hockey. … But if I was able to bring something cool, I would probably wear a flannel.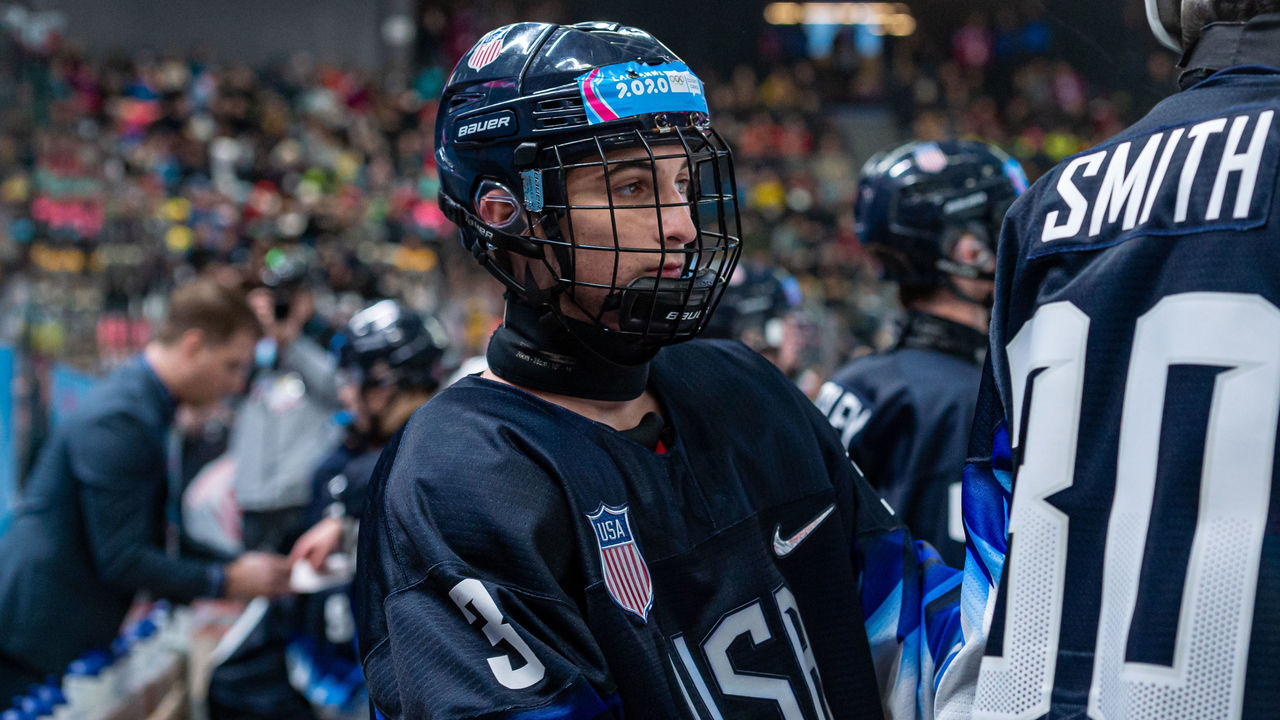 Casey: I'm probably on the lower end of the fashion spectrum. I still like to get dressed up. Down the road, hopefully, I have a little bit more to spend on that kind of stuff, and I'll get more into it. Especially if someone's interested in giving me a few fashion tips because I wouldn't say I have the best fashion sense. … I still like the idea of a dress code, more to keep it classy. Some of the other sports get crazy with their outfits. I still like how the NHL keeps it mostly a dress code. There's a happy in-between. The suit definitely separates the league from other leagues.
Pavel Mintyukov, D, Saginaw Spirit (OHL): Just practicing can be good, too, for you.
Lucius: You don't need to be at the rink to get better. You don't need to have a (team) gym. Whether it was rollerblading or having a good home gym, I really worked on that.
Haight: I found a way to continue working toward my goals, toward the NHL, and building a career for myself. I learned about consistency and hard work.
Langlois: How strong I was mentally. My first year, we were really good. We really had a good team. How everything shut down because of COVID was really hard mentally. The year after, we didn't have a good team, so I lost my chance to get to the (QMJHL championship) or Memorial Cup. The biggest part was mental.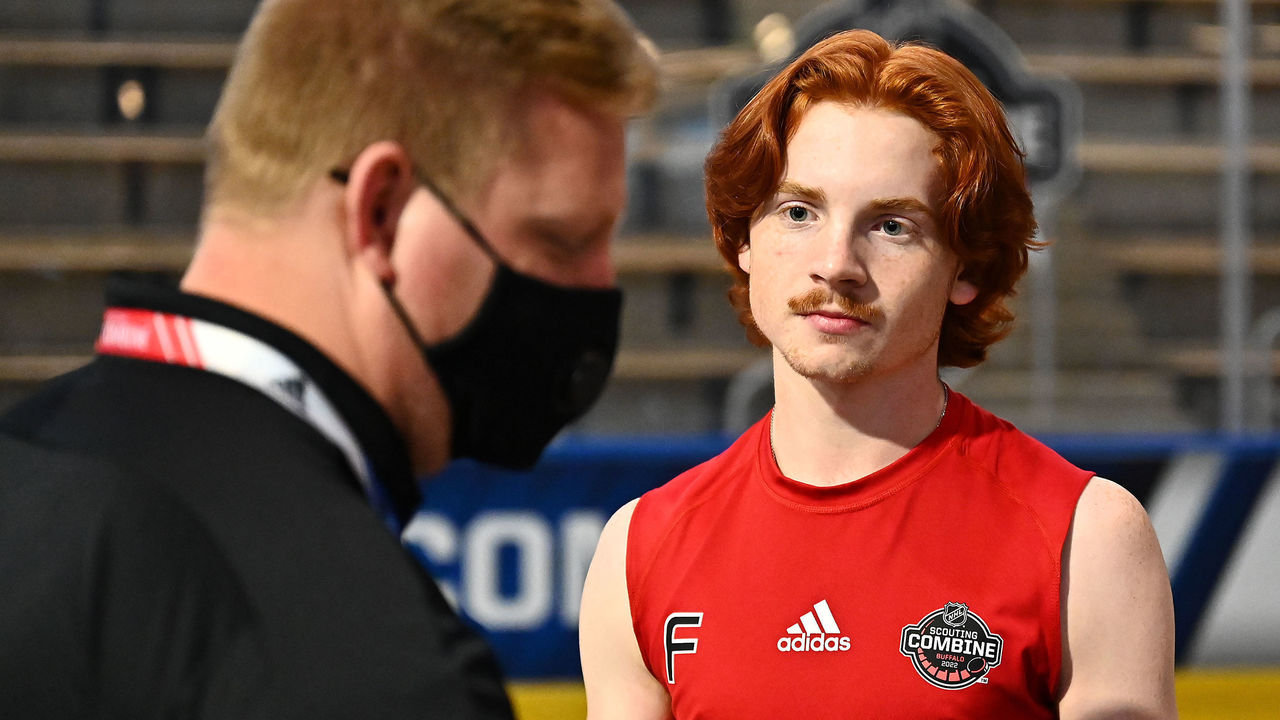 Firkus: Throughout COVID, there was a lot of downtime. I was managing to have fun shooting the puck - or just doing things with my little brother, playing anything. I'm a really upbeat guy who likes to stay positive. I figured that out.
McGroarty: How much I pride myself on family time. My family, we spent a lot of years away from each other when I moved (from Nebraska to Michigan at age 10) to play for Honeybaked. So during the pandemic, if it was going for a walk or going golfing or family game night, watching a movie on the couch, I feel like I definitely learned a lot about (the importance of) that.
Hejduk: Not to take anything for granted. The last two-and-a-half years, the pandemic has taken away a lot of tournaments for me. Taken away games. I've been sitting out. I had COVID. It's been kind of all over the place. … There are a lot of days at the rink where it can seem like the same thing every day. But you can't take it for granted because you never know, really, what's going to happen.
Lambert: Having fun out there with your friends. You never know when you're going to be put into quarantine for a couple weeks. Enjoying the time you have around your teammates and enjoying every game, every practice. … Even this year, I had to quarantine three times - or four times. It's tough. So just enjoying every minute of it.
Comments
✕
Draft survey: Prospects talk NHL comps, fashion, teammates, and resilience
  Got something to say? Leave a comment below!