6 players who could swing Leafs-Bolts as the series shifts to Tampa
Mark Blinch / NHL / Getty Images
The Tampa Bay Lightning topped the Toronto Maple Leafs 5-3 on Wednesday to even their first-round matchup at one win apiece. Expect these players, three on each side, to influence how the rest of the series plays out.
Victor Hedman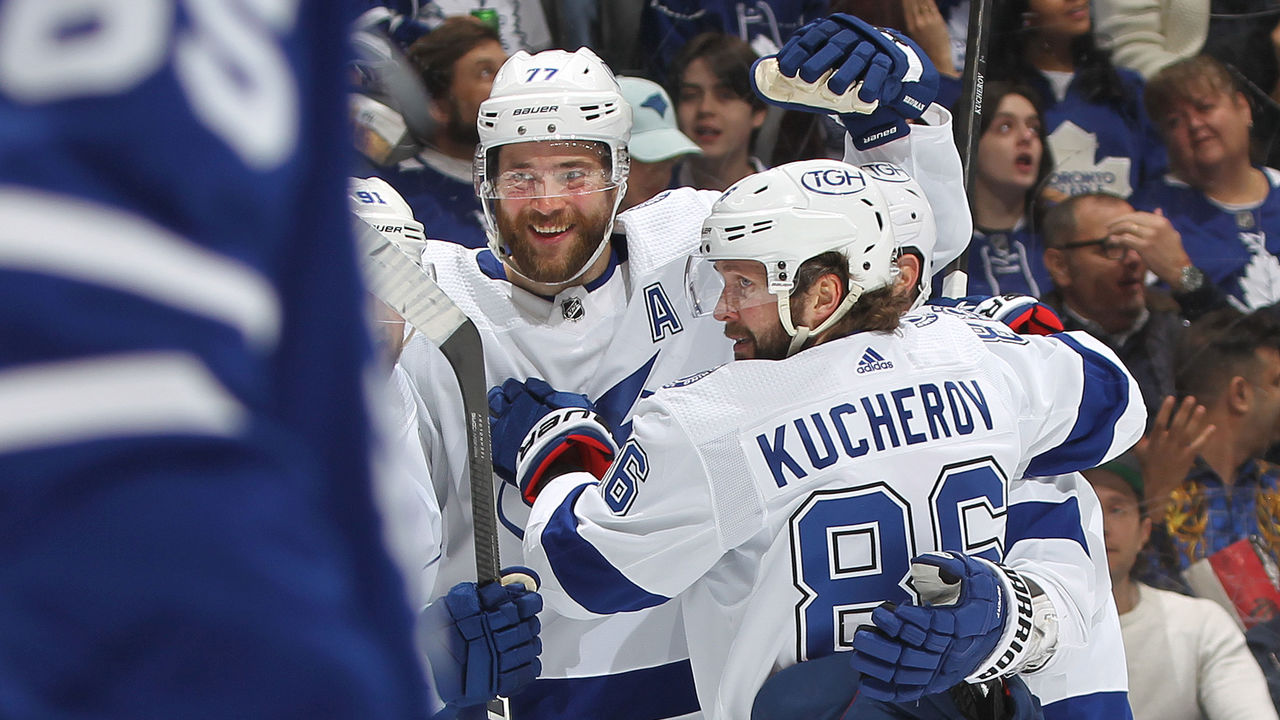 As time dwindled in Wednesday's first period, a jittery player might have shoveled the scoring chance into Jack Campbell's stomach. But when a loose puck found Hedman by the crease, he waited a beat as Campbell keeled over and then buried the Lightning's first playoff goal with two seconds left in the frame.
Tampa Bay's power play flatlined in Game 1 but pumped three shots past Campbell in Game 2. Hedman's patience started the rampage, and his quarterback skills sustained it. He got the primary assist on Nikita Kucherov's goal not long after Corey Perry, slipping behind the Leafs' defense at even strength, scored off his breakaway stretch pass.
Hedman is an offensive maestro. Only Connor McDavid and Leon Draisaitl recorded more points on the man advantage this season. The winner of the power-play battle is undefeated in this series, and Hedman's abilities narrow the gap between Tampa's and Toronto's league-best units.
Mitch Marner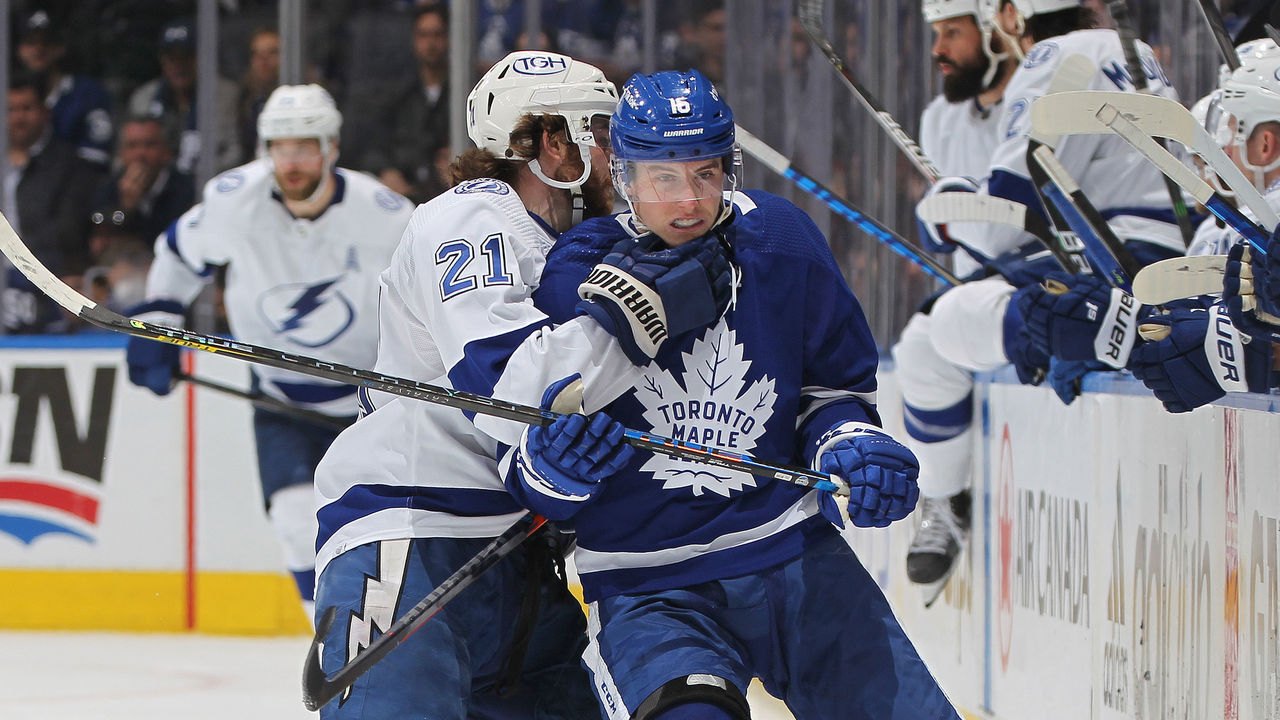 Marner uplifted whoever he's played with this week. In Game 1, his shorthanded clearance sprung David Kampf for a goal, and he teed up Auston Matthews' lethal power-play slapper. Reunited with Michael Bunting in Game 2, he set up Bunting to score off a giveaway that Matthews forced.
Marner's inclination to shoot has already netted him two goals, his first in the playoffs since 2019. Relieved of that baggage, he played loose and attacked with confidence on home ice. Will he maintain that approach in Tampa when the Leafs face adversity?
With the exception of Hedman, Marner's ice time (23:28) led all skaters in Game 2, the product of Sheldon Keefe deploying him in all situations. He'll get as many chances as anyone to swing the series by continuing to shoulder all that responsibility.
T.J. Brodie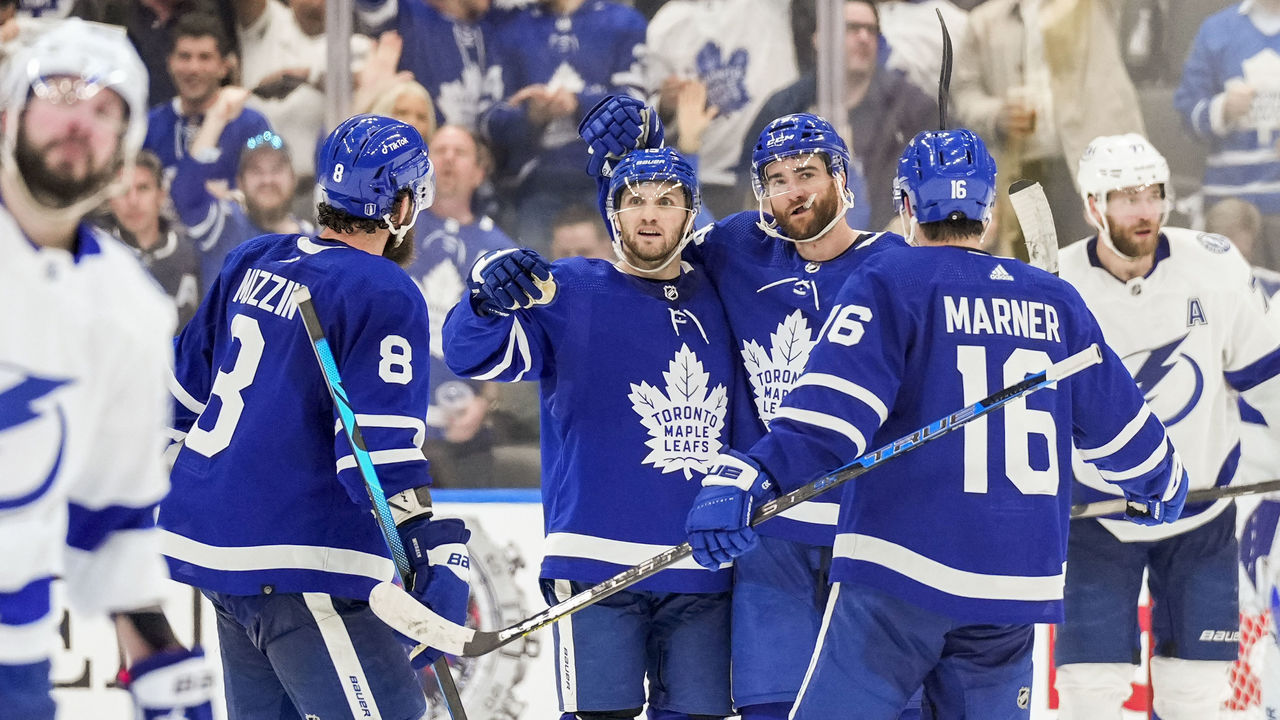 Sparking offense isn't Brodie's job on the penalty kill, so it was a sight to see when he broke free in transition and whirled to assist Alex Kerfoot's late goal. Brodie anchors Keefe's main PK unit, and this was his reward for pinching to steal the puck at the defensive blue line.
Priority No. 1 for Brodie is to contain the Lightning's big guns. Brodie and Jake Muzzin draw the tall, unenviable task of matching up with Kucherov, Steven Stamkos, and Ondrej Palat, Tampa's first line that's yet to break out at five-on-five. The trio's expected goals share Wednesday was a paltry 11.5%, Natural Stat Trick reports.
When Brodie sprawled to disrupt a Kucherov pass in Game 1, the Lightning forward cross-checked him in frustration and was penalized. When Brodie lost his stick shorthanded in Game 2, Kucherov scored on the shift. Against elite players who've monopolized the Stanley Cup, the defender's objective is to have the good outweigh the bad.
Brayden Point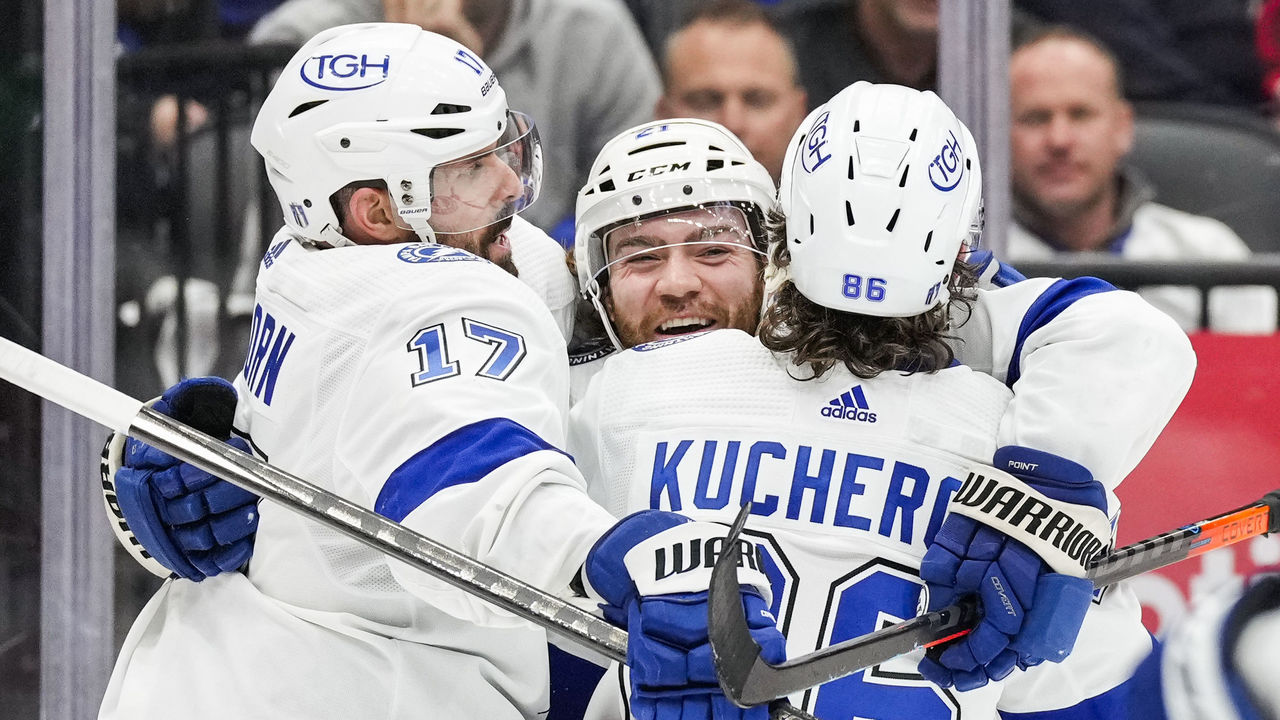 Point's a proven playoff performer, and it felt like his power-play goal Wednesday was overdue. Feed Point in the bumper spot often enough, and Campbell was bound to miss one of his snappers.
Point hadn't registered a playoff tally since Game 1 of last year's Stanley Cup Final. But he scored in nine straight games in the 2021 postseason, the second-longest heater in NHL playoff history. He also potted 14 goals for the second straight postseason, while no other skater in the league attained double digits.
Here's one more Point stat: His 10 individual scoring chances in this series tie him with Kucherov for the team lead (Matthews has 11). Is he about to go on another roll?
Nick Paul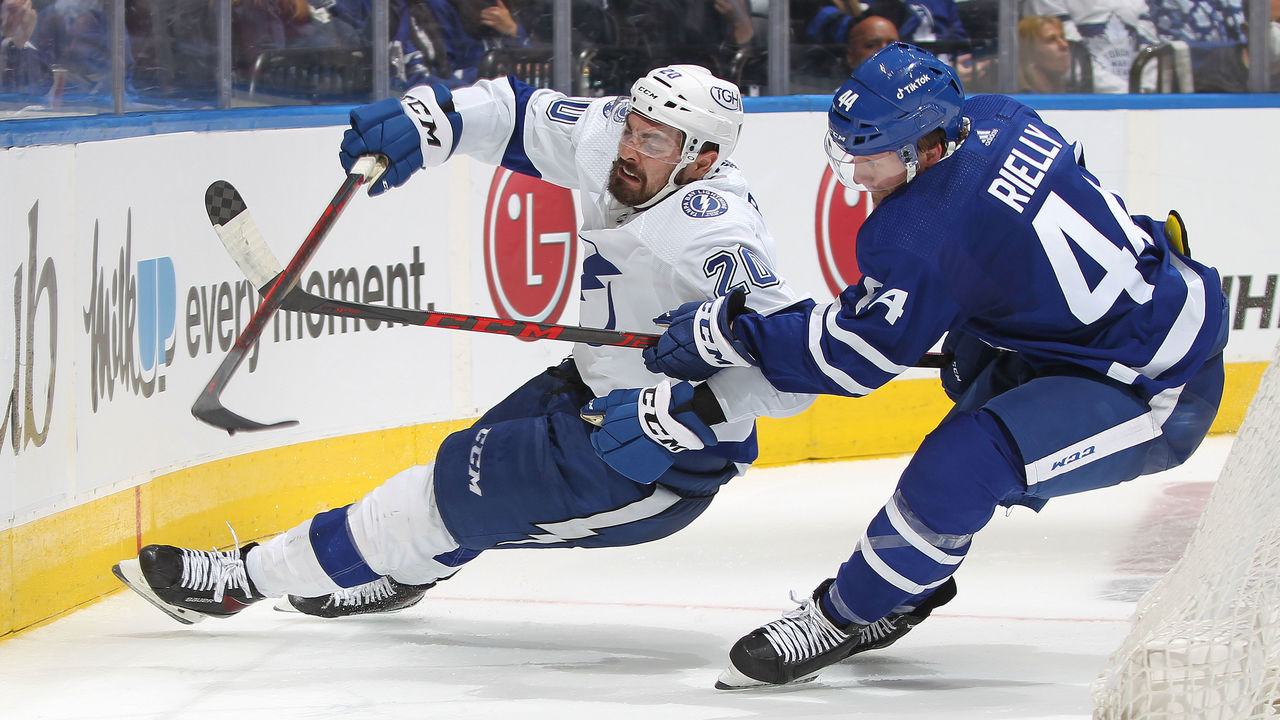 Paul never reached the postseason when he was with the Ottawa Senators. But the Lightning targeted him at the trade deadline because they thought his size and versatility - Paul's a sturdy 6-foot-3 and can play up and down the lineup - would translate nicely to the playoff pressure cooker.
That vision materialized in Game 2. Taking a shift on the fly with Kucherov, Paul induced a turnover with his long reach, accepted Kucherov's pass on the ensuing odd-man rush, and created the rebound opportunity that Brandon Hagel converted.
No Lightning forward has logged more PK time than Paul. Hagel, his fellow deadline acquisition, has leveraged his quickness and mettle in front of the net to draw a series-high four penalties. Between that and the Perry goal, Tampa Bay's third and fourth lines are taking care of the dirty work while flashing offensive upside, a major boon.
Jack Campbell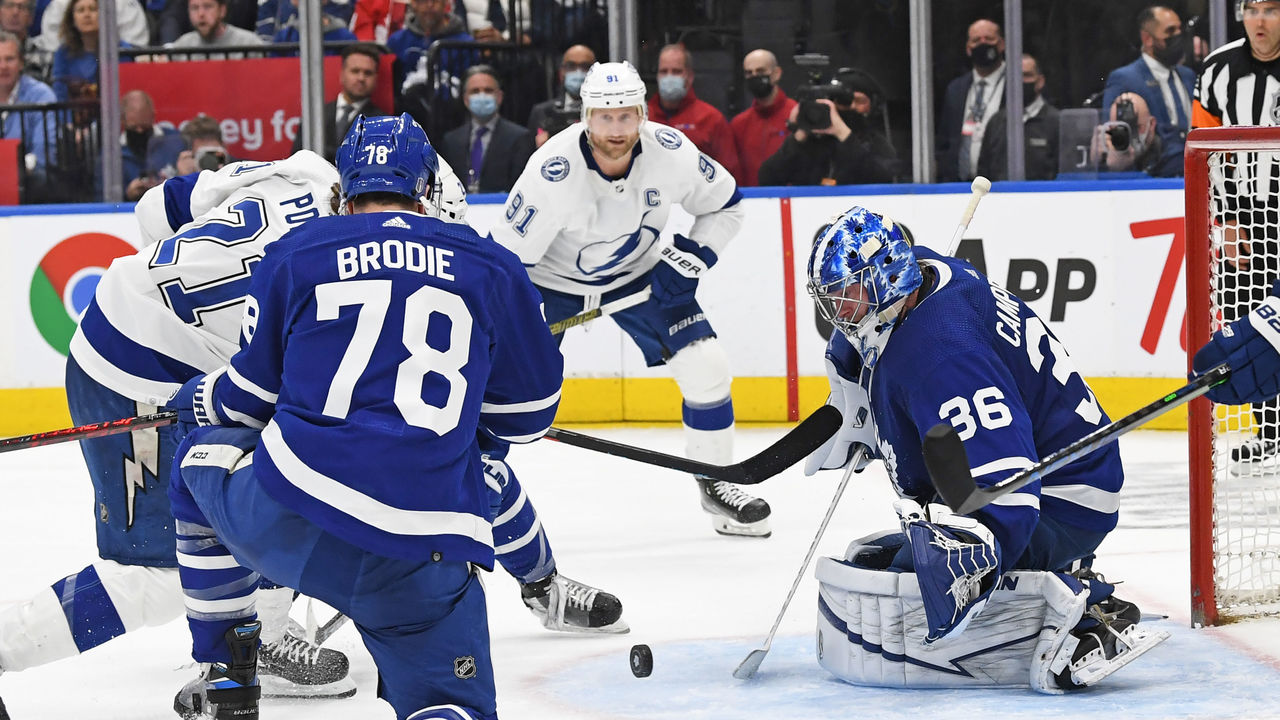 Few goalies rise to the occasion like Andrei Vasilevskiy, as he reminded the Leafs when he robbed Timothy Liljegren with the glove. A minute after the highlight denial, Perry beat Campbell five-hole when Toronto's netminder thought he'd shoot high.
Big picture, Campbell's been solid through two contests, posting a .944 five-on-five save percentage to Vasilevskiy's .881. Campbell made five quality starts - meaning his save percentage was better than the NHL season average - in the Leafs' seven-game defeat last year to the Montreal Canadiens.
He stopped 82 of 84 shots in Toronto's wins in that series but outclassed Carey Price one fewer time than the Leafs needed. This week in Tampa, whichever goalie falters first will leave his team in a bind.
Nick Faris is a features writer at theScore.
Comments
✕
6 players who could swing Leafs-Bolts as the series shifts to Tampa
  Got something to say? Leave a comment below!