First impressions of Flames-Stars as shutout gives Calgary the early edge
Derek Leung / Getty Images
The Calgary Flames blanked the Dallas Stars 1-0 on Tuesday night in their first clash of the NHL postseason. Here are three thoughts about Game 1 and where the series is headed.
Stars' scoring woes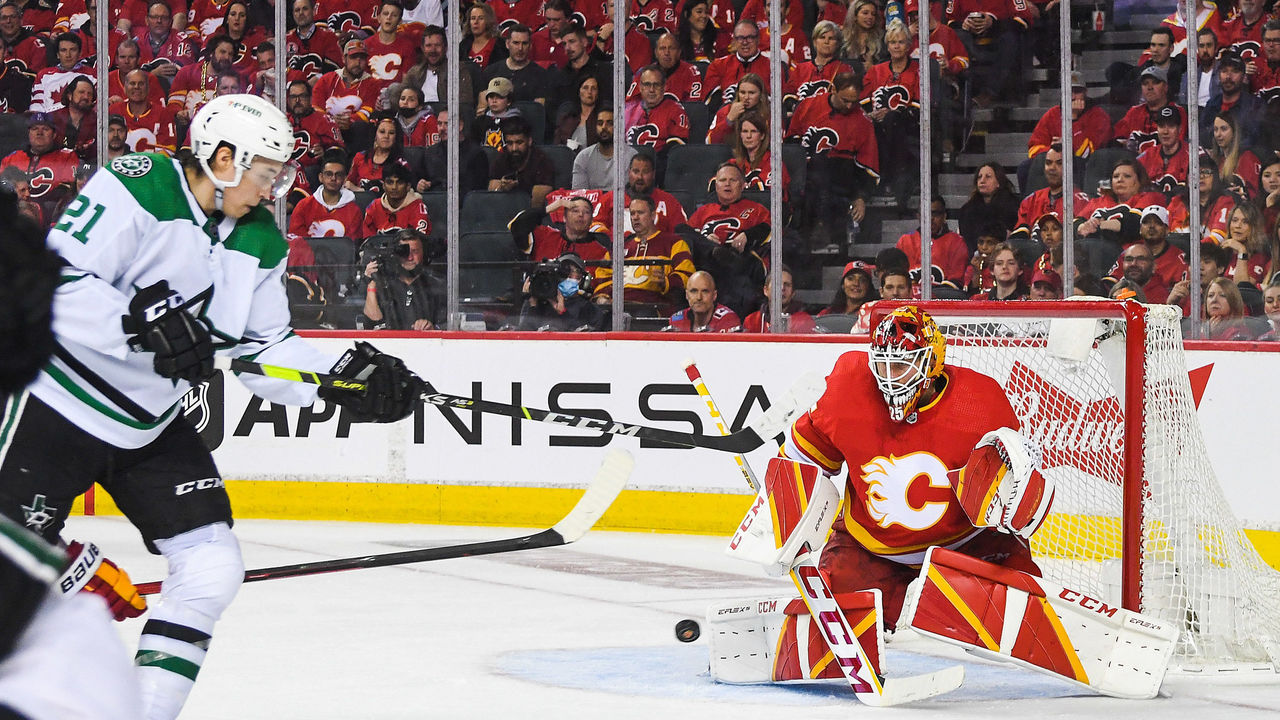 The Colorado Avalanche wrecked the Nashville Predators on Tuesday, but Calgary versus Dallas still profiles as the biggest mismatch of the first round. The Flames' plus-85 goal differential ranked second in the NHL this season. The Stars' minus-eight differential made them the rare playoff club to finish in the red.
Dallas goalie Jake Oettinger shone in his first playoff start and kept Game 1 close, but one clever passing sequence is all Calgary needed to one-up him. Johnny Gaudreau, Matthew Tkachuk, and Elias Lindholm dominated as a line at even strength this year. They struck on the power play in Tuesday's spicy first period, teeing up the Lindholm snapper that tickled twine within five seconds of a faceoff.
The Stars barely controlled the puck that period. Calgary attacked in a straight line with speed and purpose and, aided by rough-and-tumble puck retrieval, racked up the game's first nine shots.
Dallas slowed the surge over the game's sleepier last 40 minutes and sometimes tested Jacob Markstrom's glove hand, but it didn't create enough good looks to bother him. The Stars put fewer shots on net than they did Tuesday (16) only once in the regular season. Game 1 marked the 22nd time this campaign that an opponent held them to one goal or fewer.
That spells trouble for a one-line team. Stars fans know well that Jason Robertson, Roope Hintz, and Joe Pavelski netted 45% of Dallas' goals in the regular season. Hintz and his wingers helped generate four of the Stars' six scoring chances at five-on-five Tuesday, according to Natural Stat Trick. However, if Chris Tanev and Noah Hanifin keep holding them scoreless, Dallas lacks forwards who could compensate.
Playoff breakout candidates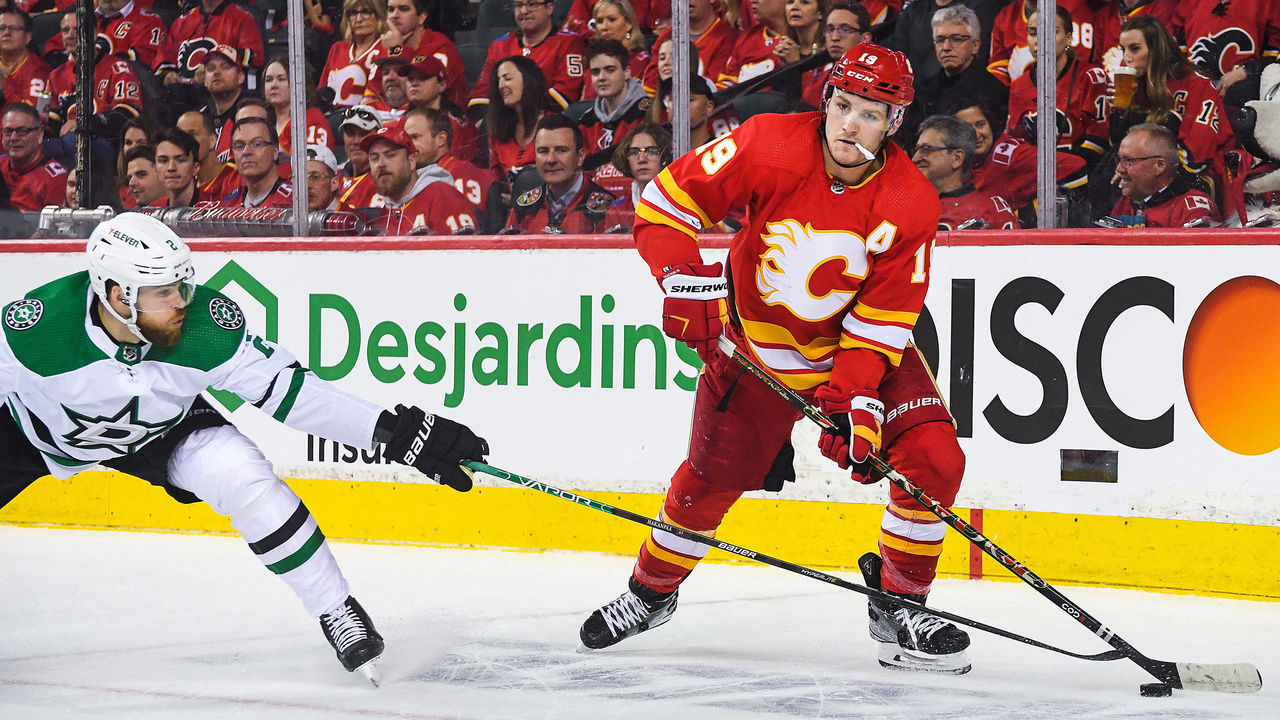 Tkachuk refused to wait to influence the series. At points of the first period, he assisted Lindholm's snipe, steamrolled John Klingberg behind the Stars' net, and drew a penalty when Michael Raffl incited a retaliatory fight at the buzzer, which led to Klingberg and Rasmus Andersson tussling and getting ejected.
Tkachuk's busy start came at an opportune time. The superstar winger was a top-10 scorer in the league this season. His 42 goals and 104 points shattered his previous career highs. But his playoff output to date has been modest. Entering Tuesday, Tkachuk tallied three goals and five points in 15 postseason appearances, and he was concussed when Dallas ousted Calgary from the 2020 playoff bubble.
If all goes to plan in this round, the Flames will lay the groundwork for a long and fruitful run. Tkachuk and Lindholm - who's up to four career playoff goals now - asserting themselves offensively would help the cause.
So would a breakout showing from Markstrom, the 32-year-old potential Vezina Trophy finalist who's appeared in fewer playoff games than Tkachuk. Markstrom backstopped the Vancouver Canucks to Round 2 in 2020, his only previous taste of the postseason, before a groin injury sidelined him during that series.
His poor 2020-21 season gave way to the career year he just authored. Markstrom's nine shutouts topped the NHL, and he ranked fifth in the league in goals saved above expected, according to Evolving-Hockey. His first shutout this month was low-event hockey but deserved.
Great test for Heiskanen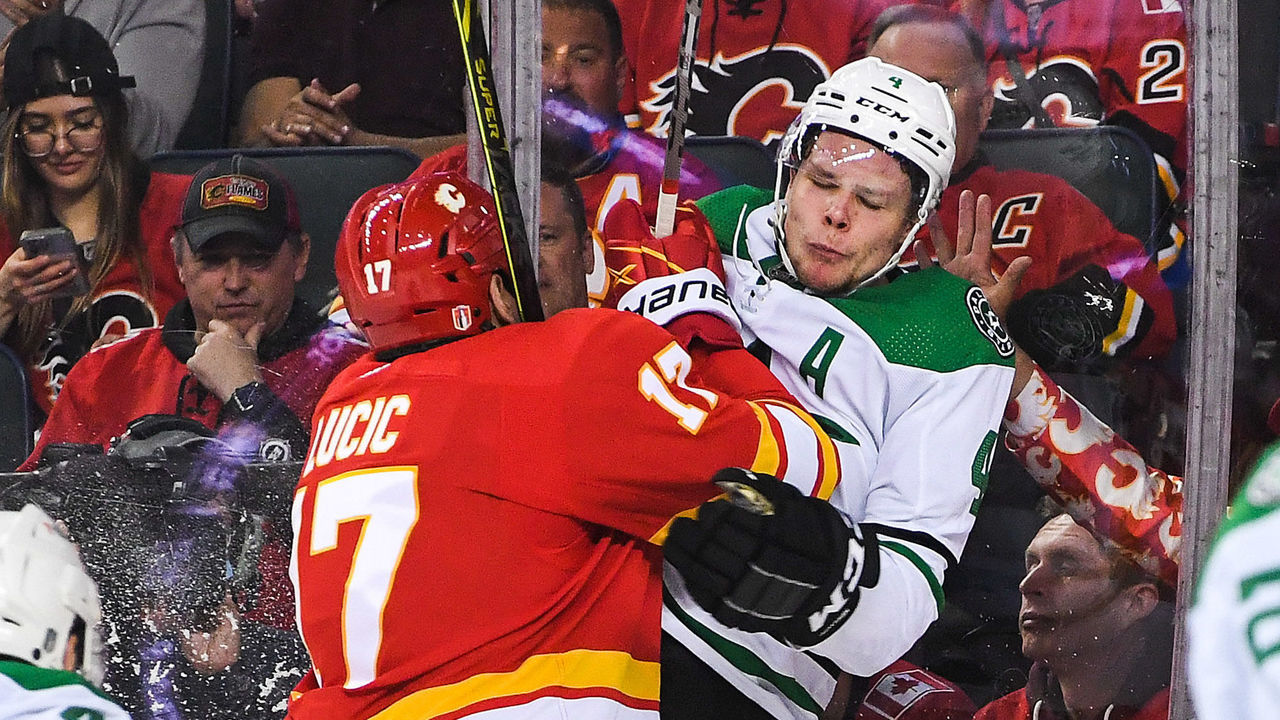 When theScore handed out hypothetical NHL awards last weekend, we named Miro Heiskanen the league's best defensive defenseman. He erases openings with his fleet feet and quick stick, and Dallas trusts him to shadow offensive forces. The forwards Heiskanen faced most often in 2021-22 included Matt Duchene, Patrick Kane, Clayton Keller, and Trevor Zegras, plus Calgary's top line.
He nullified Gaudreau, Lindholm, and Tkachuk throughout three matchups in the regular season. That line didn't score in the 20 minutes that Heiskanen countered them at five-on-five. The trio's only even-strength goal against Dallas capped a cycle shift on Feb. 1 that the Stars' bottom pair, Jani Hakanpaa and Joel Hanley, couldn't contain.
Thanks to Klingberg's ejection, Heiskanen played 29:57 in Game 1, though he matched up with Mikael Backlund's line more often than he faced the Lindholm trio. Maybe Rick Bowness will stick him on Lindholm and Co. once Dallas gets the last change at home. In the meantime, Heiskanen stuck tight to Tkachuk on an attempted breakaway pass, quelling a crisis with subtly great positioning. He also fed Tyler Seguin for a promising slot chance in the third period.
Heiskanen is capable of offensive brilliance. His 26 points in the 2020 bubble - the most a defenseman has scored in the playoffs this century - highlighted and keyed the Stars' Stanley Cup Final charge. In three separate wins over Calgary that postseason, he netted two goals, dished three assists, and played a game-high 35:45 as Dallas rallied to prevail in overtime.
Heiskanen was 1:40 into a shift Tuesday when, with Oettinger pulled, he failed to gain center ice on a dump-in and was whistled for icing, nixing the Stars' last chance to beat Markstrom. If he cuts out the miscues and dictates tempo, maybe he could swing a game in his team's favor or at least help Dallas score before its hole deepens.
Nick Faris is a features writer at theScore.